This shop has been compensated by Inmar Intelligence and its advertiser. All opinions are mine alone. #spiceupspringtime #SauceLikeYouMeanIt #TexasPete
Today we're making a batch of Korean-beef burgers, which we'll be assembling on homemade rolls. We'll be preparing the burgers with a cayenne and gochujang-based glaze, which we'll be adding to the burgers at each phase of the preparation process – the mixing, the frying, and then finally the platting. In terms of flavor, the glaze is spicy with a touch of sweet, but comes packed with 'chili flavor,' along with a medley of umami notes.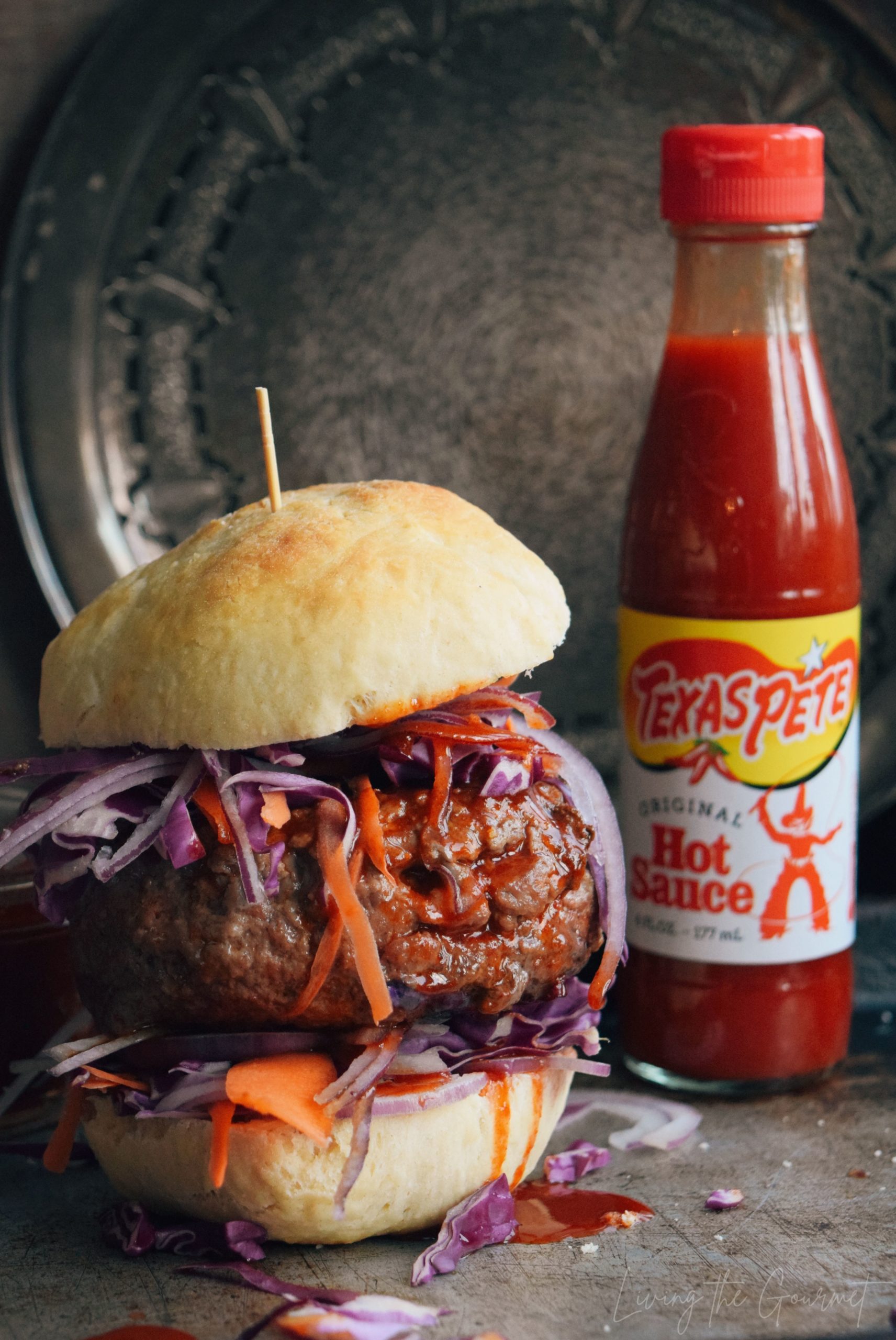 The cayenne will be coming in the form of Texas Pete® Original Hot Sauce, which is the perfect balance of bold flavors and heat, especially for recipes like the one we're preparing today. Texas Pete® Original Hot Sauce has been one of my son's favorite hot sauces for years now. He uses it to spice up everything from eggs to steak, takeout, and even salads. Loving spicy food in general has always been a bit about being rebellious and adventurous, and in that regard Texas Pete® Original Hot Sauce helps you "Sauce Like You Mean It™" and when you do that, you're not only engaging in something delicious, you're doing something you're passionate about with tenacity.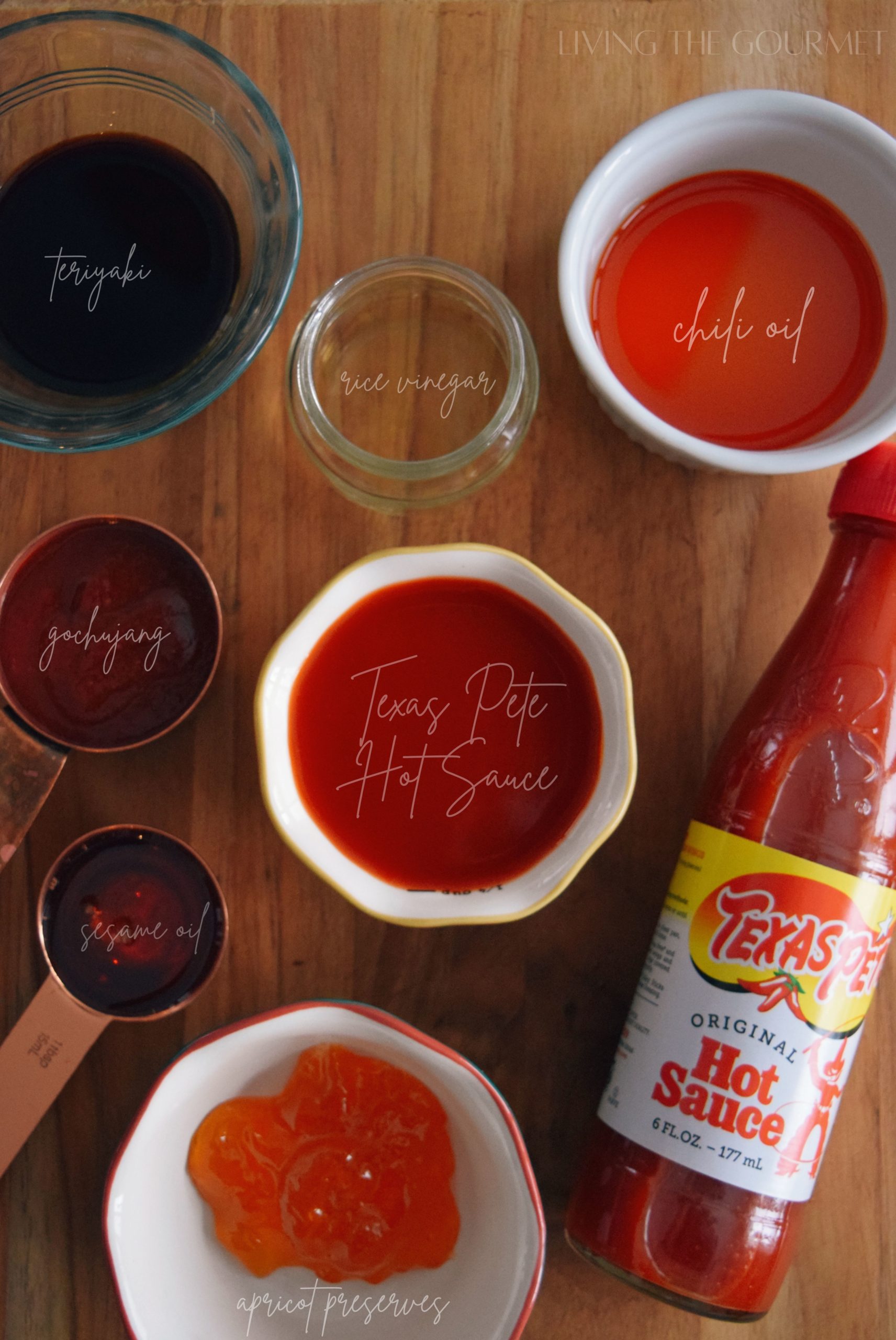 Ingredient Notes and Tips
1) Gochujang. What is it? Gochujang is Korean chili paste, and is roughly equal parts spicy, sweet, and savory (or smokey). Like 'most' commercially available chili pastes, gochujang is super versatile, being great for adding spice to everything from sauces to dips to marinades. For that reason, chili paste has been a 'forever staple' in my pantry for almost three decades now. I became acquainted with bottled chili paste back in the early-1990s via a local Korean market, which stocked a single variety of Indonesian-style chili paste; 'sambal,' which has a watery consistency and is more of an 'ingredient' as opposed to being a 'sauce' or 'condiment.' Ironically, despite becoming acquainted with bottled chili paste via a local Korean market, I had no idea that Korean-style chili paste, or 'gochujang,' even existed until my son introduced me to it about three weeks ago. Much to my surprise, I found the stuff to be spicy, sweet, and savory all at once, with smoky notes lingering in the background alongside a pleasant 'saltiness.' It's also quite thick, having roughly the consistency of brown mustard, as compared to the somewhat 'watery' consistency I had become accustomed to in the 'oelek' variety of sambal. A cursory look at the primary ingredients in gochujang was enough to 'decode' its pleasantly complex flavor profile. Those primary ingredients include glutinous rice (the source of its thickness), meju powder (fermented soybeans), Korean Red Chilies (capsicum anuum), and salt. The sauce's sweetness comes largely from the glutinous rice, but is added to via the choice in chilies, since capsicum anuum has a decided sweetness lurking beneath its heat. Naturally, the meju and glutinous rice gives the paste its consistency, while the smoky notes come courtesy of the peppers and meju.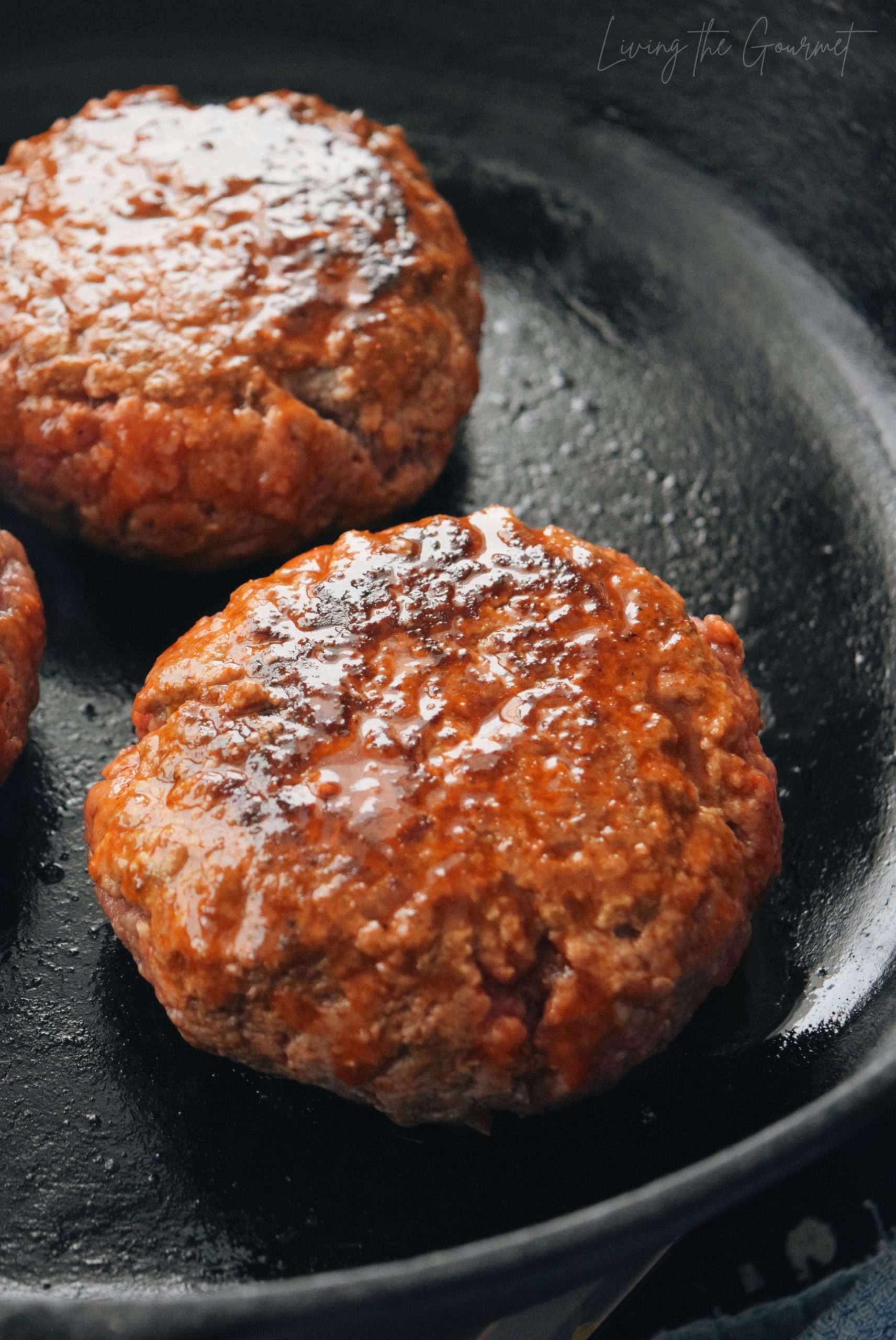 2) The Hot Sauce. For added heat and cayenne flavor, I'm using Texas Pete® Original Hot Sauce. This has been one of my go-to hot sauces for many years – and is my son's absolute favorite. In truth, it's the simplicity of this hot sauce that really makes it shine, being a blissfully simple combination of distilled vinegar and aged cayenne peppers. As a result, Texas Pete® Original Hot Sauce is about more than just 'heat,' it's about allowing the full flavor of the aged cayenne peppers to shine through without 'drowning' the cayenne flavor either in 'blinding heat' or additive background spices, as many other hot sauces tend to do. Because of these qualities, Texas Pete® Original Hot Sauce is incredibly versatile, not only is it great on things like today's burger and dipping sauce, it's also great dashed on pretty much anything where you would like a touch of heat. Seriously, if you haven't already, give Texas Pete® Original Hot Sauce a try. Be sure to find a store near you today!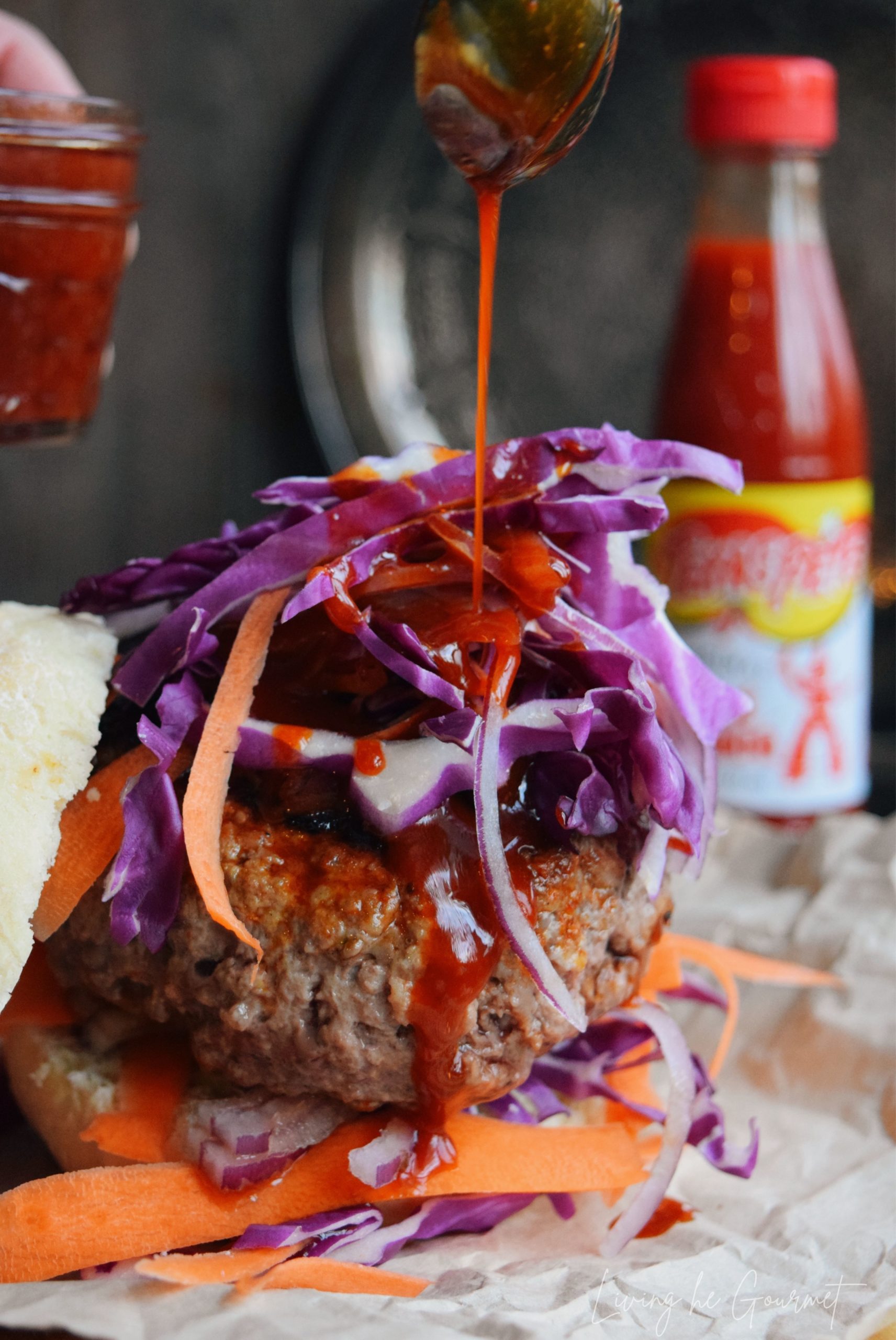 Selecting Quality Chop Meat – A Primer
A good burger begins with good chop meat. Here's a brief primer on how to find the best.
1) Fat Is Flavor. This may come as a shock, but muscle tissue has 'almost zero' in the way of flavor-giving compounds. Instead, virtually everything we humans perceive as 'flavorful' in meat, be it fish, pork, beef, or poultry, comes directly from 'fat.' As a result, the more 'fat' a piece of meat has, the more 'flavor' we perceive. Muscle tissue also cooks up dry, and is naturally tough. By contrast, fat is soft and reduces to a thick 'grease' during cooking, and so the more 'fat' a piece of meat cooks in, or has laced through it as 'marbling,' the more tender and moister that piece of meat will be. Yes, I know I'm offending someone somewhere with what I'm saying, but I'm just giving you the truth.
Thus, it should come as no surprise that despite ground sirloin being the most expensive chop meat out there, it is also the leanest, driest, and 'least' flavorful, containing somewhere in the vicinity of 8-14% fat by volume. Ground round is in the same boat, but typically contains somewhere between 10-13% fat. Both of these types of chop-meat are often labeled 'Extra-Lean Ground Beef.' Ground chuck is widely considered the 'best' ground beef for burgers, meatballs, and meat sauces, since contains somewhere in the realm of 20% fat by volume.
However, so-called 'Regular' ground beef, which can contain in excess of 30% fat is sometimes 'filled' or 'laced' into ground chuck simply to give the chop meat even more fat…and therefore 'flavor.' The reason 'Regular' ground beef is rarely used on its own is because so much of its 'melts away' during cooking, that it actually becomes a hassle to use. There's also the matter of 'price bias.' Since 'Regular' ground beef is far and away the cheapest ground beef available, it's also assumed to be the lowest quality. The opposite is true of ground sirloin.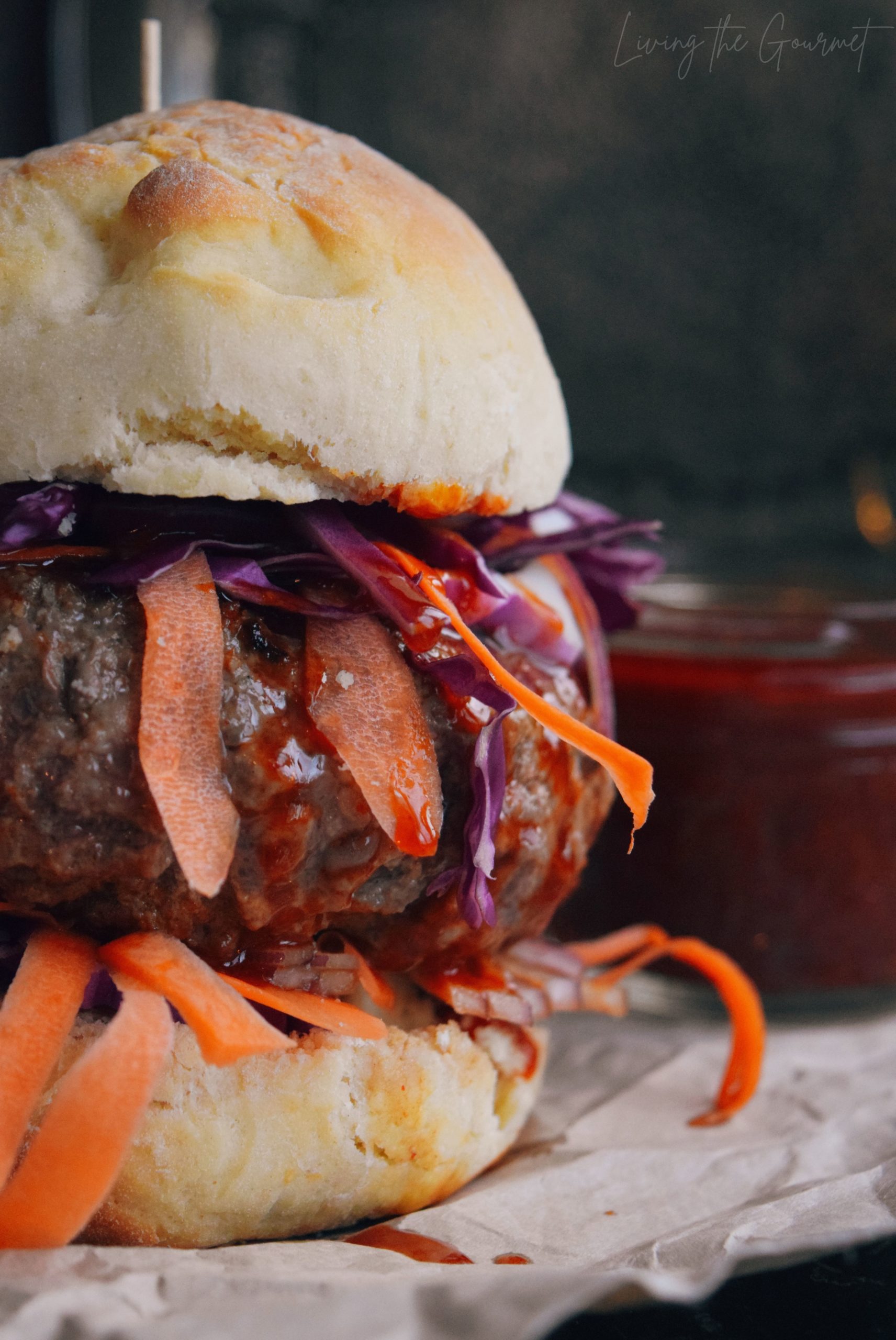 2) Color – Your Only Guiding Light. In truth, the only 'guidance' that can be offered when buying pre-ground beef is to look at the coloring. Grey or brown ground beef has begun to decay…not good. Instead, you want the meat to be a bright pink color, and to be 'moist' looking. Also, take note of the cling wrap, which should appear pristine and free of 'droplets.' Droplets, again, are a sign of decay.
3) Unfrozen. As with all meat, you want to buy ground beef that has 'not yet' been frozen – provided this is possible. This is simply because the process of 'unfreezing' meat results in loss of moisture. Thus, if you take the meat home to use it right away, you've already lost some of the meat's moisture. If you intend on freezing the meat yourself, only to defrost it at a later date, you've lost moisture 'twice.'
4) Never Buy In Bulk. Never, ever buy those massive opaque containers of 'Ground Beef' that have been popping up in the refrigerator aisles of your local grocery-carrying big-box stores. There is a reason those tubs are derided in culinary circles as 'chub rolls.' While I'm all for affordable food, those bulk containers of ground beef should be avoided like the plague. If you want to know why, a simple google search will reveal all the very, very unpleasant details.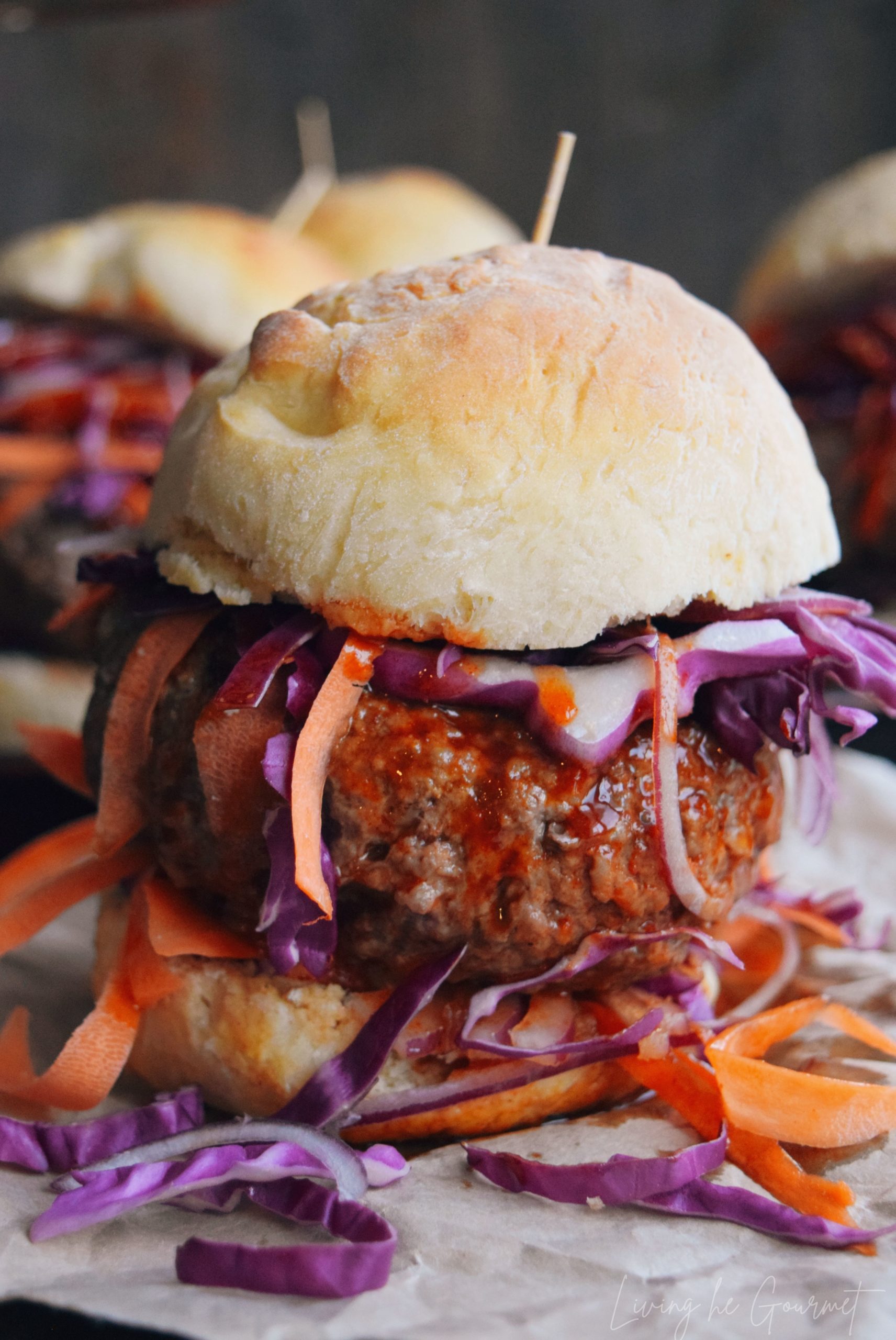 Building a Better Burger
Now that you've selected quality chop meat, it's time to turn that chop meat into a burger…but how? Here are five simple pointers to building a better burger.
1) The Bread Matters. Quality rolls are a must for a good burger in my opinion. Cheap 'bread like' rolls become soggy very quickly, and tend to 'bunch up' around the meat, drowning it. My personal favorite rolls for burgers are – in no particular order – pretzel rolls, semolina rolls, and the rolls I make at home, as pictured in today's shots. I'll be posting a recipe for those rolls sometime in the next week or so, so keep an eye out! All three of these types of rolls have a few qualities in common. First and foremost, they are tasty on their own. If you wouldn't eat the roll on its own, why would you add it as a complement to a delicious burger? Second, they are 'hardy.' This means that they are 'solid' and 'hold up' well, without being overly tough or unpleasant to try and bite through. This allows the rolls to 'swath' the burgers without becoming soggy, and also allows them to hold their form while you eat them.
2) Don't overwork your burgers. When forming the burgers, you need to be careful not to overwork them. Overworking the meat pushes the air out, as well as draining its juices. The end result is a rubbery or 'tough' burger. Instead, you want to work the meat at a bare minimum, only enough to form them into burgers. Work the meat as little as possible.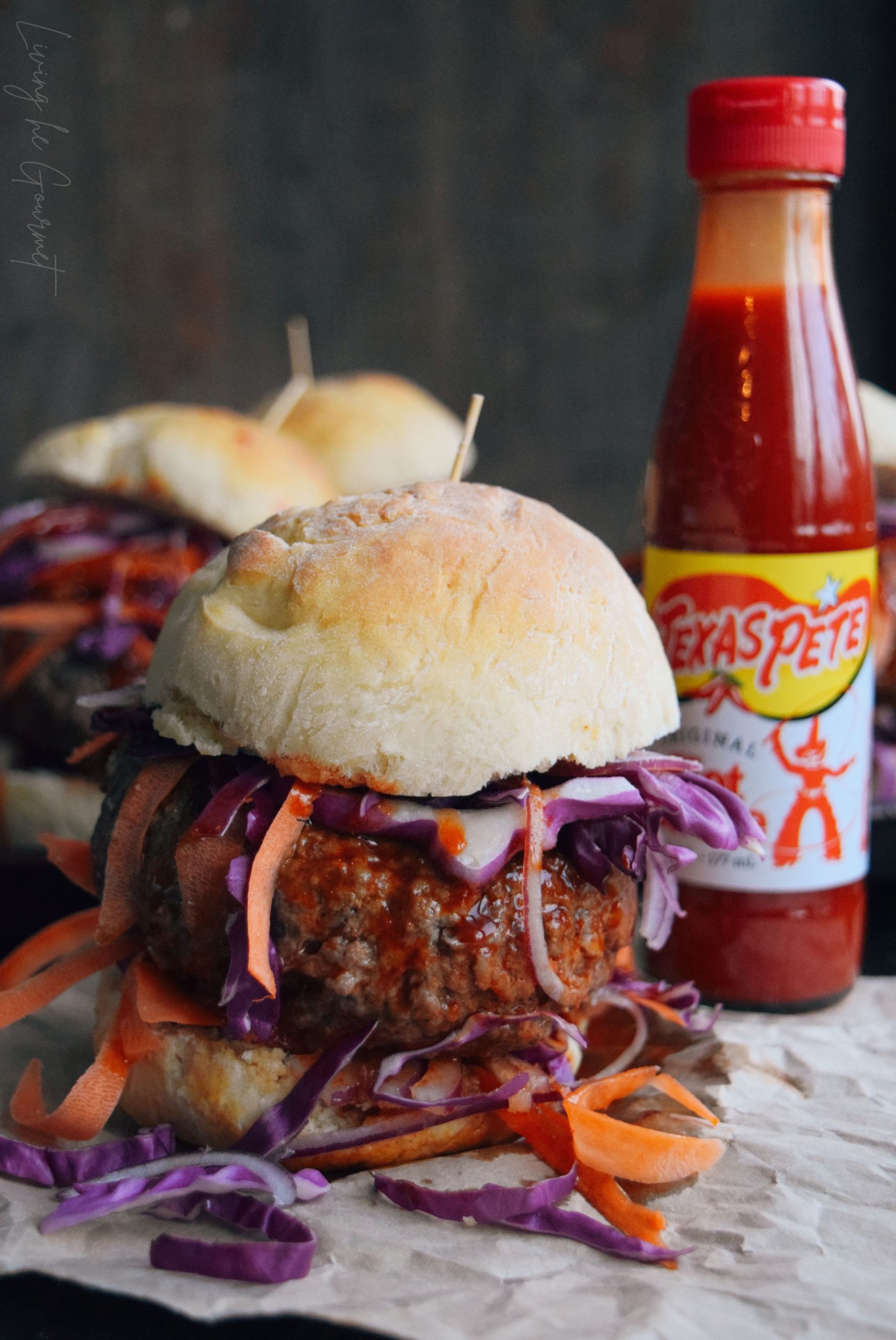 3) How to determine the size? To determine the right size for your burgers, first measure your rolls. Form the burgers ever so slightly 'larger' than the rolls, and the burgers will cook down to fit the rolls almost precisely, since the burgers will shrink somewhat during cooking. Naturally, this is affected by the amount of fat in the chop meat you're using, since more fat means more shrinkage, as well as how well-done you like your burgers, since a longer cook time also equates to more shrinkage.
4) Don't poke, don't prod. Poking and prodding your burgers, as with steak, achieves quite literally nothing, except to 'press' juices out of the meat, or to create 'holes' from which the juices will simply drain out during cooking. This results in a less moist, and less tender piece of meat. Don't do it. It achieves nothing.
5) When is it done? To test how well-done your burger is, simply give a 'very' gentle press on the top with your spatula. The firmer the burger, the more well-done it is. A fully 'soft' or 'squishy' burger is raw. A firm burger with no give is overdone.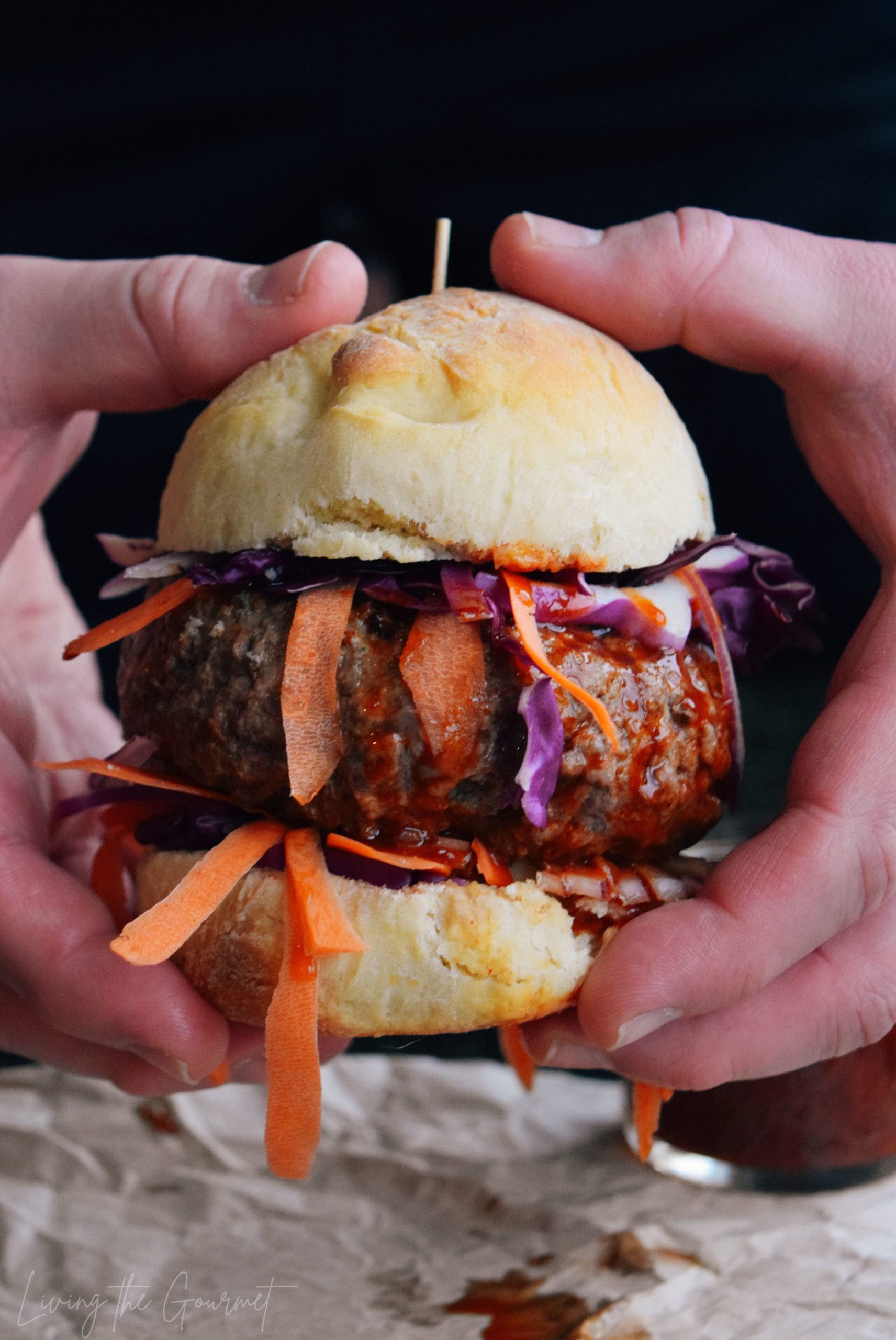 Print
Spicy Korean Style Burgers
Author:
Prep Time:

15 minutes

Cook Time:

15 minutes

Total Time:

30 minutes

Yield:

3

-

4

burgers

1

x
For the Burgers:
1/2

head of red cabbage, sliced thin

2

– 3 carrots shredded

2 1/2

–

3

lbs. of ground beef
Desired preference of Hamburger rolls
For the Sauce:
1/4 cup of gochujang (Korean red chili paste)

1/4

cup

of Texas Pete® Original Hot Sauce

2

tbs. of teriyaki sauce

2

tbs. rice vinegar

1

tbs. of sesame oil

1

tbs. of chili oil

1

tbs. of apricot preserves
Instructions
For the Sauce:
Combine all of the ingredients for the Korean sauce in a medium sized bowl and mix.

Set aside a portion of the sauce to drizzle over the cooked burger.
For the Burgers:
Toss the shredded carrots and thinly sliced cabbage together.  Keep refrigerated until ready to use.

Form the ground beef into desired sized burgers. 

Heat a large cast iron frying pan.

Set the burgers into the dry pan and brush the top with the Korean sauce.

Let the burger cook on one side, so a nice char is achieved.  Flip the burger and brush the other side with the Korean Sauce.  The softer the burger to the touch the rarer the burger is.   The desired doneness of the burger is a personal preference.
Assembly:
Toast burger rolls and spread a tablespoon amount of the reserved Korean sauce on the bottom side.  Top with burger patty, salad slaw, and onions.  Drizzle with more Korean sauce if desired.  Serve and enjoy!
Keywords: burgers, spicy, main dish
Recipe Card powered by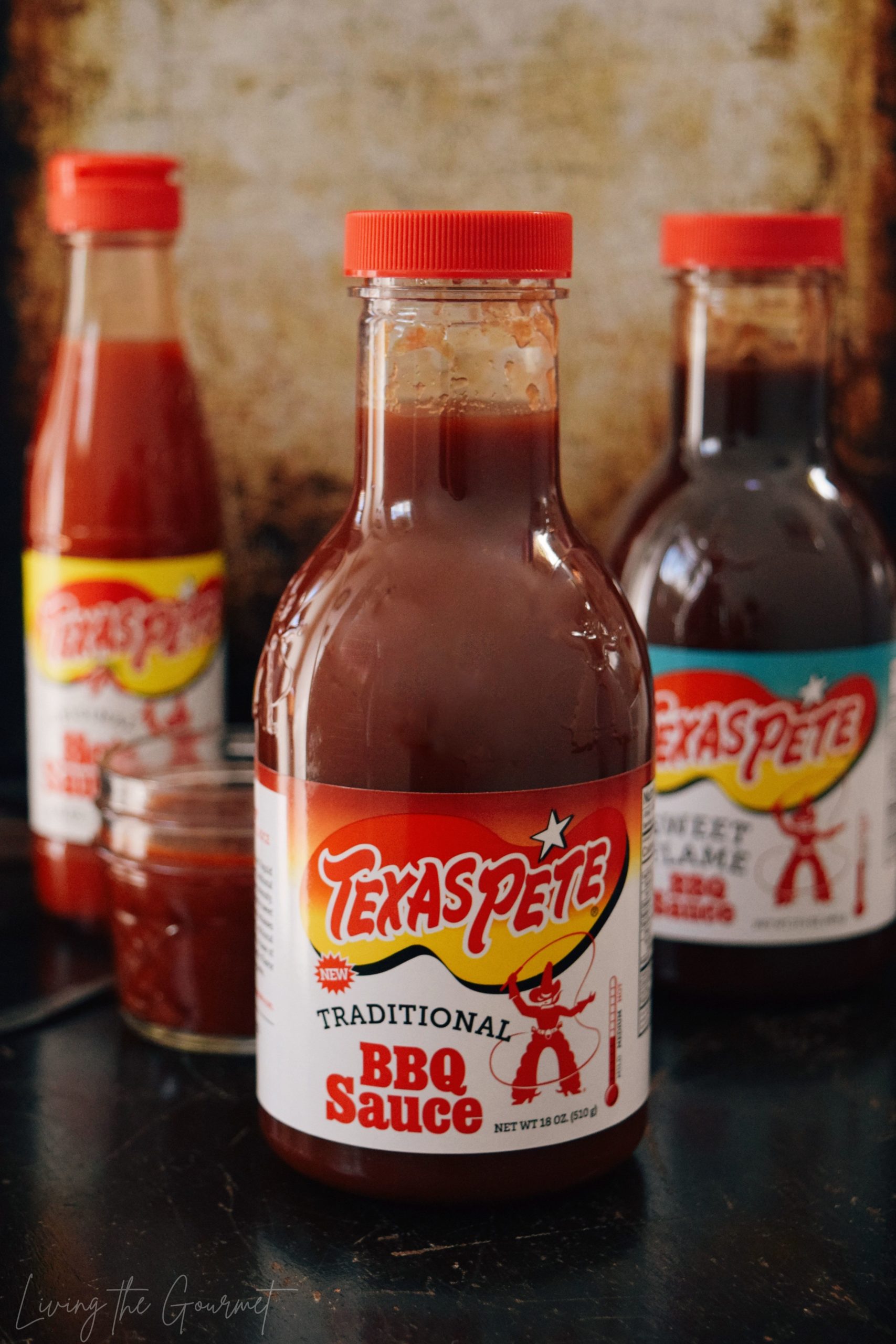 Don't forget to try Texas Pete® Traditional BBQ Sauce and Texas Pete® Sweet Flame BBQ Sauce, a new delicious line of sauces that you can locate here, for your upcoming warm weather cookouts!
9