This post has been sponsored by YRYM HT Grill Mats. All opinions expressed are my own.
Today we're cooking up one of summer's essentials – Grilled Country Style Ribs, which we'll be preparing in a chili and jalapeno marinade, with fresh cilantro and garlic. We'll then be plating the ribs with a pair of dueling sauces – Spicy Teriyaki BBQ and Classic Honey Mustard.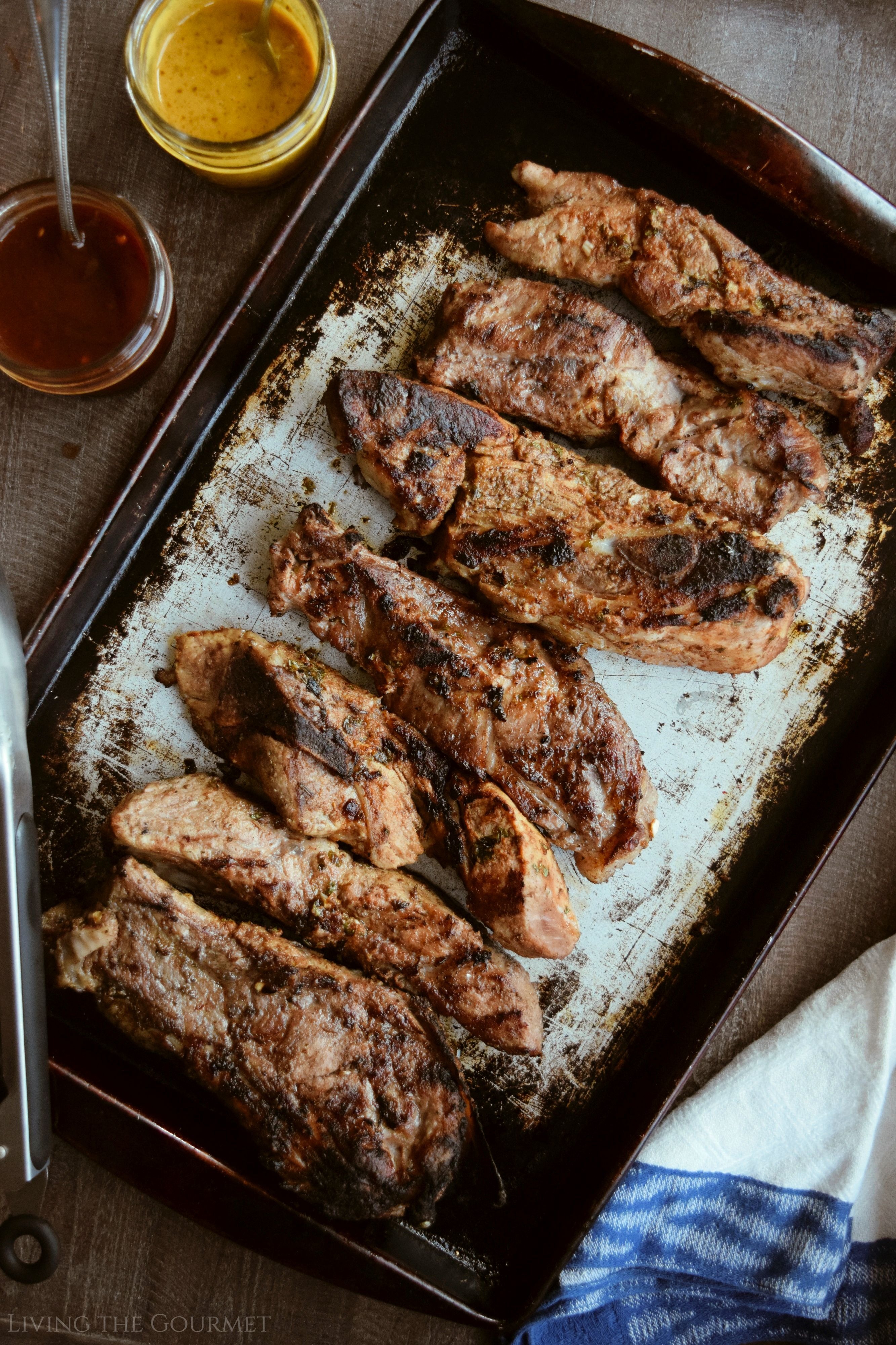 You'll Absolutely Love These Ribs – And Here's Why
1) No "grill master" techniques required. One of the best parts of this recipe is just how intuitive and straightforward it is to prepare. First we'll be simmering the ribs, then marinating them, and then setting them on the grill, and that's it. There's no need for fancy equipment, grill master techniques, or precision flame management, making this a recipe that's excellently suited for backyard BBQ'ers of all skill levels.
2) No Plates of Char. To be fair, 'some' char does add 'some' flavor. However, the cardinal sin of BBQ is, and always has been, serving your guests a plate of woefully overcooked meat buried beneath layers of char. The primary cause of this 'sin' is allowing the grill to overcook or 'char' the outside of the meat well before the inside is finished cooking. This recipe is designed to prevent exactly that from happening, while still achieving that "BBQ Char" flavor that we all know and love.
3) Added flavor at every step. From the seasoned simmer, to the marinade, to the sauces, every step of the preparation process adds a new layer of flavor, ensuring that you end up with a plate of ribs that have multiple layers of flavor.
3) Versatility. Adding flavor at every step also means that this recipe is supremely versatile. Feel free to tweak the seasonings during the simmering process, or to spice up the marinade by swapping the jalapeno for a hotter variety. Or maybe you prefer sweet ribs, or thicker sauces – go for it. This is as much a 'framework' or 'process' as it is a recipe. Build on this recipe to get your perfect set of ribs to match your palate.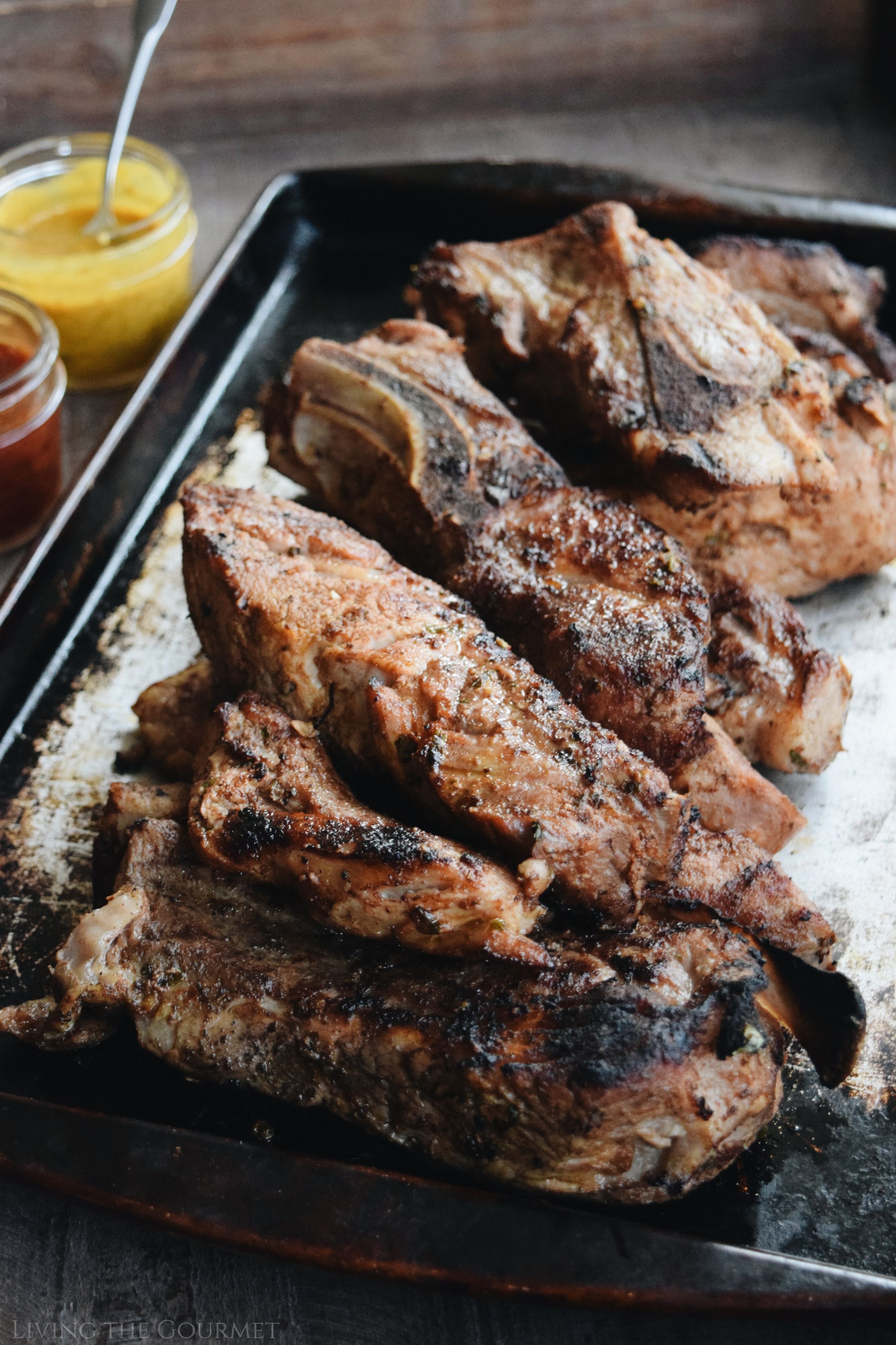 Prep Tip – Today's Secret Weapon
Today's big prep tip comes courtesy of BBQ Grill Mat, which is both reusable and reversible, as well as nonstick. The primary benefit of the BBQ Grill Mat is that it prevents the juices of the ribs from dripping into the grill, and instead 'captures' the juices around the ribs, which not only keeps your grill clean but also prevents your food from literally 'leaking flavor' into the flames. Secondly, it allows you to achieve that beautiful grill flavor and crispness without risking too much char.
And yes, before you ask, the BBQ Grill Mat is FDA approved, and is great for things like eggs, grilled vegetables, and pizza, making it one of my BBQ 'must haves.'
Notes on the Marinade – Some Pointers and Specifics
Today's marinade for today's ribs is a mix Jamaican Curry, sliced jalapeno, fresh lemon and lime juice, and ground fresh chili paste, along with the rest of the ingredients listed below. However, there are few points you might want to keep in mind.
1) Ground Fresh Chili Paste. While you can feel free to sub in your favorite chili paste or sauce, you want one that's more or less 'just' ground chilies with the addition of vinegar and salt as a base. No, Sriracha or hot sauce is 'not' a suitable substitute. The purpose of this particular ingredient is not only the heat of the chilies, but also the full flavor of the chilies.
2) Jamaican Curry vs Indian and Thai Curry. First off, you're likely asking "What's the difference?" Jamaican Curry, as you might expect, is produced in Jamaica, and features prominently Jamaican cuisine. For this reason, it tends to be a fair bit cooler and milder than either Thai or Indian curry, while going a bit heavier on the turmeric. Unlike either of its two counterparts, Jamaican curry typically (but not always) features allspice, a flavor prominent in such Jamaican classics as Jerk Pork. For my palate, I tend to prefer Jamaican curry generally, as well as for most grilling and BBQ recipes, but this is purely a matter of preference. As always, feel free to experiment.
3) The Jalapeno. For today's marinade, I'm leaving the jalapeno raw, and I'm leaving the seeds in for a bit of extra spice. Alternatively, if you want to cool the ribs down a bit, clean out the seeds before adding in the jalapeno. Also, if you prefer to go a bit heavier on the 'char' or 'grill' flavor, feel free to grill the jalapeno stovetop in a dry cast iron frying pan before chopping it into the marinade.
4) Fresh vs. Bottled Lemon Juice. As a rule, fresh is better, and sliced a lemon into squeezable halves or wedges is practically as easy as opening a bottle and measuring it out. Furthermore, bottled lemon juice simply isn't as flavorful, lacking the full 'zest' or 'brightness' of fresh lemon juice, and often times its flavor is further diluted with preservatives.
The Sauces – Layers of Flavor
Now, while these ribs are certainly great on their own, to really complete the picture you'll need both today's sauces. Both of these sauces are BBQ classics in their own right, but I've put a bit of my own spin on both.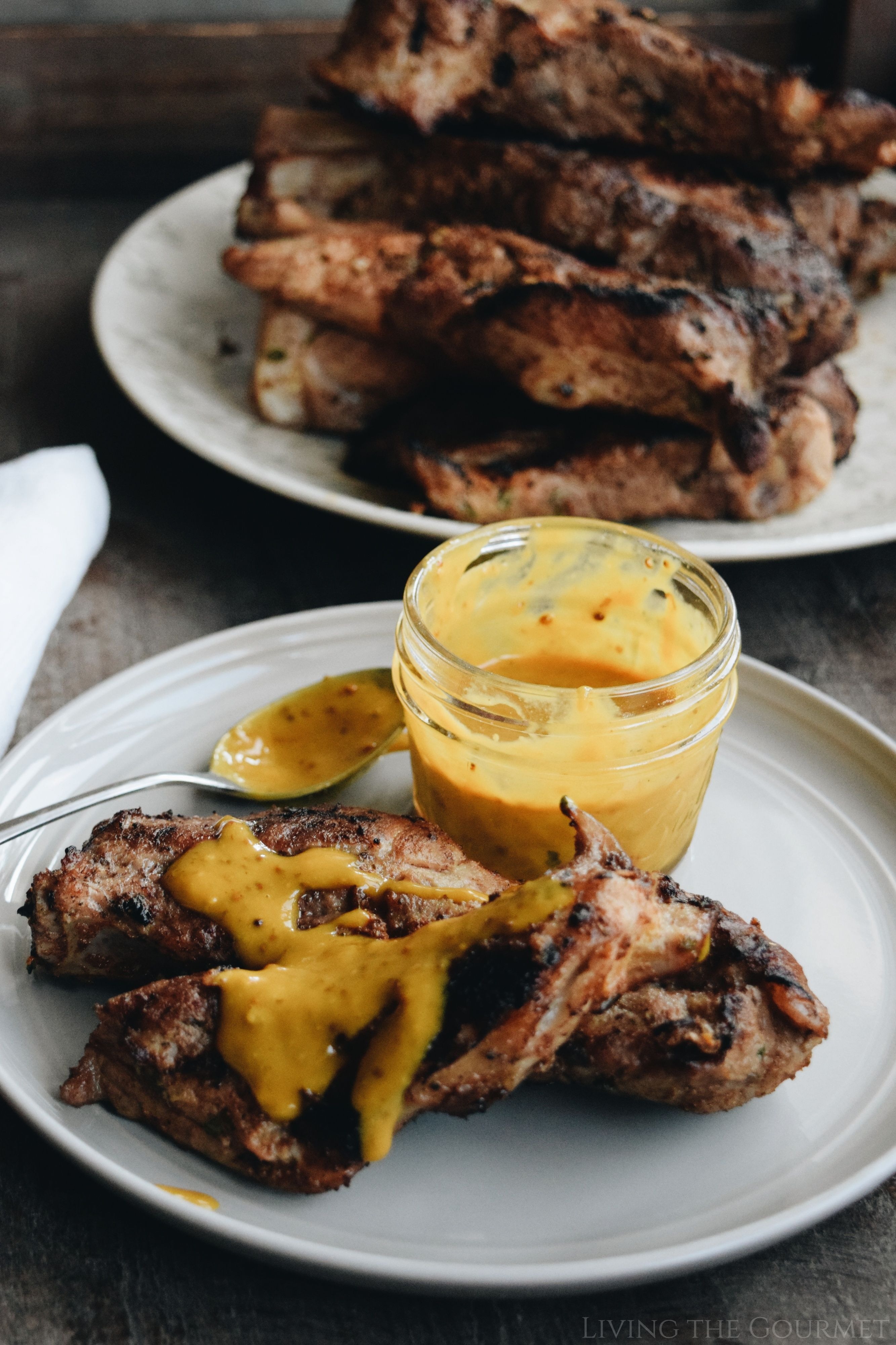 -Honey Mustard BBQ Sauce-
What you'll need:
½ Cup of Yellow Mustard
1 Tablespoon of Grey Poupon Mustard
1 Tablespoon Honey
2 Teaspoons Brown Sugar
Mix together the above ingredients in a small bowl or mason jar (as pictured below). Whisk until you have a smooth, clump-free mixture.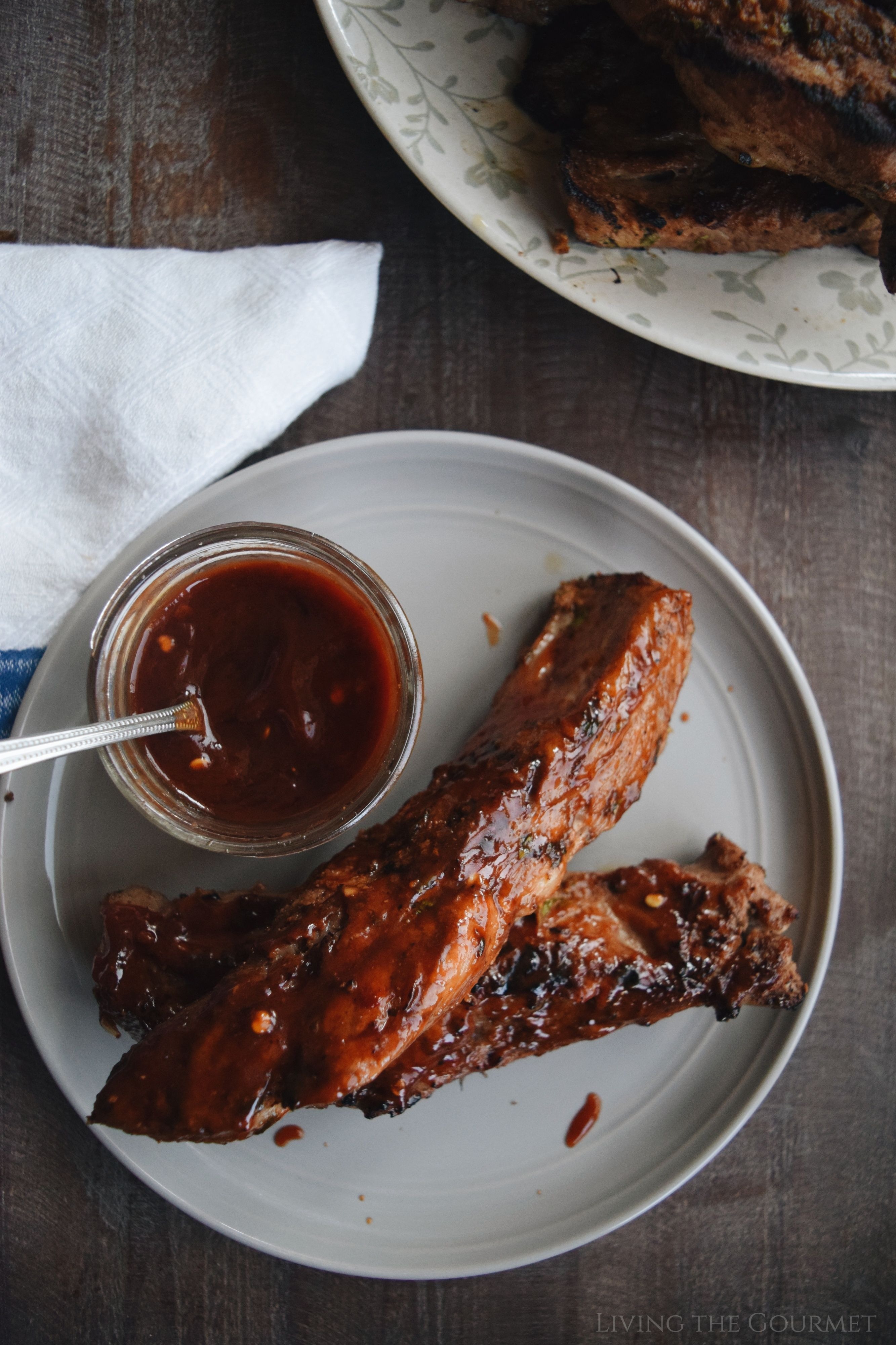 -Spicy Teriyaki BBQ-
What you'll need:
½ Cup Ketchup
2 Teaspoons Ground Fresh Chili Paste
1 Tablespoon Fresh Teriyaki
2 Teaspoons Molasses
2 Teaspoons Worcestershire Sauce
Mix together the above ingredients in a small bowl or mason jar (as pictured below). Whisk until you have a smooth, clump-free mixture.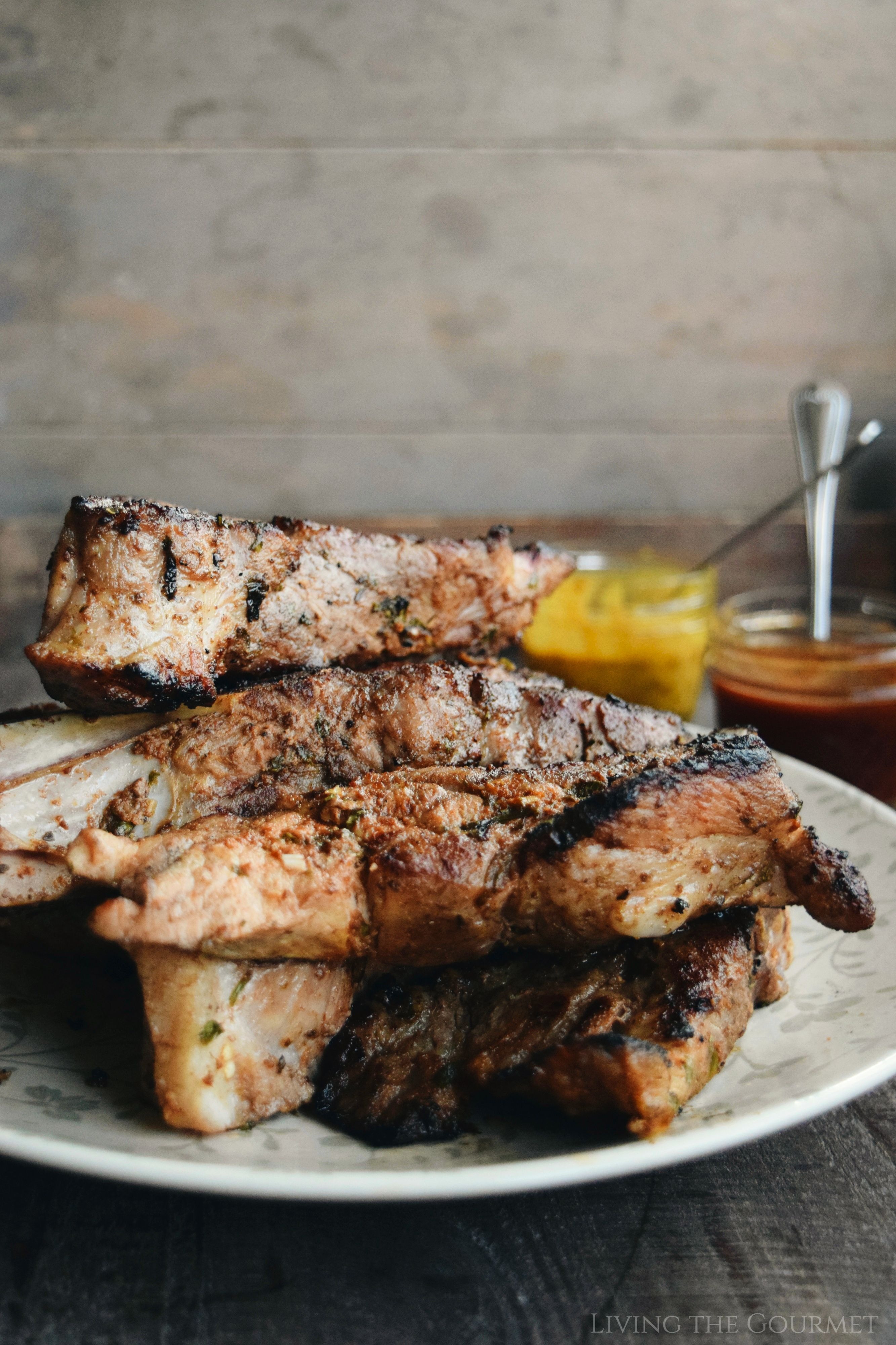 Craving More BBQ Rib Goodness?
If you're still craving more ribs, be sure to check some of our favorites below,
1) Mediterranean Style Tender Back Ribs– These super tender ribs were prepared with a marinade that positively screams "Summer Bistro," being a rustic mix of olive oil, fresh lemon juice and honey, with fresh garlic and oregano rounding out the flavor profile.
2) 7UP Citrus Ribs– If you're throwing a backyard barbecue party, these are the ribs you're looking for, and if you couldn't guess from the name, they're prepared with a decadently sweet 7UP based marinade. Seriously, give these a try.
3) Char Siu Style Ribs– This hoisin sauce based classic will impress even the most selective palates, making them one of my go-to recipes for ribs.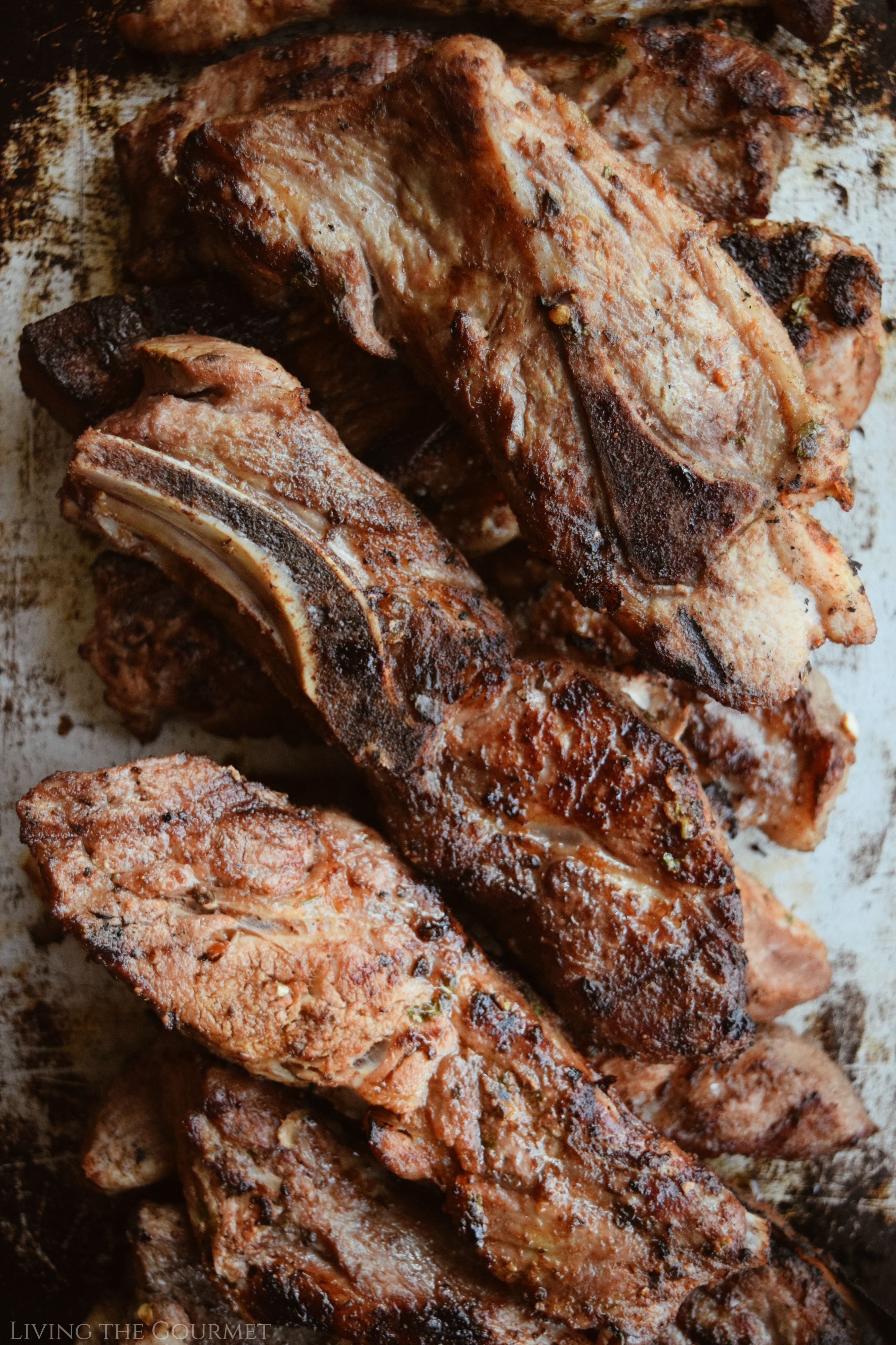 Print
Grilled Country Style Ribs
Author:
Prep Time:

10 minutes

Cook Time:

1 hour 10 minutes

Total Time:

1 hour 20 minutes

Yield:

4

-

6

lbs ribs

1

x
4

–

6

lbs. of Country Style Pork Loin Ribs
Garlic powder
Salt
Red pepper flakes
Bay leaves
Dried oregano
For the Marinade:
½ cup

canola oil

½ cup

ketchup
Juice of

1

lemon
Juice of

1

lime

1

jalapeno – sliced

5

cloves of garlic – chopped

½ cup

of fresh cilantro – chopped

1

tbs. cumin

1

tbs. Jamaican Curry

1

tbs. salt

1

tbs. black pepper

1 tsp

. cinnamon

1

tbs. ground fresh chili paste

1

tbs. sugar
Instructions
Prepare the marinade.
Place the ribs in a large sauce pot and cover them with water and herbs. To make the ribs tender gently simmer the ribs for about 45 minutes – 1 hour, to soften and tenderize the meat. Do not boil the ribs, that will make them tough.
Remove the ribs from the pot, set them in a large bowl and toss with the marinade.
Immediately, place ribs on the grill turning frequently, for 20 – 30 minutes, or until nicely browned.
Recipe Card powered by
Did you make today's recipe? Or any of my listed favorites? If so, I would absolutely love to hear from you! Give me a shoutout on Instagram or tag me on Pinterest with a picture of what you made, and be more than happy to post your pin to one of my boards!
Enjoy with Love!
5