A whole roasted chicken is perhaps one of the most comforting things in the world. Today's whole roasted chicken is equal parts sweet and savory, and just a hint spicy.
This whole roast chicken is blissfully simple to put together, utilizing a back-to-basics mix-rub-bake cooking process. Simply mix the ingredients for the rub together (just six simple ingredients), rub that over the chicken, and then bake it in the oven. Super simple.
One of my favorite things about whole roasted chickens is just how easy they are to build a meal around. They pair great with just about every family favorite you can imagine.
For example, today's chicken would be great alongside something like my Pickled Sweet Potato Salad. It would also pair deliciously alongside my Moroccan Tomato Salad.
Now, without further delay, let's jump right in.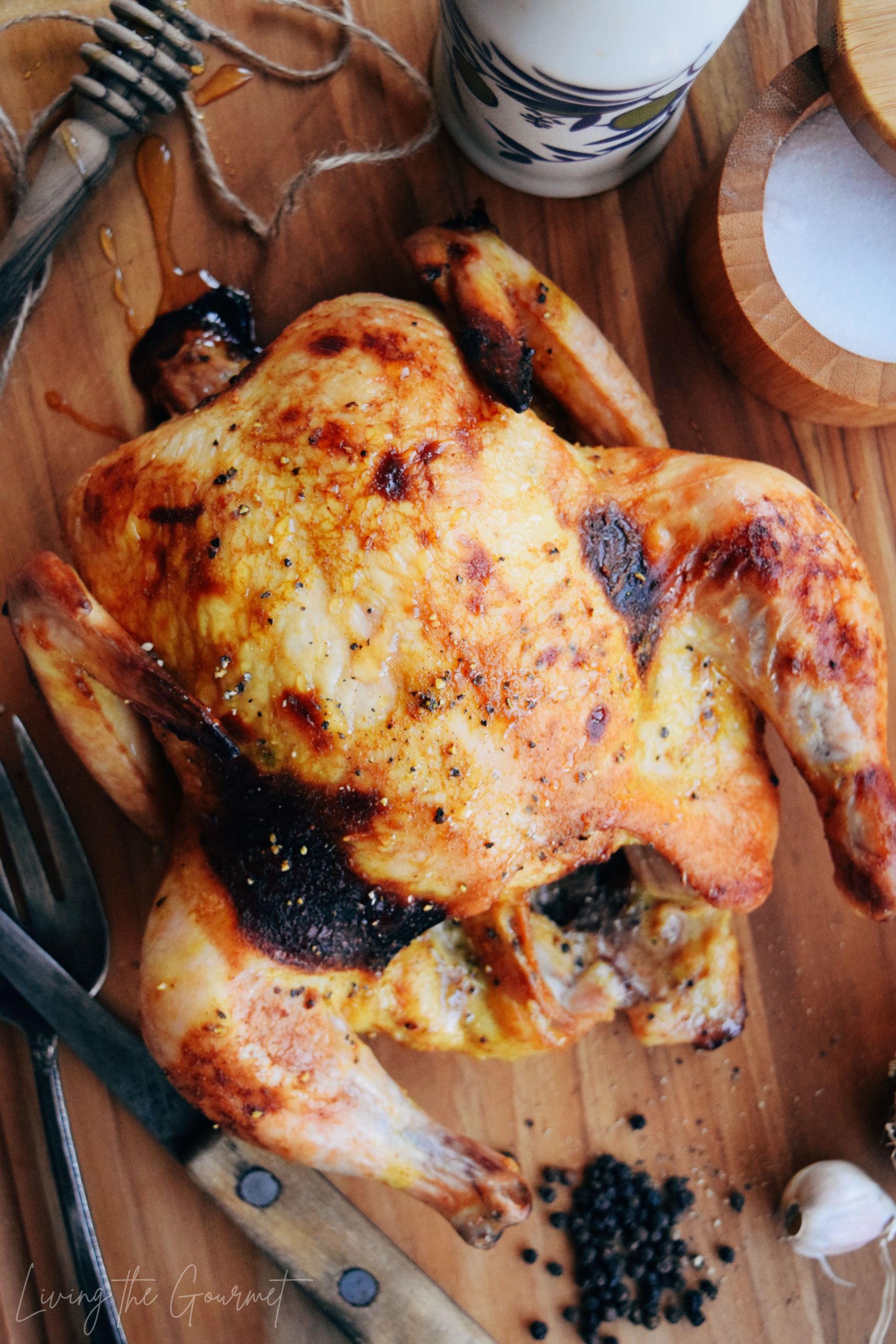 Ingredients Checklist and Notes
Here's a brief rundown on the ingredient checklist for today's recipe, along with some notes on each.
Chicken. I'm using a whole chicken, but chicken parts or fillets also work just fine. More on that below.
Curry. Substitutes for curry are listed below. I'm using Jamaican Curry, but any curry will work just fine.
Salt. Gourmet salts, such as pink or black Himalayan salt, or higher end sea salts, are not needed for today's recipe. However, if you want to splurge, feel free to use as the gourmet salt of your choice – just be aware that today's recipe is formulated around 'standard' cooking/table salt.
Black Pepper. Pre-ground pepper works fine, as does cracked pepper. The only difference is the size of the grain, which doesn't effect anything for today's recipe.
Honey. Generic honey is fine. While you 'can' use raw or 'gourmet' honey, do note that cooking honey removes all the nuances that 'make' gourmet honey. Also, once you cook raw honey it isn't 'raw' anymore – shocker, I know.
Vinegar. I'd suggest using either red or white wine vinegar, or apple cider vinegar. Rice vinegar would also work just fine. Plain white vinegar will be a bit too 'acidic' for today's recipe.
Olive Oil. Stick with extra virgin for today's recipe, as some of the olive oil flavor will come through in today's recipe. However, if you've only got regular or light olive oil on hand, don't worry about it, that will work fine.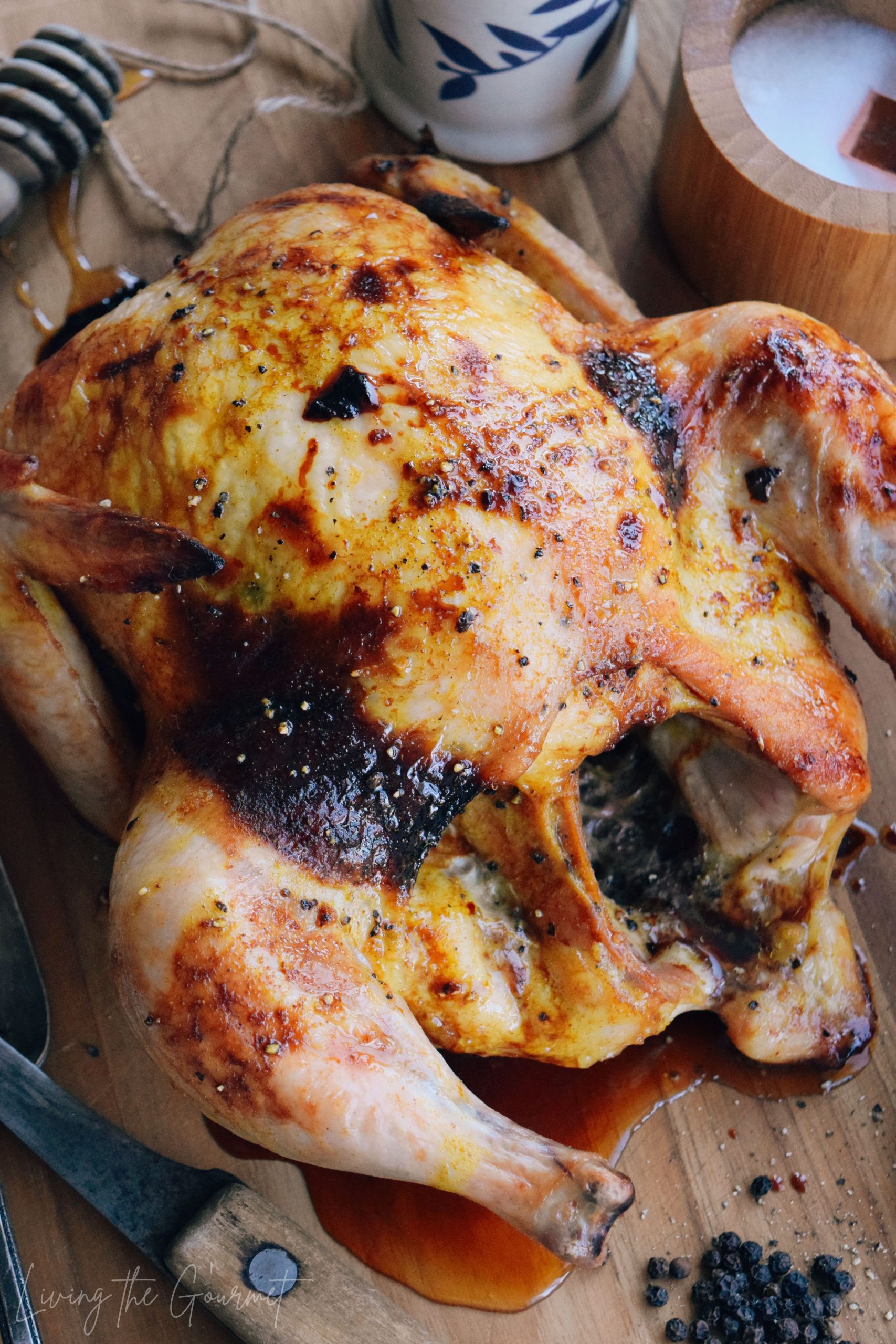 Ingredient Substitutions
There are a few key substitutions for today's recipe that I wanted to list for you, specifically the whole chicken and the curry.
Substituting the Whole Chicken. Feel free to substitute chicken parts or fillets for the whole chicken, as either will work just fine. Here some notes on substituting each (yes, the cook time remains the same).
Chicken Parts. As with the whole chicken, be sure to fully coat the chicken parts in the spice and oil mixture. However, the advantage of using chicken parts is that they allow you to really get the mixture under the skin for added flavor – so be sure to do that as well. This also helps to keep the chicken moist through cooking.
Chicken Fillets. Not much to say on this one, except here again be sure to fully coat the fillets in the mixture. Again, cooking time remains the same.
Substitutes for Curry. Don't have curry? Don't worry, here are a few great substitutions. All curry substitutes get used in the same quantity as the curry.
Homemade Curry. Mix together coriander, all spice, and turmeric in roughly equal parts (experiment to find your own perfect ratios), along with about half as much chili powder and cayenne, and you've got homemade curry. In my opinion, this is perhaps the best 'all around' curry substitute, as well as a great spice mix on its own.
Garam Masala. This is an Indian finishing spice, but it also works wonders as a curry substitute.
Cumin. On its own, cumin is great in a pinch for use in place of curry.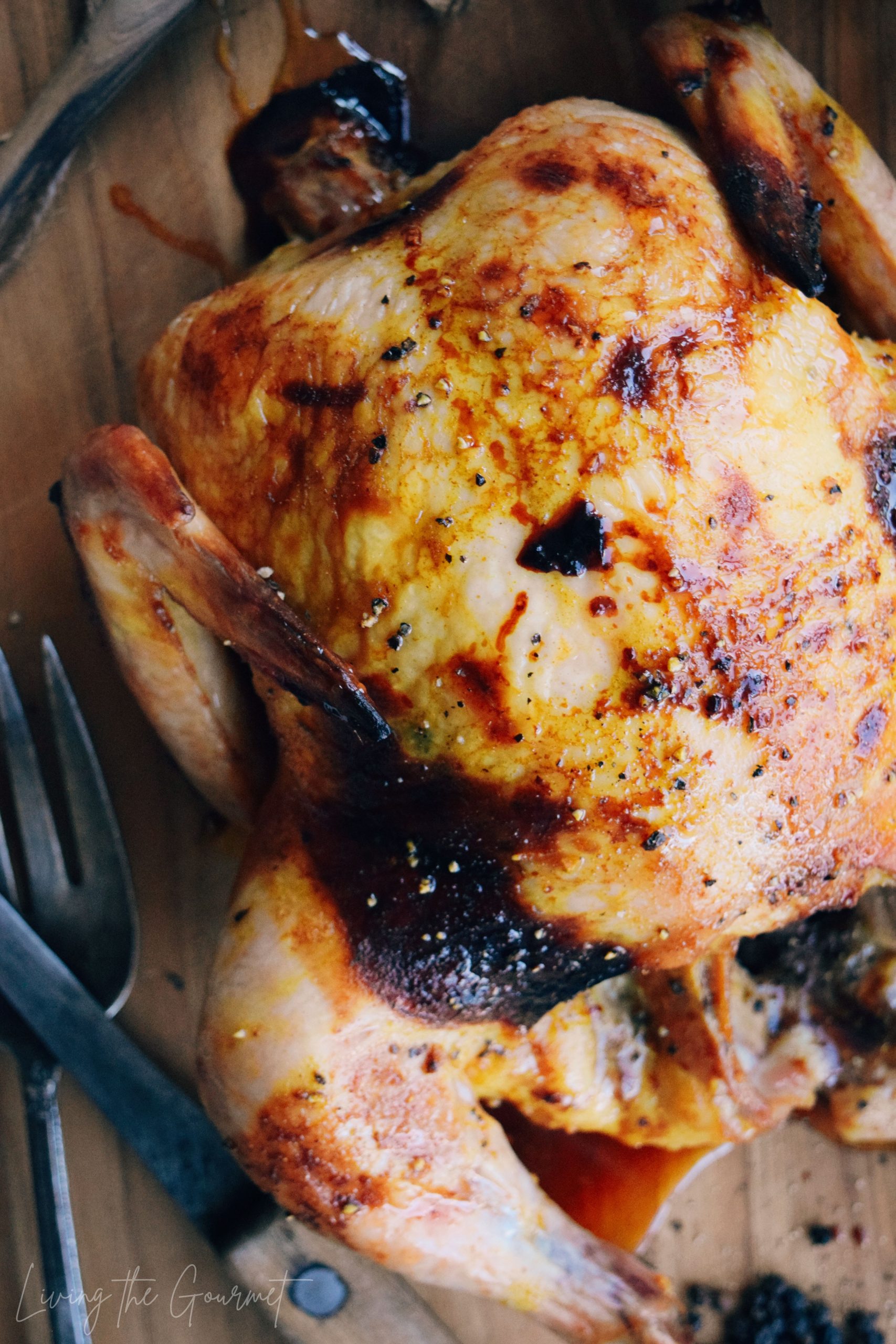 Step by Step – Roasting a Chicken
Here's where I show you just how easy this recipe is to piece together.
Combine. Mix together all of the ingredients for the rub in a bowl.
Rub. Then rub the chicken down thoroughly with the mixture.
Bake. After that, it's into a three-hundred-and-fifty-degree oven until the chicken juices run clear.
Seriously, it can't get much easier than that.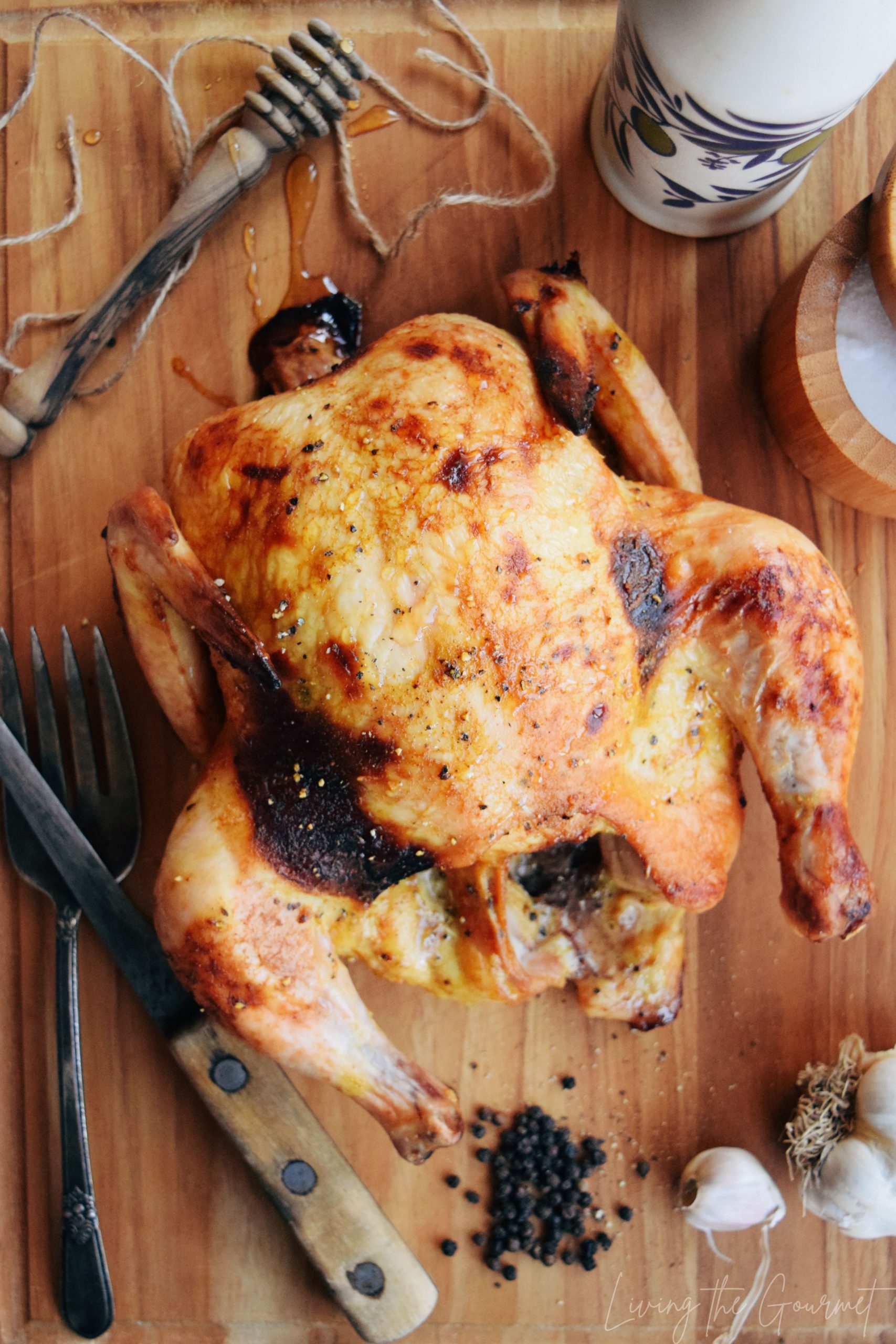 Pairs Great with Today's Recipe
Print
Roast Chicken with Honey Vinegar Rub
---
Author:

Total Time:

1 hour 35 minutes

Yield:

4

1

x
For the Rub:
1/4 tsp

. Paprika

1/4 tsp

. Cumin

1/4 tsp

. Garlic Powder

1/4 tsp

. Curry

1/4 tsp

. Salt

1/4 tsp

. Pepper

1 tablespoon

honey

1 tablespoon

vinegar

1 tablespoon

olive oil
---
Instructions
Preheat Oven 350 degrees F.
Combine all of the ingredients for the rub in a small bowl.
Rub the clean chicken down with this rub: outside and under the skin.
Place chicken in a baking dish and bake until the juices from the thigh run clear.
This is a great tasting chicken, for any night of the week.
Prep Time:

15 minutes

Cook Time:

1 hour 20 minutes

Category:

Main Dish
Keywords: chicken, whole chicken, roasted chicken
Recipe Card powered by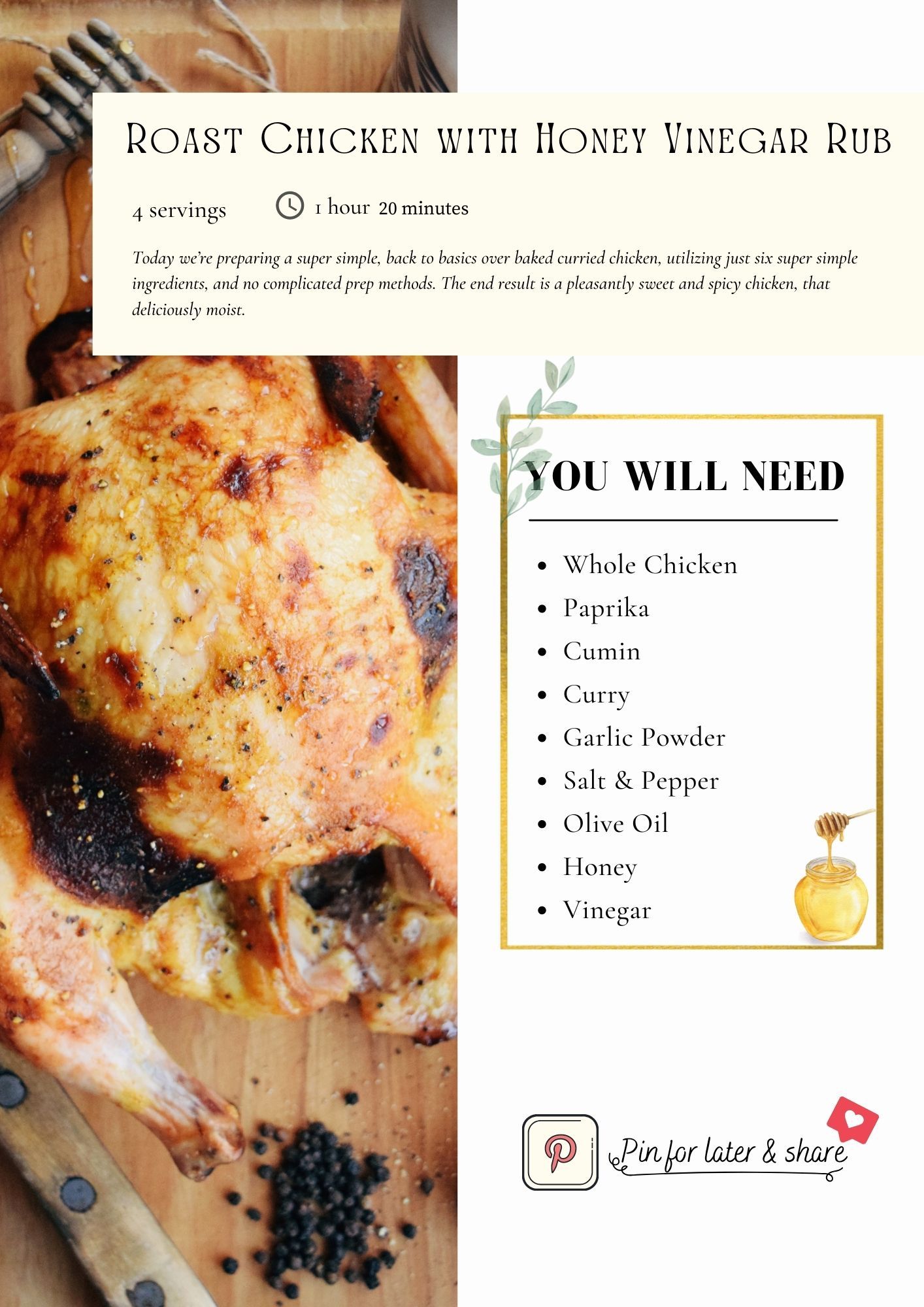 As an Amazon Associate I earn a small commission from any purchases made through the affiliate links within this post. For more information on this please see our disclosure policy. Thank you!
This post has been updated August 2022. The original recipe was published February 29, 2012.
1