Today we're bringing you a Pickled Sweet Potato Salad with an Asian flair that will be the perfect accompaniment to all of your warm-weather favorites.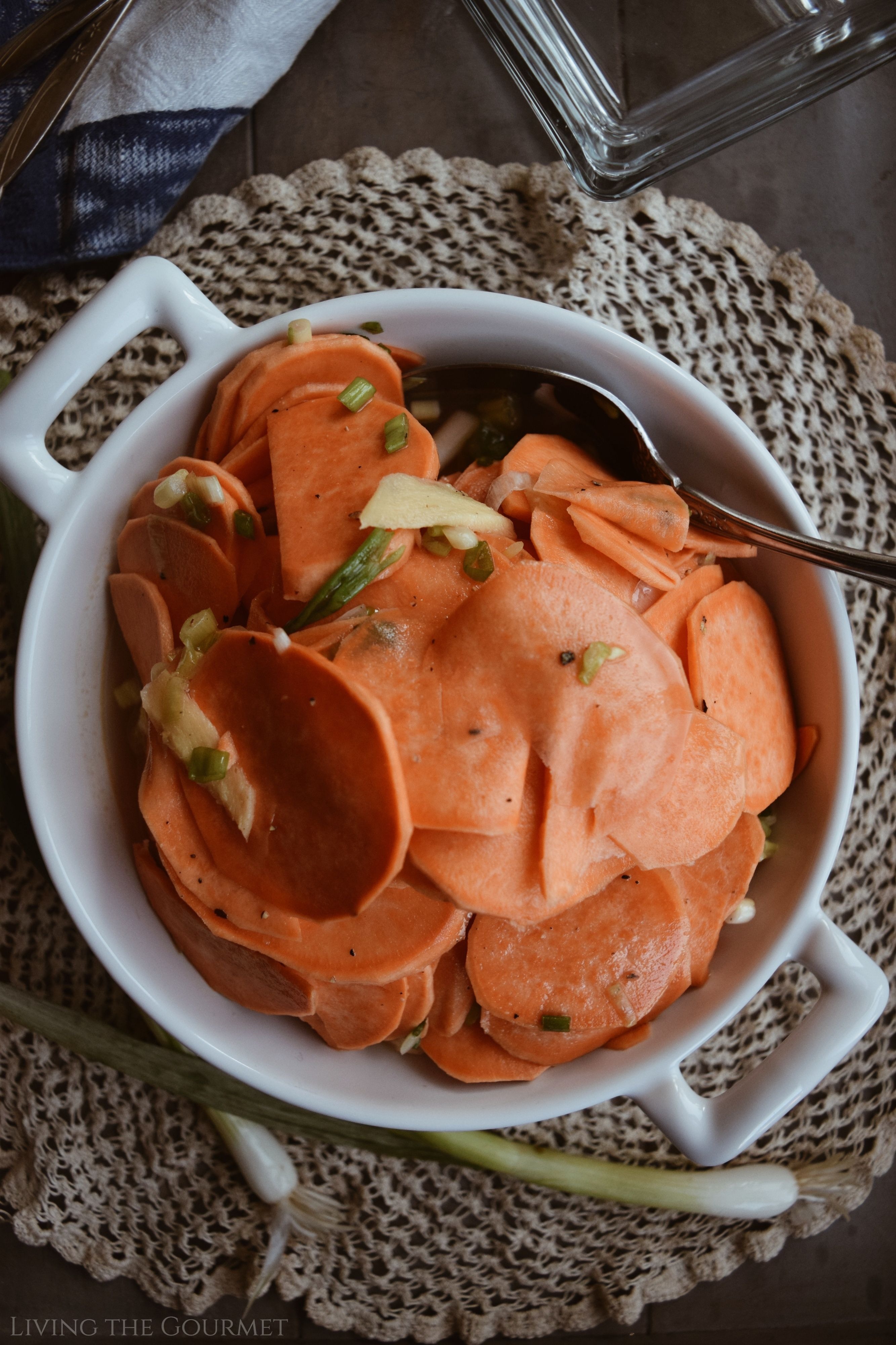 This salad is a collage of fresh garden flavors, from thinly sliced sweet potatoes coated in sesame oil, while scallions meld with fresh ginger in a base of vinegar, sugar and sea salt, combining to create a salad that's surprisingly complex, being at times sweet, spicy, and savory.
Featuring a mere eight ingredients, this salad is deceptively easy to throw together. Now let's get to it.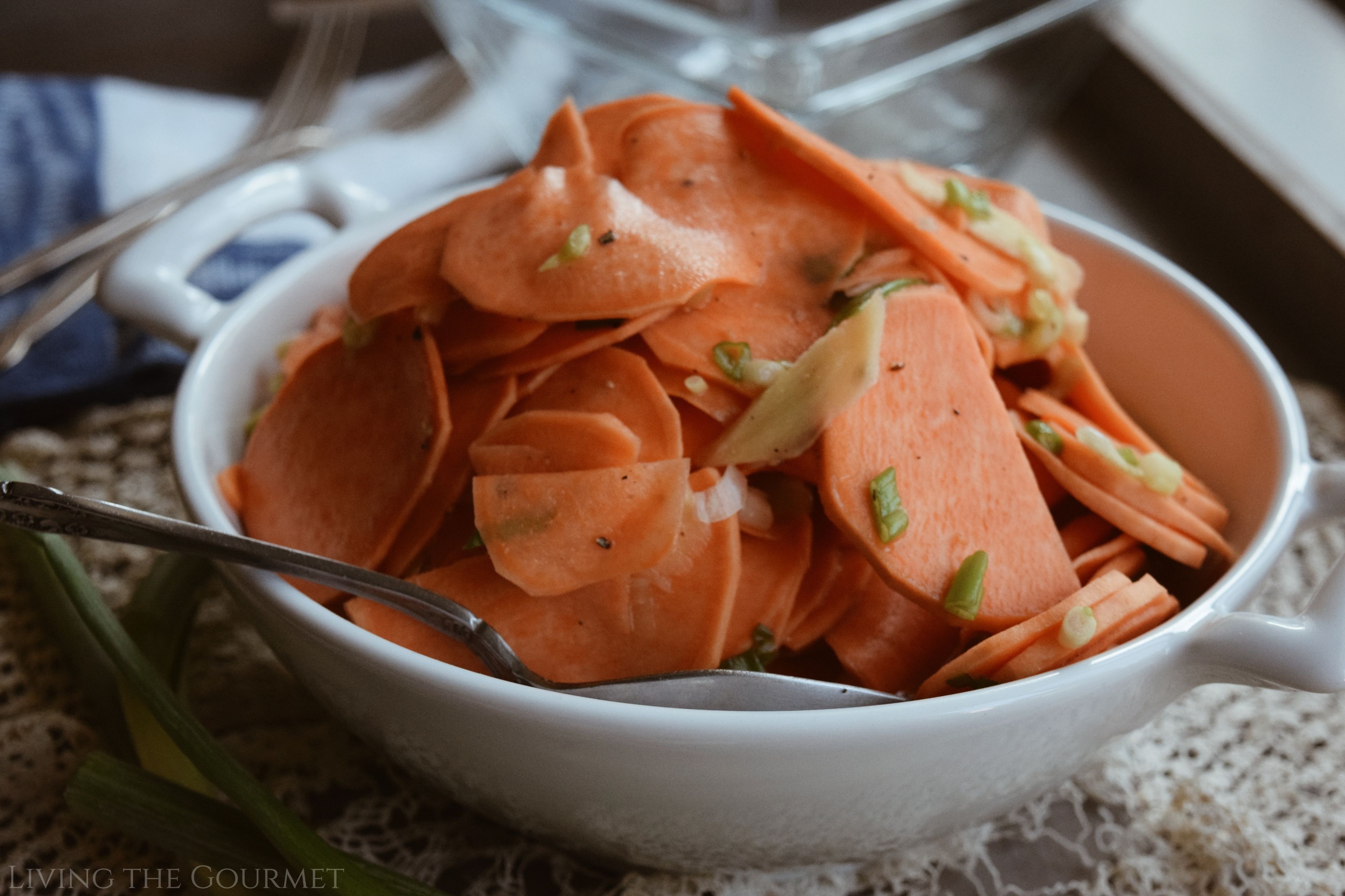 What To Eat With This Salad
Since this salad is a bit off the beaten trail, I'll give you a few pointers on what to eat this with.
1) Beef. Steaks fresh off the grill, your favorite burger, or as a side to beef kebabs, the flavor profile of the salad all but begs to be paired alongside beef. And don't be afraid of 'how' you prepare or season the meat. Whether crusted in pepper, or topped with chili sauce, or paired with a spicy marinade, this salad's got you covered.
2) Vegetarian Recipes. Here I'm thinking veggie dumplings, spicy pan-seared tofu, or even your favorite variety of rice bowl, today's salad would be great for kicking a vegetarian lunch or dinner up a few notches.
3) Spicy Food. Korean barbecue would go great with this salad, as would anything prepared General Tso style. I'm also loving the idea of spicy seafood with this salad.
4) Anything 'Fresh' Tasting. One thing I absolutely love about this salad is just how 'fresh' and 'crisp' and 'clean' it tastes. As a result, this salad will go absolutely great with anything that shares similar qualities.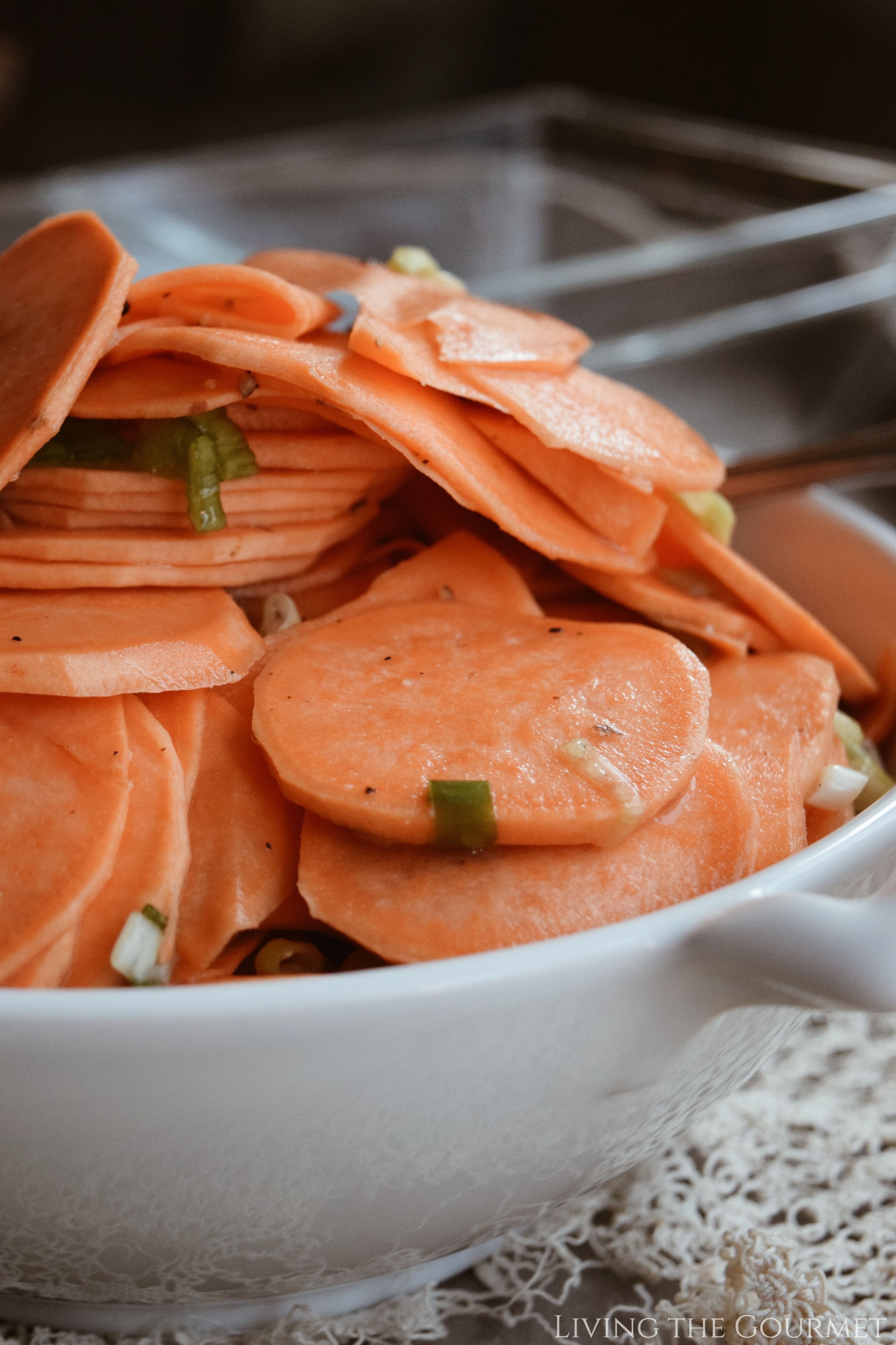 The Ingredients, and Some Pointers
1) Scallions vs Onions. Without going into detail on the difference between scallions and onions, the primary reason we're using scallions here is due to their somewhat milder, more 'fresh' focused flavor, whereas standard onions (red would be variety used in this recipe) would have a far sharper, somewhat punchier flavor, and quite a bit more 'bite.' However, if that sounds more appealing to your palate, by all means, feel free to experiment.
2) The Sweet Potatoes. You want to slice these as thin as possible – as shown in my picture. Use a mandolin if you can't manage it by hand. That said, if you slice these too thick they simply won't be palatable, since they will be 'hard' rather than 'crunchy,' and that's not at all appealing.
3) Fresh Ginger. The reason we're going for fresh ginger rather than pickled has to do less with the fresh ginger itself, and more to do with what I do 'not' want from any variety of pickled ginger. The pickled ginger brings lots of 'vinegary' and 'pickling' flavors over from its brine, and that would dampen the 'freshness' that I love from this salad. Also, fresh ginger simply has more 'spice' to it than pickled, and that's where most of the salad's heat is coming from. However, here again, you need to slice the fresh ginger as thin as you possibly can, because biting down on a chunk of fresh ginger unexpectedly can be rather unpleasant for many palates, aside from note having a very pleasant texture in larger, chunkier portions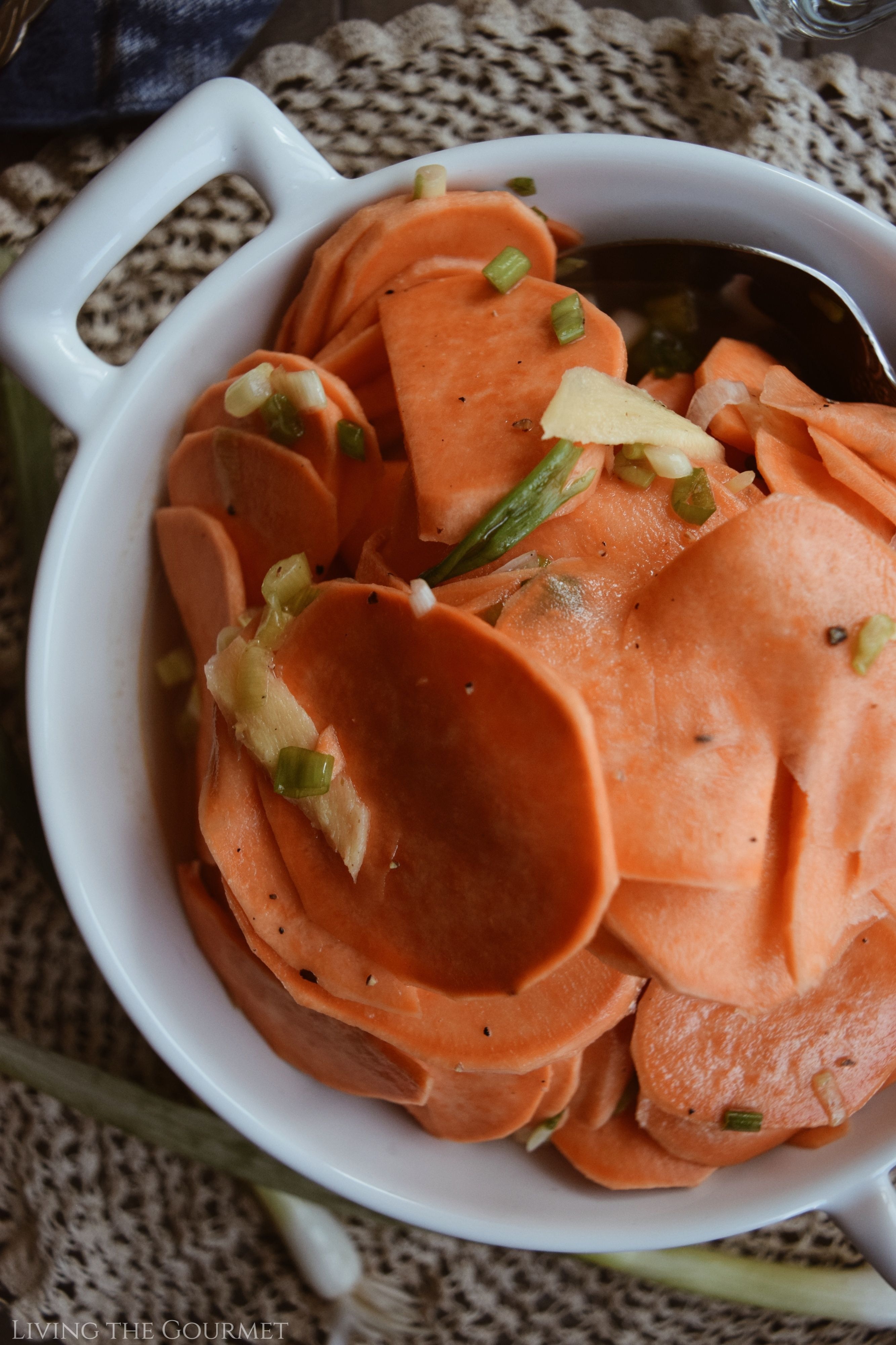 Print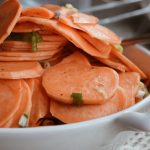 Pickled Sweet Potato Salad
---
Author:

Total Time:

15 minutes
3

medium sized sweet potatoes - peeled and sliced very thin
About a

3

-inch piece of fresh ginger - peeled and sliced very thin

1

bunch of spring onions (scallions) - sliced thin

1 1/2 tsp

. of fresh ground sea salt

1 tsp

. of fresh ground black pepper

1

cup

of white vinegar

2/3

cup

of sugar

1 tsp

. of sesame oil
---
Instructions
Wash the potatoes with cold water and pat dry. Peel the skin off the potatoes and slice them very thin.
The key to slicing very thin is a good knife that is sharpened.
Place the peeled potatoes in a large bowl.
Slice the ginger very thin and add to the bowl and toss.
Slice the spring onions very thin and add to the bowl and toss.
Add the sugar, salt, black pepper and toss.
Add the vinegar and sesame oil and toss.
Cover and refrigerate until ready to serve.
This recipe should be made at least and hour ahead of serving so that the flavors will incorporate and become more delicious.
Notes
*Prep Time does NOT include Inactive Prep Time
Recipe Card powered by
Did you make this recipe?
If so, let me know in the comments down below, or post a picture to Instagram or to Pinterest, and I'll give you a shoutout on Instagram, or post your pin to one of my Pinterest boards.
Enjoy with Love!
3