This post has been sponsored by NatureSweet. All opinions expressed are my own.
Today we're preparing one of my favorite warm weather salads – Moroccan Tomato Salad, which is a super simple combination of cucumbers, tomatoes, fresh parsley, olive oil and fresh lemon juice. The result is a light and refreshing salad that you can throw together in just minutes, and that pairs deliciously with a medley of summertime classics.
We'll be putting together today's salad with a little help from our new friends over at NatureSweet, who's hand-picked, and hand-packaged tomatoes are raised right, being both traceable and proudly non-GMO, but more on them below.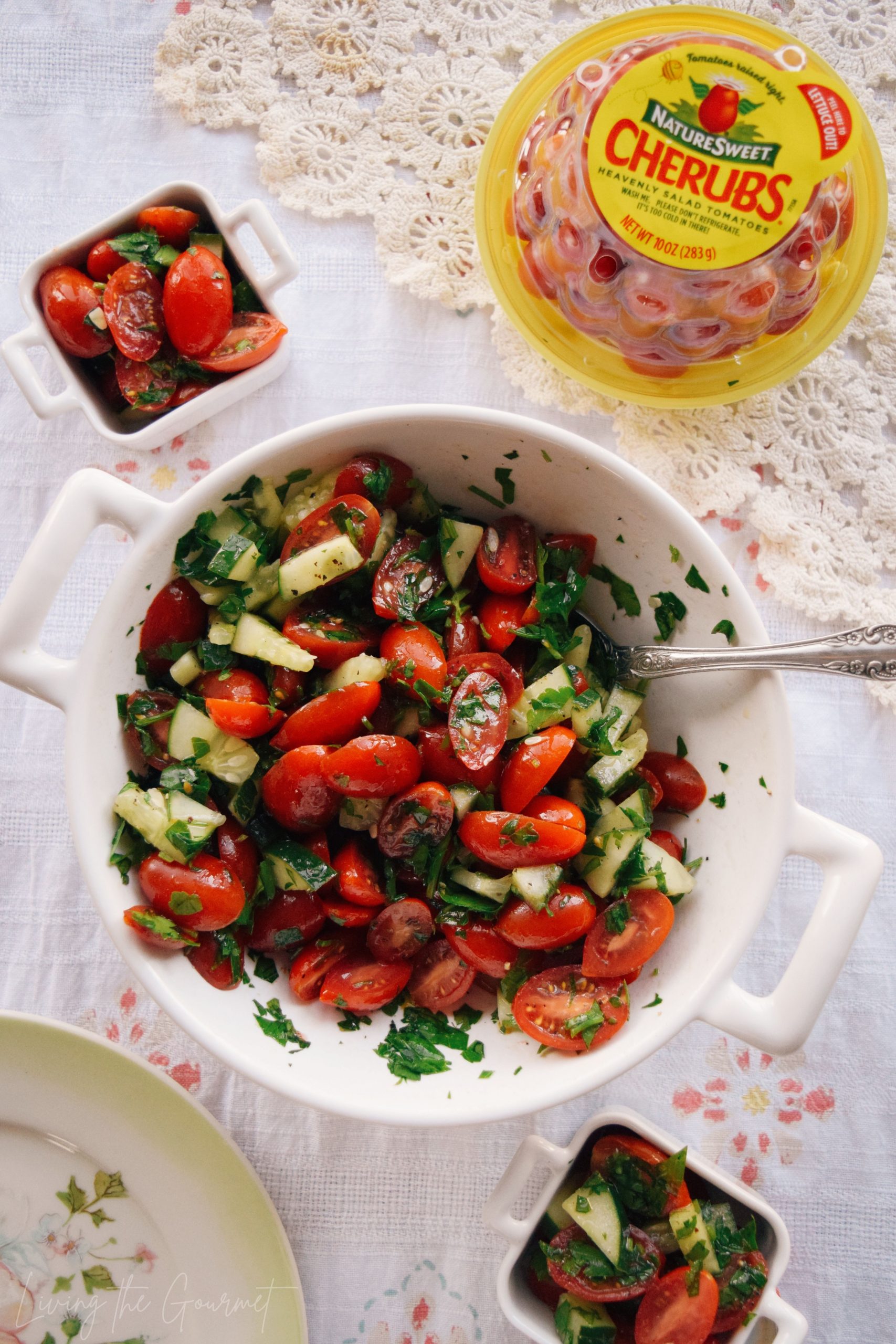 Why you'll love this salad
1) Super Simple. Today's salad couldn't be easier in terms of preparation and ingredients. If you can slice up a cucumber and some tomatoes, chop some fresh parsley and then mix those with olive oil and lemon juice, you can make today's salad. It really is just that easy.
2) Only Basic Ingredients. Today's salad features no ingredients that should be considered exotic, hard to find, or expensive.
3) Seasonal. Being light and refreshing, today's salad is great for balmy summer days.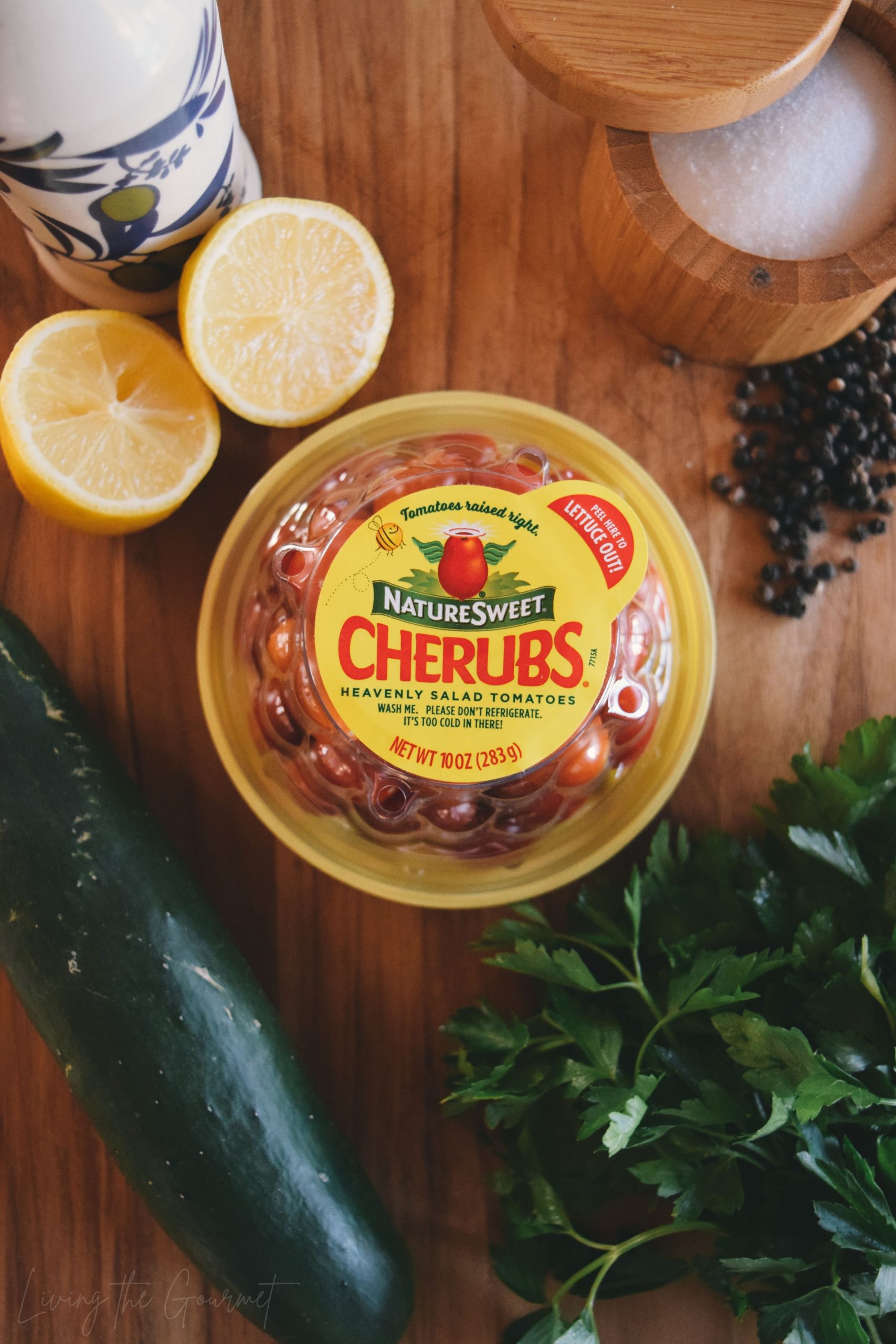 Ingredient Notes and Tips
1) The Cucumbers. The two types of cucumbers you're likely familiar with are 'Slicing' and 'English' cucumbers. The primary and most obvious difference is the sheer size. English Cucumbers are quite long, and quite slender for their length. By contrast, Slicing cucumbers are shorter and 'fatter' – relative to their length. Slicing cucumbers also feature a darker skin, which is also typically quite thick and tough – if a Slicing Cucumber's skin is 'not' thick and tough it's likely going bad. Apart from shape and size, English cucumbers are typically sweeter, while having smaller and fewer seeds. Slicing cucumbers, by contrast, have a copious amount of large seeds – which contribute to their bitter flavor. This is why you really want to deseed slicing cucumber before eating them. For today's recipe, I strongly recommend English Cucumbers, but if you only have the slicing variety on hand, you'll want to deseed them.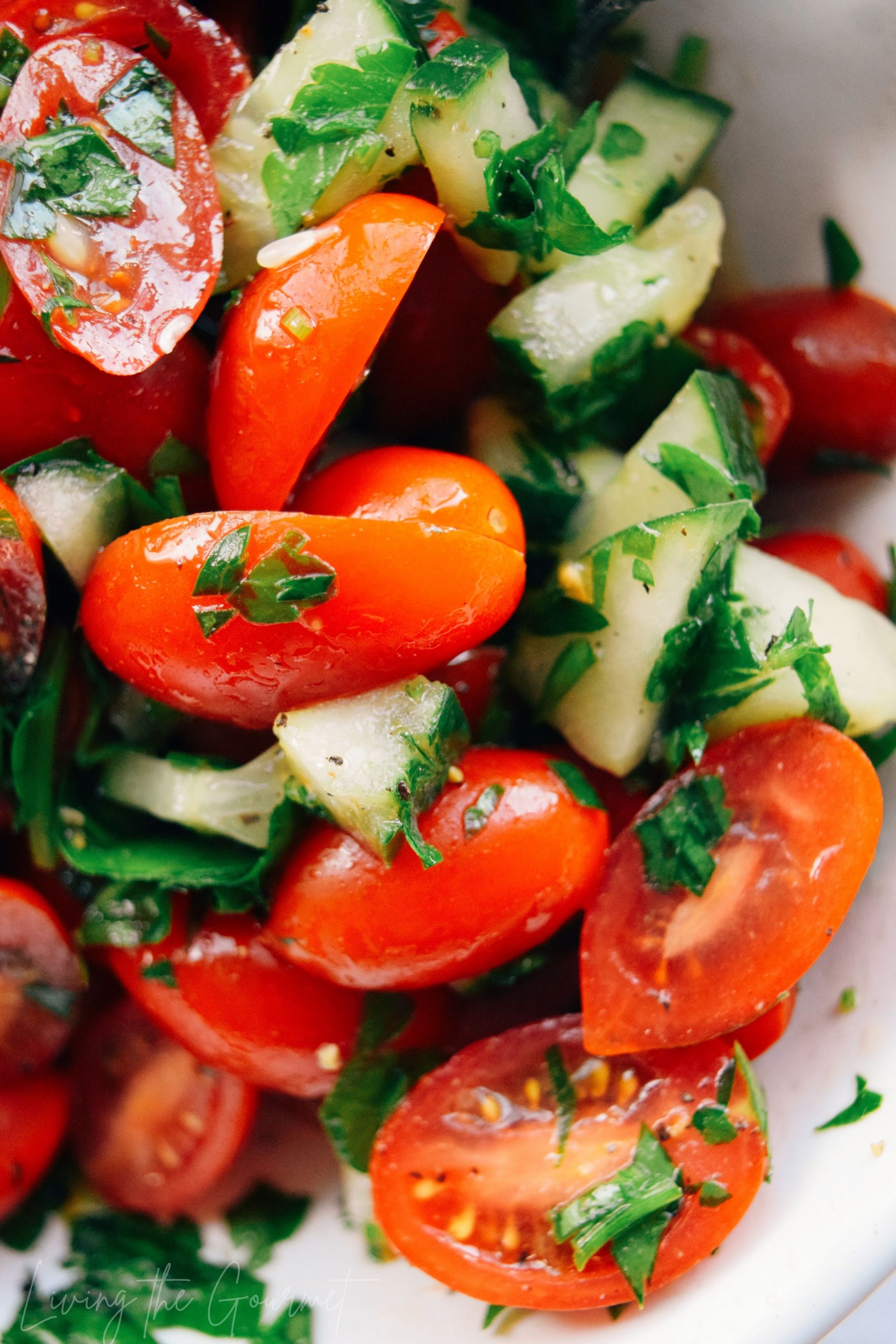 2) The Tomatoes. Today we're using NatureSweet Cherubs Tomatoes for the simple reason that they're raised right. Getting under the label, NatureSweet tomatoes are picked by real people, who are offered fair pay, as well as health and safety training, as NatureSweet is EFI-Certified (Equitable Food Initiative), ensuring they comply with the industry's highest standards. In addition, NatureSweet's Associates go above and beyond to bring us the brightest, sweetest tomatoes possible. These tomatoes are hand-picked, hand-packaged, and are 'all' non-GMO, including their Cherubs, Comets, Glorys, and Constellation tomatoes, in addition to having no harsh chemicals used at any stage of growing or packaging. Picked at peak perfection, these tomatoes are shipped within twenty-four hours, and that's a big part of what makes them so sweet and fresh, in addition to being tested for firmness, color, and blemishes prior to packaging. As such, not only are NatureSweet tomatoes delicious, they are a tomato you can feel good about eating.
3) Curly Parsley vs Italian Flat Leaf Parsley. The main types of parsley are 'Curly Parsley' or Petroselinum crispum, and 'Italian Flat Leaf Parsley' or Petroselinum crispum neapolitanum. Why did I give you the Latin names? I'm actually not sure now that I've gone through the trouble of typing them out. Moving right along. That said, whenever you see parsley mentioned in a recipe, it is almost always notated as 'flat leaf parsley,' unless it's being used as a garnish…in which case you'll be using curly leaf parsley. Why is this? Because curly parsley tastes like…nothing, or – at most – like grass, and has almost no aroma. However, what elevates curly parsley into the realm of the culinary, thereby saving it from merely being a weed, is that "Oh my goodness is it pretty." By contrast, Italian Flat Leaf parsley is about as 'pretty' as cilantro…which is to say it's just green leaves on thin steams. However, the reason flat leaf parsley is 'almost' always the preferred parsley for cooking is that it has a bold, fresh flavor, a neutral texture (whereas curly parsley is quite crunchy), and pleasant aromatics. That bold freshness and pleasant aroma is exactly what we're looking for in today's salad.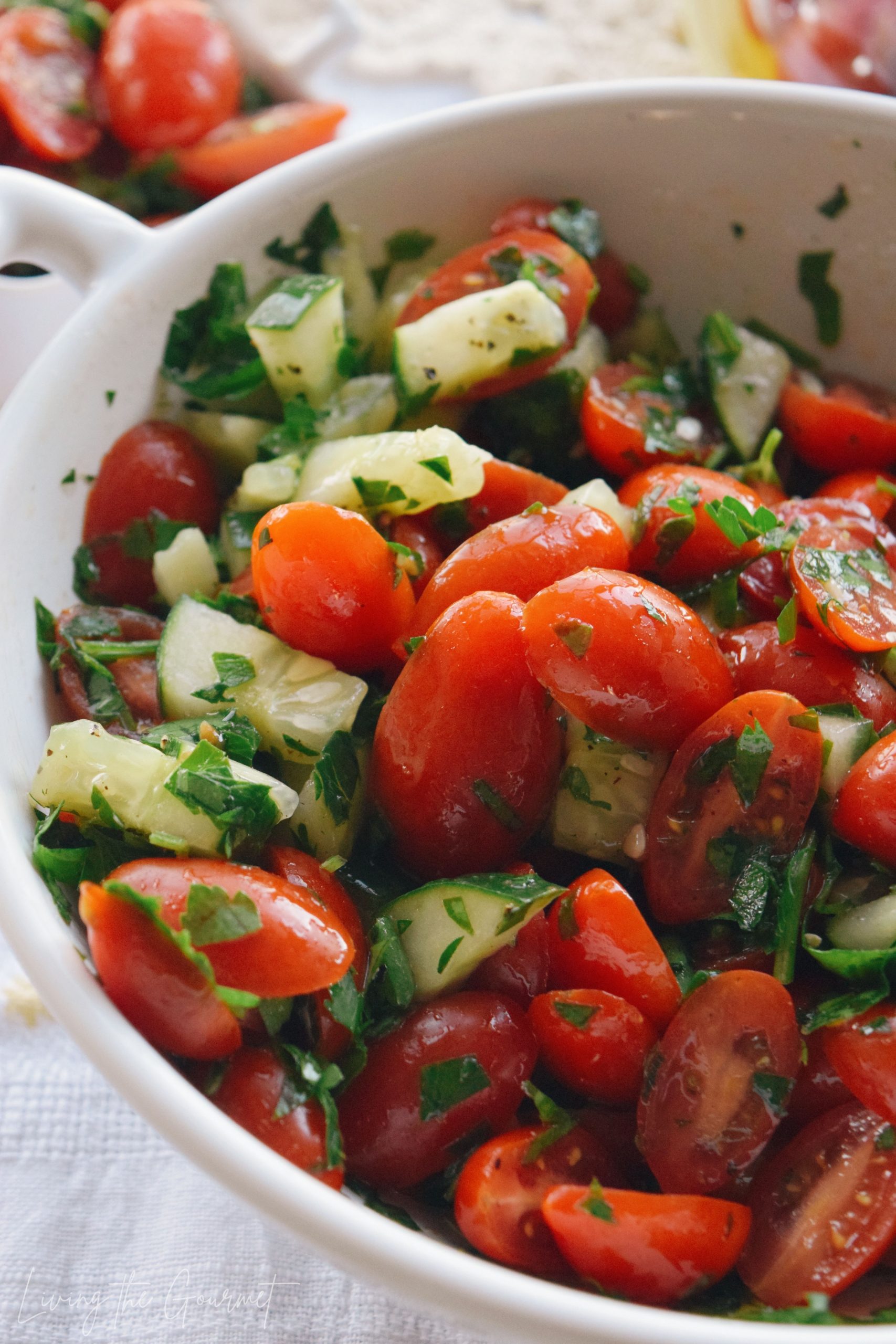 Pairing today's salad
1) Wraps. My son paired today's salad with a mackerel, mozzarella, and tomato wrap, and the two paired deliciously. Conversely, you might also consider a simple 'salad wrap' with spicy mayo or a Dijon vinaigrette.
2) Kebabs. Lamb kebabs with tzatziki, or grilled chicken kebabs with bright peppers, would all pair excellently.
3) Light BBQ. Since this is a seasonal summer salad, it should come as no surprise that a light barbecue is a match made in heaven. Think grilled chicken, light pork, and lightly grilled seafood. All would pair excellently with this salad.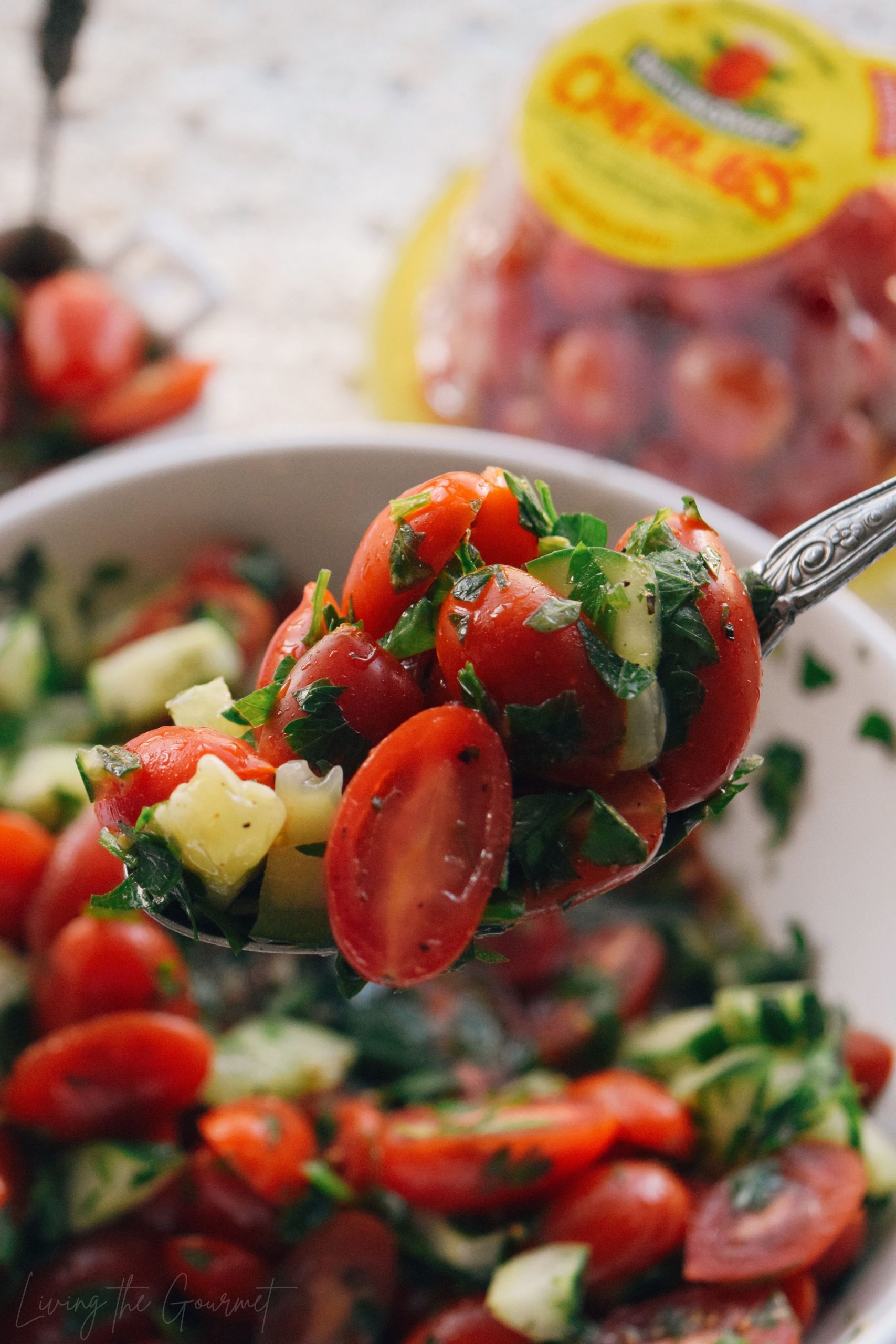 Print
Moroccan Tomato Salad
Author:
Prep Time:

10 minutes

Total Time:

10 minutes

Yield:

4

1

x
(2)

10

oz

. container NatureSweet Cherubs, cut in half, vertically

1/2

English cucumber, diced

1/2

cup

fresh Italian parsley, chopped

4 tablespoons

Olive Oil
Juice of

1/2

lemon

1 teaspoon

sea salt

1/2 teaspoon

fresh ground black pepper
Instructions
In a large bowl toss together all ingredients.  Taste for seasonings.
Serve and enjoy!
Keywords: salad, tomato salad, moroccan salad, vegetarian, vegan
Recipe Card powered by
This is a sponsored post written by me on behalf of NatureSweet.
2