Today we're preparing a super simple summer salad featuring a medley of Mediterranean flavors. Crisp, refreshing, and taking just minutes to prepare, today's salad is perfect for adding a touch of 'simple elegance' to your next summer spread.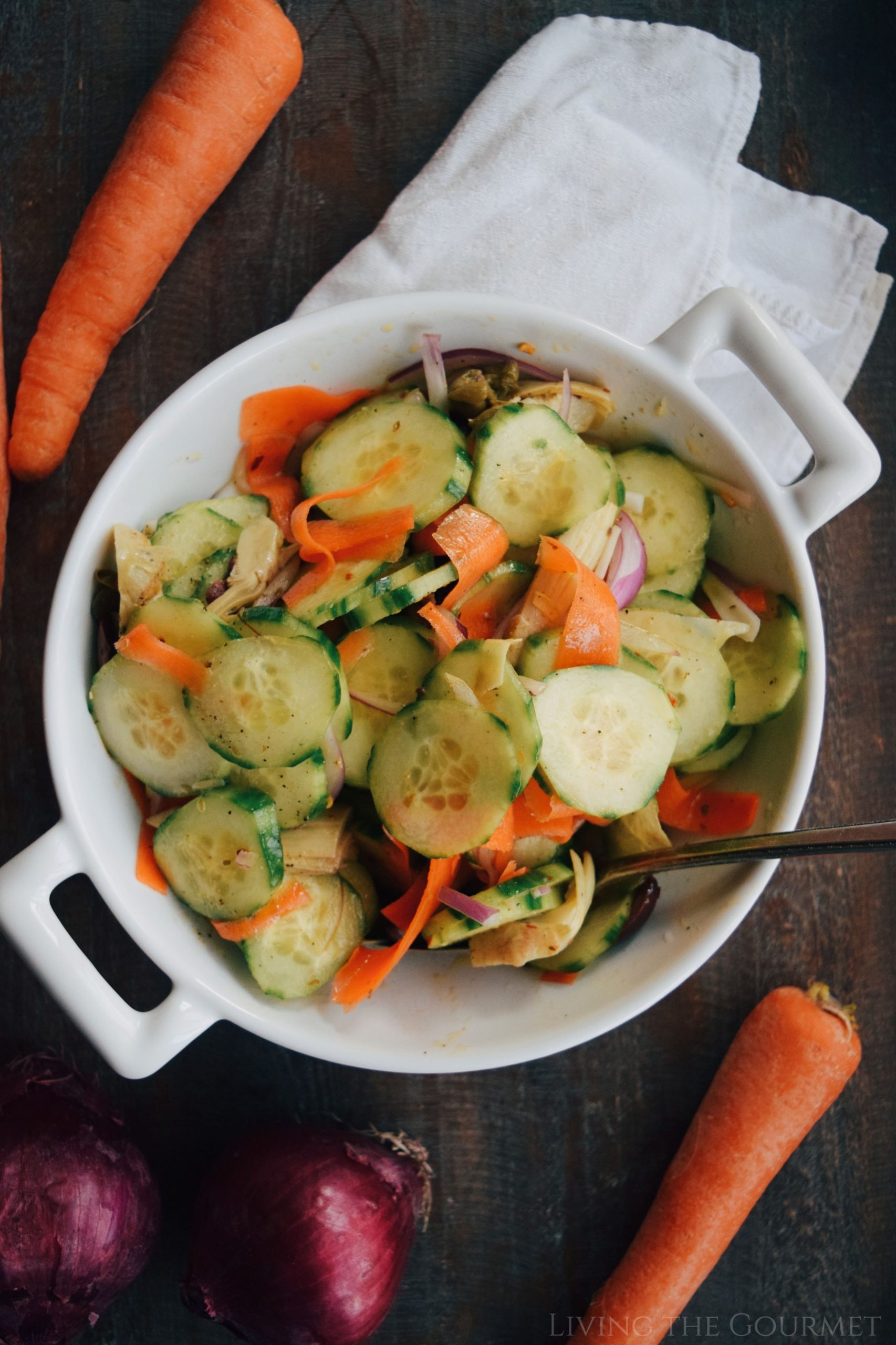 Why You'll Love Today's Salad
1) Super Simple. If you're like me, you find preparing salads one of the most tedious things you can possibly do in the kitchen. By contrast, today's salad can be put together in five minutes flat. You don't need to stand at the counter chopping a seemingly endless mountain of greens, instead you're simply slicing up a cucumber, chopping an onion, and then combining those with a few key ingredients. This makes it great for quick get togethers, or as a quick 'veggie side' for a busy weeknight.
2) Summer Elegance. Crisp, refreshing, and featuring a medley of Mediterranean flavors like kalamata olives and artichoke hearts, today's salad is great for adding a touch of simple elegance to your summer spread.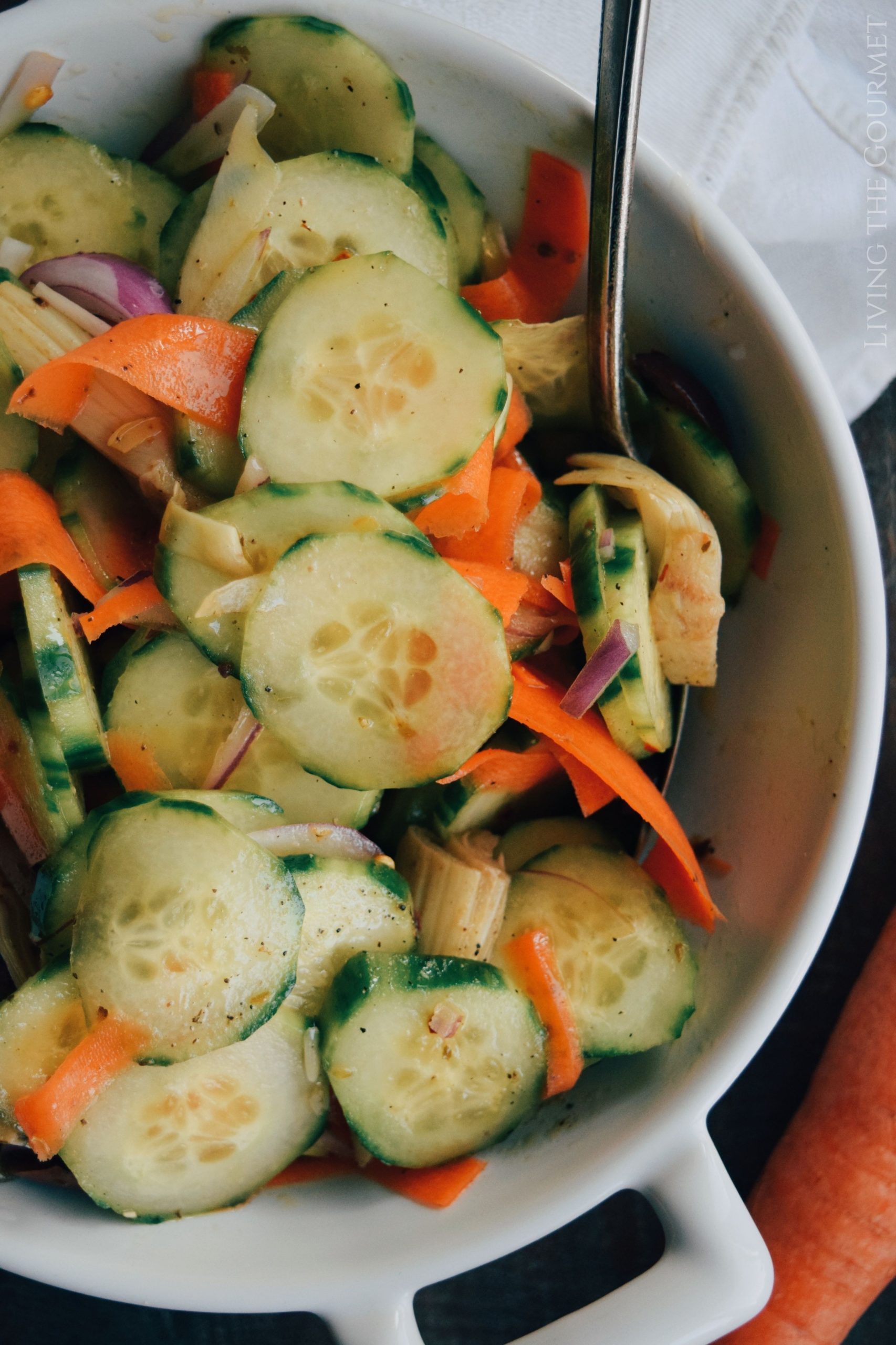 Ingredients Notes and Tips
1) The Cucumbers. The two types of cucumbers you're likely familiar with are 'Slicing' and 'English' cucumbers. The primary and most obvious difference between the two is the sheer size. English Cucumbers are quite long and slender. By contrast, slicing cucumbers are short and fat. Slicing cucumbers also feature a darker skin, which is also typically quite thick and tough – if a Slicing Cucumber's skin is 'not' thick and tough it's likely going bad. Apart from shape and size, English cucumbers are typically sweeter, having smaller and fewer seeds, while slicing cucumbers have a copious amount of large seeds – which contribute to their bitter flavor, and this is why you really want to deseed slicing cucumber before eating them. For today's recipe, I strongly recommend English Cucumbers, but if you only have the slicing variety on hand, you'll want to deseed them.
2) The Olives. I'm using kalamata for today's salad, but you probably substitute in anything you have on hand – including basic canned black olives. You might also consider Gaeta olives, which are probably the closest relative to kalamata in terms of taste and texture. Ligurian olives, also called Taggiasca olives, are also a great substitute. Sicilian olives might be a tad too 'substantial' in today's salad, but feel free to experiment – and if you do, let me know down in the comments below how it turned out.
3) Red Onion vs White Onion vs Yellow Onion vs Sweet Onion. Yellow onions are basically the 'workhorse' of the 'onion family.' They are perfectly palatable raw, and cook up quite nicely, they also lack the 'pungency' of other onions, featuring a balanced astringency. This makes them ideal for almost any cooked recipe that call for onions, especially sauces and soups, since they become sweeter the longer they cook. Spanish Onions are a type of yellow onion, but are somewhat sweeter, and pack less of a 'bite.' By contrast, Red Onions are the go-to onion for 'uncooked' recipes, being sweet, crisp, just a touch pungent, and a beautiful shade of 'vegetable red.' This is why they often feature prominently in things like Greek and Sicilian salads, fresh salsas, and the like. Also, if we're being honest, they really do 'not' cook well, since their beautiful red color simply washes out under heat, while their taste becomes almost identical to that of yellow onions, taking on something of a 'muted' sweetness. Then we have Sweet Onions, which completely forgo 'oniony bite' and astringency in favor of 'actual' sweetness. Seriously, I've bitten into these things like an apple. Since these onions are so delicious raw, they feature prominently in things like garden salads, sandwiches, raw salsas, uncooked relishes, and the like. However, this sweetness comes at the price of perishability, meaning Sweet Onions tend to sour a bit more rapidly than their non-sweet counterparts. I'm using Red Onions for today's recipe since I don't want quite the amount of sweetness that Sweet Onions bring, instead I want to balance the recipe with a bit of astringent pungency, and thus I'm opting for Reds.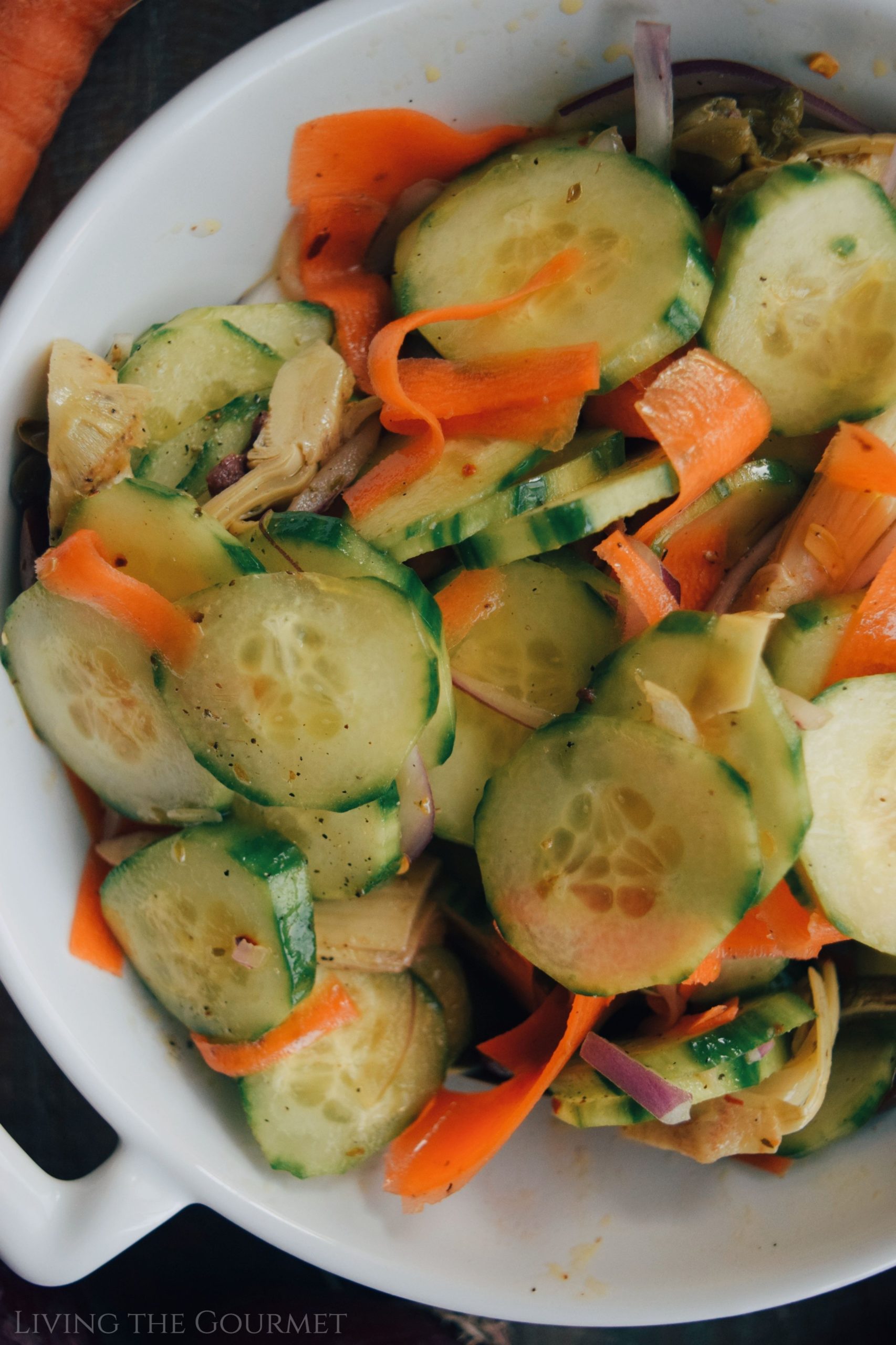 Other Great Summer Salads
1) Pickled Sweet Potato Salad. Sweet, spicy, and deliciously crisp and refreshing, this is one of my absolute favorite salads, and it's simply perfect for the Summer season.
2) Summer Eggplant Salad. Breaded eggplant, combined with fresh basil, fresh tomatoes, and grated romaine, combine to create a delicious take on baked eggplant that's sure to be the star of your next summer get together.
3) Coleslaw. My preferred recipe for coleslaw combines the obligatory mayo-coating with a citrusy dressing, and I slice in jalapenos with the cabbage to create a sweet-and-spicy salad, with just a hint of crisp citrus.
Print
Summer Cucumber Salad
Author:
Prep Time:

10 minutes

Total Time:

10 minutes

Yield:

4

1

x
3

English cucumbers – gently peeled and sliced thin

1

small carrot – shaved

6

–

8

marinated artichoke hearts – sliced

2

tbs. capers

2

–

3

tbs. Kalamata olives – pitted and sliced

1

small red onion – sliced thin

1 tsp

. sea salt

1/2 tsp

. fresh ground black pepper

1/2 tsp

. red pepper flakes

1/2 tsp

. dried oregano

3

–

5

tbs. olive oil
Instructions
Combine all of the ingredients for the salad in a large bowl.
Add the seasonings and the olive oil and taste for seasoning.
Refrigerate until ready to serve.
Recipe Card powered by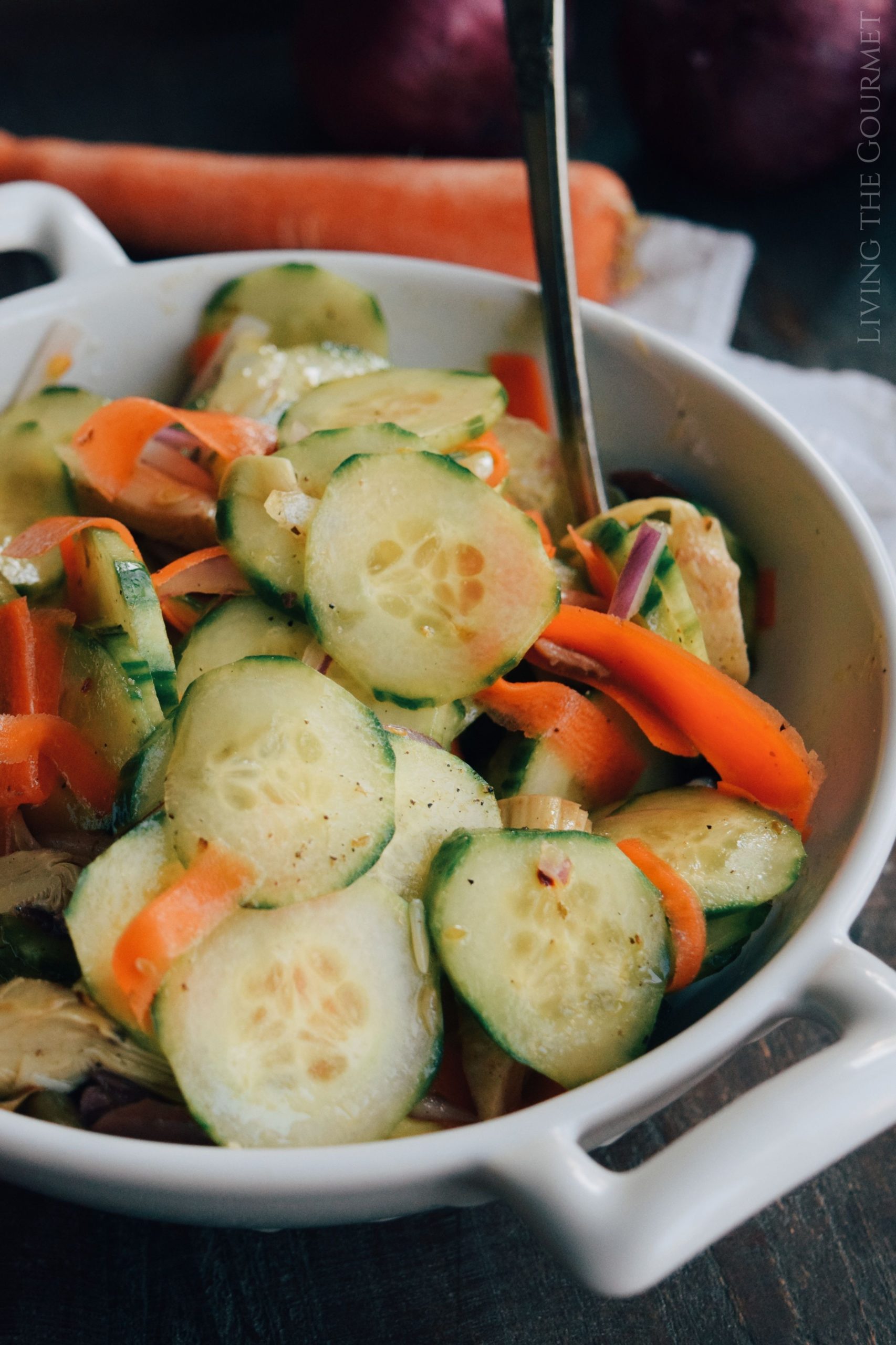 If You Enjoyed Today's Recipe…
Be sure to follow us on Instagram to stay up to date with all things Living the Gourmet, and for more great recipes, tips and tricks.
Did you make this recipe?
If so, let me know in the comments down below, or post a picture to Instagram, or to Pinterest, and I'll give you a shoutout on Instagram, or post your pin to one of my Pinterest boards!
0