These are a perennial favorite in pretty much every household, and almost everyone has a twist on making these treats their own.  For me, it's combining cherries and chocolate in the beloved mix of marshmallows and puffed rice, along with shredded coconut and walnuts.
The end result is a deliciously layered flavor profile, and a decadent texture that swings from crisp and crunchy to smooth and gooey.
These are a delight for palates of all ages.  Sweet, crispy, chunky, sticky, and gooey, with a delicious combination of cherry and chocolate, set against a marshmallow backdrop, these are well within the pantheon of what I consider "perfect desserts," right alongside my Vanilla Cake Fudge Bars.
As a nice bonus to the above, these treats really couldn't be simpler to make.  They are no bake (except for heating up a frying pan), require just a handful of basic ingredients, and then you let them rest in the fridge until solid and that's it.  They're ready to go.
As a dessert platter for a relaxed get together, consider arranging today's Rice Krispies Treats alongside my Vanilla Cake Fudge Bars, and my Chocolate Bliss S'mores.
Today I'll be walking you through how to put these treats together, covering some basic substitutions, along with providing you a list of tips and ideas for kicking them up a few notches.
Now, without further delay, let's make some Rice Krispies Treats.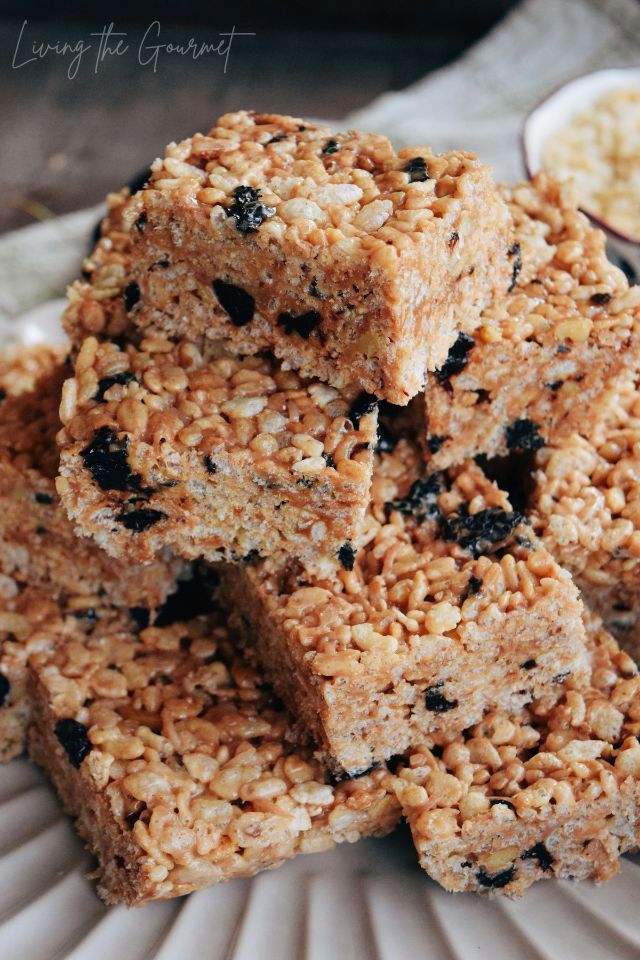 Ingredient Checklist
Rice Krispies Cereal.  Not much to say here other than that you can't make Rice Krispies without puffed rice cereal.  Any puffed rice cereal will work for today's recipe.
Shredded Coconut.  Sweetened or unsweetened is fine for today's treats.
Walnuts.  These add a nice bit of complexity to the treats, in my opinion, both in terms of taste and texture.  See below for substitutions.
Dried Cherries.  Give these a few decent chops before adding them into the mix.  The reason here is to check for pits or pit fragments.
Chocolate Chips.  Basic chocolate chips, I prefer dark chocolate for today's treats, but milk chocolate will work just fine.  I would definitely steer clear of baking chips, however, as a good chunk of the sweetness in today's treats comes from the chips.
Butter.  Plain, unsalted butter works best here.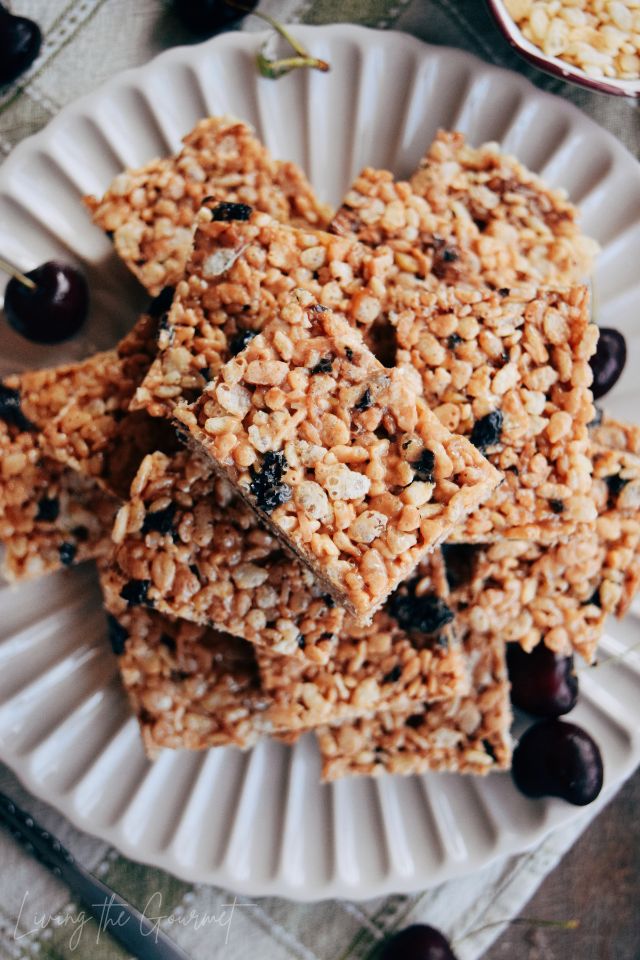 Substitutions
Walnuts.  Pecans are my go-to substitute for walnuts, and visa versa.  Pecans substitute at a one-to-one ratio.  They feature a crisp and buttery texture, whereas walnuts are a bit 'woodier' in terms of flavor, which I find stands out more in the mix.  Peanuts or almonds would also work just fine in place of walnuts.
Shredded Coconut.  Feel free to leave this out if you don't have it on hand.  To keep the coconut flavor, you can use a dash of coconut extract.  Conversely, shredded macadamia nuts or shredded Brazil nuts are decent substitutions – at a one-to-one ratio.
Dried Cherries.  Your dried fruit of choice will substitute just fine in place of the dried cherries.  However, dried cranberries or chopped apricots would be my recommendation.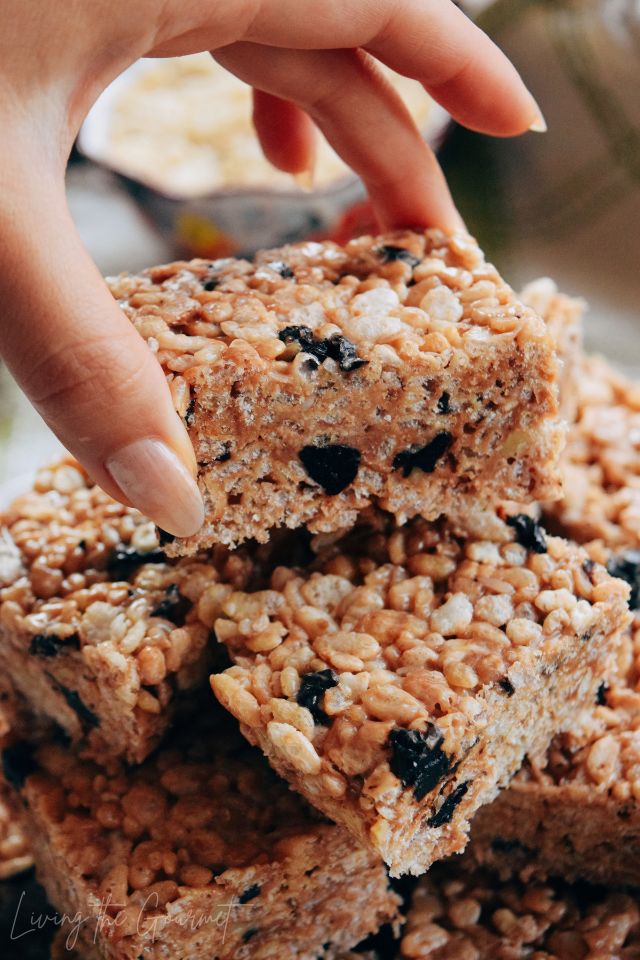 Recipe Variations
You can easily tweak this recipe up to your liking. Here are few suggestions.
Nuts & Seeds Pumpkin seeds, almonds, walnuts, pecans, poppy seeds, and hazelnuts are perfect here. The bit of crunch adds a fun texture to the bars transforming them into a energy snack as well.
Medley of Dried Fruit.  Raisins, apricots, currants, raspberries, dehydrated strawberries, would all go great in today's treats.
Mix Ins.  Peanut butter, caramel, or Nutella (or all three!), would be delicious mixed into the treats.  Conversely, you could also consider topping today's treats with melted chocolate.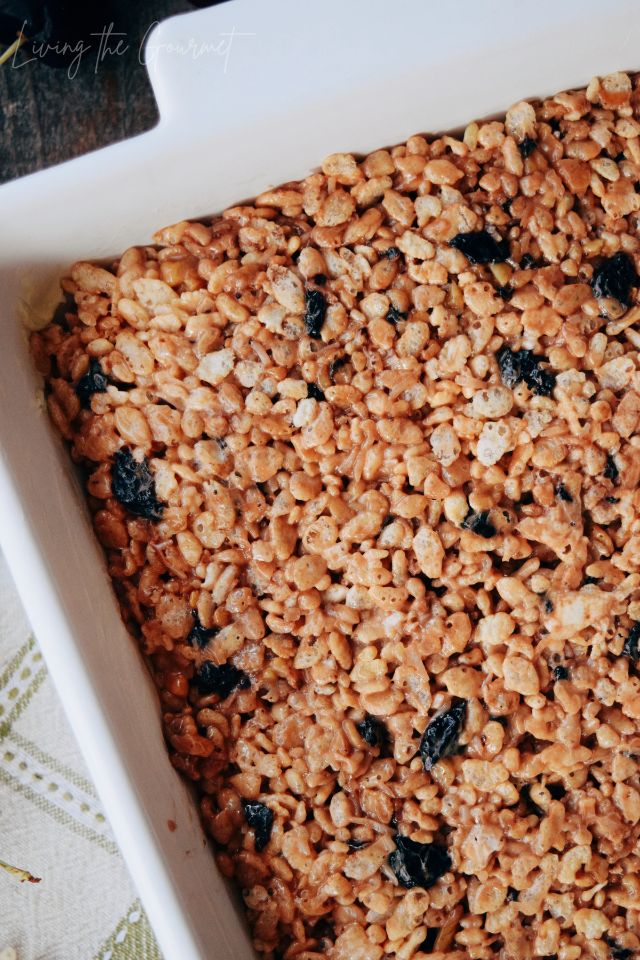 Step by Step
Process it.  In a food processor, combine the walnuts, coconut, chocolate chips, dried cherries, and marshmallows, and process until well combined.
Bring the Heat.  In a large frying, melt down the butter and then add in the marshmallow and puffed rice mixture.  Allow the marshmallows and chocolate to melt completely, stirring occasionally to make sure everything remains well combined.  This is done over low heat.
Pour.  Once the chocolate and marshmallows are completely melted, pour into a well-buttered baking dish, and smooth the top with a spatula.
Refrigerate.  Refrigerate until the mixture has become firm, and then cut into squares and serve.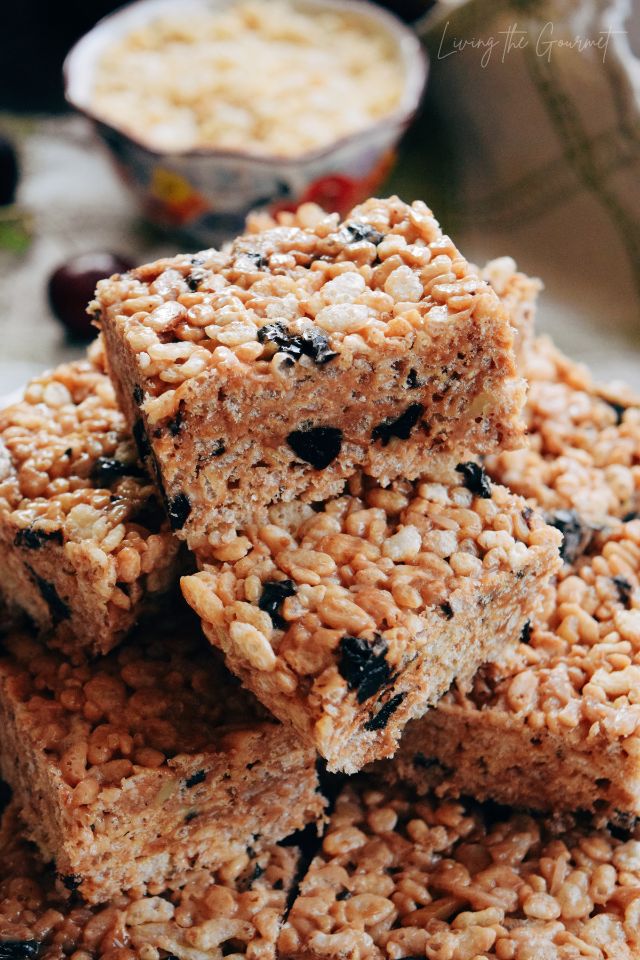 Print
Rice Krispies Treats
---
Author:

Total Time:

20 minutes

Yield:

1

dozen bars

1

x
6 cups

Rice Krispies Cereal

10 oz

. package of mini-marshmallows

1/2 cup

shredded coconut

1/2 cup

walnuts

1/2 cup

dried cherries

1/2 cup

chocolate chips

4

tbs. butter (unsalted)
---
Instructions
Place in a food processor the walnuts, coconut, chocolate chips, dried cherries and marshmallows.

Process until all is well combined.

In a large frying pan, melt the butter and then add the mixture from the food processor.  Allow the marshmallows and chocolate to melt.  Leave the heat on very low while adding the Rice Krispies Cereal and tossing until everything is well combined.

Place in a well buttered baking dish (11 x 8) and flatten with the back of a spatula.

Place in the refrigerator until the mixture becomes firm and able to cut into squares.
Prep Time:

10 minutes

Cook Time:

10 minutes

Cuisine:

American
Keywords: rice krispies treats, dessert, bars
Recipe Card powered by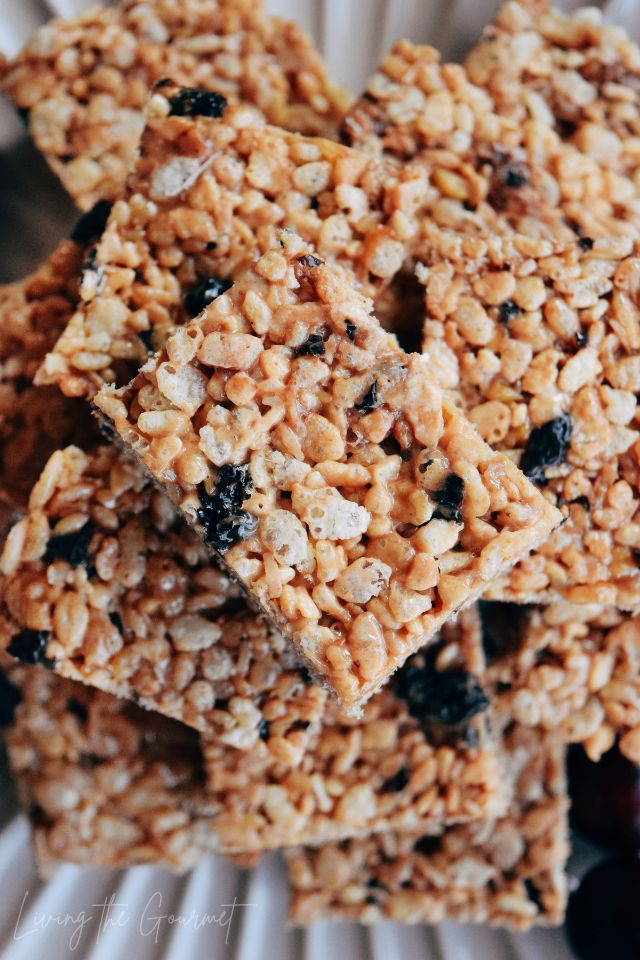 As an Amazon Associate I earn a small commission from any purchases made through the affiliate links within this post. For more information on this please see our disclosure policy. Thank you!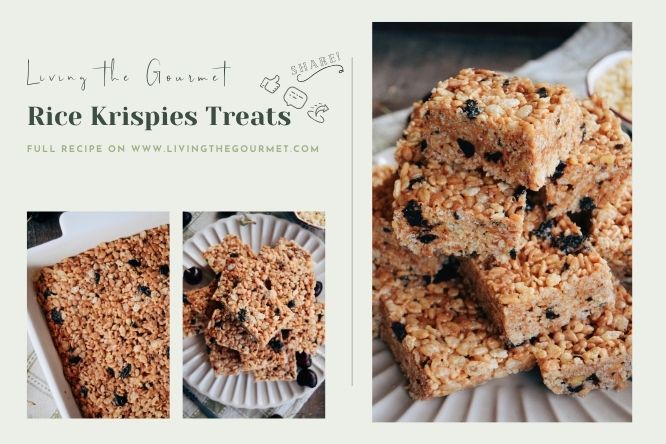 This post has been updated August 2022. The original recipe was published October 7, 2009.
0