Ripe blueberries are baked over a sweet shortbread crust for a simple but irresistible dessert.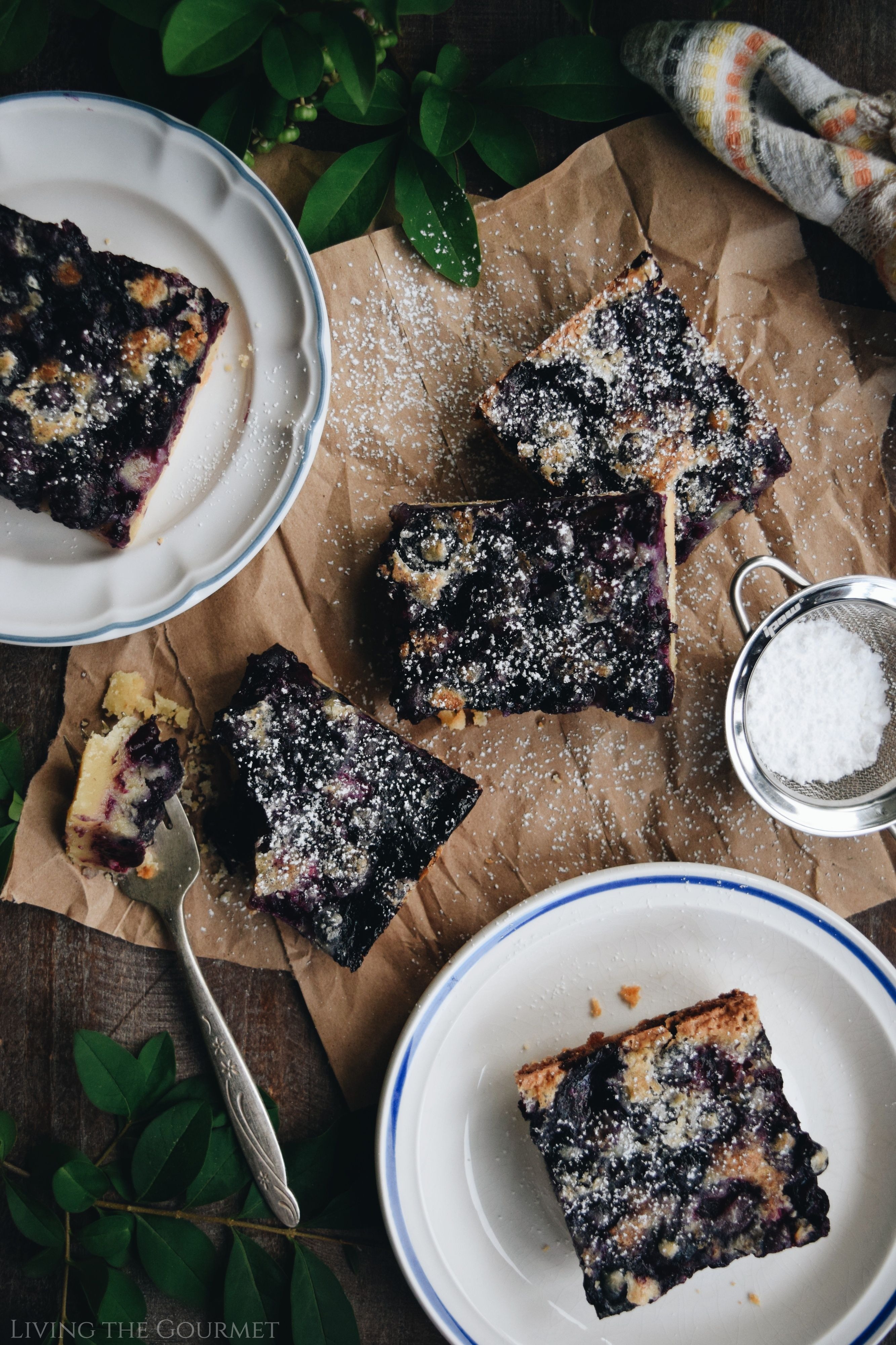 Music has a way of bringing back memories but it also has a way of perpetuating memories. I can recall one Saturday morning making pancakes for my family; It was spring, the windows were wide open, and I remember clearly playing in the background was Count Basie, a track a good friend has sent me to cook to. I listen to that song fondly and always revert back to that day.
It's hard to believe we've now already welcomed September, but I can't say I feel like Summer went by too quickly. I can honestly say for the first time, that I enjoyed the season. I'll join the choir and say, I wish there was more time. I wish summers in the North East were longer, but I enjoyed each day fully and partook in each moment completely.
I had more than my fair share of sunshine and I spent many a weekend out on the creek living off that salty air. I spent time with my family, reconnecting, and enjoying the summer days with them. I laughed more than I can remember too- one particular afternoon spent out with my mom and uncle, witnessing their back-and-forth banter, and an afternoon spent with my cousin giggling like little kids free from the world around us.
I tried to spend less time on social media and more time in the moment and what I have to show for it is an unorganized mess on my camera roll- impromptu pasta dishes, candid moments, the beaches, and lots of sunsets.
The song I'll commemorate this summer with is this Hozier track, one I listened to almost every evening as I watched the sun melt away into the night, singing softly to myself words I now know by heart, "There's no plan, there's no race to be run. The harder the rain, honey, the sweeter the sun."
So, consider this my love letter to summer, as we enjoy the last, waning days of the season.
But allow me first to linger, just a little longer, in the moment. Let me enjoy one more blazing sunset reflecting across the surface of the water, crickets chirping loudly under my window late at night, fireflies dancing in the garden, and one more Sunday dinner with my whole family- sitting with a cup of coffee and a piece of blueberry shortbread, talking about Bob Dylan and the 60s with my uncle. I hope Autumn will be as kind to me as summer has been.
Today's recipe is one of two final summer desserts I'll be sharing here on LTG, then brace yourselves, friends, pumpkin season is on it's way- or is it already here? Let the debate commence, but keep it friendly in the comment section below 😉
Pies, Tarts, Shortbread Bars, Oh My!
I took full advantage of this bushel of seasonal blueberries I most likely won't be seeing again until next spring.
However, if you're a creature of habit and tend to go for the classic pie, I'll redirect you to this Blueberry Basil Pie I shared a few seasons back, or maybe you want something a bit more delicate such as these Blueberry Basil Hand Pies. And yes, in case you've picked up on the recurring theme here, blueberries and basil are a underrated combo that definitely deserve more recognition.
Last but certainly not least, my Whipped Ricotta & Blueberry Tart is a nice option for those of you looking to stray from the classics. If you really want to up the ante though, then today's recipe is the one you're looking for.
I begin with a simple shortbread crust which can arguably be called one large shortbread cookie- again, let the debate commence. Next, I prepare a very simple batter and fold two pints of fresh blueberries into it. When you spread the batter over the crust, be warned, you'll probably wonder if you added too many blueberries to the batter or, you'll just second-guess my recipe. Trust. The more, the merrier.
Bake until the blueberry batter has set and has browned slightly. Let cool completely before slicing then sprinkle these buttery, sweet squares with powdered sugar, and serve (preferably but not required) alongside a sunset.
Living the Gourmet
Yields 15 squares
Blueberry Shortbread Bars
10 minPrep Time
40 minCook Time
50 minTotal Time
4.9 based on 19 review(s)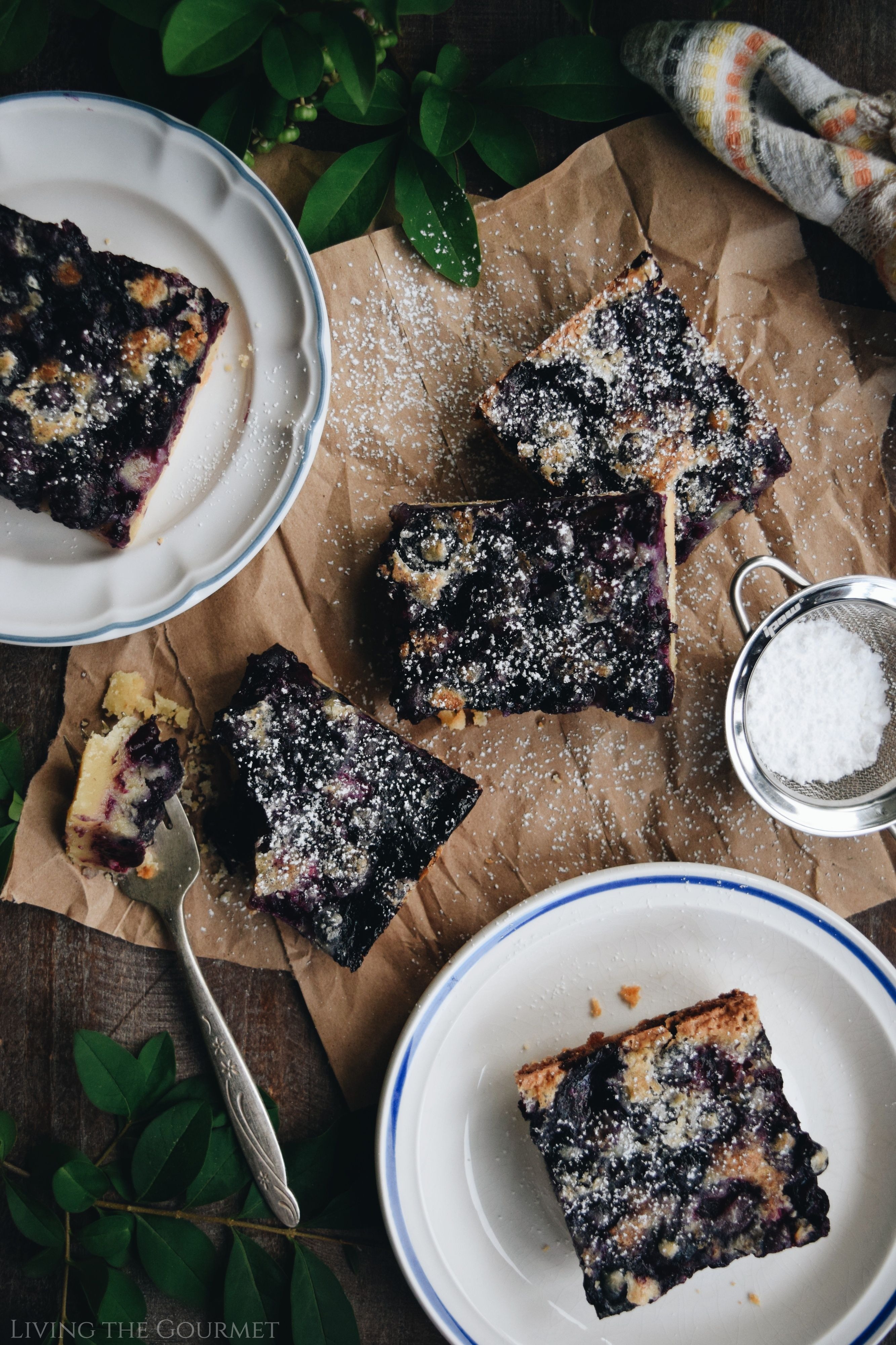 Ingredients
For the Shortbread:

2½ cups AP flour
2/3 cup powdered sugar
1 cup of unsalted butter, chilled

For the Blueberry Topping:

3 eggs, lightly beaten
2 cups sugar
Pinch of salt
1 teaspoon vanilla extract
2 pints fresh blueberries
Instructions
Preheat oven to 350 degrees F. Grease a 9 x 13 glass pan and set aside.
In your food processor, blend together flour, powdered sugar, and butter until a soft dough forms. Press to the bottom of the prepared baking pan and bake for 10 minutes.
Meanwhile, mix together the beaten eggs, sugar, salt, and vanilla. Gently fold in the blueberries. Pour the batter evenly over the shortbread crust and return to the oven. Bake until the blueberries have set and the top is lightly golden, about 40-45 minutes.
Let cool completely in the baking dish before slicing. Sprinkle with powdered sugar if desired and serve.
7.8.1.2
1341
https://livingthegourmet.com/2019/09/blueberry-shortbread-bars.html
If You Enjoyed Today's Recipe…
Be sure to follow us on Instagram to stay up to date with all things Living the Gourmet, and for more great recipes, tips and tricks.
Did you make this recipe?
If so, let me know in the comments down below, or post a picture to Instagram, or to Pinterest, and I'll give you a shoutout on Instagram, or post your pin to one of my Pinterest boards!
Enjoy with Love,
Tammy
3