I love chewy cookies. I love decadent cookie-bars that are unabashedly 'not' guilt free. I love crispy exteriors' encasing decadent, chewy goodness, almost like the lock of a treasure chest guarding its gilded contents. On top of all that, I simply adore life's hardest questions, such as "Why don't we grease this pan? Are we sure we're not supposed to grease this pan?"
If you love all of that, and want the answer to that most pressing of questions, my dear readers, I advise you to read on.
Crispy on the outside, and gooey on the inside, these cookie-bars come packed with walnuts, chocolate chips, and plump raisins. It's a perfect combination. What's more, these bars are easy to make, keep deliciously in the fridge (in an airtight container), and are perfect for any occasion. Whether it's adding something sweet to your next party, or serving as a mid-afternoon snack on a busy weekday, these cookie-bars have got you covered.
Whereas a traditional chocolate chip cookie is round, thin, and crisp all the way through, these delicious chocolate chip walnut cookies…are in fact bars or 'bar cookies.' That means they are dense, decadent, and much, much richer than my traditional favorite chocolate chip cookie recipe. However, they aren't quite the 'hand cakes' popularized by the Levain Bakery, but more of a midway between the two. See my recipes here and here for comparison.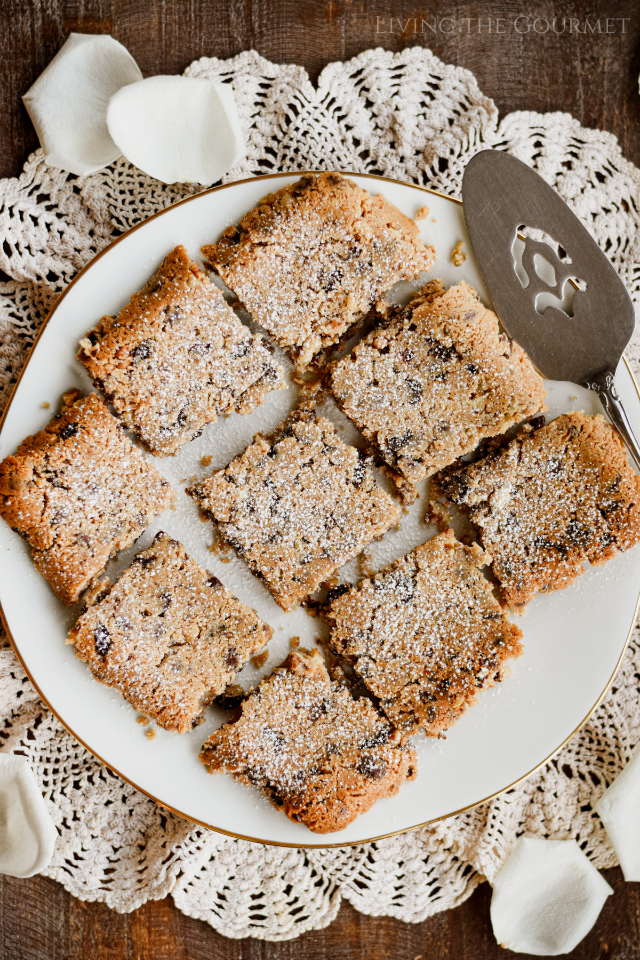 videos you may also like
But what sets this recipe apart, at least for me, is the contrast of texture. These bars have a texture that simultaneously crispy and chewy, courteous of their crunchy outside and tender interior. Then we've got the walnuts and raisins clashing beautifully in every bite. I just absolutely love how this recipe comes together. And the best part? These chewy chocolate chip walnut cookies (or bars, if you prefer) are incredibly easy to prepare, ensuring you don't have to spend all day in the kitchen baking.
However, please don't think that the simplicity of this recipe means we're compromising on flavor. Just the opposite. If brevity is soul of wit, simplicity is the accentuation of taste. Somehow, everything tastes better knowing you didn't spend hours of your life whipping it up.
Naturally, these chocolate chip walnut bars pair deliciously with your favorite coffee, be it a simple brew or something fancier. Conversely, you might also consider using them to sandwich homemade vanilla bean ice cream. If you're feeling more conventional, a tall glass of milk is always an ideal companion.
Now, without further delay, let's get to it.
Read on for a complete ingredient list, tips for making the perfect walnut chocolate chip bars every time, notes on how to store them, and of course a printable recipe card.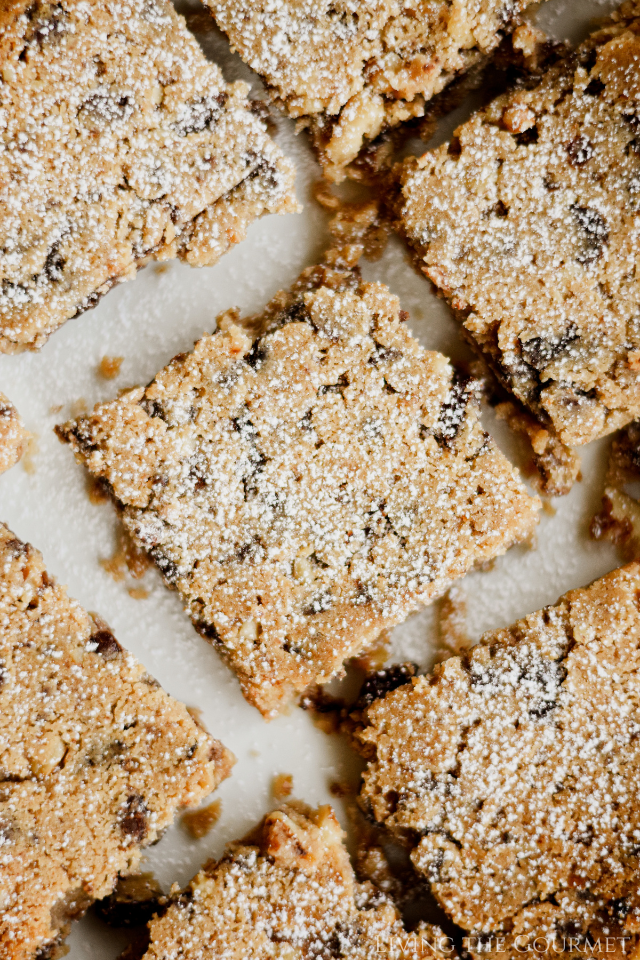 Ingredient Checklist – Everything You'll Need
Here's everything you'll need to bring together one of my favorite cookie recipes.
1 cup flour

Note: I highly recommend using all-purpose flour for the best results.
Substitution: While I'm using wheat flour, feel free to substitute in your flour of choice, such as almond or oat flour. These flours will, however, drastically change the texture of the cookie.

1/2 cup unsalted butter, softened

Tip: Ensure the butter is at room temperature for easy mixing.
Note: Avoid salted butter.

1/2 cup brown sugar

Substitution: Brown or dark brown sugar both work.
Note: Yes, we're using brown sugar in place of white sugar.

1/4 tsp. baking powder

Tip: Sift the baking powder to avoid lumps in the batter.

1/8 tsp. salt

Note: Plain table salt is all you need.

1/4 cup raisins, chopped

Tip: Soak the raisins in a little bit of rum to plump them up and give them a delicious rum-flavor, which will complement the nuts and chocolate beautifully.

1/2 tsp. pure vanilla extract

Substitution: Entirely preference. My go-to substitutions would be almond or hazelnut extract to double down on the nuttiness from the walnuts, but feel free to use rum extract (or even just a dash of rum) or perhaps chocolate extract, or perhaps even some combination of flavors. There is no right answer to this one.

1/4 cup walnuts, chopped

Note: I'm a huge fan of toasting the walnuts to enhance their nutty flavor.

1/2 cup of chocolate chips

Tip: I recommend semi-sweet chocolate chips or dark chocolate chunks.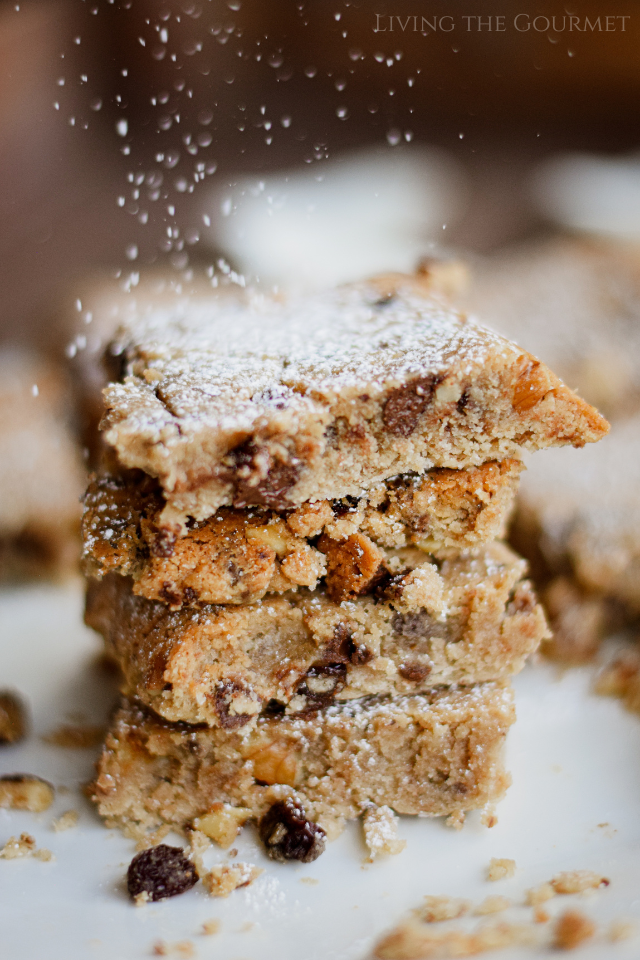 Equipment You'll Need – Only The Basics
Mix-Master or Stand Mixer

Tip: While a stand mixed is ideal, a hand mixer will also get the job done.
Note: Yes, you can mix this all by hand if you're feeling particularly adventurous.

Baking Dish

Note: I recommend against greasing the baking dish, and instead using parchment paper, more on this below.

Mixing Bowls

Tip: You'll need a large bowl and a few ramekins of various sizes. Nothing extravagant.

Spatula

Note: A rubber spatula works well for scraping down the sides of the mixing bowl.

Measuring Cups and Spoons

Tip: Use separate sets for dry ingredients and wet ingredients to avoid cross-contamination.

Baking Sheet

Note: Place the baking dish on a baking sheet to ensure even baking.

Cooling Rack (Wire rack)

Tip: Allowing the bars to cool on a wire rack prevents them from becoming soggy. It has to do with the physics of airflow interaction. I don't know how or why it works, but it does. Leave them to rest for at least 8-10 minutes.
Note: You cannot leave them on the cookie sheet from the oven, as they will continue to cook if left on the hot cookie sheet.

Knife

Note: A sharp knife for clean and precise cuts.

Parchment Paper (highly recommended)

Tip: Parchment paper is one of my must haves, it not only ensures that the cookies don't stick, which in turn makes cleanup easier, but it also prevents the cookies from burning. While you 'can' get away with greasing the pan, the bars will burn if the baking timing is even a little off. And to reiterate, nothing ensures your cookies won't stick quite like parchment paper.

Sifter

Note: Sifting the baking powder ensures a smooth and lump-free batter.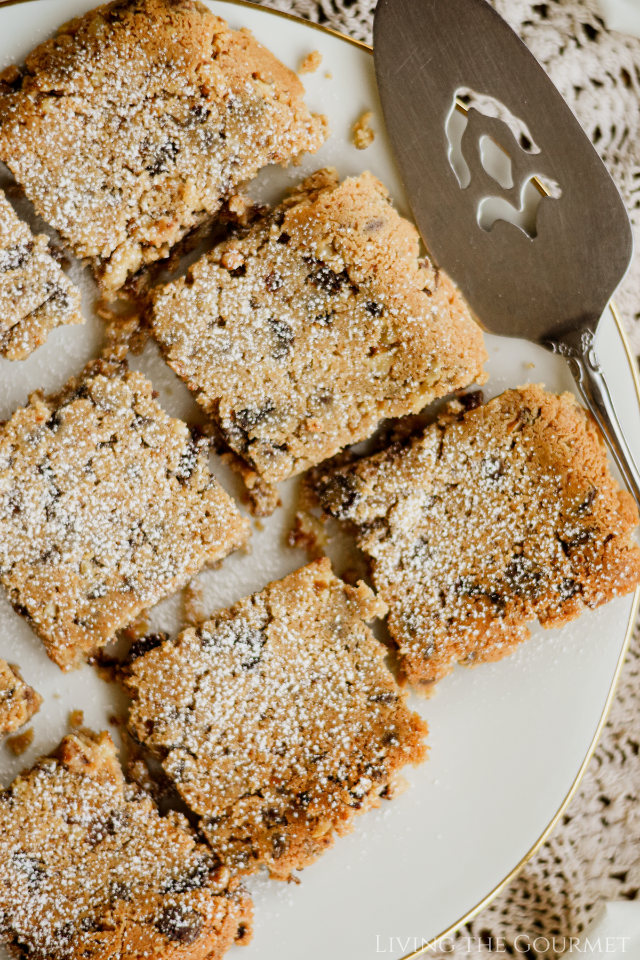 Print
Crispy Chocolate Chip Walnut Cookies Recipe
---
Author:

Total Time:

30 minutes

Yield:

9

bars

1

x
1

cup

flour

1/2

cup

of unsalted butter, softened

1/2

cup

brown sugar

1/4 tsp

. baking powder

1/8 tsp

. salt

1/4

cup

of raisins, chopped

1/2 tsp

. vanilla

1/4

cup

of walnuts, chopped

1/2

cup

chocolate chips
Sugar, for sprinkling
Powdered sugar, for dusting
---
Instructions
Preheat Oven 350 degrees F.
In a mix-master combine the softened butter, brown sugar, flour salt, baking powder and vanilla and mix until combined;  add the walnuts, raisins and chocolate chips and continue to mix until combined.
Press the dough into an ungreased baking dish and sprinkle sugar on top.
Bake 20-30 minutes until a slight golden appears around the edges.
While still warm, but not hot, cut into desired sizes and carefully turn the baking dish over onto a serving plate.
Dust with powdered sugar and serve as is or with whipped cream or ice cream.
Prep Time:

10 minutes

Cook Time:

20 minutes

Category:

Dessert

Method:

Baking

Cuisine:

American
Keywords: dessert, cookies, cookie bars
Recipe Card powered by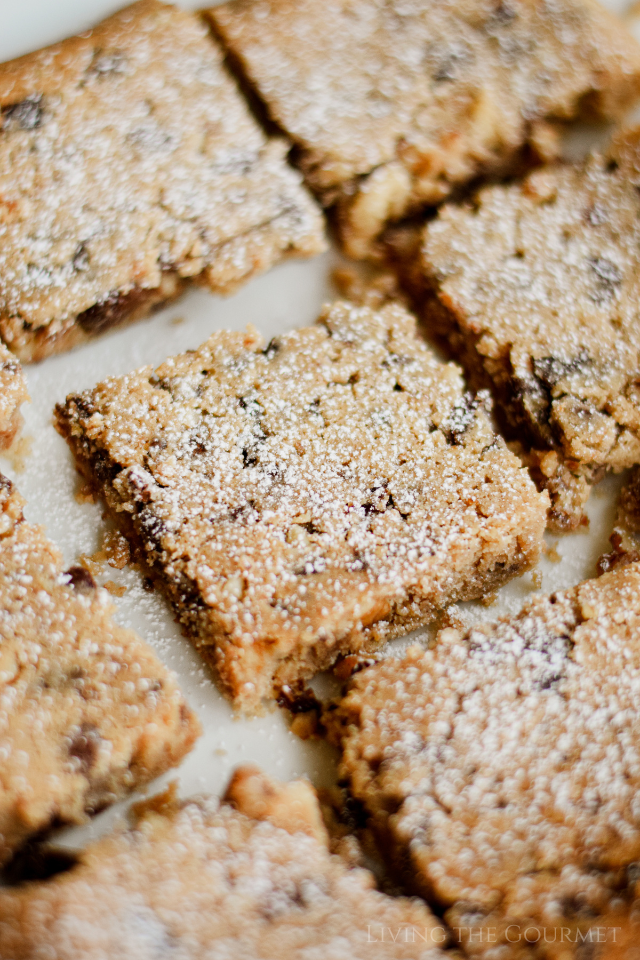 And that's all you'll need. It's really just that simple. If you enjoyed today's post, be sure to like, share, and subscribe, it helps us more than you can know.
As always, if you have any questions or suggestions, be sure to let us know in the comments below. We always love hearing from you.
As always, be sure to follow us on Newsbreak and MSN for even more great recipes and articles.
Happy Baking!
0