Today we're preparing a refreshing mint and matcha frosty. This delicious combination of vanilla, matcha and mint, packs a medley of delightful warm weather flavors into a frosty that couldn't be simpler to put together.
Sweet, refreshing, and packed with minty-matcha goodness, this is one summer creation that matcha lovers should be sure to add to their repertoire.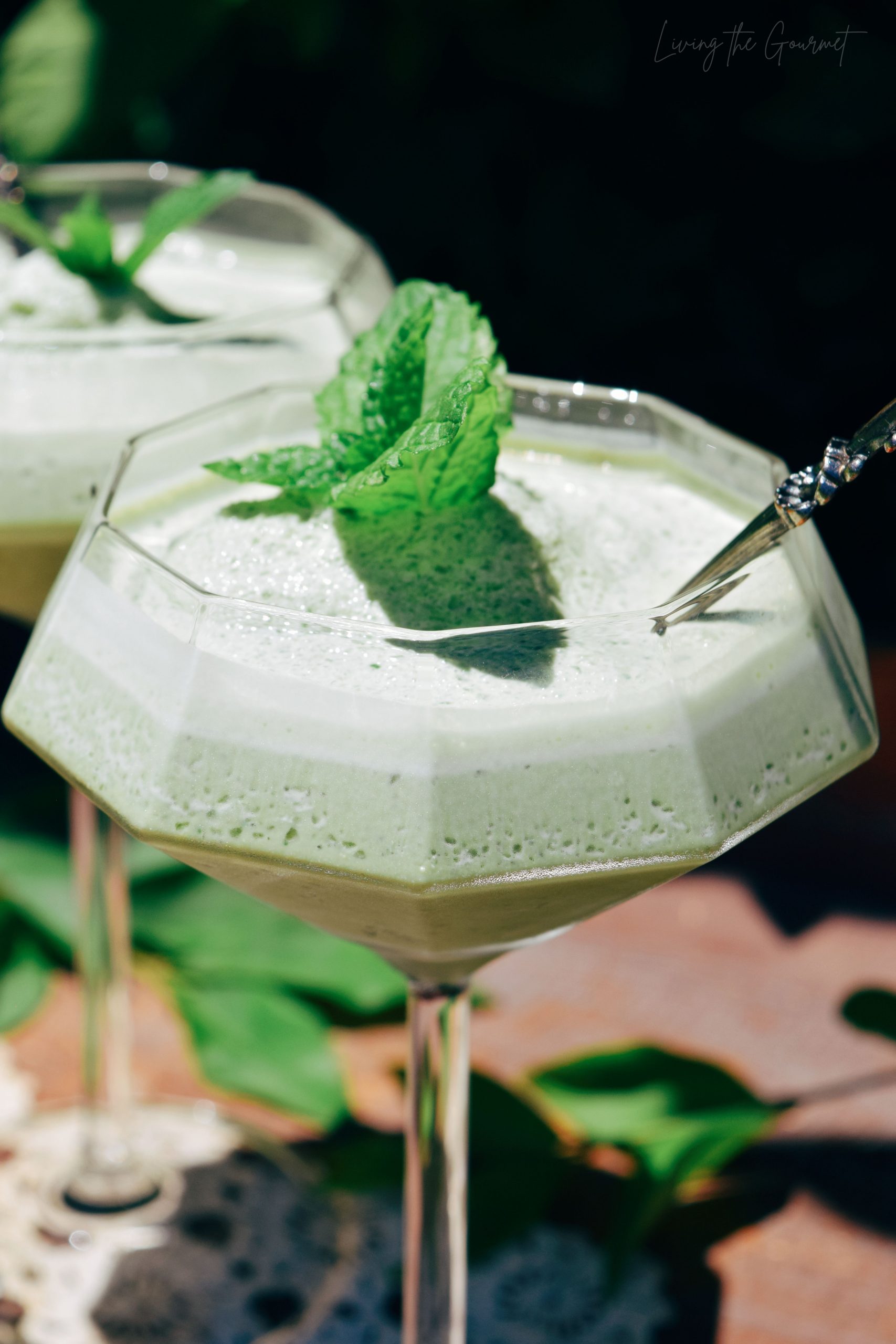 Why You'll Love It
1) Super Simple. Today's frosty is a simple combination of mint, vanilla, and matcha, along with milk and ice. All we do is combine those ingredients in the blender, blend until smooth and creamy, and we're done. It couldn't be easier.
2) Layers of Flavor. The vanilla and matcha play together beautifully, with heightened sweetness and texture coming courtesy of the condensed milk. It's simply delicious, and pleasantly – but not overbearingly – sweet.
3) Room to Experiment. The addition of coffee, espresso, or other flavors, either in place of, or in addition to, the mint, leaves plenty of room for experimentation, without complicating the simple preparation process.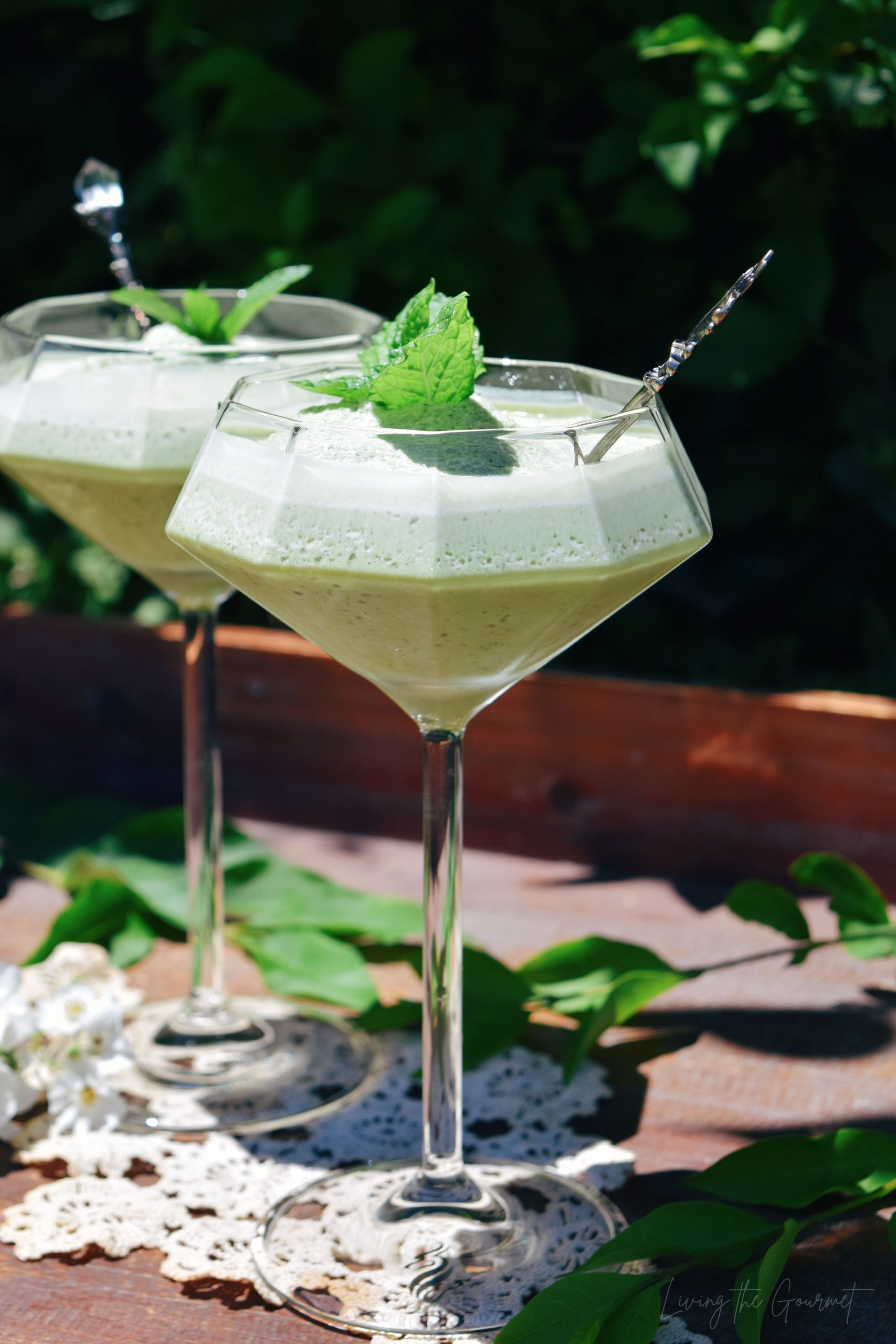 Ingredient Notes, Tips, and Substitutions
1) The Matcha – What is this stuff anyway? A type of specially produced green tea. Served hot, matcha is tea behind the "Green Tea Serving Ceremony." It's also the flavoring and coloring agent behind such delights a mochi, soba noodles, green tea wagashi confections, and (most) green tea ice creams. So, what 'makes' matcha different from other green teas? For starters, matcha is shade-grown. While this process (drastically) slows the growing process of the green tea, it also (drastically) increases the leaves' chlorophyll levels, as the leaves have to compensate to absorb as much of the (intentionally reduced) sunlight as possible. This alters the flavor, and gives matcha its beloved green hue, while also increasing amino acids and theanine, which further alter the flavor. The amino acids are chiefly responsible for matcha's flavor, with higher quality matcha containing higher levels of amino acids. The matcha is then 'cold ground,' meaning the grinding stones are kept at a minimal temperature throughout the grinding process. And that's matcha.
2) The Vanilla – Whole Beans vs Extract vs Paste. Any of these work for today's recipe, and I wouldn't really 'prefer' one over the other, as they all work just fine. That said, what's the difference? Let's start with the whole beans. Fresh vanilla beans consist of a dark brown-to-black waxy pod, which is in turn is filled with tiny black 'specks,' which is where the 'vanilla flavor' is located. For many, these tiny specks, aside from being packed with flavor, are considered quite eye-appealing, being prized by bakers and enthusiasts for how they become peppered through the recipe they are used in. The vanilla flavor from beans is typically much 'fresher tasting,' as well as much more intense. By contrast, extract is made by macerating vanilla beans in a mixture of ethanol and water, which slightly dilutes the flavor of the beans. Paste is something of an 'in between,' as while the flavor has diluted 'somewhat' due to the processing involved, it nevertheless retains more of the original flavor than extract, but with the tradeoff of being harder and 'more cumbersome' to use than simply adding in a dash of liquid extract.
Measurement Clarification: The content of 1 whole vanilla bean is (generally/roughly) equivalent to 1 tablespoon of vanilla extract, or 1 tablespoon of vanilla paste. In other words, 1 whole bean equals 1 tablespoon of either type of vanilla.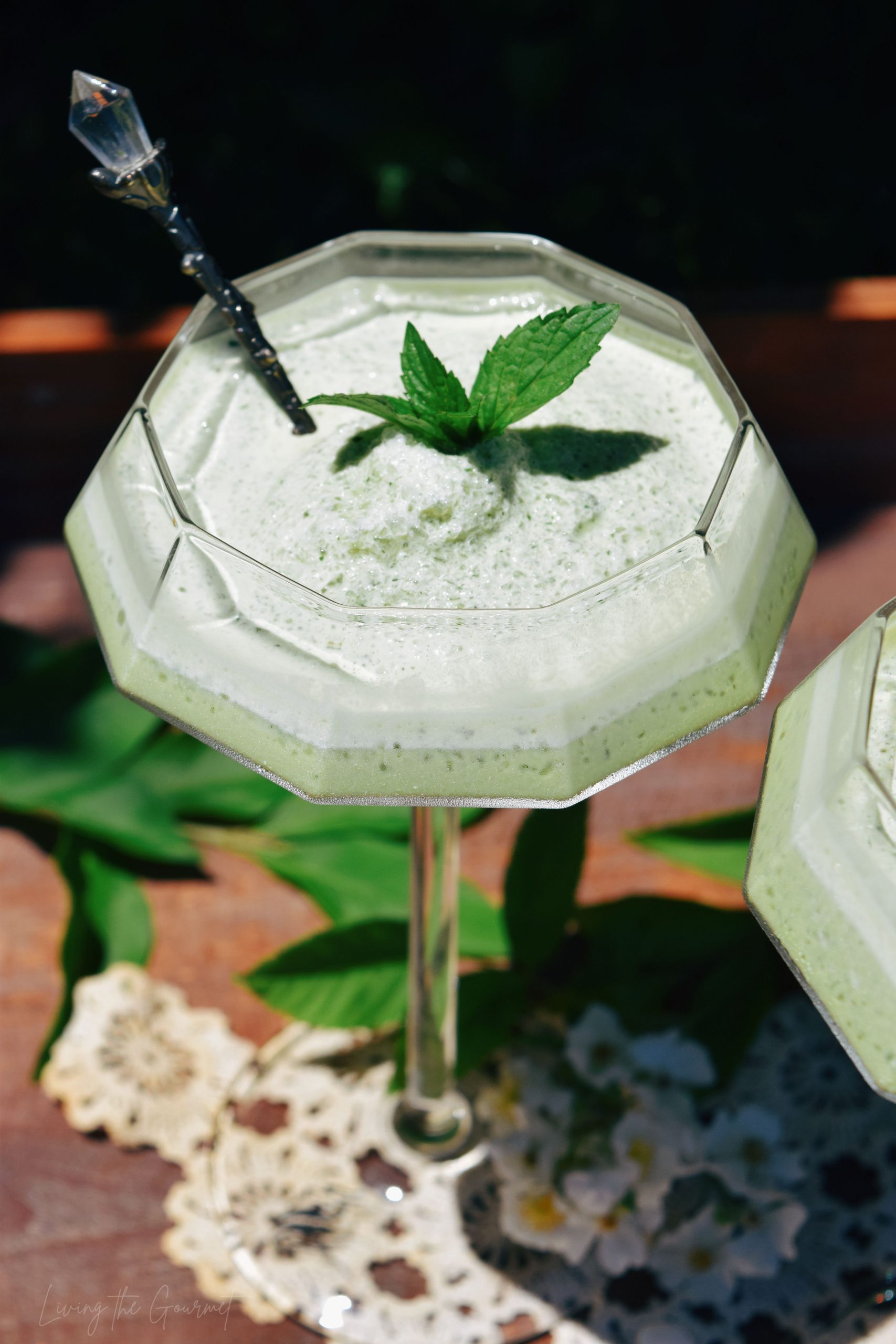 3) Fresh Mint. Often called 'the friendliest and most forgiving herb,' fresh mint definitely has that reputation for a reason. Mint is easy to grow (seriously, my mint has survived more Long Island droughts and flooding than I can count, and still comes back like clockwork), and it's even easier to incorporate into your cooking, while still leaving plenty of room for 'getting fancy.' From complex reductions for use on roasted lambs, to simply stirring a few chopped leaves into yogurt or ice cream, mint is a joy for home cooks and expert chefs alike. With that said, we don't want to go 'too heavy' on the mint in today's frosty, otherwise it will be the only thing you taste.
Substitution: In most cases, dried mint is the preferred substitute, but I'm not quite sure if that works in today's recipe. Dried mint has a lot of the same qualities that its fresh counterpart has – albeit with the usual 'earthy' or 'dark herbal' notes that pervade almost all dry herbs. For today's recipe, those 'earthy' and 'herbal' notes would probably change the flavor profile 'past the point of no return.' Fresh marjoram is also usually cited as a mint substitute, but again, I just don't think that works in today's recipe.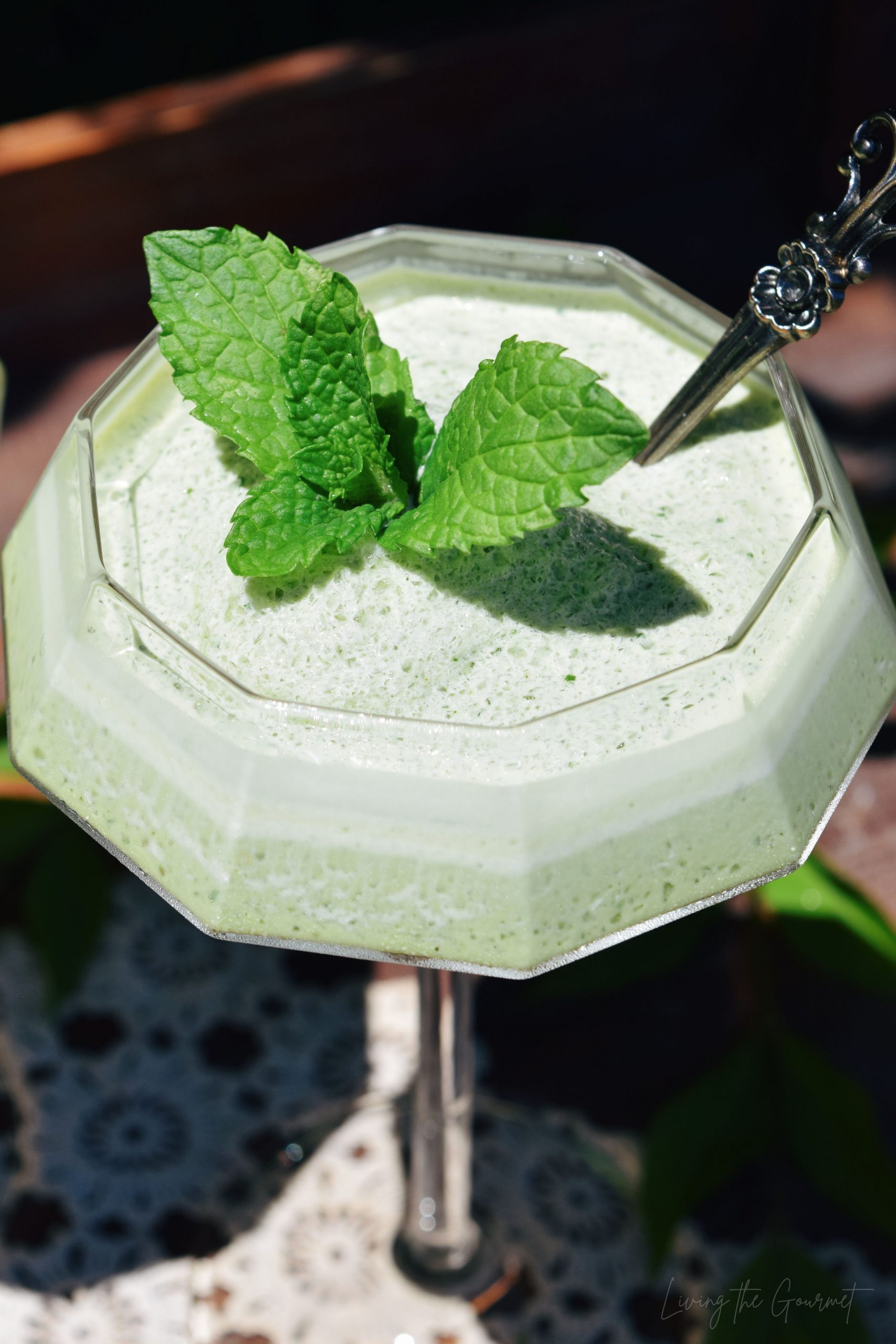 For More Warm Weather Goodness
1) Homemade Vanilla Ice Cream. Now, I love ice cream as much as the next person, but my absolute favorite ice cream is homemade. Homemade vanilla bean ice cream, and yes, I 'prefer' the no churn variety, and yes one of the big reasons for this preference is not needing the clunky, space-consuming ice cream churn. Grab my recipe for super-simple yet super delicious vanilla bean ice cream right here.
2) Eton Mess. This traditional English dessert boasts of doubled whipped cream, crushed meringue cookies, and mix of fresh strawberries and cherries. Simple to put together, and delightful for those warmer days, this is one recipe you should definitely add to your summer lineup.
3) Blueberry Coconut Cream Delight. Luscious, dreamy, and refreshing this Blueberry Coconut Cream Delight is the perfect treat to cool down with. It's sweetly balanced and satisfying with layers of fresh cream in between.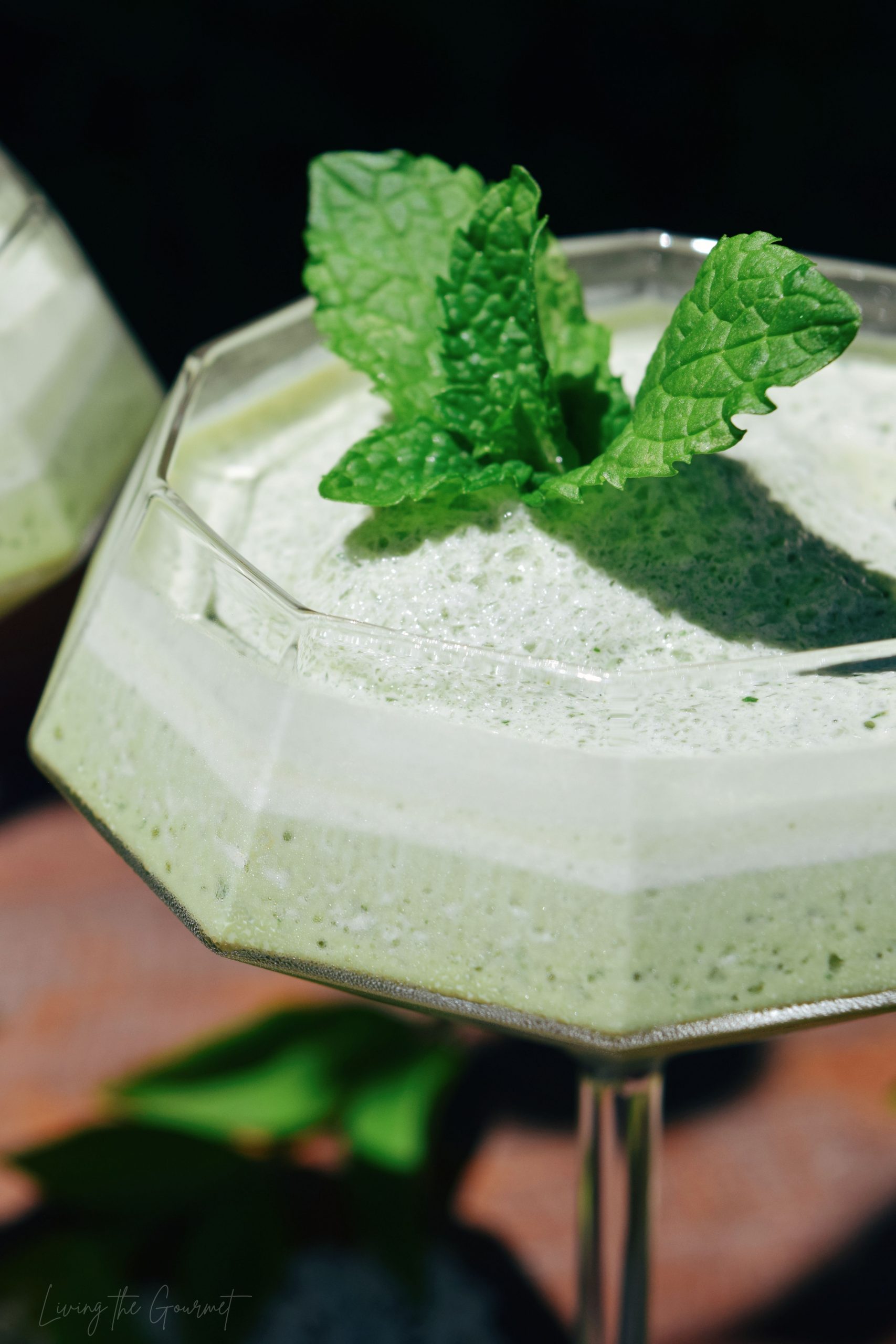 Print
Matcha Mint Frosty
---
Author:

Total Time:

10 minutes

Yield:

3

servings

1

x
2

tsps. matcha powder

1/2 cup

sweetened condensed milk

1/2 cup

whole milk

1 tsp

. vanilla

5

-

6

large fresh large mint leaves - extra for garnish

14

-

16

ice cubes
---
Instructions
In a blender combine the matcha, milk, condensed milk, mint leaves, vanilla and ice cubes. 

Blend until creamy.

Serve with a garnish of fresh mint leaves.
Prep Time:

10 minutes

Category:

Drinks
Nutrition
Serving Size:
Calories:

275

Sugar:

30 g

Sodium:

87.6 mg

Fat:

7.1 g

Carbohydrates:

30 g

Protein:

8.1 g

Cholesterol:

34.8 mg
Keywords: matcha, frosty, mint
Recipe Card powered by
0