This traditional English dessert boasts of doubled whipped cream, crushed meringue cookies, and mix of fresh strawberries and cherries.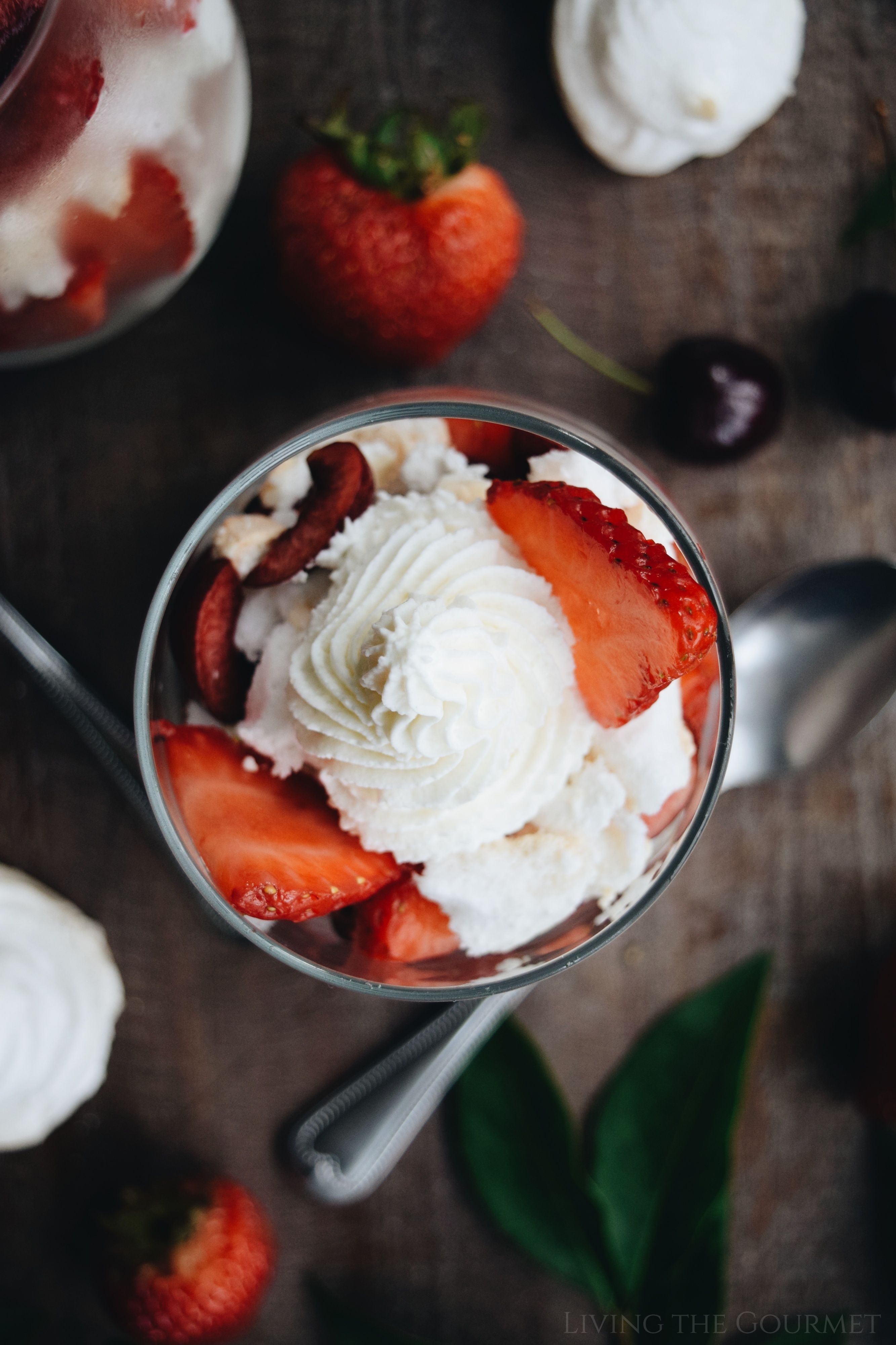 A lot can be said about today's recipe, but I feel this quote from Tuck Everlasting sums it up best, "Like all magnificent things, it's very simple."
Summer's ripest fruit is layered with freshly whipped cream and homemade meringue. Chilled until ready to serve on a warm summer's evening- what more could you possibly ask for?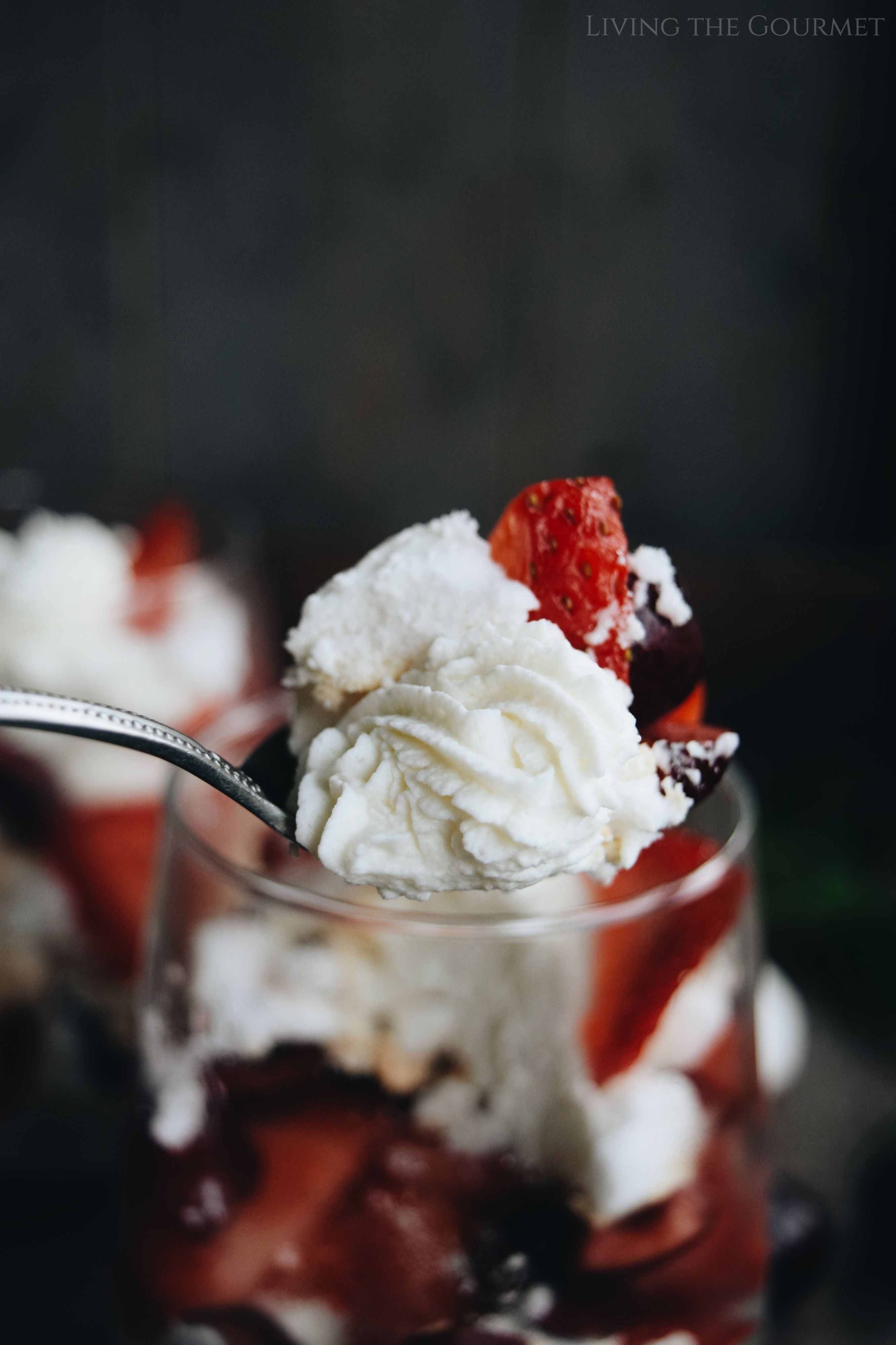 Eton Mess originates from Eton College and tends to be a celebratory dessert. It can alternately be made with bananas in place of strawberries, but any fruit can just about be substituted here. So matter how you choose to present it, what could possibly go wrong with fresh fruit and cream?
What separates this dish from traditional strawberries and cream is the meringue. Bits of airy meringue cookies are crumbled into the whipped cream and that is just absolute heaven.
So without further adieu, let's get started.
The recipe begins with homemade meringue cookies which are arguably the easiest cookie you will ever make. It only takes 3 ingredients, so if weather permits, always go the extra mile. If however, you prefer not to turn the stove on for 40 minutes in the heat of summer, store-bought will serve you fine.
Next, prepare the fruit. For today's variation, I added fresh cherries to the strawberries and tossed with a little coconut palm sugar.
The final step is whipping the cream.
I've learned two tricks over the years after whipping up many, many bowls of cream. The first trick is to always whip your cream in a chilled metal bowl. It not only helps speed the process along but also ensures the cream keeps its shape. The second trick is adding gelatin to the cream. In a small bowl whisk unflavored gelatin and water until the gelatin has dissolved and is liquified. When the cream begins to froth, that's when you add the gelatin. The gelatin helps stabilize the cream so it doesn't begin to weep.
Finally, it's time to layer. Alternate between the whipped cream, meringue, and fresh fruit. Repeat this process until each glass is full, then finish it off with an extra swirl of whipped cream on top.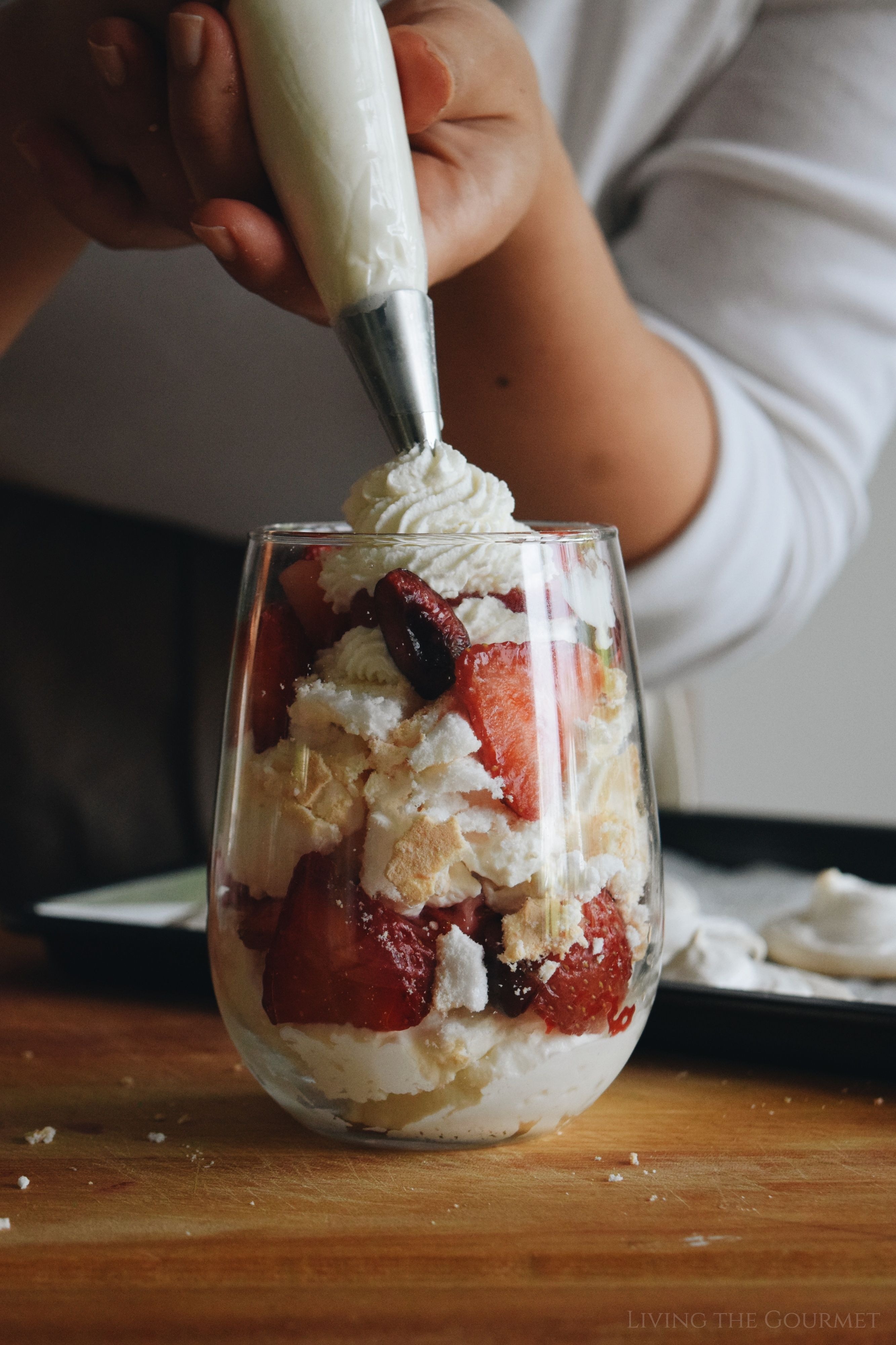 Print
Classic Eton Mess
Author:
Prep Time:

10 minutes

Cook Time:

40 minutes

Total Time:

50 minutes
1

cup

heavy cream

1 tablespoon

confectioner's sugar

1 teaspoon

vanilla extract

1/2 teaspoon

unflavored gelatin and 1 teaspoon water, mixed

1

cup

strawberries, hulled and sliced

1/2

cup

fresh cherries, pitted and sliced

1 tablespoon

coconut palm sugar
Meringue Cookies, store-bought or homemade (recipe below)
For the Meringue Cookies:
3

egg whites

2/3

cups

white sugar

1/4 teaspoon

cream of tarter
Pinch of salt
Instructions
For the Meringue Cookies:
Preheat the oven to 250 degrees F. Line a baking sheet with parchment paper and set aside.
In the bowl of a stand mixer with the whisk attachment, beat egg whites, cream of tarter, and salt on high speed. Once the egg whites begin to froth, add the sugar and continue beat on high speed until stiff, glossy peaks begin to form.
You can pipe the meringue onto the baking sheet or use a tablespoon to lay them out. Bake the meringues for about 40-45 minutes until they are dry and slightly golden around the edges.
Remove and let cool on a cool rack until ready to use for the Eton Mess.
For the Eton Mess:
In a small bowl, toss the fruit together with the coconut palm sugar and set aside.
In a chilled metal bowl, combine the cream, sugar, and vanilla and beat until the cream becomes slightly thicker and frothy.
In a small bowl, whisk the gelatin and water together until the gelatin has dissolved and is liquified. Add this mixture to the cream and continue beating on medium-low speed until the cream has thickened completely.
Assembly:
In your desired serving glasses or bowls, begin with one layer of cream, 1 meringue cookie crushed, and two spoonfuls of fruit. Continue this pattern until each glass is complete. Top with a dollop of cream and chocolate shavings if desired.
Refrigerate before serving if making ahead, or serve immediately.
Recipe Card powered by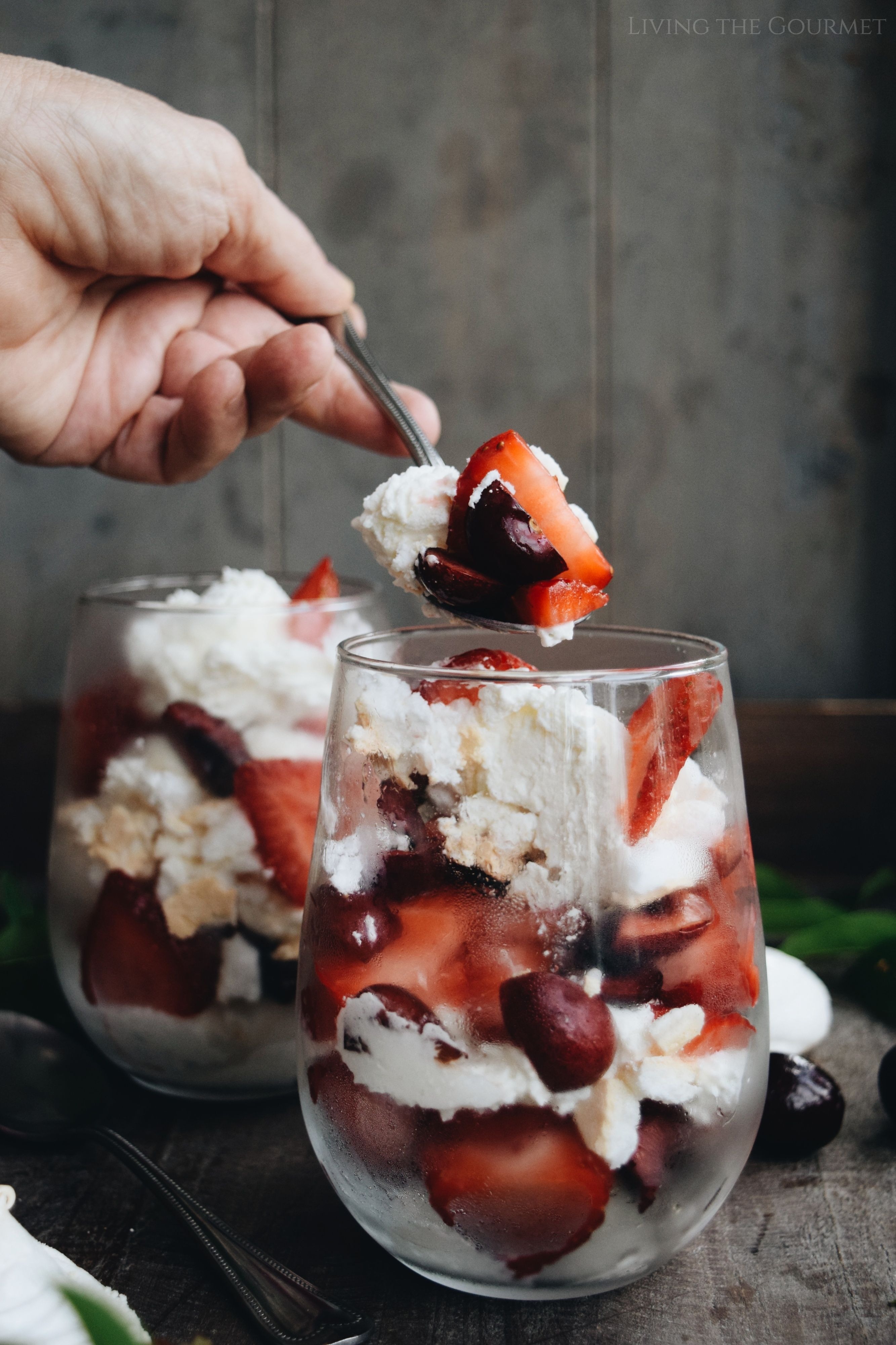 There you have it, a beautifully crafted dessert that is refreshing and pleasing during these hot weeks of summer.
I hope you give this recipe a try and if you do, I would love to see! Tag us on social media with #LTGfood!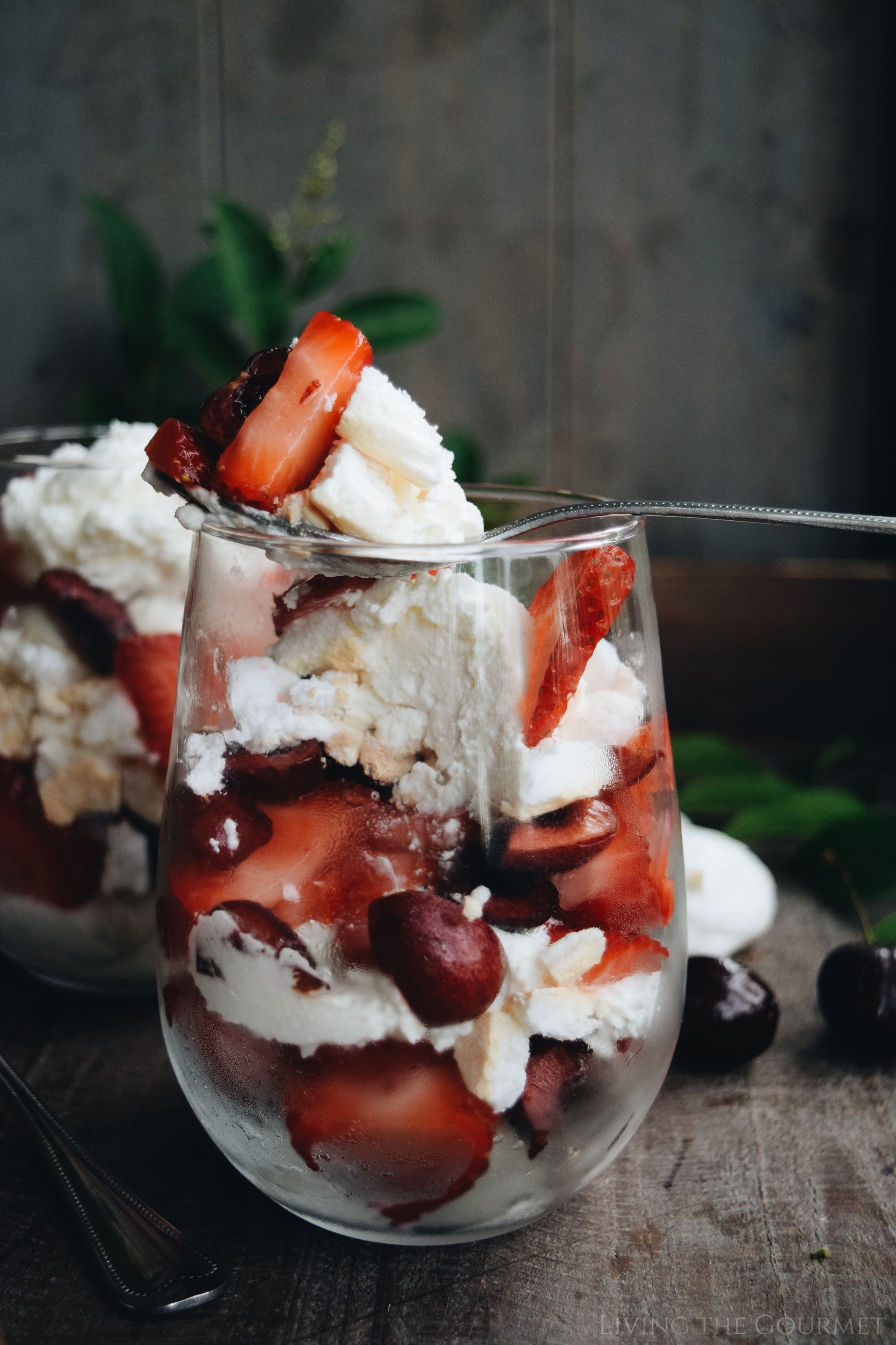 Enjoy with Love!
0