Indulge in a slice of pure frozen bliss with our irresistible Butter Pecan Vanilla Ice Cream Cake! Brace yourself for a mouthwatering journey through layers of creamy goodness, velvety textures, and nutty delight. This frozen masterpiece is the ultimate dessert that will transport you to a world of sweet indulgence. Get ready to satisfy your cravings with every heavenly bite!
Imagine a luscious blend of rich butter pecan ice cream, infused with the timeless allure of smooth vanilla. Picture yourself sinking your fork into a crunchy crust that perfectly complements the silky ice cream layers, creating a symphony of flavors and textures. This cake is a true celebration of indulgence and pure dessert perfection.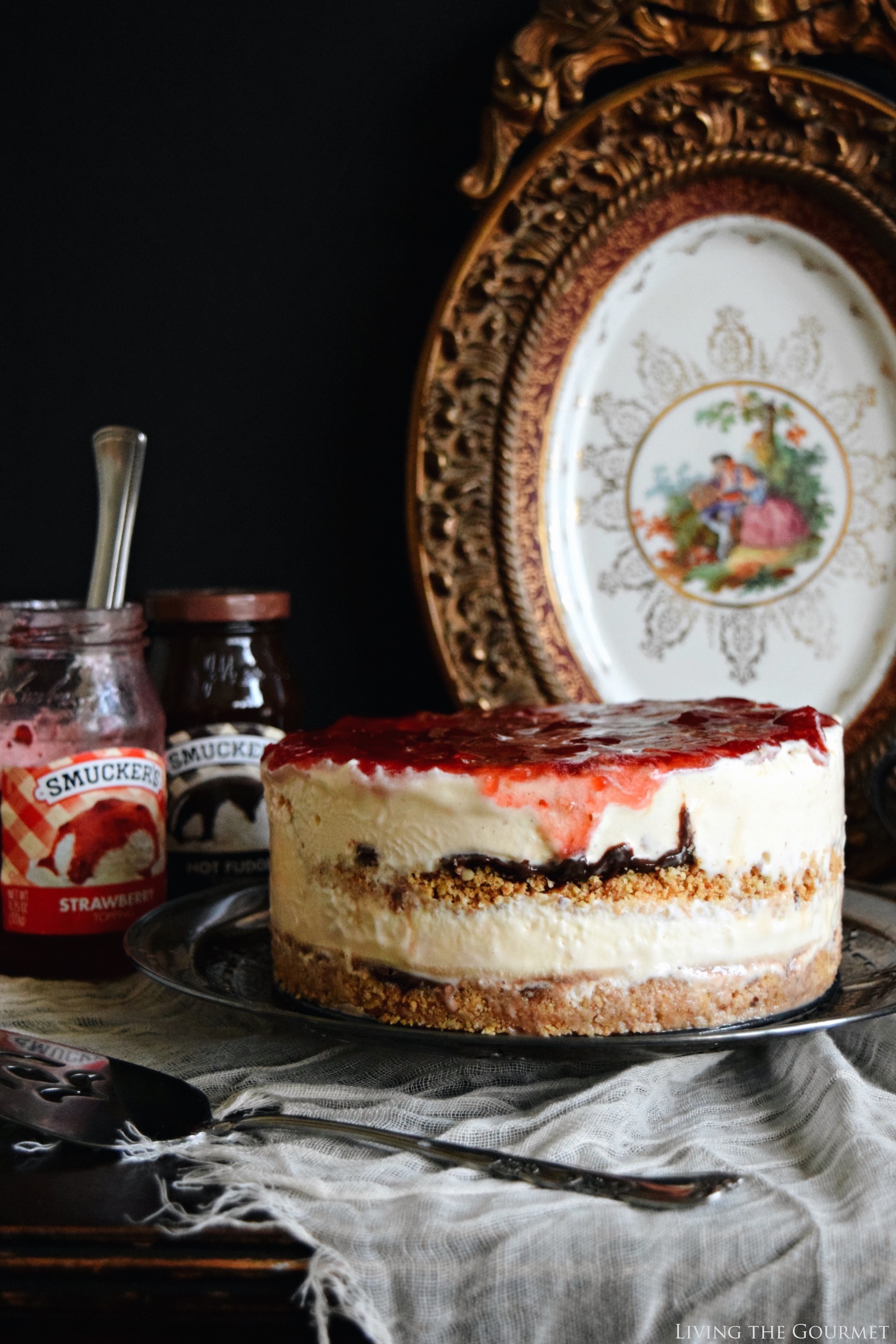 As you delve deeper into this blog post, we'll guide you through the step-by-step process of creating this show-stopping treat. From crafting the exquisite crust to layering the velvety ice cream, we'll share our insider tips and tricks to ensure your Butter Pecan Vanilla Ice Cream Cake turns out flawless every time.
Whether you're hosting a special occasion or simply treating yourself to a moment of sweet escapism, this ice cream cake is sure to captivate your taste buds and leave you craving for more. So, grab a spoon, take a seat, and let the magic unfold as we unveil the secrets to creating this delectable masterpiece.
Get ready to embark on a frozen adventure that will take your dessert experience to new heights. The Butter Pecan Vanilla Ice Cream Cake awaits, and with each delightful slice, you'll be transported to a world of pure dessert enchantment. Are you ready to indulge in frozen bliss? Let's dive in!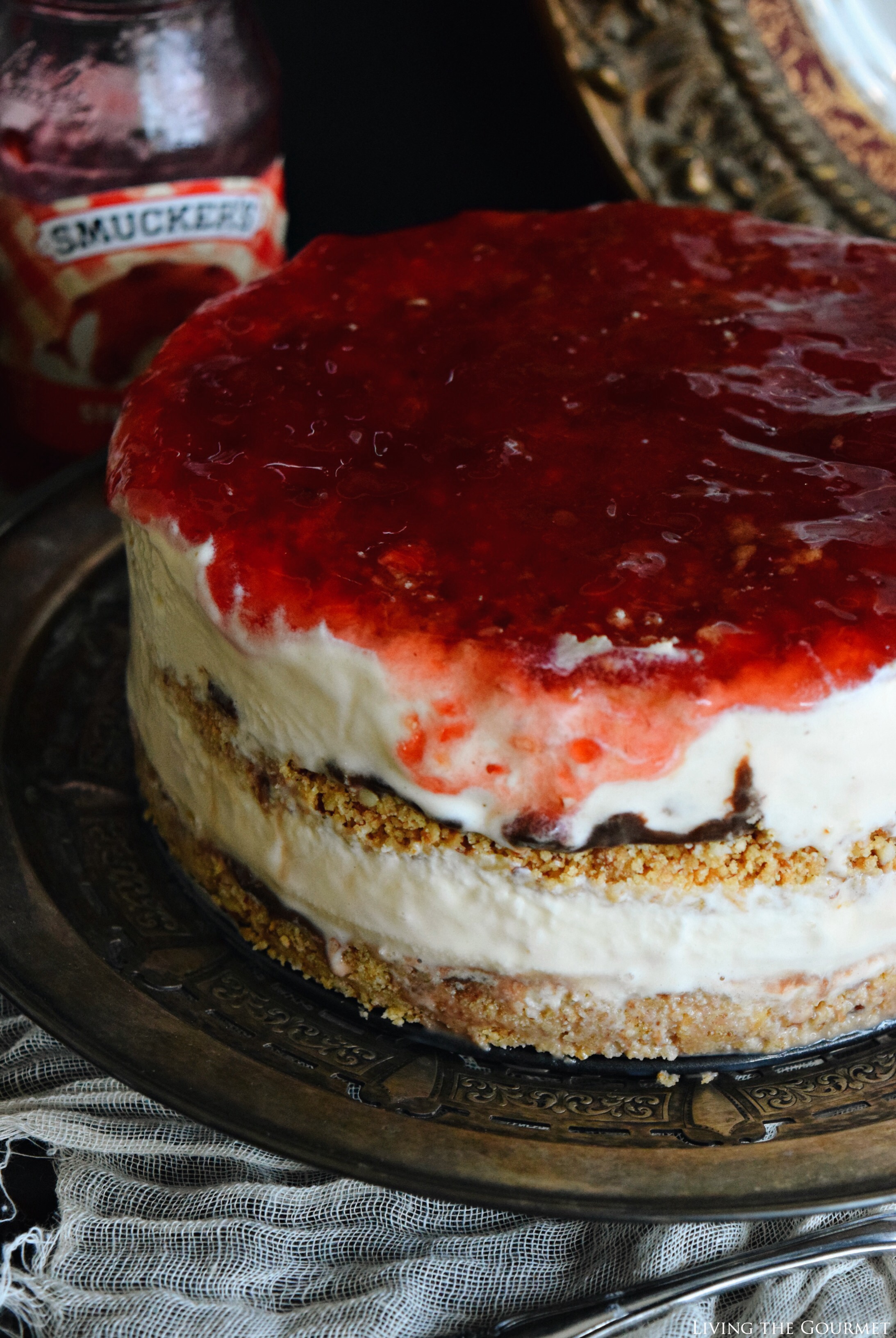 Ingredient Checklists – Everything You'll Need
The Crust:
2 cups crushed graham crackers

Note: You can use store-bought graham cracker crumbs, or crush graham crackers in a food processor until finely ground.
Tip: For a gluten-free version, use gluten-free graham crackers or substitute with crushed gluten-free cookies.

1/2 cup almonds, finely chopped

Note: Almonds add a delightful nutty flavor and texture to the crust.
Tip: Toast the almonds for a few minutes in a dry skillet for enhanced flavor before chopping.

1/2 cup unsalted butter, melted

Note: Melt the butter until fully liquid for easy mixing with the other crust ingredients.
Tip: Use unsalted butter to control the saltiness of the crust.
Ice Cream Layers:
3 scoops (about 1 cup) Blue Bunny® Butter Pecan, softened

Note: Softened ice cream is easier to spread and layer.
Tip: Allow the ice cream to soften at room temperature for about 10-15 minutes before using.

3 scoops (about 1 cup) Blue Bunny® Homemade Vanilla, softened

Note: Homemade vanilla ice cream provides a classic and creamy base for the cake.
Tip: Soften the vanilla ice cream in the same manner as the butter pecan ice cream.
Fudge Layer:
1 (11.75 oz.) jar Smucker's Hot Fudge Spoonable Ice Cream Topping

Note: Hot fudge adds a decadent and gooey layer to the cake.
Tip: Warm the hot fudge according to the jar instructions for easy spreading.
Substitute 1: Fresh strawberry compote: Make a simple compote by cooking fresh strawberries with sugar until they break down and form a thick sauce. Adjust the sweetness and texture to your liking.
Substitute 2: Strawberry jam or preserves: Use a high-quality strawberry jam or preserves that has a similar fruity flavor to the spoonable topping. Warm it slightly to make it more spreadable.
Topping:
1/4 cup Smucker's Strawberry Spoonable Ice Cream Topping

Note: Strawberry topping adds a burst of fruity flavor and a vibrant touch to the cake.
Tip: Drizzle the strawberry topping artistically on top of the cake for an eye-catching presentation.
Substitute 1: Homemade chocolate ganache: Make your own rich and velvety chocolate ganache by melting high-quality chocolate with heavy cream. You can adjust the sweetness and consistency to your preference.
Substitute 2: Chocolate sauce: Use a store-bought or homemade chocolate sauce as a substitute for the hot fudge. Look for one with a smooth and pourable consistency.
Optional Garnish:
Additional crushed graham crackers or chopped almonds

Note: These optional toppings add extra texture and visual appeal to the finished cake.
Tip: Sprinkle the crushed graham crackers or chopped almonds on top just before serving for a fresh and crunchy element.
Now that you have your ingredients ready, let's proceed with creating this delectable Butter Pecan Vanilla Ice Cream Cake that will delight your taste buds and impress your guests!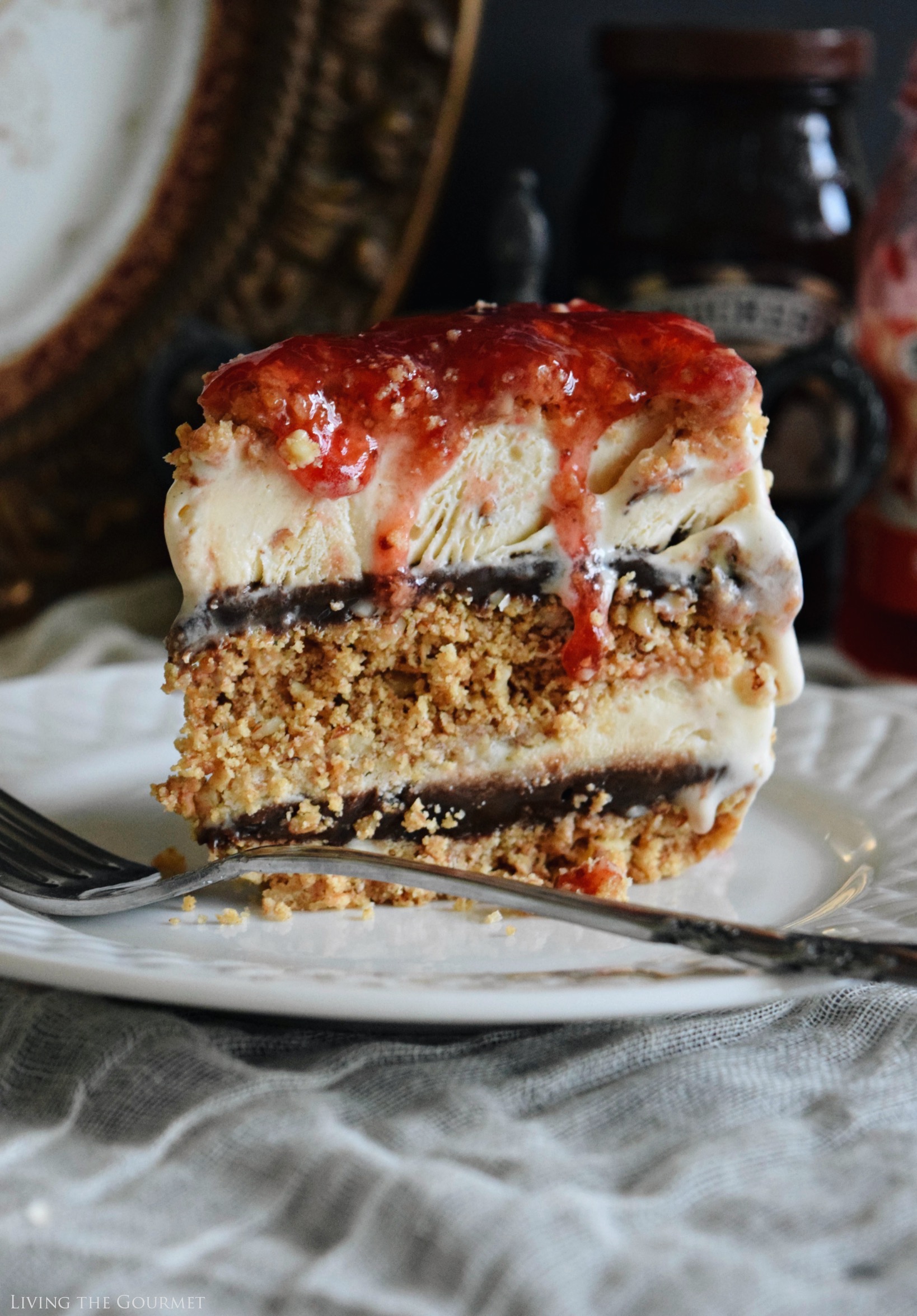 Tips and Tricks – Getting the Ice Cream Cake Just Right
Freezing and Serving: To achieve the best texture and presentation, make sure to freeze the Butter Pecan Vanilla Ice Cream Cake for at least 4 hours or overnight before serving. This will allow the layers to set and ensure a firm and creamy consistency. Before cutting and serving, let the cake sit at room temperature for a few minutes to soften slightly, making it easier to slice.
Neat Slices: For clean and neat slices, dip a sharp knife into warm water and wipe it clean before each cut. This will prevent the ice cream from sticking to the knife and help create perfect slices.
Toppings and Sauces: Elevate the flavors and presentation of your Butter Pecan Vanilla Ice Cream Cake by adding delicious toppings and sauces, which we'll touch on below. Consider drizzling caramel sauce, chocolate ganache, or a sprinkle of crushed nuts over each slice. Fresh berries or a dollop of whipped cream can also be wonderful accompaniments.
Make-Ahead: Planning ahead? This ice cream cake can be prepared in advance and stored in the freezer for up to a week. Simply cover it tightly with plastic wrap or place it in an airtight container to prevent freezer burn. When ready to serve, remove it from the freezer and let it sit at room temperature for a few minutes to soften slightly before slicing.
Customizations: Feel free to put your own twist on this recipe! Experiment with different ice cream flavors, such as chocolate or strawberry, to create unique combinations. You can also incorporate different types of nuts or add layers of your favorite sauces or fillings for extra indulgence.
Get Creative with Decorations: Take your presentation to the next level by decorating the ice cream cake with whipped cream, chocolate shavings, sprinkles, or edible flowers. Let your creativity shine and make the dessert even more visually appealing.
Remember, the beauty of this recipe lies in its versatility. Don't be afraid to explore different variations and make it your own. Enjoy the process of creating and savoring this delightful Butter Pecan Vanilla Ice Cream Cake.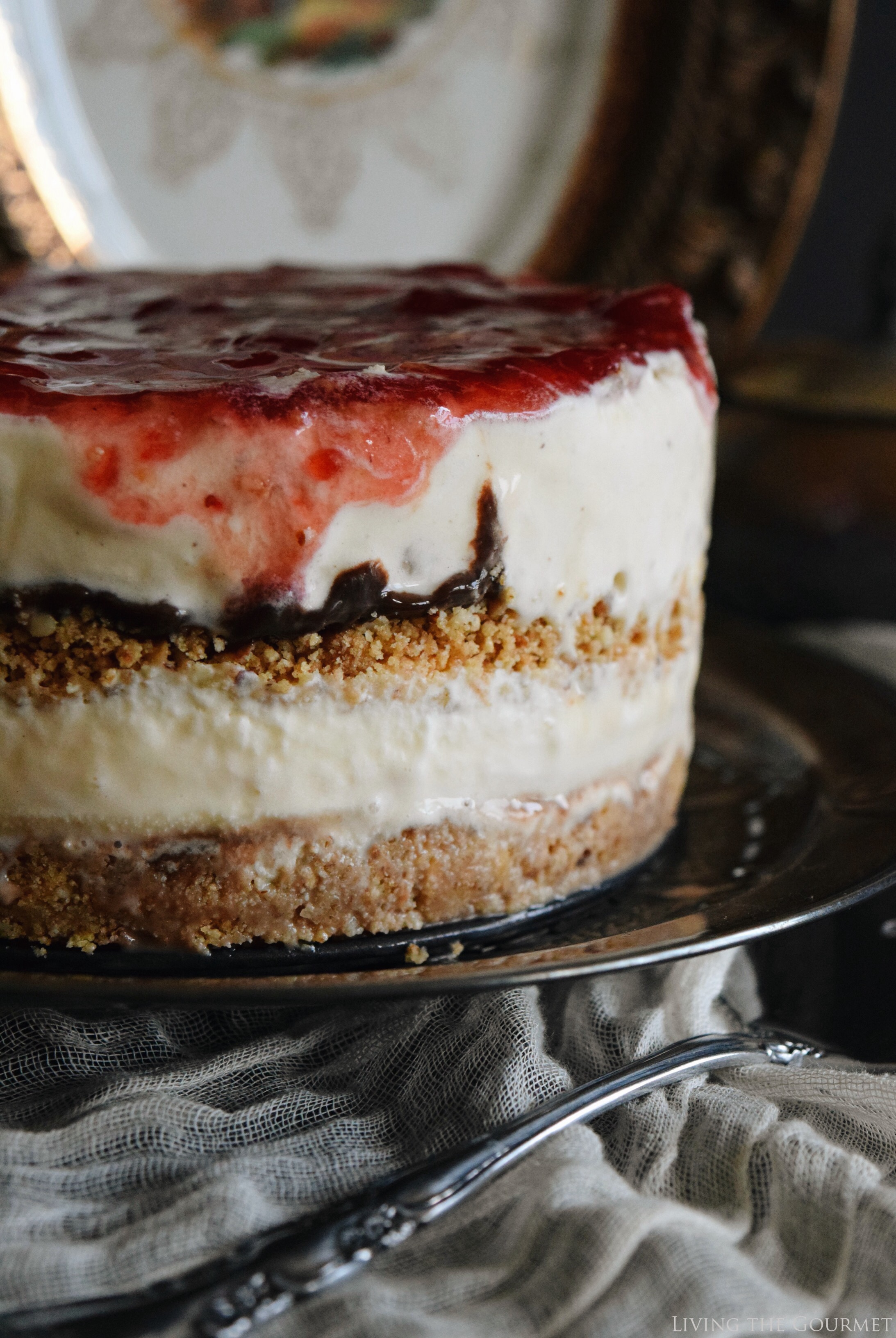 Toppings, Sauces, or Garnishes
Whipped cream: Dollop some freshly whipped cream on top of each slice for an extra creamy and indulgent touch.
Caramel sauce: Drizzle warm caramel sauce over the cake to add a rich and sweet caramel flavor that pairs well with butter pecan.
Toasted coconut flakes: Sprinkle toasted coconut flakes on top for a tropical twist and added texture.
Chopped pecans: Garnish with a sprinkle of chopped pecans to highlight the butter pecan flavor and add a crunchy element.
Fresh berries: Serve with a side of fresh strawberries, blueberries, or raspberries for a burst of freshness and a pop of color.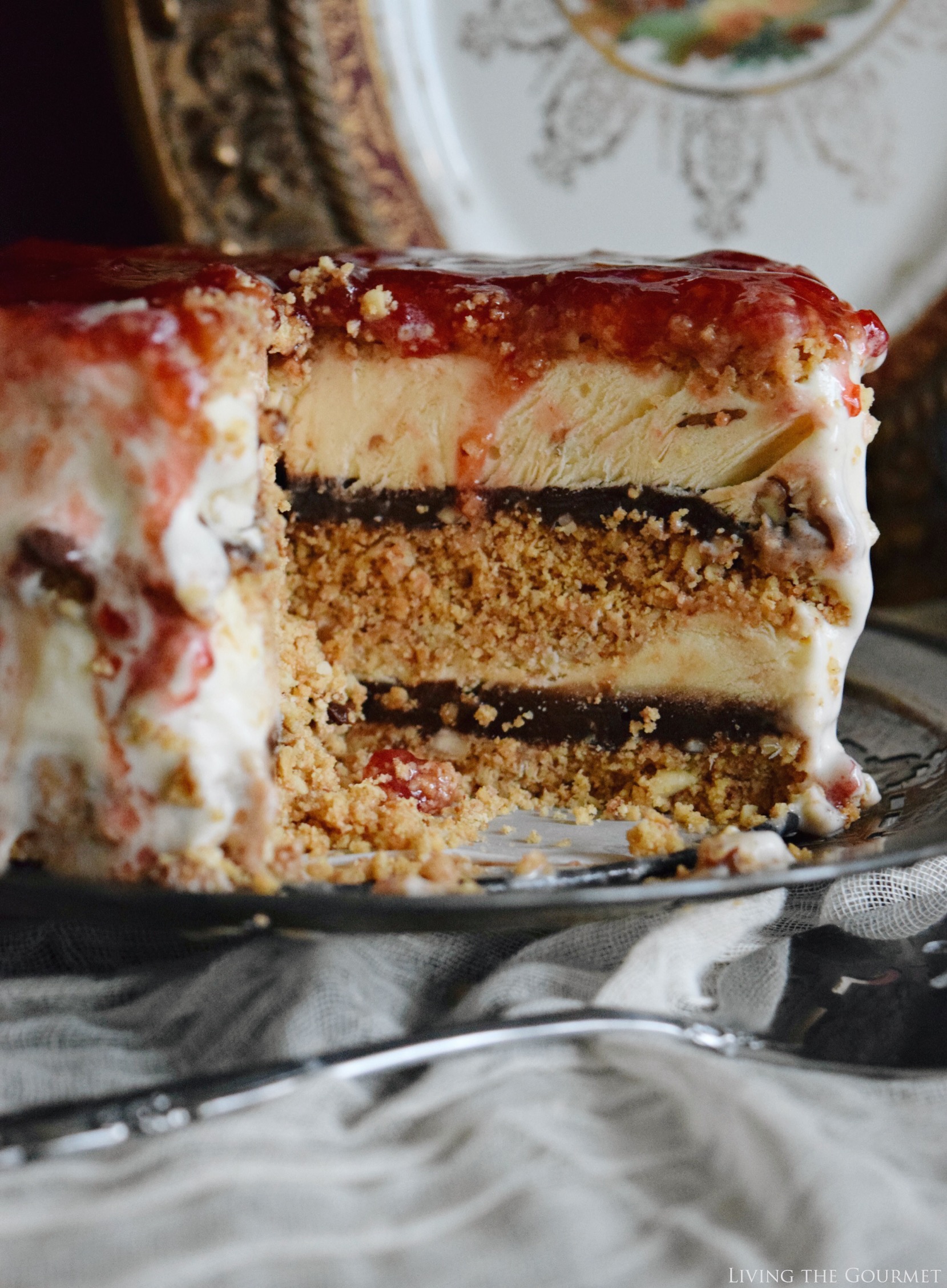 Beverages Pairings
Iced coffee: Enjoy a refreshing glass of iced coffee alongside the cake to balance the richness and provide a contrast of temperatures.
Iced tea: Sip on a cold glass of sweetened or unsweetened iced tea for a light and refreshing beverage choice.
Milkshake: Blend a scoop of butter pecan or vanilla ice cream with some milk to create a creamy and decadent milkshake that pairs perfectly with the cake.
Hot beverage: If you prefer warm drinks, enjoy a cup of hot coffee or tea to complement the cold and creamy cake.
These serving suggestions will elevate your dessert experience and add variety to your enjoyment of the Butter Pecan Vanilla Ice Cream Cake. Choose your favorite accompaniments and beverages to create a delightful and personalized dessert presentation.
products used in this recipe
Print
Butter Pecan and Vanilla Ice Cream Cake
---
Author:

Total Time:

3 hours 10 minutes

Yield:

8

slices

1

x
2

cups

crushed graham crackers

1/2

cup

almonds, finely chopped

1/2

cup

unsalted butter, melted

3

scoops (about

1 cup

) butter pecan ice cream, softened

3

scoops (about

1 cup

) vanilla ice cream, softened

1

(11.75 oz.) jar hot fudge

1/4

cup

strawberry jam
---
Instructions
Prepare a 6½-inch springform pan by lining the bottom with parchment paper and wrapping the outer side of the pan in tin foil. Set aside.
In a large bowl, combine graham cracker crumbs, almonds and melted butter. Press about 1 cup of the graham crackers to the bottom of the pan.
Heat the hot fudge until it is smooth and spreadable. Add enough to cover the graham cracker crust. Place the cake pan in the freezer for about 15 minutes until the hot fudge has set.
Once the hot fudge has set, scoop the softened ice cream on top. I used 3 scoops of softened ice cream. Smooth and even the ice cream over the fudge layer and place back into the freezer to set, about 30 minutes.
Once the ice cream has set, repeat the steps above, covering the ice cream layer with the graham cracker crust, but be sure to reserve about ¼ cup of the graham cracker crumbs for the topping. Again, add a layer of the hot fudge and freeze to set. One you add your final layer of ice cream, sprinkle the top with the remaining graham crackers. Cover with cling film and let sit in the freezer until ready to serve.
Before serving, spoon the strawberry jam over the top. Serve and enjoy!
Prep Time:

10 minutes

Inactive Prep Time:

3 hours
Keywords: cake, ice cream cake, ice cream, dessert
Recipe Card powered by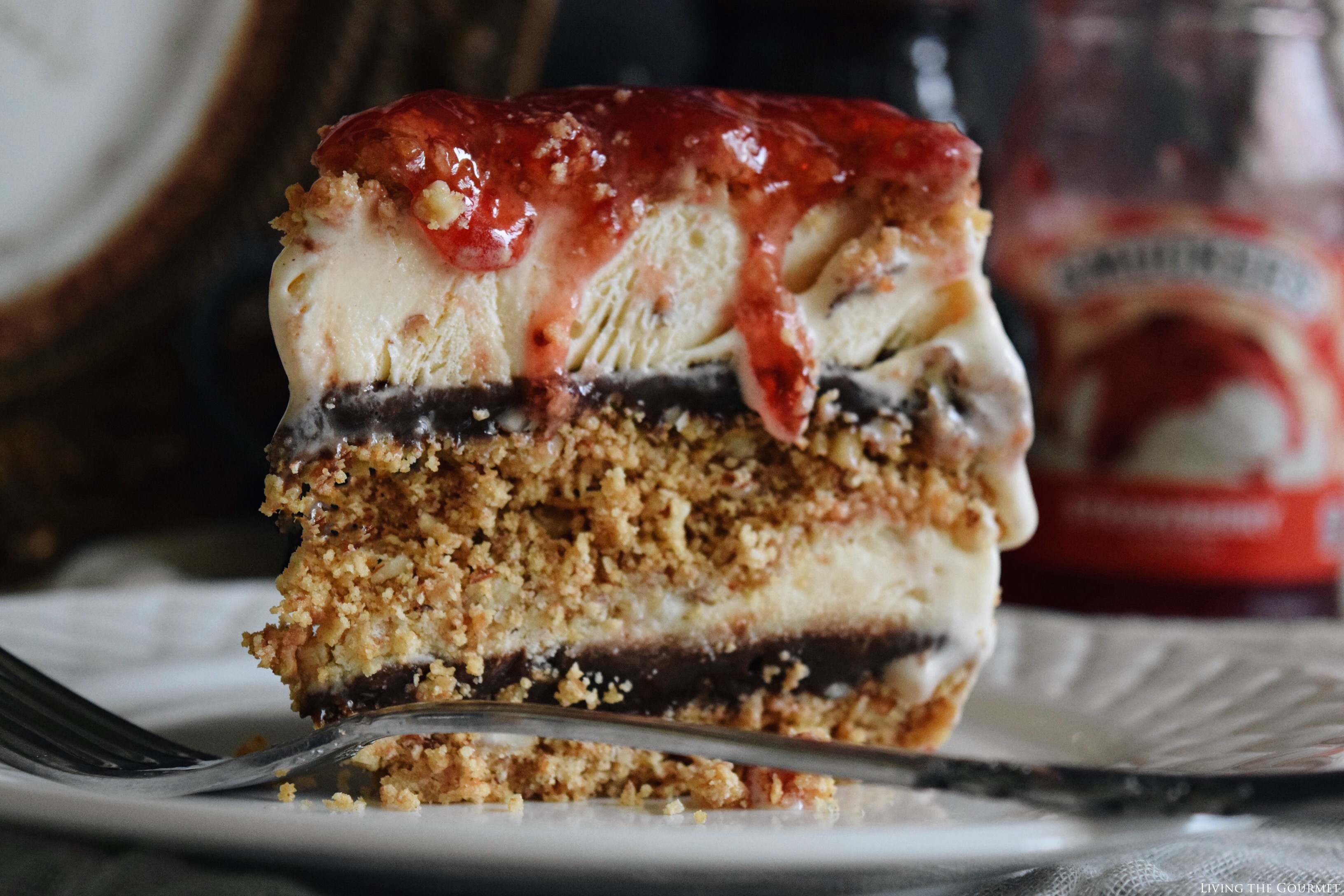 And that's our Butter Pecan Vanilla Ice Cream Cake.
Hungry for more culinary inspiration and mouthwatering recipes? Subscribe today and be the first to receive new recipes, cooking tips, and exclusive content. Join our growing community of food enthusiasts and elevate your cooking skills to new heights.
Be sure to like, share and subscribe to stay connected with us on social media for even more delicious delights. Follow us for daily doses of culinary inspiration, behind-the-scenes peeks, and interactive discussions with fellow food lovers. Share your cooking triumphs, ask questions, and be part of our vibrant community. Happy Cooking!
As an Amazon Associate I earn a small commission from any purchases made through the affiliate links within this post. For more information on this please see our disclosure policy. Thank you!
4