This post has been sponsored by Mina® Taste Morocco. All opinions expressed are my own.
A few months back, I prepared a Moroccan Tomato Salad, which ended up being a hit not only with my family, but you my dear readers as well. Today, we're preparing another staple of Moroccan cuisine – Shakshuka, and we'll be doing so with a little from our new friends over at Mina, but more on them in just minute.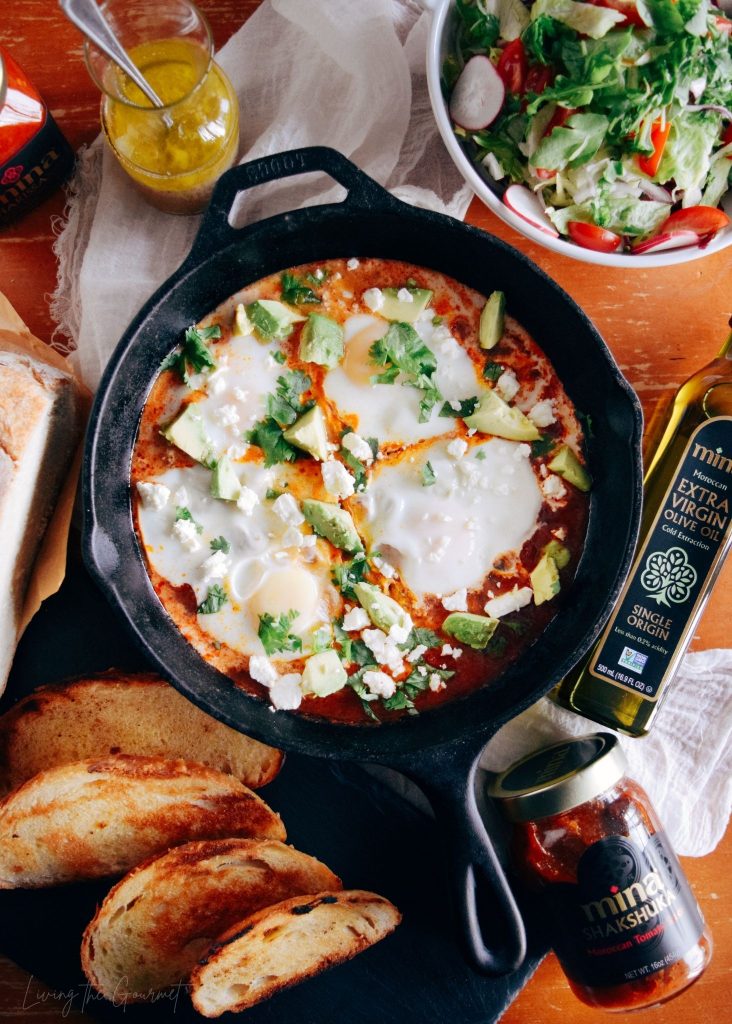 Why You'll Love Today's Shakshuka
1) One Pan Meal. Similar to something like my Provencal Sausage and Potatoes, today's shakshuka is a meal unto itself, being simple to make, satisfying, and delicious. It's a meal unto itself.
2) Any Time of Day. Probably one of my favorite things about shakshuka is that it can be enjoyed any time of day – as breakfast, lunch, dinner, or even as a snack somewhere in between. Pair it alongside something like homemade flatbreads or a crusty artisan loaf, and you're set.
3) All Year Round. In addition to being able to be served at any time of day, it can also be served year-round. It's hardy and warming in the winter, but light enough to serve as a satisfying meal during the warmer months, meaning this is a recipe that you keep in the back of your mind for 'whenever' you like.
4) Couldn't be Simpler. Today's recipe is the epitome of 'newbie friendly,' being perfect for those just starting off on their home cooking journey, while also allowing plenty of room for improvisation and 'fancying up' for the veteran home chefs among us.
Ingredient Notes and Tips
1) Mina Shakshuka Moroccan Tomato Sauce. Originating in the Maghreb region of Ottoman-controlled North Africa in the mid-16th century, shakshuka has been a staple recipe of the region, especially in Morocco, for centuries. Traditionally, the main ingredients in the red sauce portion of shakshuka are olive oil, harissa, and tomatoes, with seasonings and various other ingredients, such as sliced olives, peppers, onions, scallions, avocado, or cheese (feta is a popular choice), being added, removed, or emphasized. Cumin, paprika, and cayenne are the most popular seasonings – but again, this can vary. All of that said, making authentic shakshuka from scratch can take upwards of an hour, between slicing, dicing, and sautéing, but Shakshuka from Mina cuts out the bulk of the process, reducing the time to just minutes. Mina Shakshuka sauce features ripe tomatoes, roasted peppers, onion, garlic, and extra virgin olive oil, along with a blend of herbs, and six Moroccan spices. In addition to being a rich, delicious shakshuka, Mina shakshuka sauce is non-GMO Project Verified, All Natural, vegan, gluten-free, soy-free, dairy-free, and Kosher, along with featuring no sugar, preservatives, artificial colors or flavoring. That means not only does Mina provide a great tasting, authentic shakshuka sauce, but it's a sauce you can feel good about eating.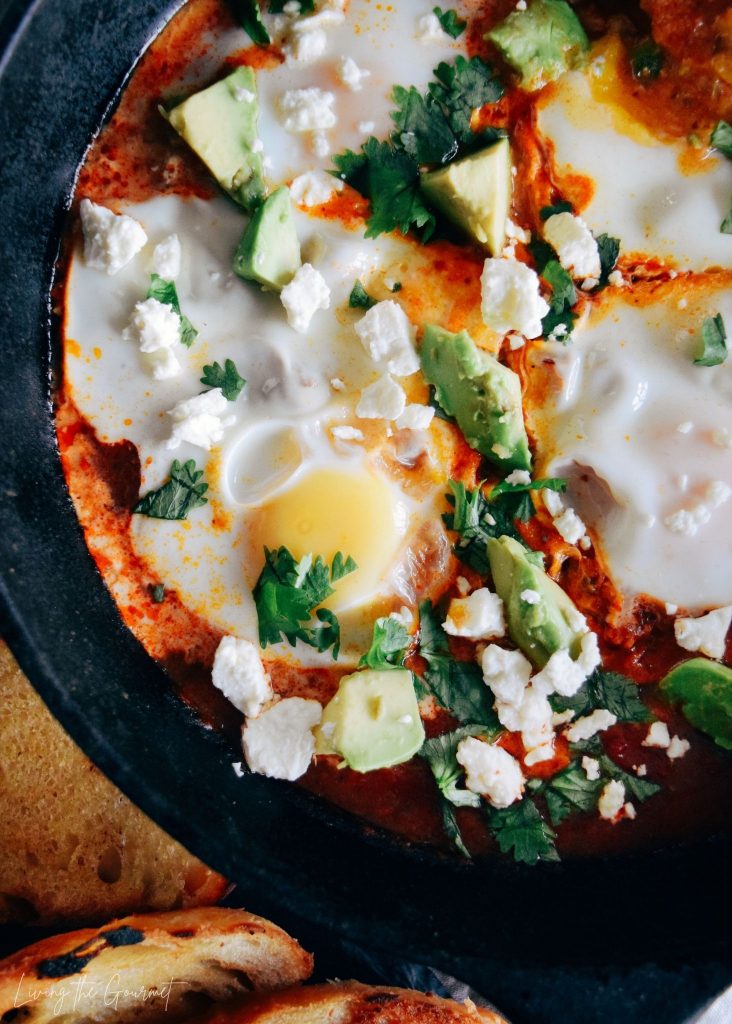 2) Mina Extra Virgin Olive Oil. I've written here many times that quality olive oil becomes 'especially' important in recipes where the olive oil is being consumed raw, as this is where the tiny nuances and delicate textures that define quality olive oil come to the forefront. Obviously, salad dressing in one such case – and that's why we're using Mina's Single Origine Moroccan Extra Virgin Olive Oil. Mina are pioneers in the single origin movement, with the olives used to make their oil coming from a single family-owned farm in Morocco, with traceability down to the tree. As such, Mina olive oil is always 100% Moroccan, and never blended. As a nice bonus, Mina's olive oil is all-natural, non-GMO Project Verified, vegan, Kosher, gluten-free, soy-free, dairy-free, and features no added sugar, preservatives, or artificial color or flavors.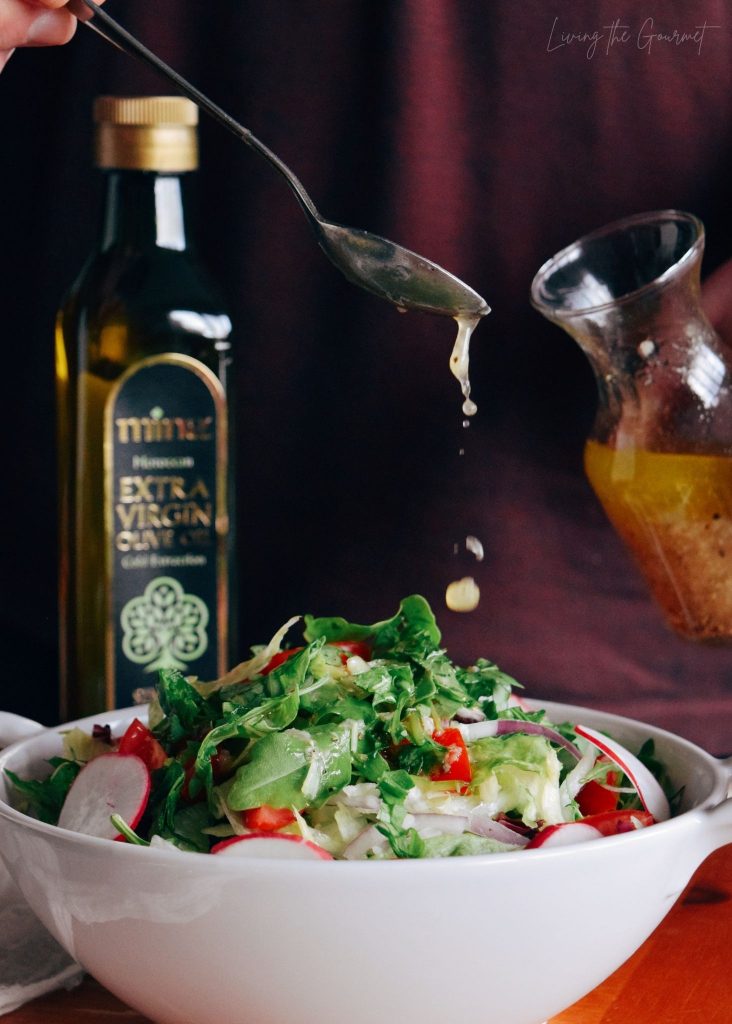 3) Harissa. It is all but impossible to talk about Moroccan cooking without talking about harissa – the red pepper sauce that forms the very heart of this this North African cuisine. What I love about Mina's Harissa is that it is made from just six simply ingredients – those being red chile peppers, red bell pepper, garlic, extra virgin olive oil, vinegar and salt. That's it, delicious simplicity. Aside from serving as an ingredient in recipes such as today's, harissa is also great as a dip, sauce, or spread. Mina's harissa is made with only natural ingredients, is non-GMO Project Verified, and features no sugar, preservatives, or artificial flavors.
Pairing Today's Shakshuka
1) Moroccan Tomato Salad. A surprise hit with my family, this Moroccan tomato salad is so simple, and yet so delicious, that it instantly won a place in my heart. Also, it pairs delicious with all manner of summer food, from BBQ to souvlaki to fish to today's shakshuka.
2) Flatbreads. These are staple in my home. I use these for tacos, as wraps, 'table bread,' and for dipping with spreads and antipasto platters. They are so versatile and easy to make, that I can sincerely say this is one recipe every home cook should have in their repertoire. For today's recipe, they would work great for either wrapping the eggs up in, or simply dipping in the sauce.
3) Charcuterie. If serving this shakshuka for dinner, a lush charcuterie board would pair deliciously, such as the one I prepared here. Dried and fresh fruit, such as apricots and grapes, along with either homemade crostini or the flatbreads I mentioned above, garlic butter, along with cured meats such as salame calabrese, panino al salame, coppa Italiana, prosciutto Italiano, would all pair excellently.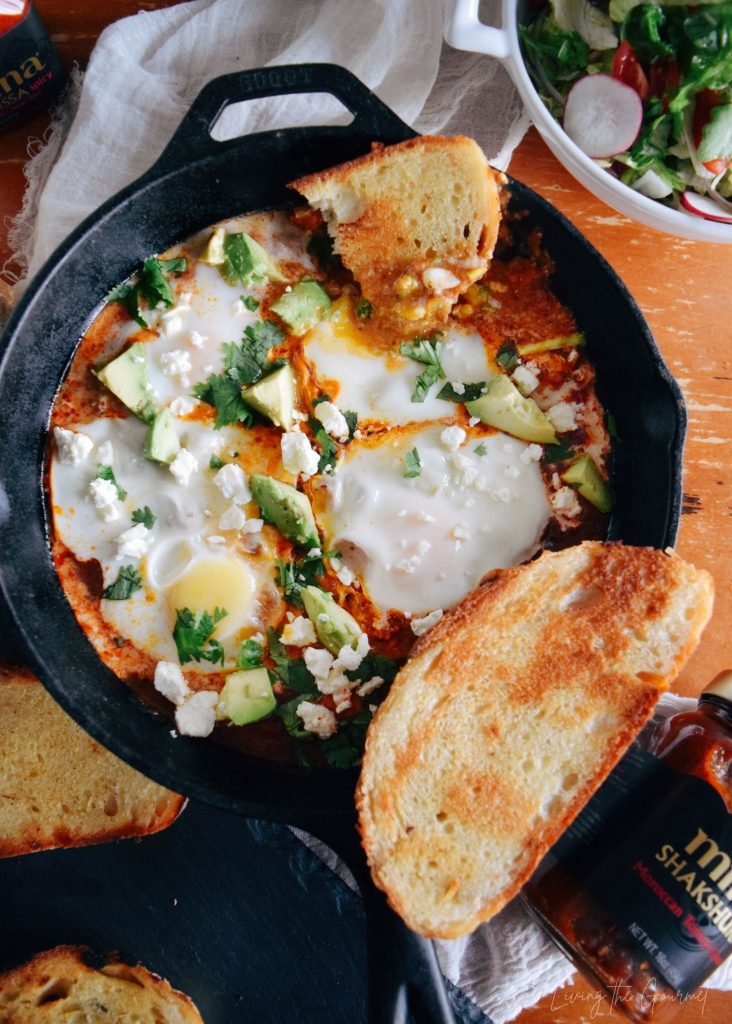 Print
Easy Shakshuka
Author:
Prep Time:

5 minutes

Cook Time:

10 minutes

Total Time:

15 minutes

Yield:

4

servings

1

x
Category:

Breakfast

Cuisine:

Moroccan
Instructions
In a medium cast iron, pour the Mina Shakshuka Moroccan Tomato Sauce and bring to a simmer.
Once simmering, crack 4 eggs on top. Cook uncovered for 2 minutes then cover and cook for an additional 1 minute or until egg whites are set and yolk is slightly runny.
Garnish with fresh chopped parsley (or cilantro) and garnish with avocado and crumbled feta.
Best served hot alongside crusty bread.  Enjoy!
Keywords: shakshuka, moroccan, tomato sauce, breakfast, brunch
Recipe Card powered by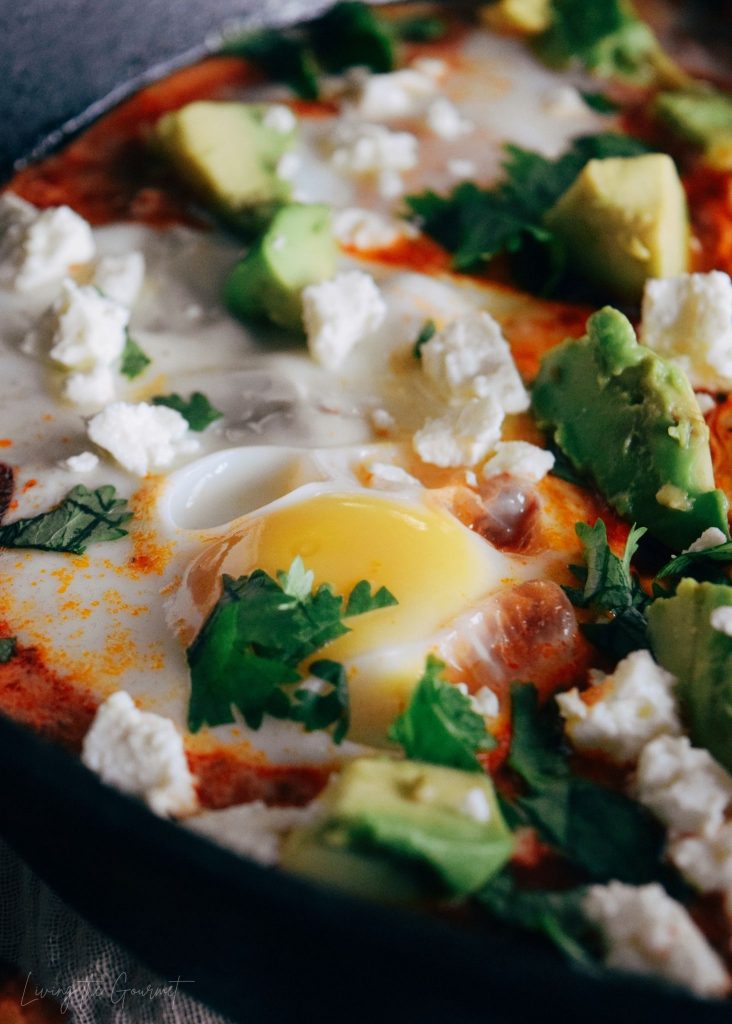 0