A year round favorite, this classic apple pie boasts of sweet bourbon spiced apples that are baked into a flaky pie crust.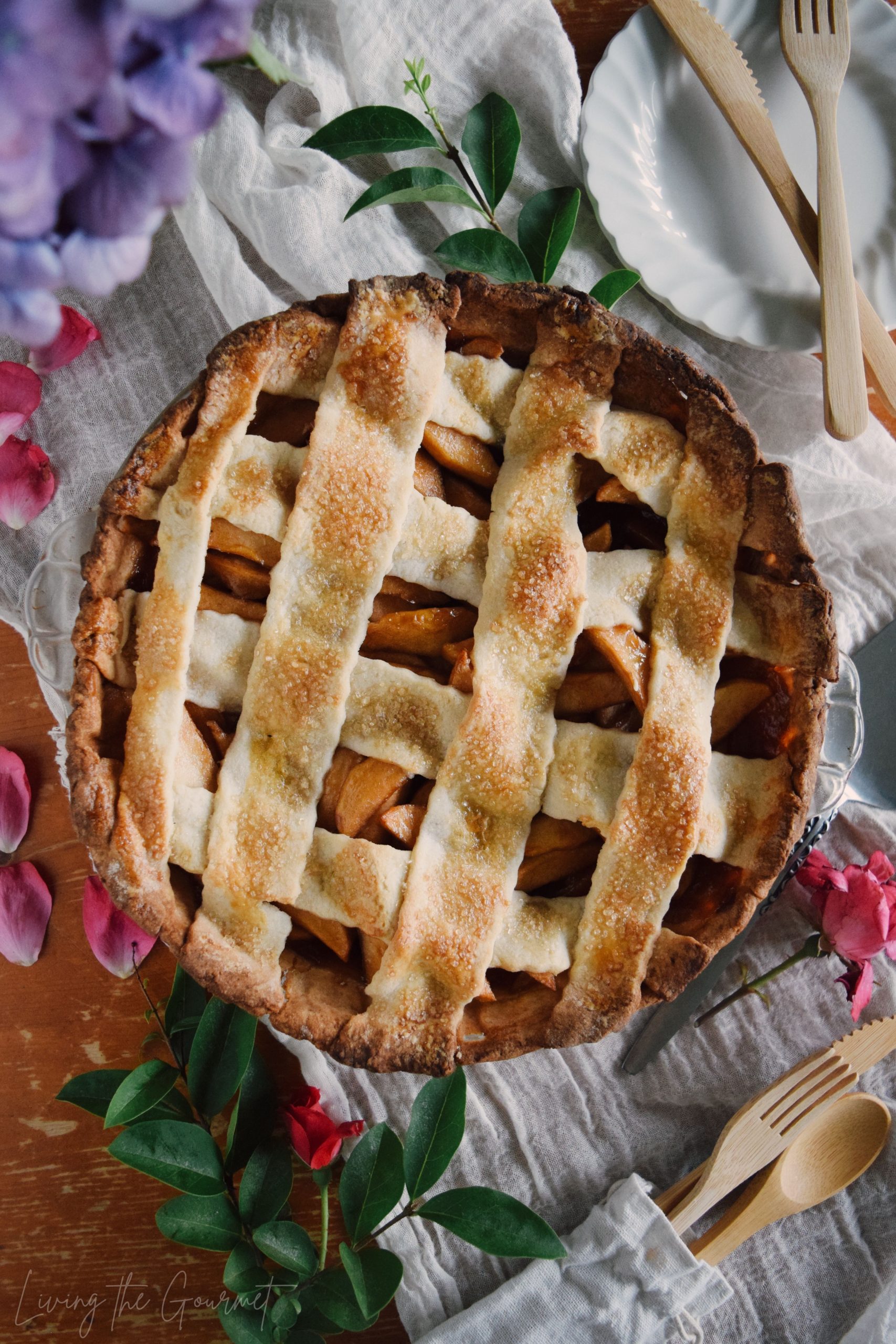 Unpopular opinion here but I don't like soft, mushy pies. It seems around the web this isn't a very common opinion. But I love the contrast of a flaky crust and crisp, slightly softened apple slices. I'm all about texture.
Today's apple pie stays true to its intended form. The filling is strictly apples- no raisins, no nuts. Not that there's anything wrong with some mix-ins but I wanted to keep it simple.
My next opinion on apple pie is that it should always have a splash of bourbon and vanilla. Not one or the other- both. The flavors fuse so well together and give the filling a grown-up feel that everyone can enjoy.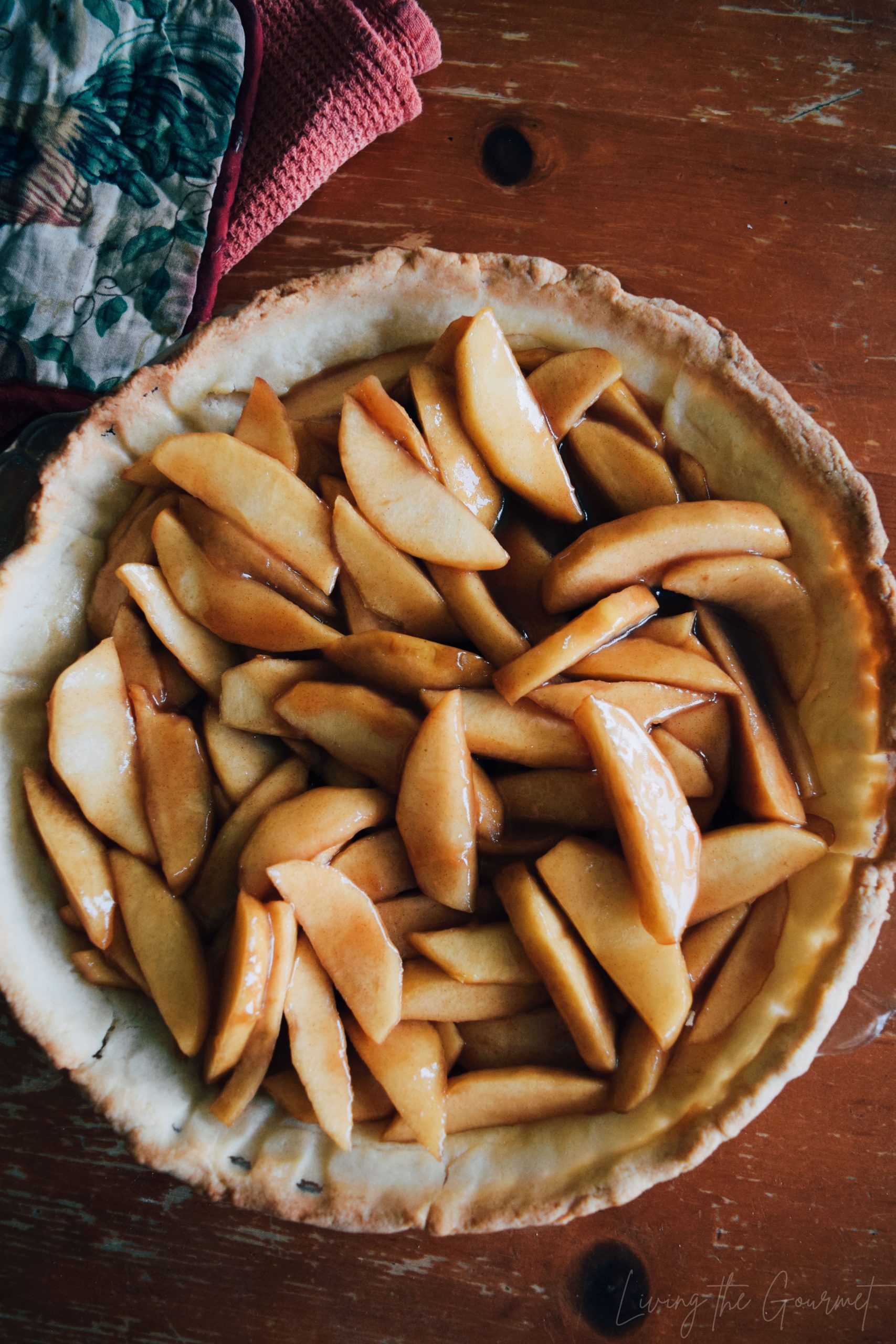 There also seems to be a debate about which apples work best. Growing up I always remember being told that Granny Smith were the proper apple to bake with since the tartness of the apple pleasantly contrasts the sweetness of the filling. I disagree completely. They don't contrast well. You just get a bite of sour apples that taste like you really tried to sweeten them up with a lot of sugar. Some people enjoy that taste, I don't. Disclaimer: I have a serious sweet tooth.
I always opt for Honey Crisp apples because they are what I usually have on hand. They are crisp as the name suggests and delightfully sweet making them perfect for snacking which is the main reason I keep a large bowl of apples on my table. I digress. If you insist on having a little contrast to the sweetness, I suggest Pink Lady apples which offers a nice balance of sweet and tart.
Let's talk crust next.
I wanted some texture to my crust and found the key to it was mixing flours. Today's recipe calls for AP flour and almond flour. It offers the crust more of a cookie-like texture. Speaking of which, if you have any leftover dough scraps afterwards, pie crust cookies make a delicious snack to have on hand. 😉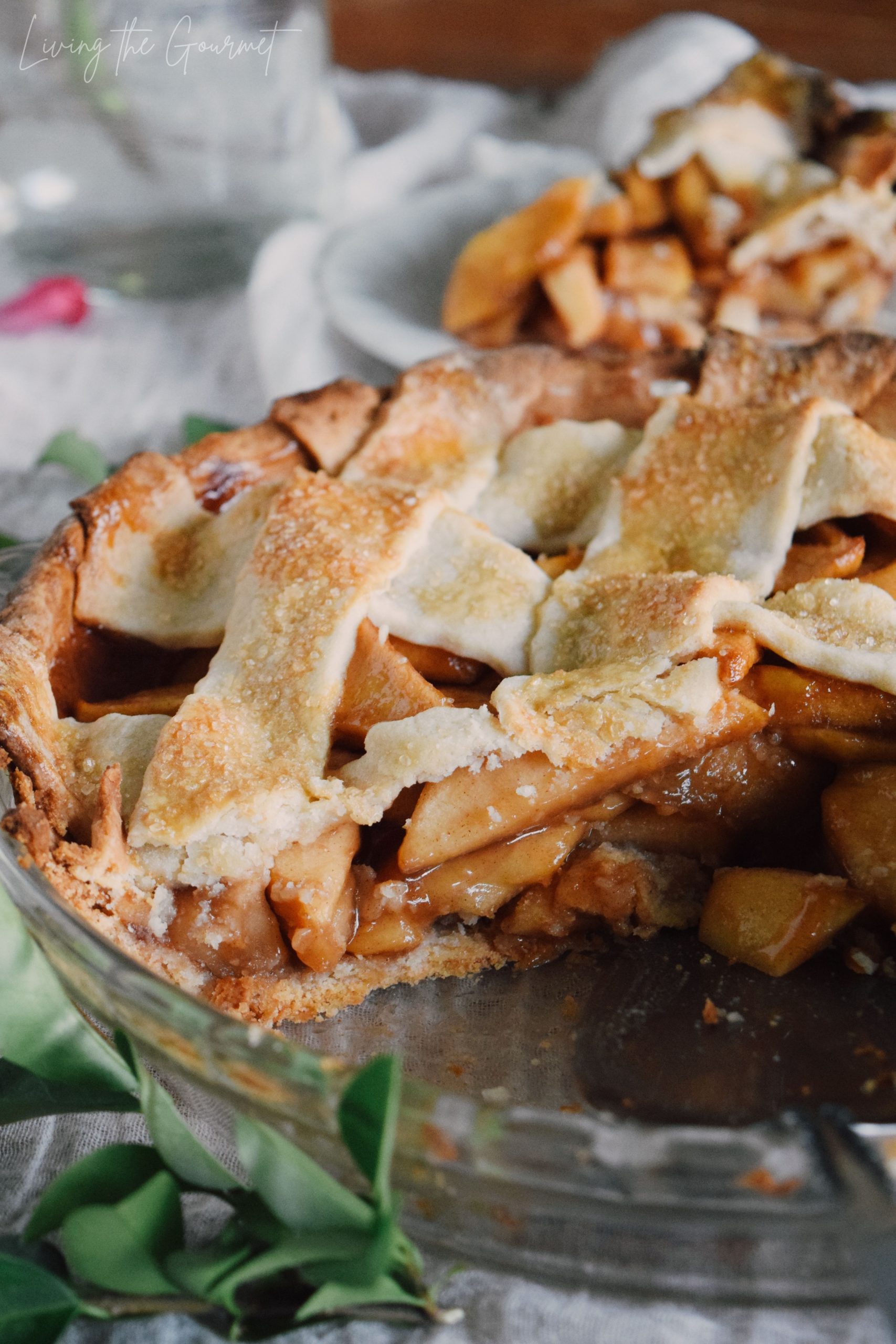 Finally, toppings.
Ice cream is of course a classic as is whipped cream which is my usual go-to. Recently however, I've discovered two additional toppings that suit this recipe so well- custard or caramel sauce.
In today's photos, I opted to drizzle the homemade caramel sauce I had made over the weekend for a separate recipe.
On the second night of indulging in pie, I had homemade custard leftover and decided since I didn't have cream, I'd sub it. It was quite a French experience and reminded me of Crème fraîche with it's thick and creamy consistency. Why hadn't I thought of this before?
So there you have it, a few serving suggestions to up your apple pie game.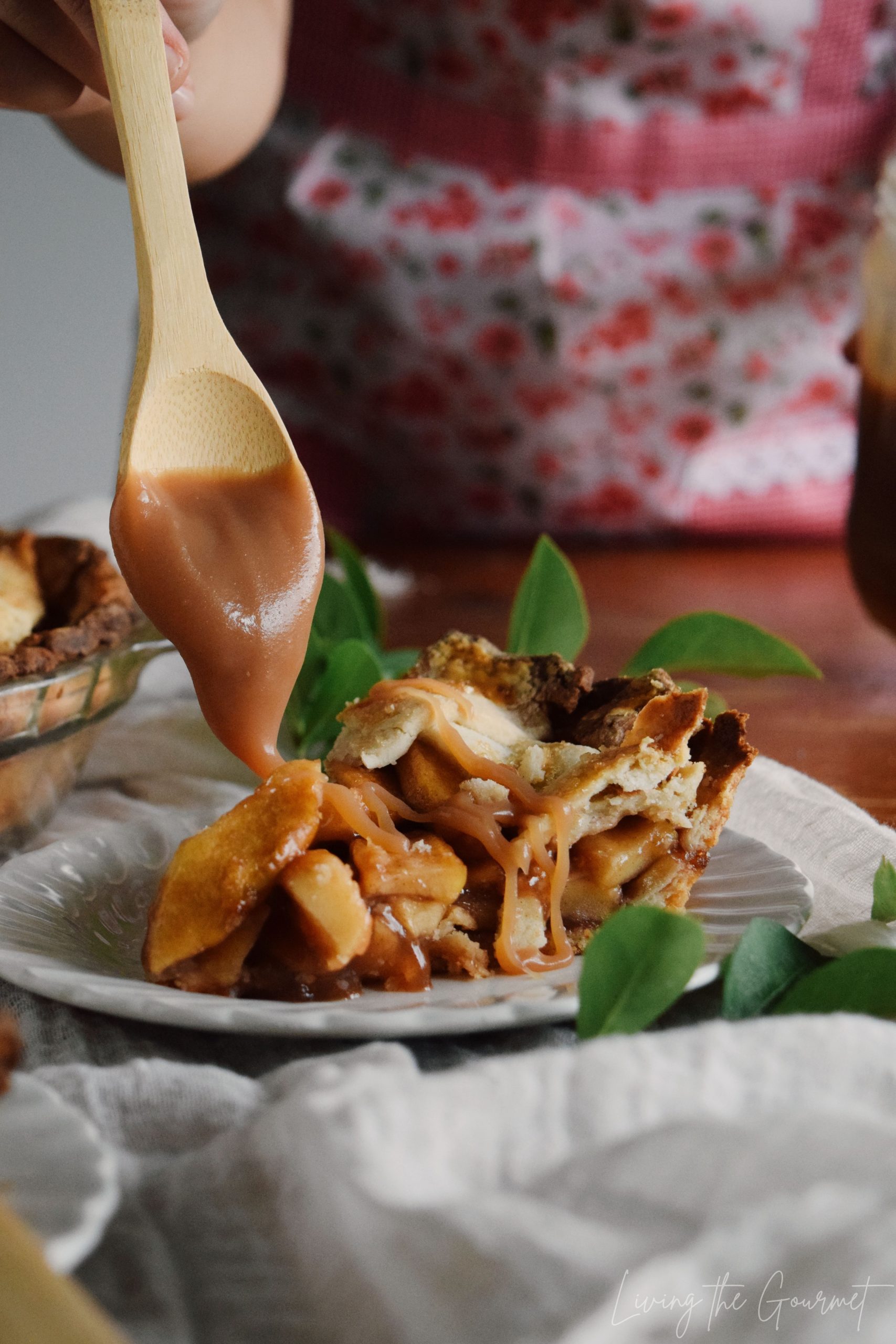 More Apple Recipes to Love
Upside Down Apple Pie - We're revisiting a vintage classic today with this Upside Down Apple Pie with a caramelized walnut topping baked over a golden, flakey crust and sweet apples in the middle.
Apple Rhubarb Pie - This pie is sweet and tart, but add a flaky crust and some fresh cream for something blissfully delightful. Summer isn't over yet! Savor the season's finest flavors in this fabulous pie.
Viennese Apple Strudel - Thin, flaky layers of filo dough are baked with apple slices, warm spices and nuts between each fold to create this beautiful, golden Viennese Apple Strudel.
Summer Apple Cake - This 'cake' boasts of a sweet, aromatic filling wrapped in a soft, shortbread-like crust. It's a pure delight for the warmer evenings when served with a scoop of fresh cream.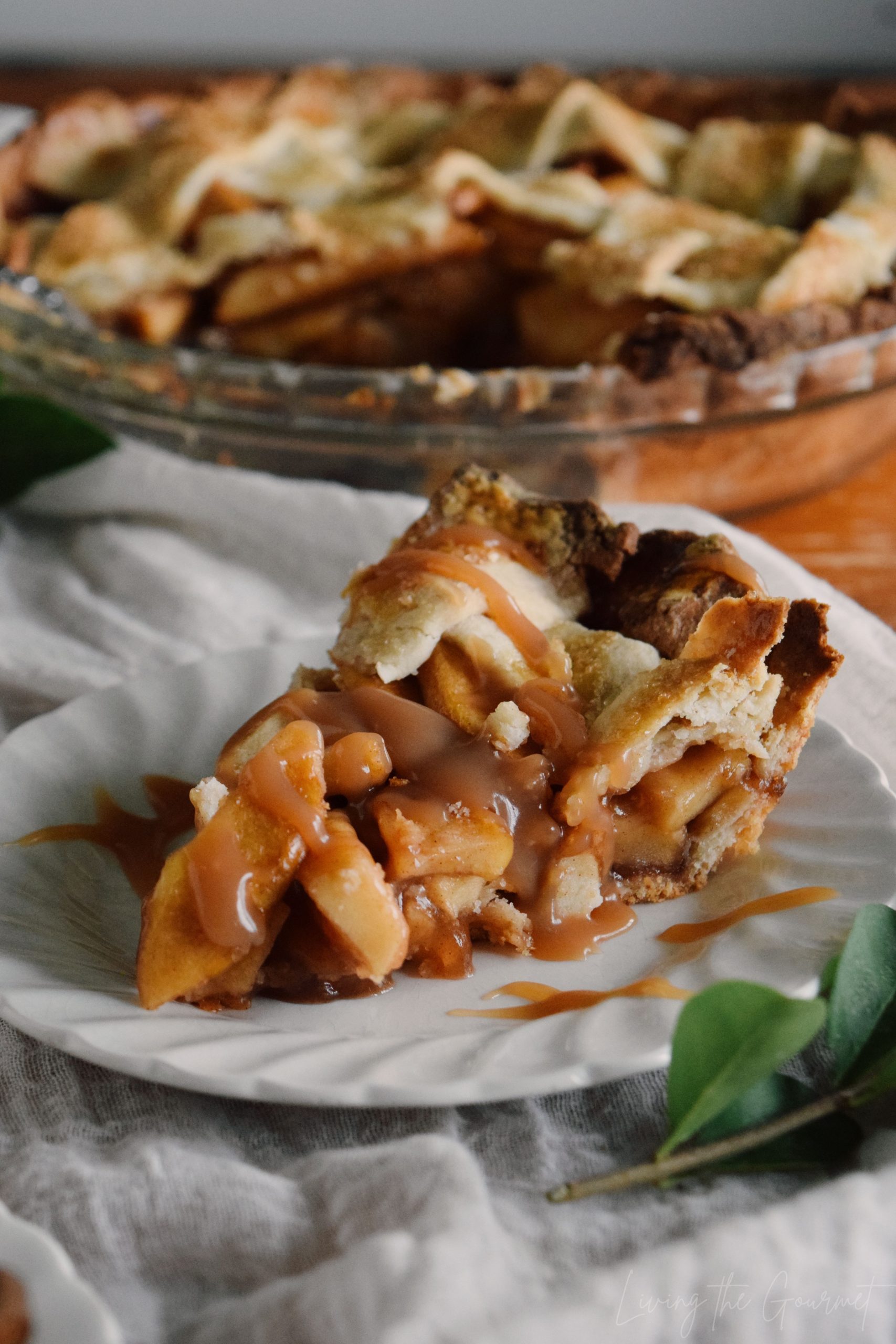 Print
Classic Apple Pie
Author:
Prep Time:

15 minutes

Cook Time:

1 hour

Total Time:

1 hour 15 minutes

Yield:

1

apple pie

1

x
For the Crust:
1 1/2

cup

AP flour

1/2

cup

almond flour

1/4

cup

sugar

1/2

cup

unsalted butter, chilled and cubed

2 tablespoons

shortening

1 teaspoon

salt

2

-

3

tablespoons ice water

1

egg, beaten for brushing
Turbinado sugar, for sprinkling
For the Filling:
5

-

6

Pink Lady apples- peeled, cored, and sliced

3/4

cup

light brown sugar

1 tablespoons

bourbon or rum

2 teaspoons

vanilla extract
Juice of

1

lemon

2 teaspoons

cinnamon

1 teaspoon

ginger

2 tablespoons

cornstarch

1/4

cup

water
Instructions
For the Crust:
In the bowl of a food processor, combine flours, sugar, salt, butter, and shortening.  Pulse until the mixture resembles a sandy consistency.  Add 2-3 tablespoons of ice water and pulse until a soft, pliable dough forms.  If you need to add more water, add one tablespoon at a time, pulsing between each addition.
Turn the dough out onto a slightly floured surface, and shape into a disk and wrap in clingfilm.  Refrigerate for about an hour until ready to use.
For the Filling:
In a large bowl, toss together apples, sugar, lemon juice, bourbon, vanilla, and spices.  Set aside.
In a small bowl, whisk water and cornstarch together until smooth and milky.  Set aside.
In a large fry pan over medium heat, melt a pat of butter and sauté the apples until slightly softened.  Once the juice begins to simmer, add the cornstarch mixture and toss the apples until completely thickened. Set aside.
Building & Baking:
Preheat oven to 375 degrees F.
On a floured surface, divide the chilled dough and roll out one half to 1/4-inch thick circle.   Fit to a 9-inch cake dish.  Trim the edges and blind bake the crust for about 12-15 minutes.
Remove from the oven, and while the crust is still hot, brush with the beaten egg wash.  This will help keep the crust from getting soggy from the fruit filling.  Leave the crust to cool completely before adding the apple filling.
In the meantime, roll out the remaining dough for the lattice topping.
Fill the crust with prepared apple filling.  Arrange the lattice topping and press gently to the edge of the crust.  Brush with the egg wash and sprinkle with Turbinado sugar.  Bake for about 45 minutes to 1 hour depending on the temperature of your oven.  Once the filling begins to bubble and the crust is golden, your pie is done.
Remove and let cool completely before serving.  Enjoy!
Keywords: pie, dessert, apple pie
Recipe Card powered by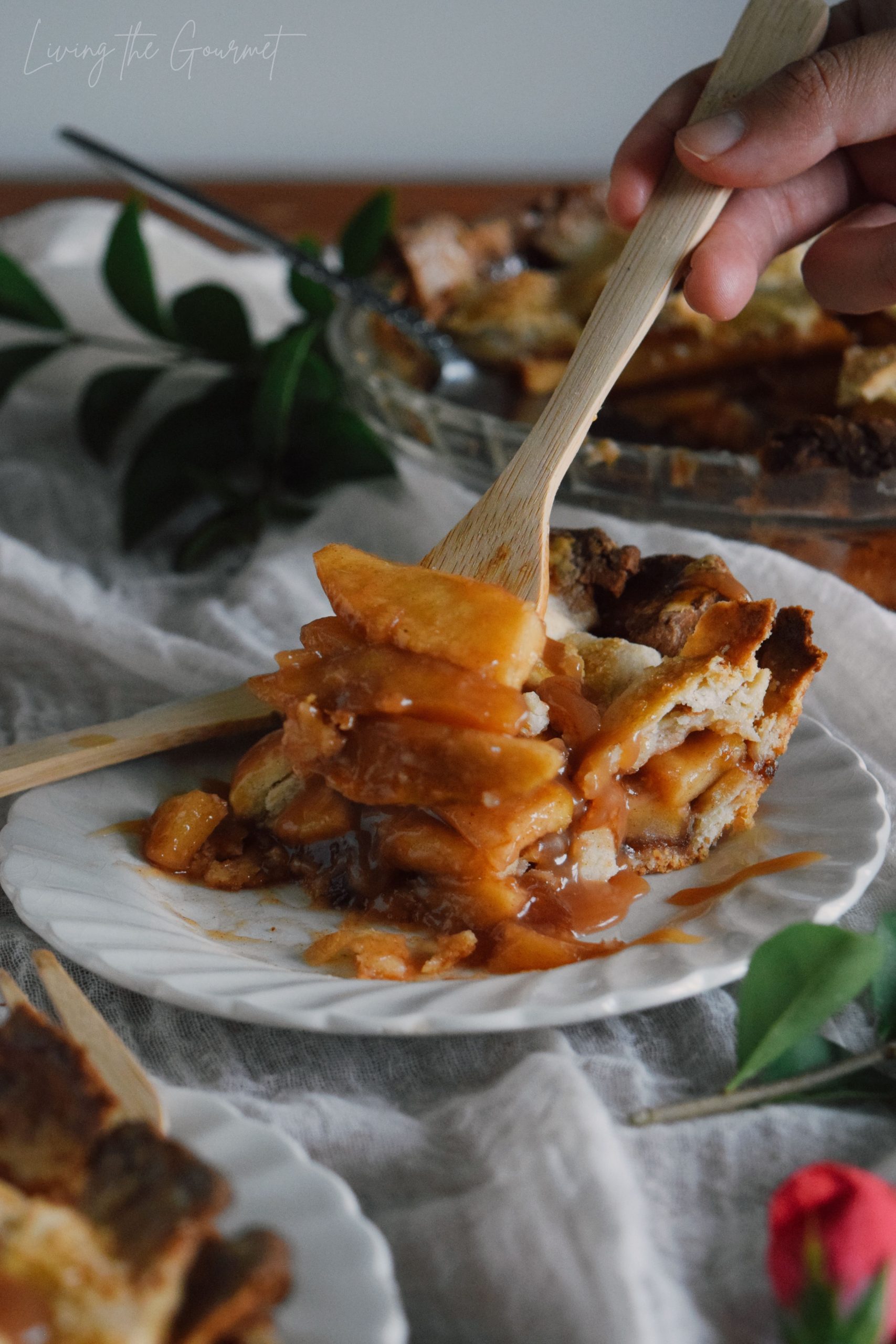 **Photographed with the Emerging Green 12-Piece Bamboo Flatware Set. Shop our Amazon Store for more decor and home good products we love!
0