This post has been sponsored by JoyJolt Glassware. All opinions expressed are my own.
Today we're preparing a super-simple caramel macchiato (why is that word so much fun to say?). Today's recipe calls for no expensive or fancy equipment, meaning as long as you have access to strong black coffee, and a French Press for frothing milk, you can prepare today's recipe.
We'll be serving today's coffee with a little help from new friends over at JoyJolt, whose glassware fuses together traditional etiquette with a mind towards modern taste and sensibilities. They offer a range of barware that's simply gorgeous, from wine and champagne glasses, to espresso and coffee cups, but more on them in just a minute.
Now, without further delay, let's make some caramel macchiatos!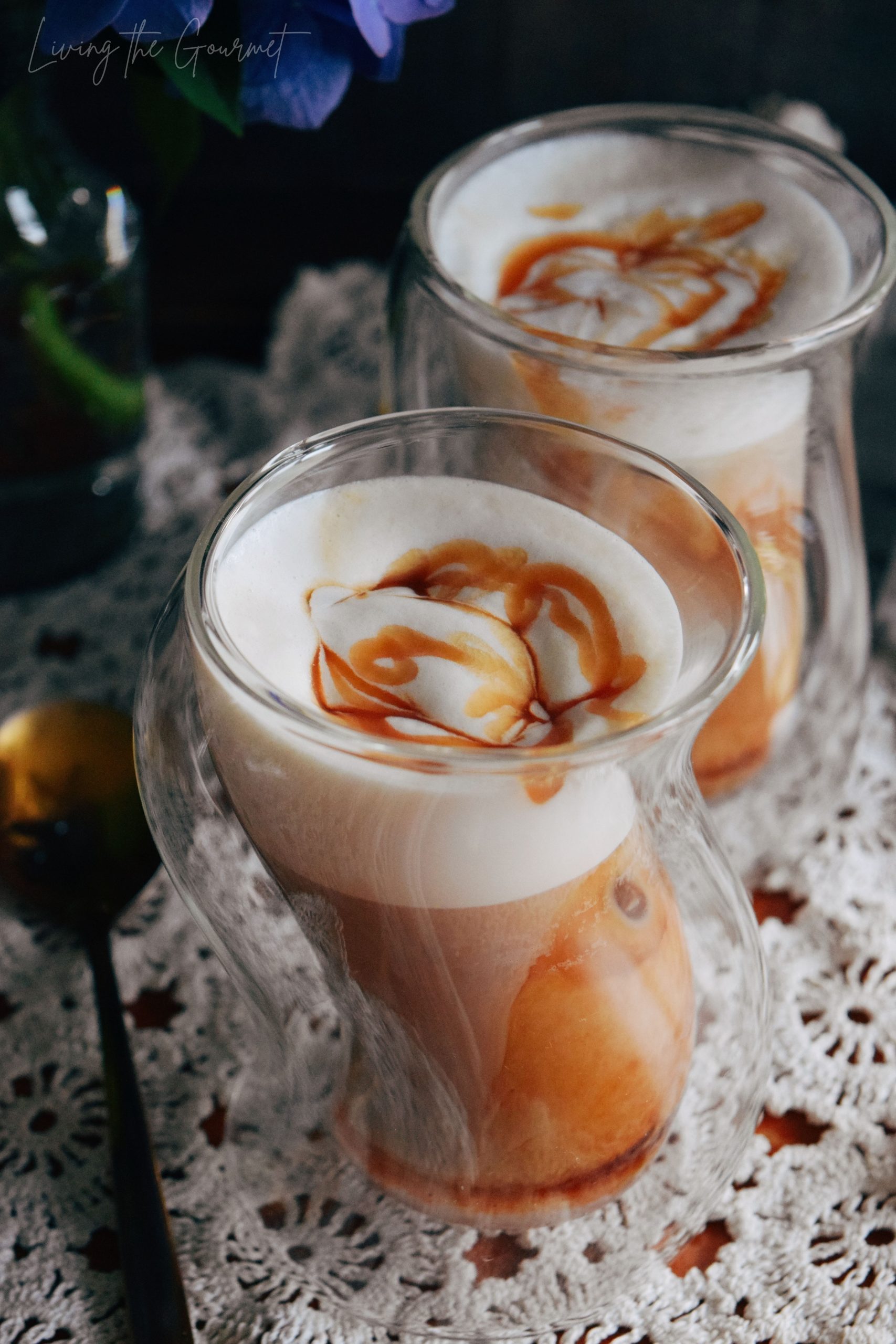 Why You'll Love Today's Macchiato
1) The Caramel Sauce. I had to stop my son from eating this stuff off the spoon. Rich, decadent, and bitingly sweet, this sauce is going to steal your heart. While we're drizzling it over the frothed milk in today's recipe, it also goes great on ice cream, pie, cakes, and chocolate. Or just do what my son did and put it on silverware.
2) So Easy. Today's recipe is truly the 'sum of its parts.' We've essentially got three different recipes we're preparing today, one for coffee, one for frothed milk, and one for caramel. Each one is delicious and simple to make on its own, but fuse them together and you've got something really special – something that remains super easy to do.
3) Espresso Machine 'Not' Required. Espresso machines are pricey, and quality varies wildly. I've had two espresso machines, and both were of dubious enough quality that I never bothered using them. I then tried a pod-based espresso machine, which made 'great' espresso, but the pods were pricey enough that I eventually stopped using it. That said, while a 'real' macchiato features espresso, today's recipe works just fine with moka pot coffee, or with strong dark roast coffee. In reality, as with store-bought macchiatos, the caramel sauce and the frothed milk are the real stars of the show. As long as the coffee is decent enough to be enjoyed on its own, you're fine.
4) Chilled or Hot. Today's recipe works hot or cold, as the frothed milk will 'sit' on top of the coffee regardless of temperature, making this an evergreen recipe. Today, we're serving ours chilled.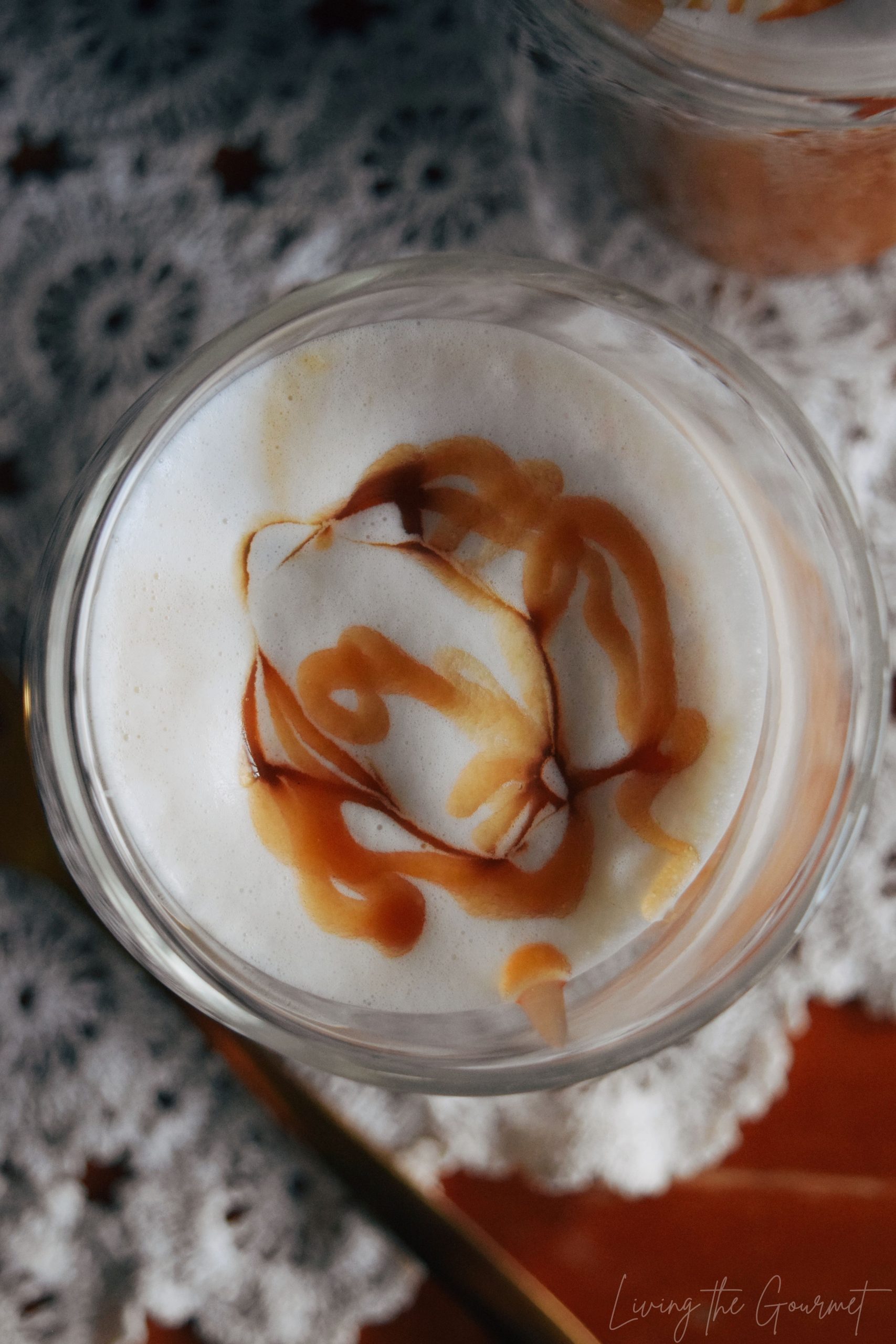 What You'll Need
1) Strong Black Coffee. This one is pretty self-explanatory. If you've got an espresso maker that's great, use it. If not, moka pot coffee works just fine. If using drip or K-Cup coffee, you'll want to keep a few things in mind. First off, in either case, I'd recommend going with something like an Italian or French roast. Add an extra scoop or two if making the coffee from a drip. If using a K-Cup, make sure to turn down the ounces a notch or two and press the 'Strong' setting. That said, as long as the coffee is decent enough to be enjoyed on its own, you're fine.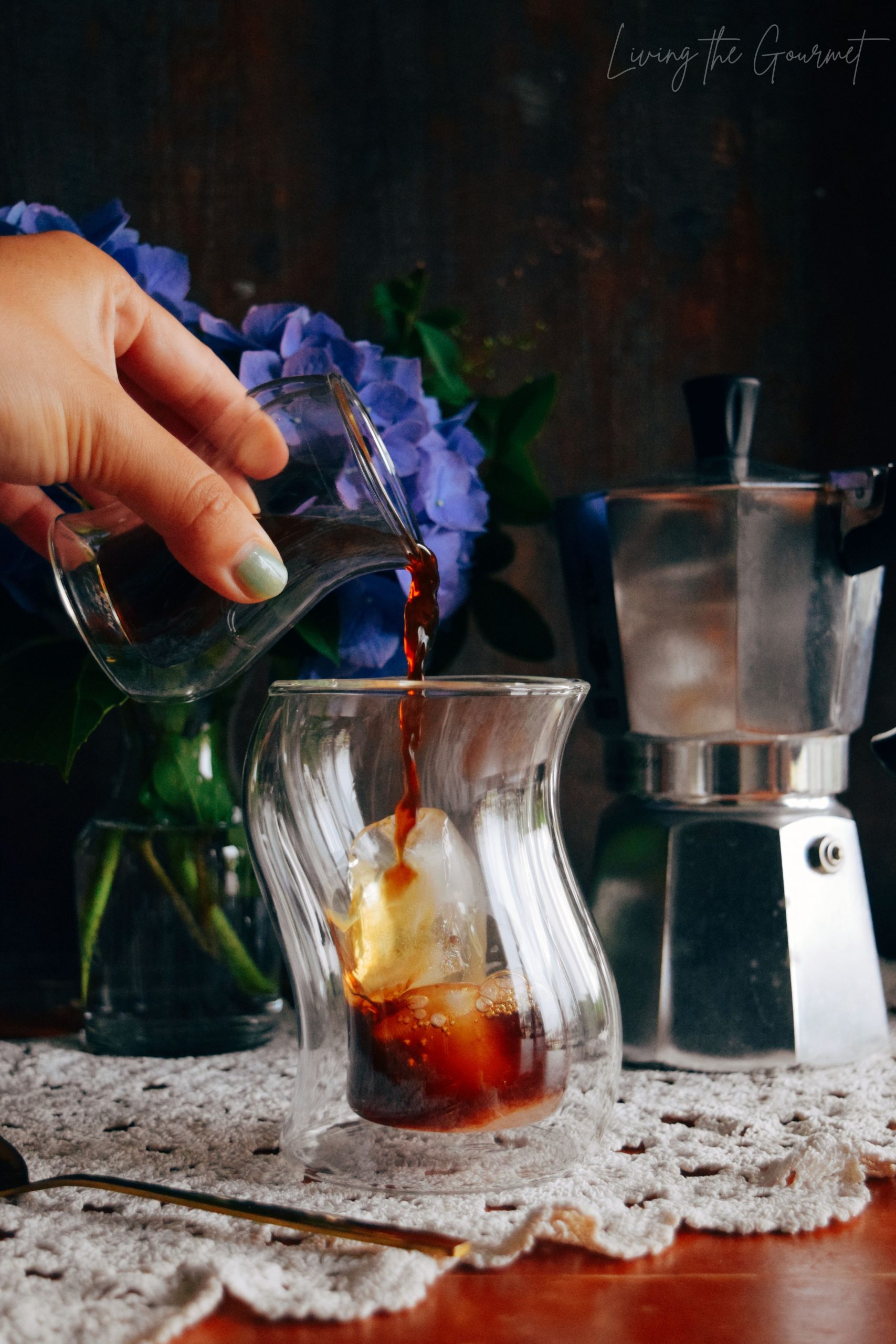 2) Good Glassware. Studies show that the pricier food is, the more likely your brain is to perceive it as 'tasting good.' Similarly, coffee simply tastes better from beautiful glassware, at least in my opinion. For example, my son makes no secret of the fact that 'most' of the reason he enjoys Turkish coffee has to do with the fancy copper pot, the 'ritual' involved in preparing the coffee, and the ornate demitasse cups from which the coffee is consumed. Today's macchiato simply isn't complete without the JoyJolt glassware it's being served in. In 2014, JoyJolt founder Martin Mittelman tried and failed to find affordable, quality whiskey glasses. However, rather than accept defeat, Mr. Mittelman decided to simply make his own. Thus began JoyJolt. JoyJolt's stated mission is to create high quality, affordable, glassware that 'fills every moment with joy,' by fusing traditional etiquette with a mind towards modern taste and sensibilities. JoyJolt offers barware including wine, whisky, and martini glasses, along with beautiful highball glasses, decanters, and champagne flutes. They also offer a line of espresso and coffee cups like those shown today. No matter the occasion, JoyJolt has products that will elevate and heighten your experience. Backed by an easy return policy, I wholeheartedly recommend checking them out. I promise you won't be disappointed. I certainly wasn't.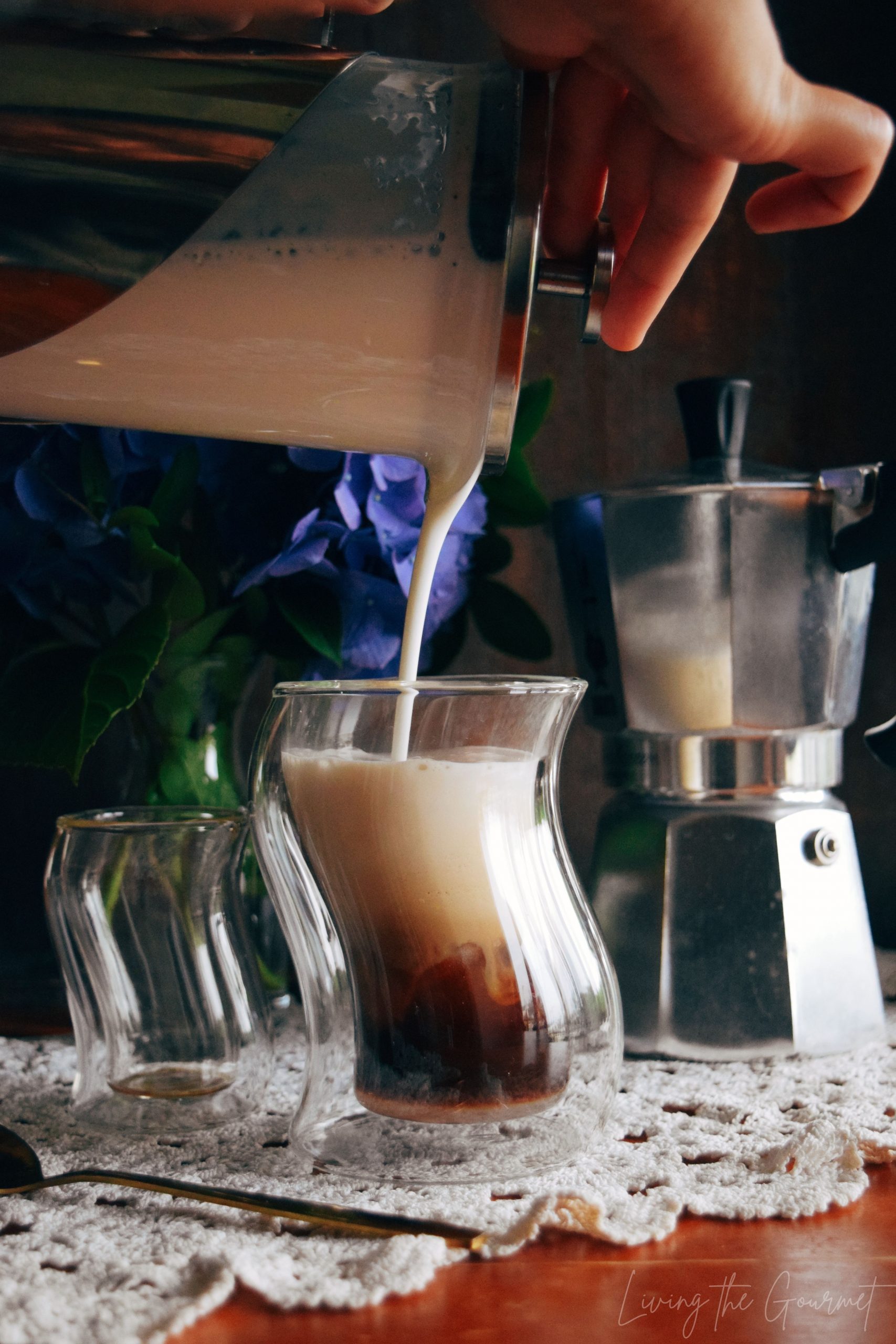 3) Frothed Milk. Here again, we're not using any complicated or pricey equipment, just a French Press. Let me start by saying that learning to froth milk in a French Press has seriously upped my coffee game. However, there are a few tricks to this. Firstly, you'll need to use whole milk as the 'fat content' is what allows it to stay inflated. Secondly, you'll want to blanch the milk in a sauce pan with sugar and vanilla, stirring throughout the process. Do 'not' let it boil. Then, while the milk is still warm, pour it into a French Press, and pump the plunger for about two minutes. The milk should more than double in volume. It really couldn't be easier. You'll want to use the milk immediately, since it will deflate.
4) Caramel Sauce. While you 'can' use store bought for today's recipe, I wholeheartedly recommend making your own, as there is a significant difference in texture. Homemade simply tends to be richer and fuller, and that really does come through in the coffee.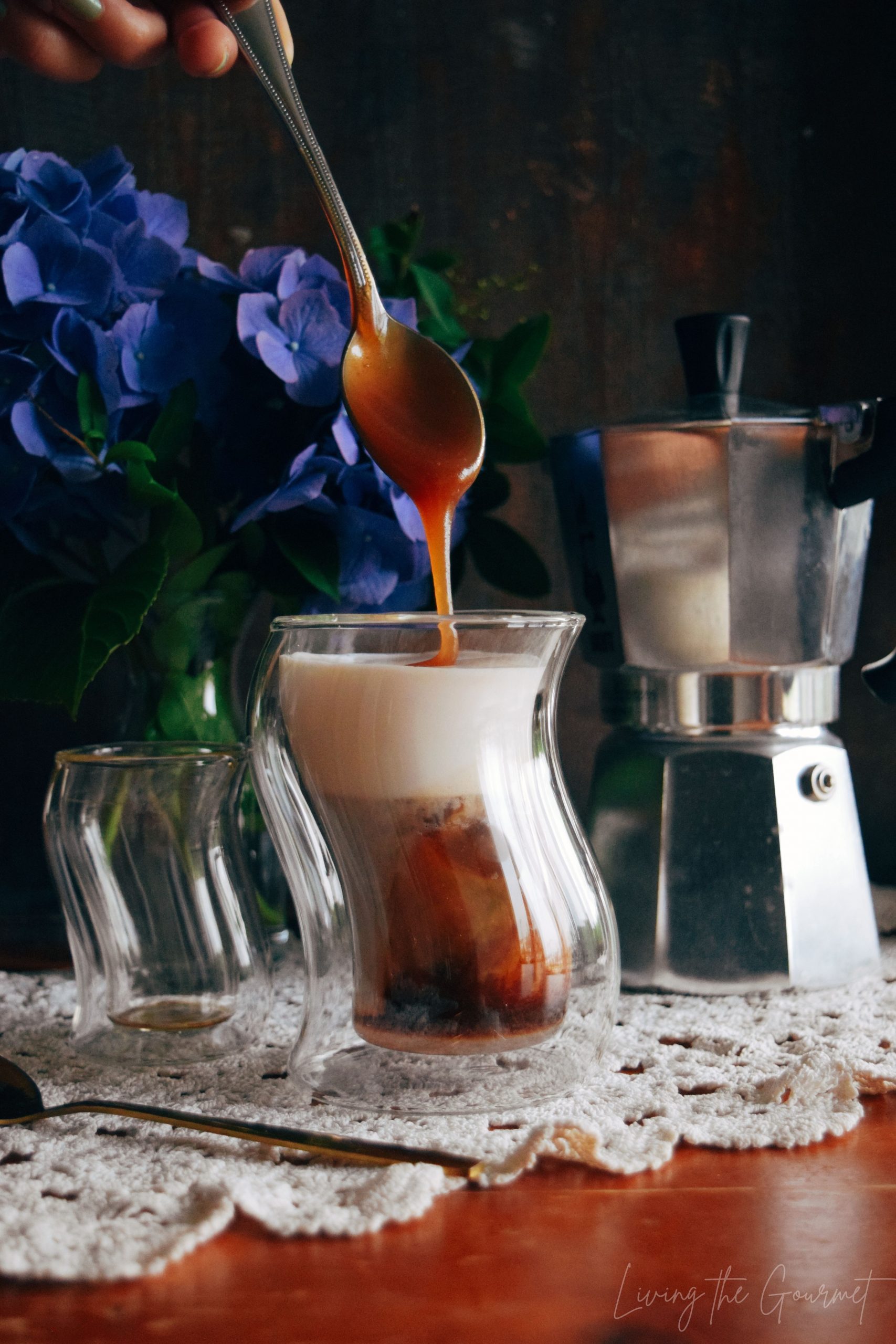 More Coffee Goodness from Living the Gourmet
1) Turkish Coffee. I mentioned Turkish coffee above. Here's my recipe for the perfect cup every time.
2) Dalgona. The one coffee trend I refuse to let go of – dalgona. Here's my quick how-to, with a brief (and slightly nerdy) explanation of 'why' this coffee works.
3) Moka Pot How-To. Moka pot coffee can be intensely difficult to get right. This difficulty is part of why moka has such a mixed reputation. Often times, it comes out tasting like metal, or simply burnt, unpleasantly strong, or some combination thereof.
Print
Almond Caramel Macchiato
Author:
Prep Time:

10 minutes

Cook Time:

15 minutes

Total Time:

25 minutes

Yield:

2

macchiatos

1

x
For the Caramel Sauce:
1.5

cups

sugar

1/4

cup

water

1 teaspoon

vanilla

1

cup

cream

4 tablespoons

butter
For the Macchiato:
4

ounces

espresso

1 tablespoon

almond syrup

4

ounces

steamed milk (see instructions below)
Caramel Sauce for drizzling
Ice
Instructions
For the Caramel Sauce:
In a small saucepan over medium high heat, combine sugar and water. Leave until sugar melts down.
Once the sugar has dissolved, turn the heat up and bring to a boil. Brush the sides of the inside of the pan to keep the sugar from hardening and burning along the pan.
Whisk occasionally but not rigorously.
It should take about 10 minutes or so for the sugar to start turning a deep golden color. Be patient.  Once the sugar has deepened in color, turn the heat down low, and whisking constantly, slowly add the cream. Be sure to make sure to add the cream slowly otherwise it will scald and seize.
Add the vanilla and butter, bring the heat back up to medium height, stir until the butter has melted.  Bring the caramel back to a boil and remove from the heat immediately. Transfer to a heat proof glass dish or bowl and let it cool completely before storing it in the refrigerator.
For the Macchiato:
In a small saucepan, heat one cup of whole milk to a scalding heat- 160 degrees F is ideal.
Transfer the milk to an a French press machine and pump the milk until it is thick and frothy.
In your desired glass, place ice.  Pour espresso and almond syrup.  Add the steamed milk and top with the homemade caramel sauce. Serve immediately and enjoy!
Keywords: macchiato, caramel macchiato, drink, italian
Recipe Card powered by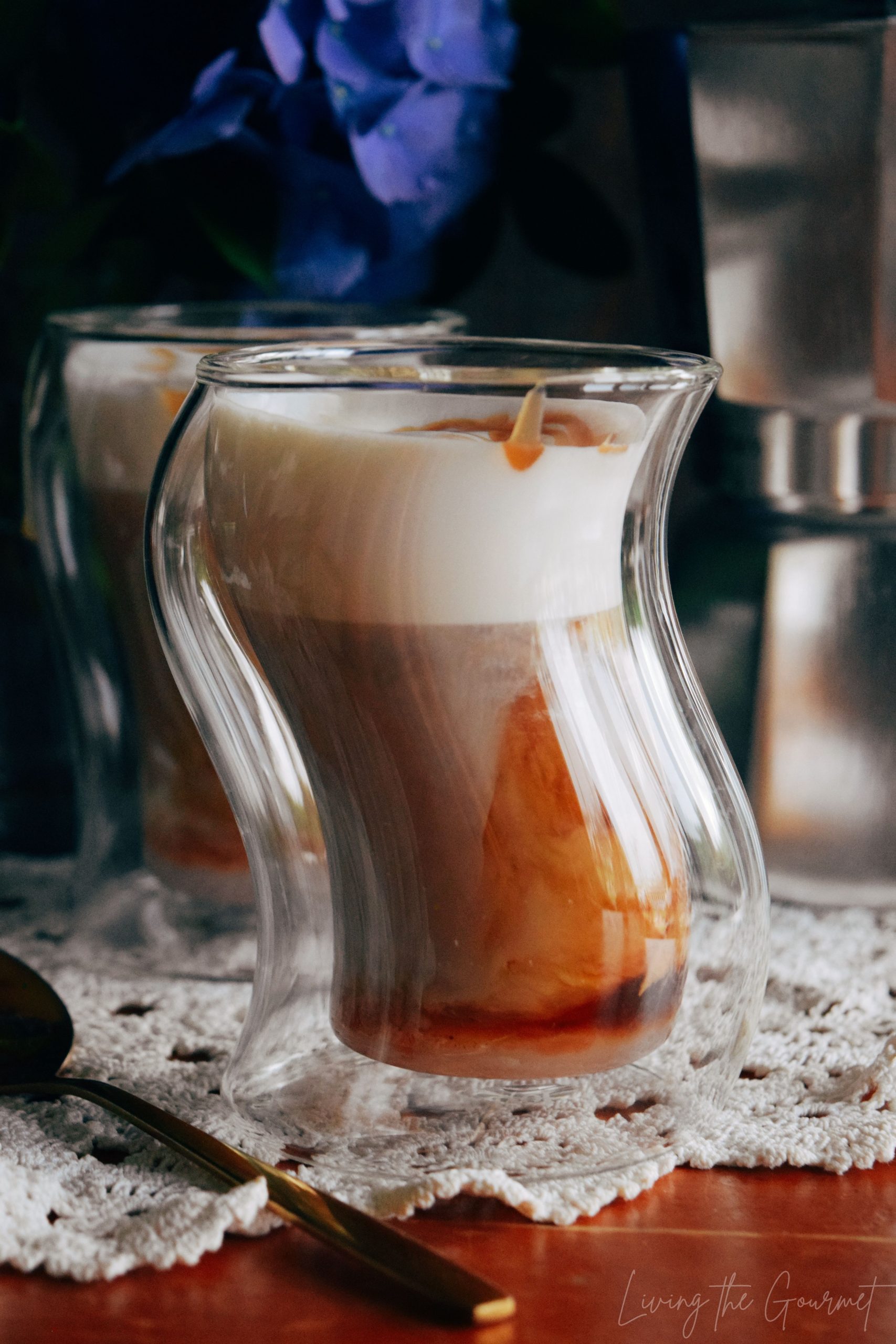 0