Thin, flaky layers of filo dough are baked with apple slices, warm spices and nuts between each fold to create this beautiful, golden Viennese Apple Strudel.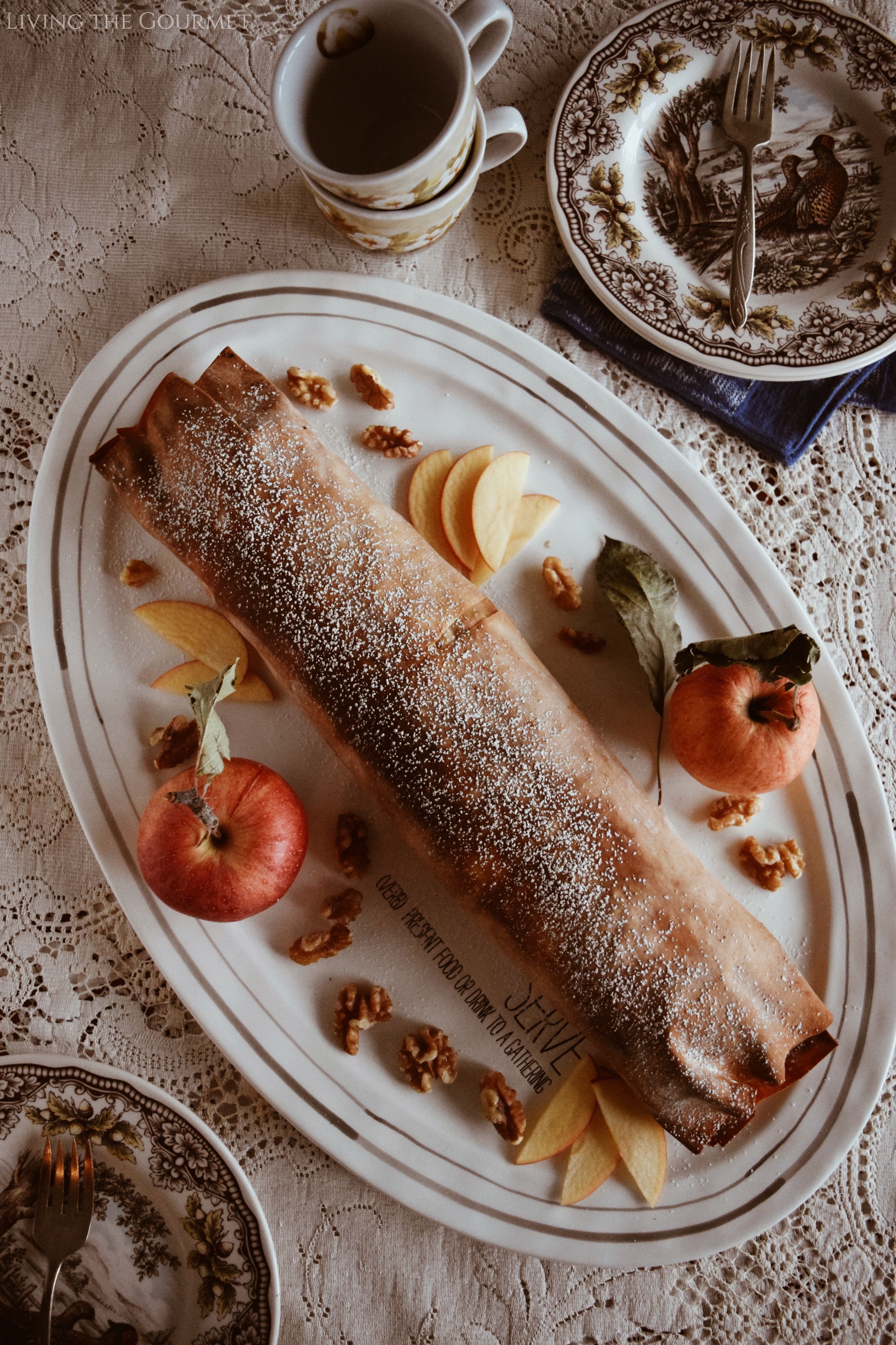 In 1955's film adaptation of 'Guys and Dolls,' a fair bit of the plot is set in and around Mindy's dinette, and the delicious cheesecake and strudel they serve. In one of the more famous scenes from the movie, Sinatra's character Nathan Detroit tries to coax Brando's character Sky Masterson into betting a thousand dollars that Mindy's had sold more strudel than cheesecake the previous day. The scene ends off with Sinatra lamenting that "In the whole world, no one but Nathan Detroit could blow a thousand bucks on polka-dots."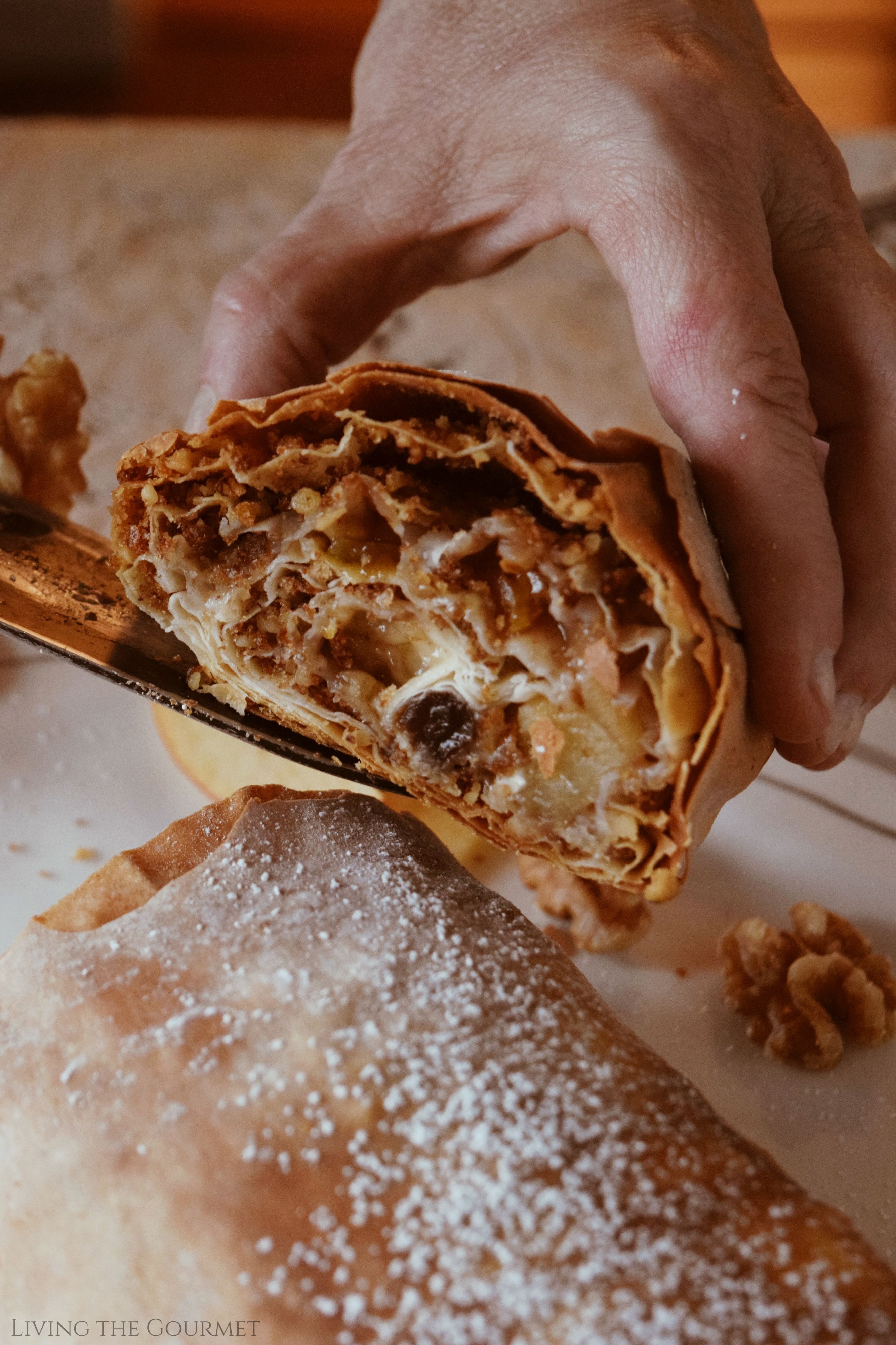 To this day, I can't help thinking about Guys and Dolls every time I eat either cheesecake or strudel. Over the past week, however, I must admit that I myself have been eating a far bit more strudel than cheesecake – both homemade and otherwise. For me, strudel, of almost any kind, is one of the quintessential chilly weather desserts, which you can enjoy equally as well in the morning as at night, or even as a quick snack with coffee late at night. There's just something warming about layers of your strudel-dough of choice swathed over layers of baked fruit and nuts or sweetened cheese filling.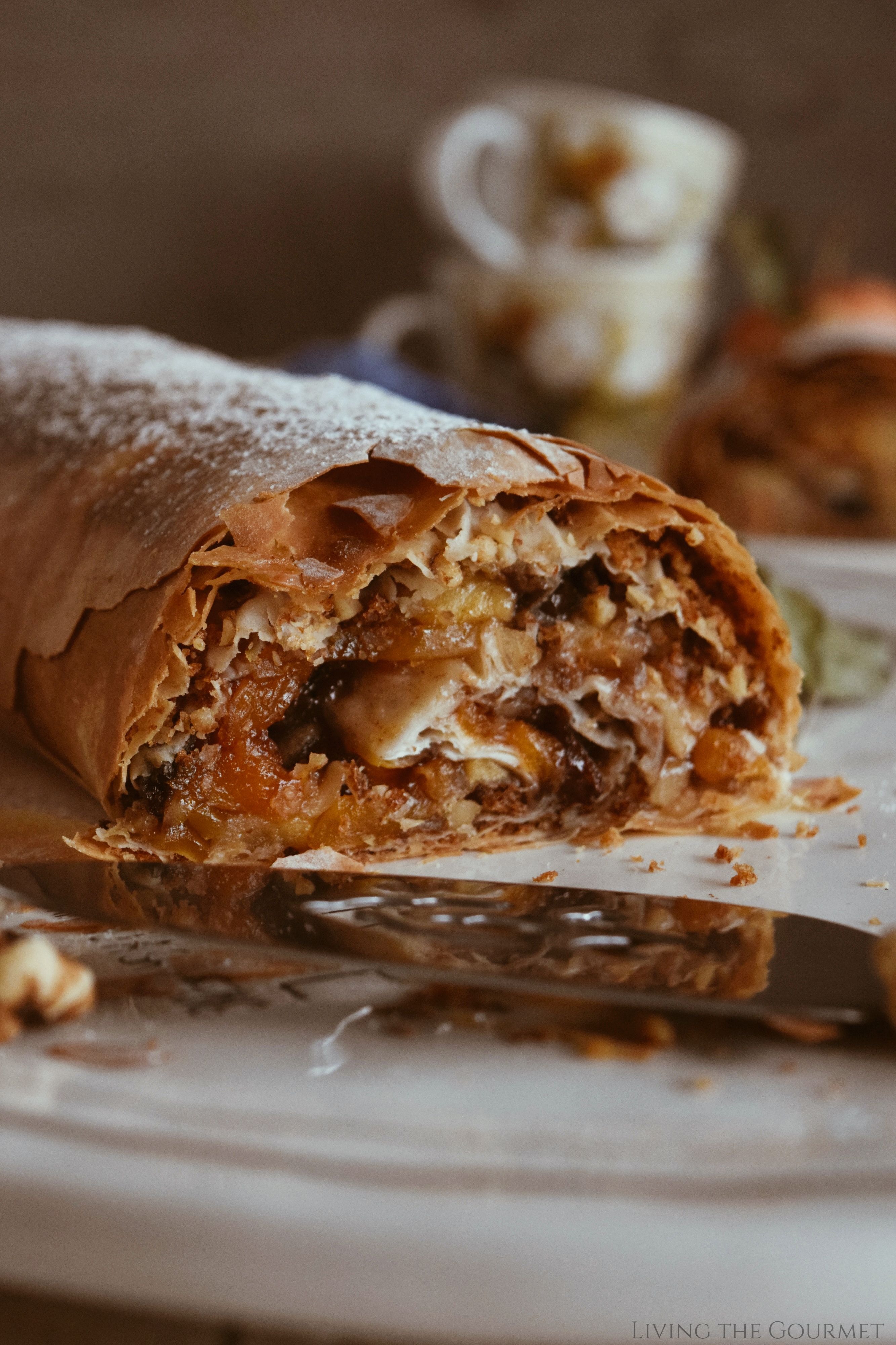 Today, I opted for the baked fruit and nuts, and I choose to use filo sheets as the dough – both for ease of use and for the resulting crisp and flaky texture.
To start things off, we begin by peeling and coring four apples, and then dicing them as pictured below. From there, we place about half a cup of water in a frying pan, and then add in the apples, dried apricots, raisins, cornstarch, and cinnamon. We then cook this mixture until it thickens – which should only take about a minute or two.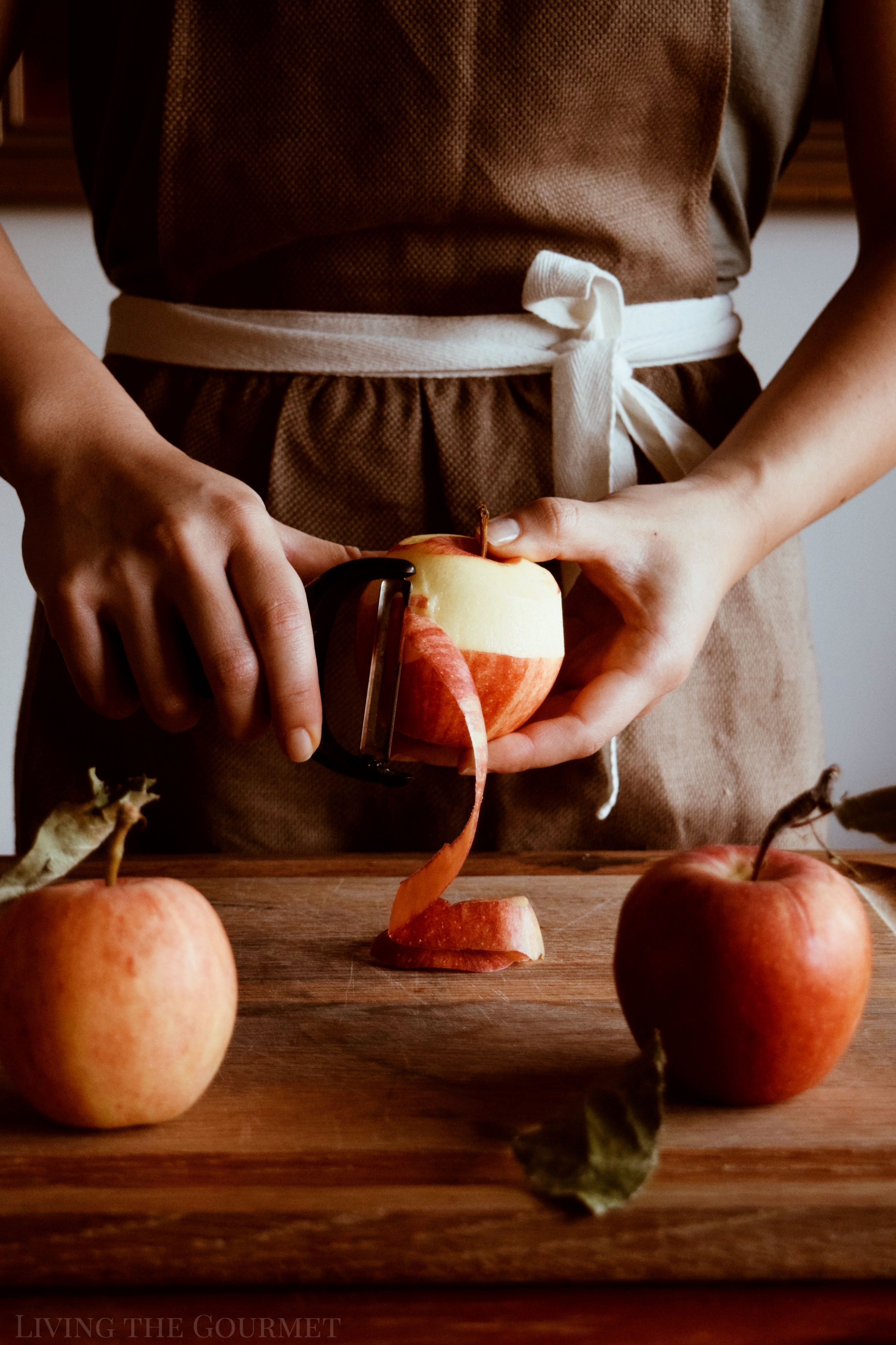 After removing the pan from the heat, we place the mixture in a large bowl and add in vanilla, then stir it, and let it cool completely. Then, in a food processor, chop up the walnuts with some plain breadcrumbs. You want the nuts to remain somewhat coarse.
Now comes the fun part – assembling the strudel. To begin, set a single sheet of filo dough on a dry, clean towel (hopefully I didn't need to specify 'clean' for you…). Keep the remaining filo dough on a damp towel…yes, damp, trust me. You do not want the filo dough to dry out.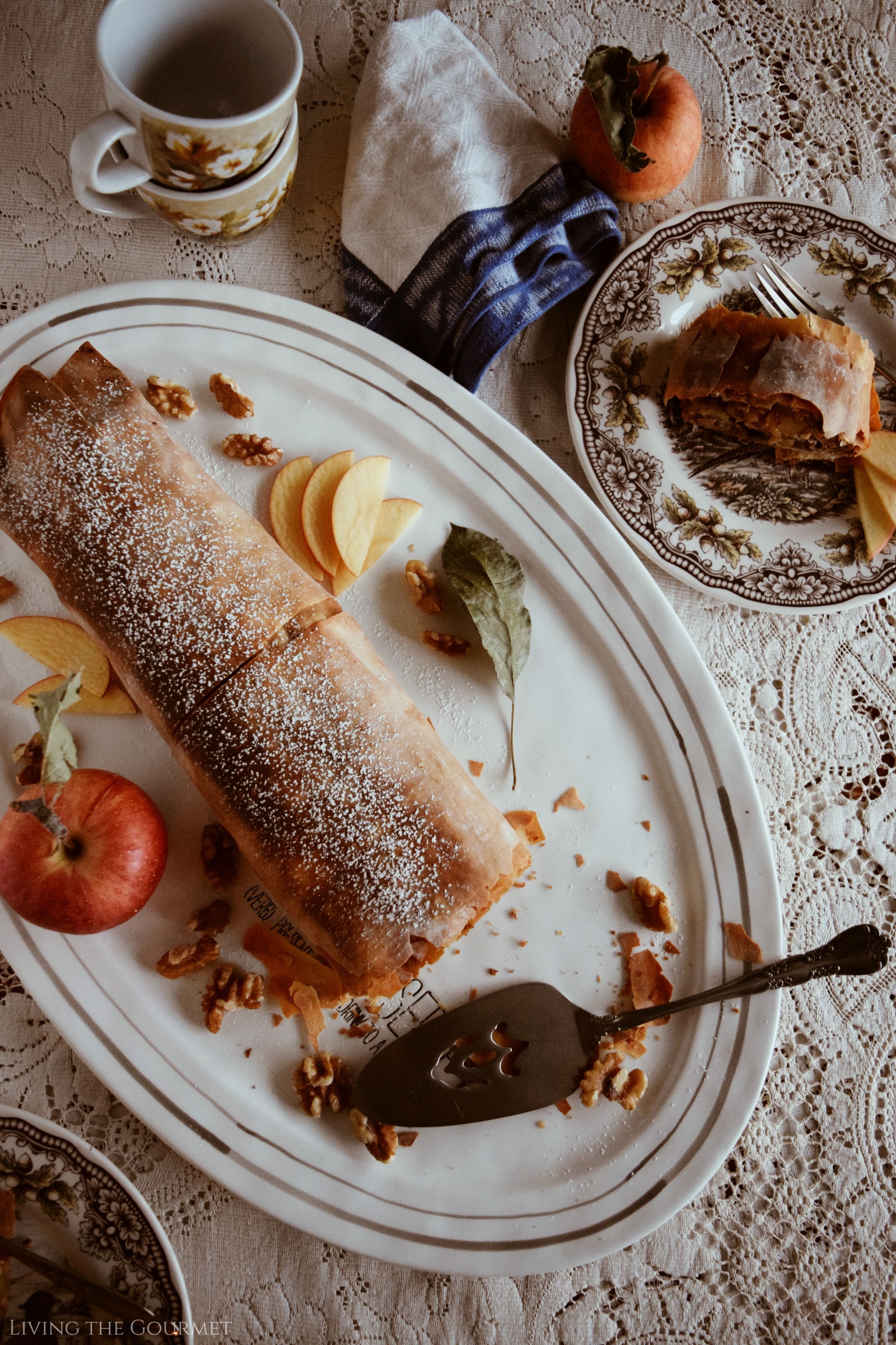 Then, lightly brush the single sheet with a bit of melted butter, and top with another sheet of filo, and again brush that with a bit of butter, and then sprinkle about one tablespoon of the walnut and breadcrumb mixture over this sheet. Then set another sheet of filo over that, brush again with butter, set another sheet of filo over that, then sprinkle with the walnuts, and repeat this layering process until you have used up all of the breadcrumb and nut mixture. Spoon the cooled apple mixture over the filo, leaving a clean perimeter of about two inches all around the filo.
Using the towel, lift the edges of the filo and starting at the wide end, roll the strudel. Try to the roll the strudel as tight as you can without breaking the dough or squeezing out the filling. Then place the roll seam-side down on a baking sheet. Brush the top with the remaining melted butter, and then bake for about forty-five minutes at three-hundred and fifty degrees F. You want a nice golden coloration.
Print
Viennese Apple Strudel
Author:
Prep Time:

10 minutes

Cook Time:

40 minutes

Total Time:

50 minutes

Yield:

1

strudel

1

x
4

apples – cored, peeled and diced

10

–

12

dried apricots – chopped

1/3

cup

sugar

2

tbs. cornstarch

1/2

cup

water

1/2 tsp

. cinnamon

1 tsp

. vanilla

1/2

cup

walnuts – chopped

1/4

cup

finely ground plain breadcrumbs

1/4

cup

raisins

3

tbs. unsalted butter – melted
Confectioners' sugar
Filo dough sheets
Instructions
Preheat Oven 350 degrees F.
Place the apples, dried apricots, raisins, sugar, cornstarch, cinnamon, and water in a frying pan.
Cook until the mixture thickens; this will only take a minute or two.
Remove from the pan and place in a bowl; add the vanilla, stir and cool completely
Place the walnuts and breadcrumbs in a food processor and give a few good chops
To Assemble the Strudel:
Place a sheet of filo dough on a dry, clean towel; keep the remaining filo dough covered with a damp towel.
Reserve 1 tbs. of butter.
Lightly brush with a little bit of the butter; top with another sheet of filo dough and again brush with a bit of butter and sprinkle with about 1 tbs. of the walnut/breadcrumb mixture. Repeat using all of the breadcrumb/walnut mixture and butter ending with the filo.
Spoon the apple mixture over the filo, leaving a 2 inch border.
Using the towel; lit the edges and starting at the wide end, roll the strudel "jelly-roll style", trying to roll it tight, enclosing the filling.
Place the roll seam-side down, on a baking sheet; brush the top with the remaining butter.
Bake 40 – 45 minutes or until a beautiful golden color is achieved.
Let cool for a few minutes then remove from pan.
Dust the top with Confectioners' sugar.
Recipe Card powered by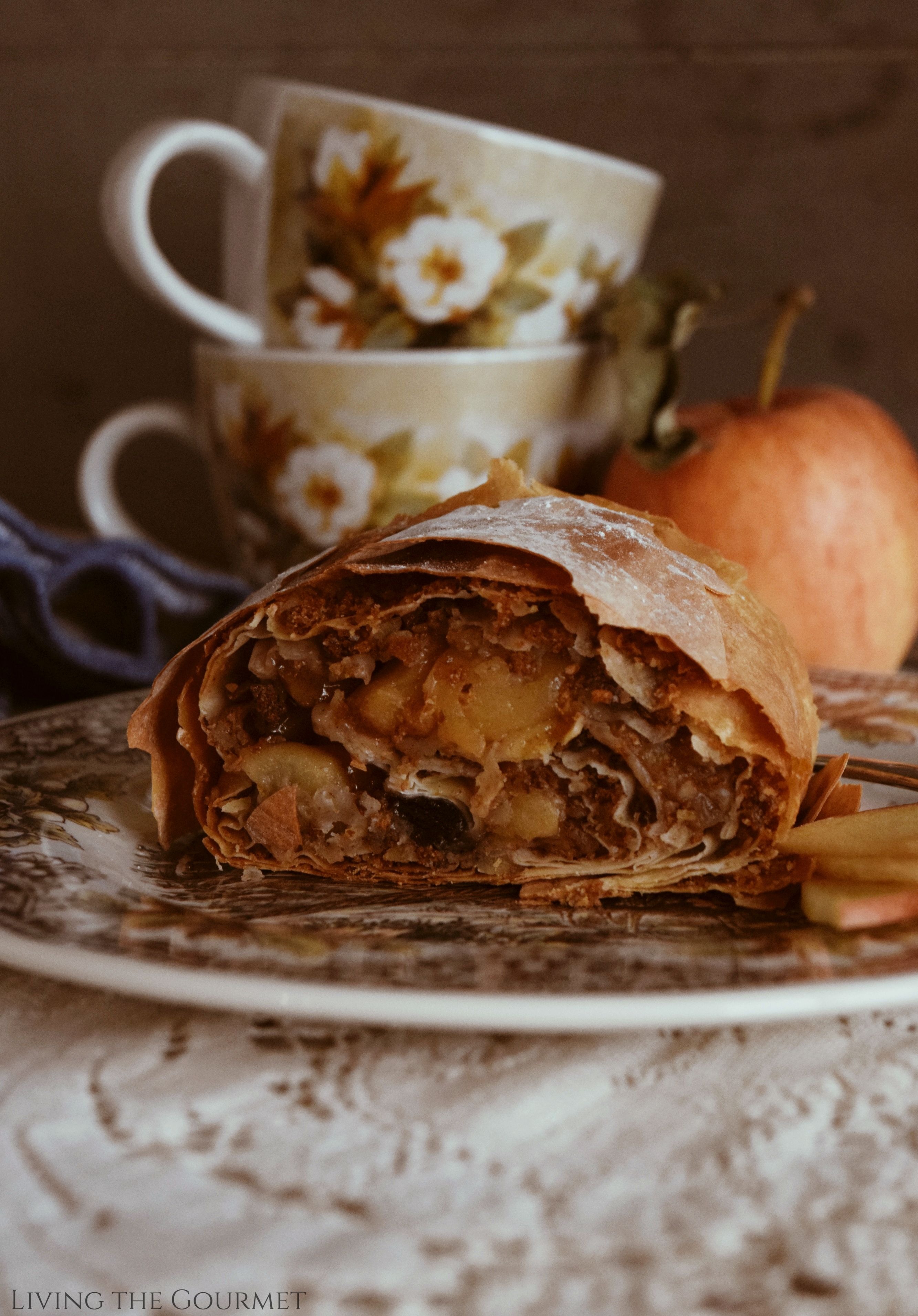 Let the strudel cool before serving, and then dust with confectioner's sugar.
If You Enjoyed Today's Recipe…
Be sure to follow us on Instagram to stay up to date with all things Living the Gourmet, and for more great recipes, tips and tricks.
Did you make this recipe?
If so, let me know in the comments down below, or post a picture to Instagram, or to Pinterest, and I'll give you a shoutout on Instagram, or post your pin to one of my Pinterest boards!
Enjoy with Love!
9