Thin, flaky layers of filo dough are baked with apple slices, warm spices and nuts between each fold to create this beautiful, golden Viennese Apple Strudel.
In the 1955 film adaptation of 'Guys and Dolls,' a fair bit of the plot is set in and around Mindy's dinette. Of particular importance is the dinette's delicious cheesecake and strudel.
In one of the more famous scenes from the movie, Sinatra's character Nathan Detroit tries to coax Brando's character Sky Masterson into betting a thousand dollars that Mindy's had sold more strudel than cheesecake the previous day. The scene ends off with Sinatra lamenting that "In the whole world, no one but Nathan Detroit could blow a thousand bucks on polka-dots."
To this day, I can't help thinking about Guys and Dolls every time I eat either cheesecake or strudel. Over the past week, however, I must admit that I myself have been eating a far bit more strudel than cheesecake – both homemade and otherwise.
For me, strudel, of almost any kind, is one of the quintessential chilly weather desserts, which you can enjoy equally as well in the morning as at night, or even as a quick snack with coffee late at night. There's just something warming about layers of your strudel-dough of choice swathed over layers of baked fruit and nuts or sweetened cheese filling.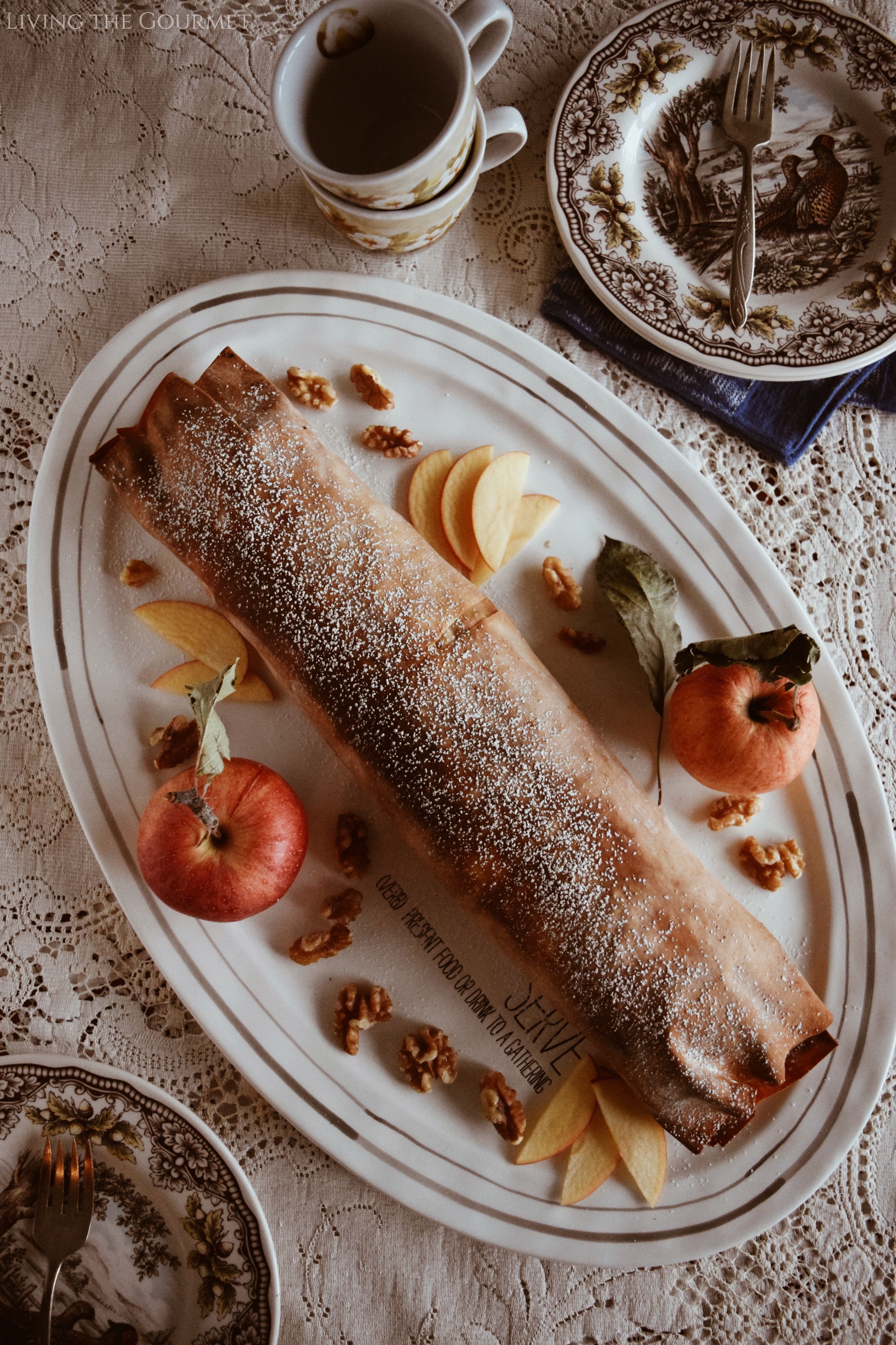 VIDEOS YOU MAY ALSO LIKE
Today, I opted for the baked fruit and nuts, and I choose to use filo sheets as the dough – both for ease of use and for the resulting crisp and flaky texture.
As far as strudels go, this recipe probably qualifies as an easy apple strudel recipe. And I cannot help but admit that this homemade apple strudel is definitely among my favorite apple desserts. It is crowd-pleasing delight for an array of special occasions, especially the fall holidays.
Read on for step-by-step instructions, an ingredient checklist. I'll also be providing you with instructions on how to store apple strudel, and a quick how-to if you prefer to use puff pastry as opposed to phyllo dough.
Now, without further delay, let's get to it.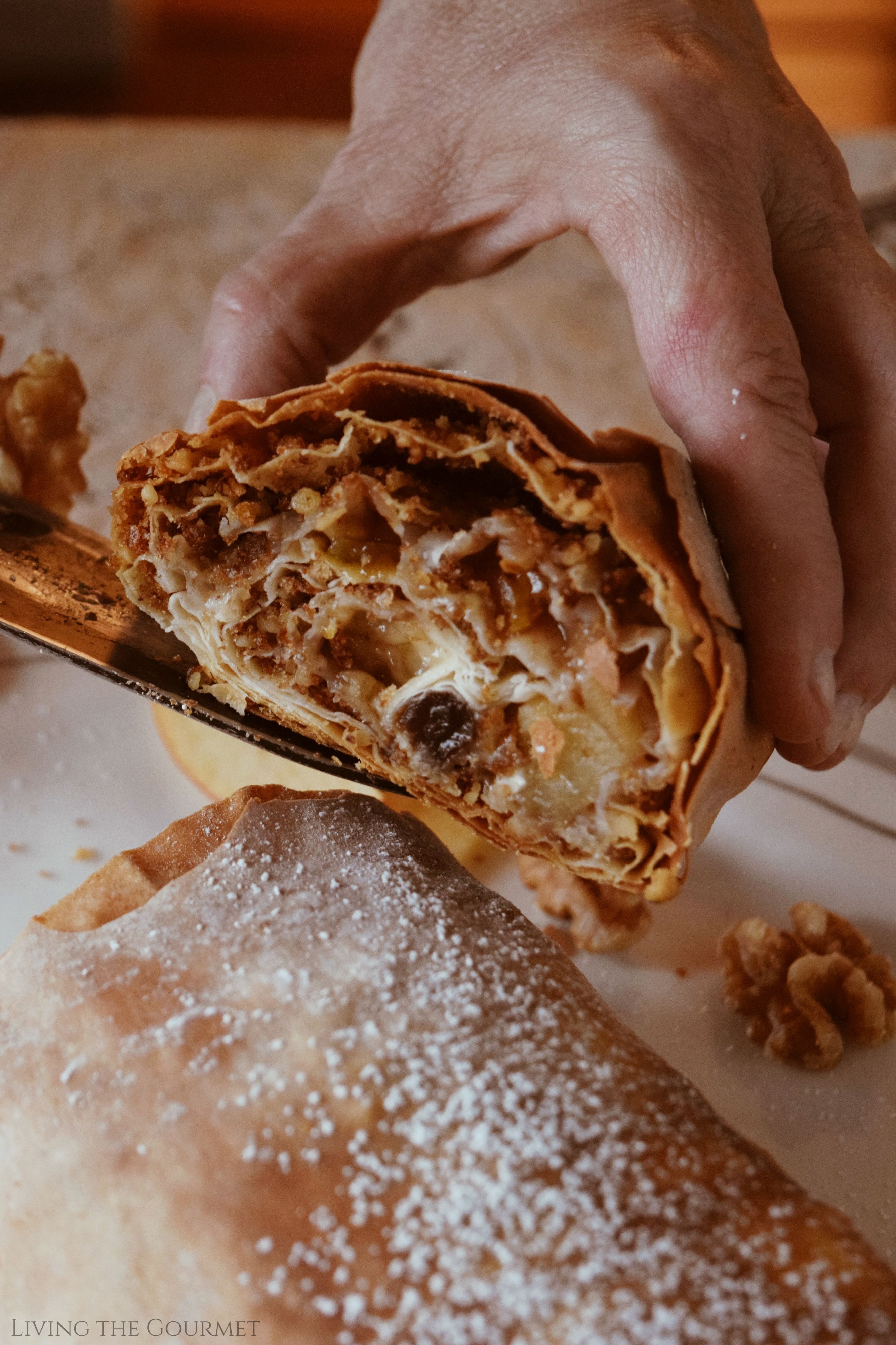 Ingredient Checklist – Everything You'll Need
4 apples, cored, peeled, and diced

Note: Crisp, fresh apples are must in this recipe. Choose sweet and tart apple varieties for a balanced flavor.
Tip: You can leave the peel on for added texture and nutrition. Be sure to core them with a sharp knife or apple corer.
Substitution: Pears or a combination of apples and pears can be used.

10-12 dried apricots, chopped

Note: Dried apricots provide natural sweetness and a delightful chewy texture.
Tip: Adjust the quantity to suit your preference for sweetness.
Substitution: Dried peaches or figs can be substituted.

1/3 cup sugar

Note: Adjust the sugar quantity based on the sweetness of your apples. Tarter apples require more sugar.
Tip: Brown sugar or maple syrup can add depth to the filling's flavor.

2 tbs. cornstarch

Note: Cornstarch acts as a thickening agent for the fruit filling.
Substitution: You can substitute arrowroot powder or tapioca starch.

1/2 cup water

Note: Start with room temperature water.

1/2 tsp. cinnamon

Note: Cinnamon adds warm, aromatic notes to the filling.
Tip: Experiment with nutmeg or allspice for unique flavor profiles.

1 tsp. vanilla

Note: Vanilla enhances the overall sweetness and aroma of the strudel.
Tip: Use pure vanilla extract for the best flavor.

1/2 cup walnuts - chopped

Note: Walnuts provide a delightful crunch and nutty flavor.
Tip: Toasting the walnuts briefly can intensify their taste.

1/4 cup finely ground plain breadcrumbs

Substitution: Substitute with almond meal for a gluten-free option.

1/4 cup raisins

Note: Raisins contribute natural sweetness and a pleasant chewiness.
Tip: Soak raisins in rum for added flavor.

3 tbs. unsalted butter - melted

Note: Melted Butter is brushed between the phyllo dough layers for a rich, buttery taste.
Tip: Clarified butter or melted coconut oil can be used for a dairy-free option.

Confectioners' sugar

Note: Confectioners' sugar is used to dust the strudel for a sweet finish.
Tip: Adjust the amount to your desired level of sweetness.

Phyllo dough sheets

Note: Phyllo dough creates the delicate, flaky layers of the strudel.
Tip: Keep the phyllo dough covered with a damp towel to prevent drying while working with it.
Substitution: Puff pastry is a perfectly apt substitution for phyllo dough if you so prefer. More on this below.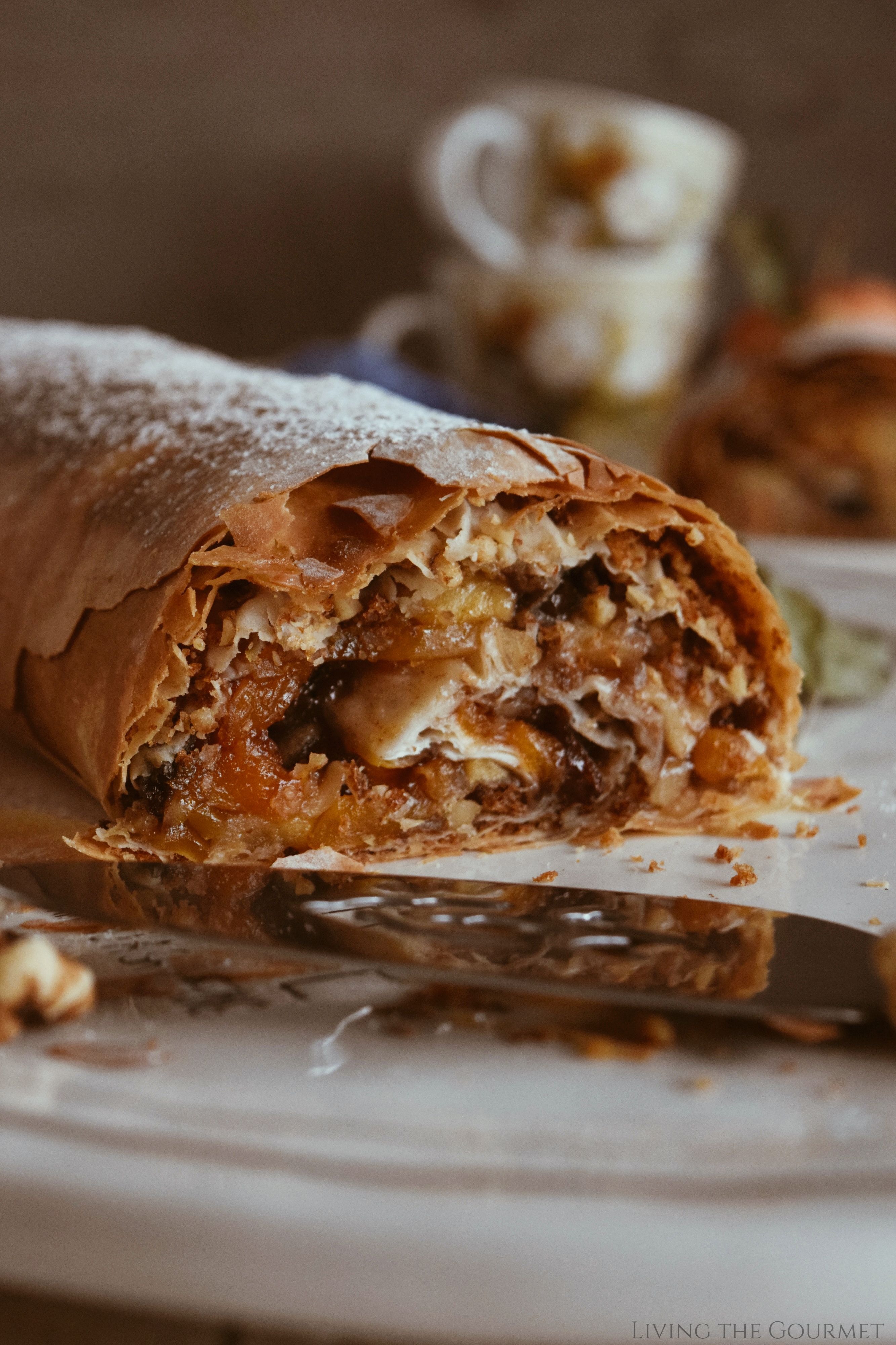 Adapting the Viennese Apple Strudel Recipe with Puff Pastry:
While they may look alike, there's quite a bit of difference between a puff pastry sheet and a phyllo dough sheet. Both doughs are used to achieve a delectably flaky pastry, but 'how' you use go about using them is quite different.
Puff pastry is dough used for the beloved croissant, the ever-familiar beef Wellington, and of course all manner of canapes. Phyllo dough is probably best known as the crunchy layers in spinach pie, and as the flaky crust of baklava.
Both puff pastry and phyllo dough achieve a flaky crust, and which is 'best' comes down purely to preference. Or which you happen to prefer working with.
I do not recommend making your own strudel dough. Store-bought puff pastry works just fine. Despite my love for all things Mediterranean, I'll be the first to say that making your own phyllo pastry dough is an exercise in frustration and tedium. Buy it in the freezer section. This is one case where store-bought really is just fine.
To use puff pastry instead of phyllo dough, follow these steps:
Puff Pastry Sheets: Substitute the phyllo dough sheets with puff pastry sheets. Depending on the size, you might need two sheets to create the desired layers.
Apple Mixture: Follow the same recipe for the apple filling with diced apples, dried apricots, sugar, cornstarch, cinnamon, water, vanilla, walnuts, breadcrumbs, raisins, and melted butter. Feel free to add a dash of lemon juice.
Assembly:

Roll out the puff pastry sheets on a lightly floured surface to the desired size, ensuring they are slightly overlapping.
Using a pastry brush the pastry with melted butter or an egg wash.
Sprinkle the walnut and breadcrumb mixture evenly over the pastry.
Spoon the apple filling along one edge of the pastry, leaving a border for folding.
Carefully fold the edges over the filling and roll it up, similar to the original recipe.

Baking: Place the assembled strudel on a baking sheet, seam-side down. Brush the top with more melted butter for that beautiful golden color.
Baking Time and Temperature: Bake the puff pastry strudel in a preheated oven at 350°F (175°C) for about 30-40 minutes, or until it becomes puffy and golden brown.
Cooling and Dusting: Allow the strudel to cool on a wire rack for a few minutes before dusting it with confectioners' sugar, just like the original recipe.
Using puff pastry provides a different texture and flavor profile compared to phyllo dough. It's flakier and more buttery, which can be equally delightful in this apple strudel. This adaptation reduces the preparation time while still delivering a delicious pastry. Enjoy your homemade Viennese Apple Strudel, made with puff pastry, with a scoop of vanilla ice cream or a dollop of freshly whipped cream for an extra treat!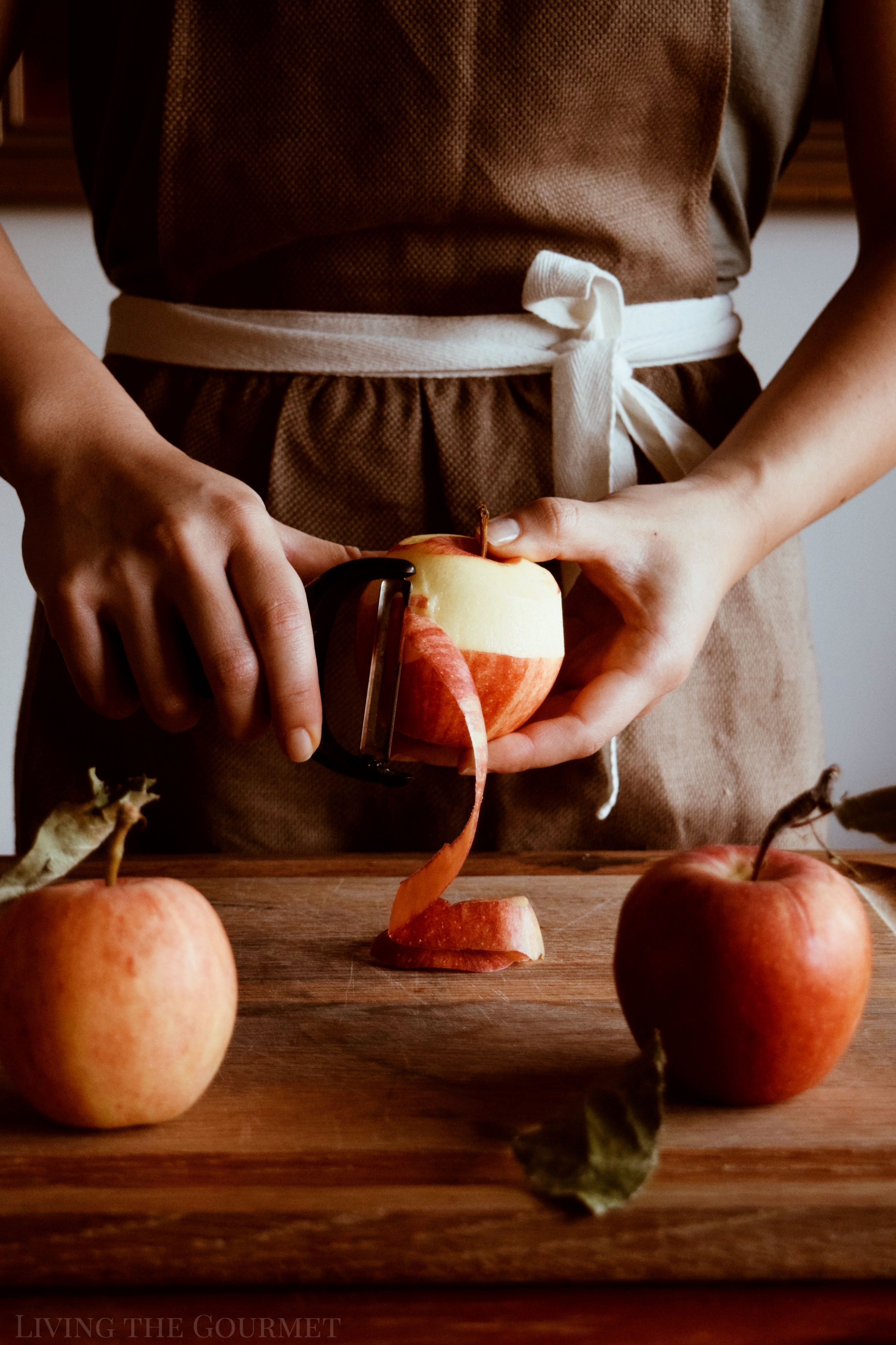 How to Store Apple Strudel
While I am certainly up to the challenge of devouring the entire strudel in one sitting, I doubt that doing so is advisable. Thus, how do you store leftover apple strudel?
Thankfully, it couldn't simpler.
Room Temperature: If you plan on finishing the strudel within 48 hours, you can keep it at room temperature, covered with a clean kitchen towel or aluminum foil. This helps maintain its texture and prevents it from drying out. Just make sure it's placed in a cool, dry area away from direct sunlight.
Refrigeration: For longer storage, especially in warmer climates or if you won't being finishing it within a day or two, then it's best to refrigerate the strudel. Wrap it tightly in plastic wrap or aluminum foil to prevent moisture loss and absorption of other odors from the fridge. Remember to place it in an airtight container, ensuring that the seam-side of the strudel is placed face down.
Freezing: If you want to save your strudel for later enjoyment, freezing is an excellent option. To do this, wrap the cooled strudel securely in plastic wrap, followed by a layer of aluminum foil to prevent freezer burn. Label it with the date and contents. When you're ready to enjoy it, thaw it in the refrigerator for a few hours or overnight. To revive its crispiness, you can reheat it in the oven at a low temperature (around 250°F or 120°C) for about 10-15 minutes. Be sure to store the strudel in an airtight container before freezing to maintain its quality.
Avoid Moisture: Regardless of how you store it, be cautious of moisture. Even a small amount of moisture can make the strudel's pastry lose its crispness. Using an airtight container or wrapping it well helps protect against humidity and ensures the strudel remains delightful.
Reheating: If you're serving leftover strudel and want to restore its warmth and crispiness, preheat your oven to about 325°F (160°C), place the strudel on a baking sheet lined with parchment paper, and heat for 10-15 minutes. This will help regain some of its original texture.
By using an airtight container or wrapping the strudel securely, you'll ensure that it stays fresh and delicious, whether at room temperature, chilled, or frozen. And, remember to protect the seam side of the strudel to prevent any potential moisture infiltration.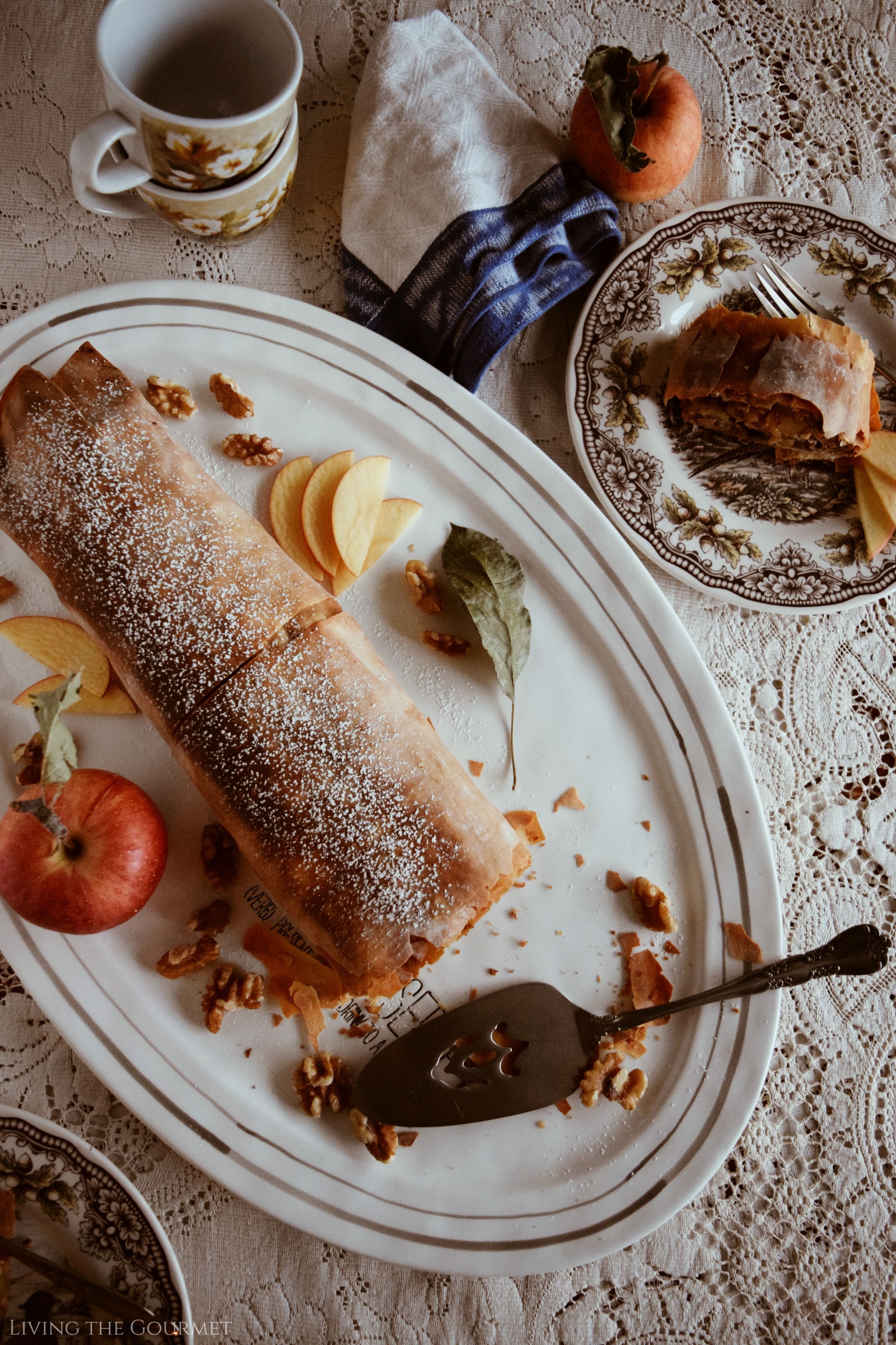 Which Apples are Best for Strudel?
Yes, the kind of apples you use matters. There's simply no getting around it. Choosing the right apples is crucial.
So, what sort of apples work best? Basically, apples that don't turn mushy during baking, and that are neither too sweet nor too tart. Tender apples and overly tart apples are non-starters.
With that in mind, some of the best apples for strudel include:
Granny Smith: The 'gold standard' of baking apples, Granny Smith are known for their tartness and firm texture. When it comes to apple recipes, you really can't go wrong with Granny Smith.
Honeycrisp: These apples are crisp, juicy, and offer a perfect balance between sweet and tart flavors.
Jonagold: Jonagold apples are a blend of Jonathan and Golden Delicious apples, offering a slightly tart taste with a honey-like sweetness. They also hold up well in baking.
Braeburn: Braeburn apples are sweet with a hint of tartness and have a firm flesh that doesn't become overly soft when baked.
Fuji: A perennial favorite, these apples are sweet and crisp, making them an excellent choice if you prefer a sweeter filling.
Cortland: Cortland apples are known for their bright white flesh and mildly tart flavor. They are great for baking.
Regardless of the variety you choose, aim for apples that are fresh, firm, and at their peak ripeness for the best results in your Viennese Apple Strudel.
Print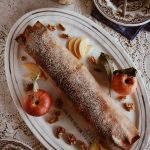 Viennese Apple Strudel
---
Author:

Total Time:

50 minutes

Yield:

1

strudel

1

x
4

apples - cored, peeled and diced

10

-

12

dried apricots - chopped

1/3

cup

sugar

2

tbs. cornstarch

1/2

cup

water

1/2 tsp

. cinnamon

1 tsp

. vanilla

1/2

cup

walnuts - chopped

1/4

cup

finely ground plain breadcrumbs

1/4

cup

raisins

3

tbs. unsalted butter - melted
Confectioners' sugar
Filo dough sheets
---
Instructions
Preheat Oven 350 degrees F.
Place the apples, dried apricots, raisins, sugar, cornstarch, cinnamon, and water in a frying pan.
Cook until the mixture thickens; this will only take a minute or two.
Remove from the pan and place in a bowl; add the vanilla, stir and cool completely
Place the walnuts and breadcrumbs in a food processor and give a few good chops
To Assemble the Strudel:
Place a sheet of filo dough on a dry, clean towel; keep the remaining filo dough covered with a damp towel.
Reserve 1 tbs. of butter.
Lightly brush with a little bit of the butter; top with another sheet of filo dough and again brush with a bit of butter and sprinkle with about 1 tbs. of the walnut/breadcrumb mixture. Repeat using all of the breadcrumb/walnut mixture and butter ending with the filo.
Spoon the apple mixture over the filo, leaving a 2 inch border.
Using the towel; lit the edges and starting at the wide end, roll the strudel "jelly-roll style", trying to roll it tight, enclosing the filling.
Place the roll seam-side down, on a baking sheet; brush the top with the remaining butter.
Bake 40 – 45 minutes or until a beautiful golden color is achieved.
Let cool for a few minutes then remove from pan.
Dust the top with Confectioners' sugar.
Prep Time:

10 minutes

Cook Time:

40 minutes
Recipe Card powered by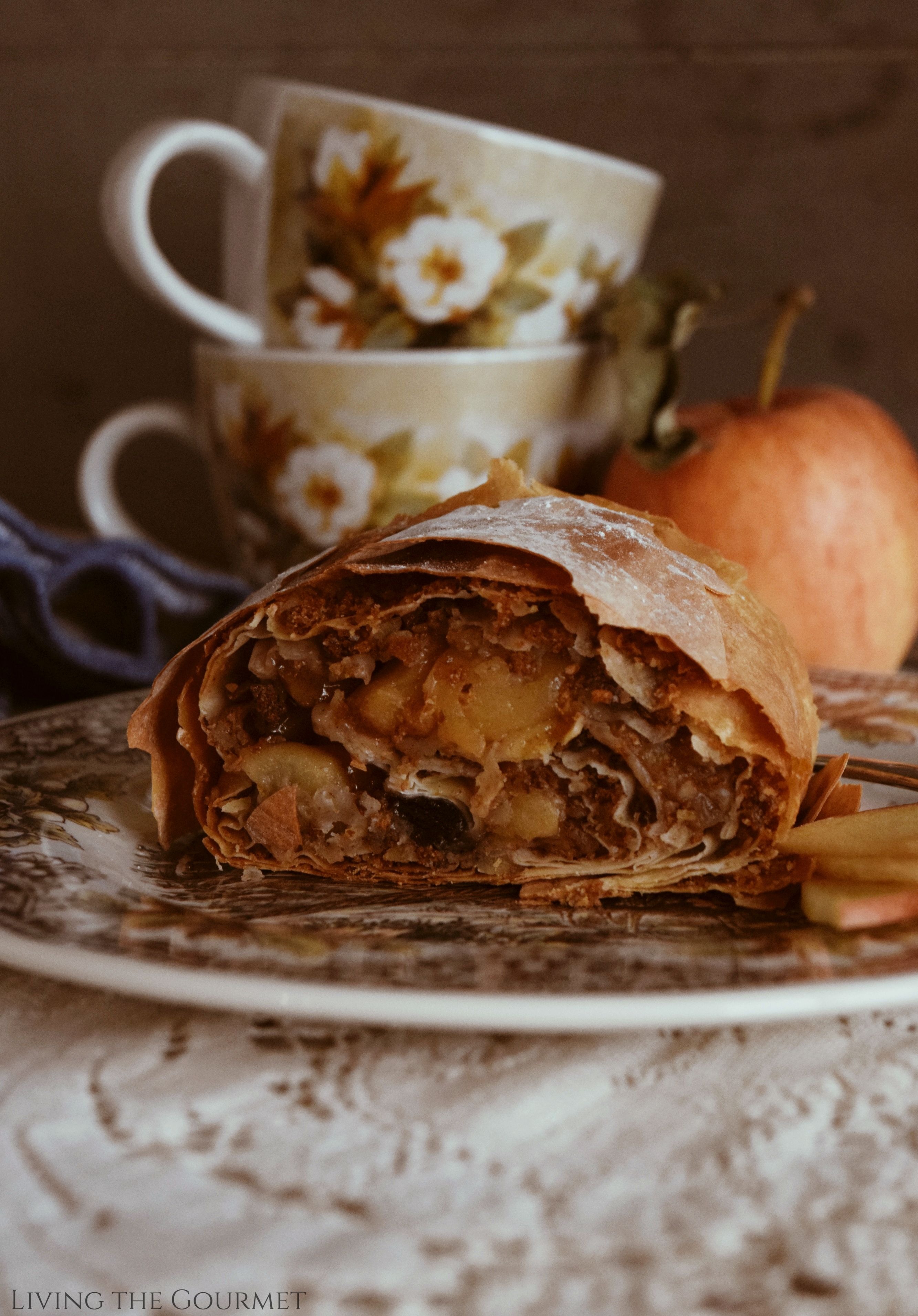 If you Enjoyed Viennese Apple Strudel…
Then consider pairing it with a delicious homemade vanilla bean ice cream or bring the decadence to new heights with a delectable tiramisu coffee.
9