We're revisiting a classic today with this Upside Down Apple Pie with a caramelized walnut topping baked over a golden, flakey crust and sweet apples in the middle.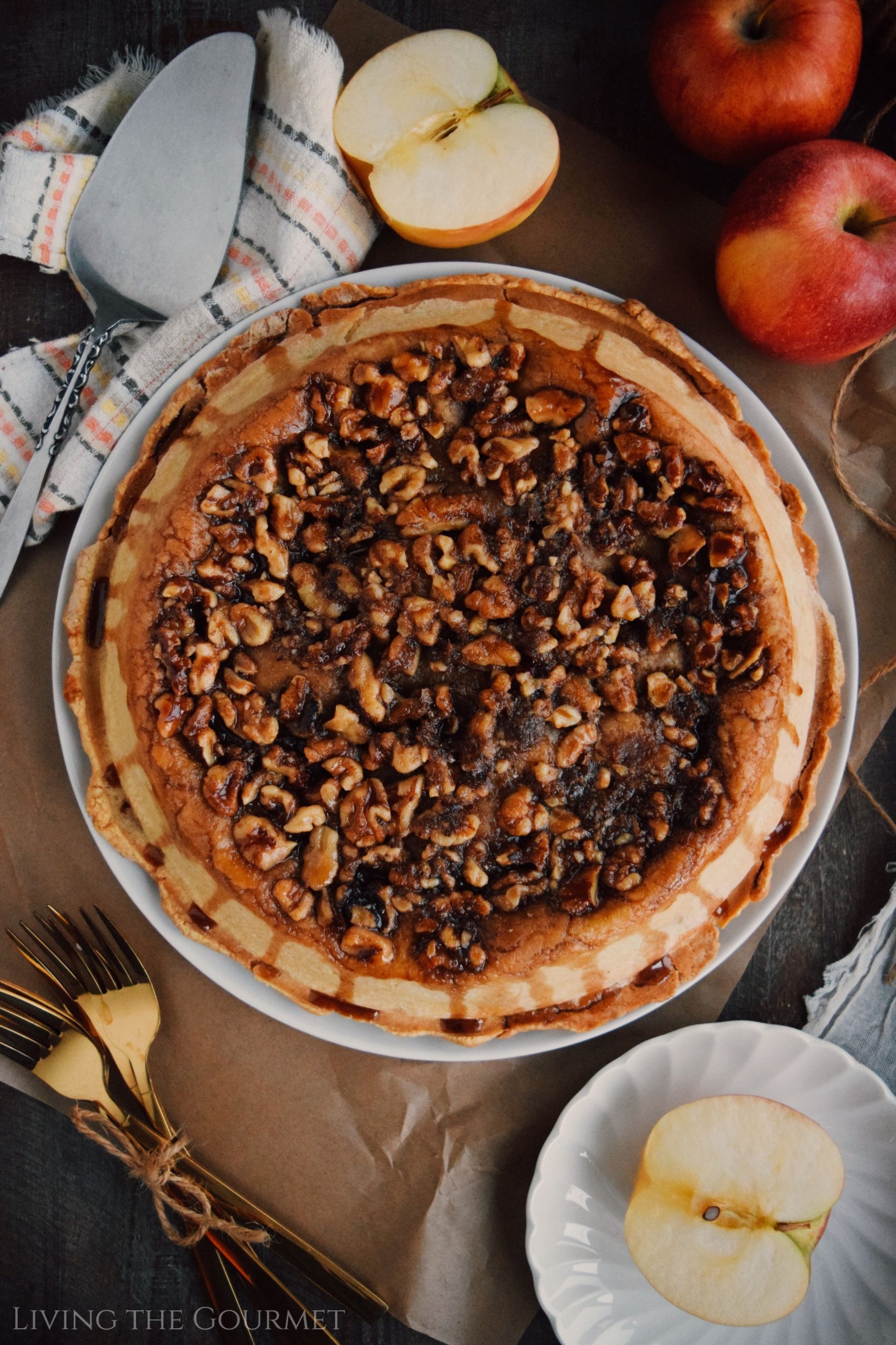 To my mind, there is simply nothing more vintage than an 'upside down' recipe. While the idea originated centuries ago when wood or coal burning ovens were reserved almost solely for the well-off, meaning that the common at-home chef was left to prepare cakes and breads stovetop in skillets. However, it wasn't until the first half of the last century that such recipes would take their turn at being 'vogue' – minus the skillet.
Previous generations were positively enamored with the idea, of upside crumb cakes and cheesecakes finding their way into common bakeries and multi-star hotel dessert buffets alike, and who could forget upside down fudge (points to whoever can identify the 'right side up' portion of a fudge bar) or the formerly-ubiquitous pineapple upside down cake, which no 50s dessert spread was complete without. Indeed, yesteryear's generation of home cooks, in imitation of the pre-celebrity era of couture-chefs, gave us whole volumes of desserts (and a handful of savory dishes) that were meant to be eaten from the bottom up, and whose topsides were never meant to be seen…for some reason or another.
Today's recipe takes a cue from that former era of vintage charm to bring you 'Upside Down Apple Pie,' and we'll be doing so with a little help from one of our favorite brands, Deiss Kitchenware.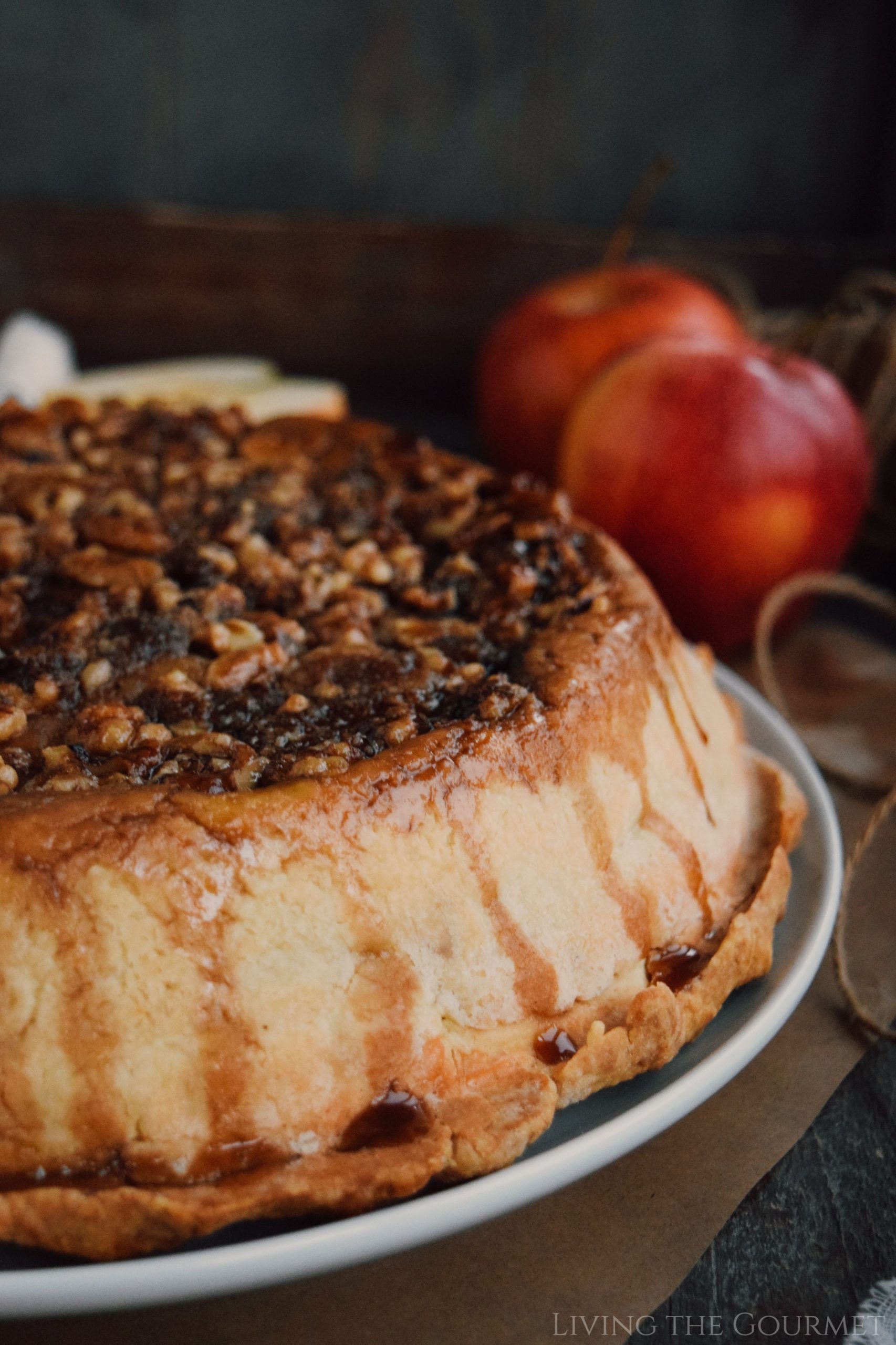 Why You'll Love this Recipe
1) Crust is King, but there's so much more. Being a purposefully stubborn classicalist, it isn't often that I find myself surprised or intrigued by the once-vogue favorites that populate the 'vintage' genre, but I must admit that my interest was instantly piqued at the idea of an 'upside down pie,' due simply to how impossible it sounded. Honestly, at first glance, what 'is' an upside down pie? Turn a regular pie upside down, and you're left with a mess and the bland looking underside of a crust…right? Maybe not. The secret to today's pie is assuredly in the crust, which is a bit thicker and bit hardier to facilitate…well, to facilitate not giving way to gravity whilst be set bottom-side-up, but we've also worked a little gastronomic magic with a dense topping consisting of chopped walnuts caramelized in brown sugar (yes, that's as delicious as it sounds, being a dessert unto itself).
2. Accessibility. I'll say that if you can prepare a 'standard' apple pie from scratch, today's pie is well within reach. The only added steps are preparing the caramelized walnuts, and turning the pie over. That's it.
3. Pie and Ice Cream, Candied Nuts and Ice Cream…why not both? The old favorite of apple pie and ice cream definitely applies here, but if you've ever topped vanilla ice cream with candied nuts you'll know just how delicious that combo is as well. The real question, though, is why not both? With today's recipe, both is default. You can thank me later, or 'now' by leaving a comment down below (and that was likely my most shameless plug ever). Conversely, you could keep things a tad light, but equally delicious, with a healthy dollop of whipped cream.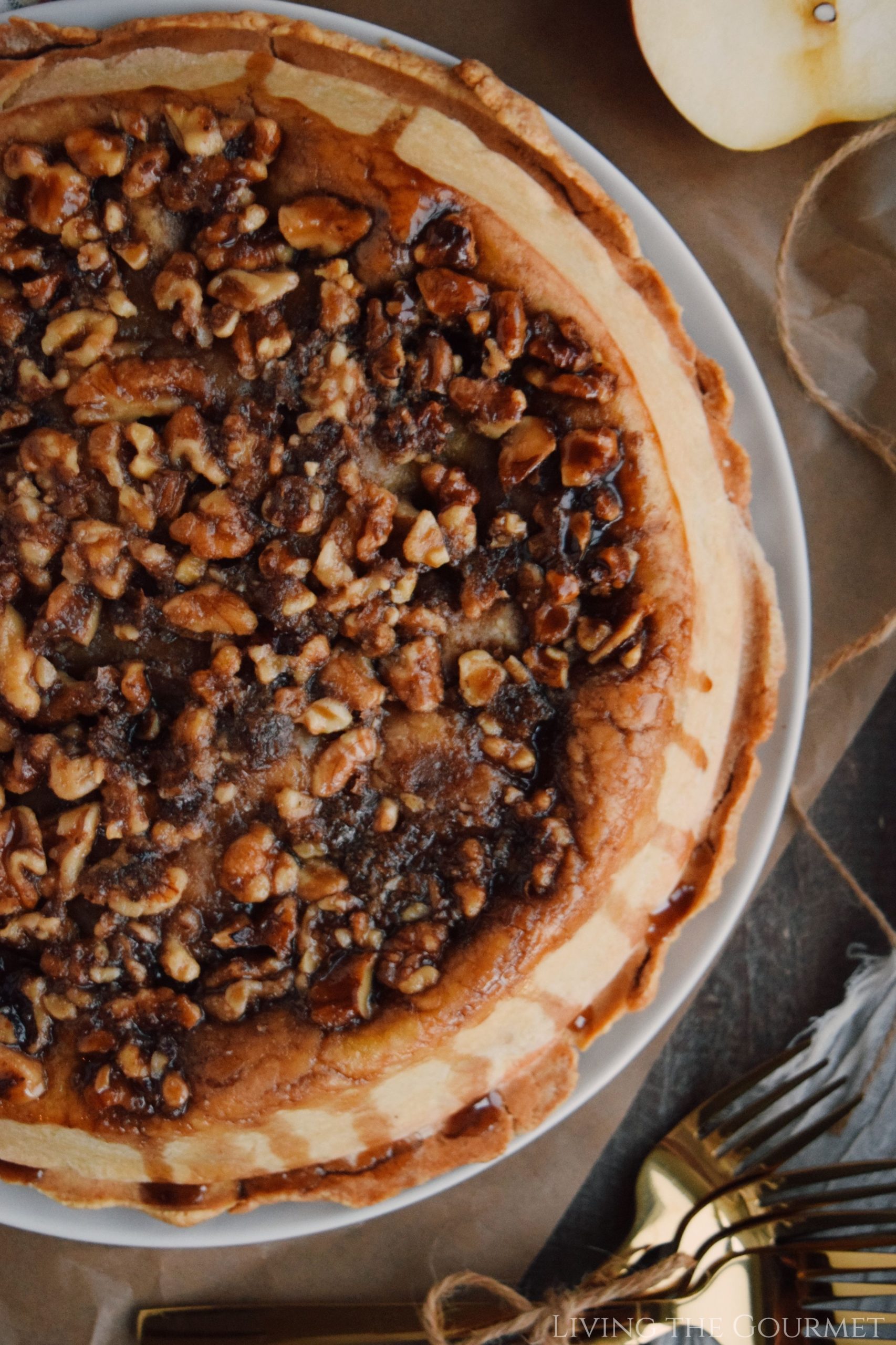 For today's recipe, I was gifted a set of Deiss Kitchenware products including their ART Apple Slicer & Corer Set and their PRO Citrus Zester & Cheese Grater which are featured in today's recipe. I've been using their microplane zester which has held up through years of recipe development and testing. Naturally, I was excited to try the latest additions to their collection of kitchenware and I couldn't have been more satisfied with the ease of their products and affordability.
Furthermore, Deiss Kitchenware provides a lifetime warranty on all their products, and all Deiss products are made of FDA-approved food-grade silicone, plastic and metal and are BPA-free. Their line is all dishwasher-safe and corroison-resistant.
That being said, I am excited to share that three lucky LTG readers can win a set of their own Deiss kitchenware products. Be sure to enter at the end of this post!
Living the Gourmet
Yields 1 pie
Upside Down Apple Pie
15 minPrep Time
35 minCook Time
50 minTotal Time
5 based on 20 review(s)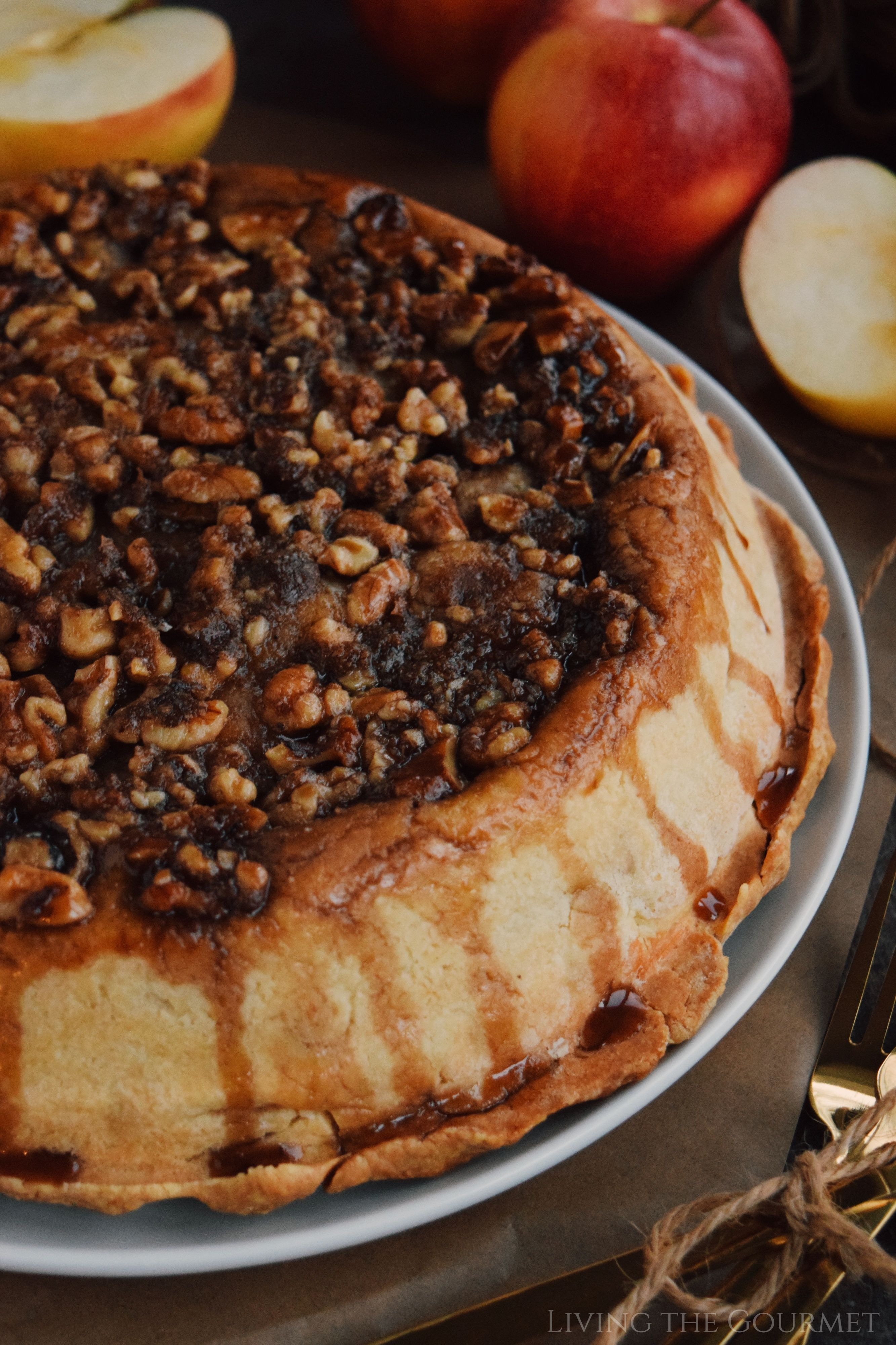 Ingredients
Egg wash - 1 egg + 1 tablespoon water whisked together
Sugar, for sprinkling

For the Crust:

2½ cups AP flour
1 teaspoon salt
2/3 cup shortening
2 eggs
2 tablespoons lemon juice

For the Caramelized Walnut Topping:

2 tablespoons unsalted butter, melted
½ cup walnut halves
1/3 cup dark brown sugar

For the Filling:

3 apples, cored and peeled
½ cup sugar
2 tablespoons flour
½ teaspoon cinnamon
¼ teaspoon freshly grated nutmeg
¼ teaspoon salt
Zest of ½ orange
Instructions
For the Filling:

Peel, core, and slice the apples into a large bowl. Toss the apples with sugar, flour, spices and orange zest. Set aside.

For the Crust:

In the bowl of food processor, pulse together flour, salt, egg, shortening, and lemon juice until the dough holds together. Form into a disk and wrap in clingfilm. Refrigerate for 30 minutes or until ready to use.

For the Caramelized Walnut Topping:

Line a 9-inch pie plate with parchment paper and set aside.
In a small glass bowl, mix together melted butter, brown sugar, and walnut halves. Transfer the mixture to the lined pie plate and set aside.
Preheat oven to 350 degrees F.
Divide the prepared pie dough in half. On a well-floured surface, roll out one half of the dough and fit into the pie plate, over the walnut mixture. Fill with the apple mixture.
Roll out the remaining pie dough to place over the filling. Press the edges of the crust and primp.
Prick the top of the crust with a fork, brush with the egg wash and sprinkle with sugar. Place the pie on a baking sheet and bake 30-35 minutes or until nicely golden.
Let the pie rest for about 5 minutes before inverting onto a serving plate. Best when served warm with a little ice cream or whipped cream if desired.
7.8.1.2
1401
https://livingthegourmet.com/2020/02/upside-down-apple-pie.html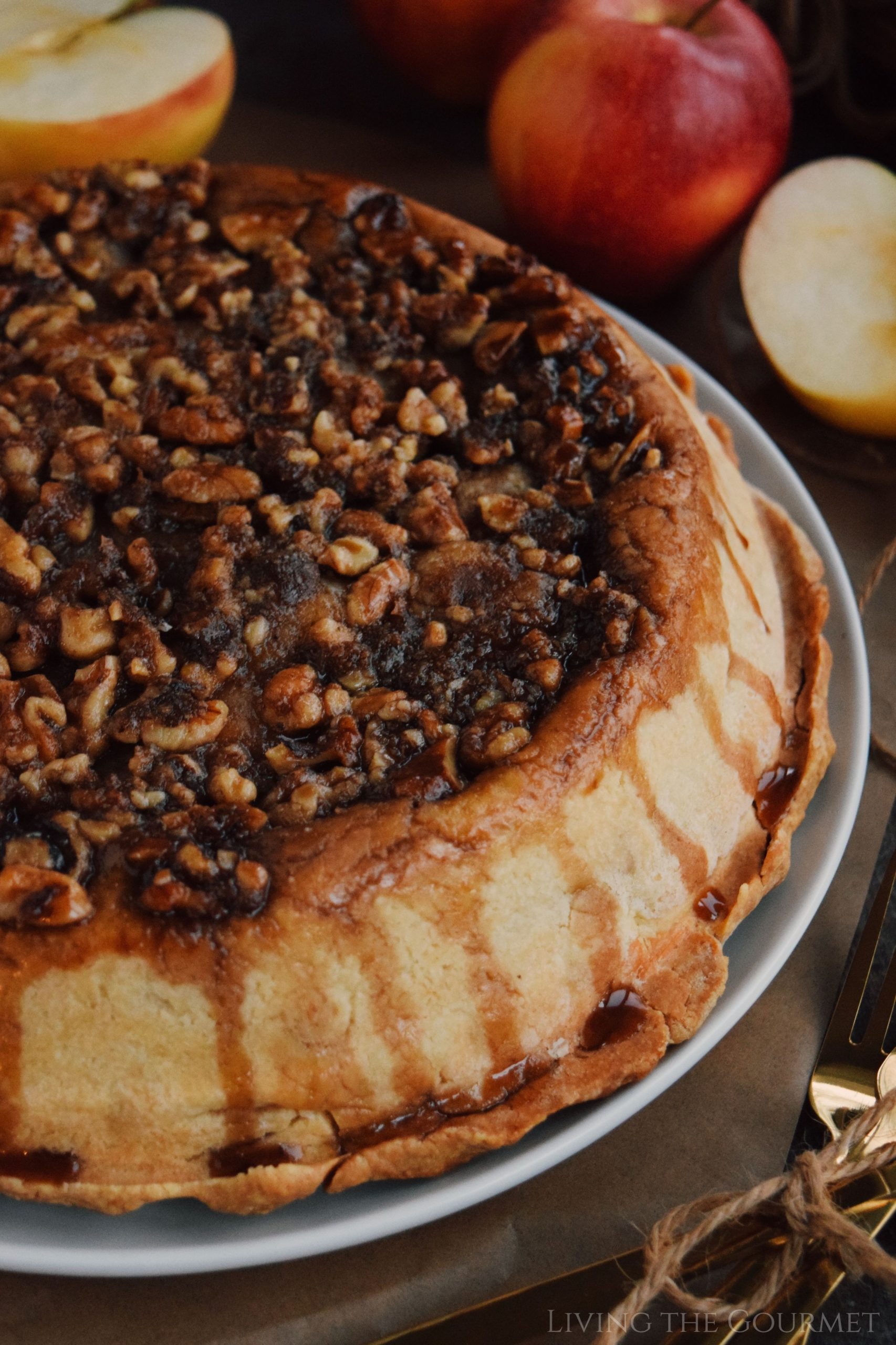 More Apple Recipes to Love
1. Apple Crisp – Baked apples, pumpkin spice, and brown sugar meld together beautifully beneath a crisped crumb topping for this beloved classic.
2. Summer Apple Cake – Sure the title may suggest this is a summer dish, but in reality it's a year-round favorite. This cake boasts of a sweet, aromatic filling wrapped in a soft, shortbread-like crust making it a cross between a pie and a cake.
3. Viennese Apple Strudel – Arguably one of my favorite apple desserts to appear on LTG. Thin, flaky layers of filo dough are baked with apple slices, warm spices, and nuts between each fold to create a beautiful, golden pastry.
4. Spiced Apple Hand Pie – Pie, but make it mini. You can't really do that with cake. That said, these spiced apple hand pies are the perfect treat to make when you're craving something a little sweet.
5. Basque Apple Tart – Rounding out our mini roundup is this sweet tart filled with a simple apple filling for a delicious dessert perfect any time of year no matter what.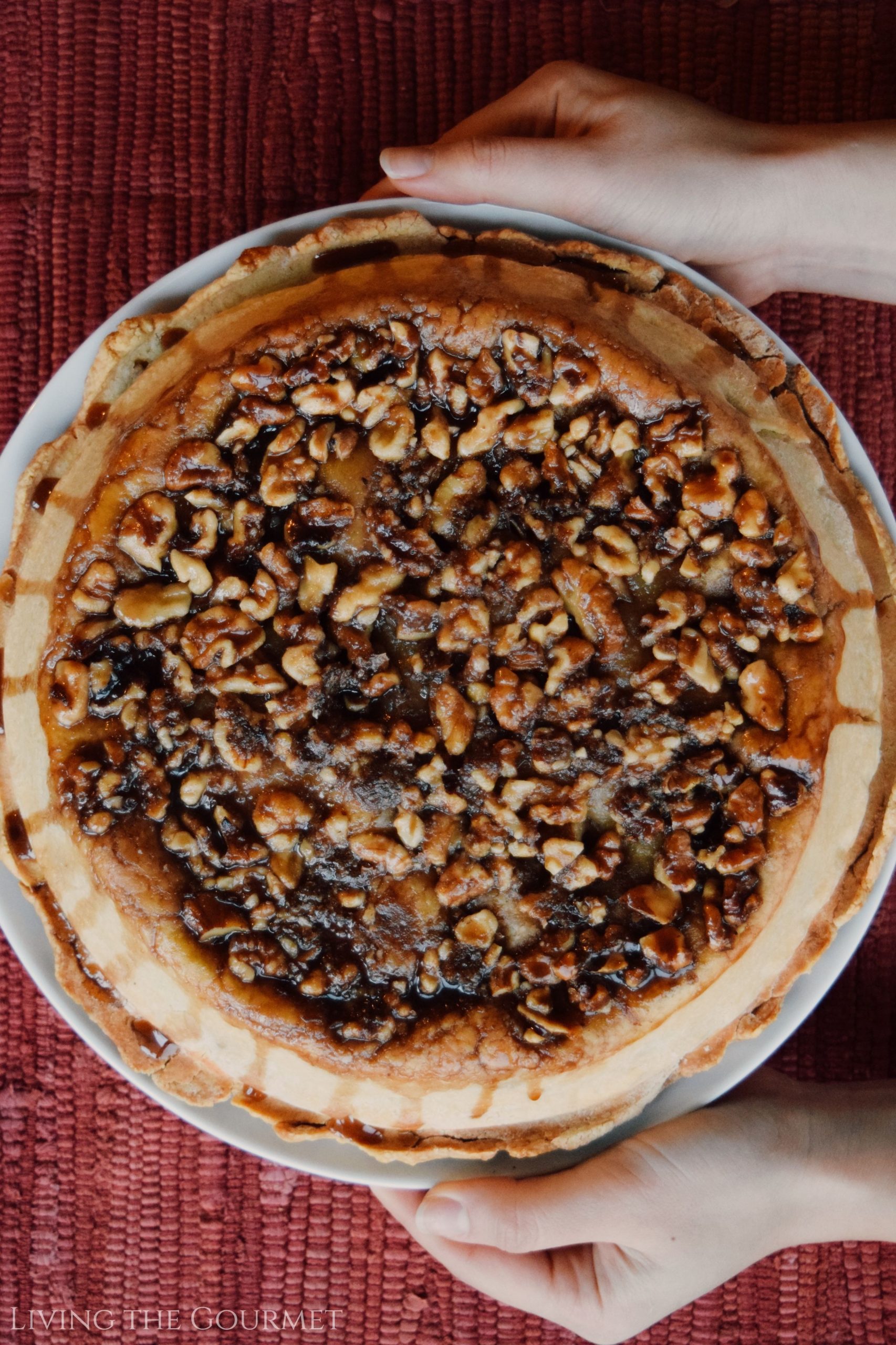 If You Enjoyed Today's Recipe…
Be sure to follow us on Instagram to stay up to date with all things Living the Gourmet, and for more great recipes, tips and tricks.
Did you make this recipe?
If so, let me know in the comments down below, or post a picture to Instagram, or to Pinterest, and I'll give you a shoutout on Instagram, or post your pin to one of my Pinterest boards!
2