This post has been sponsored by Jarlsberg® Cheese. All opinions expressed are my own.
I love pears, and I love grilled cheese sandwiches. Today I'm taking those two loves and combining them between slices of sough dough bread, along with Jarlsberg cheese, fresh basil, and a super simple honey dipping sauce. The end result is a delightfully sweet-and-savory sandwich that's perfect for warm summer days out on the porch.
Why You'll Love Today's Toastie
1) Super Simple. Slice some cheese, pick some basil, and sandwich that between slices of sour dough bread and then grill until nice and toasty. Then mix together a three-ingredient honey dipping sauce, and you're done. Could this get any easier? Not likely.
2) The Dipping Syrup. The dipping syrup for today's toasty would also go great on pancakes, waffles, or even stirred into yogurt. As a nice bonus, it features just three simple ingredients that only need to be stirred together.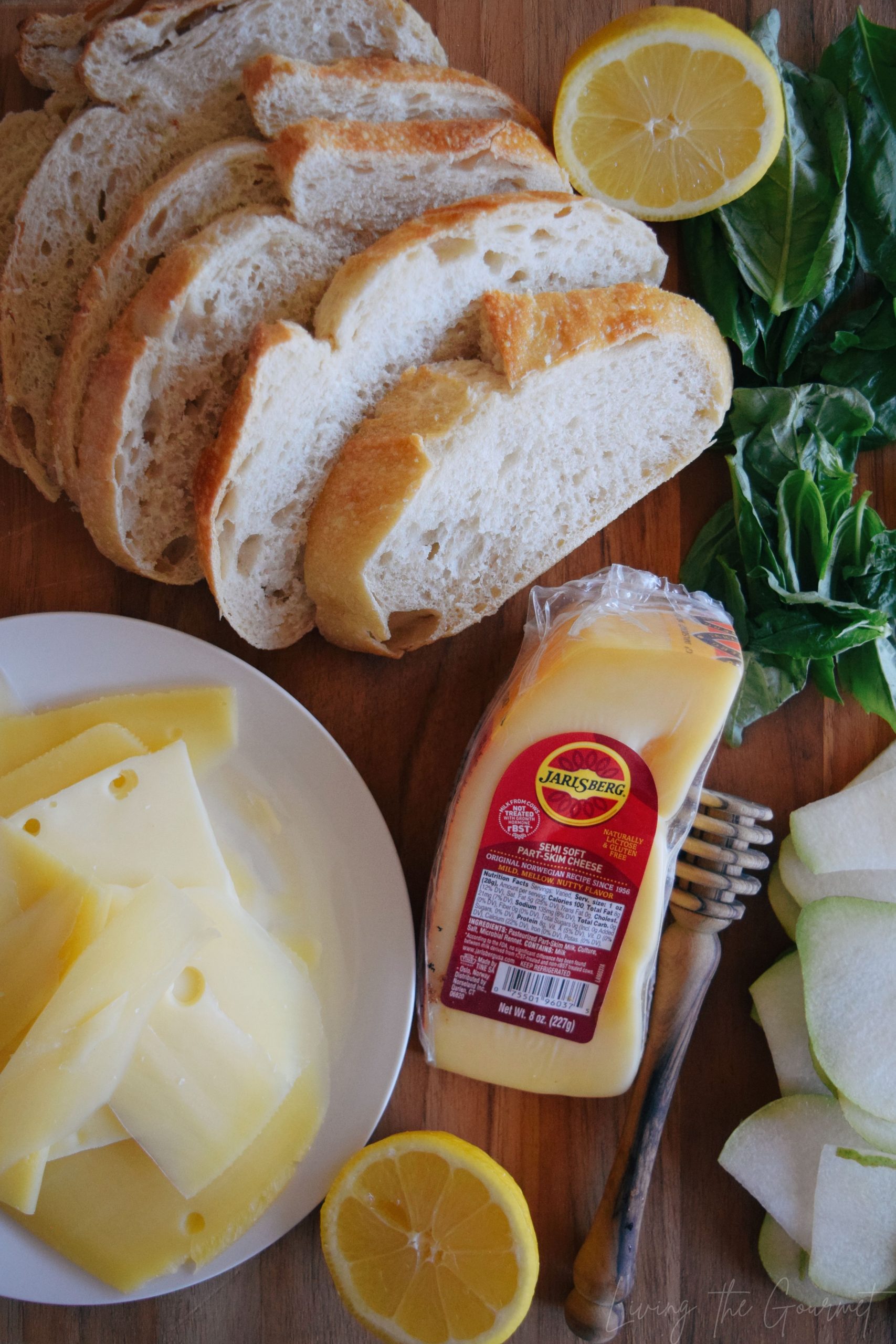 Ingredient Notes and Tips
1) Confectioners Sugar aka Powdered Sugar. Also called icing sugar and 10X Sugar, powdered sugar is merely finely ground granulated sugar. The primary use for this sugar is actually for industrial-scale baking, particularly in items where 'quick dissolving' sugar is needed. At home and in bakeries, confectioners sugar is primarily used to make icing, frosting, and as garnish or 'finishing sugar.' Today, we're using powdered sugar simply as a 'sweet garnish' to dust over the sandwich, while also giving it just a touch more sweetness.
2) Jarlsberg Cheese – The Star of Today's Show. I wanted a cheese for today's sandwich that wouldn't overpower the pears, or detract too heavily from the intended sweetness. For this purpose, you want a mild cheese, preferably one that lacks pungency and sharpness, and that has a nice nutty flavor. However, I also wanted a cheese that wouldn't end up melting all over the place or become 'stringy.' Now, those types of'decadent melting cheeses' certainly have their places – such as on 'Soprano Sandwiches,' or meatball subs, or in hardy pasta recipes, or in enchiladas. However, today you want something a bit 'milder,' you merely want a firm melting cheese. Jarlsberg has all of the qualities that we're looking for. Those same qualities also make Jarlsberg a great all-purpose cheese to have on hand. For example, it's capable of shining on cheeseboards with olives, mini pizzas, and phyllo tarts. Similarly, it can hold up in heavier recipes, such as the pasta bake I put together some years ago, featuring a homemade tomato sauce, lots of red pepper, copious amounts of garlic, and plenty of oregano. For more info, or to order some cheese for yourself, check out Jarlsberg over at www.jarlsberg.com.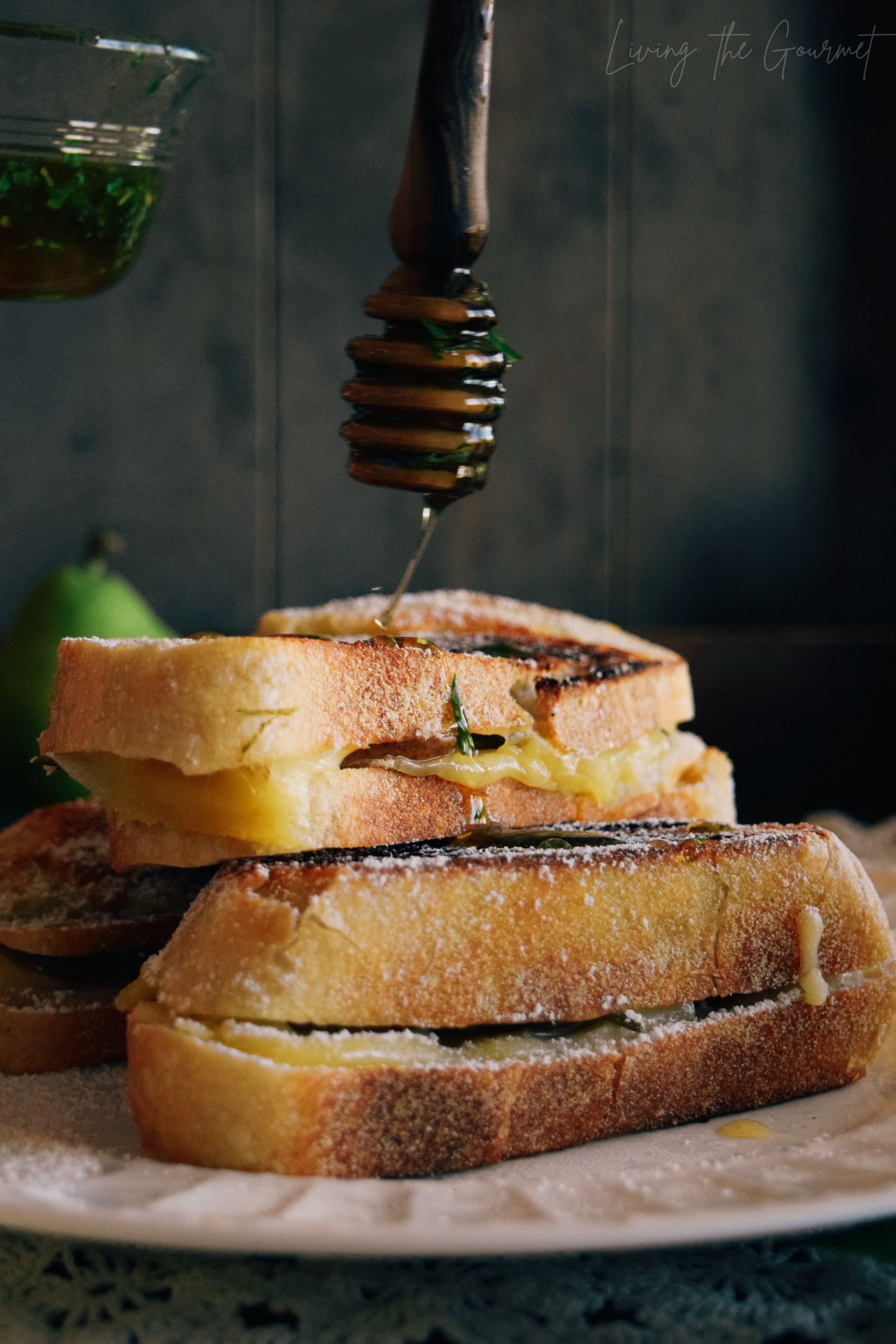 Picking Pears – A Brief Guide
Obviously, today's sandwich doesn't work without good quality pears. However, pears are notoriously difficult to 'get right.' Often times they are full of blemishes, or 'grow blemishes' if not eaten 'immediately upon arriving home.' Sometimes they are delectably sweet and tender, other times they lack their characteristic sweetness altogether, or have a 'tenderness' that's more akin to 'overripe mushiness.'
So, how do you get these guys 'just right?' Here are few quick pointers.
1) Stemless are a Nonstarter. You want pears with the team intact. Period. Since pears ripen from the inside out, if the stem has already fallen off on its own, the pear is already either overripe or about to be overripe. Conversely, if the bear has been jostled around enough to knock off the stem, then the pear is likely to develop some nasty bruises that will make for unsightly and unpleasant fruit.
2) The neck of the pear. Holding the base of the pear in your hand, gently press on the top of the slender portion of the pear with your thumb. If it feels like it wants to yield to the pressure, it is ripe.
3) The base of the pear. The belly of the pear should be firm to the touch. Once the base is soft, the pear is overripe.
4) Blemishes. Pears are 'very' susceptible to bruising and blemishes given their characteristic tenderness. Similarly soft or tender fruits tend to have thick skins to protect the underlying flesh – such as oranges and avocados, which protects their bruises. Not pears. So, when checking your pears, give them a quick glance to check for blemishes, also check for unnatural indentations, which are signs that the pear has been dropped or poorly handled, since those areas will form bruises or blemishes very quickly.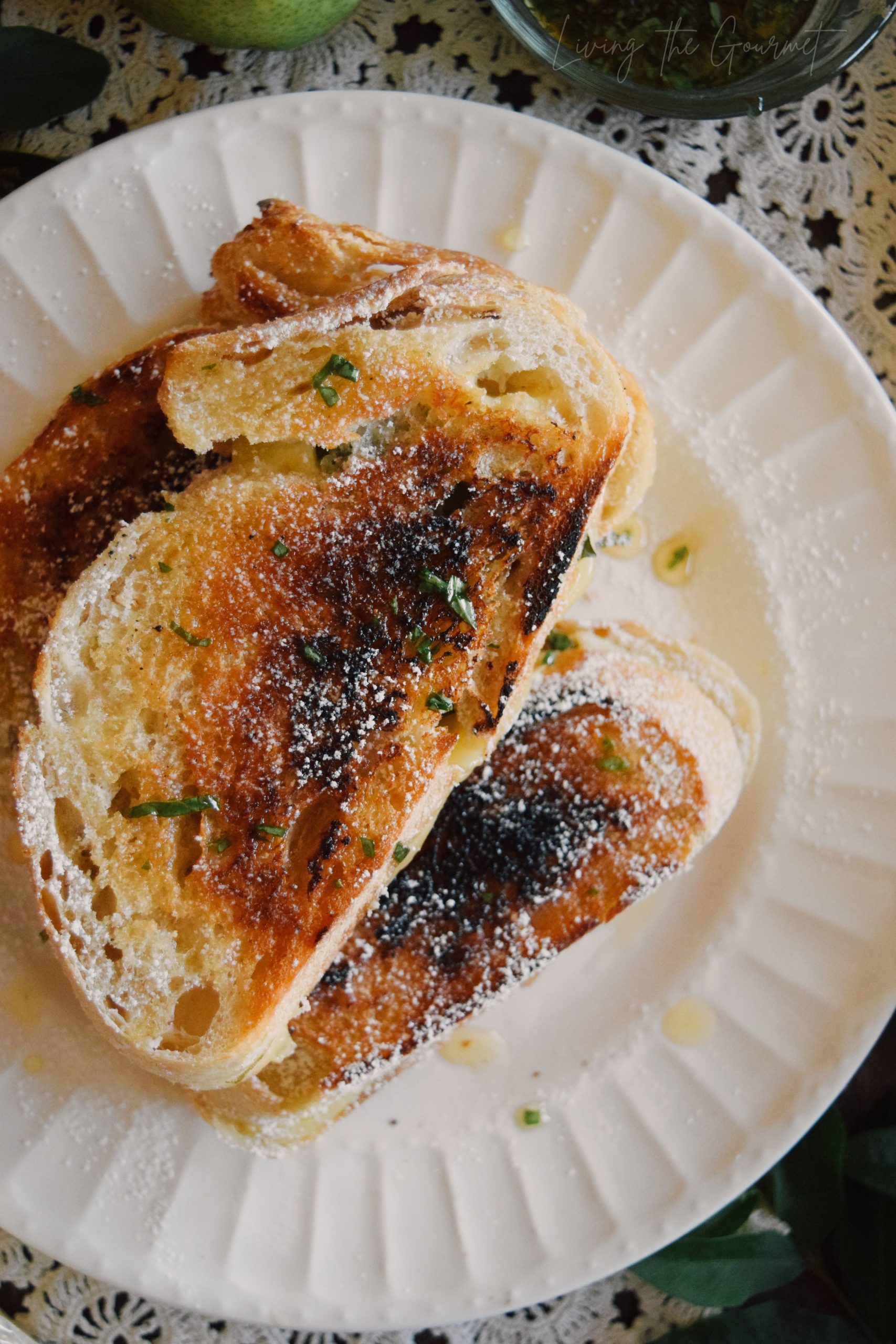 More from Our Collaboration with Jarlsberg Cheese
1) Rustic Pepper Grilled Cheese Toastie. A 'very' kicked up grilled cheese featuring grilled bell peppers prepared with Vidalia onions, jalapenos, and plenty of garlic, which we've layered onto ciabatta bread with Jarlsberg cheese, and then crisped to melted perfection in a cast iron pan.
2) Bacon and Onion Burger. Honestly, this is probably my favorite burger recipe ever, combining bacon, carmelized onions, and lots of melted cheese. Seriously, you need to try this.
3) Lasagna Rollups. A delightful pasta recipe the entire family will adore. This recipe features hardy lasagna noodles wrapped around a ricotta filling with a tomato and mushroom sauce, topped with melted Jarlsberg.
4) Pasta Bake. This was a big hit with my family. It combines baked pasta with layers of cheese, and a crisped crust. Seriously, this a recipe the entire family will enjoy, and can be made a few days ahead of time, and yes it reheats beautifully either in the oven or stove top.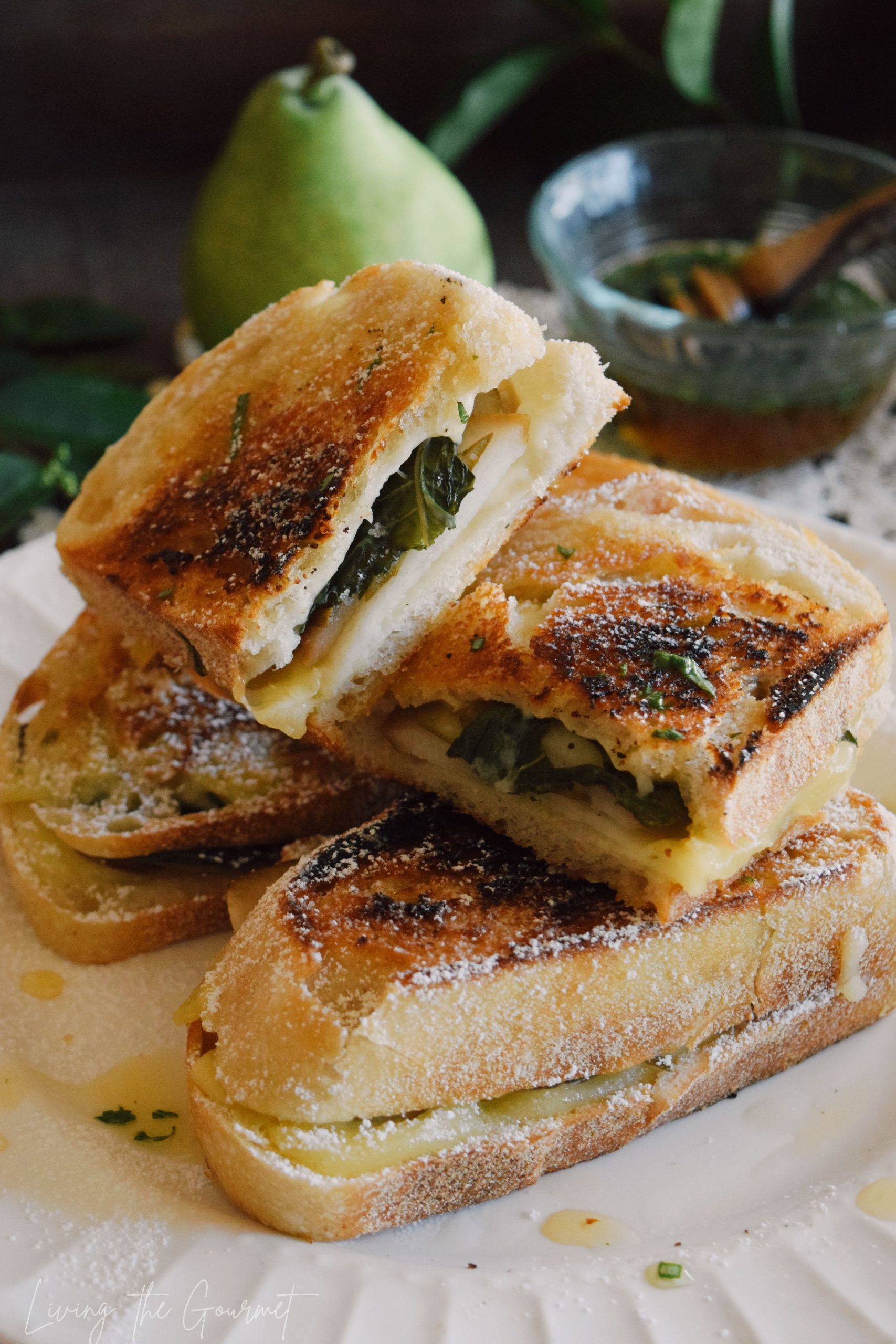 Print
Sweet Pear & Jarlsberg Toastie
Author:
Prep Time:

10 minutes

Cook Time:

15 minutes

Total Time:

25 minutes

Yield:

3

toasties

1

x
Sliced Jarlsberg Cheese (2-3 slices per serving)

1

D'Anjou Pear, sliced
Fresh Basil leaves (3 per serving)
Sourdough Bread, sliced
Butter, for cooking
Powdered sugar, for dusting
For Basil Honey Syrup:
1/2

cup

raw honey
Juice of

1/2

lemon

3

–

4

fresh basil leaves, finely chopped
Instructions
For the Grilled Cheese Toasties:
Heat a large cast iron frying pan.
Slice the bread about 1 inch in thickness.
Place 2 – 3 slices of cheese on each side of the bread.
Place a slice of pear on each side of the bread.
Place fresh basil leaves on each side of the bread.
Close the sandwich and butter on one side of the bread.
Place in the hot frying pan and gently place a smaller pan on top of the sandwich to gently press it down.
When a nice golden color is achieved carefully turn the sandwich over and butter the other side.
Place the pan on gently on the sandwich and let the sandwich get a beautiful golden color on the other side and the cheese nice a melted.
Remove from the pan and dust with powdered sugar.
For Basil Honey Syrup:
Combine the ingredients for the dipping syrup and serve with the sandwich.
Recipe Card powered by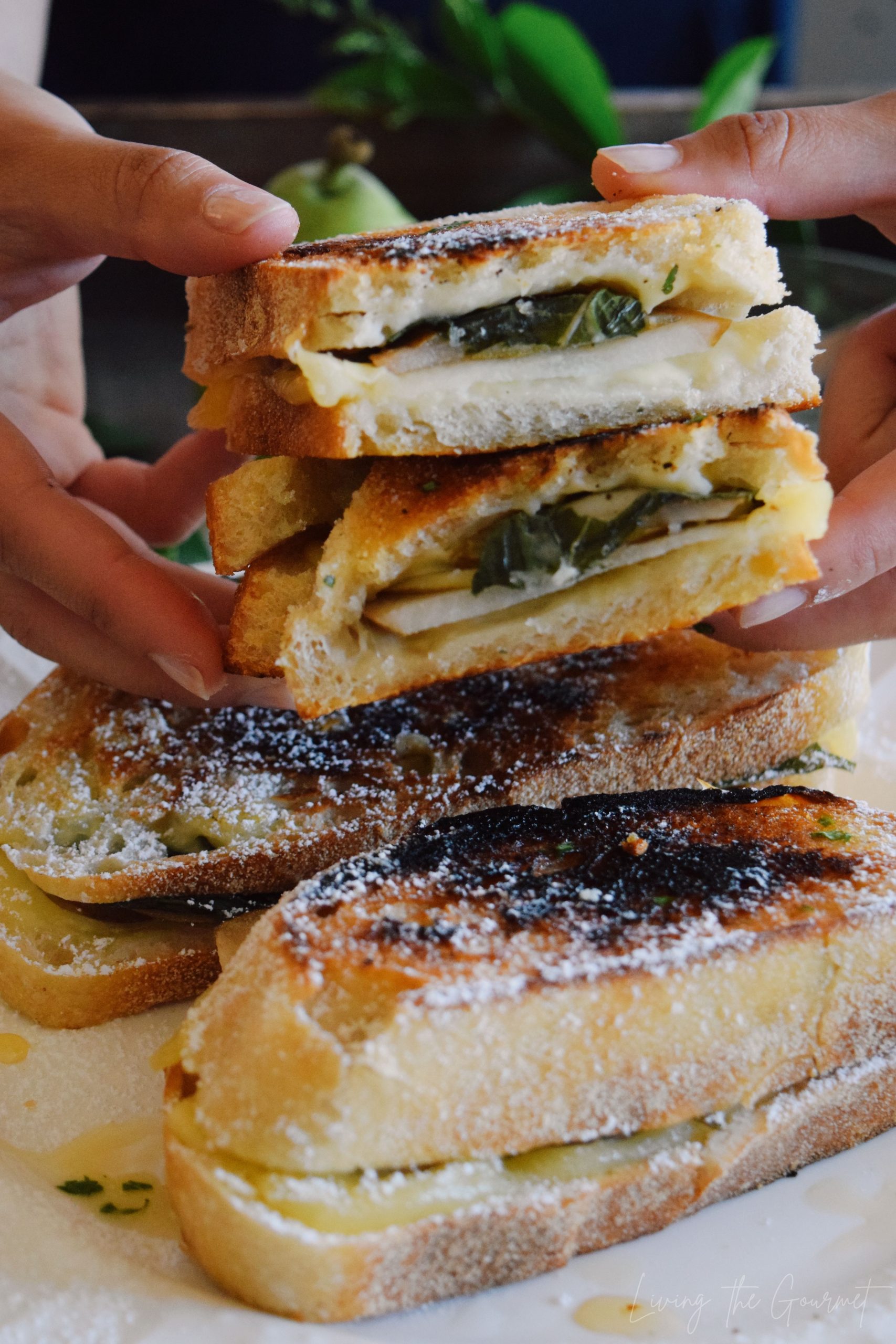 GIVEAWAY
We are very excited to offer one lucky LTG reader $32 worth of Jarlsberg Cheese! Head on over to our Facebook page for a chance to enter. All you have to do is like both Living the Gourmet and Jarlsberg on Facebook. Then comment back on our Facebook post to let us know you've entered! Good luck!
1