This post has been sponsored by Jarlsberg® Cheese. All opinions expressed are my own.
Today we're preparing a savory Jarlsberg Toastie – think a 'very' kicked up grilled cheese. Naturally, we'll be doing this with a little help from my longtime friends over at Jarlsberg; the makers of one my absolute favorite cheeses, but more on them and our exciting giveaway below.
Today's toastie features grilled bell peppers prepared with Vidalia onions, jalapenos, and plenty of garlic, which we've layered onto ciabatta bread with Jarlsberg cheese, and then crisped to melted perfection in a cast iron pan.
Now, enough talking, let's get cooking.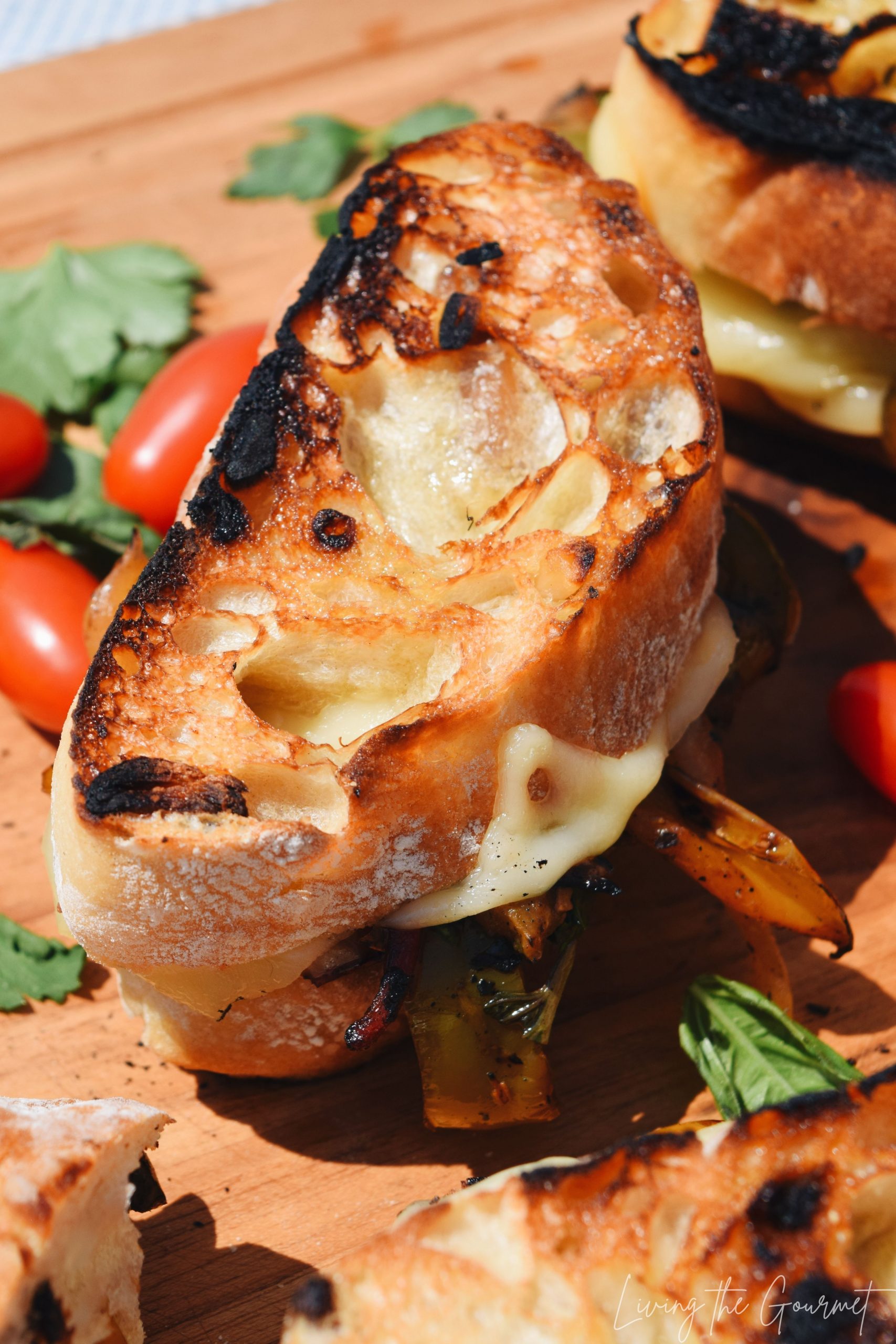 Why You'll Love Today's Toastie
1) The 'Simple Gourmet' Grilled Cheese. We've all seen 'gourmet' grilled cheeses online. We've 'also' all seen 'reinvented' back-to-basics grilled cheeses. I'm pretty sure I've posted a few of them myself. However, what we're doing today is taking more of the 'grilled cheese concept,' and ratcheting up the flavor factor, while leaving everything else intact. "Okay, but what does that actually mean?" you're likely asking. The grilled cheese is supposed to be 1) easy to prepare, 2) the melted cheese is supposed to be the main attraction, and 3) it needs to come packaged in toasted bread. Today's sandwich fulfills all of these requirements, but with the added 'flare' of grilled peppers that couldn't possibly be easier to put together.
2) The Peppers. Honestly, the grilled peppers are just great on their own. Fold them into a wheat tortilla, or toss with pasta, and you'll see exactly what I mean. They are also great on steak, grilled pork, folded into eggs as an omelet, or with rice. You get the picture by now.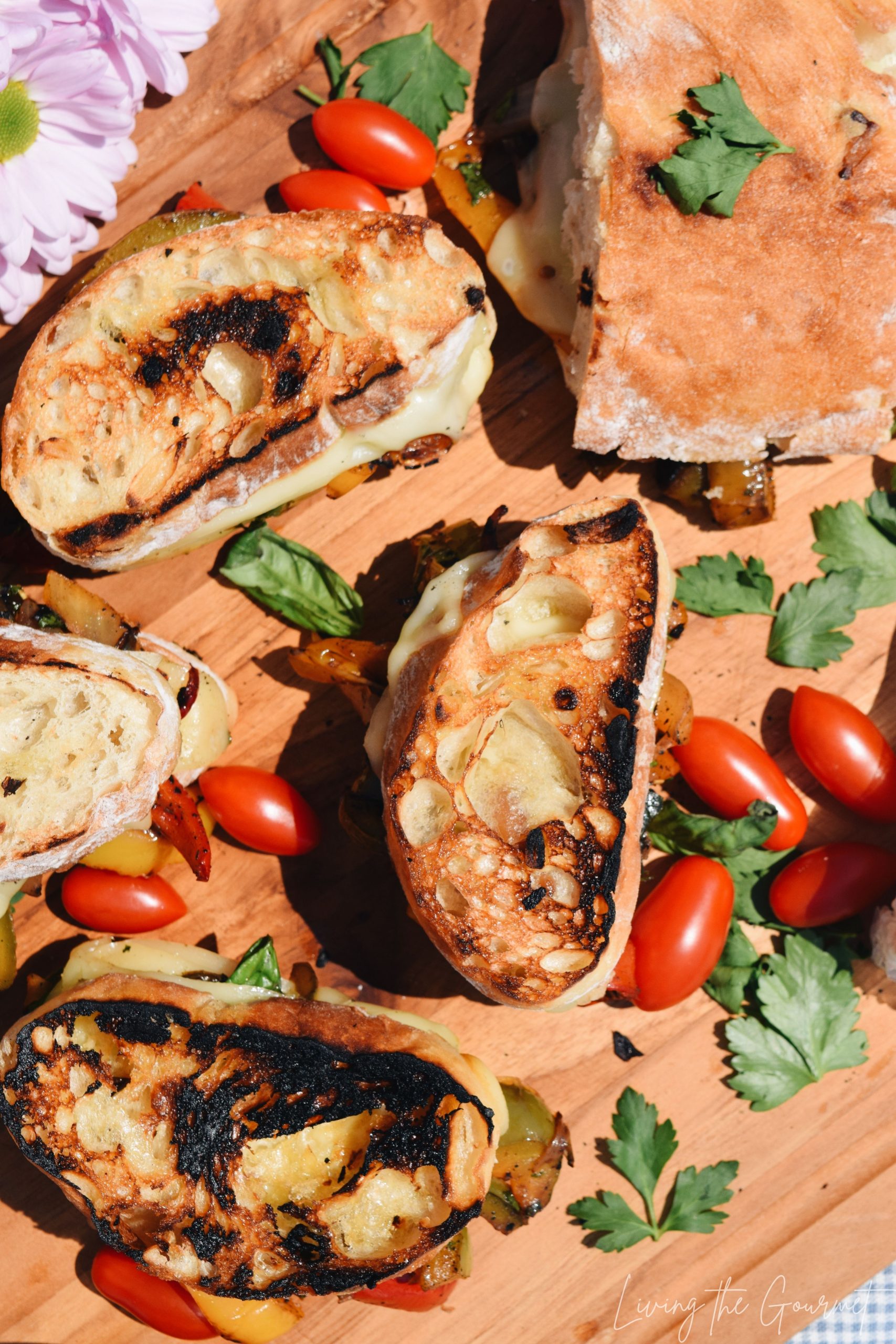 Ingredient Notes, Tips, and Substitutions
1) The onions – Are Vidalias a must? Yes and no. Any particularly 'sweet' onion will do today's job just fine. However, Vidalia Onions are 'especially' sweet, such that you can bite into them like an apple and have a pleasant experience (yes I have, and I regret nothing). That said, let's do a quick rundown of the different onions for a brief comparison. Yellow onions are basically the workhorse of the onion family, well suited both to raw and cooked recipes alike. They lack the 'pungency' of other onions, while featuring a balanced astringency. This makes them ideal for almost any cooked recipe that calls for onions, especially sauces and soups, since they become sweeter the longer they cook. Spanish Onions are a type of yellow onion, but are somewhat sweeter, and pack less of a 'bite.' By contrast, Red Onions are the go-to onion for 'uncooked' recipes, being sweet, crisp, just a touch pungent, while wearing a beautiful shade of 'vegetable red.' This is why they often feature prominently in things like Greek and Sicilian salads, fresh salsas, and the like. Then we have Sweet Onions, which completely forgo 'oniony bite' and astringency in favor of 'actual' sweetness. Since these onions are so delicious raw, you'll typically find them in things like garden salads, sandwiches, raw salsas, and uncooked relishes. However, this sweetness comes at the price of perishability, meaning Sweet Onions tend to sour a bit more rapidly than their non-sweet counterparts.
Substitution: Given the above, Sweet Onions can stand in for the Vidalia's in today's recipe. However, if yellow onions are all you have, the peppers will still turn out just fine – it'll just be a bit short on sweetness.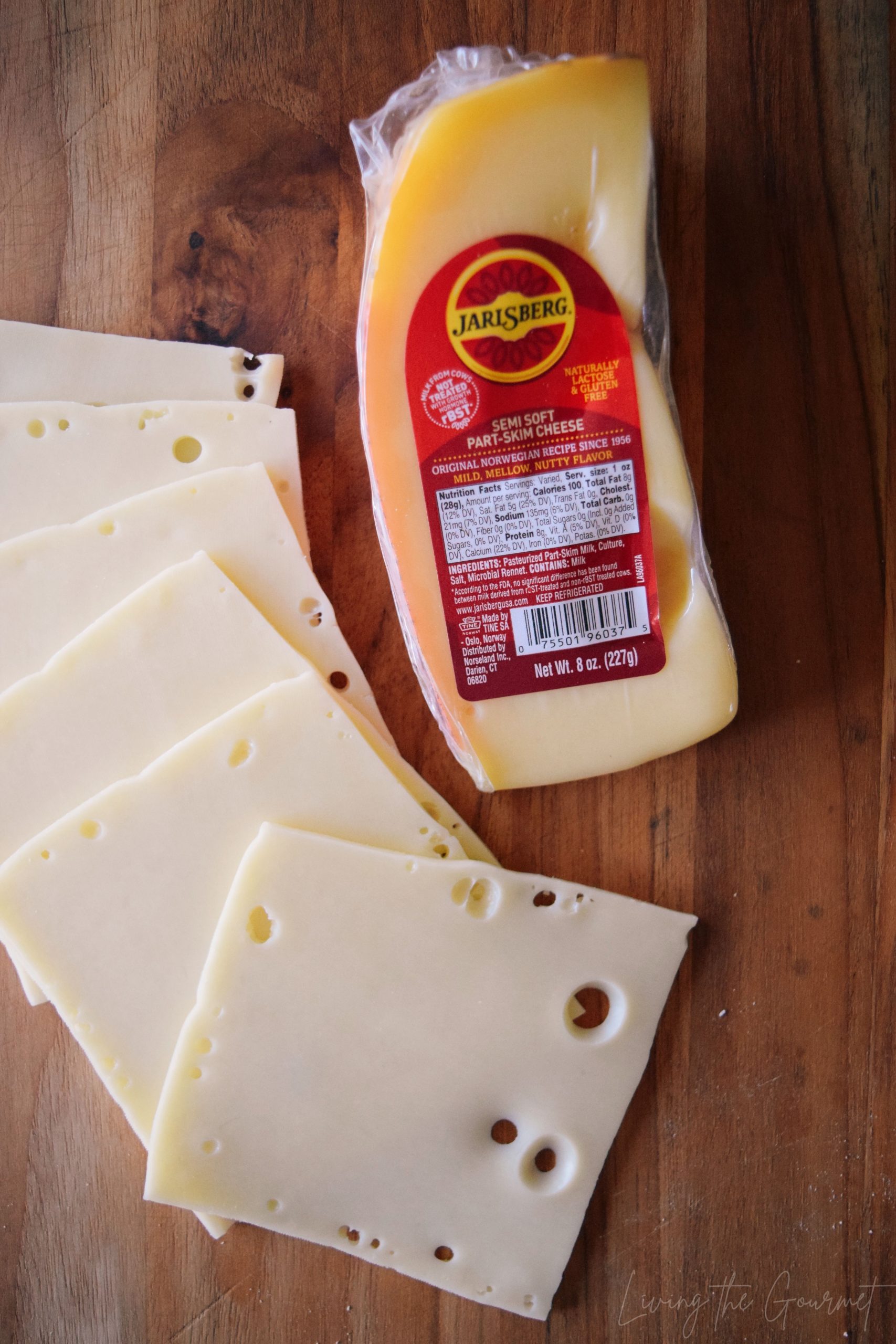 2) The Jarlsberg Cheese – The Star of Today's Show. For today's recipe you'll want a cheese that, while meltable, remains somewhat firm after melting so that it can act to – quite literally – hold the peppers in place. You also want a cheese that's more or less mild in flavor, since you wouldn't want an overly sharp or pungent cheese either overpowering or taking away from the peppers. That wouldn't be fun. That's where Jarlsberg comes in. Featuring mild 'earthy' tones, and a vaguely 'nutty' flavor, this cheese just really shines on today's sandwich. To that point, Jarlsberg is, in my mind, at its best when being served as a sandwich cheese, especially in warmed sandwiches like today's, where its firm-melting qualities are on full display, and its mild-yet-distinct flavors are just pitch perfect. Beyond that, Jarslberg is also a fantastic 'all purpose' cheese to keep on hand, being a delicious addition to cheeseboards, or for recipe's like my Pasta Bake or Cranberry Phyllo Cups. For more info, or to order some cheese for yourself, check out Jarlsberg over at www.jarlsberg.com.
3) The Jalapenos. In terms of sheer sales numbers, these are far and away the favorite chili of the US and Mexico, where it isn't uncommon for these little green guys to be eaten as snack food. However, these aren't adding 'that' much spice to today's relish, more just a 'kick,' since these only clock in at a 'middling' 2,500 to 10,000 units on the Scoville heat scale. By contrast, cayenne rates between 25,000 and 50,000 on that same heat scale. So, if you want to ratchet up the heat a bit, I'd suggest adding in another jalapeno, or perhaps just a few pinches of red pepper.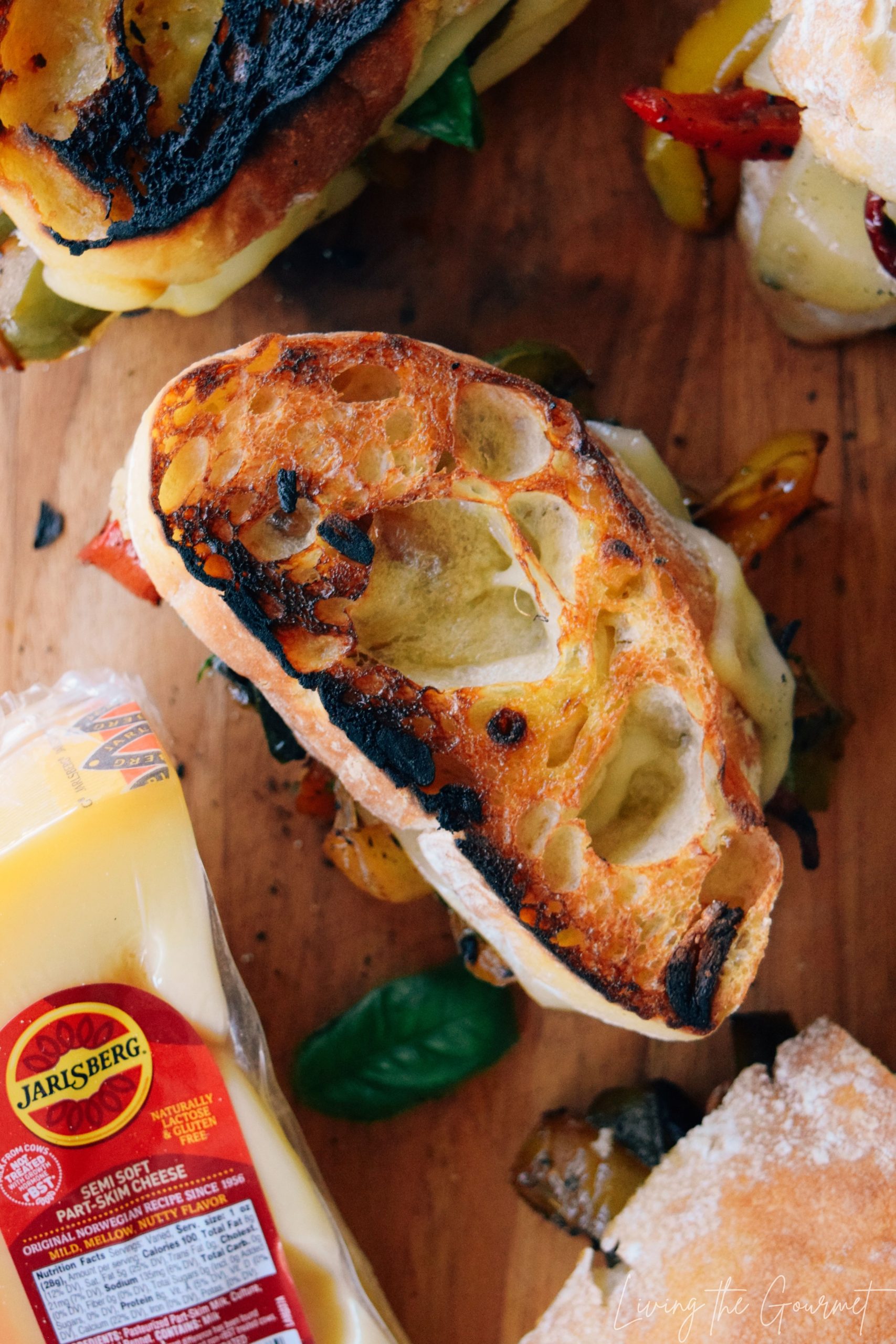 More from Our Collaboration with Jarlsberg Cheese
1) Marinated Cheeseboard. This is a great antipasto spread for the holiday season, combining marinated cheese, roasted almonds, assorted olives, and shrimp prepared with fresh lemon juice, capers, red pepper, and olive oil.
2) Bacon and Onion Burger. Honestly, this is probably my favorite burger recipe ever, combining bacon, carmelized onions, and lots of melted cheese. Seriously, you need to try this.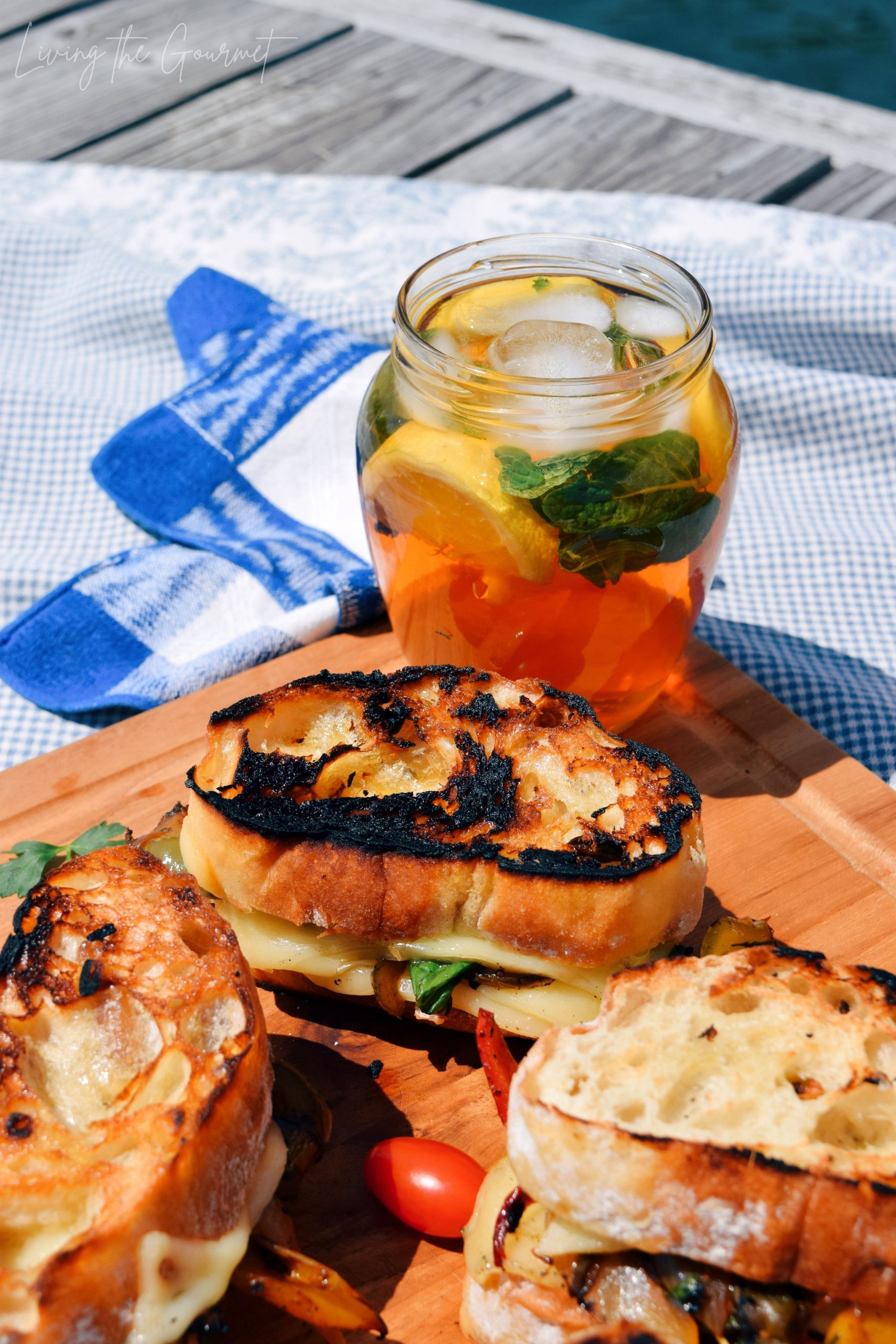 3) Lasagna Rollups. A delightful pasta recipe the entire family will adore. This recipe features hardy lasagna noodles wrapped around a ricotta filling with a tomato and mushroom sauce, topped with melted Jarlsberg.
4) Pasta Bake. This was a big hit with my family. It combines baked pasta with layers of cheese, and a crisped crust. Seriously, this a recipe the entire family will enjoy, and can be made a few days ahead of time, and yes it reheats beautifully either in the oven or stove top.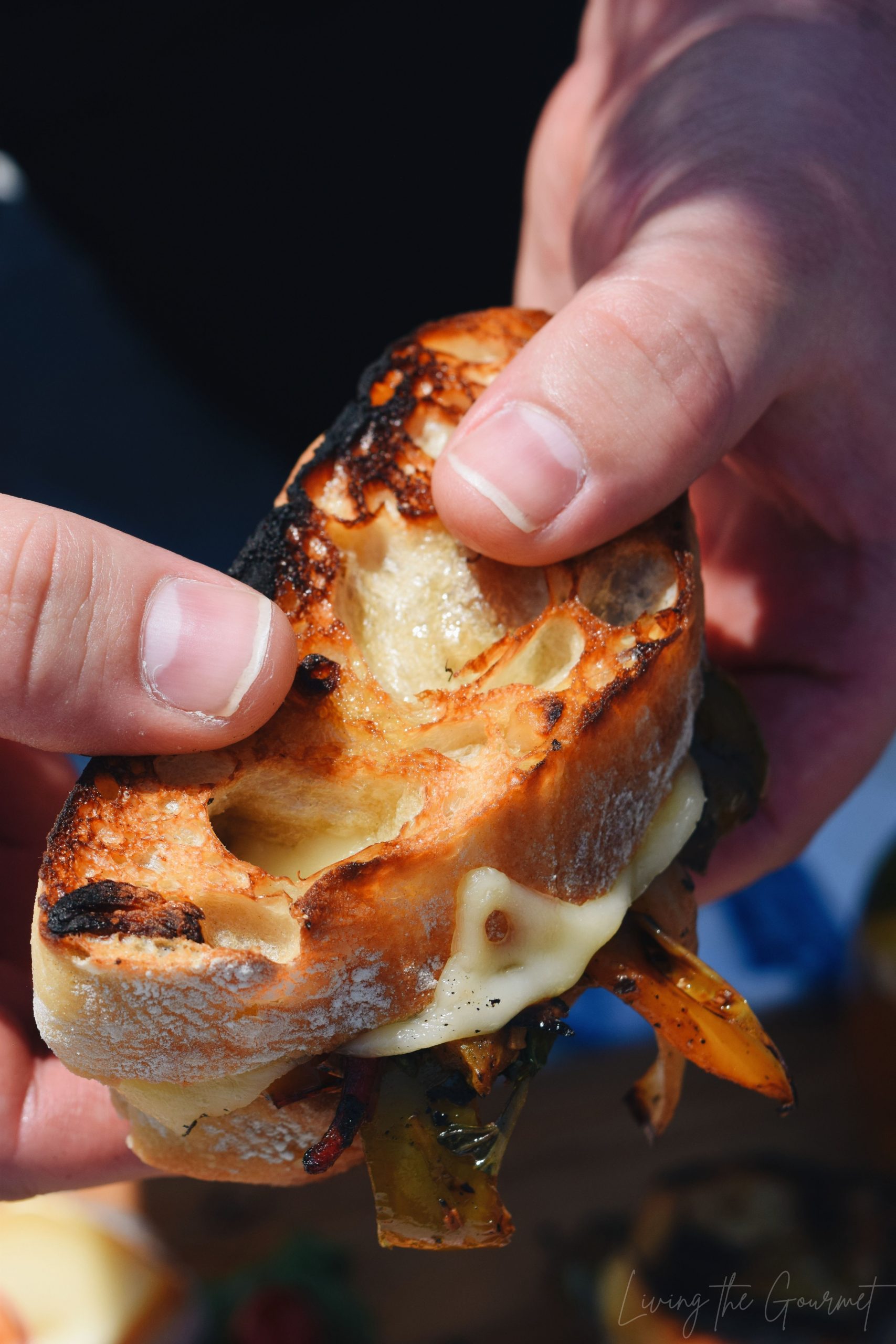 Print
Rustic Pepper & Grilled Cheese Toasties
---
Author:

Total Time:

25 minutes

Yield:

4 Grilled Cheese Sandwiches
2 green bell peppers, sliced
1 red bell pepper, sliced
1 yellow bell pepper, sliced
4 - 5 jalapenos, sliced with or without seeds
5 - 6 cloves of garlic, chopped
3/4 - 1 cup of fresh herbs (such as Italian parsley, cilantro and fresh basil), stems removed and roughly chopped
Fresh ground black pepper
1 tbs. apple cider vinegar
---
Instructions
Heat a large cast iron frying pan; two if you have two to spread the peppers out in a single layer.
Place the peppers in a dry pan and sprinkle with the sugar, sea salt and fresh ground black pepper.
Let the peppers get a nice char.
Add the chopped garlic and the sliced onion.
Allow the onion to soften and the garlic to get nice a fragrant.
When this is achieved remove and place in a bowl.
Add the olive oil and the vinegar and toss.
Taste for seasoning.  Re-salt if need be and add more fresh ground black pepper.
Refrigerate until ready to serve.
Assembly:
Heat a large cast iron frying pan and brush with olive oil.
Brush the outside of the sliced bread with olive oil also.
Place 3 – 4 slices of cheese divided between the two slices of bread.
Top the cheese with the grilled peppers and close the sandwich.
Cover and grill until the cheese melts and the bread is a beautifully golden.
Prep Time:

15 minutes

Cook Time:

10 minutes
Keywords: grilled cheese, toasties, jarlsberg cheese, grilled peppers
Recipe Card powered by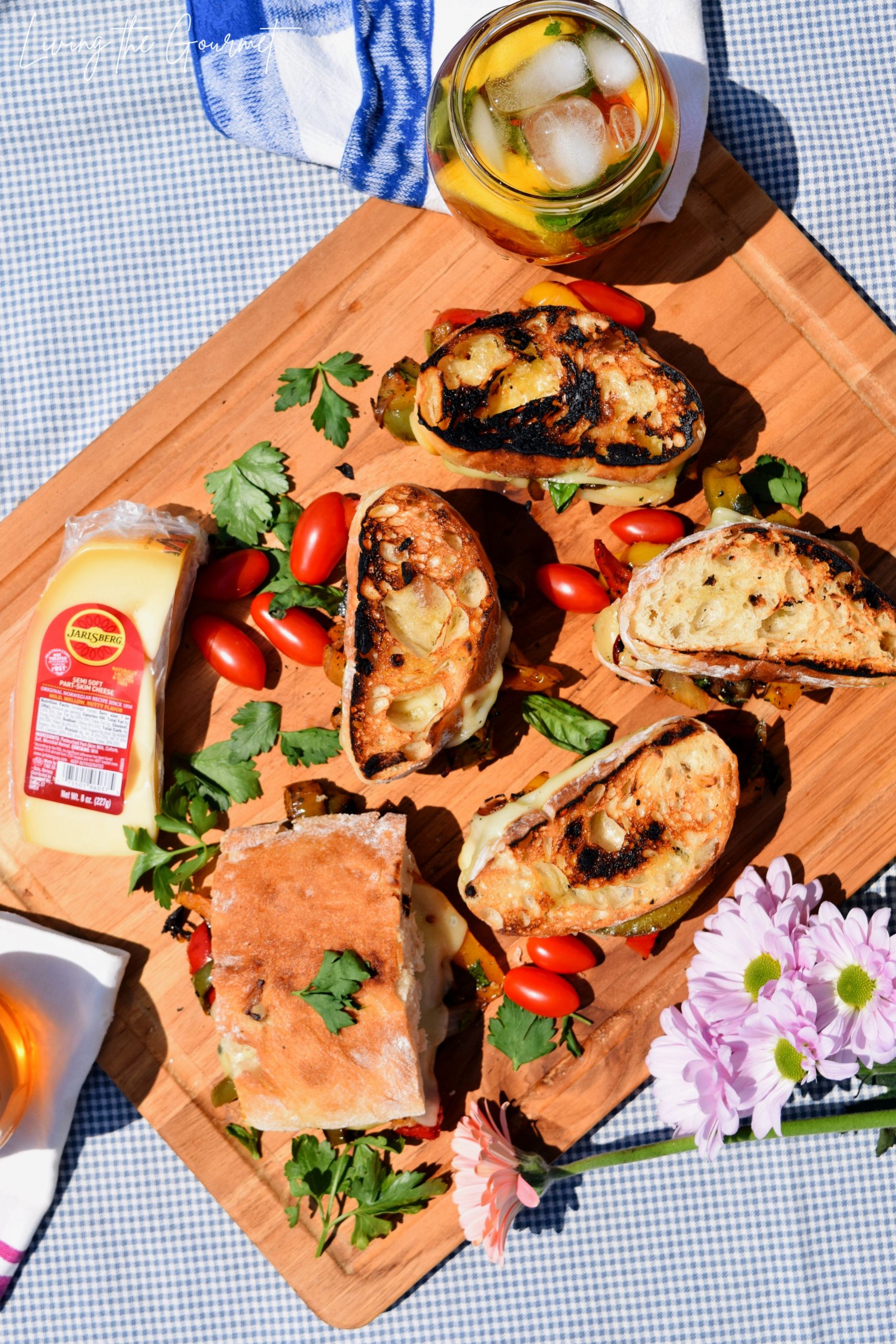 GIVEAWAY
We are very excited to offer one lucky LTG reader $32 worth of Jarlsberg Cheese! Head on over to our Facebook page for a chance to enter. All you have to do is like both Living the Gourmet and Jarlsberg on Facebook. Then comment back on our Facebook post to let us know you've entered! Good luck!
0