This post has been sponsored by Jarlsberg® Cheese. All opinions expressed are my own.
Sliced Jarlsberg Cheese, crisp bacon, and sauteed onions bring this juicy burger to life for the ultimate end of season dish.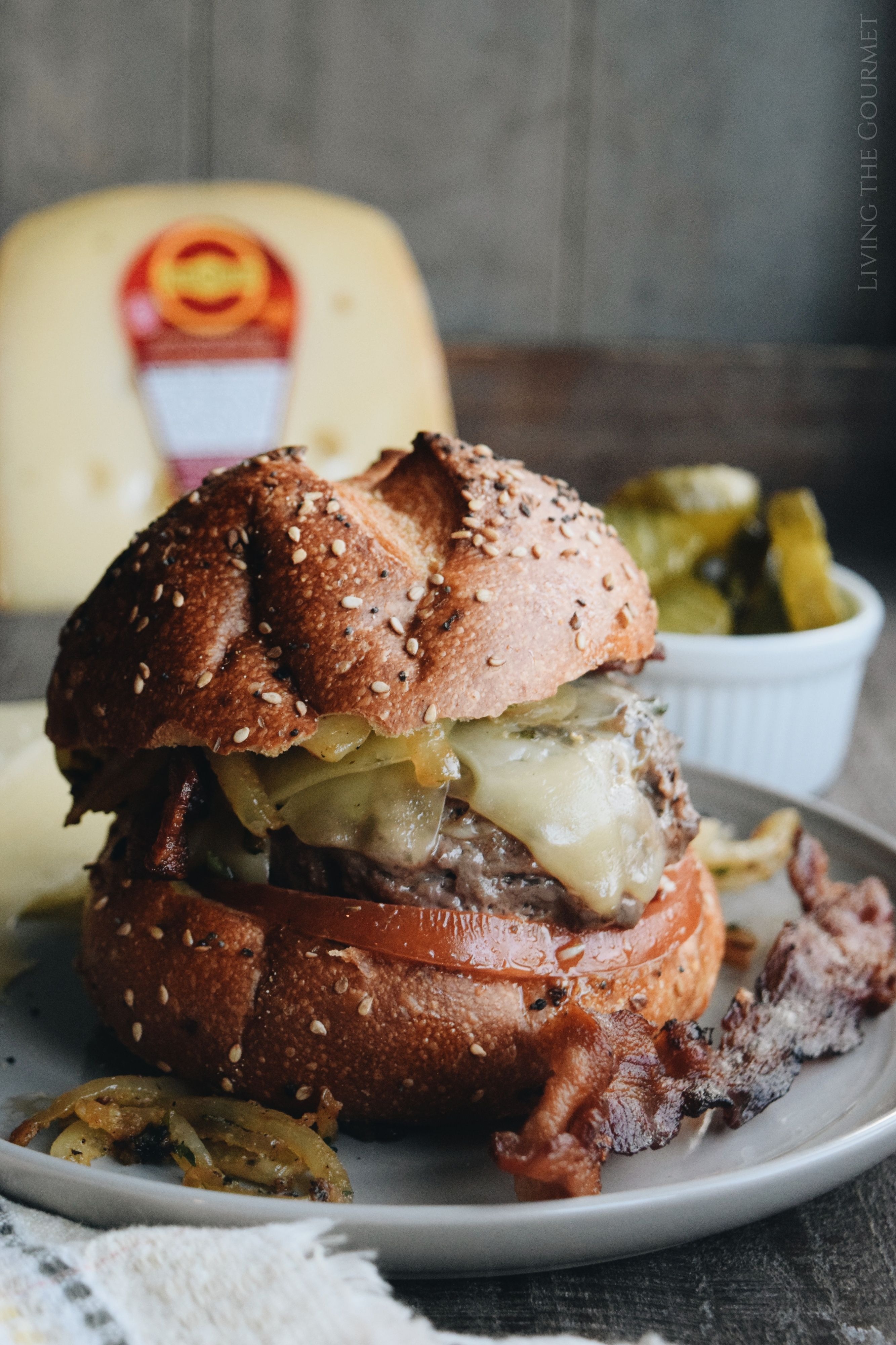 One of my favorite indulgences is a hardy hamburger that doesn't skimp on anything. You know the kind I'm talking about, the kind that seemingly only exists on the pages of decadent-themed magazines, or "Diamond-In-The-Rough Finder" type food programs where delicious meals are plucked from the imaginations of obscure gourmets. I'm talking about burgers piled with layers of flavor, layers of texture, sandwiched inside of a hardy bun.
Today, we're putting together precisely that kind of burger with a little help from our friends over at Jarlsberg Cheese – more on them later.
Now, let's get to it.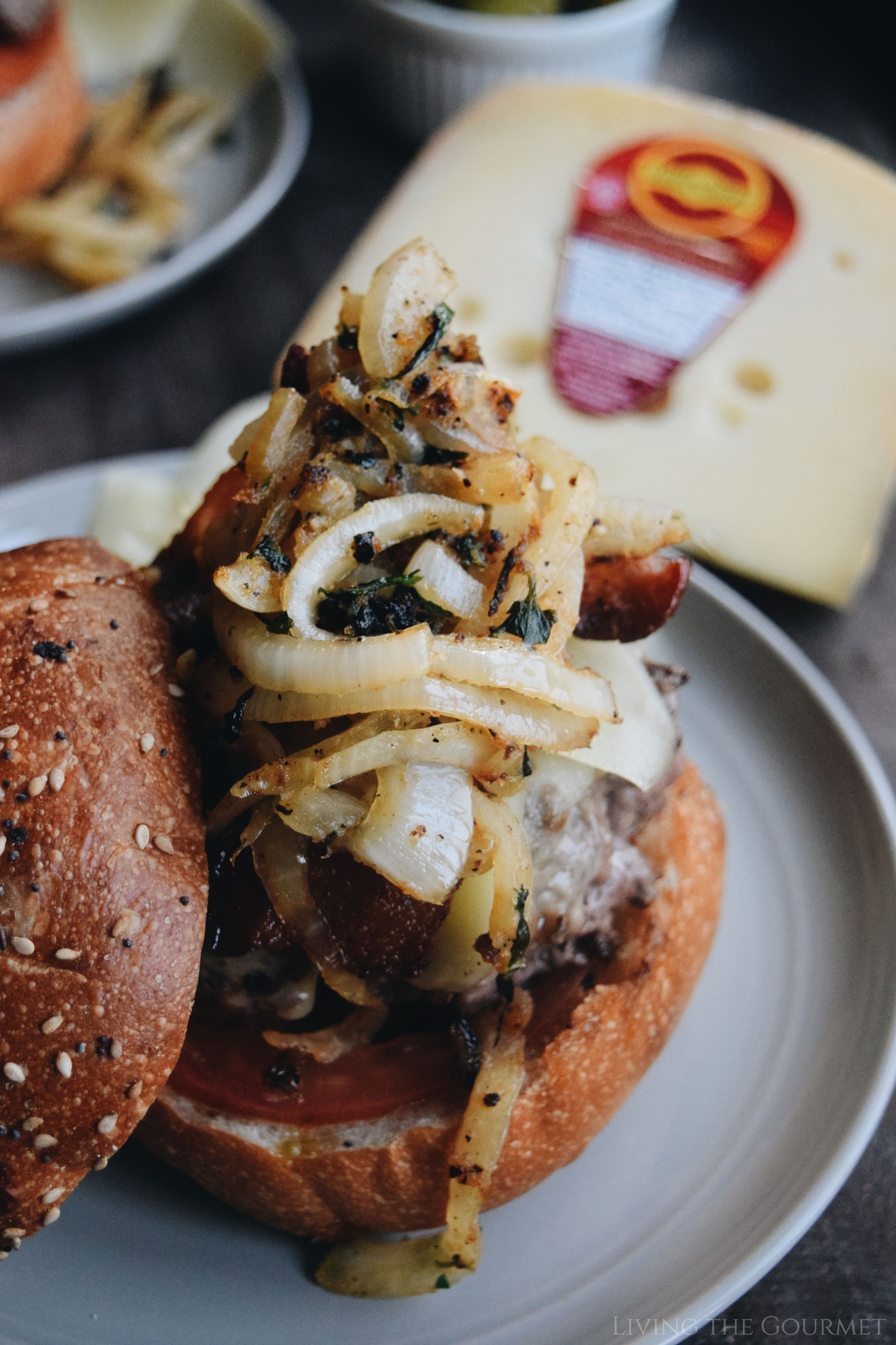 Burger By Numbers – The Sum Of Its Parts
The secret to a truly good, truly decadent burger is that it is wholly the sum of its parts. A simple beef patty sandwiched inside of a bun with a slice of cheese is…well, a beef and cheese sandwich. However, meld that beef patty with a few key layers of flavor, perfectly paired sides, and that's when the magic really starts to happen.
1) Artisan Sesame-Onion Roll. We're starting off with a bakery fresh onion and sesame artisan roll. This particular roll is quite sturdy, yet soft or 'malleable' to the touch. The key here is that you want a bun that that's going to maintain its form, and be able to stand up to the burger and its layers without becoming 'soggy.' The onion and sesame also add a nice touch of flavor on their own.
2) Marinated Tomato Slices. The first item we're layering onto the bun is a slice of beefsteak tomato, which we've marinated in olive oil with Italian-themed seasonings, including finely chopped garlic, fresh basil, dried oregano, sea salt, and freshly ground black pepper. The idea here is to begin with a moist base for the burger that will exude a medley of flavors. This is a giant step up from a plain tomato slice, trust me when I say it's worth the extra effort.
3) 'Plain' Ground Beef Burger. I'm not one of those 'gourmets' who likes to more or less turn their burger into a disk-shaped meatball. Instead, I start with a decent quality ground beef, which I then give a nice char to, and let that stand on its own, and I instead 'surround' or 'envelop' it with flavors and textures that bring the hamburger as a whole together.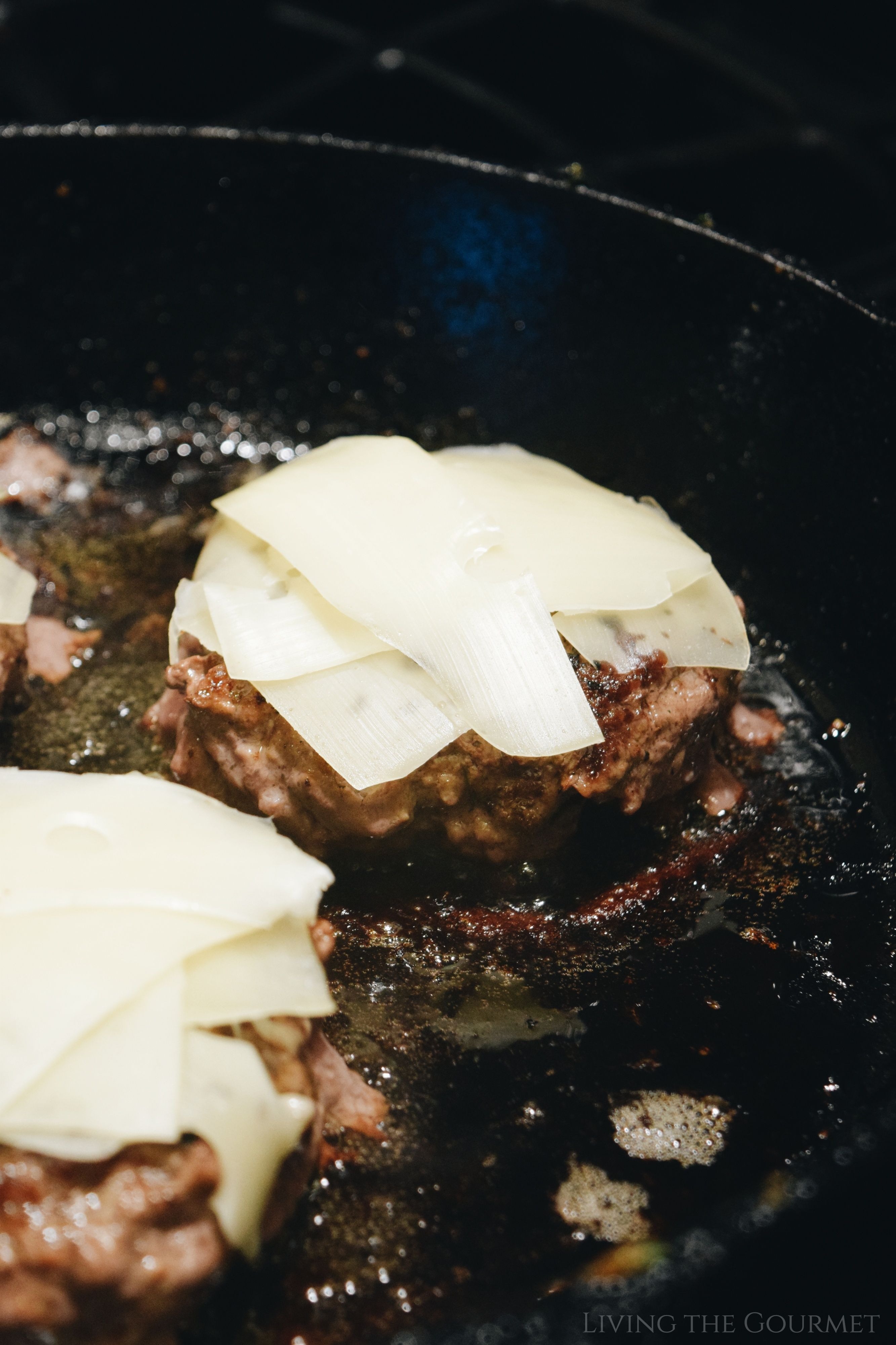 4) Jarlsberg® Cheese. A truly good burger requires truly good cheese. Jarlsberg is a mild, semi-soft cow's milk cheese with a somewhat sweet and nutty flavor. While this cheese can certainly be used as a staple for sandwiches, sliced into salads, or served as part of a cheese platter, it's also great for light melting as you can see here today, where it adds its characteristic mild-sweet flavors to today's burger. For more info, or to order some cheese for yourself, check them out over at www.jarlsberg.com.
5) Marinated Onions with Breadcrumbs. Finally, we top the burger with onions sautéed with seasoned breadcrumbs and a host of Italian-themed seasonings, such as Italian parsley, sea salt, and paprika. As the end note of the burger, these truly help elevate the burger to be something special.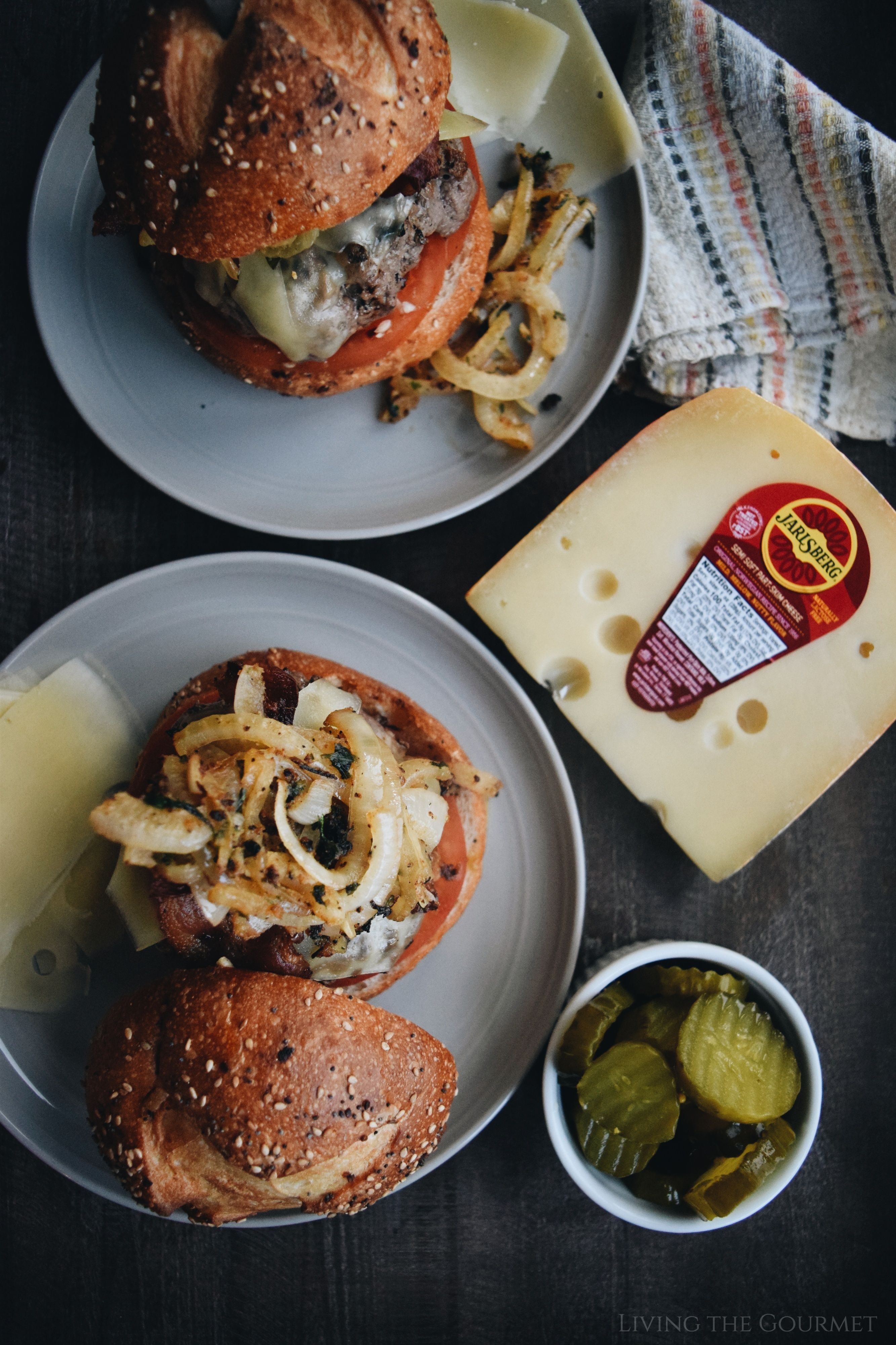 Prep Tips
1) The Burger Itself. As mentioned above, the burger is left to stand on its own. We're not seasoning the meat, and you shouldn't have to either provided you use a decent quality beef. One thing to keep mind is to 'not' overwork the meat. Form them into patties and that's it before giving them a nice char on the stove.
2) Selecting and Prepping the Tomatoes. You want nice, firm tomatoes, since you want them to be able to maintain a bit of their crispness through the marinating process. We're using beefsteak tomatoes, since we want a hardy variety of tomato for today's burger.
3) Slicing Cheese – A Hack. One of my favorite kitchen hacks is the super-simple idea of using a carrot-peeler to slice cheese into thin strips. Just apply the peeler to the cheese with a decent amount of pressure, and peel away.
4) The Buns Matter. One of the biggest misconceptions regarding truly good burgers is that the bun is of secondary concern. Not true. The bun is the item holding the hamburger together, it's also the very first thing you taste, and it's also the item that decides whether or not your nice hardy burger is going to become a 'mess' or not. The bun matters.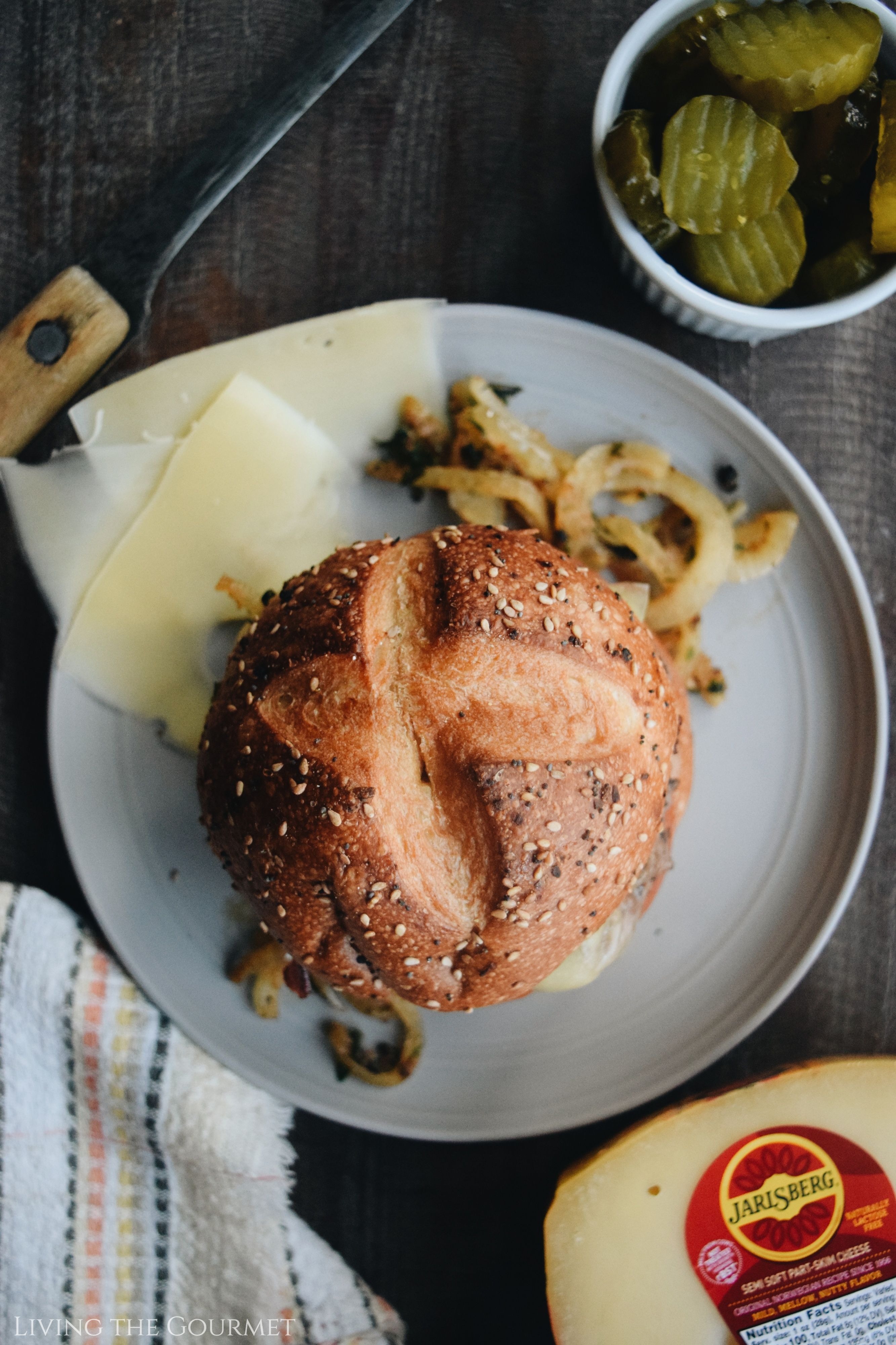 Great Burger Sides and Ends.
Here are a few suggestions for what to pair alongside today's burger, along with a dessert suggestion.
1) Potato Salad. Perhaps the most obvious side for today's burger, there are a few different ways you could take this, given the complex and layered nature of the burger's flavor profile. You could go with a traditional creamy potato salad, or you could be a bit more subdued with an Italian style potato salad. Finally, you could be 'gourmet' or 'trendy' with a pickled ginger and sweet potato salad. Personally, I would go for the last salad on that list, but that's a matter of preference.
2) Eggplant Salad. Hear me out on this. Most of the flavors in today's burger trend Italian/Mediterranean, as a result, the flavors in a light, fresh eggplant salad, such as this one, would pair perfectly with today's burger, and provide a bit of contrast in the process.
3) Ice Cream. Personally, the best end note to today's burger would probably be delicious homemade ice cream – preferably no churn to save time and effort. Grab my recipe for no churn vanilla ice cream.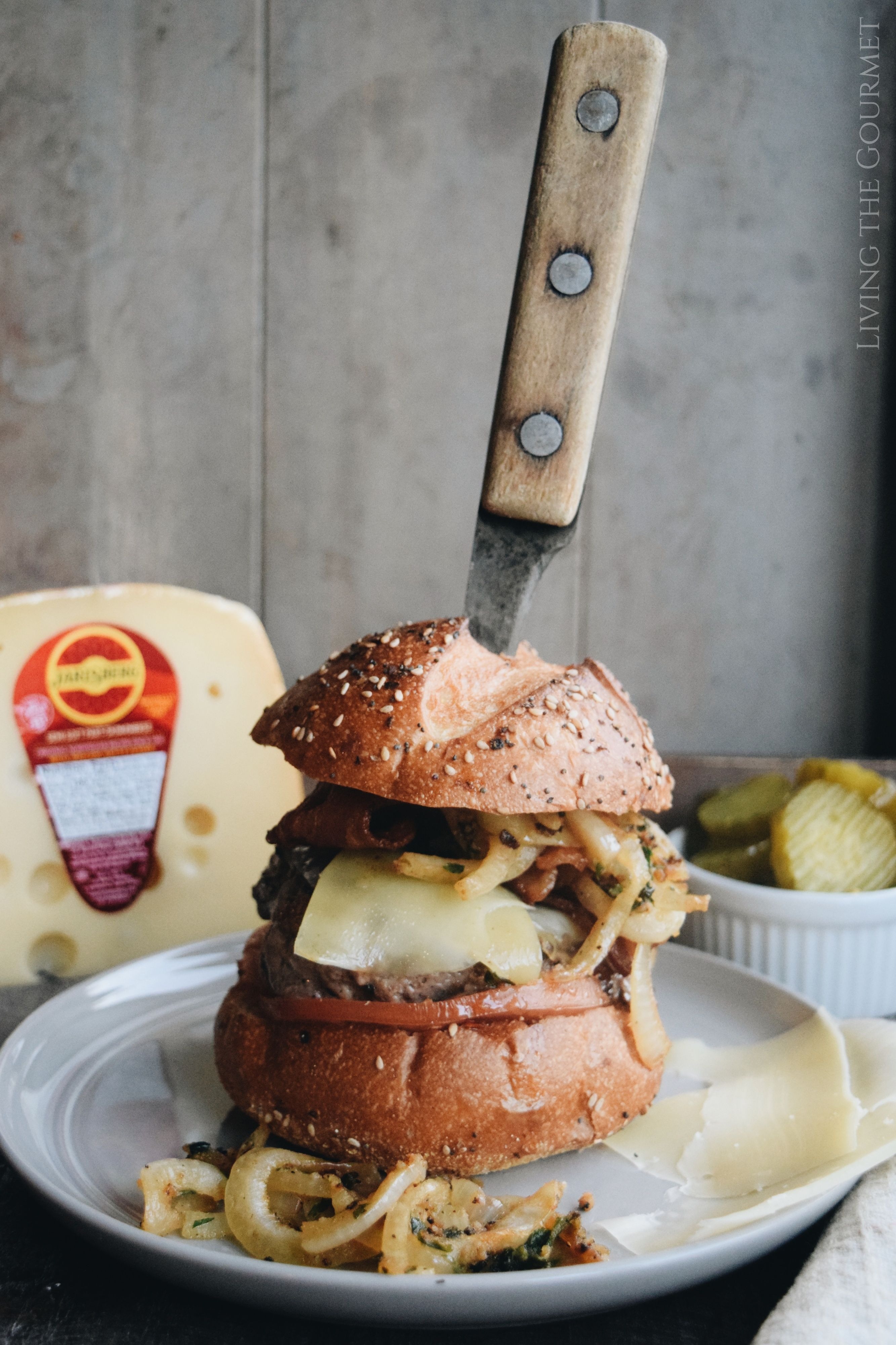 Print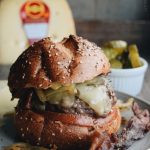 Jarlsberg Cheese, Bacon, & Onion Burger
---
Author:

Total Time:

25 minutes

Yield:

4

burgers

1

x
For the Burgers:
1 1/2

lbs. ground beef
Italian style marinated tomatoes
Sautéed onions with breadcrumbs
Jarlsberg cheese - sliced very thin
Your favorite artisan rolls - split and toasted if desired
For the Marinated Tomatoes:
2

large beefsteak tomatoes - sliced 1/4-inch thick

3

-

4

cloves of garlic - chopped fine

6

-

8

fresh basil leaves - ripped

1 tsp

. dried oregano

1/2 tsp

. sea salt

1/2 tsp

. fresh ground black pepper

3

-

4

tbs. olive oil
For the Sautéed Onions:
2

large sweet onions

1 tsp

. sugar

1/2 tsp

. paprika

1/2 tsp

. sea salt

1/2 tsp

. fresh ground black pepper

1/4 tsp

. red pepper flakes

2

tbs. Italian style bread crumbs

1

bunch of Italian parsley - stems removed and chopped
---
Instructions
For the Burgers:
Form the ground beef into about ¾ inch size burgers with a slight thumb indentation in the center.
Heat a large cast iron frying pan with a tablespoon of olive oil and place the burgers in the heated pan.
Cook the burgers about 3 minutes on one side to form a nice char and flip over and top with cheese slices, to cook about another 3 – 4 minutes of the other side and a nice char is formed.
This cooking time will achieve a medium rare burger. Cook longer if you desire a more well done burger.
For the Marinated Tomatoes:
Slice the tomatoes and place in a bowl. Add the chopped garlic, fresh basil leaves, seasonings and olive oil. Gently toss and place in the refrigerator until ready to use
For the Sautéed Onions:
Place the sliced onions in a large bowl. Add the seasonings, chopped parsley and olive oil and toss.
Heat a large cast iron frying pan and place the seasoned onions in the pan. Sprinkle with approximately half the bread crumbs and sauté until a slight crisp is achieved and set aside. Continue this process until all of the onions are sautéed.
Assembly:
Place the toasted bun on a plate and place one to two slices of the marinated tomato followed by the burger and finally the sautéed onions.
Serve with your favorite condiments such as; ketchup, mustard, mayonnaise, pickles etc.
Prep Time:

10 minutes

Cook Time:

15 minutes
Recipe Card powered by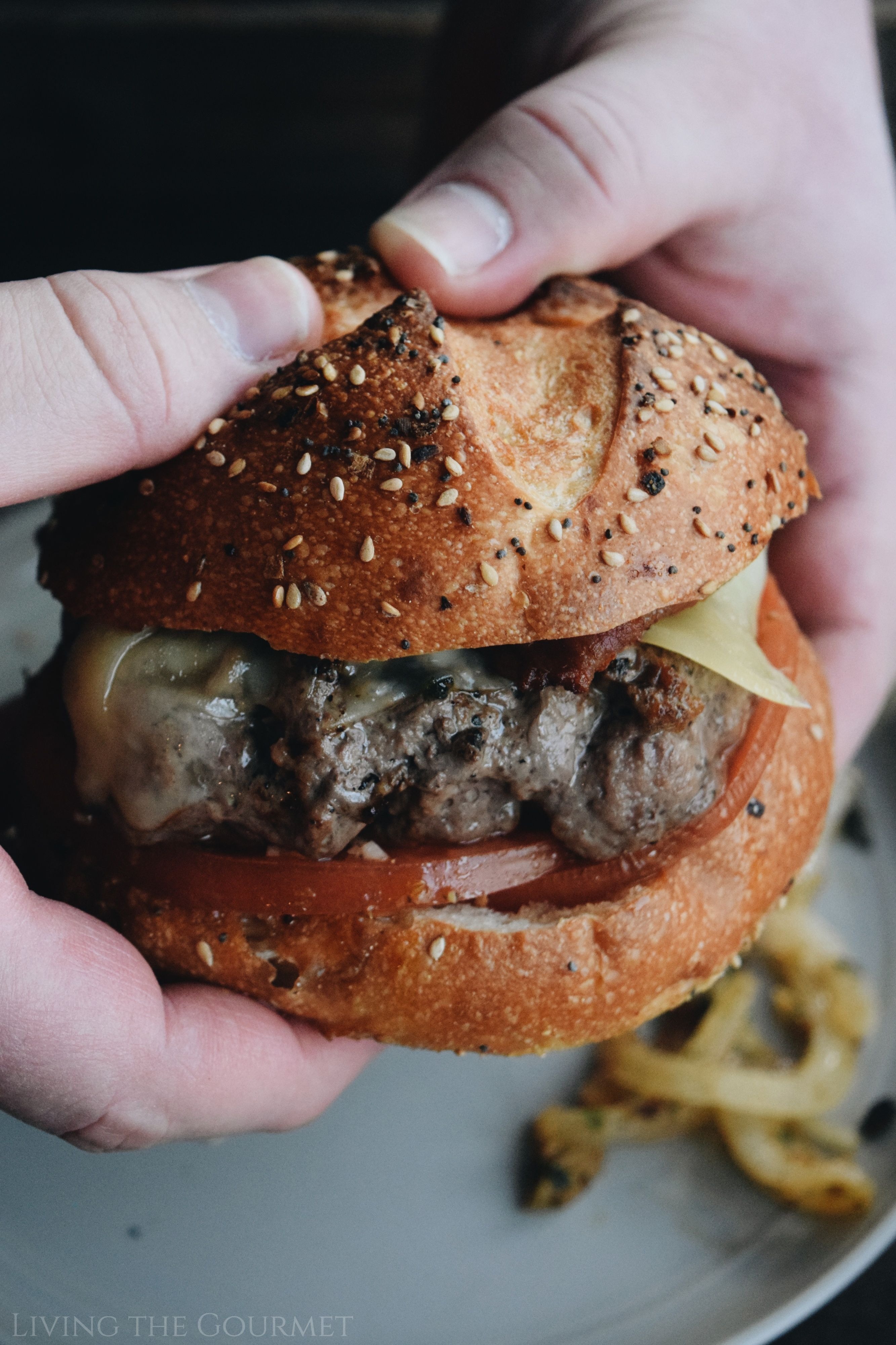 If You Enjoyed Today's Recipe…
Be sure to follow us on Instagram to stay up to date with all things Living the Gourmet, and for more great recipes, tips and tricks. Be sure to connect with Jarlsberg® too and check them out on Youtube. Don't for get to enter the great Burger Giveaway for a chance to win exclusive Jarlsberg® Apron and Tongs every week! he grand prize is a Gourmet Grill, so that winners can re-create their favorite Jarlsberg® burgers. Psst...you can triple your chance to win by sharing your Jarlsberg® burger at #Jarlsbergburger on Instagram!
Did you make this recipe?
If so, let me know in the comments down below, or post a picture to Instagram, or to Pinterest, and I'll give you a shoutout on Instagram, or post your pin to one of my Pinterest boards!
0