This post has been sponsored by Jarlsberg® Cheese. All opinions expressed are my own.
Today we're simplifying Thanksgiving down to some of its core flavors, and then combining those flavors into adorable little appetizer phyllo cups. Think tart fresh cranberry sauce, candied nuts, melted mild Jarlsberg® Cheese, and phyllo dough crisped to golden perfection. These are a great addition to any appetizer spread, or as a side to the main course.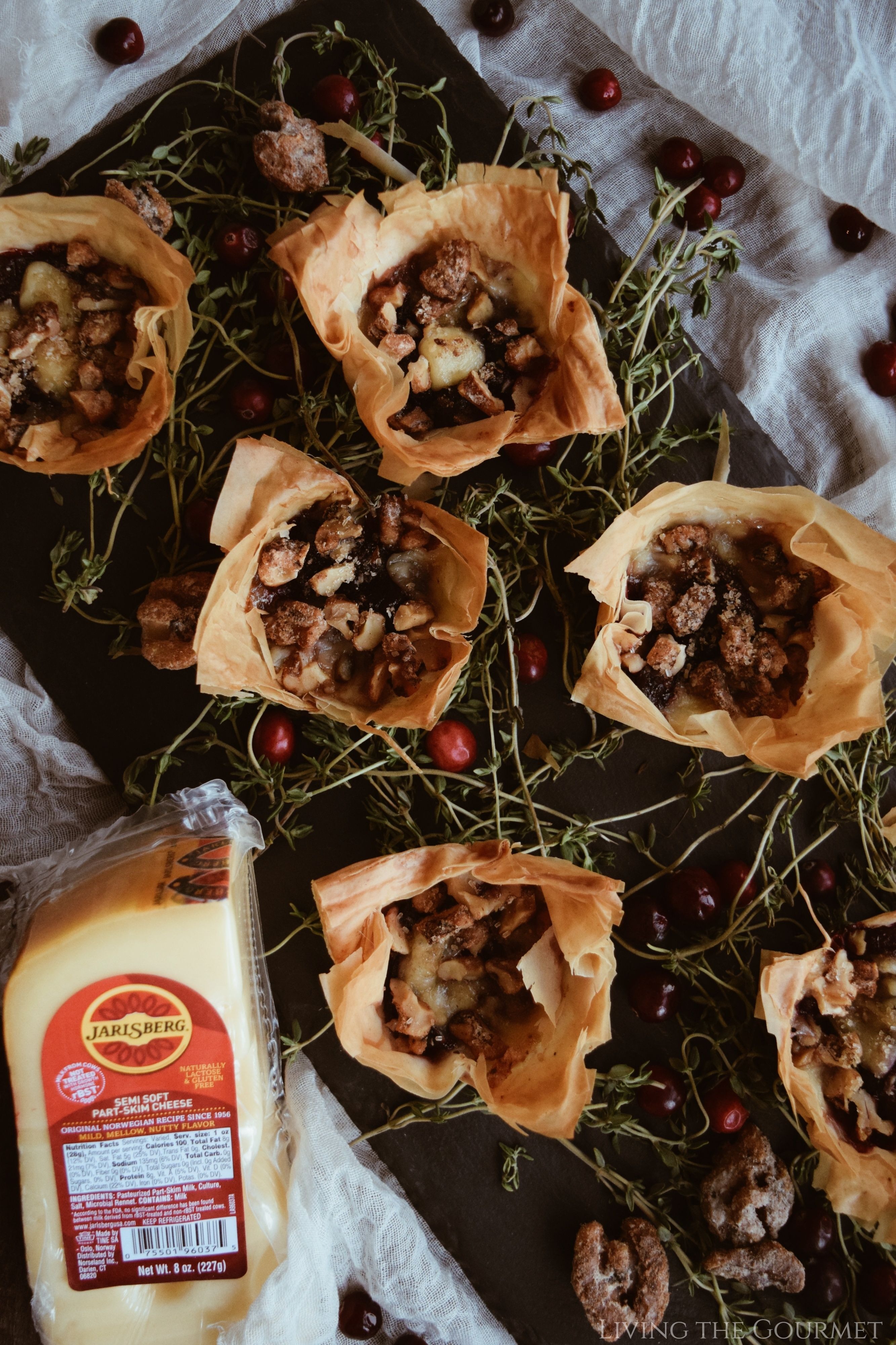 The Sum Of Its Parts – Or How To Fit Thanksgiving in a Cup
There are four key components to today's recipe and when melded together, they form a symphony of flavors reminiscent of holiday's past that we all love and treasure.
1) Fresh Cranberry Sauce. Regardless of which side you fall on in the "Fresh vs Canned" cranberry sauce debate, fresh cranberry sauce really is preferable for today's recipe. The natural tartness of the fresh cranberries makes for a nice base. Furthermore, starting with fresh rather than canned, gives you full control of the added sweetness. For today's recipe, I balanced the tart berries with dark brown sugar for an added depth of flavor.
2) Candied Nuts with a Touch of Spice. Roasted candied nuts are one of the hallmarks of the November and December season. Today's take on the classic is blissfully simple, utilizing just four basic ingredients; walnuts, whisked egg whites, pumpkin pie spice, and sugar. If you don't have walnuts, or don't like them, you can swap in an equal amount of hickory nuts or pecans.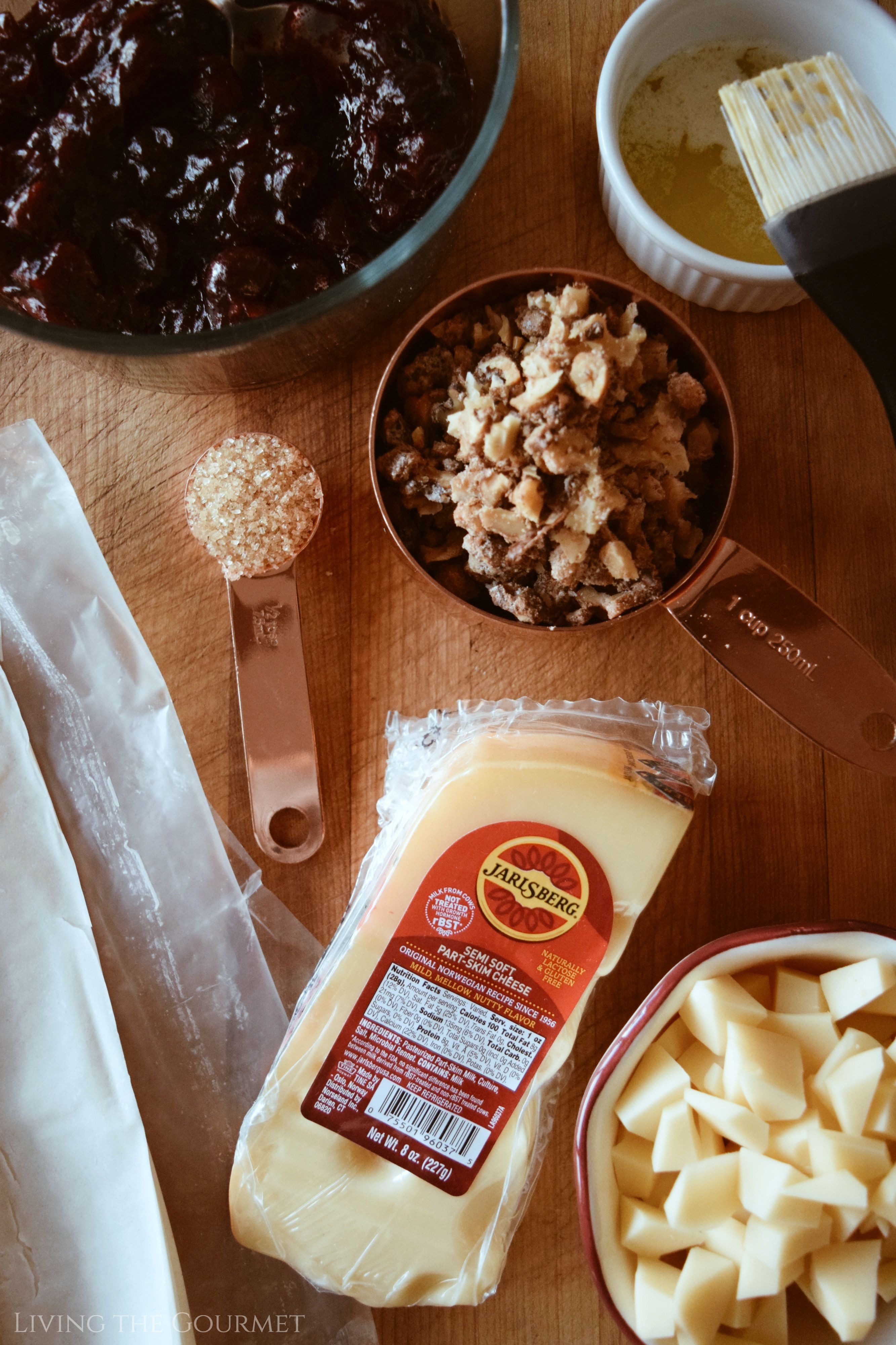 3) The Cheese. For today's recipe you'll want a mild, semi-soft cheese, preferably one that has a faint 'nuttiness' to complement the combined flavors of the other recipe components. To achieve precisely that, I'm using Jarlsberg® Cheese which suits this recipe perfectly for a couple of reasons:
While it's a semi-soft cheese, Jarlsberg remains somewhat 'firm' after melting, and this will act to bind together the cranberry sauce and candied nuts. Being mild to neutral in flavor, with just a hint of sweet nuttiness, Jarlsberg beautifully melds with candied nuts and fresh cranberry, providing a nice 'frame' or 'bind' for the other ingredients. Beyond recipes like today's phyllo cups, Jarslberg is a great 'all purpose' cheese to keep on hand, it's a delicious addition to cheeseboards, or for slicing onto sandwiches, or for recipe's like my Pasta Bake.
For more info, or to order some cheese for yourself, check out Jarlsberg over at www.jarlsberg.com
4) Flakey Layers is Key. The base of today's recipe is a crisped golden phyllo, which serves to swath each bite in layers of crunchy texture and buttery flavor, which brings us to our next segment…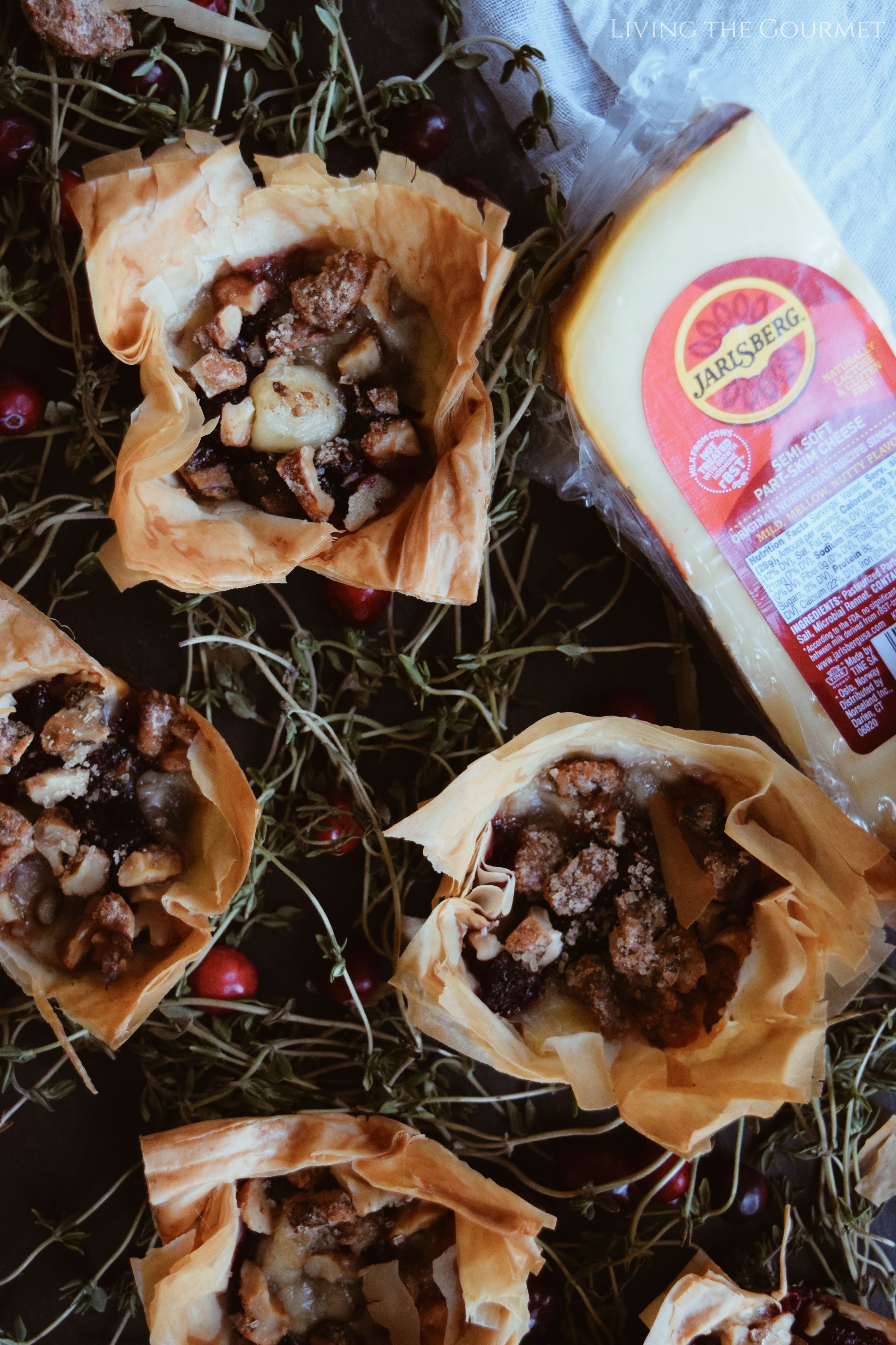 Romancing the Phyllo – A Brief Guide to that Finicky Hellenic Pastry Dough
I learned early on that phyllo is a dough worth mastering, if solely due to its almost otherworldly versatility.
Thinking beyond spinach pies, you can prepare things like phyllo cups stuffed with any combination of savory ingredients (meat, cheese, vegetables, even spicy salsas), then there are the pastries, herbed phyllo crackers, and who could forget the classics like baklava, cheese tarts, baked fruit pockets, or hardy lamb strudel. And I'm only just scratching at the surface.
Despite its myriad of uses and delectable texture, there is no denying that phyllo dough is positively diva-esque. Being overly sensitive to heat and moisture, while requiring patience and finesse to handle (lest it break or crease), it should go without saying that for a 'dough' who finds its origins in a land renowned for its Homeric Heroes, titan slaying gods, and real world super-soldiers, it ranks among the most fragile and finicky of 'ingredients' you're ever likely to handle in the kitchen. However, there are a few key tips that will have you handling phyllo like a pro: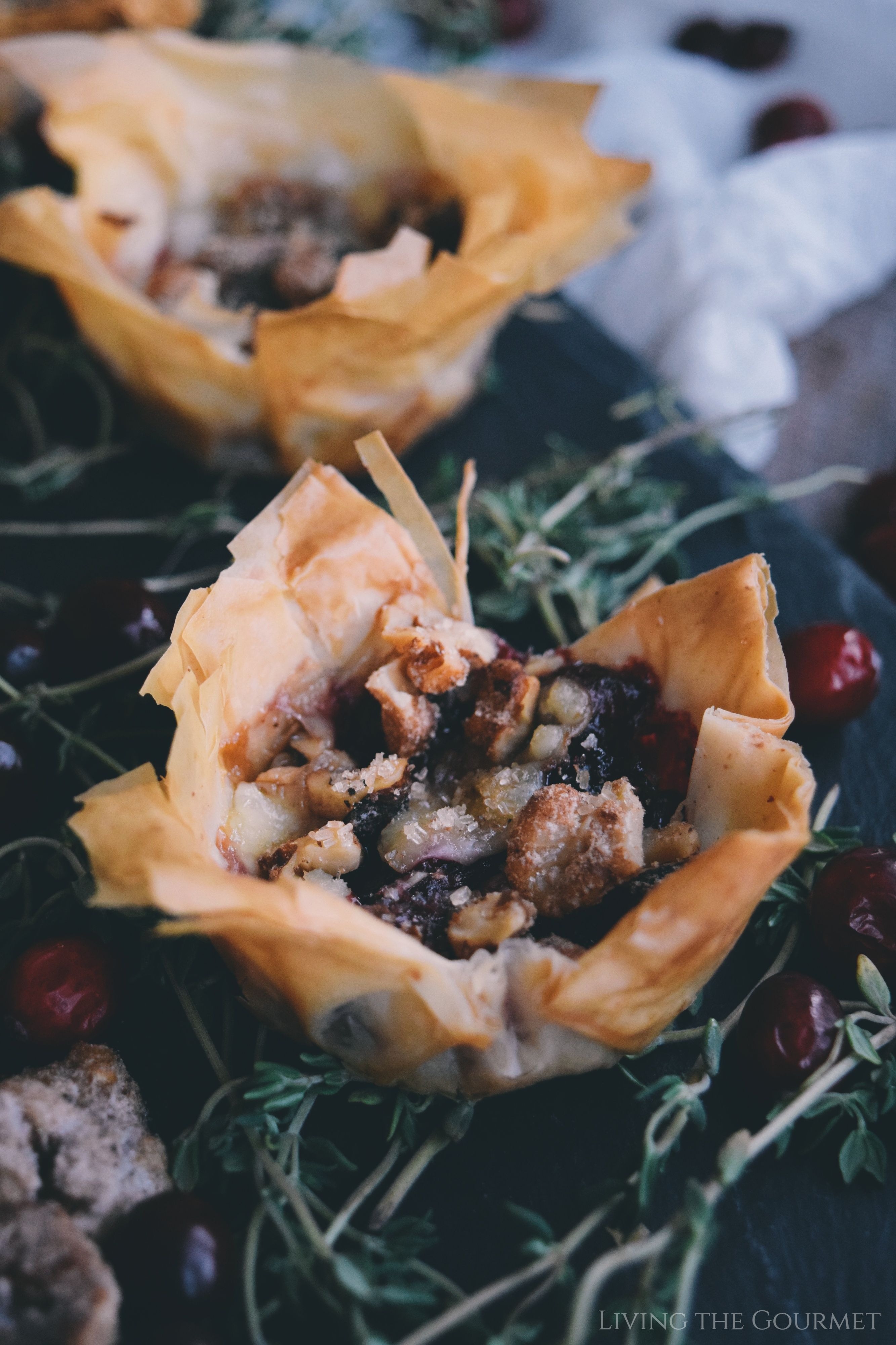 1) Store it Right. Do not store this in the fridge unless you are letting it defrost overnight. Phyllo dough deteriorates in quality very rapidly when it's not either frozen or cooked. There is no in between if you're using a quality, natural phyllo that doesn't feature a world of preservatives or other artificial fortifiers.
2) Use It Or Lose It. Despite all of the tips, tricks, and advice out there for storing phyllo, the reality is that even perfectly stored premade phyllo is never quite the same after its been defrosted and opened. Naturally, I'm not going to discard an entire batch of phyllo after only one use, so my best advice is to simply re-wrap it and leave it in the fridge – bearing in mind that it may may split, and take on a slight 'rubbery' texture if stored for a prolonged period of time.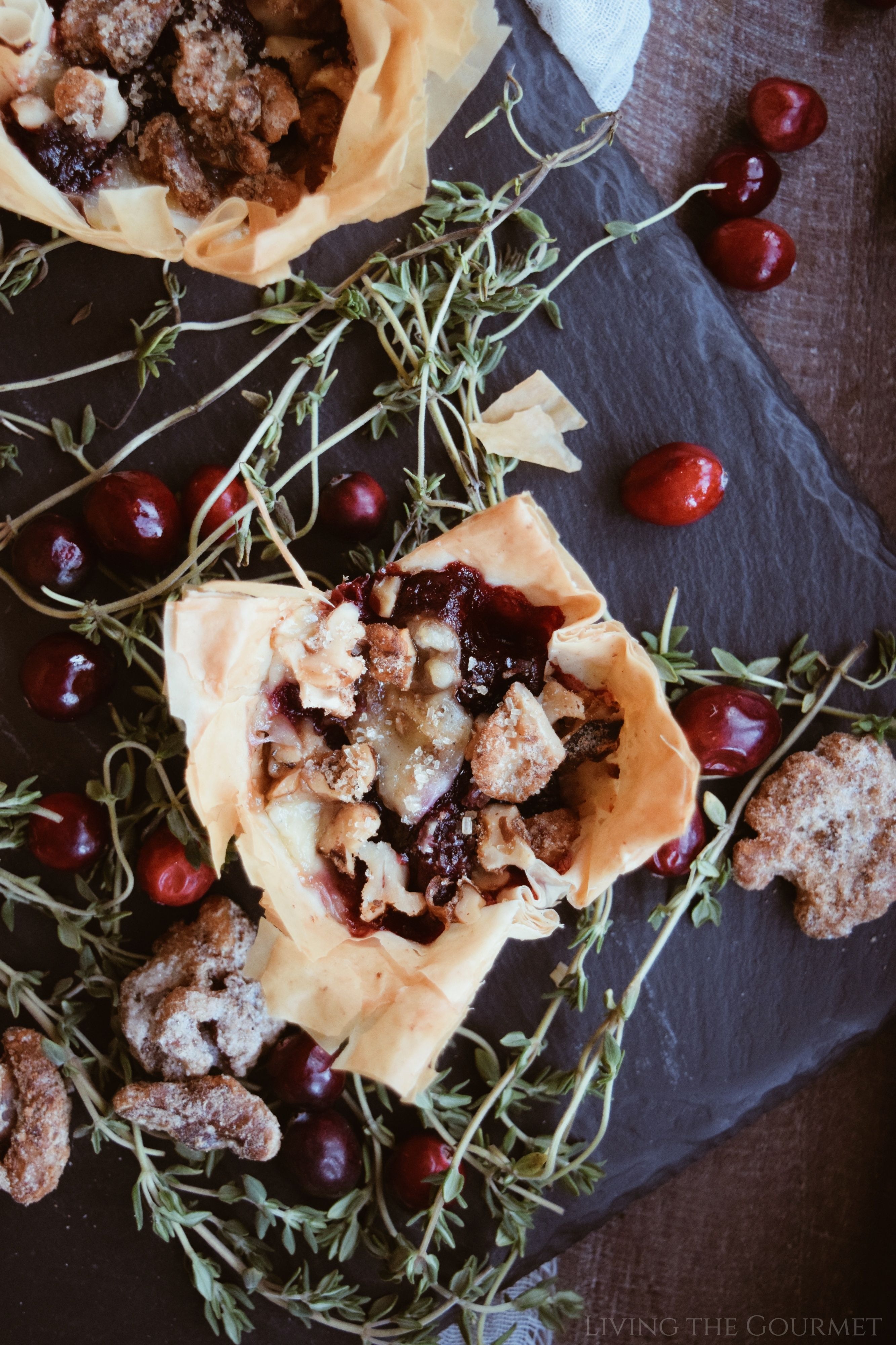 3) Defrost With Patience. When it comes to defrosting phyllo dough, please, please, please do not try to rush this process. No 'warm' ovens, no warm water baths in the sealed packaging, no attempting to work with still cold phyllo. I know there are tips out there that give advice on how to "speed" along the defrosting process, but trust me when I say, all of this positively ruins the dough. Just leave the dough to defrost in the fridge overnight for best results. Once ready to use, let the dough sit to achieve room temperature as this is when it is most 'cooperative,' which means the dough will be easy to handle without the risk of creasing, tearing, or sticking.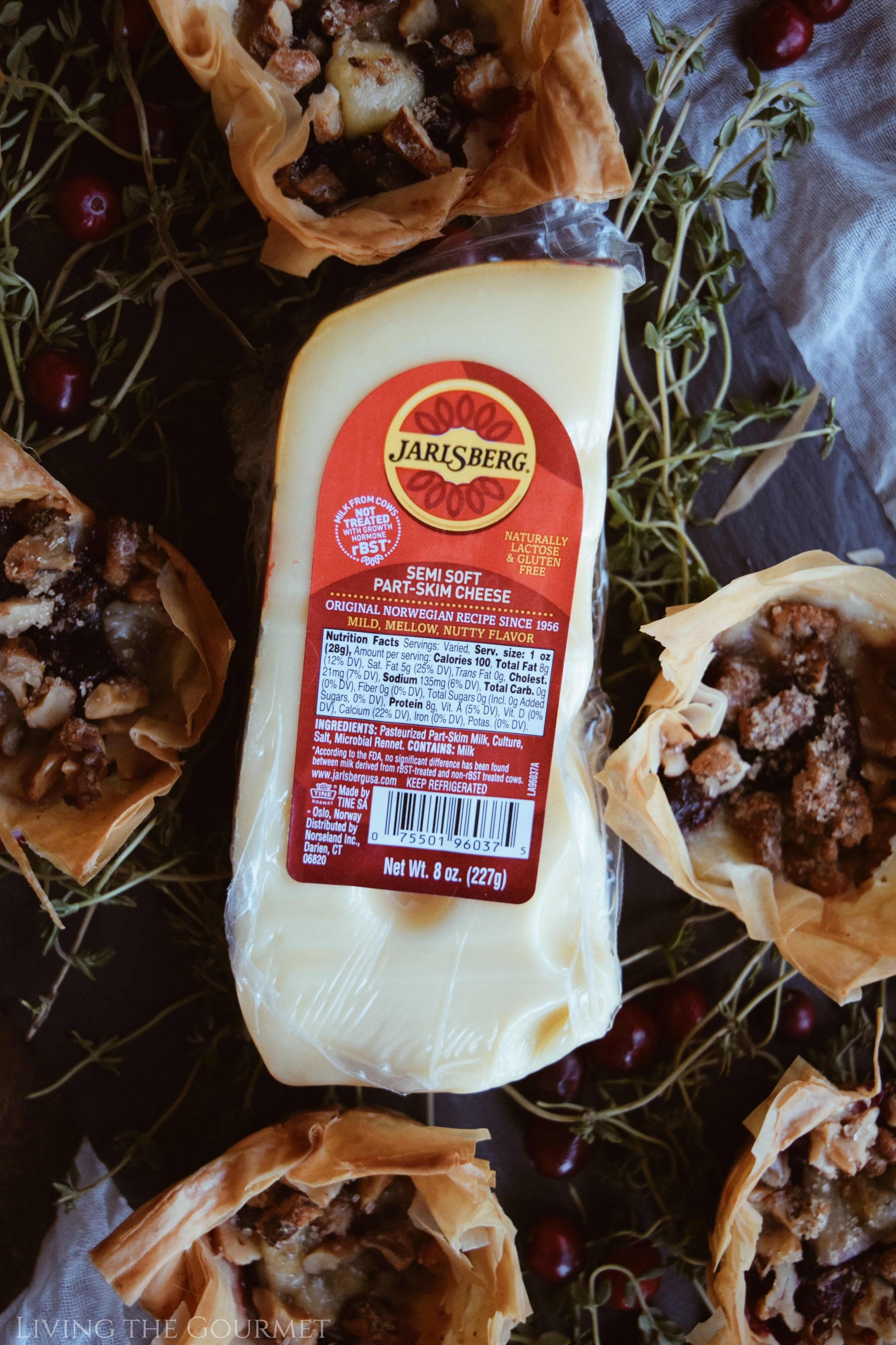 More Jarlsberg Goodness
I've spoken in the past about the versatility of mild, semi-soft cheeses, particularly, my fondness for Jarlsberg. Well, with the holiday season fast approaching, here's a small collection of favored recipes that will shine at your next holiday gathering:
1) Marinated Cheeseboard. This is a great antipasto spread for the holiday season, combining marinated cheese, roasted almonds, assorted olives, and shrimp prepared with fresh lemon juice, capers, red pepper, and olive oil.
2) Bacon and Onion Burger. Honestly, this is probably my favorite burger recipe ever, combining bacon, carmelized onions, and lots of melted cheese. Seriously, you need to try this.
3) Beef Au Jus. My take on classic beef au jus, and one of the hardiest, and most satisfying sandwiches ever.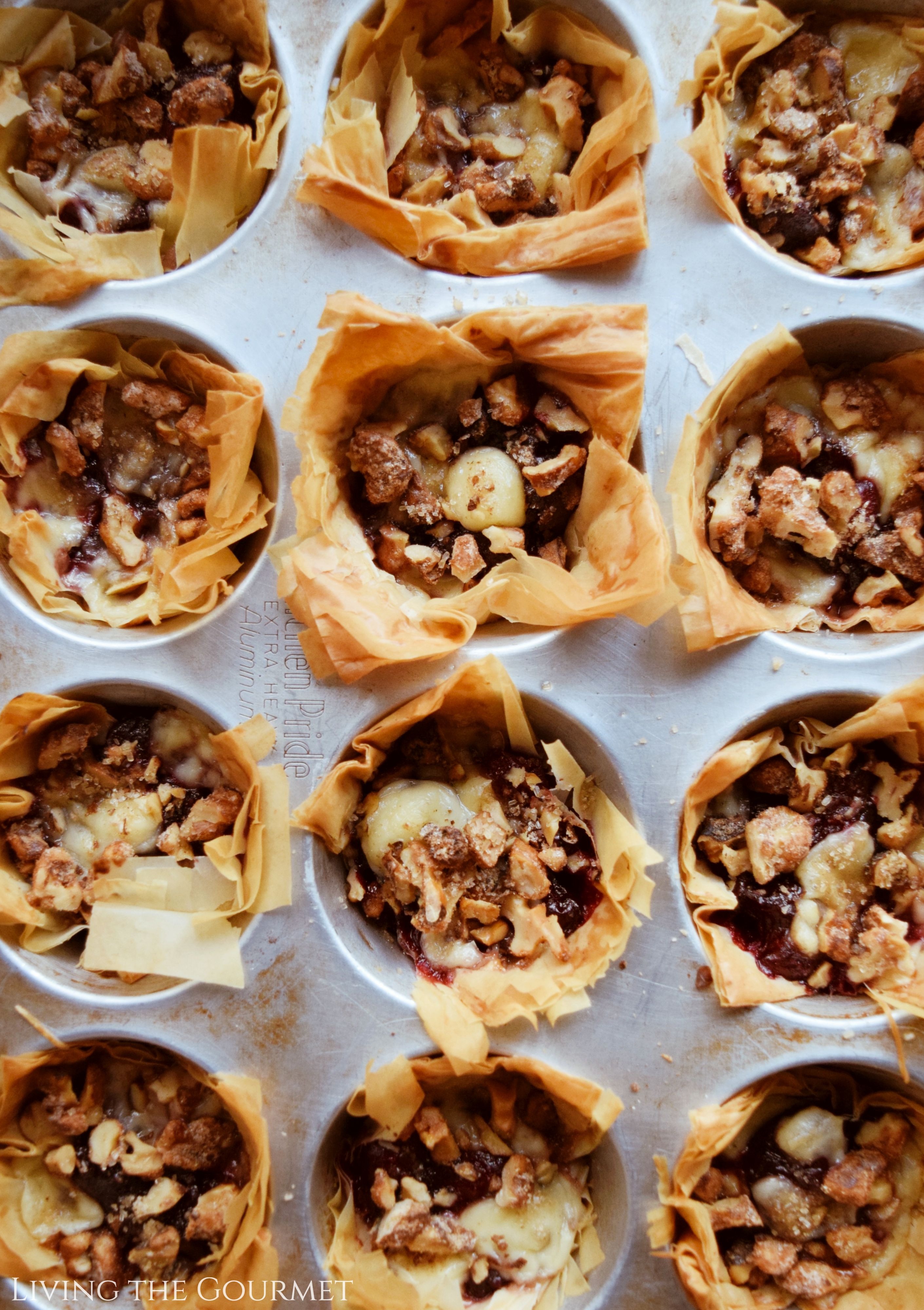 Print
Cranberry & Jarlsberg Tartlets
Author:
Prep Time:

10 minutes

Cook Time:

20 minutes

Total Time:

30 minutes

Yield:

1

dozen tartlets

1

x
4

sheets phyllo dough

3 tablespoons

butter, melted

1/2

cup

Jarlsberg Cheese, cut into small cubes
Spiced Candied Nuts (recipe below)
Cranberry Sauce (recipe below)
Turbinado Sugar, for sprinkling
Spiced Candied Nuts:
1

cup

Walnuts

1

egg white

1/2

cup

sugar

1 teaspoon

cinnamon
Cranberry Sauce:
1

pint

fresh cranberries
Zest of

1

orange
Juice of

1

orange

1/2

cup

brown sugar

1 teaspoon

vanilla

1 teaspoon

pumpkin pie spice
Instructions
Cranberry Sauce:
In a medium saucepan over medium heat, combine cranberries with orange zest, orange juice, brown sugar, vanilla, and pumpkin pie spice. Cook down until the cranberries are have burst and the sauce has thickened, about 8 minutes.
Spiced Candied Nuts:
Preheat oven to 350 degrees F. and line a baking sheet with parchment paper.
In a bowl, whisk egg white until frothy. Toss the walnuts into the whipped egg white until coated.
Transfer to a separate bowl and toss with sugar and cinnamon. Lay out flat on the prepare baking sheet and toast for about 30 minutes, turning the nuts halfway.
Assembly:
Brush your muffin tins with melted butter and set aside.
Place a sheet of phyllo dough on parchment paper. Brush with melted butter, then place another sheet on top. Repeat layering until you have 4 sheets stacked up. Using a sharp knife or pizza wheel, slice the sheets into 12 equal squares. Fit each square into the prepare muffin tins.
Fill each cup with a tablespoon of cranberry sauce, a few cubes of Jarlsberg Cheese, then top with candied nuts and a sprinkle of Turbinado sugar.
Bake the phyllo bites until golden and the cheese is bubbly, about 12-15 minutes.
Let cool slightly before serving.
Recipe Card powered by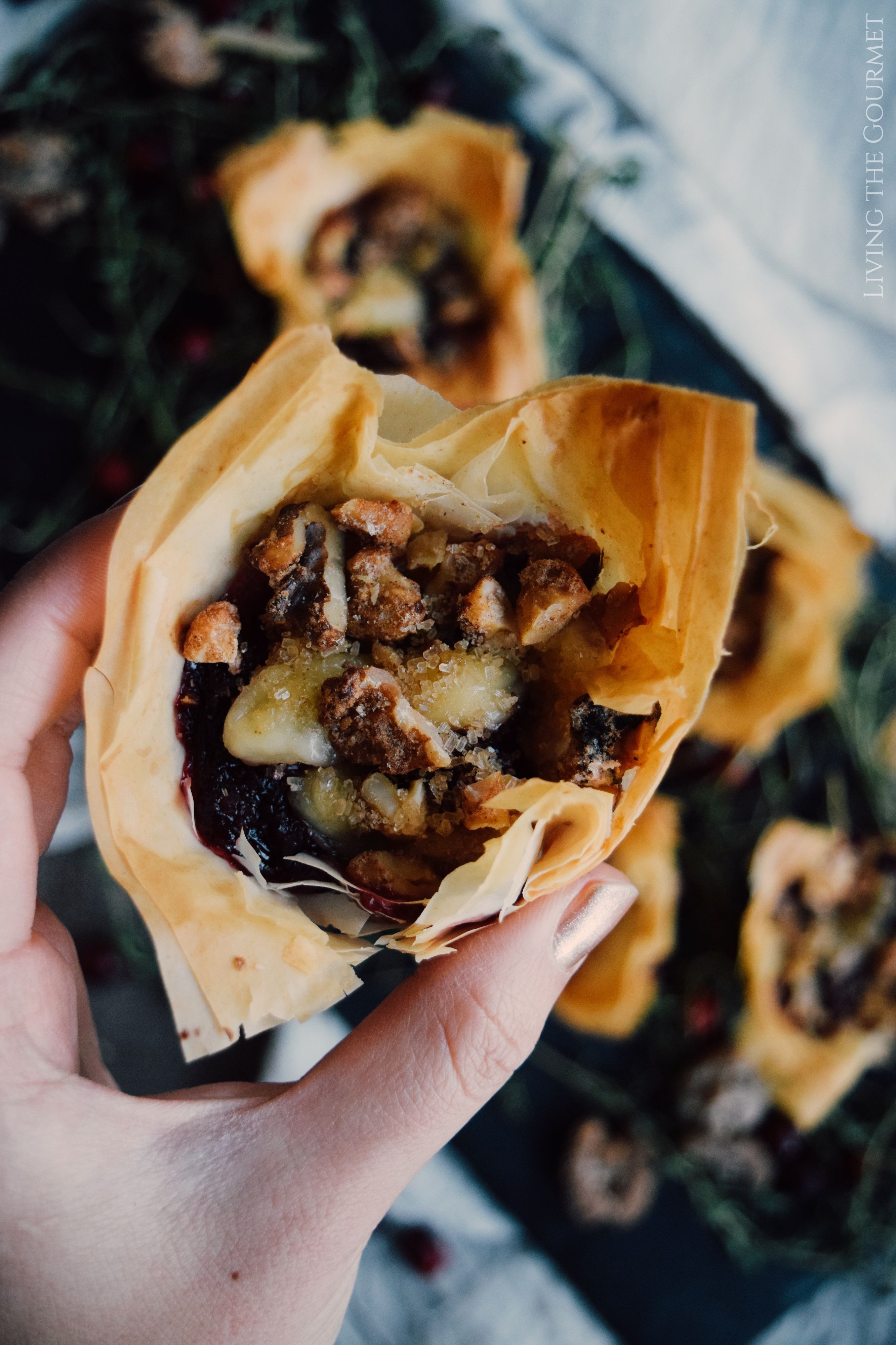 If You Enjoyed Today's Recipe…
Be sure to follow us on Instagram to stay up to date with all things Living the Gourmet, and for more great recipes, tips and tricks.
Did you make this recipe?
If so, let me know in the comments down below, or post a picture to Instagram, or to Pinterest, and I'll give you a shoutout on Instagram, or post your pin to one of my Pinterest boards!
0