Today we're preparing a super simple Mediterranean Orange Salad, which combines sliced oranges tossed with cilantro, grilled jalapenos and honey, capers and scallions, creating a medley of savory umami notes set against a sweet and spicy backdrop.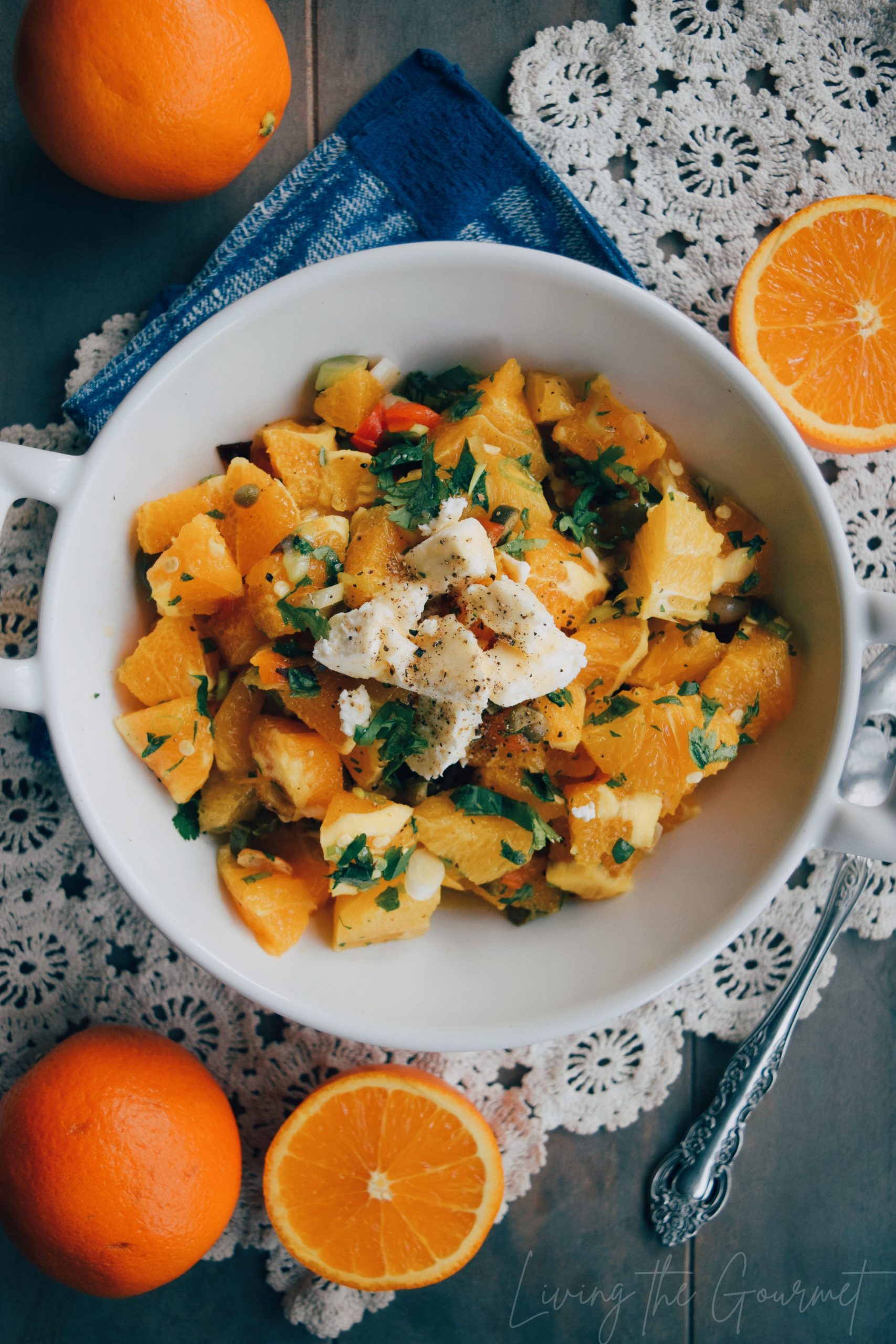 Why You'll Love Today's Salad
1) Light Lunch in the Sun. Today's salad is more or less what comes to mind when I think of summer salads that go beyond the basic 'fruit toss.' With a touch of spice from the jalapenos, juicy sweetness from the orange, herbal and earth notes from the cilantro and scallions, 'salt brine' from the capers, and sweetness from the honey, combine to create a salad that's reminiscent of quaint seaside bistros.
2) It Pairs Excellently. I'll touch on this more below, but while today's salad is great on its own, it also pairs well with a range of summer-friendly recipes, from souvlaki and chicken tenders to steak and pasta.
3) Super Simple. As I mentioned in my opening, this salad is simple to put together. Grill a jalapeno, slice some oranges, chop some scallions and cilantro, and you're done.
Ingredient Notes and Tips
1) Sea Salt or Table Salt – Is There a Difference? Can you substitute one for the other? In terms of flavor, the honest answer is 'it depends.' To start, sea salt is produced by evaporating ocean water. Ocean water has a lot of 'stuff' in it besides salt, and it's those trace minerals, impurities, and other assorted 'elements' that are found in the ocean water that gives sea salt its distinctive flavor. However, depending on how thoroughly processed the 'salt' is after it has been produced via evaporation (and 'all' sea salt requires at least 'some' processing), your sea salt might not actually taste any different. The more sea salt tastes like 'the sea,' the less it's been processed – which may or may not actually be a good thing. That said, those same 'elements' and 'impurities' that give sea salt its distinctive flavor will 'also' impart that same flavor to the food that it is added to. That said, if you 'really' want to get that 'brine' flavor, you need to make sure that the sea salt your purchasing hasn't been processed into oblivion – otherwise those trace elements and impurities (the 'flavor stuff') will simply not be there.
2) The Oranges. Let's be honest, if you don't get the oranges right in an orange salad, nothing else matters. Navel and Blood Oranges are the best oranges for salads – end of story. Blood oranges are juicy, easy to peel, and taste of 'oranges with raspberries,' while Navels are the oranges that are most often used for snacking – and it's safe to assume that people . By contrast, Valencia oranges are best for juicing, while tangerines and clementines are a bit on the small side for making salads, but make for great snacking. Cara Cara and Lima oranges are among the sweetest oranges, and while great for snacking are a bit 'too' sweet for today's salad. Tangelos, a tangerine-pomelo hybrid, are the wild card of the bunch, being sweet-yet-tart, and so they 'might' do well in today's salad, but – paradoxically – may risk being either too sweet or too tart for our salad depending on the orange.
3) The Honey. Use raw or gourmet when you're eating it raw, use store brand or processed clover honey for (almost) everything else. I'm of the opinion that store brand honey is perfectly fine for 'most' kitchen applications, and in virtually all 'cooked' applications. I say this because the qualities that separate gourmet or quality raw honey from 'standard' store brand are very nuanced, often coming down to delicate texture differences which are wholly destroyed during the cooking process, while any minor flavor differences will almost certainly be masked or overpowered by other ingredients. However, raw or gourmet honey is at home in things like salad dressings, dips, and delicate baked goods, where its nuanced flavors and delicate texture can really shine through, and that includes today's recipe.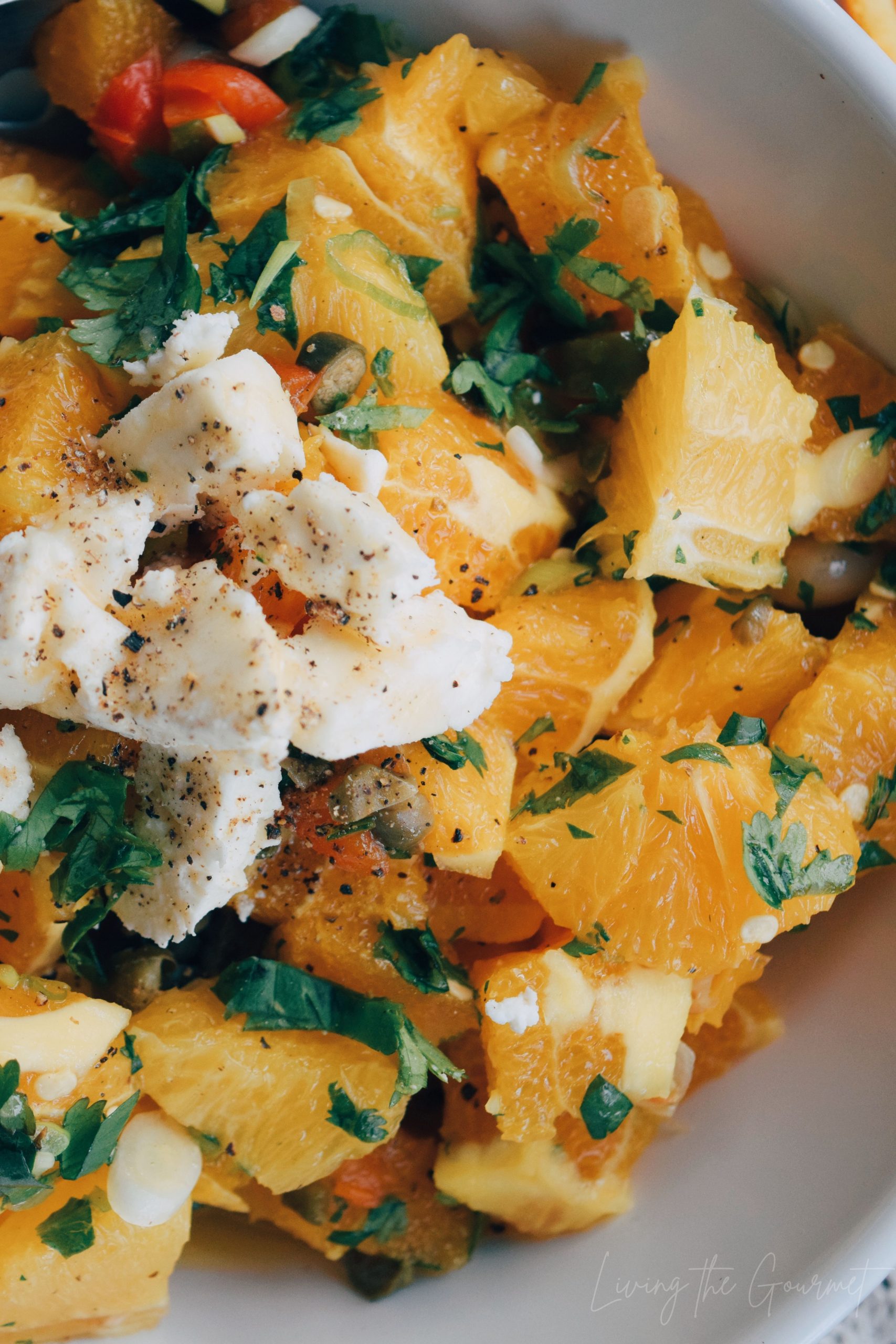 Today's Salad Pairs Great With
1) Grilled Pork Souvlaki. Today's salad is well at home with other Mediterranean flavors, such as a pork souvlaki paired with a homemade tzatziki and flatbreads.
2) Bistro Style Chicken and Pasta. Today salad would be simply divine alongside grilled chicken seasoned with garlic, oregano and sea salt, set over pasta tossed with sundried tomatoes and scallions, and then topped with crumbled feta.
3) Chicken Tenders. If you're looking for a simpler pairing, consider chicken tenders, which are one of my family's favorite weeknight meals. Simple yet delicious, this would go great alongside today's orange salad.
4) Steak Platter. Today's orange salad would pair great alongside an elaborate steak board featuring chimichurri, grilled potatoes, and flatbreads. For my preferred way to prepare a summer steak platter, see my post here.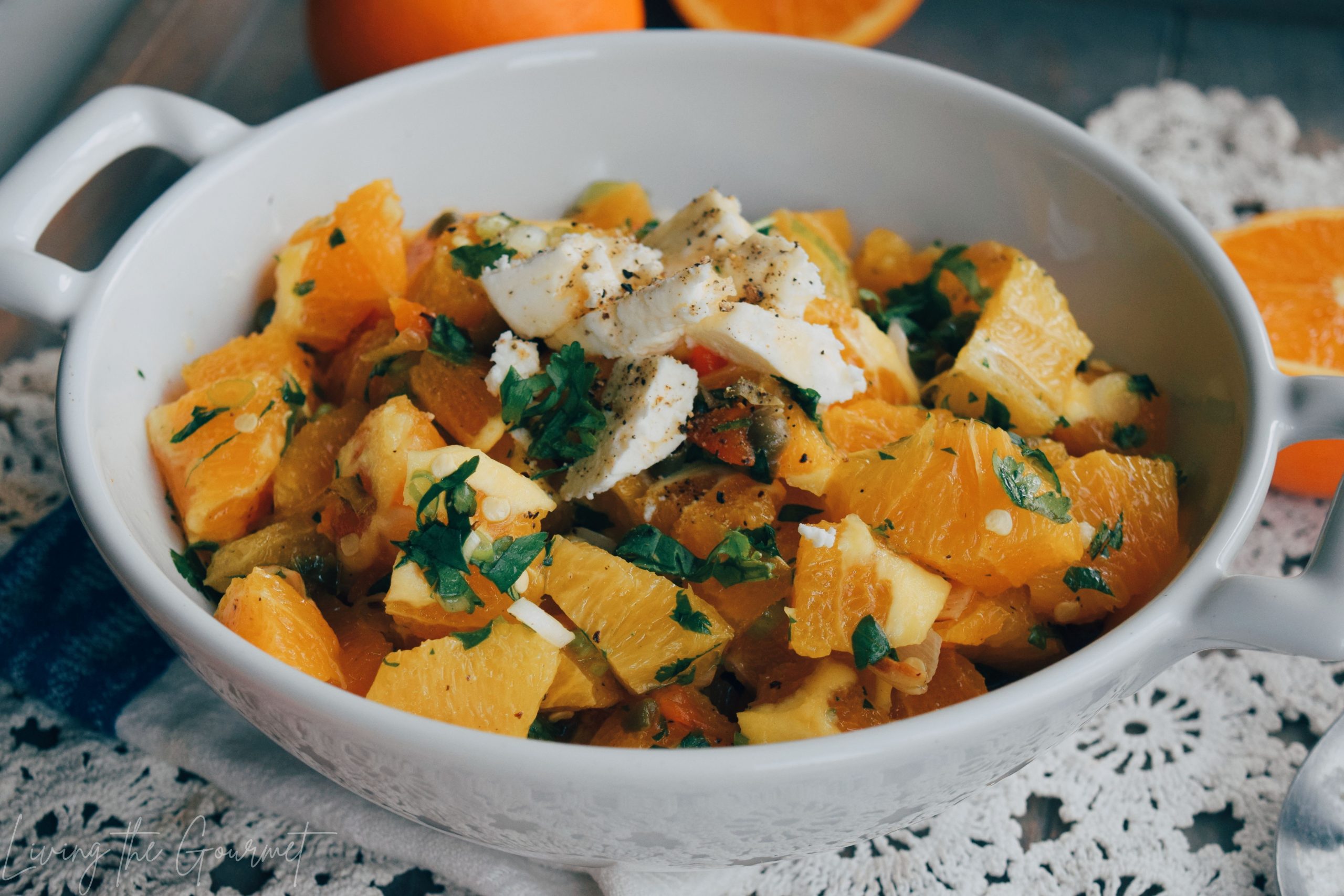 Other Great Salads from Living the Gourmet
1) Moroccan Tomato Salad. A surprise hit with my family, this Moroccan tomato salad is so simple, and yet so delicious, that it instantly won a place in my heart. Also, it pairs delicious with all manner of summer food, from BBQ to souvlaki to fish.
2) Summer Cucumber Salad. Crisp, refreshing, and taking just minutes to prepare while featuring a medley of Mediterranean flavors, this salad is perfect for adding a touch of 'simple elegance' to your next summer get together.
3) Summer Eggplant Salad. Breaded eggplant, combined with fresh basil, fresh tomatoes, and grated romaine, combine to create a delicious take on baked eggplant that's sure to be the star of your next summer get together.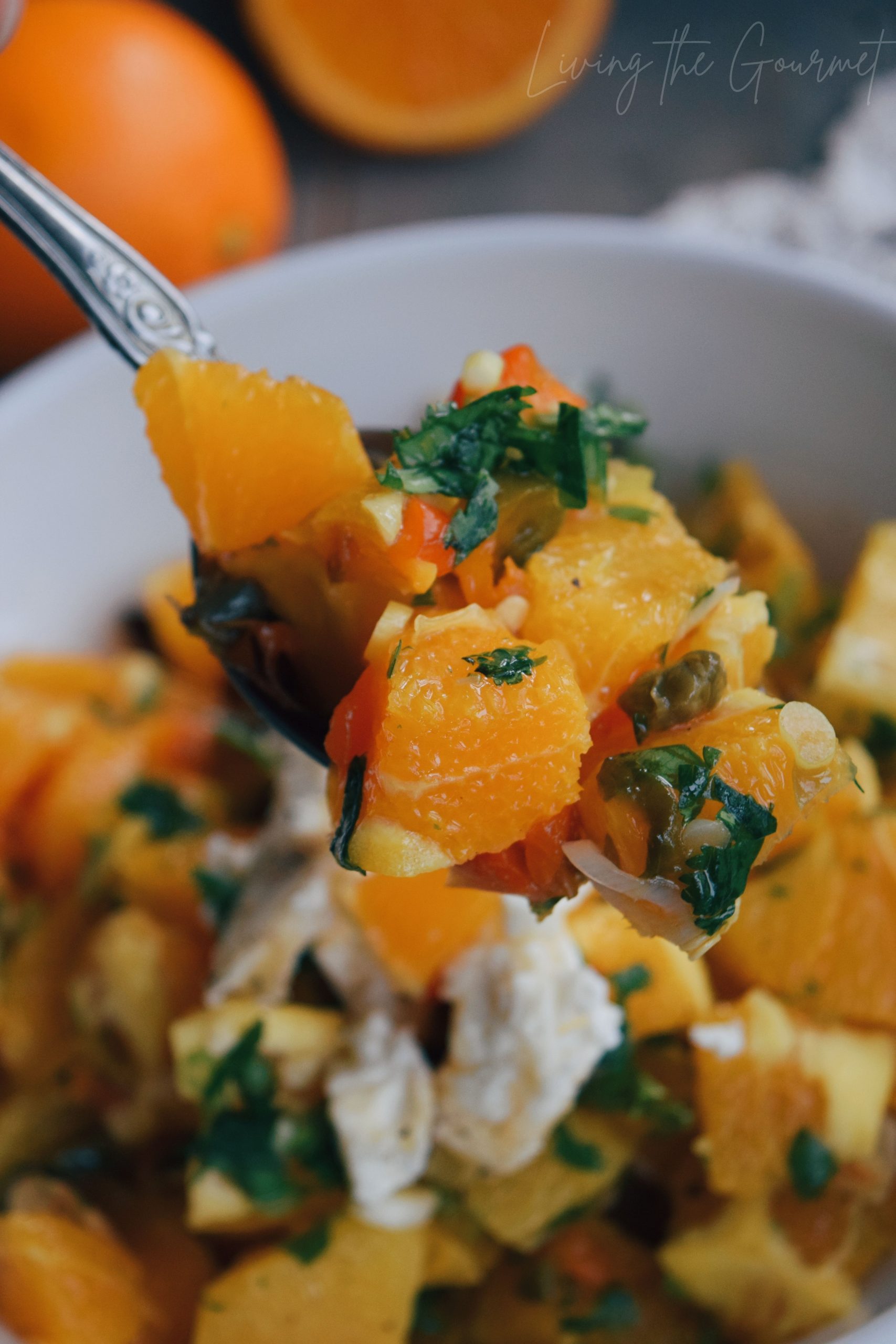 Print
Mediterranean Orange Salad
---
Author:

Prep Time:

10 minutes

Cook Time:

5 minutes

Total Time:

15 minutes

Yield:

4

1

x
7

–

8

eating oranges – peeled and cut

2

grilled Jalapeno's – grilled and chopped – with or without the seeds

2

–

3

cloves of garlic – removed from the skin – grilled and chopped

2

scallion – sliced very thin

2

tbs. capers – chopped

3

–

4

tbs. fresh Cilantro – stems removed and chopped

Dashed of fresh ground black pepper

½ tsp

. sea salt

2

–

3

tbs. of honey

4 oz

. of Feta cheese – crumbled
---
Instructions
Place the jalapenos and garlic in a dry cast iron frying pan.  Allow the garlic to get a nice golden color then remove.  Allow the jalapenos to get a nice char and then remove and let cool.

Place the cut oranges in a bowl.

Chop the garlic and jalapenos and add to the oranges.

Slice the scallions very thin and add to the bowl.

Chop the capers and add to the bowl.

Add the chopped cilantro.

Add the honey, salt and fresh ground black pepper and toss. 

Taste for seasonings.

Serve topped with the crumbled feta cheese.

Store in the refrigerator.
Category:

Salad

Cuisine:

Mediterranean
Keywords: oranges, fruit salad, salad, vegetarian
Recipe Card powered by
0