Fried chicken strips are one of my family's favorite weekend dinners. Delicious, satisfying, and versatile enough to paired with a medley of our favorite sides and dips, this recipe is just plain 'fun' to eat, and for that reason alone I wholeheartedly recommend you add it to your kitchen repertoire.
Now, let's get frying...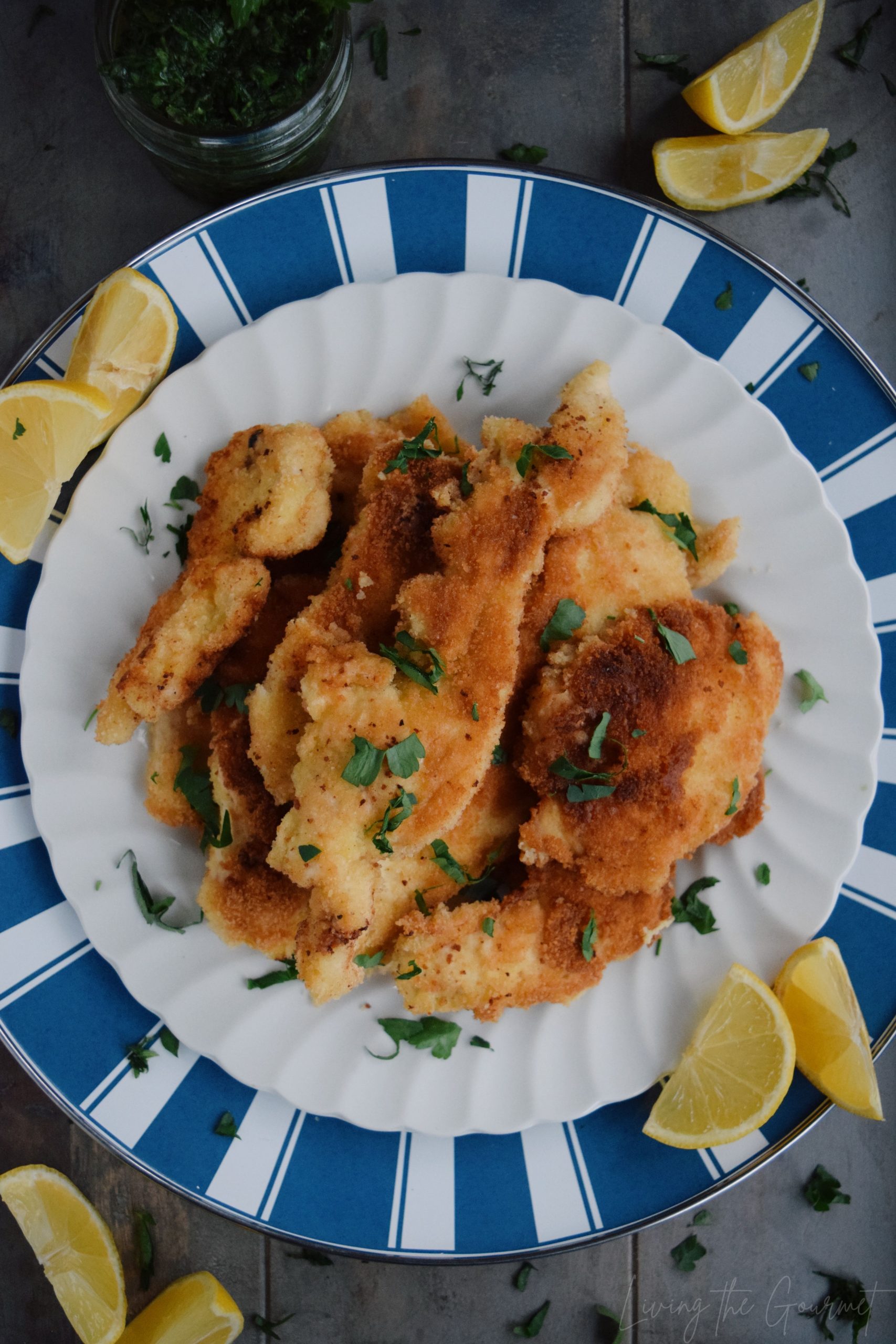 Why You'll Love Today's Fried Chicken
1) Great for Home Chefs of Any Skill Level. While I won't say that today's recipe is 'easy' to prepare, it certainly isn't 'complicated' either. Cut up the chicken nice and thin, then dredge it through the flour, egg wash, and breadcrumbs, and fry.
2) A Meal the Entire Family Will Love. If you've ever had to worry about whether 'everyone' will enjoy what you're preparing for dinner (and who hasn't?), this is one recipe where that worry can be laid to rest – since who doesn't love a big pile of fried chicken?
3) Great Left Over. My son has made 'fried chicken sandwiches,' 'fried chicken and eggs,' and 'fried chicken salad' from the leftovers of today's recipe. In other words, leftover fried chicken cutlets are assuredly a good thing.
But How to Heat Them Up? I heat mine up in a dry cast iron skillet over medium heat. This takes several minutes, during which I flip the cutlet midway through. When its hot to the touch, it's good to go. You don't want to heat it up too long, otherwise you risk drying it out.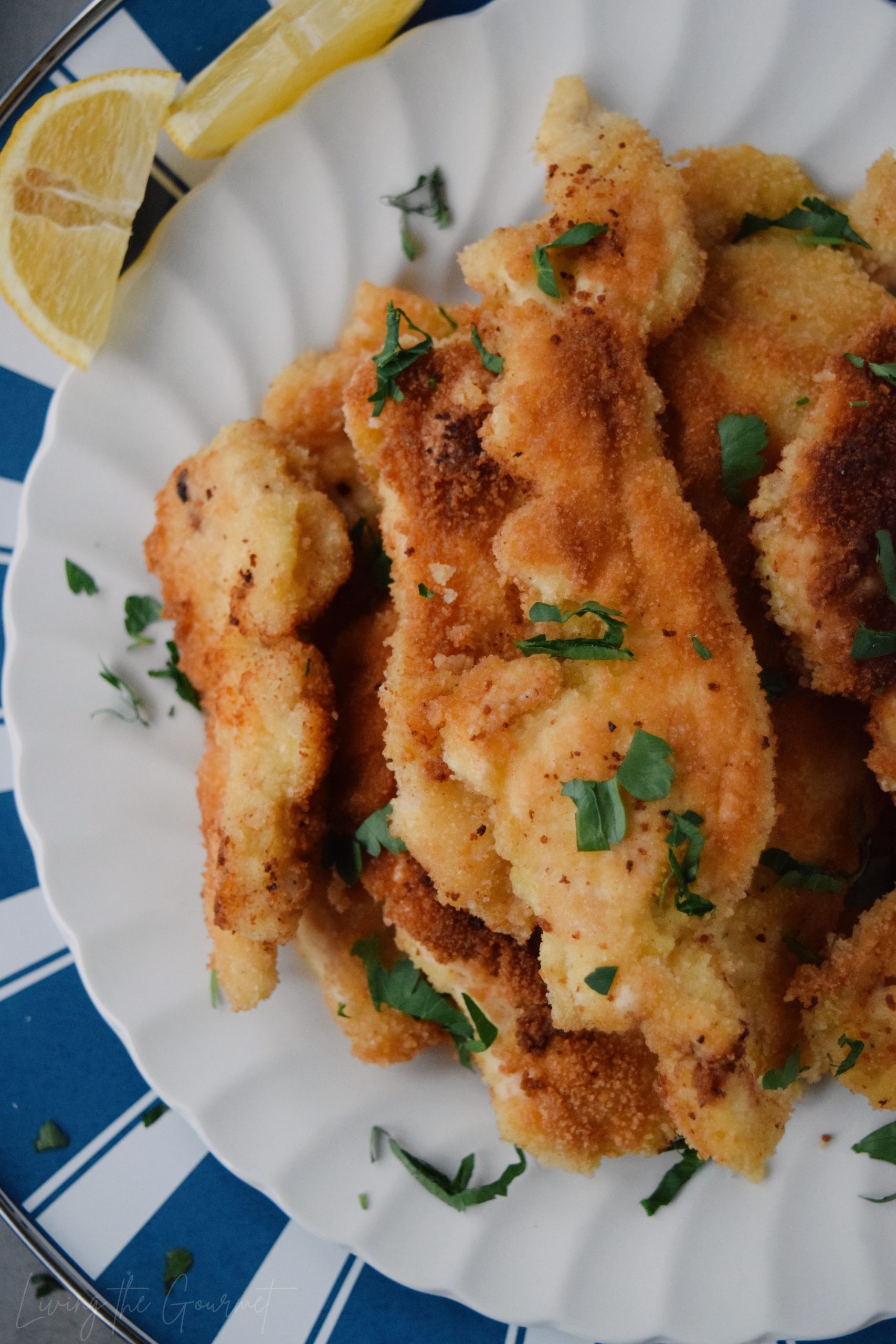 Ingredient Notes and Tips
1) The Breadcrumbs. Today we're using plain breadcrumbs, simply because we don't need the 'extra' flavors found in Italian Style breadcrumbs. However, if you only have Italian Style breadcrumbs on hand, those will work just fine. The only difference between the two is that Italian Style breadcrumbs feature some combination of dried basil, dried oregano, and dried parsley, with a copious amount of salt and black pepper – and that's pretty much it, though some brands may include red pepper as well. Oddly, Italian Style breadcrumbs are rarely toasted in olive oil, and even when they are, the olive oil is usually a cheap 'light' olive oil.
2) Cooking Oil. Plain vegetable oil is fine for today's purposes, since we're using it purely to fry the chicken in. The rule of thumb is this – olive oil gives superior flavor and health benefits, but 'only' when cooking at lower temperatures of no more than around 350 degrees Fahrenheit, or when barbecuing over 'gentle' flames. Use vegetable oil for pretty much everything else. The reason is that most olive oils have a relatively low 'smoke point,' which is the temperature at which the olive oil begins to burn away, giving your food a rancid taste and sapping its nutrients. Curiously, the lower the quality your olive oil, the 'higher' its smoke point. In fact, 'Light' olive oil actually has a higher smoke point than vegetable oil, while Extra Virgin Cold Pressed olive oil will start to burn away at merely a 'low simmer.'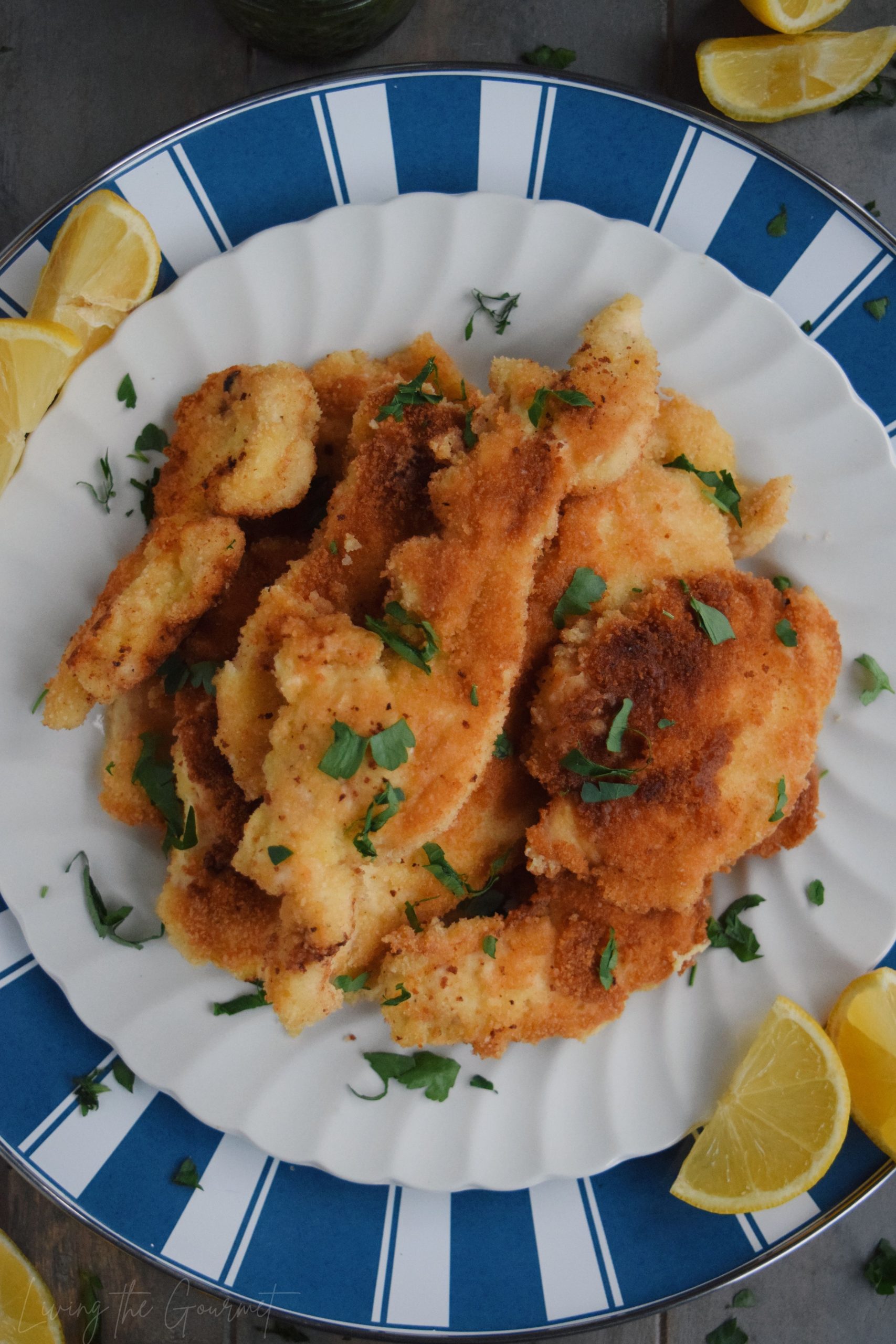 Today's Fried Chicken Pairs Great With
1) Onion Rings. I love the combo of fried onion rings and fried chicken. I prepare my onion rings with just a hint of spice, and a thick, dense batter that crisps up beautifully during frying. You can grab my recipe here.
2) Buffalo Dipping Sauce. I'm of the opinion that buffalo sauce is severely 'typecast,' since I believe it often gets overlooked when it's not in it's 'chicken wing incarnation.' For a quick and easy buffalo dipping sauce, which would pair great with today's fried chicken as a dipping sauce, give this recipe a try.
3) A Cold Drink. While fried chicken and tall beer are a match made in heaven, if you want to flavor things up a bit and play 'bartender' to yourself or your guests, our friends over at DrinkWorks have got you covered. Think of it as the "Keurig of Home Bars," simply pop a pod into the machine, and out comes a delicious, chilled 'adult beverage' (no ice required) that tastes like it was mixed by a master mixologist. With dozens upon dozens of drink pod flavors to choose from, including Margarita, Cosmopolitan, Mojito, Moscow Mule, Whiskey Sour, White Russian, and Old Fashioned, among many others, there's something for everyone.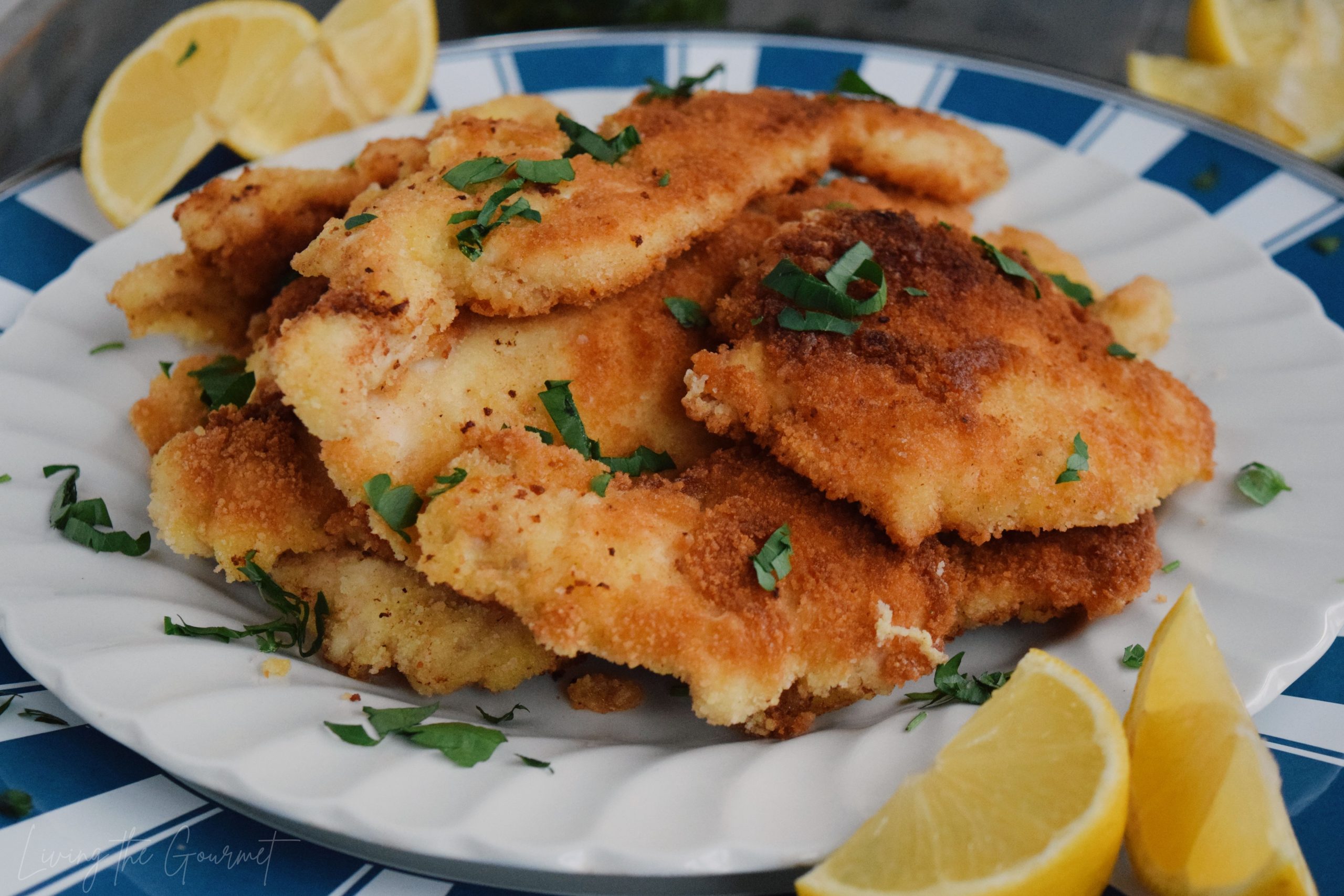 4) Pickled Sweet Potato Salad. My absolute favorite way to eat sweet potatoes, this salad is sweet, crunchy, just tad acidic, and refreshing. As a plus, letting it sit a night or two in the fridge only enhances the flavors, meaning its perfect for making ahead.
5) Coleslaw. My preferred recipe for coleslaw combines the obligatory mayo-coating with a citrusy dressing. For a nice kick, I slice in jalapenos with the cabbage to create a sweet-and-spicy salad, with just a hint of crisp citrus.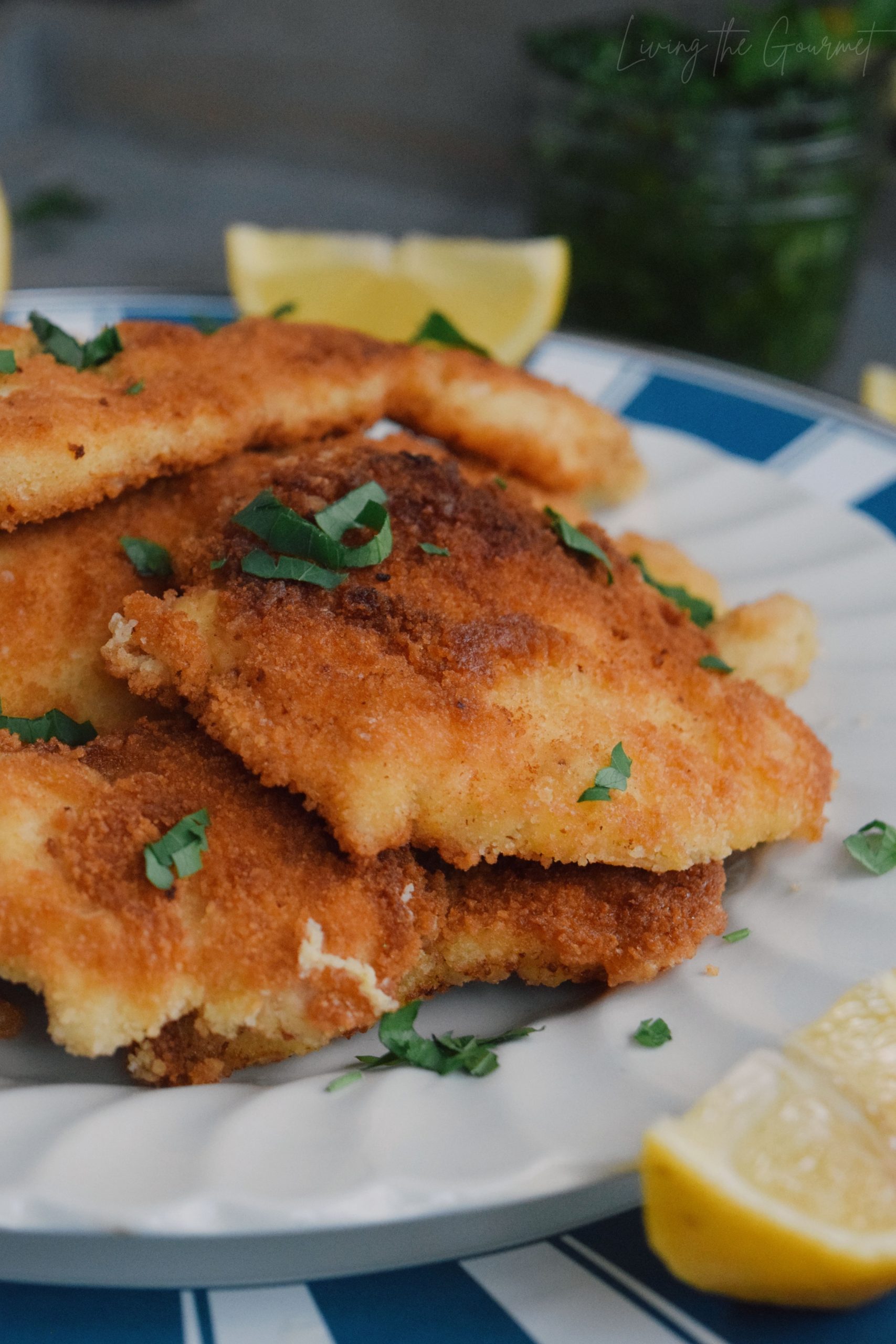 Print
Chicken Tenders
Author:
Prep Time:

15 minutes

Cook Time:

15 minutes

Total Time:

30 minutes

Yield:

4

1

x
2

lbs. chicken breast - sliced very thin
Cooking oil
For the Coating:
1

cup

flour (more if needed) - seasoned with a dash of salt and fresh ground black pepper

3

-

4

eggs - beaten

2

-

3

cups

- Unseasoned breadcrumbs
Instructions
Slice the chicken breast very thin or have your butcher slice it for you.
Set up a station of three shallow bowls.
One with the seasoned flour, one with the egg wash and finally one with the bread crumbs.
Dredge the chicken first in the flour, then in the egg wash and finally in the bread crumbs.
Heat a large cast iron frying pan with about ½ inch of cooking oil.
Place the prepared chicken in the heated oil.
When the chicken gets a beautiful golden color on one side carefully turn over and finish cooking on the other side.  This should take 3 - 4 minutes per side, depending on the thickness of the chicken slice.
I sliced these chicken cutlets very thin.
The chicken should be white on the inside absent of any pink color and have an internal temperature of 165 °F.
Place the cooked chicken on a platter prepared with paper towels.
Serve with your favorite condiment and enjoy!
Recipe Card powered by
0