Looking for an easy way to elevate your salads to a whole new level? If so, today's recipe has got you covered: Basil Sesame Vinaigrette. Combining fresh basil, crunchy sesame seeds, and the richness of extra virgin olive oil, this creamy salad dressing is sure to become your next craze.
Best of all, this easy vinaigrette recipe takes just minutes to make, proving that sometimes the simplest creations really are the most enchanting. This homemade dressing effortlessly combines the aromatic essence of basil with the nutty allure of sesame seeds.
However, this vinaigrette isn't just a dressing; it's a taste adventure waiting to unfold. And here's the exciting part – it doubles as a dip and marinade. Whether you're drizzling it over salads, marinating your favorite meats, or even using it as a dip for veggies and bread, this vinaigrette knows how to play its part. It's the ultimate combination of simplicity and sophistication, making it perfect for both everyday meals and special occasions.
Now, without further introduction, let's make some Basil Sesame Vinaigrette. Read on for an ingredient checklist, pairing suggestions, and the full recipe.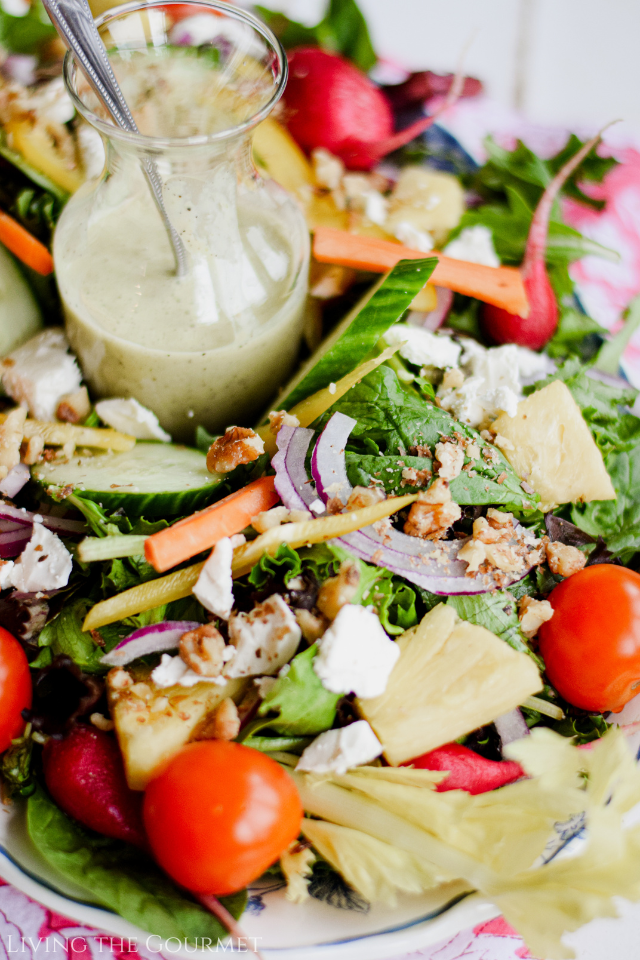 Ingredient Checklist – Everything You'll Need
8-10 fresh basil leaves

Notes: The base of the recipe. The freshest, most vibrant basil leaves you can find.
Tips: Gently pat the basil leaves dry before using to remove excess moisture.
Substitutions: You can experiment with other fresh herbs like cilantro or parsley.

1 tbsp honey

Notes: Honey adds a touch of natural sweetness to balance the flavors.
Tips: Warm the honey slightly for easier mixing only if your honey has set and become hard.
Substitutions: While there is no 'perfect' substitute for the honey, feel free to try maple syrup or agave nectar as alternatives.

1 tsp sugar

Notes: The sugar enhances the overall taste and helps in balancing flavors.
Tips: Adjust the amount of sugar based on your preference.
Substitutions: Brown sugar or coconut sugar can be used instead.

1 tsp black pepper

Notes: Black pepper adds a subtle kick to the vinaigrette.
Tips: Use freshly ground black pepper for the best flavor.
Substitutions: White pepper can be used if you prefer a milder taste.

4-5 garlic cloves

Notes: Fresh garlic provides a robust and aromatic flavor.
Tips: Mince or press the garlic cloves finely for even distribution.
Substitutions: Garlic powder can be used, but fresh garlic is recommended for better flavor.

2 tsp sesame seeds

Notes: Sesame seeds contribute a nutty and toasty flavor.
Tips: Toast the sesame seeds in a dry pan for a richer taste.
Substitutions: Toasted sesame oil can be used to intensify the sesame flavor.

1/4 cup olive oil

Notes: Choose extra-virgin olive oil for its rich taste and health benefits.
Tips: Gradually add the olive oil to ensure the smoothest texture possible, and to ensure that you don't add too much. More or less olive oil can be used depending on your desired texture, and how much 'olive oil flavor' you desire.
Substitutions: As with the honey, there is no ideal substitute for the olive oil. However, feel free to experiment with either avocado oil or grapeseed oil as alternatives.

3 tbsp water

Notes: Water helps in thinning the vinaigrette to the desired consistency.
Tips: Add water gradually until you achieve the thickness you prefer.

2 tbsp apple cider vinegar

Notes: Apple cider vinegar adds tanginess and depth to the vinaigrette.
Tips: Add in intervals to achieve your desired acidity level.
Substitutions: White wine vinegar or balsamic vinegar can be used as alternatives.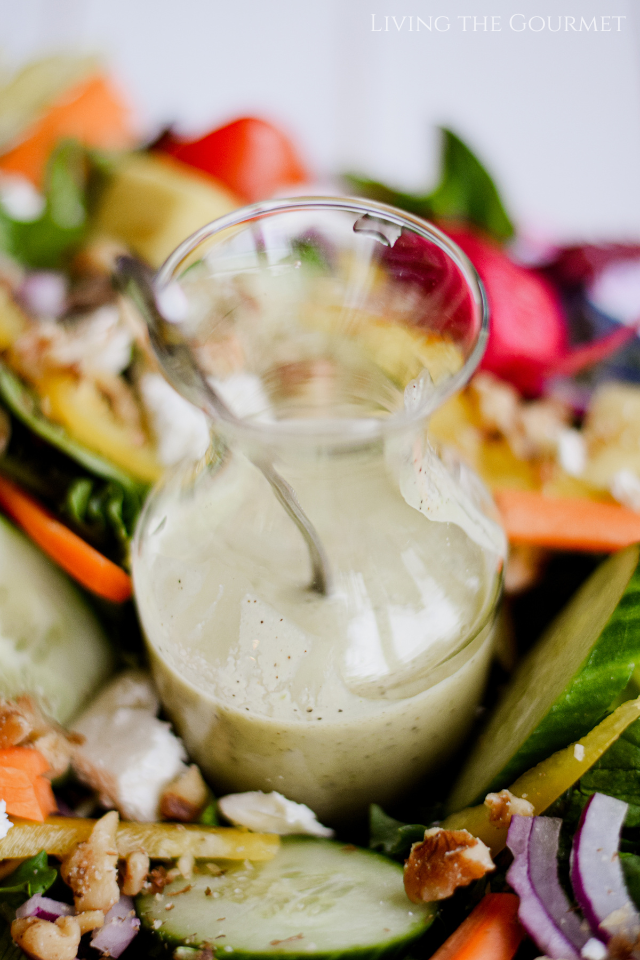 Salads that Shine with Basil Sesame Vinaigrette
Asian Noodle Salad: Toss cooked soba noodles, julienned vegetables, and chopped cilantro with the vinaigrette. Top with sesame seeds and crushed peanuts for a delightful Asian-inspired dish.
Caprese Salad Twist: Enhance the classic caprese salad by drizzling the vinaigrette over tomato slices, fresh mozzarella, and basil leaves. The sesame seeds add a wonderful nutty accent.
Grilled Vegetable Medley: Combine grilled zucchini, eggplant, bell peppers, and red onions. Toss with the vinaigrette and serve warm or at room temperature.
Mediterranean Chickpea Salad: Mix chickpeas, cherry tomatoes, cucumbers, red onions, and Kalamata olives with the vinaigrette. Finish with crumbled feta cheese and fresh herbs.
Quinoa and Kale Power Bowl: Create a nourishing bowl with cooked quinoa, massaged kale, avocado, and roasted sweet potatoes. Drizzle the vinaigrette for an irresistible balance of flavors.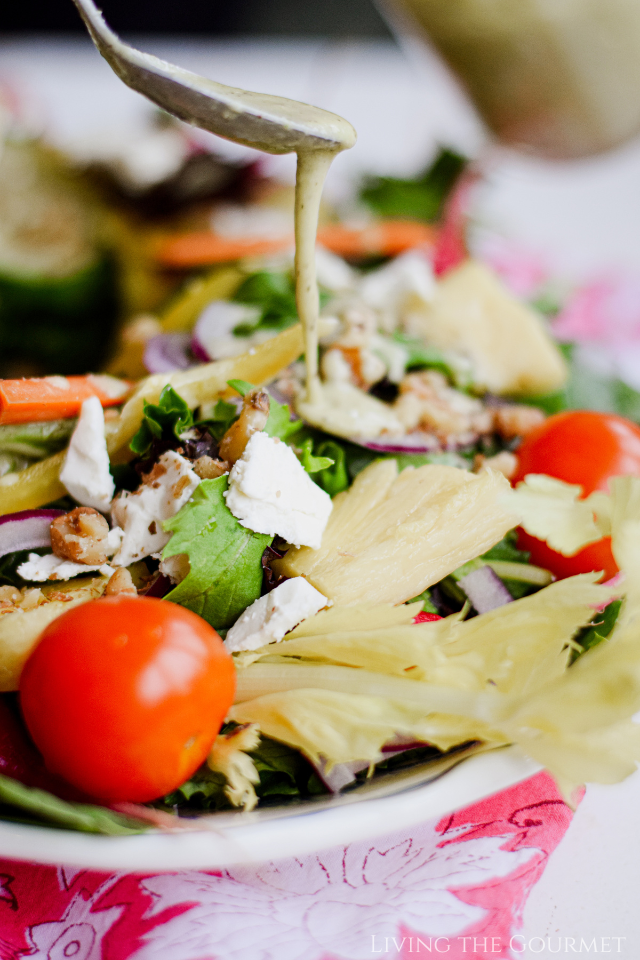 Getting Creative – Beyond Salads
Veggie Delights: Elevate your grilled vegetables by tossing them in this vinaigrette before cooking. The blend of basil and sesame adds a unique twist that perfectly complements the smoky flavors of grilled veggies.
Meat Marvel: Use the vinaigrette as a marinade for meats like chicken, pork, or even fish. Its savory notes will infuse your protein with a rich depth of flavor that's sure to impress.
Tofu. Marinate chunked tofu in this vinaigrette, allowing the tofu to absorb the rich basil goodness before frying, or simply toss the tofu with a salad after marinating for a refreshing combo.
Dipping Extravaganza: Turn the vinaigrette into a luxurious dipping sauce for your fresh vegetables, pita bread, or even tortilla chips. Its creamy texture and enticing flavors will make any dipping experience exceptional.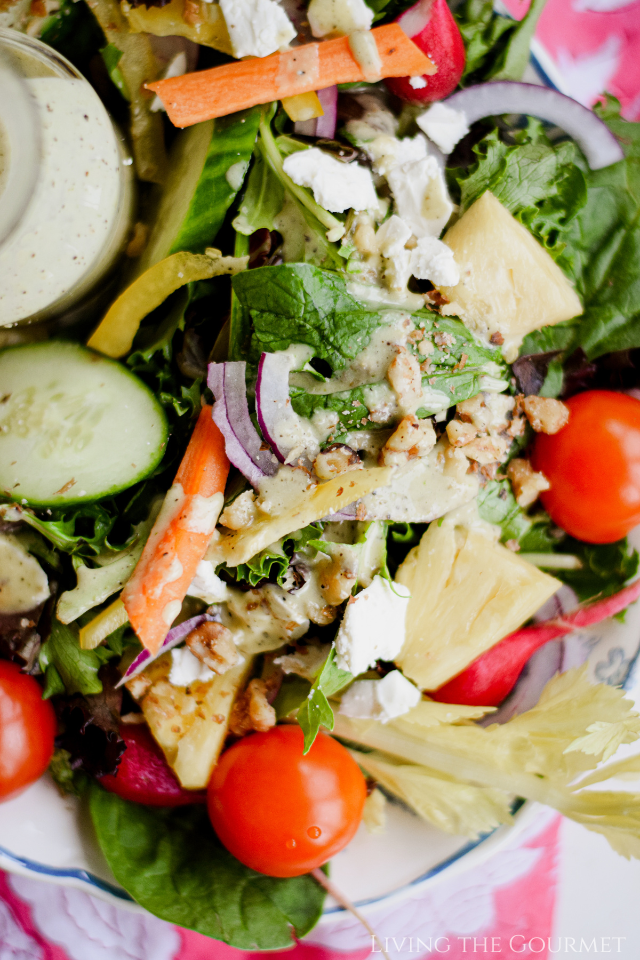 shop this post
Print
Basil Sesame Vinaigrette
---
Author:

Total Time:

5 minutes

Yield:

6

servings

1

x
8

-

10

fresh basil leaves

1

tbs. honey

1 tsp

. sugar

1 tsp

. black pepper

4

-

5

garlic cloves

2 tsp

. sesame seeds

1/4

cup

olive oil

3

tbs. water

2

tbs. apple cider vinegar
---
Instructions
Place all of the ingredients for the vinaigrette in the bullet container of a blender.
Blend until smooth and creamy.
Use with your favorite salad ingredients.
Recipe Card powered by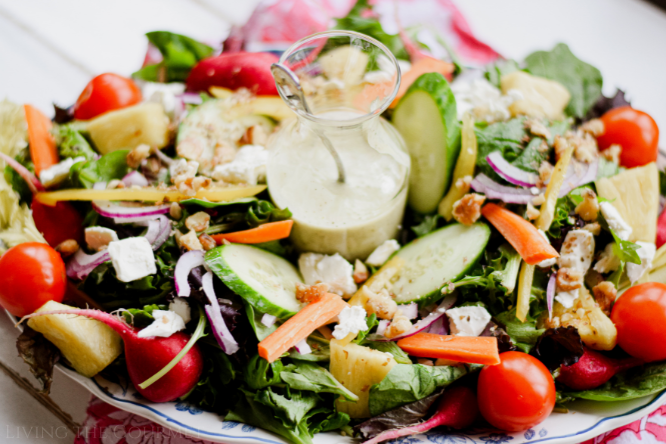 And that's our Basil Sesame Vinaigrette. If you enjoyed this recipe, or have any questions or suggestions, let us know in the comments below, we always love hearing from you.
As always, be sure to like, share, and subscribe so that you never miss a post.
Happy Cooking!
0