Today we're preparing a light and easy Spring-themed pasta dish. First we'll be preparing herbed grilled chicken, which we'll be serving over pasta plated with a tomato and white wine sauce, topped with a dusting of crumbled feta and fresh parsley. Serve that outside on your porch, and who's better than you?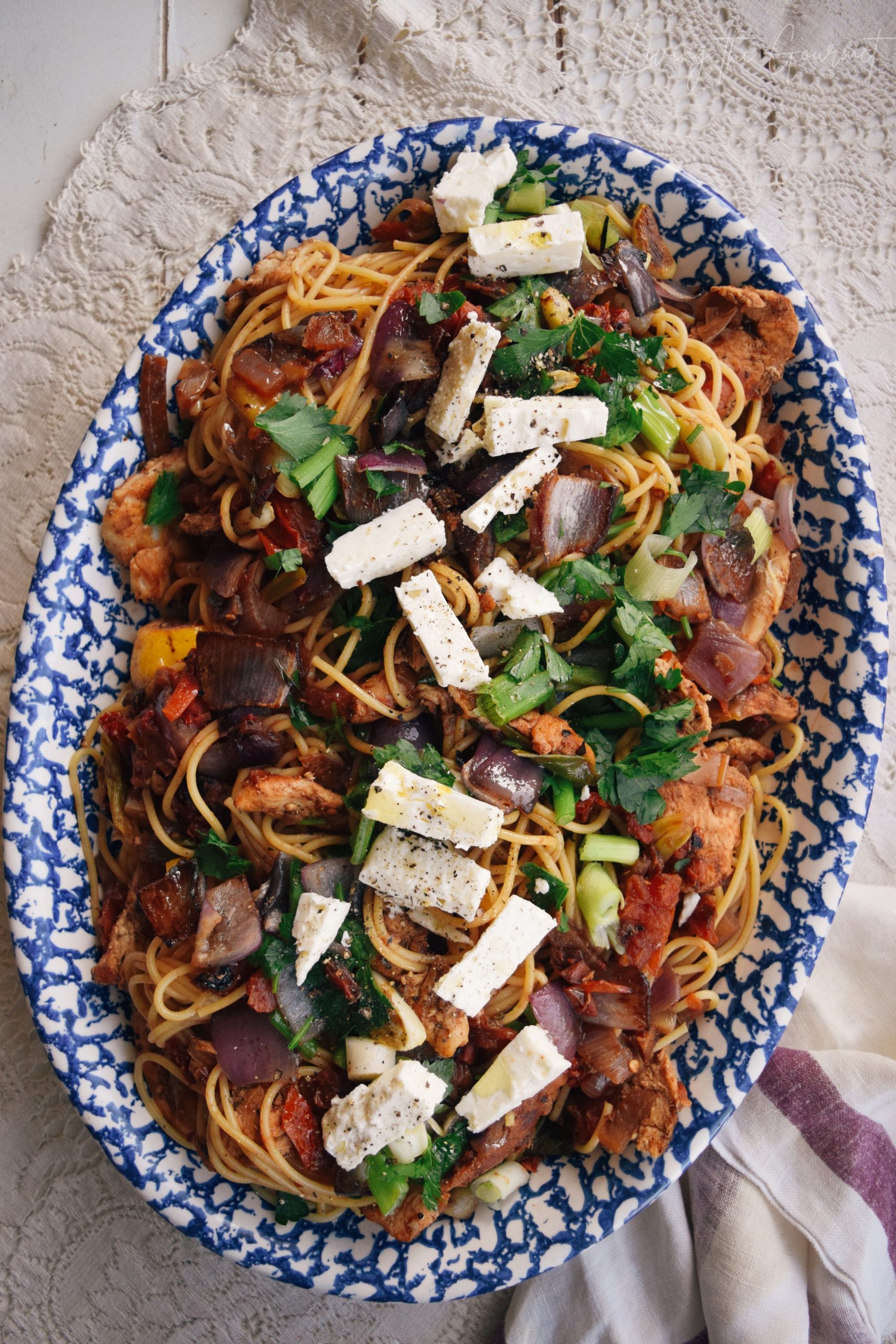 Why To Try Today's Recipe
1) Perfect for Spring. The combination of white wine with fresh herbs, sundried tomatoes, and lightly grilled herbed chicken creates a dish that's light and accessible, but still satisfying, making it perfect for the spring season.
2) Simple Gourmet. Despite the medley of flavors, today's recipe is approachable for home chefs of all skill levels, and best of all it doesn't take all night to prepare.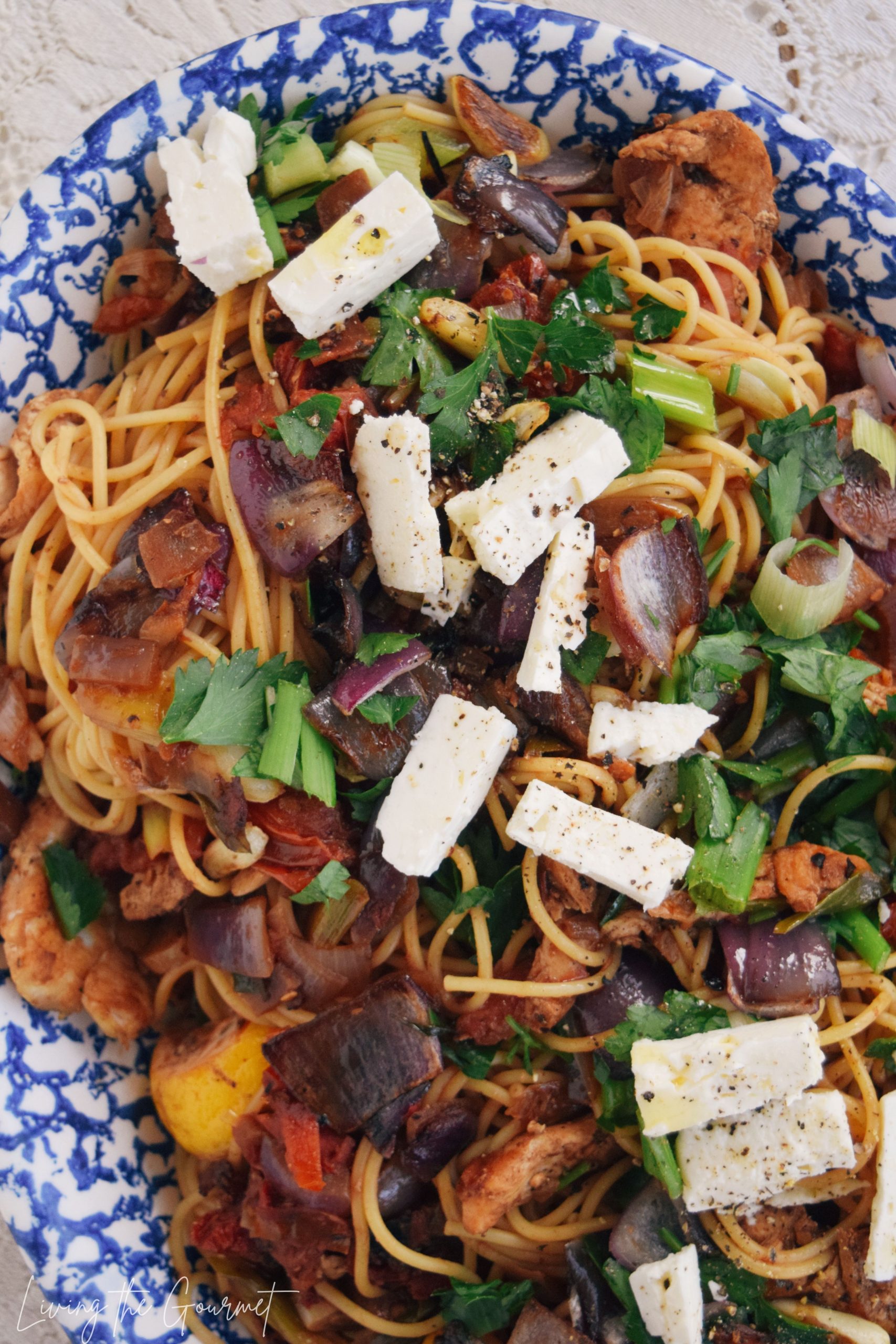 Ingredient Notes, Tips, and Substitutions
1) Sundried Tomatoes – Be aware of 'where' they were produced. In short, buy sundried tomatoes that are imported either from Italy or North Africa. The reason is that there are a lot of articles and PSAs floating around calling out North and South American producers of sundried tomatoes for not actually drying them in the sun. Sadly, this plague of 'sunless-dried tomatoes' sprang up due to sundried tomatoes more or less being the 'avocados on toast' of the 1990s – except sundried tomatoes weren't just put on toast, they were added to everything from bagels to pizzas, and appeared as a flavor for chips and crackers, they were mixed into dips, fried into eggs, blended into smoothies (no, I'm not making that up), layered onto deli sandwiches (something I still do), infused into oil (this is actually a traditional use), and baked into bread (another traditional use). In short, they were absolutely everywhere. Originally, the majority of sundried tomatoes were produced along the Mediterranean coast, particularly Southern Italy and Morocco, and this continued being the case until about the mid-1990s. However, as the 1990s drew to a close, tomato growers across the New World decided to begin cashing in on the vogue ingredient in a big way, but unlike their Italian and North African counterparts, New World producers of sundried tomatoes (looking at you California and Mexico) rarely went through the trouble of drying the tomatoes in the sun, instead opting for machine or oven drying methods. Of course, there were a handful of exceptions to New World sundried tomatoes being of lower quality. In particular, certain American producers proudly advertised the fact that their sundried tomatoes were, in fact, dried in the sun, while Argentine sundried tomatoes were, and remain, of decent quality – due both to local cuisine and a large Italian-immigrant population. Nevertheless, these exemplars of quality were a sad exception to an otherwise low-quality rule – and before long the market was flooded with low-quality, New World-sourced sundried tomatoes. As such, no sooner had the new millennium dawned than it became vogue to buck the sundried tomato trend, and American palates moved on to avocados. That said, I still love this particular ingredient, but I 'do' remain cautious as to the brands I buy.
Substitution: If you don't have sundried tomatoes on hand, I find that the best substitution is about 1 teaspoon of tomato paste per three sundried tomatoes.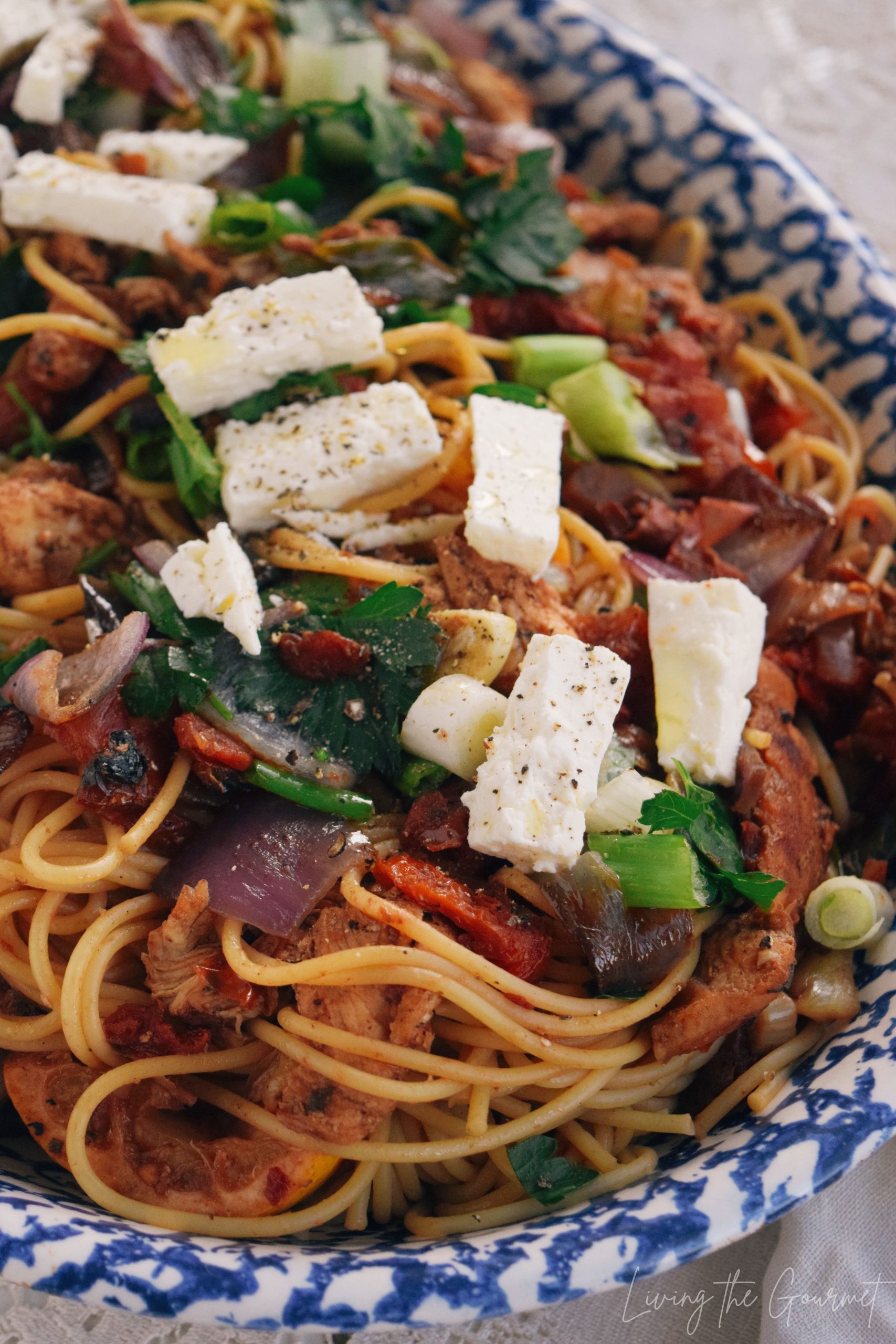 2) Scallions. First off, scallions are 'not' shallots. Yes, some American supermarkets mislabel the two items, but US supermarkets are notorious for their labeling mishaps, with one prominent example being their labeling of orange fleshed sweet potatoes as 'yams,' despite 'real' yams being more akin to yucca in taste and texture. Yes, some parts of the English-speaking world don't differentiate shallots from scallions linguistically – but linguistics often fall short of 'reality.' Instead, what matters is that they 'are' different things. Scallions are long, thin, green and white, with a flavor reminiscent of 'crisp sweet onion' and just a hint of 'vegetable moisture.' By contrast, shallots look like elongated red onions, and taste like 'sweet onions and garlic.' However, one area where they 'do' overlap is that they are both best enjoyed raw either in salads or as edible garnish.
Substitution. You have several options if you don't have scallions on hand. The first, and perhaps best alternative for today's recipe, would be diced shallots, next up is chives, and finally you can simply dice up some red onion. All will work just fine for today's purposes.
3) Sugar 'and' Salt? Yes, we're using an equal amount of sugar 'and' salt. Both sugar and salt are a 'blurring' or 'melding' agent. This means that they help to bind flavors together. In recipes like red sauces, chilis, or stews, where you have a medley of different flavors coming together, some of which actually contrast quite sharply, you need 'something' to help 'blur' or 'meld' those ingredients together. That said, I want this recipe to be neither 'too sweet' nor 'too salty.' As such, we've divided two teaspoons of 'blurring agent' evenly between the sugar and the salt. Yes, sugar also cuts acidity in tomato sauce, but honestly we're not too worried about the acidity level in today's recipe – since it isn't that high to begin with.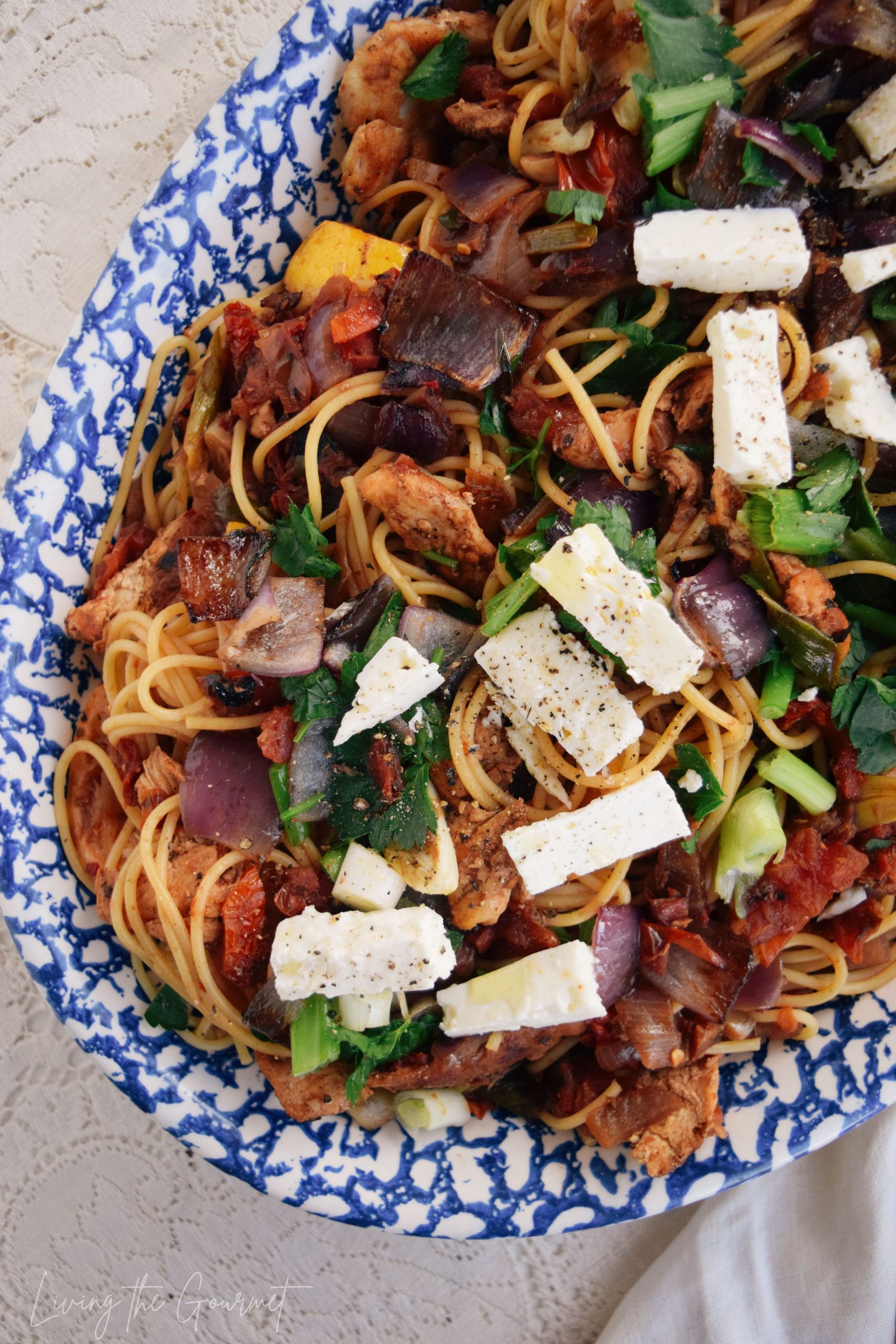 Pasta Pointers – How To Achieve a 'Perfect' Noodle
1) Undercook your pasta. As with all pasta, you don't want overcooked 'mush.' On the contrary, you want a 'firm' noodle. To do this, you need to start by undercooking your pasta. Think about this logically. You are taking your pasta from the boiling water in which it was cooking, and then adding it to a freshly cooked sauce – in which it will invariably continue to cook for several minutes as the sauce cools. Thus, if you overcook or even 'fully' cook the noodles prior to topping them with your sauce, the noodles will become overly tender or 'mushy.'
2) No seriously – undercook your pasta. If you don't believe me, a 2017 article from Bon Appetit confirms that Al Dente is 'functionally' overcooked…usually. The article makes the point that you almost always finish your pasta by tossing it in some sort of cooked sauce, be it red sauce, garlic and oil, or whatever you happening to tossing your noodles with. Thus, if you want truly cooked-to-perfection pasta, you want prepare it "Molto Al Dente," which translates roughly as 'undercooked,' with the idea being that the pasta will continue cooking for a minute or two (or three) as you toss it in the sauce and then prepare to eat it. Of course, if you're not drenching your pasta in freshly cooked sauce, or coating it in heated oil, then feel free to fully cook it.
3) Salt the Water – A Lot. I'm not going to expand too much on this point, except to say that salted water adds savory-ness to your pasta, dilutes its starchy qualities, and covers up any potential imperfections – which are present even in the highest quality brands you can buy. The end result is a better tasting, more palatable pasta.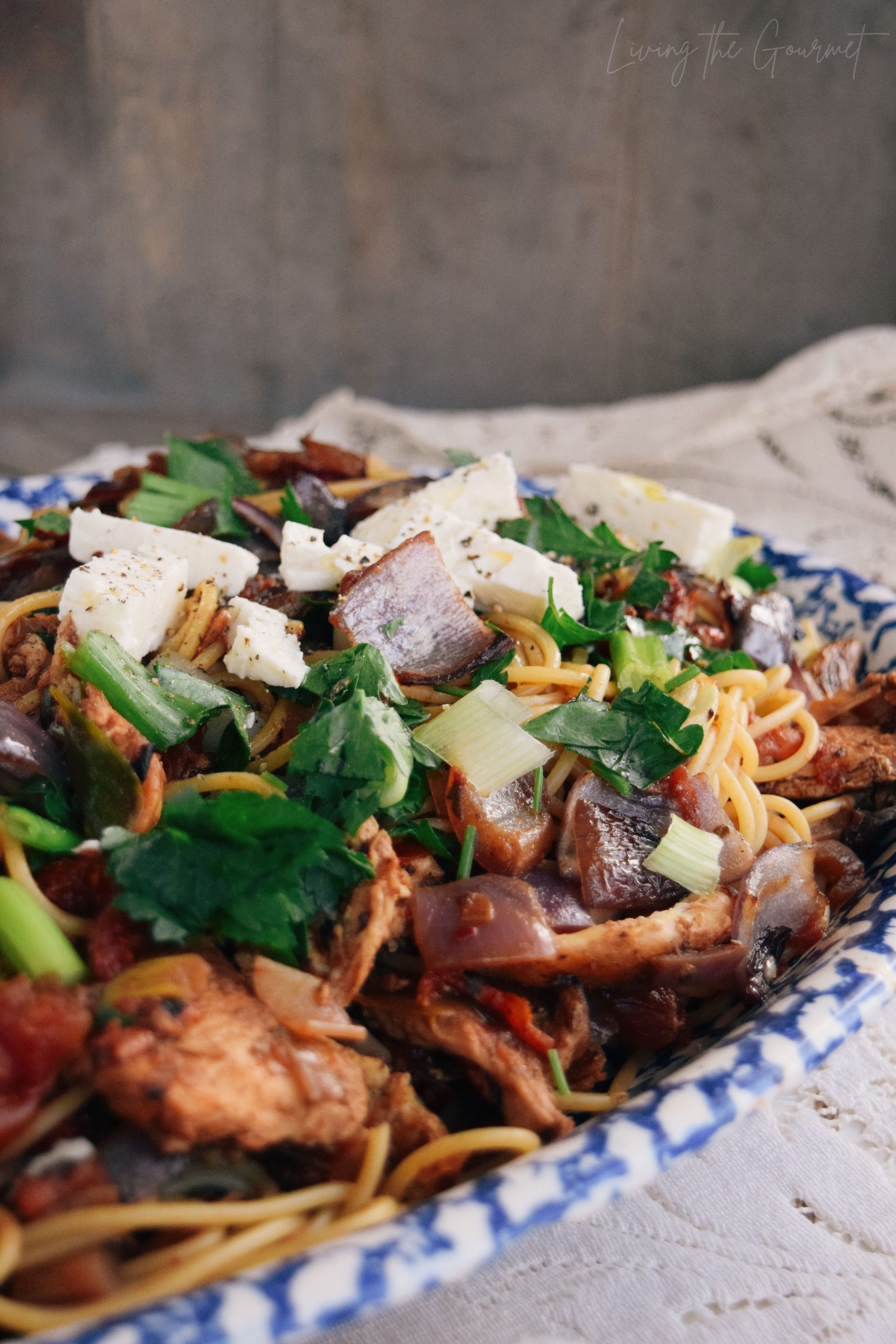 4) Rinsing Pasta Damages It. Rinsing cooked pasta damages it – end of story. I'm not sure where, when, or how this idea came about, but it's a painfully common ritual to rinse pasta under lukewarm-to-cold water in strainers after it's been cooked. I'm honestly not sure what this is meant to achieve aside from artificially cooling it down, or trying to 'unstick' the pasta from itself. The problem is, you can let the pasta cool just by leaving it alone, and the reason the pasta is sticking together is due to 'surface starch,' the same starch that serves to help sauce 'stick' to the pasta, and that gives the pasta a slightly more 'textured' quality. In other words, when you rinse off pasta after cooking it, you're literally rinsing away added quality. Stop this, don't do it, it's silly. End of story.
5) The Noodle Shape – More Than Preference, Less Than Vital. Let's be real, no one has ever 'ruined' a recipe by picking the 'wrong' pasta to pair with their sauce, soup, or stew. However, there are some general guidelines that will help you maximize your enjoyment. As a rule of thumb, tube shaped pasta generally pairs well with thick hearty sauces that can 'trap' or 'catch' within the tube, such as ziti, rigatoni, and penne. The larger the tube pasta, the heartier the sauce it pairs with. Stick or 'rod' shaped pasta, such as spaghetti, spaghettoni, and capellini, are generally best paired with olive oil and garlic or tomato-based sauces, since these types of pasta serve best when they can be uniformly coated by the sauce, since the pasta cannot 'catch' or 'trap' heavier sauces in the way that something like rigatoni can. Ribbon pasta is generally ideal for creamier sauces. Think of the heavenly pairing of fettucine and alfredo sauce.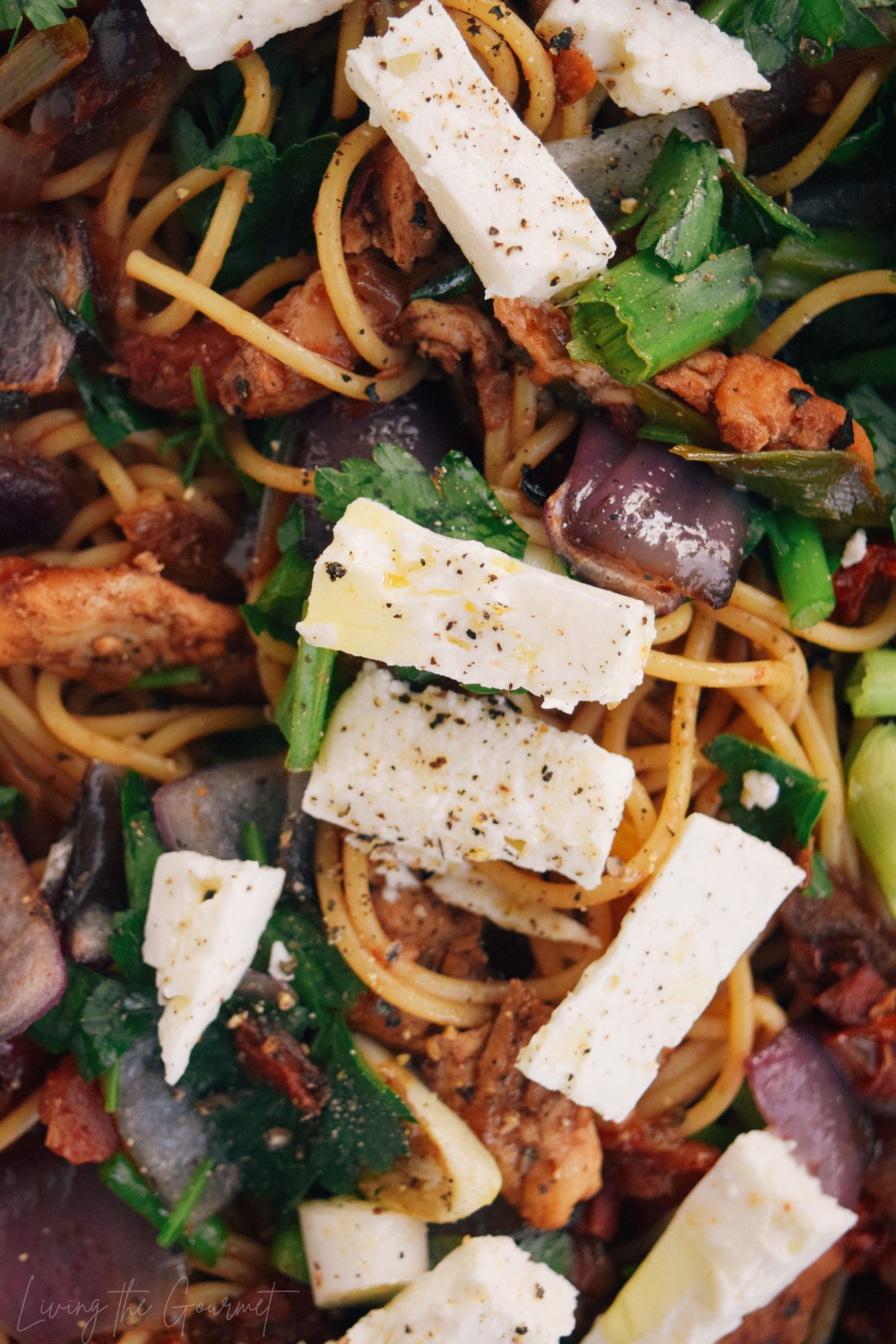 More Pasta Favorites from Living the Gourmet
1) Ravioli. My homemade ravioli are blissfully simple to prepare, but the real star of the show is their delicious mix of asiago, ricotta, mozzarella, and romano cheese, coupled with a fresh red sauce, plenty of garlic, and fresh spinach.
2) Alla Vodka. Creamy, rich, and just a hint spicy, 'alla vodka' is a crowd pleaser like few others, and best of all it takes just minutes to prepare. While I plated this alla vodka sauce over gnocchi, this works just fine over pasta.
3) Classic Pasta Bake. Combining baked pasta with layers of cheese, and a crisp crust, this is one of my favorite pasta indulgences. As a nice bonus, it can be made ahead of time, since it heats up beautifully.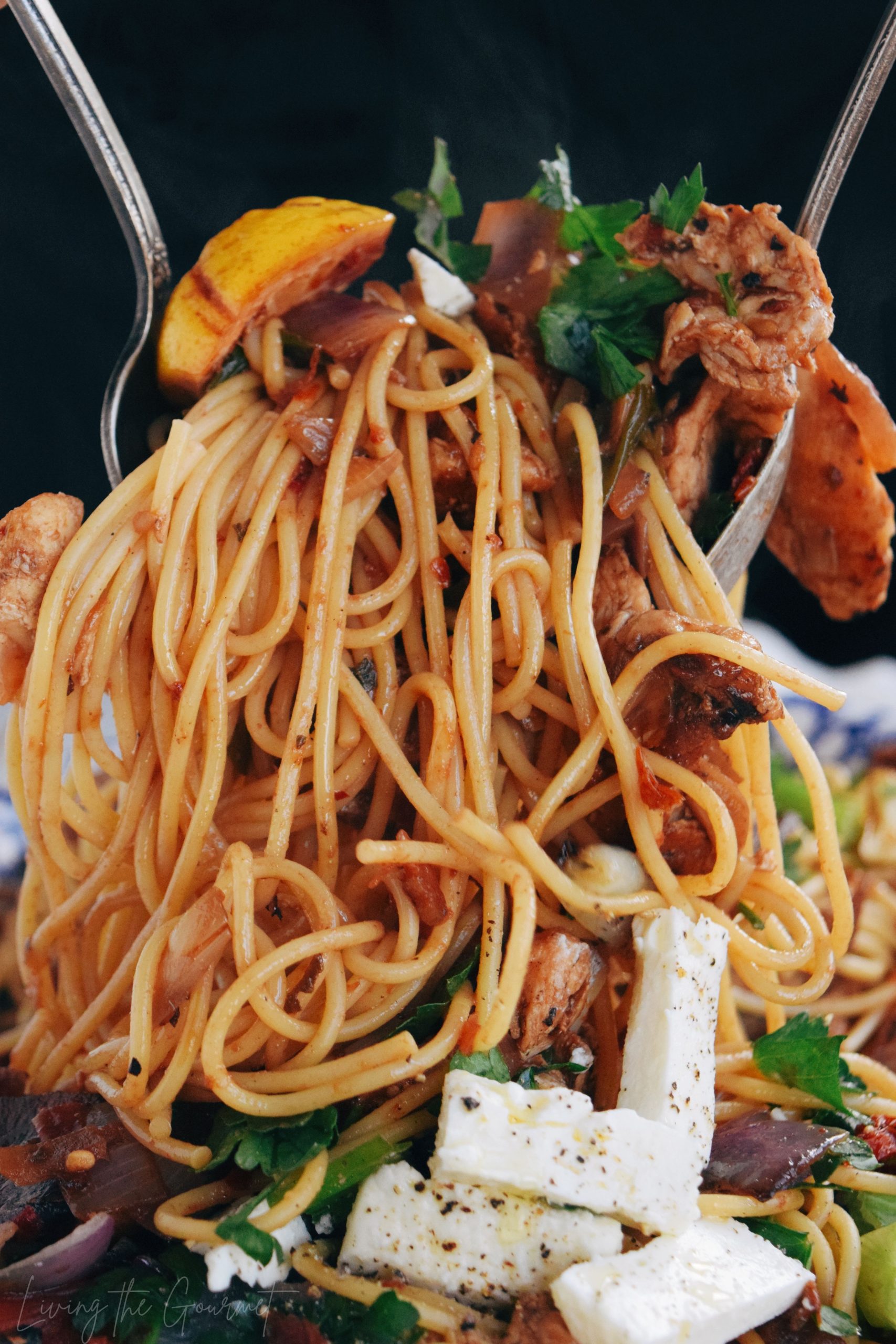 Print
Bistro Style Chicken & Pasta
---
Author:

Total Time:

35 minutes

Yield:

4

1

x
1

–

1 ½

lbs. of boneless chicken breast – sliced thin
Seasonings for the Chicken:
1/2 tsp

. sea salt

1/2 tsp

. ground black pepper

1 tsp

. dried oregano 

1 tsp

. garlic powder
For the Sauce:
5

–

6

sun-dried tomatoes – sliced thin

1

bunch of scallions plus extra for garnish – sliced reserving 2 – 3 scallions to garnish over the top

1 ½

red onions – quartered

1 ½

bulbs of garlic – crushed

2

tomatoes – quartered

1/4

lemon – sliced thin

¼ cup

wine

1 tsp

. salt

1 tsp

. fresh ground black pepper

1 tsp

. dried oregano

½ tsp

. red pepper flakes

¼ cup

fresh Italian parsley – stems removed and coarsely chopped

Olive oil for drizzling

1

lb. of your favorite pasta
For the Topping:
½

Onion – quartered and grilled

½

bulb Garlic – crushed

8 oz

. feta cheese – sliced

2

–

3

fresh scallions – sliced

1/4 cup

of fresh parsley – stems removed and coarsely chopped

1 tsp

. of sugar

½ tsp

. salt
fresh ground black pepper
olive oil – for drizzling
---
Instructions
Heat a large cast iron frying pan.  Add the sliced chicken into the dry pan.  Sprinkle the chicken with the seasonings

Allow a nice golden color to be achieved on both sides and cooked through, then drizzle with olive oil.

Remove the chicken from the pan and set aside while cooking the sauce.

Place the quartered onion, crushed garlic, sliced scallions, sliced sun-dried tomatoes and quartered tomatoes in a bowl and toss.

Place the tossed vegetables in the heated cast iron pan and allow to slightly char.  Add a drizzle of olive oil, lemon slices and all of the seasonings and toss.  Add the wine and toss and cook down for a minute or two.

Add the grilled chicken into the sauce and toss.

Turn the heat off and cover the pan loosely.

Heat a small cast iron pan and place the ½ red onion and ½ blub of crushed garlic.  Sprinkle with the sugar and salt.  Cook until a nice char is achieved and then drizzle with a bit olive oil, then set aside.

Prepare the pasta as directed.

Lift the pasta, allowing it to drain a bit as you lift it, then place into the sauce and toss.

Prepare a large platter with a drizzle of olive oil.  Place the pasta on the prepared platter.

Garnish with the feta cheese, fresh parsley, sliced scallion and the grilled ½ onion and ½ bulb of garlic, fresh ground black pepper and a drizzle of olive oil.
Prep Time:

15 minutes

Cook Time:

20 minutes

Cuisine:

Mediterranean
Keywords: pasta, chicken, spaghetti, italian
Recipe Card powered by
0