This post has been sponsored by WildTree. All opinions expressed are my own.
Today we're preparing a fall themed roast chicken, which we'll be pairing with a side of crispy fried tempura vegetables, and a lettuce wedge salad topped with peppers and artichoke hearts. We'll be doing all of this with a little help from my new friends over at WildTree, a company that offers a variety of monthly meal kits, all of which pack an assortment of organic, GMO-free, and Kosher items, ranging from spice rubs to pizza dough to oils to plant-based meal shakes, but more on them in just a minute.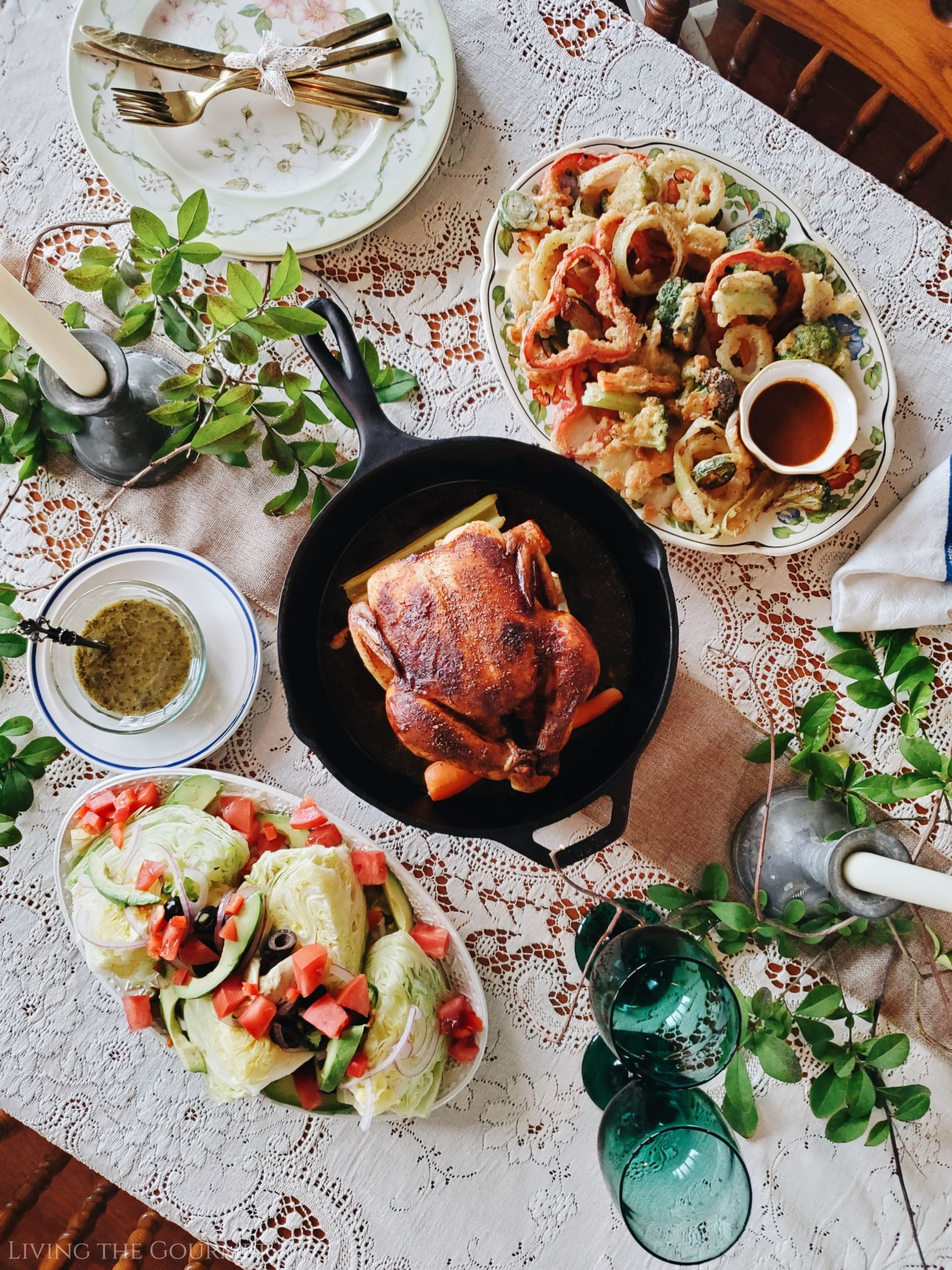 I prepared today's meal using several items from WildTree's Family Favorites Box, which includes their absolutely delicious Wicked Good Slow Cooker Sauce, a Memphis Dry Rub, their Rancher Steak Rub, the Tuscany bread Dipper Herb Blend, their Garlic Galore Seasoning Blend, their Rosemary Garlic Dressing and Marinade, a Hoison Sauce, and their Roasted Garlic Grapeseed Oil.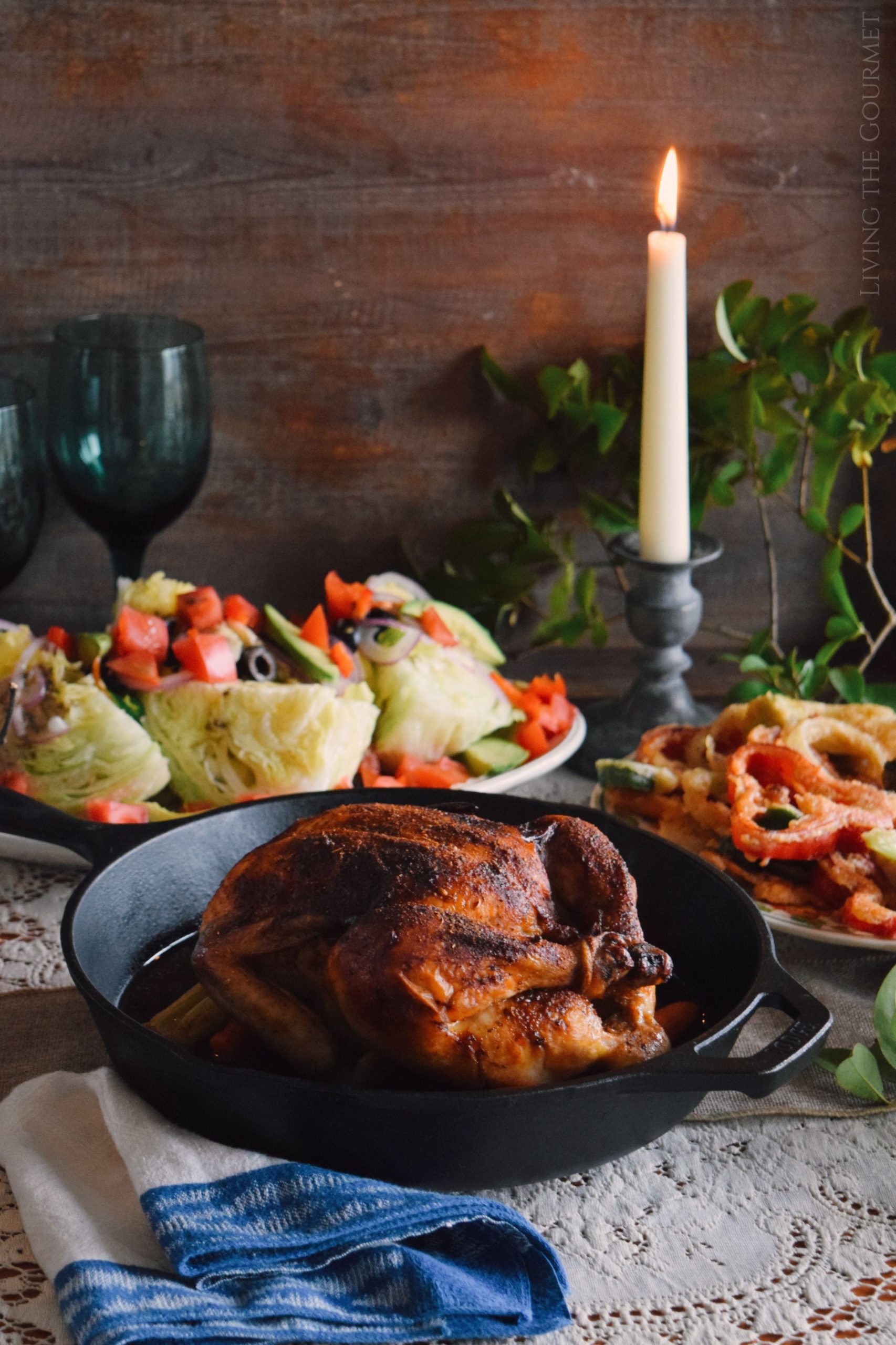 While You'll Love Today's Roast Chicken
1) Super Seasonal. There really are very few things in this world that are more autumn and winter seasonal than a roast of any kind – including a roast chicken. Rubbed down with flavors such as hickory smoke, jalapeno, and brown sugar before being roasted over seasonal root vegetables, today's chicken is autumn in a plate.
2) Simple Gourmet. Courtesy of our new friends over at WildTree, all we're doing to today's chicken is rubbing it down with their Wicked Good Slow Cooker Sauce, their Rancher Steak Rub, and then setting it in the oven. When it comes to whole roasting a chicken, it really doesn't get any simpler than that.
3) It Keeps Nicely. While my roasted chicken disappeared the night it was cooked, today's recipe keeps just fine for up to three days, and heats up beautifully, making it ideal for sandwiches the next day as a quick lunch.
While You'll Love Today's Tempura Vegetables
Much to my surprise, my son regarded today's tempura veggies as the star of the show. While he didn't actually 'say' this, he instead proceeded to make around a quarter of the veggies disappear on his own by the time dinner was over. To put this in perspective, I had prepared about three 'baskets' of tempura veggies for today's post, each of which were large enough to feed a small dinner party.
1) You Can 'Tempura' Anything. Once you've got the hang of prepping the tempura batter, you can 'tempura' just about anything from pork or beef to veggies, fish, poultry, and even salad greens, but more on that below in my Tempura Overview.
2) A Side or Meal. Tempura veggies make a delicious side to a hardier meal, as we're doing today. However, tempura pork, beef, or fish can be a meal unto itself. Really, the possibilities are virtually endless.
3) A Recipe the Entire Family Will Love. Crispy fried veggies in a feather-light batter, or pork or beef swathed in crispy goodness, is truly a crowd-pleaser of a recipe, and so when you prep tempura, you can be sure you've made something the entire family will love.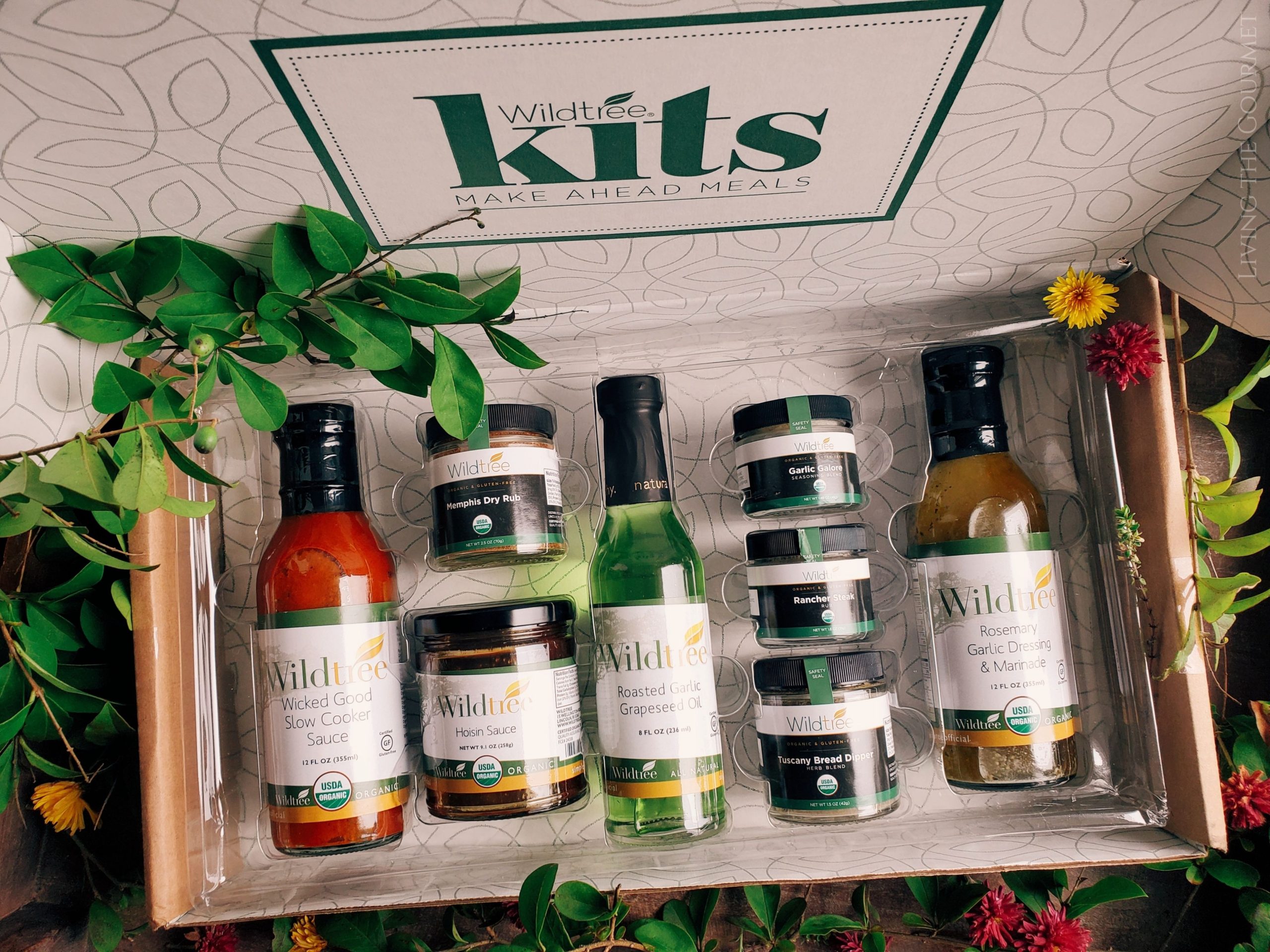 Ingredient Notes and Tips
1) WildTree Wicked Good Slow Cooker Sauce. As mentioned above, we used this on the chicken. This sauce is definitely for more than just slow cooking. Made with cane juice, organic onions, paprika, cumin, garlic, jalapeno, and molasses among a medley of other smokey and spicy flavors, this sauce is a complex combination of sweet, spicy, and hickory smoke, but not in a conflicting or overwhelming way. Instead, this is a very well balanced and layered sauce, with a shocking amount of nuance. I could see putting this on steaks, using it as a barbecue sauce, or even putting this on eggs – as my son did. Seriously, this was my favorite item out of the box I received. I wholeheartedly recommend giving this a shot. In fact, if you're on the fence about WildTree, order this sauce on it's own here, and see what I'm talking about. You won't be disappointed.
2) WildTree Rancher Steak Rub. This is a classic meat rub spice mix, in my opinion, combining allspice, cloves, ginger, pepper, garlic, and seat salt – all organic. Whether you grilling steaks, roasting a pork shoulder, or – as we're doing today – roasting a chicken, this spice mix has got you covered. Pleasantly earthy, while just a tad smoky and sweet, with lingering spice from the ginger, this rub is everything you'd expect from a quality meat rub.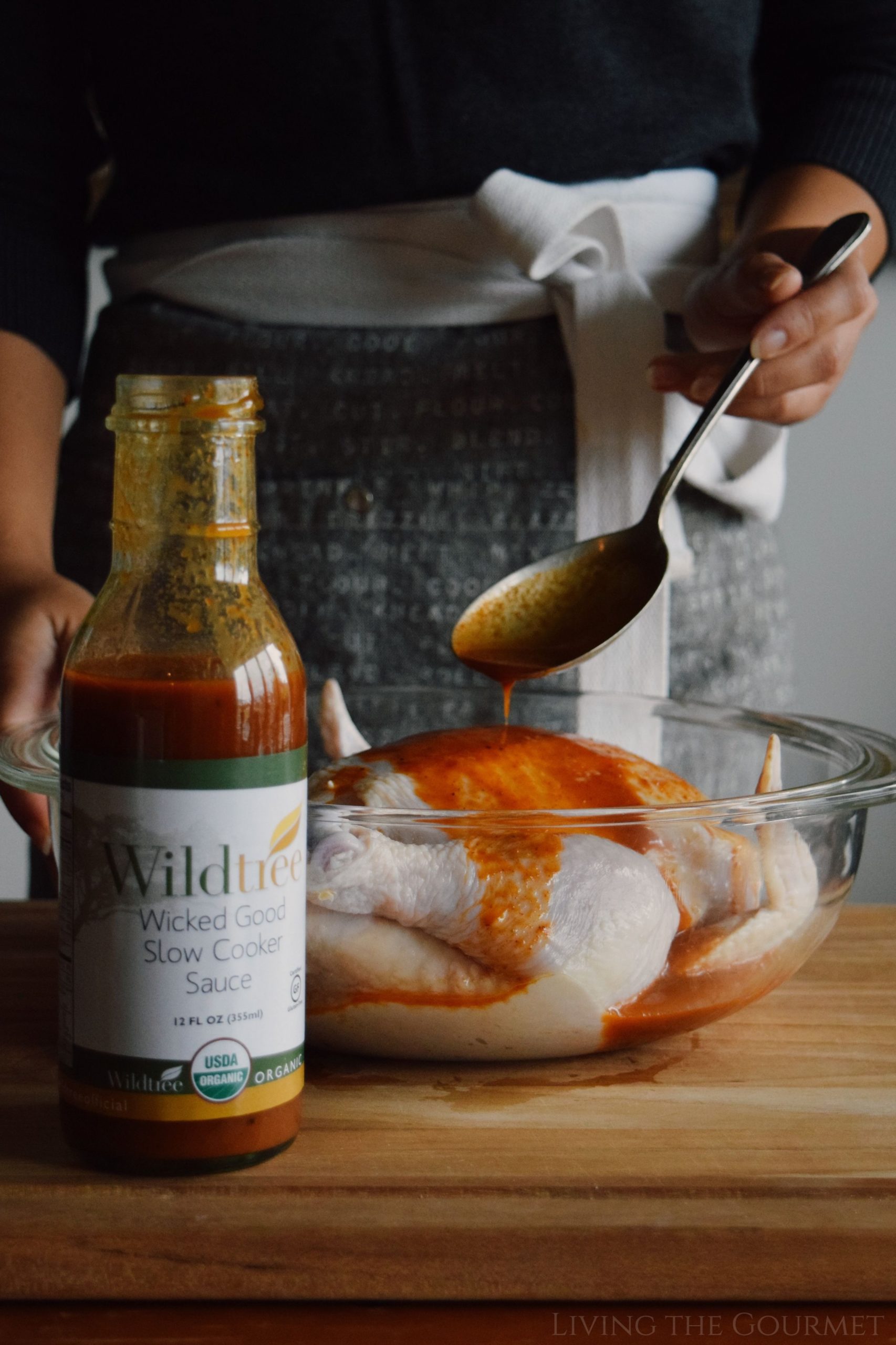 3) WildTree Memphis Dry Rub. I put a dash of this in the tempura batter, and it was delicious. That said, I regard this as a 'somewhat sweet' barbeque rub. Utilizing a brown sugar base, WildTree mixes in things like cumin, garlic, paprika, coriander, and smoke flavor, among a medley of other ingredients – all of which are organic. To my mind, this would be ideal for barbecued recipes, where you really want a 'sweet and smokey' flavor profile.
4) WildTree Rosemary Garlic Dressing and Marinade. This is the ingredient that makes today's salad. Fully organic, as are the other products, this marinade and dressing is a rustic combination of red wine vinegar, sea salt, lemon juice, basil, cane juice, and black pepper, among other ingredients. Apart from salads, I could also see using this as a marinade for pork, steaks, and kebabs. Again, these are high quality products that I can promise won't disappoint, and since their organic, GMO-free, and Kosher, you can feel good about eating them.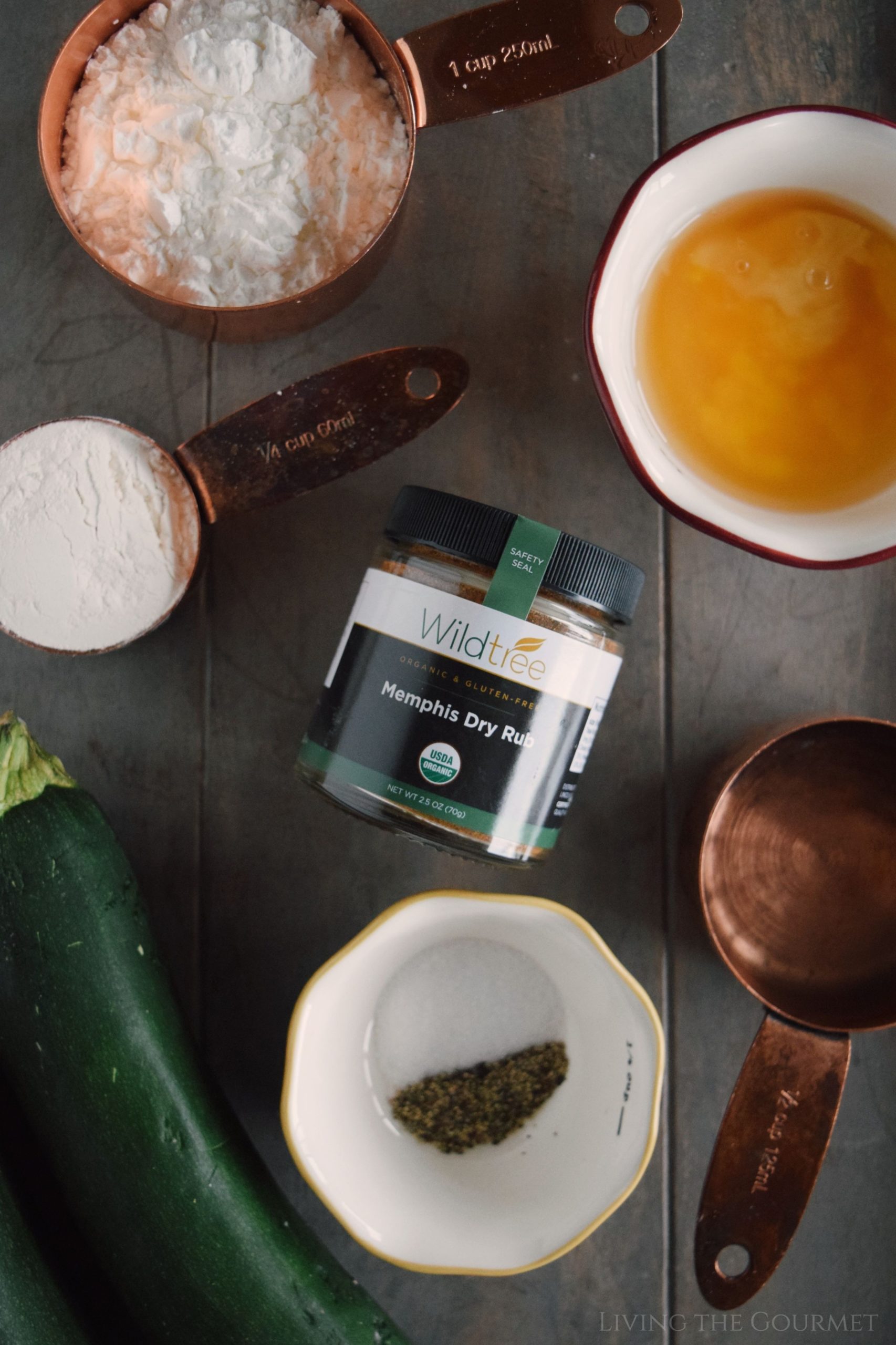 5) 'Neutral' Oil. You'll notice I call for a 'neutral oil' when frying the tempura. Corn oil, vegetable oil, or light olive oil fill this role, since all have super-high smoke points, which is ideal for frying, and since all are relatively flavor neutral. The reason we don't use olive oil for frying is that most olive oils have a relatively low 'smoke point,' which is the temperature at which the olive oil begins to burn away, giving your food a rancid taste and sapping its nutrients. Curiously, the lower the quality your olive oil, the 'higher' its smoke point. In fact, 'Light' olive oil actually has a higher smoke point than vegetable oil, while Extra Virgin Cold Pressed olive oil will start to burn away at merely a 'low simmer.' In short, the rule of thumb is this – olive oil gives superior flavor and health benefits, but 'only' when cooking at lower temperatures of no more than around 350 degrees Fahrenheit, or when barbecuing over 'gentle' flames. Use vegetable or corn oil for pretty much everything else.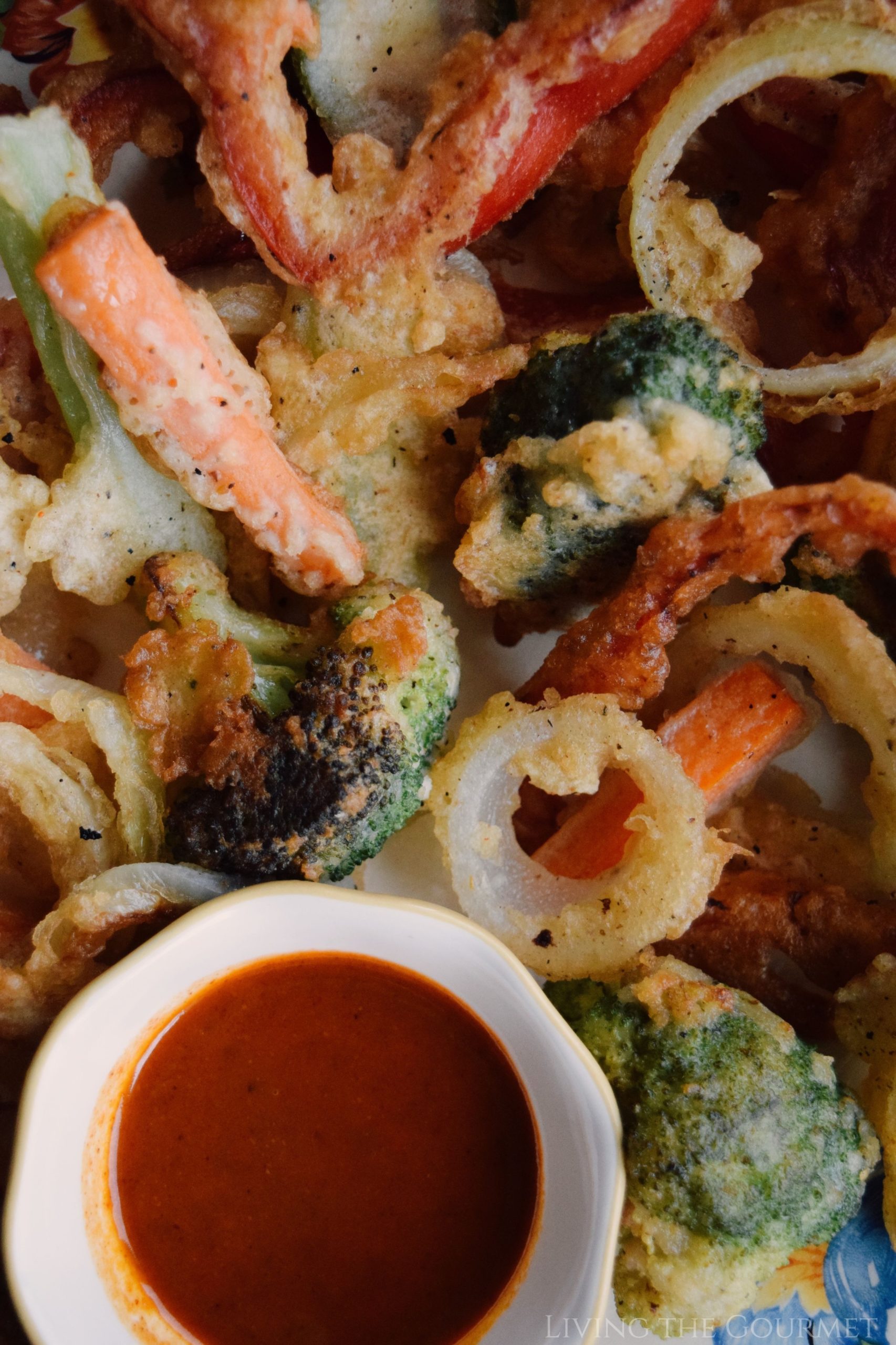 Tempura – An Overly Brief Overview
1) The Origin. The Sengoku Period of Japan, which spanned from the middle of the 15th century through to the start of the 17th century, was a time of continual and brutal civil war in which countless Daimyo (feudal landholders-turned-warlords), vied for control of the country. It was during this period that the Portuguese began trading with the Land of the Rising Sun. Naturally, the warring Daimyo were interested primarily in the firearms and cannons that the Portuguese brought over in astoundingly large numbers (relative to the size of the day's trading vessels). However, the Portuguese also brought over 'civilian' wares such as tobacco, wool, and – perhaps via accident of the oft culinary-focused 'ceremonies of diplomacy' – recipes. While many of the recipes the Portuguese introduced to Japan have simply faded with time, one recipe in particular remains a staple to this day - peixinhos da horta. Fried green beans. The Japanese of the era loved the 'novel' way in which the green beans were fried, and began experimenting with the frying process and batter. Today, that recipe is called 'Tempura.'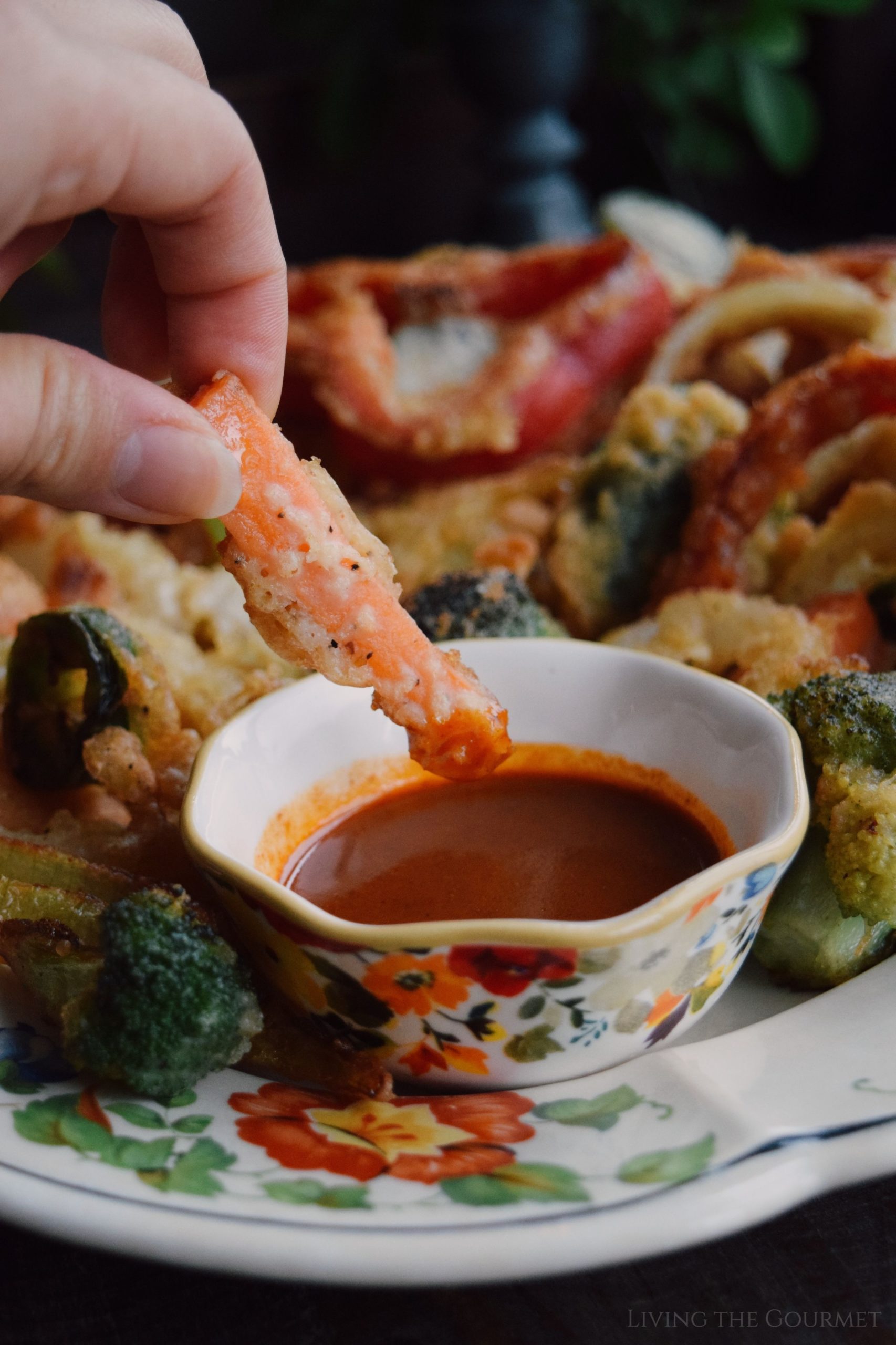 2) Tempura Batter 'is' Tempura. When talking about fried food, the batter is a defining aspect. The crisped batter is the first thing you see, and the first thing you taste, in any fried recipe. Tempura is no exception. Tempura is typified by a 'very' light batter, which becomes 'very' crispy. Katsuyo Kobayashi, author of the "The Quick and Easy Japanese Cookbook," in a section titled "Assorted Tempura," suggests making tempura batter with ice cold water to help keep the batter light. Baking powder and baking soda can also be utilized to keep the batter as light and as crisp as possible. In his book "Incredible Vegetables," Osamsu Okamoto suggests using pastry or baking flour, which has the effect of lightening the batter, and helping to achieve a 'crispier crisp' during frying. Noticing a pattern yet? A super-light yet super-crisp batter is essential – it is the defining trait of Tempura.
3) Applications for 'Tempura.' From green beans to fish to vegetables, 'anything' can be turned into Tempura. Katsuyo Kobyashi in "The Quick and Easy Japanese Cookbook," for example, gives a recipe for tempura shrimp, squid, carrots, kisu (a species of whiting), sweet potatoes, and lotus root. Similarly, Osamsu Okamoto turns shiso (beefsteak leaves), cucumbers, and carrots into tempura vegetables. In other words, if it can be deep fried in a super light batter, it can become 'Tempura.' There's even Tempura Meatballs.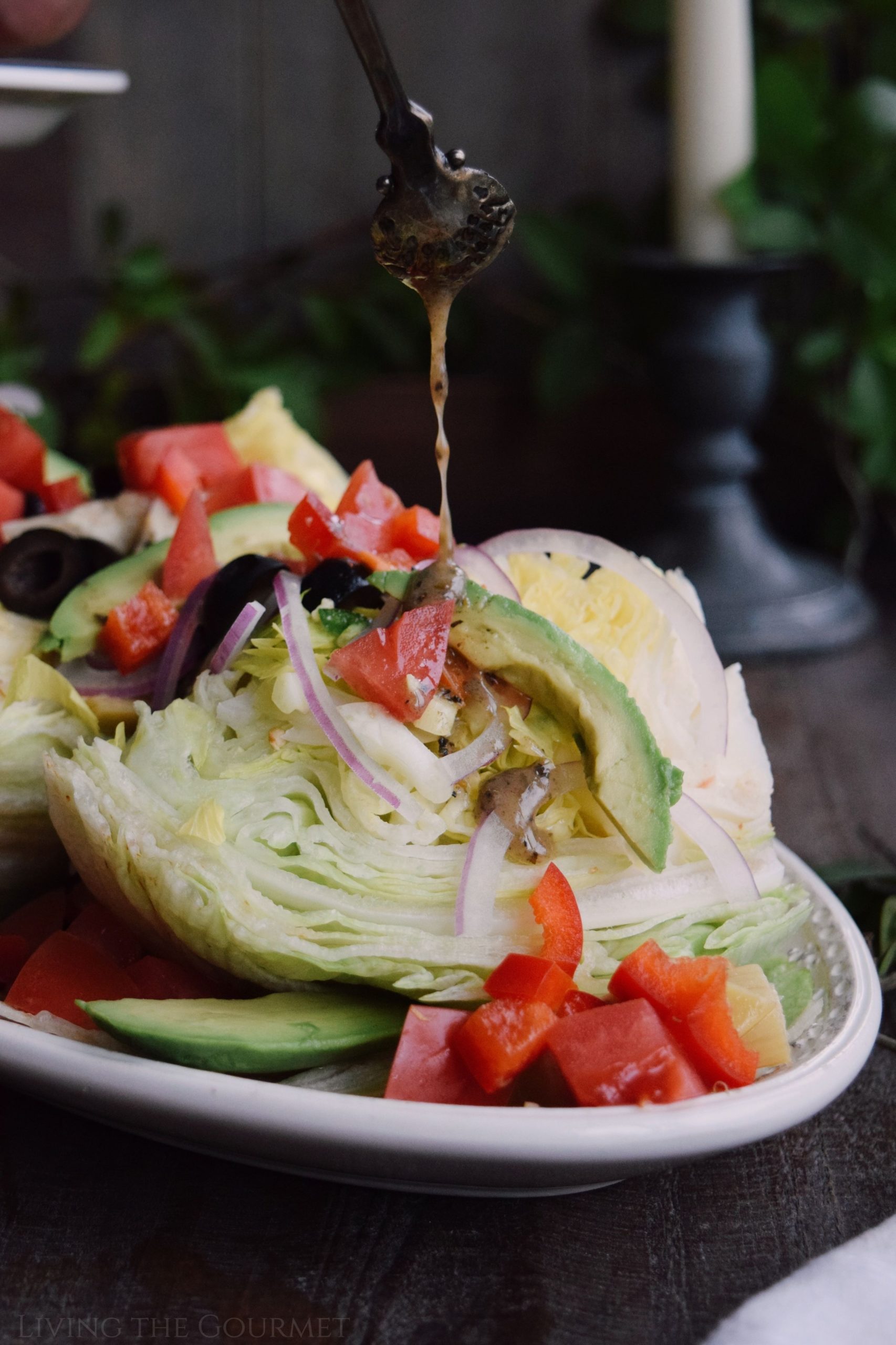 Other Great Fry-Fests From Living the Gourmet
1) Oven Baking vs Frying. My gratuitously in-depth analysis of the difference between frying and oven baking, and which is better for what recipe, as well as the general pros and cons of both.
2) Spicy Fried Chicken. My favorite take on this perennial classic. We use corn starch to give the chicken coating a nice crisp, and add in cayenne and hot sauce to the batter to give the ultra-crispy coating a nice kick.
3) Oven Baked Chicken. I know I promised a fry-fest, but this chicken recipe is the oven-baked version of my spicy fried chicken. I love both, so take your pick of the two and let me know down below which you like the best!
4) Fried Cauliflower Balls. My favorite way to prepare cauliflower is as bite-sized fried delights. Drizzled with some fresh lemon, and served with a homemade tzatziki, and you've got a real treat that's great as either as a starter or a side.
5) Italian-Style Fried Shrimp Balls. These are as delicious as they sound. Prepared with fresh basil, fresh lemon, Romano cheese, and Italian parsley, these a delightful addition to any starter spread.
Print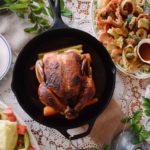 Roast Chicken and Tempura Vegetables
---
Author:

Total Time:

1 hour 15 minutes

Yield:

4

1

x
For the Roast Chicken:
3

-

3 1/2

lb

. whole chicken - rinsed and pat dry with a paper towel

2

- Whole carrots

2

- Whole celery stalks

1/4

cup

WildTree Wicked Good Slow Cooker Sauce

2

-

3

tsps. WildTree Memphis Dry Rub
For the Tempura Vegetables:
3/4

cup

cornstarch

1/4

cup

flour

1 tsp

. baking powder

1 tsp

. salt

2 tsp

. Wildtree Memphis Dry Rub

1/2

cup

seltzer

1

egg

1/4

cup

panko
Zucchini - sliced into sticks
Carrots - sliced into sticks
Celery - sliced into sticks
Jalapeno - sliced
Red Bell Pepper - sliced into rings
Yellow onion - sliced into rings
Broccoli - gently steamed
Cooking oil for frying
For the Wedged Salad:
1

head of iceberg lettuce - quartered

1

tomato - diced
Black olives
Capers
Marinated artichoke hearts
Stalk of celery with the leaves - diced
Red onion - sliced thin
Avocado - sliced
Red Bell Pepper - sliced thin
Habanero pepper - sliced thin
Wildtree Rosemary Garlic Dressing and Marinade
---
Instructions
For the Roast Chicken:
Preheat Oven 350 degrees F.
Place the carrots and celery stalks at the bottom of a cast iron frying pan.
Place the whole chicken on top of the "rack" of the celery and carrots.
Combine the Wildtree Memphis Dry Rub into the Wildtree Wicked Good Slow Cooker Sauce and rub all over the chicken and gently lift the skin and place a little of this mixture under the skin.
About 15 minutes before the chicken is done add about 1 ½ cups of water to the bottom of the pan.
Place the chicken in the preheated oven and cook 20 – 25 min. The chicken is cooked when it reaches an internal temperature of at least 165 degrees F and the juices run clear.
For the Tempura Vegetables:
In a bowl mix the cornstarch, flour, baking powder, salt, Wildtree Memphis Dry Rub and the panko and toss together.
Add in the seltzer and the egg and mix until smooth.
Heat a large cast iron frying pan with about ½ inch of cooking oil.
Dredge the veggies in the batter and carefully place into the heated oil.
When the batter is set and slightly golden on one side carefully turn over and finish cooking on the other side.
Place on a pan that is prepared with a paper towel.
Serve with the WildTree Wicked Good Slow Cooker Sauce for dipping.
For the Wedged Salad:
Slice the iceberg lettuce into quarters and top the suggested toppings or with your favorite salad toppings.
Drizzle with the WildTree Salad Dressing and Marinade.
Prep Time:

15 minutes

Cook Time:

1 hour
Recipe Card powered by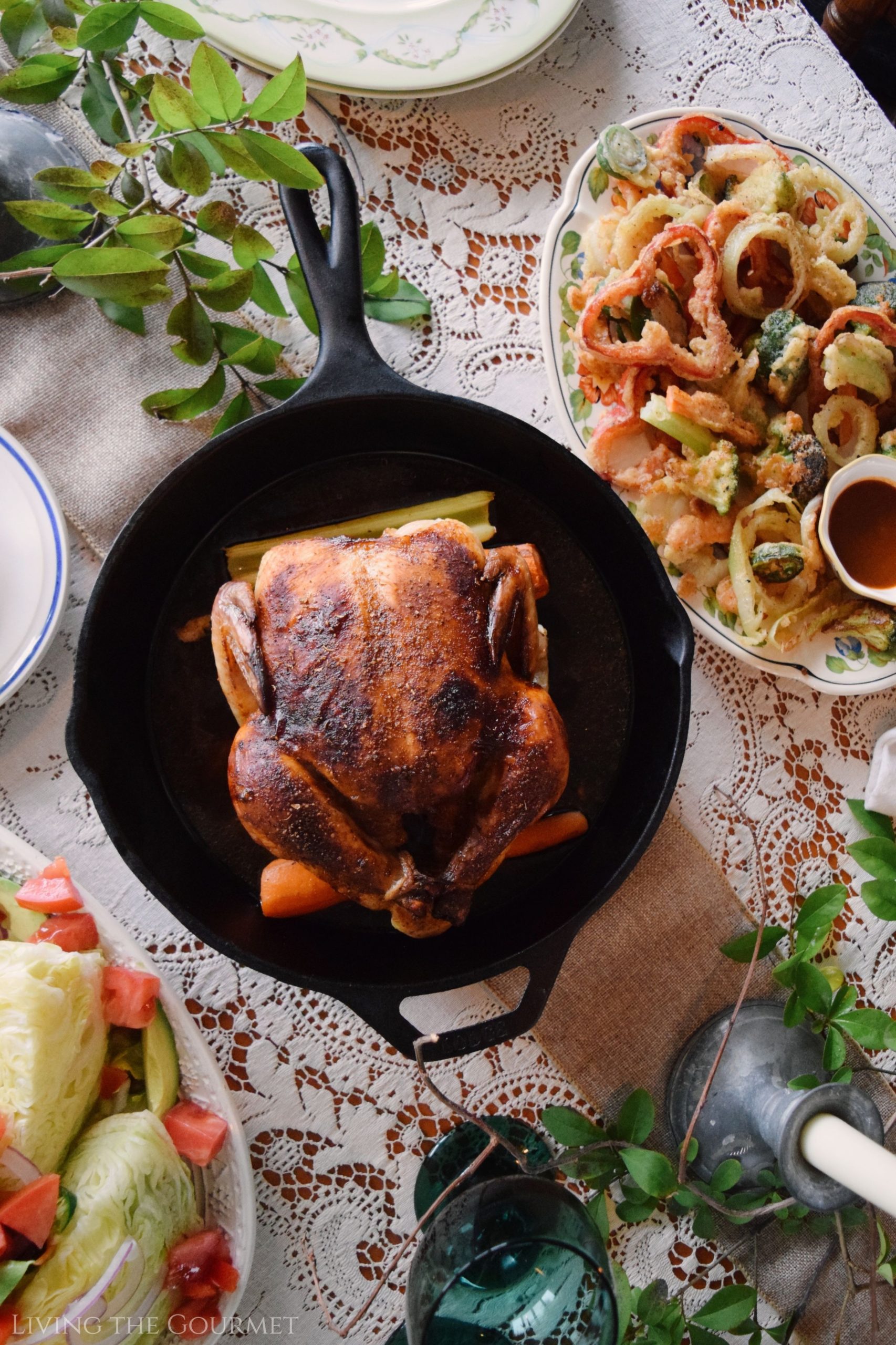 If You Enjoyed Today's Recipe…
Be sure to follow us on Instagram to stay up to date with all things Living the Gourmet, and for more great recipes, tips and tricks.
Did you make this recipe?
If so, let me know in the comments down below, or post a picture to Instagram, or to Pinterest, and I'll give you a shoutout on Instagram, or post your pin to one of my Pinterest boards!
0