Choosing the right ribs is the first step towards achieving a delicious plate of ribs – whether its grilling, stewing, or smoking. Yes, you need the best ribs, but you also need the right type of rib. That's where this guide comes in. Whether you're a rib connoisseur or a weekend pitmaster, this guide has something for you.
Whether coated in a thick barbecue glazes or dry-seasoned with aromatic herbs and spices (or both, as I myself prefer), ribs offer a mouthwatering experience that transcends borders, from the savory sweet umami goodness of Korean BBQ to the rich and tangy slow-cooked simplicity of Memphis-style ribs, ribs have earned a cherished place in cuisines around the world, and for good reason.
Today, we're zeroing on our two favorite types of ribs, and delving into the real difference between them: Baby Back Ribs vs Spare Ribs. What exactly are baby backs or baby back loin ribs (no they don't come from baby pigs)? What portion of the pig are they cut from? What's the best use for them? And what about St. Louis-style ribs? Side ribs? We'll cover all of it.
In the world of ribs, these two contenders stand out for their unique attributes. Baby back ribs, known for their tenderness and lean meat, originate from the loin muscle along the top of the pork rib cage. On the other hand, spare ribs, often referred to as St. Louis-style ribs, offer a heartier though flatter profile with more meat, stemming from the lower belly and side areas.
So, if you've ever found yourself in the grocery store looking for a rack of ribs, but debating between a slab of spare ribs or a rack of back ribs, this guide will be your culinary compass.
Whether you're seeking rib tips or looking for an understanding of the meat-to-bone ratio, we're here to provide you with the knowledge you need to make the right choice. Join us as we uncover the secrets behind baby back ribs and spare ribs, and navigate the world of these beloved pork cuts.
Now, let's talk ribs.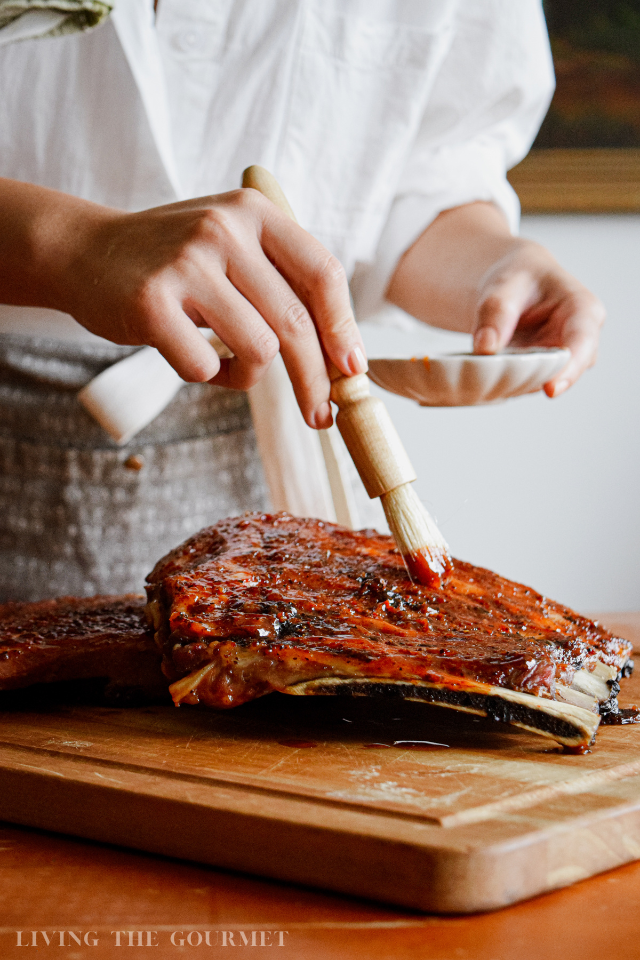 It Starts with the Cut – Anatomy of a Rib
Baby Back Ribs: A baby back rack comes from the pig's upper rib cage, specifically near the spine on the back of the pig. These ribs have a shorter length compared to spare ribs and sport an elegantly curved structure resembling a gentle arch. The meat-to-bone ratio of baby back ribs leans toward the meatier side, with a relatively higher proportion of lean meat. This characteristic results in their lauded tenderness, making them a top pick for those who favor a less fatty and more delicate chew. The meat on these ribs lies in close proximity to the bone, offering a pleasant texture without an overwhelming presence of chewy cartilage. Despite their higher price tag, their exquisite tenderness and lean quality justify the investment for a premium dining experience.
Spare Ribs (St. Louis-style Ribs): In contrast, spare ribs are sourced from the lower belly and side sections of the pig. These ribs are lengthier and larger than their baby back counterparts, featuring a flatter and broader appearance. The meat-to-bone ratio of spare ribs tips the scales in favor of more meat, rendering them a substantial choice for those craving a hearty and flavorful bite. Diverging from baby back ribs, spare ribs tend to exhibit a slightly elevated fat content, which imparts them with a robust and indulgent flavor profile. The conversion of spare ribs into St. Louis-style ribs involves the removal of excess fat and cartilage, culminating in a more uniform and manageable cut.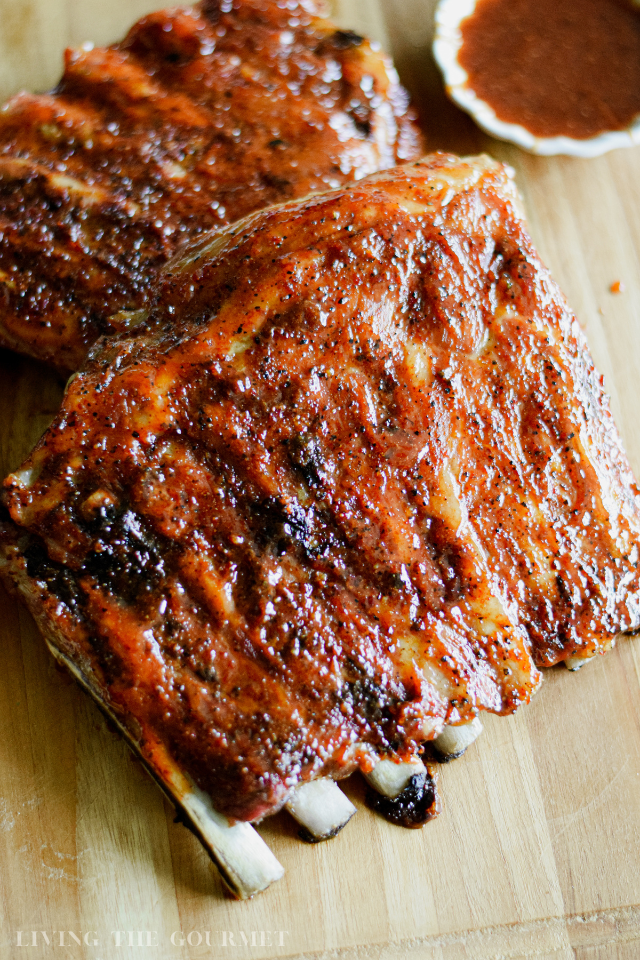 Baby Back Ribs aka Pork Back Ribs – An Overview
What are they? As the name implies, Pork Back Ribs are cut from the 'back' of the hog, specifically the area where the ribs meet the spine. This area is also where rib loin chops are cut from, but pork back ribs have been separated from the loin. This has the effect of making both boneless pork loin and Pork Back Ribs. Thus, in short, Pork Back Ribs are the delicious byproduct of creating equally delicious boneless pork loin.
They have connective tissue…lots of connective tissue. Given that they are connected both to the loin and to the spine, these ribs naturally come packed with chewy, stringy, connective tissue and almost as much cartilage as bone. If not cooked properly, this connective tissue will positively ruin your ribs, making them all but impossible to chew, and horribly unpleasant to swallow – not fun. No amount of spice rub or bbq sauce will make up for this either. The answer to this is to simply 'melt' the connective tissue via a longer cooking time, and this does 'not' mean blasting the ribs on high heat, but rather cooking them for as long as possible on low heat. Translation: Low and slow or not at all.
But why are they called 'baby' back ribs? Size. While these ribs are often labeled 'pork back ribs,' consumers have taken to calling them 'baby back' ribs, and the reason for this is refreshingly simple – because they are smaller than spare ribs. Small bones, small ribs, thus 'baby.' The longest baby back ribs you can find max out at around six inches, but can come as short as two inches.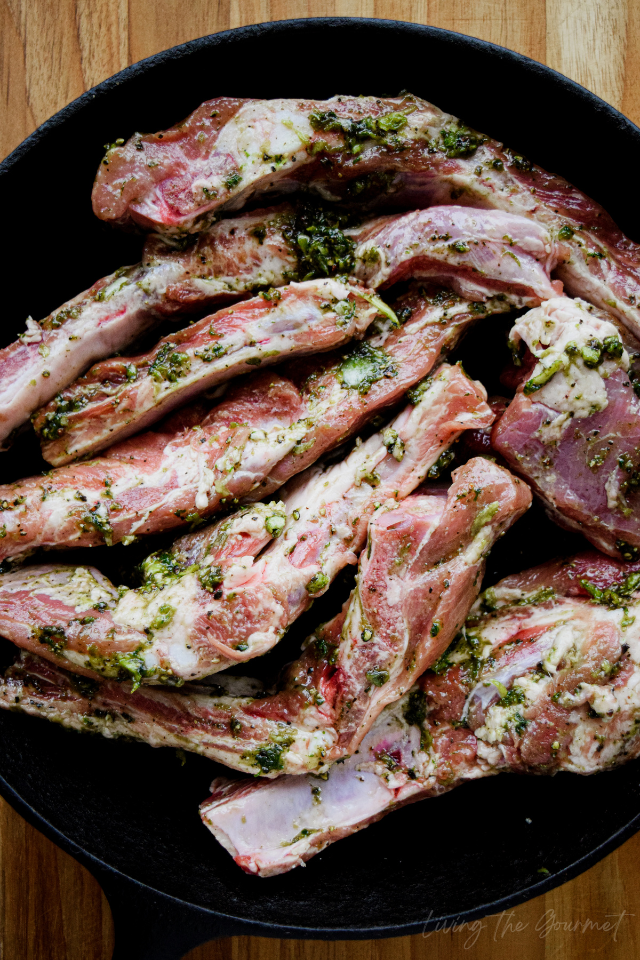 The Best Way to Enjoy a Rack of Baby Back Ribs
Okay, so we've answered "what" they are, but "how" best to enjoy them? To answer that, here's how to get most out of baby back ribs.
Grilling: Baby back ribs are a popular choice for grilling due to their tenderness and relatively quick cooking time. The meat's natural sweetness and lean quality make them ideal for grilling over direct heat, resulting in caramelized edges and a smoky flavor.
Smoking: These ribs excel in smoking as well. Their smaller size allows for more even smoke penetration, resulting in a flavor-packed profile. Slow-smoking baby back ribs over low heat yields tender meat that practically falls off the bone.
Dry Rub: Baby back ribs are excellent candidates for dry rubs, as their lean meat readily absorbs the flavors of spice blends. The subtle flavor of the meat pairs well with a variety of rubs, allowing you to experiment with different combinations of herbs, spices, and seasonings.
Glazing and Sauces: Their tenderness makes baby back ribs a perfect canvas for glazes and sauces. A sticky glaze or sauce applied during the last stages of cooking enhances their sweetness and adds layers of flavor.
Individual Portions: Baby back ribs are conveniently sized for individual servings, making them a hit at barbecues and gatherings. A full rack can be cut into smaller portions, allowing guests to enjoy their own serving of succulent ribs.
Appetizers: The petite size of baby back ribs lends itself to being served as appetizers or small bites. Mini racks of ribs make a stylish and flavorful addition to party menus.
Showcasing Natural Flavors: If you prefer to savor the natural flavors of meat, baby back ribs are perfect for a minimalist preparation. A simple seasoning of salt and pepper highlights the quality of the meat itself.
Family Dinners: Baby back ribs are an appealing option for family dinners. Their tenderness ensures that even young diners can enjoy the meat without much effort, and the smaller size of baby back ribs makes them easy to handle.
Spare Ribs – An Overview
What are they? Spare Ribs, in contrast to baby back ribs, come from the belly area of the pig below the pig's breast bone, specifically from the rib section closer to the stomach. These ribs are larger and meatier compared to their baby back counterparts, and they are usually taken from the lower portion of the ribcage.
Meat and Fat Ratio: Yes, baby back ribs have less meat, while spare ribs are known for their generous meat-to-bone ratio, making them a popular choice among BBQ enthusiasts. The additional meat on these ribs offers a satisfying and hearty bite. Spare ribs also have a higher fat content compared to baby back ribs, which contributes to their rich flavor and succulent texture when cooked correctly.
Flavor and Texture: Spare ribs have a distinct flavor and texture due to their location on the pig. The marbling of fat within the meat adds flavor and moisture during cooking. When properly cooked, spare ribs can be incredibly tender and flavorful, with a balance of meat and fat that delivers a satisfying and indulgent experience.
Cooking Method: Because of their larger size and higher fat content, spare ribs benefit from longer cooking times to render the fat and break down the connective tissues. This slow and low cooking method allows the meat to become tender while the fat infuses the ribs with flavor, creating a mouthwatering result.
Variations: Spare ribs are versatile and can be prepared using various rubs, marinades, and sauces to achieve different flavor profiles. Whether you prefer a sweet and tangy glaze or a smoky and spicy rub, spare ribs are a perfect canvas for experimenting with flavors to suit your palate.
Overall, spare ribs offer a robust and meaty eating experience, making them a favorite choice for BBQ lovers who crave a heartier rib option.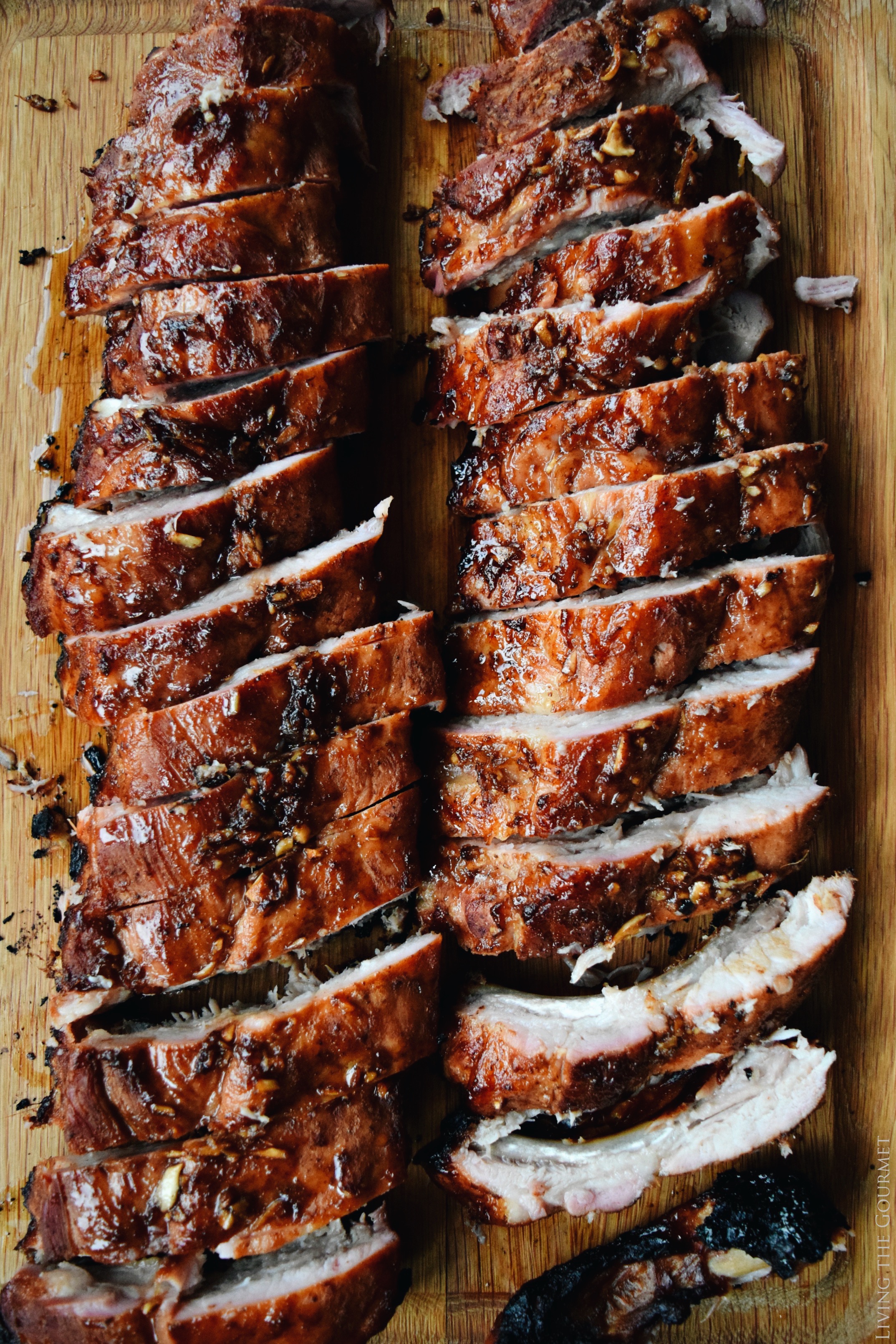 The Best Cooking Methods for a Rack of Spare Ribs
When it comes to spare ribs, there are several tried-and-true cooking methods that can help you achieve mouthwatering results. Whether you're a grilling enthusiast, a smoker aficionado, or prefer using your oven, there's a technique to suit your taste and equipment.
Let's explore some of the best methods for cooking spare ribs, including the popular 3-2-1 method:
Grilling: Grilling spare ribs is a classic choice that imparts a wonderful smoky flavor. Start by seasoning your ribs with your preferred dry rub or marinade. Preheat your grill to a medium heat and set it up for indirect grilling. Place the ribs bone-side down on the cooler side of the grill and cook them with the lid closed. Monitor the temperature to maintain a consistent heat level. Rotate and flip the ribs occasionally to ensure even cooking. If using sauce, apply it during the last 15-30 minutes of cooking to avoid burning. This method yields tender, flavorful ribs with a slightly crispy exterior.
Smoking: Smoking spare ribs takes the flavor profile to a whole new level. Begin by applying a dry rub to your ribs, allowing the flavors to penetrate the meat. Preheat your smoker to around 225°F (107°C). Place the ribs in the smoker bone-side down and let them smoke for several hours. To enhance tenderness and moisture, you can use the popular 3-2-1 method: smoke the ribs for 3 hours, then wrap them in foil with a splash of liquid (such as apple juice) and cook for an additional 2 hours. Finally, unwrap the ribs and return them to the smoker for the final hour, basting with sauce if desired. This technique creates incredibly tender, fall-off-the-bone ribs with a rich smoky flavor.
Oven-Baking: If you don't have access to a grill or smoker, you can still achieve delectable spare ribs using your oven. Preheat your oven to 300°F (150°C). Season your ribs with your chosen rub and place them on a baking sheet. Cover the ribs tightly with foil to create a steamy environment. Bake the ribs for about 2.5 to 3 hours, checking for tenderness. For a crispy exterior, you can finish the ribs under the broiler for a few minutes, basting with sauce if desired.
Instant Pot or Pressure Cooker: For those who want tender spare ribs in a fraction of the time, the Instant Pot or pressure cooker can be a game-changer. Brown the ribs using the sauté function, then add a flavorful liquid (such as broth or apple juice) and cook on high pressure for around 25-30 minutes. Finish the ribs with a quick sear on the grill or under the broiler to achieve a caramelized crust.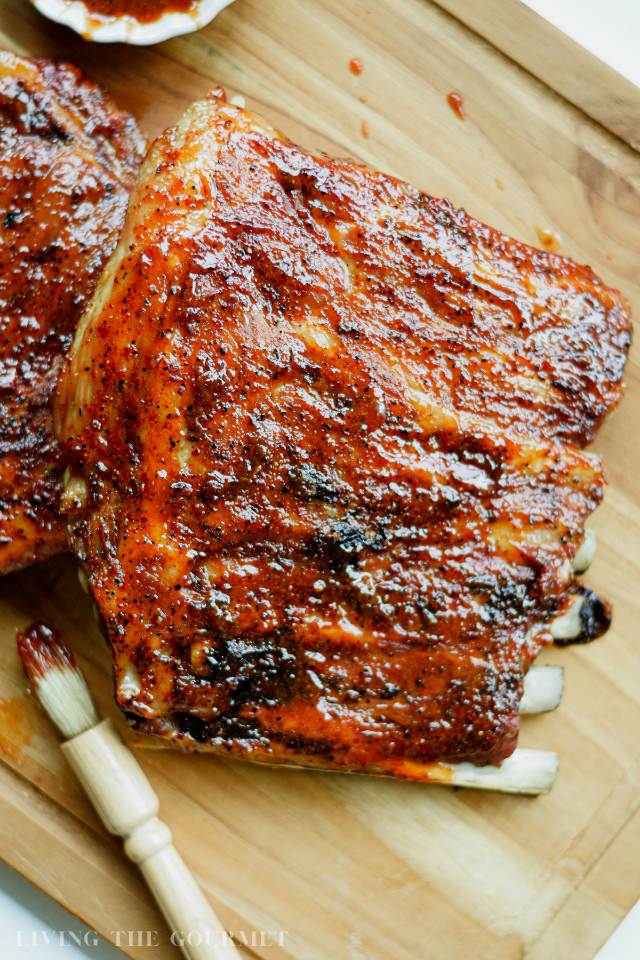 Baby Back Ribs or Spare Ribs: Which is Right for You?
So, still haven't made up your mind? Let's summarize, and see which type of rib is right for you.
Flavor and Texture: Baby back ribs are renowned for their tenderness and lean meat. If you prefer a more delicate bite with a higher meat-to-bone ratio, baby back ribs might be your go-to choice. Their subtle flavor profile allows the seasonings and sauces to shine. On the other hand, spare ribs boast a richer flavor due to their slightly higher fat content. The marbling of fat adds a luscious mouthfeel and contributes to the meat's succulence. If you're a fan of hearty, meaty bites with a touch of indulgence, spare ribs could be your top pick.
Cooking Time: Baby back ribs generally cook faster than spare ribs due to their smaller size and leaner nature. If you're looking for a quicker meal option, baby back ribs can be a convenient choice. Spare ribs, especially when prepared using methods like the 3-2-1 technique, require a longer cooking time to achieve that sought-after tenderness. Consider your schedule and how much time you're willing to invest in the cooking process.
Meat-to-Bone Ratio: The meat-to-bone ratio plays a crucial role in your rib-eating experience. Baby back ribs offer a balance between meat and bone, making them an excellent choice for those who enjoy a substantial amount of meat without overwhelming richness. Spare ribs, with their larger size, provide a meatier experience, making them ideal for those who relish sinking their teeth into hearty, flavorful bites.
Occasion and Crowd: Consider the occasion and the number of people you'll be serving. Baby back ribs, with their smaller size, can be a great option for smaller gatherings or when you're aiming for individual portions. Spare ribs, with their larger cuts, are perfect for feeding a hungry crowd or creating a centerpiece for a barbecue feast.
Experimentation: Don't be afraid to try both types of ribs to discover your personal preference. Host a rib-tasting event with friends and family to explore the nuances between baby back and spare ribs. You might find that different occasions call for different rib types, allowing you to enjoy the best of both worlds.
In the end, it's all personal preference. Whether you're drawn to the delicate tenderness of baby back ribs or the hearty richness of spare ribs, the choice comes down to your palate and the experience you seek. Both rib types have their unique qualities, ensuring that no matter which one you choose, you'll be treated to a mouthwatering and unforgettable dining experience. So, the next time you're at the butcher's counter or planning a barbecue, take a moment to consider which type of ribs will best satisfy your cravings and elevate your culinary adventure.
And that's our guide to ribs!
If you enjoyed this post, be sure to follow us on Newsbreak and MSN for even more great recipes and articles.
As always, if you have any questions or suggestions, be sure to let us know in the comments below, we always love hearing from you. Happy Cooking!
0