Today we're preparing a thick red sauce with country style pork ribs, and we're setting that over hardy rigatoni noodles. Perfect for dinner parties, warming weekend meals, and family gatherings, this is one sauce recipe you should definitely have in your repertoire.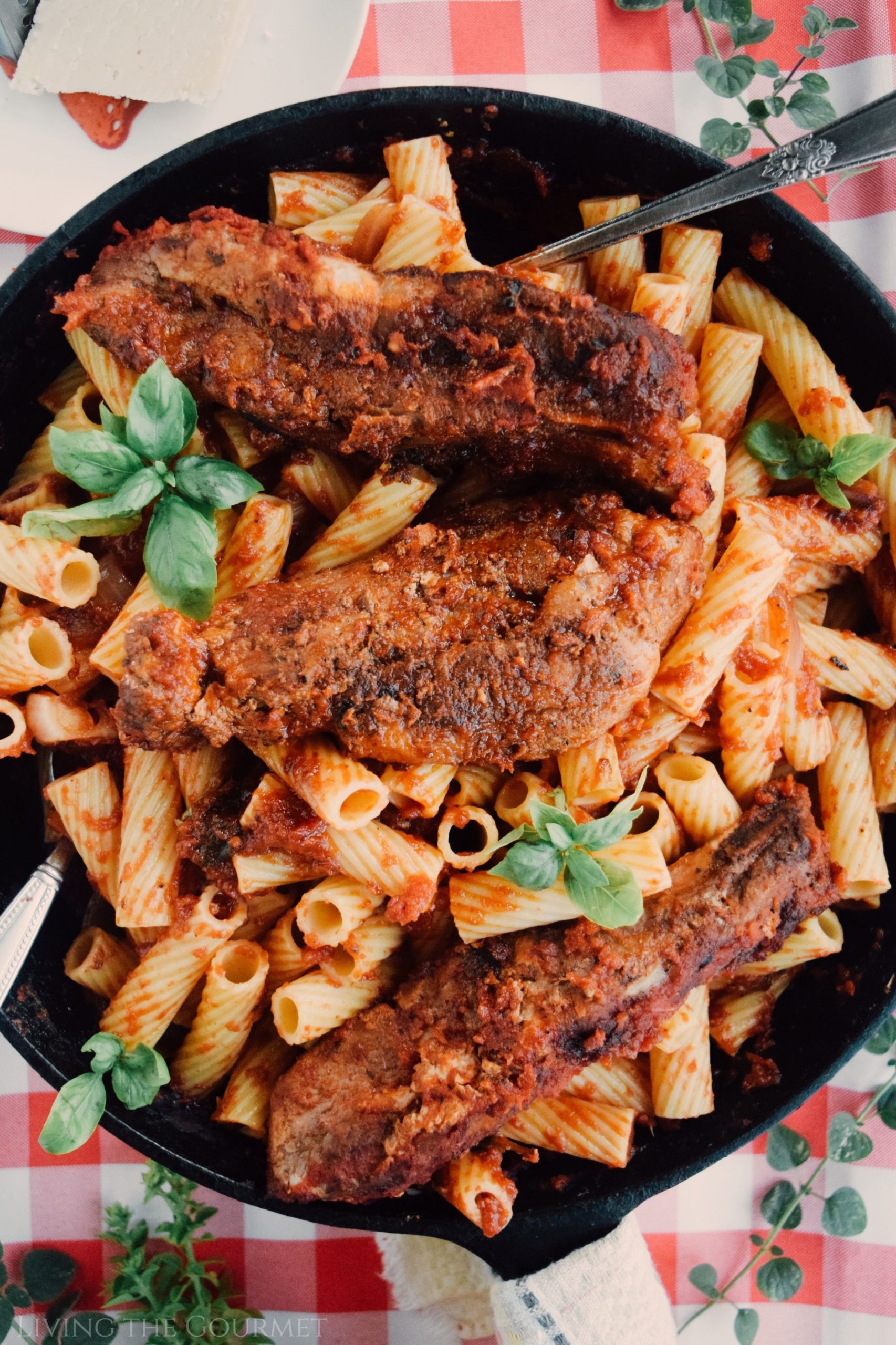 Ingredient Notes, Tips, and Substitutions
1) Fresh Basil vs Dried – and possible substitutions. As with most herbs, fresh basil and its dried counterpart are 'usually' but not always safe substitutions for one another. Fresh basil is used to achieve a 'bright licorice' or 'anise-like' flavor – but both of these flavors are entirely absent in dried basil, where a slightly 'mintier' flavor dominates. Furthermore, fresh basil has powerful aromatics that are reminiscent of a bright summer garden in full bloom, whereas dried basil boasts an earthier, vaguely 'darker' herbal aromatic profile.
Substitutions: Fresh oregano. However, this is not an exact substitution, as oregano has a flavor that's markedly less 'bright,' as well as somewhat more 'herbal,' whereas basil is simply 'fresher' on the palate.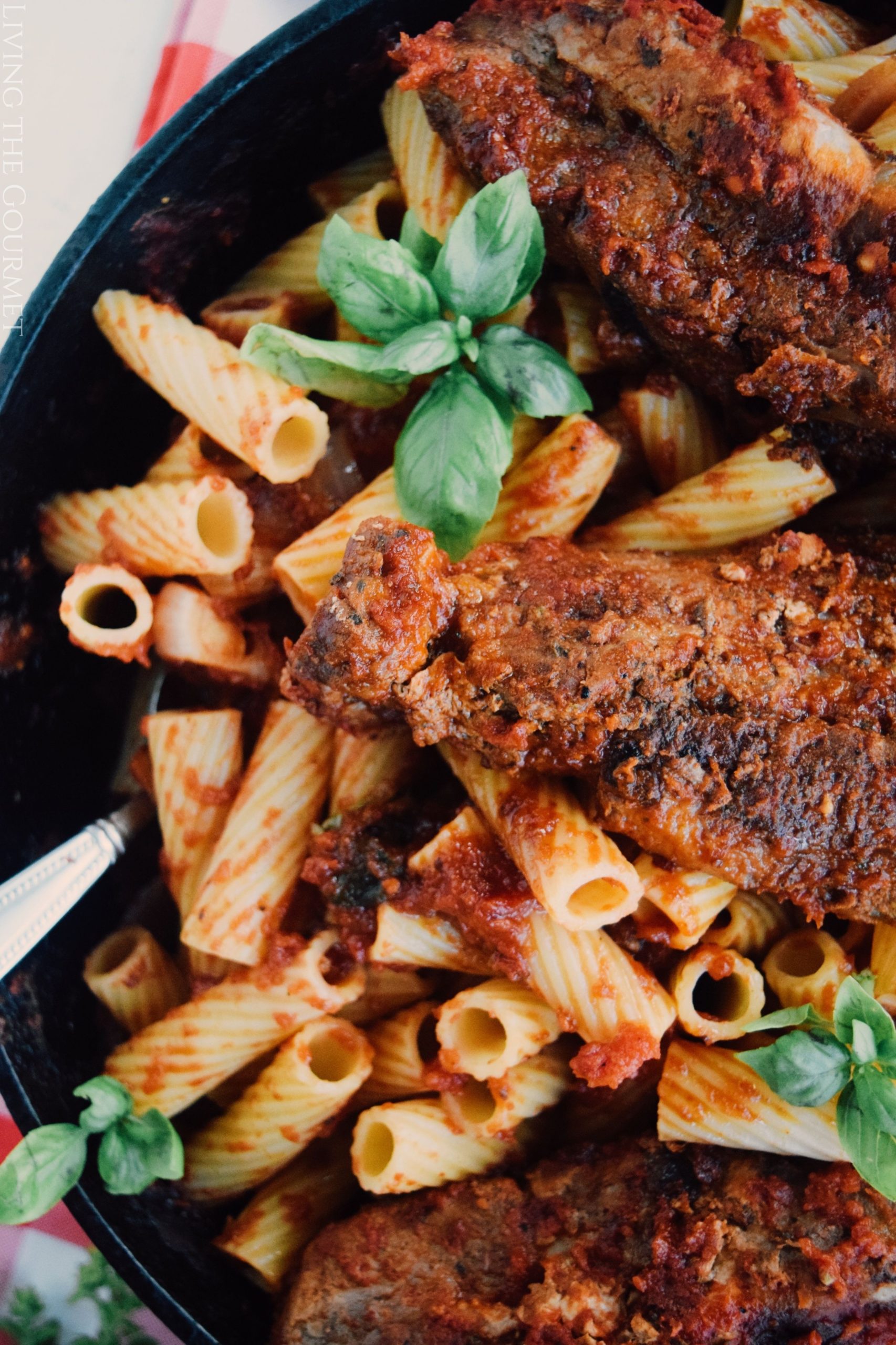 2) Paprika – A Primer and Possible Substitutes. To start, paprika comes in a number of varieties, but not everyone actually agrees on what those varieties are. The most common way to divide Paprika boils down to "Sweet," "Hot" and "Smoked," and those labels are perfectly self-explanatory. However, others differentiate Paprika into "Basic," "Hungarian," and "Spanish." Hungarian paprika is typically divided into eight different categories according to both flavor and color, ranging from mild and bright red to spicy, pungent, and pale orange. A bright red variety called édesnemes is the most common Hungarian paprika, and has a pungent peppery flavor with noticeable sweetness. By contrast, Spanish paprika – often labeled as 'pimentón' – is typically made from smoked peppers, which, while gives the paprika a deeper, smokier, more 'peppery' flavor, though this can vary somewhat by region. Like its Hungarian counterpart, Spanish paprika is also subdivided into categories, these being 'dulce' or sweet, 'agrodulce' (bittersweet), and finally 'picante' or hot. "Basic" paprika is what you'll find in most supermarkets, and tends to be quite mild and varies dramatically in terms of flavor and quality.
Substitutes: If you going for the 'smoky' qualities of paprika, Chili Powder has got you covered. Use the same amount of chili powder as you would paprika. However, if you prefer 'hotter' paprika, Cayenne Pepper can fill the bill quite nicely. Using about three-quarters of the amount of cayenne as you would paprika should be sufficient, but this will vary by palate.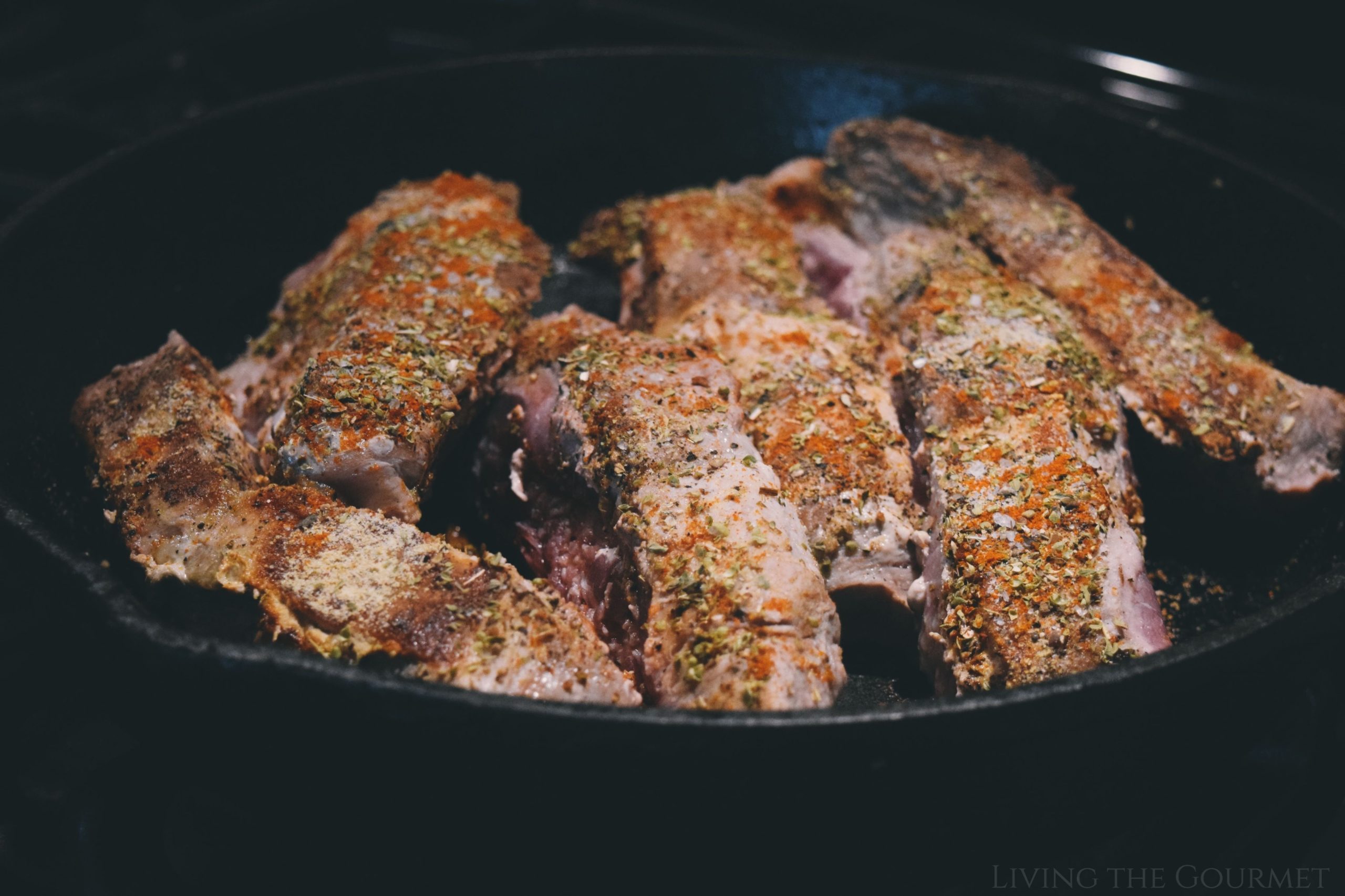 3) Cayenne Pepper. For some reason, despite the current vogue nature of hot sauces, the last decade's sriracha craze, and the explosion of spicy 'fusion' cuisines, people still get positively jittery around 'raw' cayenne pepper. "Isn't that just for like really spicy Cajun food?" "Won't that completely overpower your sauce?" or "Oh my God, you're putting that on your eggs? Aren't you going to hurt your stomach?" are just some of responses I've gotten when people have seen my go for the cayenne bottle. Everyone, calm down, cayenne pepper is likely 'much' less spicy than virtually any hot sauce you've grabbed off the store shelf at random. Cayenne pepper, while possessing a noticeable 'kick,' also packs a lot of 'earthy warmness,' and a bit of 'rustic spice' that you really just can't capture with many other spices, and it does so 'without' the searing heat of chilies or hotter peppers – and that makes it perfect for today's sauce, where it plays beautifully with the country ribs.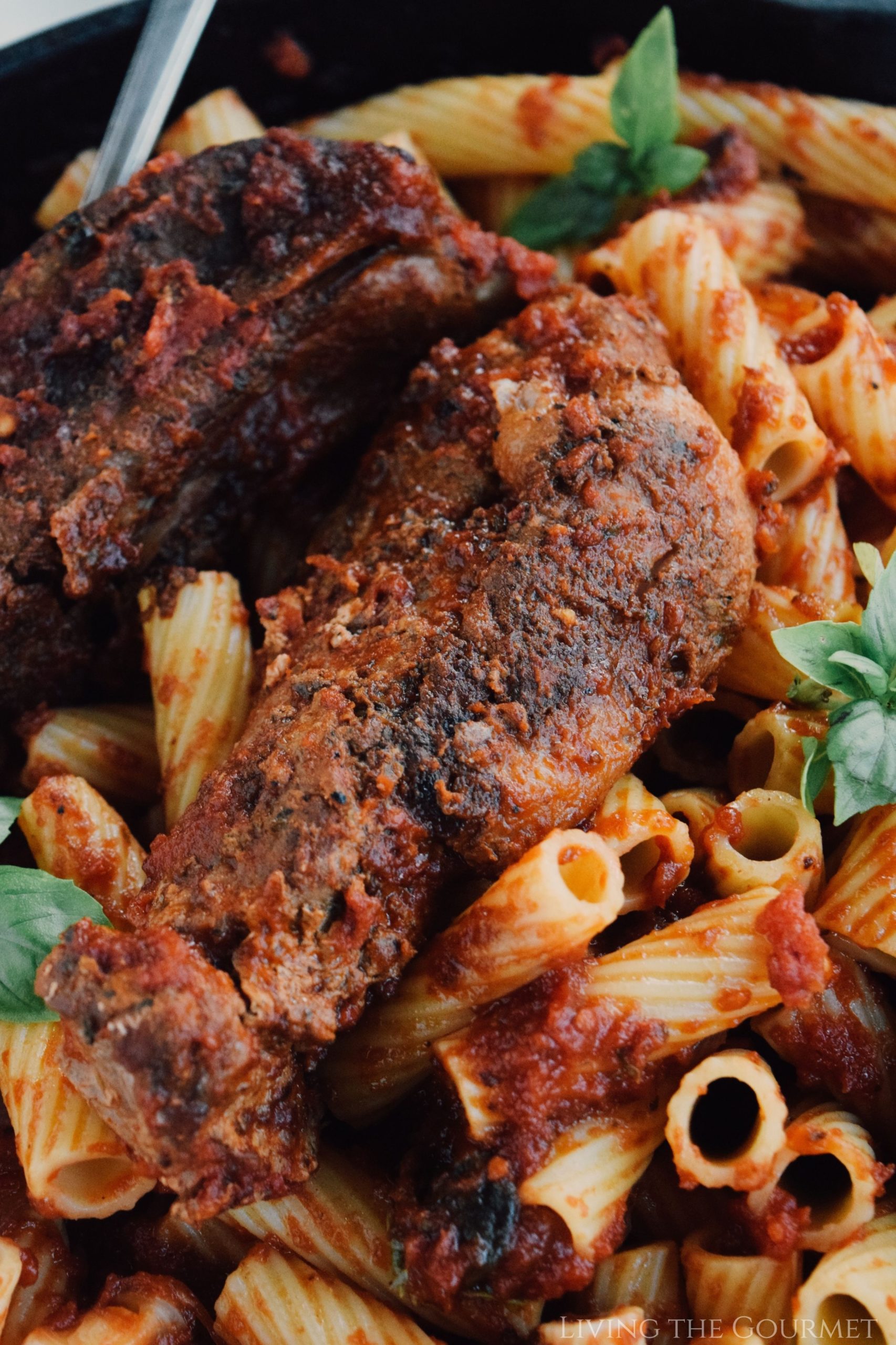 Country Style Pork Ribs – The Reason You're here
1) What are they? To start, they aren't actually ribs. Instead, they are cut from the loin end of the pork shoulder, and have no rib bones…because they aren't ribs. While these are typically boneless, they 'may' have some of the shoulder blade. Regardless of whether or not they are truly boneless or have portions of the shoulder blade is no indication of the quality of the meat, cut, or butcher, instead it's just a matter of 'precisely where' and how the cut was made.
2) Are they the Loin? Or are they Shoulder? The answer to that is 'Yes.' Being cut from the loin end of the pork shoulder means that these may either be loin or shoulder or some combination thereof. Once again, this depends purely on 'how' the cut was made, as well as 'precisely' where the cut was made. As you may have guessed, whether your country ribs are loin or shoulder or both will determine the best way to prepare them.
3) Selecting Quality Country Ribs – A Matter of "Where." As mentioned above, these 'ribs' may either contain solely loin meat, solely shoulder meat, or have some mix of both. This fact will define how best to prepare your country ribs. Thus, if possible, you'll want to find out what kind of meat or cut the ribs are that you're buying. Are they loin or shoulder? Are they 'mostly' loin or shoulder? If they're loin, or mostly loin, you'll want to grill these stove top, either on a griddle or in a cast iron pan, or bbq them for best results. Conversely, if they are mostly shoulder meat you'll need the tenderizing effects of cooking them low and slow, either in the oven at around 255-275 degrees for hours on end, or simply stew them either or toss them in a sauce, where the meat is not only tenderized courtesy of the cooking process but also infused with extras flavor.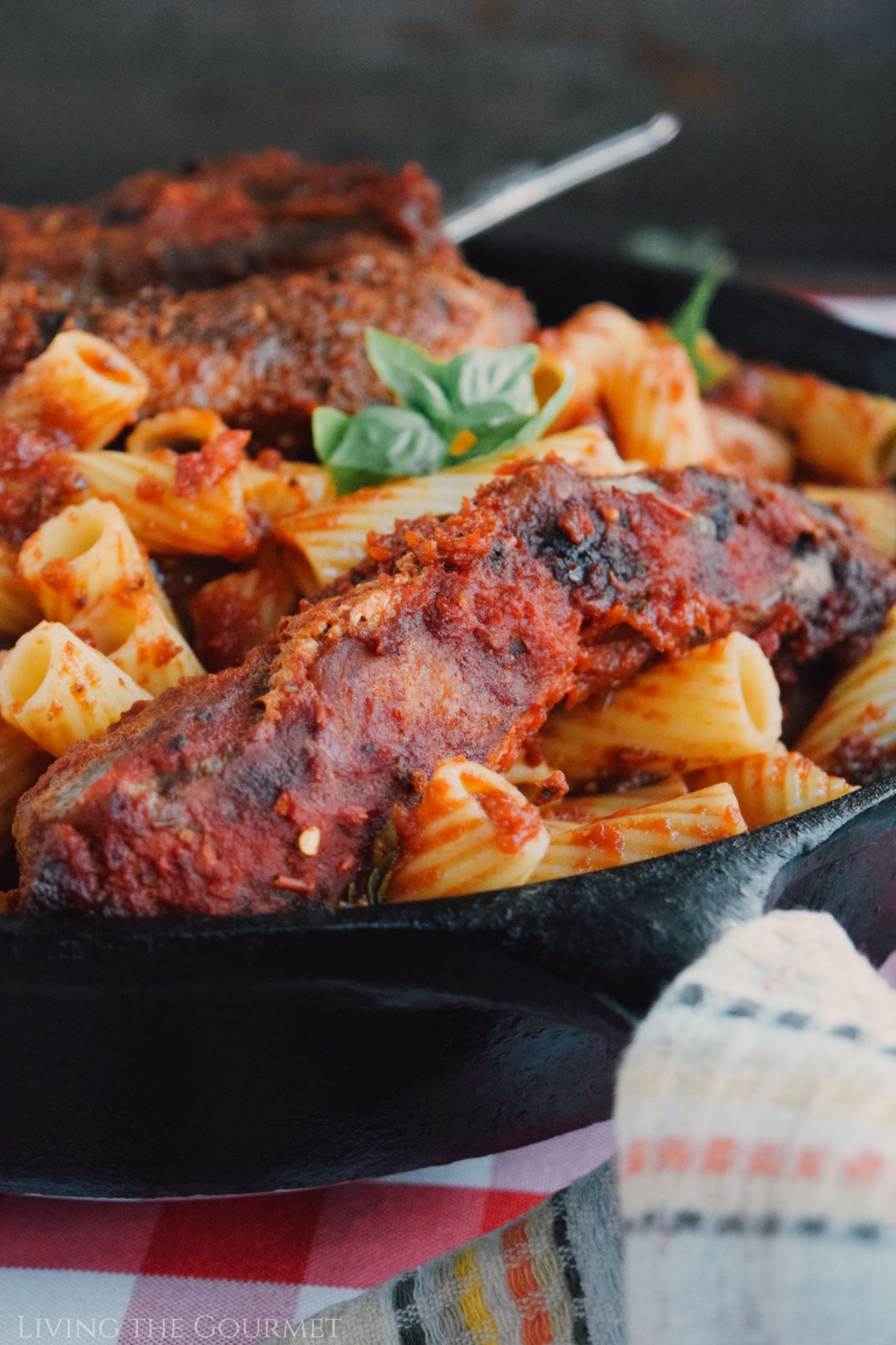 What Goes Great With Today's Rib Sauce
1) Homemade Breadsticks. At the risk of being old fashioned, I'm going to suggest breadsticks to pair with today's sauce, and these are much easier to prepare than you might think. Paired with some olive oil for dipping, or even some herbed butter or black coffee, these are super versatile and keep great. As a nice bonus, they never fail to impress the guests.
2) Homemade Pasta. If you're feeling adventurous, making your own pasta would add an extra layer of 'gourmet' to today's recipe – and to any other pasta recipe in your repertoire.
3) Pignoli and Raisin Meatballs. Adding in some meatballs to today's sauce would really take this to the next level. That said, this is possibly my favorite way to prepare meatballs. These have a subdued 'buttery' sweetness courtesy of the pine nut and raisin combination, set against a backdrop of moist, meaty juices of the fluffy meatballs.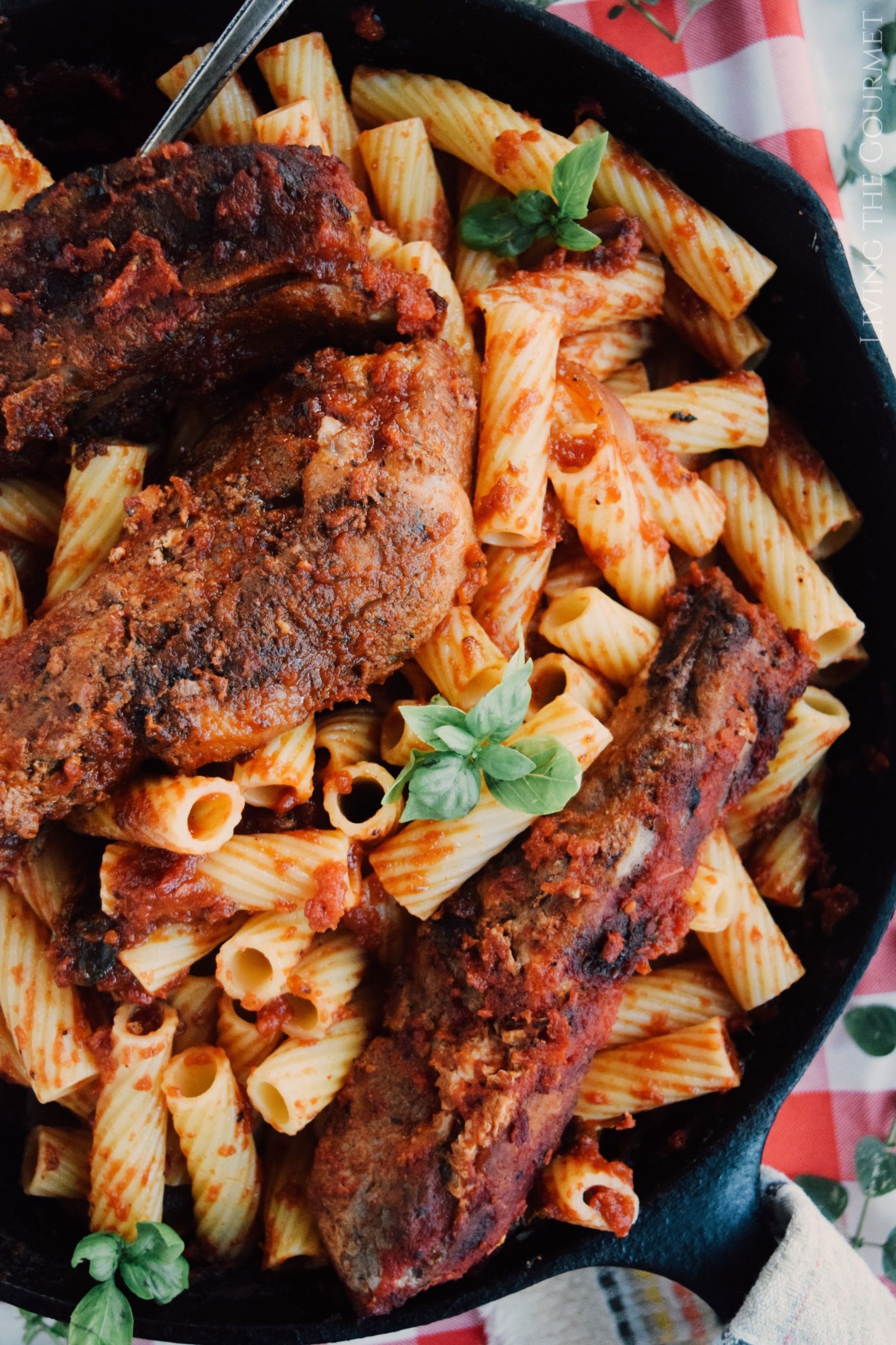 Print
Italian Braised Pork Ribs and Pasta
Author:
Prep Time:

15 minutes

Cook Time:

45 minutes

Total Time:

1 hour

Yield:

4

1

x
Seasonings:
2 tsp

. sugar

2 tsp

. black pepper

2 tsp

. salt

2 tsp

. sugar

2 tsp

. garlic powder

2 tsp

. paprika

2 tsp

. dried oregano

1/2 tsp

. cayenne
For the Sauce:
28 oz

. can of crushed tomatoes

4

-

5

cloves of garlic

1

onion

1 tsp

. red pepper flakes

1 tsp

. dried oregano

1 tsp

. garlic powder

1/2 tsp

. sugar

2

-

3

tbs. olive oil
Handful of fresh basil

1

lb

. of your favorite pasta - cooked in well salted water
Fresh Romano or Parmesan cheese for grating
Instructions
For the ribs:
In a small bowl, combine all spices for the seasonings. Sprinkle half of the seasoning mixture on one side.
Place the seasoned side on the pan and allow the ribs to become slightly charred and crispy.
Turn the ribs over and sprinkle the other half of the seasoning mixture on the ribs and again let freshly seasoned side of the ribs become slightly charred and crispy.
For the sauce:
Place the sliced onion and garlic in the pan with the ribs and let sauté for a few minutes with the ribs.
Add the crushed tomatoes, sugar, seasonings, fresh basil and olive oil.
Allow the sauce to simmer on a gentle heat with the pan loosely covered.
Allow the sauce to cook for at least two hours or more on a gentle heat.
The ribs will be tender.
Cook the pasta as directed.
Add two or three tablespoons of the salted pasta water to the sauce.
Place the ribs in a bowl and add the cooked pasta to the sauce, drizzle with a tablespoon of olive oil, a few dashes of red pepper flakes, fresh grated cheese and toss.
Recipe Card powered by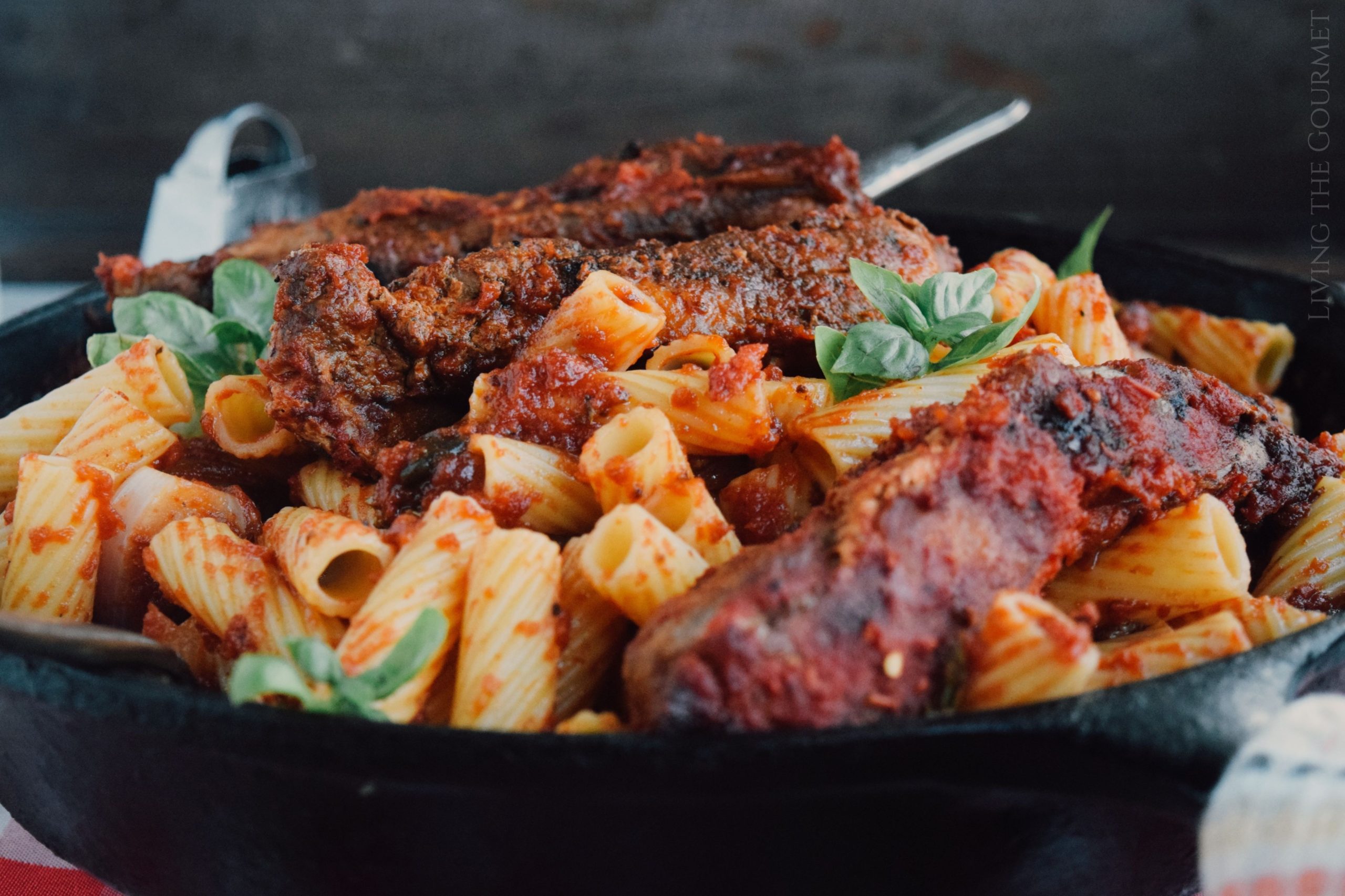 If You Enjoyed Today's Recipe…
Be sure to follow us on Instagram to stay up to date with all things Living the Gourmet, and for more great recipes, tips and tricks.
Did you make this recipe?
If so, let me know in the comments down below, or post a picture to Instagram, or to Pinterest, and I'll give you a shoutout on Instagram, or post your pin to one of my Pinterest boards!
2