These Sicilian-inspired meatballs are combo of sweet and savory boasting of toasted Pignoli nuts & raisins for a comforting Sunday night dinner.
I said to my son the other night that I could eat meals like this every day. There is just something so satisfying and soul-warming about a plate of spaghetti paired with moist and tender meatballs, that it simply defies description.
Today's meatballs are a bit of a Sicilian spin on my previous incarnations of this Italian American classic, featuring soaked bread, pignoli nuts, and chopped raisins, which combine to create a truly moist, succulently tender meatball that needs to be tasted to truly be appreciated.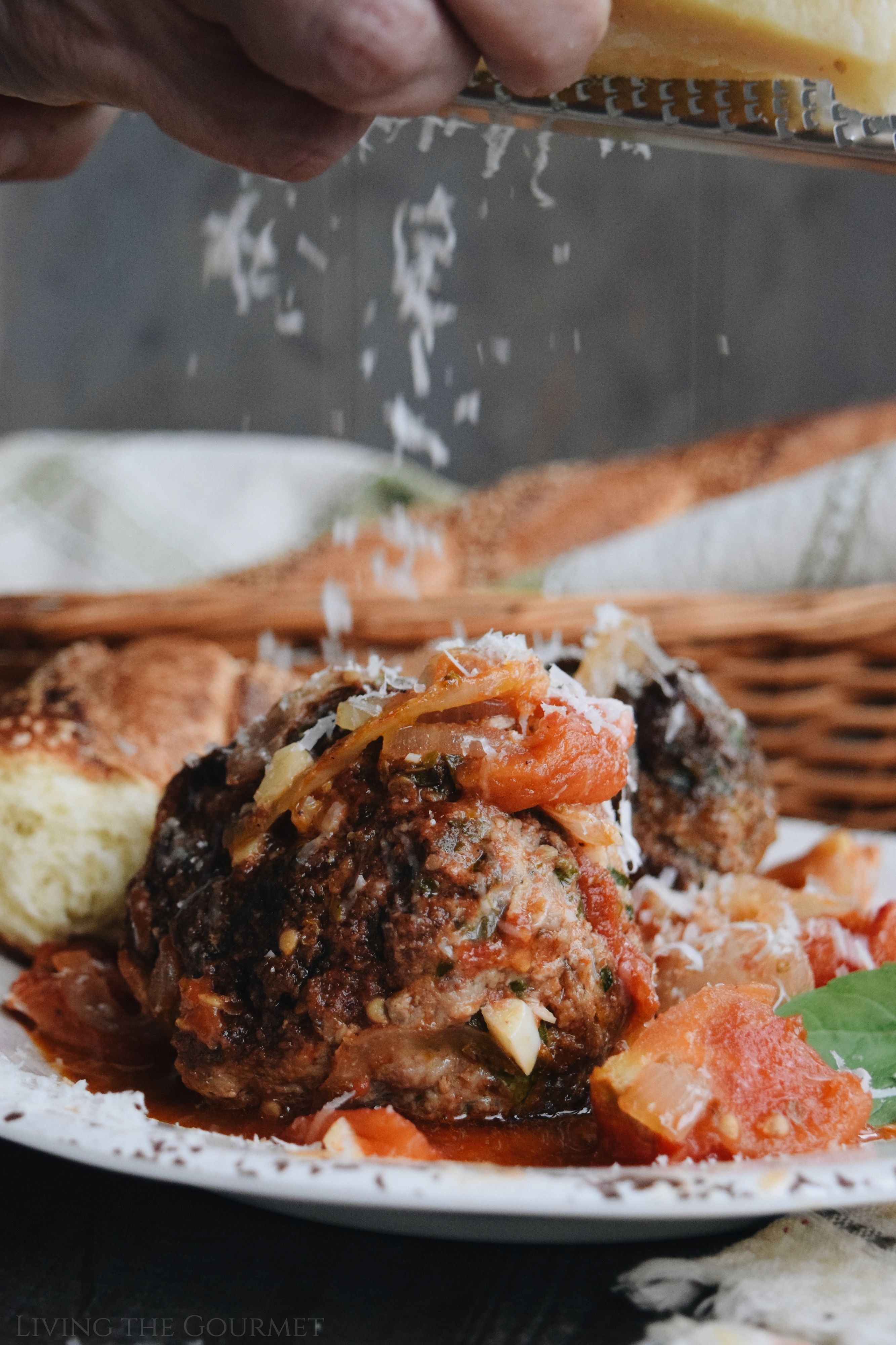 Ingredient Tips, Explanations, and Pointers
1) Pecorino Romano vs Parmesan vs Reggiano. First things first, Parmesan is simply American produced Parmigiano Reggiano. Parmigiano Reggiano, due to Italian trademark laws, 'must' be produced in Italy. Thus, they are functionally the same cheese – although Reggiano is considerably pricier, and regarded to be of generally higher quality overall. Both are produced from cow's milk, and are aged for two or more years, giving the cheese what many describe as a 'sharper' and saltier flavor. Pecorino Romano, by contrast, is produced from sheep's milk, and is only aged for around eight months, giving it a slightly less sharp and considerably less salty flavor. Very often, these three cheeses are used interchangeably to mean "Grating Cheese." The honest truth is, very, very few palates can 'blindly' tell the difference. No, Locatelli is 'not' a variety of cheese, it is an Italian brand of Romano.
2) Pignoli Nuts- What are they? Is there a replacement? Pinoli, Pignolias, or piñón, are simply pine nuts. They are valued for their small size, tender or even 'buttery' texture when cooked, and the large amount of oil that they contain – relative to their small size – which seeps out into the food they are being cooked in, thereby spreading their flavor more intensely and evenly than other nuts. As a result, a truly 'good' substitute is hard to find, since very few, if any, other nut carries this precise combination of desirable traits. For today's recipe, I would likely opt for chopped almonds if you 'must' replace the Pignoli nuts.
3) Curly Parsley vs Flat Leaf Parsley. The main types of parsley are 'Curly Parsley' or Petroselinum crispum, and 'Italian Flat Leaf Parsley' or Petroselinum crispum neapolitanum.  Why did I give you the Latin names?  I'm actually not sure now that I've gone through the trouble of typing them out.  Moving right along.  That said, whenever you see parsley mentioned in a recipe, it is almost always notated as 'flat leaf parsley,' unless it's being used as a decoration…in which case you'll be using curly leaf parsley.  Why is this?  Because curly parsley tastes like…nothing, or at most like grass, and has almost no aroma.  However, what elevates curly parsley into the realm of the culinary, thereby saving it from merely being a weed, is that "Oh my goodness is it pretty."  By contrast, Italian Flat Leaf parsley is about as 'pretty' as cilantro…which is to say it's just green leaves on thin steams.  However, the reason flat leaf parsley is 'almost' always the preferred parsley for cooking is that it has a bold, fresh flavor, a neutral texture (whereas curly parsley is quite crunchy), and pleasant aromatics.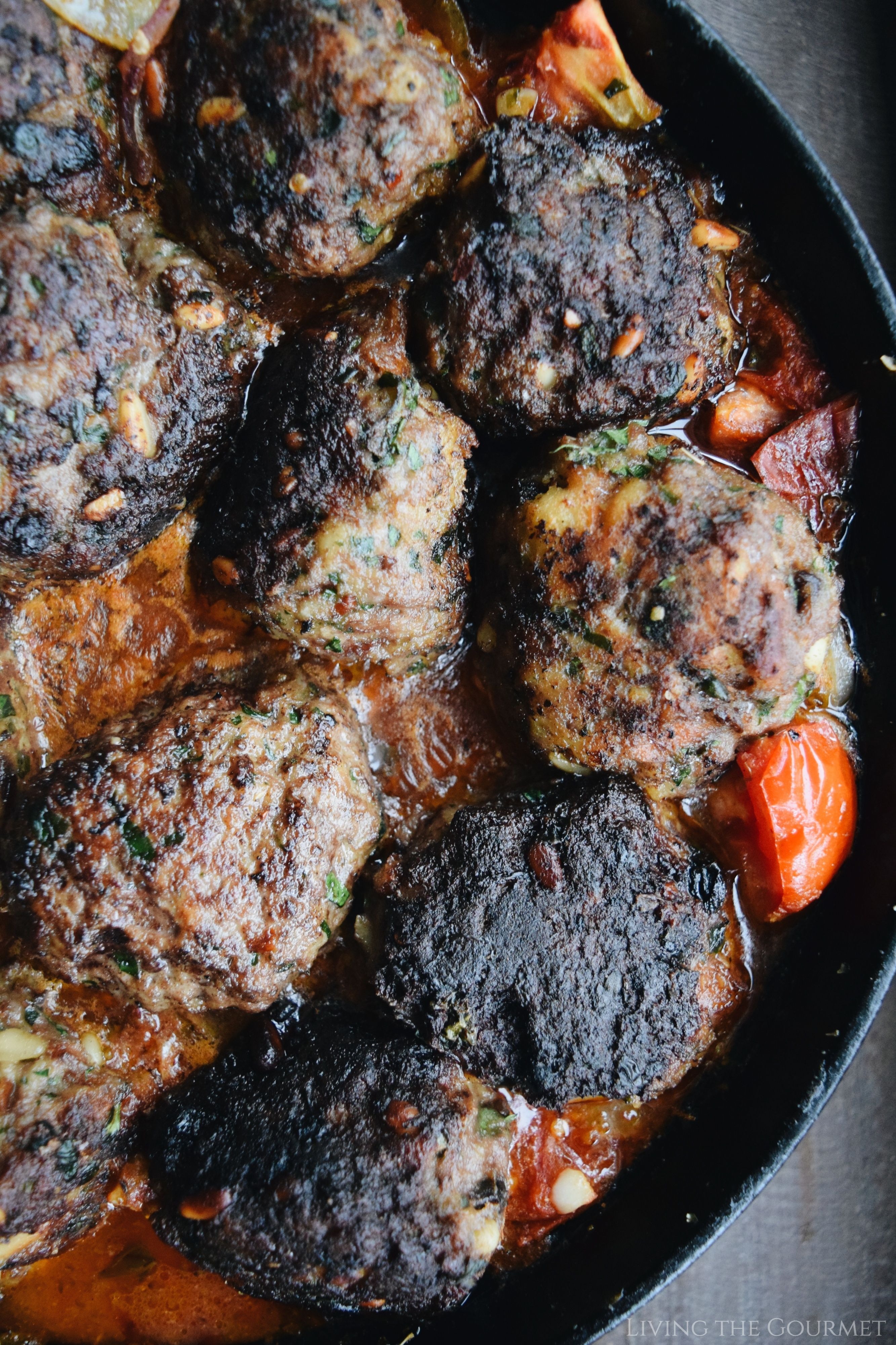 A Meatball Primer – Or How I learned to Stop Overworking, and Love the Mess
1) Don't Overwork The Meat. While it might be tempting to work the meat 'thoroughly' before you begin rolling it into balls, let me stop you right there and advise 'thoroughly' against it. You want the meat and the ingredients to be uniformly combined, and that's it. Overworking will have the effect of adding too much air to the meat, and of 'squeezing' the meat too much, draining the juices then and there, or causing the meat to drain during cooking. This results in 'rubbery,' 'firm,' and 'dry' meatballs later.
2) Don't Over Roll Them. Once again, this comes down to overworking. You don't need to pack the meat tight or form 'perfect' circular balls. Set them together into rough, loose balls just tight enough to maintain their form, and that's it.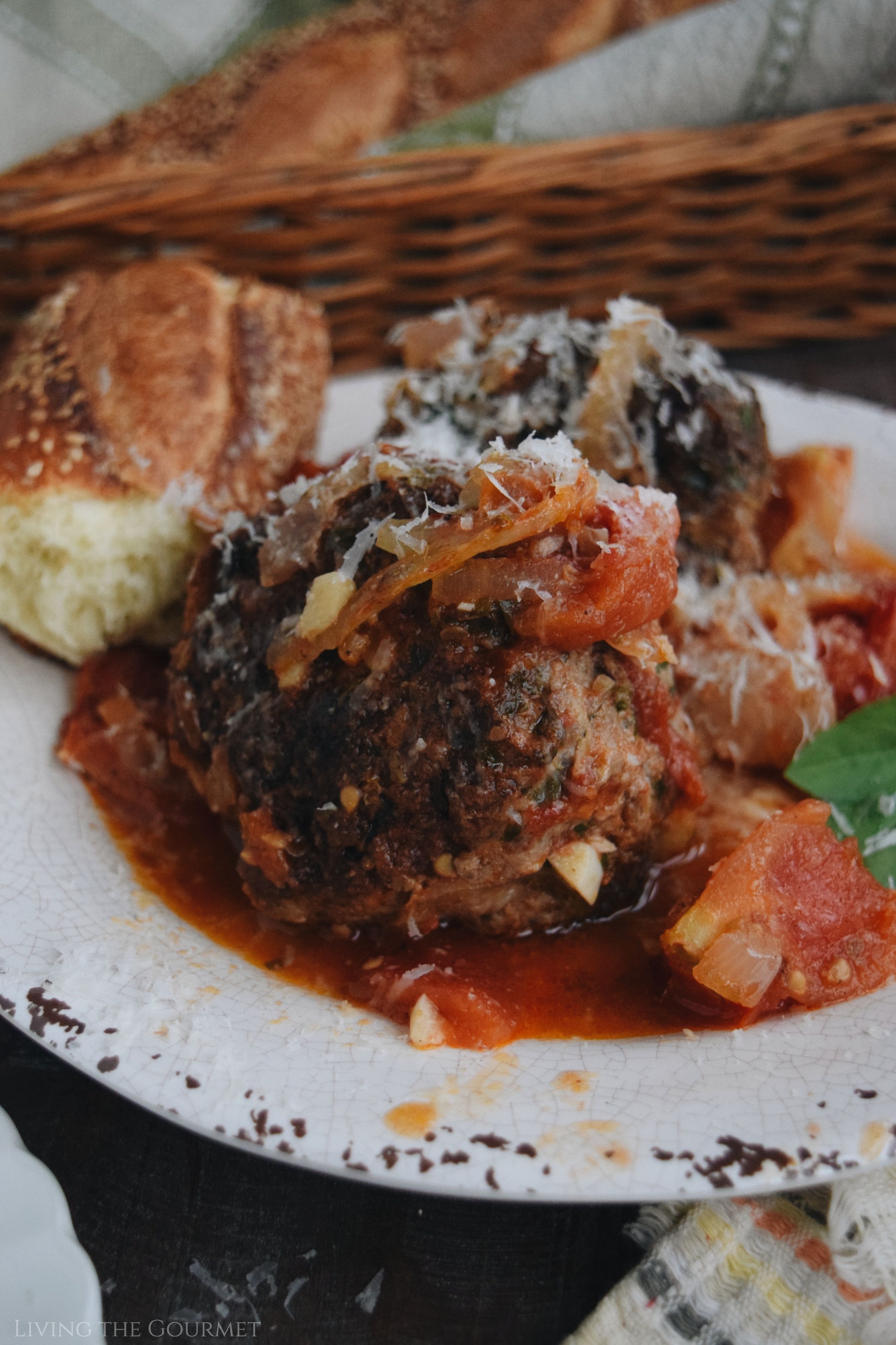 3) Soaked Italian Bread – It's Not Filler. For this recipe, soaked bread is truly a key ingredient in making super moist, super tender meatballs. Today's recipe features bread soaked in milk, eggs, parsley, and garlic. By adding this bread to the meat mix, you are actually giving your meatballs 'pockets' of flavored moisture, and during cooking these 'pockets' exude their flavored juices into the rest of the meatball, replacing any moisture the meatball might lose during frying, while simultaneously adding flavor.
4) They Love Being Fried. I used to bake my meatballs, but honestly frying them in a cast iron pan with some oil just makes a world of difference. Not only does it give them a crisp and succulent outside, but it truly makes them moister on the inside, since it is a less 'moisture draining' process than is baking.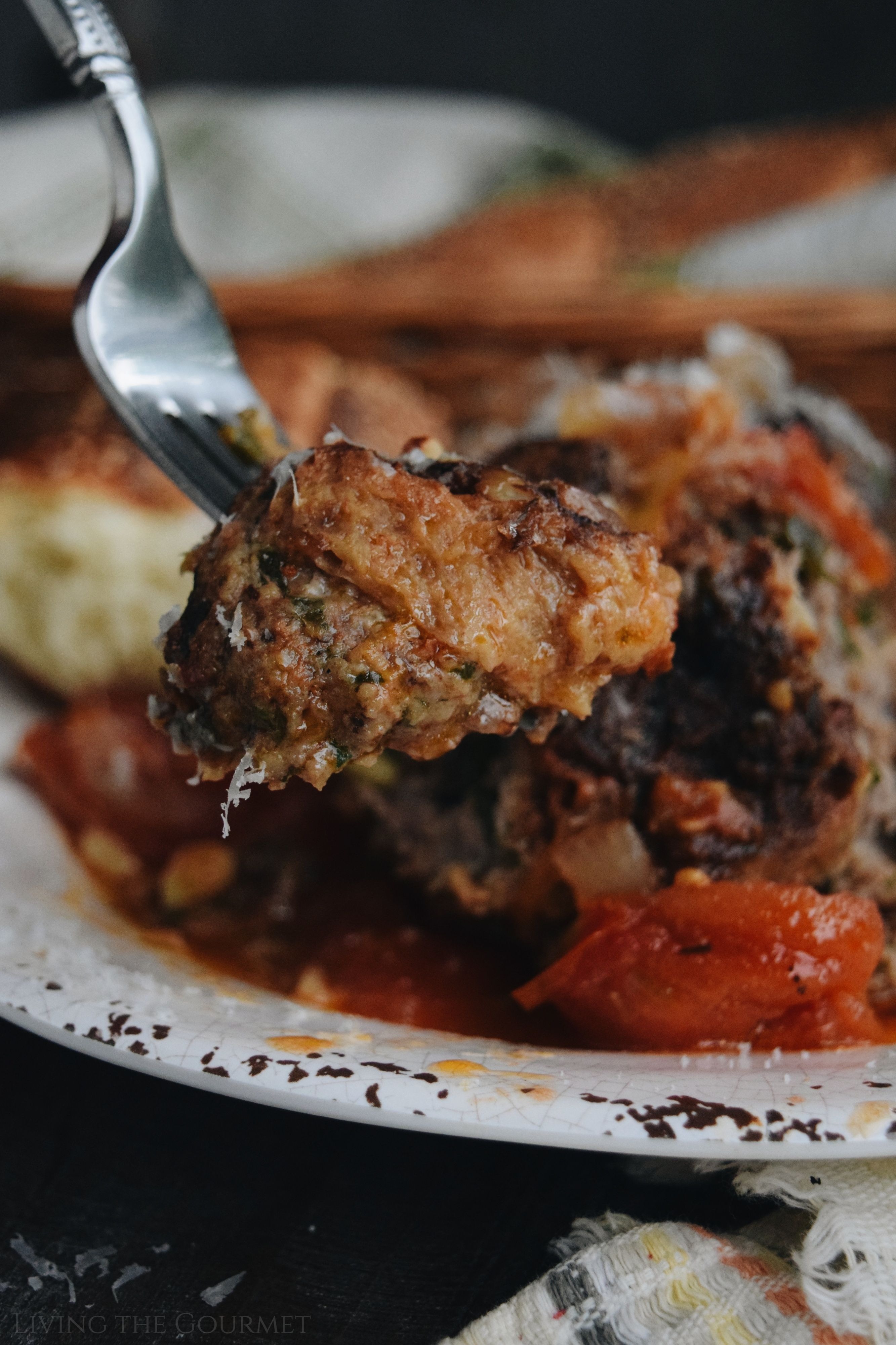 Print
Meatballs with Pignoli Nuts & Raisins
Author:
Prep Time:

10 minutes

Cook Time:

15 minutes

Total Time:

25 minutes
3

lbs. ground beef

1/4

cup

Pignoli nuts

1/2

cup

raisins – chopped

1

cup

bread crumbs

2

cup

Italian bread – cubed

1

bunch of Italian parsley – stems removed and chopped

1 1/4

cup

milk

4

–

5

cloves of garlic – chopped fine

1 tsp

. red pepper flakes

1 tsp

. salt

1/2

cup

grated Romano cheese

3

eggs
Corn oil – for frying
For the Fresh Tomato Sauce:
4

–

5

vine ripe tomatoes – quartered

4

–

5

cloves of garlic – chopped

1

sweet onion – sliced thin

1 tsp

. salt

1 tsp

. dried oregano

1/2 tsp

. red pepper flakes

3

tbs. olive oil

6

–

7

fresh basil leaves
Instructions
For the Meatballs:
In a large bowl place, the Italian bread, bread crumbs, eggs, parsley, garlic, Romano cheese, raisins, Pignoli nuts, seasonings and milk, let the bread soak and toss.
Add the ground beef and mix.
Form into desired size meat balls.
Heat a large cast iron frying pan on a medium heat with about ¼ inch corn oil.
Add the meat balls, Do Not overcrowd the pan, and let the meat ball form a nice crust and carefully turn and allow to cook on the other side.
Depending on the size of the meat balls it should take about 10 – 12 minutes.
For the Fresh Tomato Sauce:
Heat a large cast iron frying pan on medium heat with the olive oil.
Add the tomatoes, onions, garlic and seasonings and let the tomatoes cook down.
Add the fresh cut basil leaves and simmer on a gentle heat.
Add the meat balls and simmer on a very gentle heat for another 30 – 40 minutes.
Serve with your favorite pasta or with fresh Italian bread or both!
Recipe Card powered by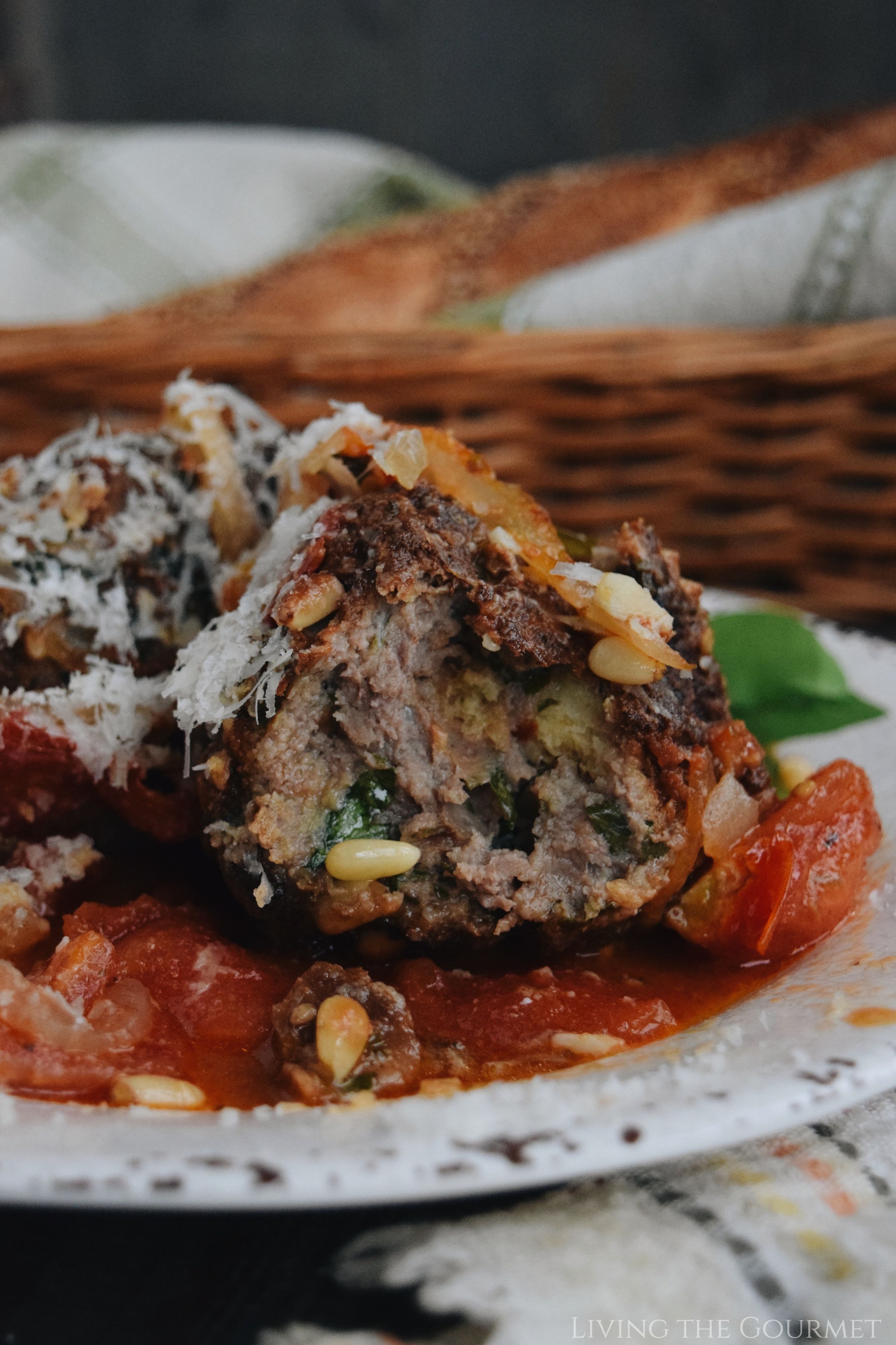 Did you make this recipe?
If so, let me know in the comments down below, or post a picture to Instagram, or to Pinterest, and I'll give you a shoutout on Instagram, or post your pin to one of my Pinterest boards!
If You Enjoyed Today's Recipe…
Be sure to follow us on Instagram for more great recipes and to stay up to date.
Enjoy with Love!
11