We've all experienced it, that minor 'something' that pulls a fleeting memory from the murky shadows of our hearts. A familiar scent sparks an image. A turn of phrase conjures a forgotten conversation. A certain flavor becomes strangely familiar.
As Oscar Wilde said, memory is the diary that we all carry about with us. However, much like an overused book, the pages become yellowed and tarnished with use and age, and sometimes the handwriting of the record wasn't terribly good or pointed to begin with. Oddly enough, it's often those 'insignificant' memories whose images we didn't try to sharpen that end up meaning the most to us, and whose stories we end up wishing were just a tad bit more complete.
Big events and holidays are nice, milestones even better, but how often do we define those we remember by such trivialities as the quirks of their morning routine, the unique mess of their desk, or the oddities they attached sentiment too?
Such trivialities, of course, we rarely even mean to remember.
For example, the other night I was reading in my living room over coffee, and for some reason the combination reminded me of any of a dozen 'after dinner' scenes from years gone by, even though I'm not particularly sure why. Yet, like distant echoes, the voices that would been around the table filled my parlor, the mundane chatter of the day and familiar laughter, veiled and out of focus at first, but gradually becoming clearer the more familiar the memory became.
It was the end of one of our typical family dinners - informal, homey, and rustic, like the ingredients to a well-aged wine. I can't say it was any night in particular, and that's part of what made it so notable, that precious way in which certain spans of time meld into one.
As the ghostly aroma of a yesteryear sauce entered and filled my mind, I knew I had to try to recreate what might have been on the table. And that is precisely what this Eggplant and Zucchini Parmesan tries to recapture.
A decidedly 'rustic' meal in both composition and presentation, this parmesan is proudly 'home cooking,' intended to take center stage at a relaxed family dinner.
To start things off, we begin by slicing up a few eggplants and a large zucchini. Then bread these in milk and flour, and cook for about ten minutes at 400 degrees. I like to season the flour with salt, pepper, and nutmeg.
After that, it's time to prepare the sauce. Here I like to use Mezzetta Tomato Sauce, since it adds an excellent texture and overall rustic flavoring to the recipe's profile, which really helps to achieve what I'm aiming for here. After sautéing onion and garlic in a large frying pan, add the Mezzetta in and let that sit.
Here's where things get a tad tricky – the layering. For this, I like to use milk soaked bread. To start off, lash the bottom of your favorite baking pan or deep dish with olive oil and layer the zucchini, eggplant, and provolone slices, then crumble some of the milk soaked break over it, and then the sauce. Repeat this until you've either run out of room or ingredients. On top, dust very generously with mozzarella and grated parmesan, the more the better since less is not more here since…well, no one has ever complained about too much mozzarella, now have they?
Print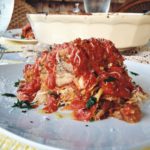 Eggplant and Zucchini Parmesan
---
Author:

Total Time:

50 minutes
2

Sicilian eggplants - peeled and sliced

1

large zucchini - peeled and sliced - lengthwise

1

onion - sliced thin

3

cloves of garlic - chopped
Handful of fresh basil leaves - chopped

1/2

lb. of provolone slices

1

cup

of shredded mozzarella

4

rolls - soaked in milk

2

cups

of flour

1

cup

of milk

1/2 tsp

. salt

1/2 tsp

. black pepper
Dash of nutmeg

2

jars Mezzetta Napa Valley Tomato Sauces
Canola oil
Olive oil
Grated Parmesan cheese
---
Instructions
Preheat oven 400 degrees F.
Prepare two shallow bowls; one with the flour seasoned with the salt, pepper and nutmeg and one with the milk.
Dredge the eggplant and zucchini first in the seasoned flour, then in the milk and once again in the flour.
Lay the slices on the baking sheet; drizzle with the canola oil and place in the oven for 10 – 12 minutes.
Lower the oven temperature to 350 degrees F.
Heat a frying pan with 2 tablespoons of olive oil. Add the sliced onion and chopped garlic. Sauté until the onion is softened and the garlic is fragrant. Add the Mezzetta Tomato sauce and turn the heat off.
Place the bread in 1/2 inch of milk.
Drizzle a little olive oil in the bottom of a baking dish. Layer the zucchini and eggplant; followed by the soaked bread crumbled in your hands and finally the sauce; followed by the provolone slices and the scattering of the fresh basil.  Repeat this process using up all of the eggplant and zucchini.
On the final layer finish with mozzarella and grated parmesan cheese.
Bake for 35 – 40 minutes until the cheese is melted.
Let the dish rest for about 10 minutes before serving.
Prep Time:

10 minutes

Cook Time:

40 minutes
Recipe Card powered by
Enjoy with Love,
Catherine
xo
4