Sentimentality is sometimes described as the "attaching of immaterial value to a thing or place for the purpose of the memories attached to it."
I've referred to myself as a classicalist here more than a few times, and often in the context of food that is reliably beloved, and that not only provides a feast for the palate but that conjures up images that help frame the meal either as part of the presentation or to create a specific set of expectations. A form of sentimentality, naturally, plays a part in this.
Take for example the 'classic' spaghetti and meatballs. The common image of mountainous pasta topped by thick red sauce peppered by rotund spheres of meat likely has a place in the memory of everyone reading this such that we all approach the meal with our own ideas. For some, this was a family favorite growing up, for others, it might be your favorite take away from your local pizza place, while for others, like myself, they might remember this as one of the first 'big' meals they learned to prepare on their own.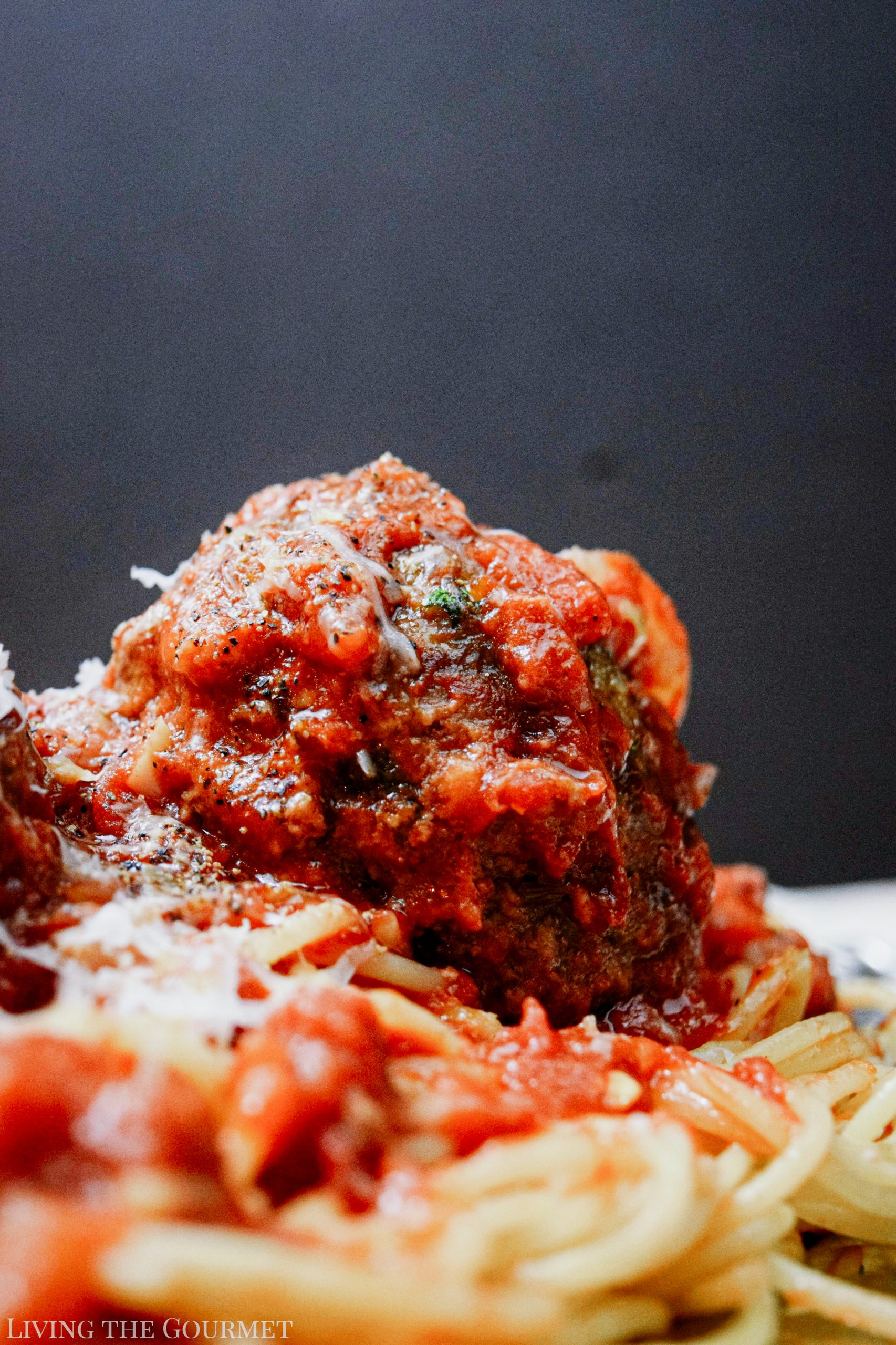 videos you may also enjoy
This was part of the idea behind today's recipe. I purposefully wanted to take something blissfully familiar and make some rather subtle, but significant, changes into it, which, of course, brings us to today's recipe – Greek Style Spaghetti and Meatballs.
First, we begin with the meatballs. Starting off with a large bowl, mix together an eggs, milk, crumbled bread, chopped parsley, parmesan cheese, the seasonings listed below, bread crumbs, chopped raisins, grated garlic, tomato sauce, and canola oil, and mix until they are thoroughly combined.
Now comes the fun part…and by that, I mean the messiest part of this entire equation – the incorporating of one's hands into raw seasoned meat in order to form the mixture into balls of the desired size.
Bake the meatballs for about twenty minutes, and then set them aside, and it's time to prepare the sauce. Note that you will have to adjust the baking time upward for larger sized meatballs.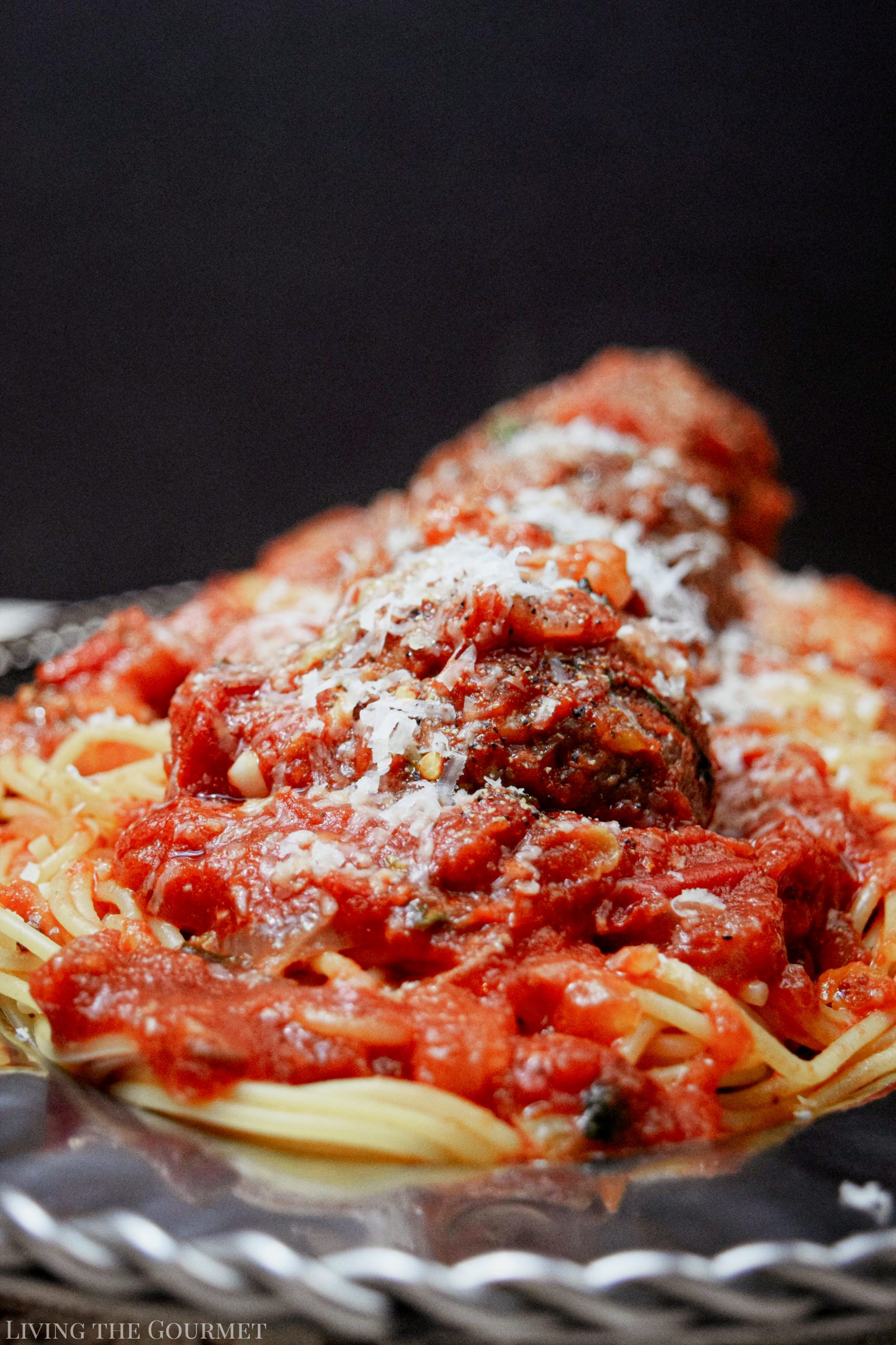 Now, a little context, when I asked my son to try the sauce, I prefaced it with, "I'm telling you now before you taste it, my mother would have told me 'Doll, what are you doing, this isn't how you make a sauce,'" because honestly, I wasn't sure what he would think.
Next up, while the meatballs are resting (yes, resting, being cooked is a strenuous process) we heat a large sauce pot with olive oil, sliced sweet onion, chopped Italian parsley, and garlic. To this, we add in the seasonings, and this is where we make our second 'invisible alteration' with addition of cinnamon and golden raisins, along with the rest of the seasonings. Once the onions become slightly golden and the garlic fragrant, we add in fifty-six ounces of canned crushed tomatoes, and add in about two tablespoons of honey, along with sugar and wine – yes, both sugar and honey, not either or.
The end result is a sweeter, slightly 'fruitier' sauce than I typically prepare.
Now, carefully add the meatballs into the sauce, and allow them to simmer for at least forty to fifty minutes or even longer.
While they're simmering, prepare the pasta, and you're done.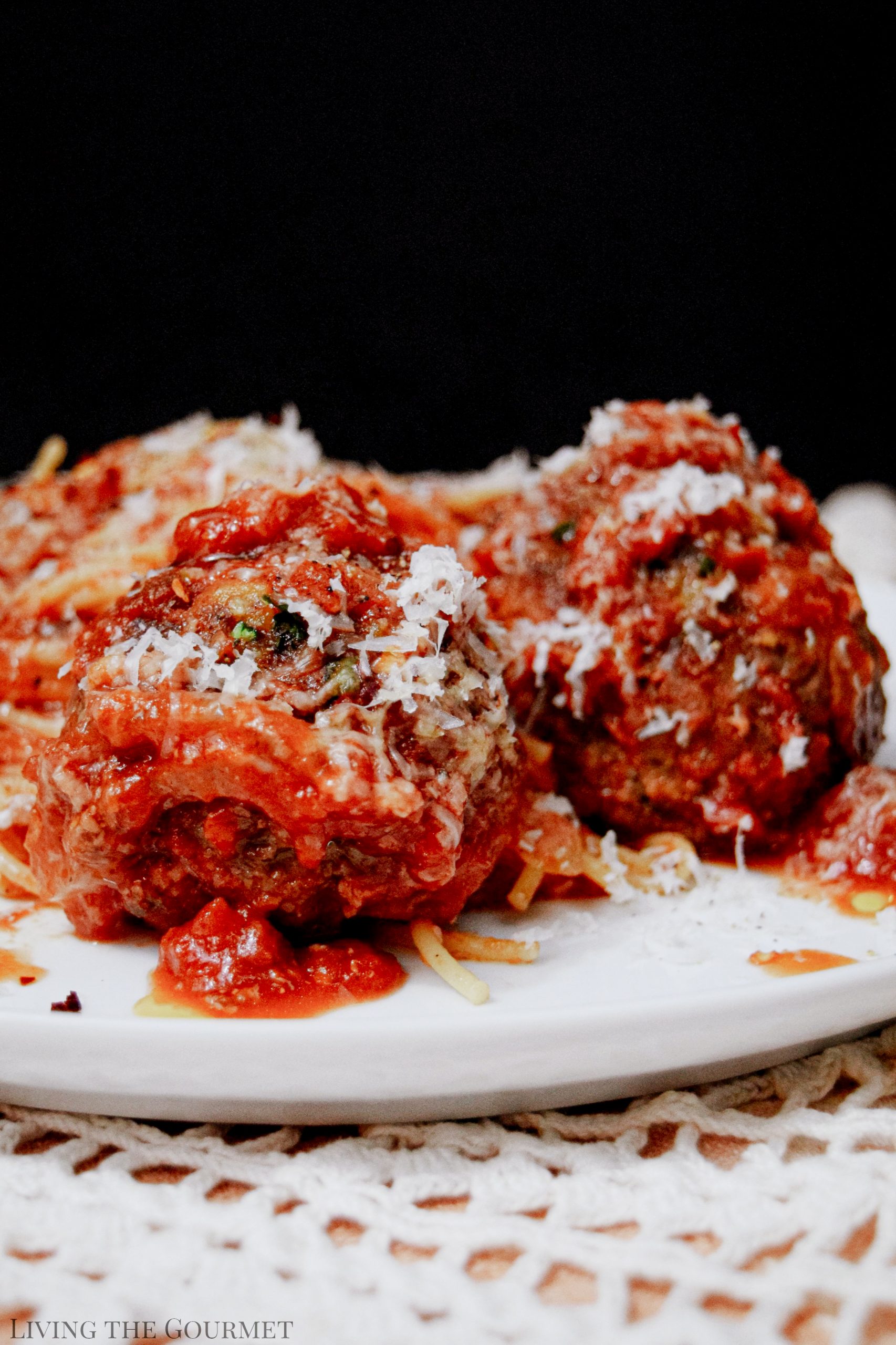 Simple Ingredients, Amazing Meatballs
Homemade meatballs do not require a lot of fancy or hard to find ingredients. Just the opposite. Italian meatballs, Greek meatballs, and yes even Swedish meatballs, are all a joy to make because they are so pantry-friendly. For this recipe's meat mixture, here's a brief overview of what you'll need.
All of these ingredients are readily available at your local grocery store.
The Meat: We're using ground beef for this recipe, but there are so many different ways to prepare your meatball mixture. Today's recipe works well with ground pork, ground turkey, ground chicken, ground lamb or even a mix of ground meat. All will achieve tender meatballs. Get creative, and find your perfect meatball! Note: I do 'not' recommend mixing poultry with beef and pork, as poultry has a slightly higher doneness temperature as we'll touch on below.
Eggs: Fresh eggs are a must, as egg substitutes simply don't work well here.
Raisins: While I recommend golden raisins for maximal "Greekness," your preferred type of raisin will work just fine.
Garlic: This is a key ingredient. For best results, I highly recommend using fresh garlic cloves. I also suggest crushing the garlic before chopping it up to ensure maximum release of juices and flavor. If you absolutely cannot use fresh garlic, then I suggest using garlic powder as opposed to garlic salt or dried garlic chunks.
Fresh Herbs: The only fresh herb you'll need for this recipe is fresh parsley. Be sure you're using Italian flat-leaf parsley as opposed to curly leaf parsley. Curly leaf parsley is almost always used as garnish. As a general rule of thumb, unless a recipe specifically asks for curly leaf parsley, assume the recipe is calling for flat-leaf Italian parsley.
Seasoning: The mix of cinnamon, paprika, and dried oregano are the cornerstone of what makes this meatball recipe "Greek." Freshly ground black pepper and a decent quality Kosher salt are also highly recommended. Conversely, if you prefer, you can opt for a more traditional Italian seasoning and leave out the paprika and cinnamon.
Cheese: Entirely preference. Romano parmesan cheese both work fine. You might also consider using a blend of cheeses, or even adding in mozzarella cheese or feta cheese. Don't be afraid of getting creative!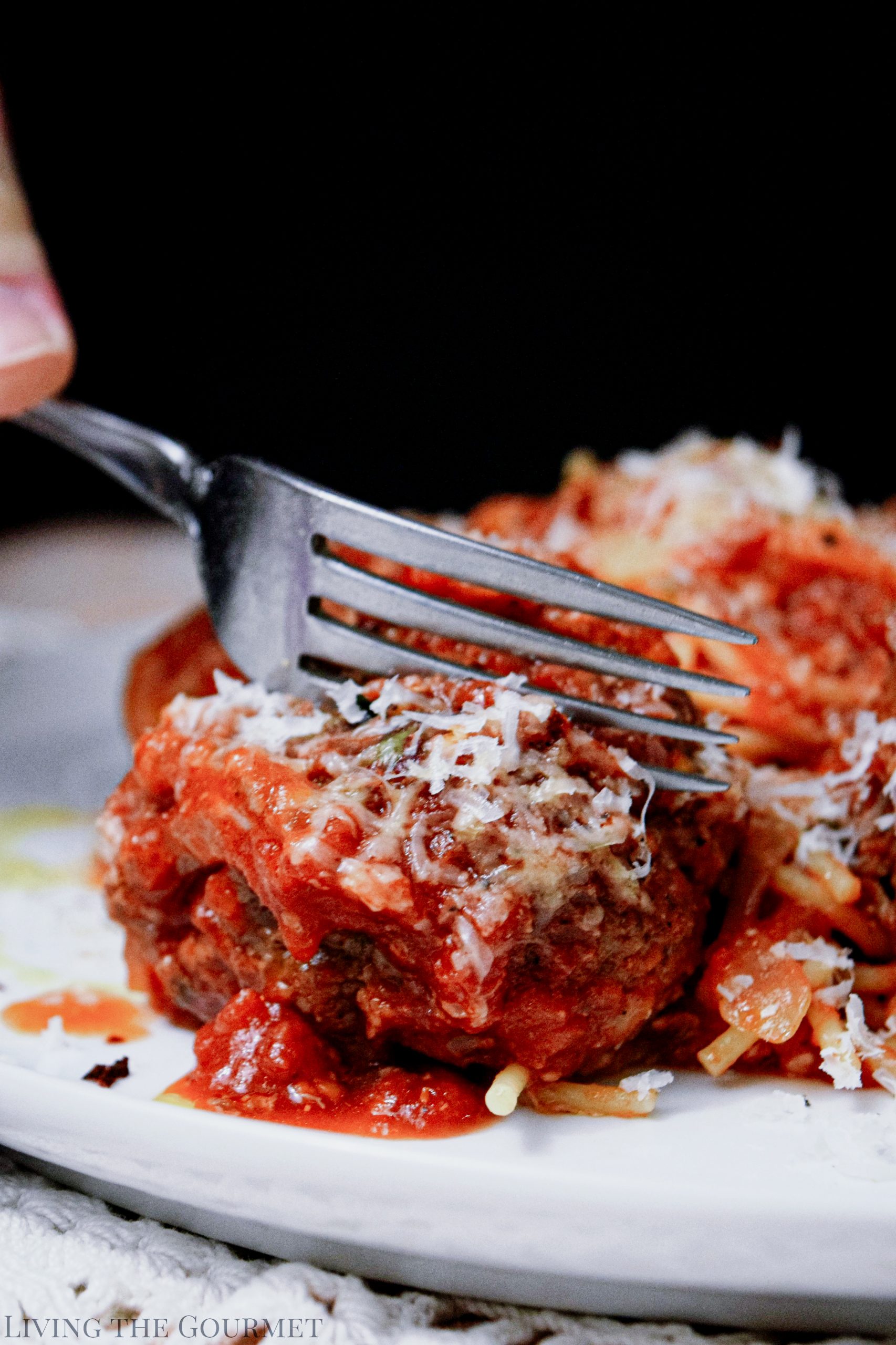 How Long to Bake Meatballs in the Oven
Cook times depend on a variety of factors, including the size of the meatballs, the accuracy of your oven temperature, and your desired level of doneness.
Generally, meatballs are done when they have an internal temperature of 160°F (71°C) for beef and pork meatballs, and 165°F (74°C) for poultry meatballs.
That said, here is a rough guideline of cook times as they relate to meatball sizes, and the desired effects of these cook times.
325°F (163°C):

Cooking Time: Approximately 30-40 minutes.
Meatballs baked at this lower temperature will require a bit more time to cook through. It's a gentler method that's great for retaining moisture in larger meatballs.

350°F (177°C):

Cooking Time: About 20-30 minutes.
This is a standard temperature for baking meatballs. It strikes a good balance between cooking time and maintaining flavor and moisture.

375°F (190°C):

Cooking Time: Around 15-25 minutes.
Baking meatballs at this higher temperature will yield quicker results and a nicely browned exterior. It's suitable for smaller-sized meatballs.

400°F (204°C):

Cooking Time: Approximately 12-20 minutes.
At this high temperature, meatballs will cook rapidly and develop a delightful crust. It's ideal for smaller, bite-sized meatballs or when you want them done quickly.
To reiterate what I said earlier, please remember that these are general guidelines, and cooking times may vary based on factors like meatball size, oven accuracy, and the type of meat used.
To ensure your meatballs are perfectly cooked, use an instant-read thermometer and aim for an internal temperature of 160°F for beef and pork meatballs, while poultry meatballs should reach an internal temperature of 165°F (74°C).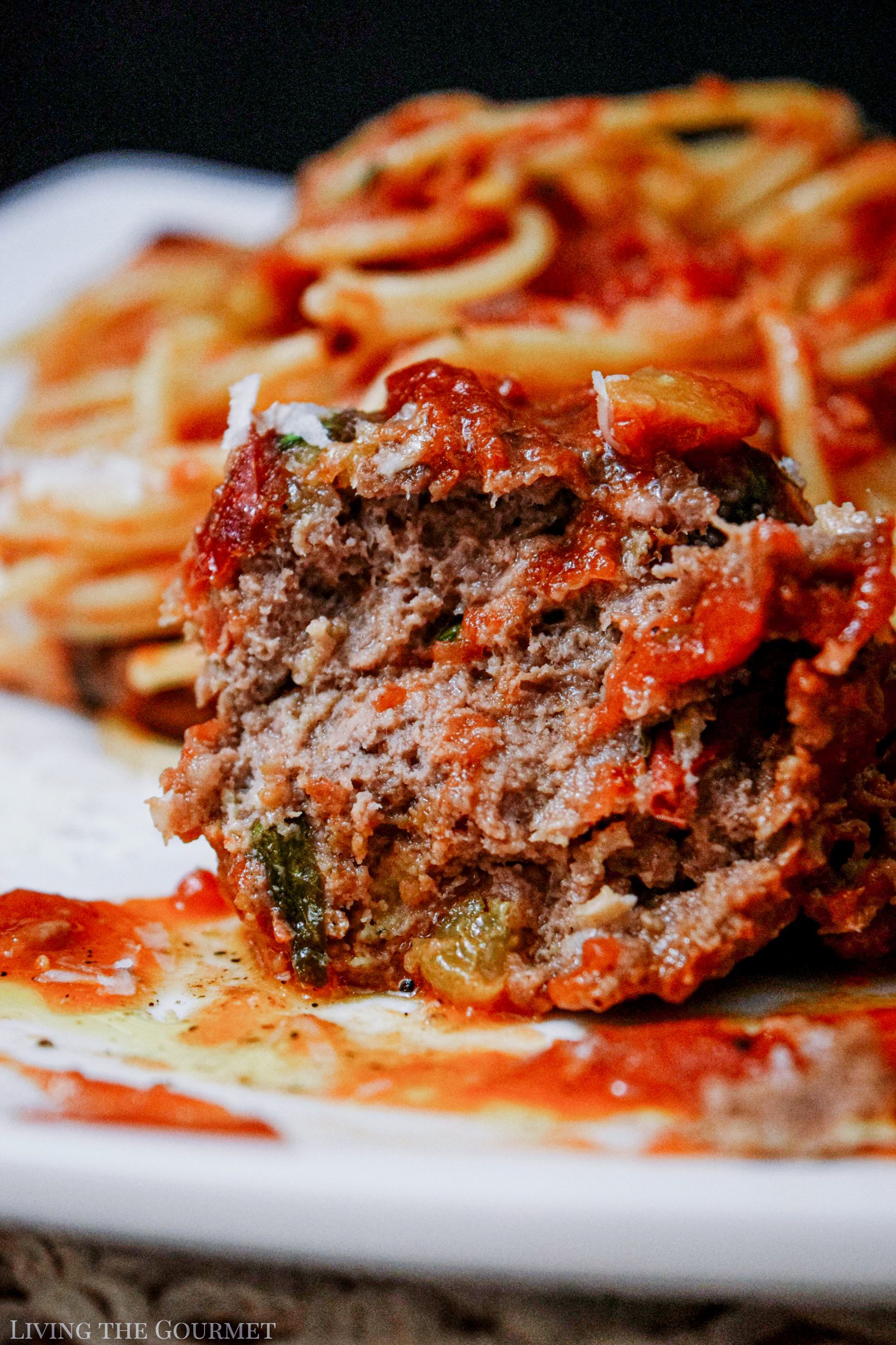 Reasons to Bake Your Meatballs in the Oven
I love a good spaghetti and meatballs recipe, and I admit that I love frying my meatballs as much as the next Italian gourmand. However, I must also admit that there are a host of reasons you might want to consider baking your meatballs in the oven.
The reality is that cooking meatballs in the oven presents a host of advantages, while still achieving the same, flavorful meatballs that frying does.
Efficiency: Baking meatballs in the oven is a quick and efficient process. In just 15-20 minutes, your meatballs can be beautifully cooked to perfection. By contrast, frying can be messy – very messy, and involves a length cleanup. Also, let's be real, no one enjoys standing over a fryer or a cast iron pan bubbling with cooking oil.
Consistent Results: Unlike frying or simmering in sauce, baking ensures uniform cooking. Every meatball is evenly exposed to the high heat, resulting in consistent doneness throughout. Even the most skilled fry-chefs struggle to achieve consistent, even results.
Less Mess: As mentioned above, baking eliminates the mess associated with frying. There's no splattering oil to contend with, making cleanup a breeze.
Healthier Choice: When you bake meatballs, there's no need for excessive oil. This method is perfect for those seeking a healthier option without sacrificing flavor.
Versatility: You can bake a variety of meatballs, from classic beef to Italian sausage or mixed meat varieties, all with superb results.
Flavor Retention: Baking helps meatballs retain their juicy, flavorful center. The high heat seals in the moisture and ensures every bite bursts with deliciousness.
Less Time Consuming: Unlike simmering meatballs in sauce, which can take hours, baking saves you valuable time in the kitchen.
Easy Preparation: Preparing meatballs for baking is straightforward. Simply scoop the mixture onto a large baking sheet and pop it in the oven.
Precision with Temperature: Baking allows you to control the temperature with precision. You can use an instant-read thermometer to ensure each meatball reaches the desired internal temperature.
High Heat Magic: Baking at a high temperature creates a beautiful crust on the meatballs, enhancing their flavor and texture.
Less Dishes: Baking requires fewer utensils and pans compared to frying or simmering. A large baking sheet is often all you need. The cleanup becomes even easier if you use parchment paper to line your baking sheet.
Grocery Store Convenience: You can find all the ingredients for delicious meatballs easily at your local grocery store.
Perfect for All Ovens: Whether you have a traditional or convection oven, baking meatballs works well in any type of oven.
In sum, baking meatballs in the oven is the go-to method for creating the best meatballs with less mess, less time, and excellent flavor. The high heat and efficiency of this method make it a favorite among home cooks seeking perfectly cooked, delectable meatballs every time.
Print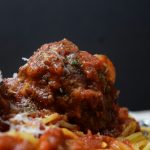 Sweet Greek Meatballs
---
Author:

Total Time:

40 minutes
For the Meatballs:
3

lbs. of ground beef

4

cloves of garlic - grated

1/2

cup

of Parmesan cheese - grated
Healthy handful of Italian parsley - stems removed and chopped

1 1/2 tsp

. salt

1 tsp

. black pepper

1 1/2 tsp

. dried oregano

1/2 tsp

. ground cinnamon

1/2

cup

bread crumbs

1/2

cup

golden raisins - chopped

4

slices white bread - crumbled

1/2

cup

milk

3

eggs

1/4

cup

tomato sauce

1/4

cup

canola oil
For the Greek Inspired Sauce:
2

-

28

oz. cans of crushed tomatoes

1

large sweet onion - sliced thin

4

-

5

cloves of garlic - crushed and chopped
Healthy handful of Italian parsley - stems removed and chopped

1/2

cup

golden raisins - chopped

1 1/2 tsp

. salt

1 tsp

. black pepper

1/2 tsp

. red pepper flakes

1/4 tsp

. ground cinnamon

1 1/2 tsp

. dried oregano

2

tbs. honey

1/2 tsp

. sugar

2

tbs. wine - any color

3

tbs. olive oil
Your favorite pasta
---
Instructions
For the Meatballs:
Preheat Oven 350 degrees F.
In a large bowl place, the egg, milk, crumbled bread, chopped parsley, Parmesan cheese, seasonings, bread crumbs, chopped raisins, grated garlic, tomato sauce and canola oil. Mix these ingredients together.
Add the ground beef and incorporated into the wet ingredients.
Form the meat mixture into desired sized meatballs and place in a baking dish.
Bake for 20 – 25 minutes. Take the meatballs out of the oven and set aside while preparing the sauce.
For the Greek Inspired Sauce:
Heat a sauce pot with the olive oil and add the sliced onion, chopped garlic, chopped parsley, chopped raisins and seasonings.
Let the onions become slightly golden and the garlic become fragrant.
Add the crushed tomatoes and stir. Add the wine, sugar and honey and continue to simmer on a gentle heat.
Carefully add the meatballs and simmer on a gentle heat for at least 40 – 50 minutes or longer.
Prepare the pasta as directed.
Serve with a drizzle of olive oil, ground black pepper, crushed red pepper flakes and grated Parmesan cheese.
Prep Time:

15 minutes

Cook Time:

25 minutes

Category:

Main Dish

Cuisine:

Greek
Recipe Card powered by
If You Enjoyed Our Meatballs…
Consider pairing today's meatballs and marinara sauce with homemade pasta. Homemade pasta has a delicious, airy texture and a rich 'wheat' flavor that the store-bought alternative simply doesn't.
Want more delicious recipes and beautiful photography? Subscribe to our newsletter, or follow us over on NewsBreak and MSN, so you never miss an update!
Happy Cooking!
2