Don't let dirty dishes stop you from enjoying your favorite meals! We've put our favorite Italian picnic recipes to the test with Dixie Ultra® Disposable Plates that are now stronger than ever before.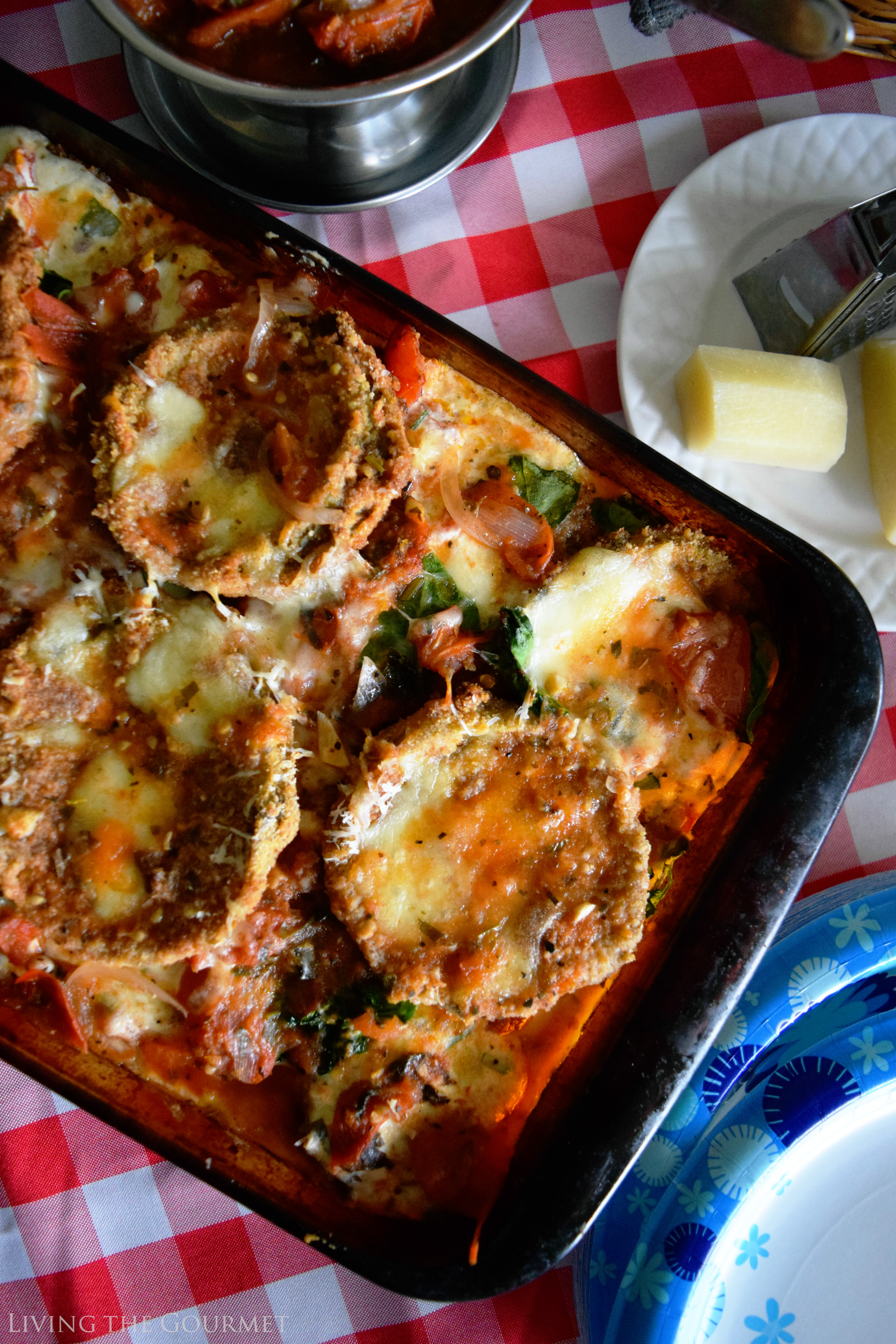 'Always' is perhaps as strange a concept as it is a word. It stretches in both directions of the chronological scale, but without suggesting eternity. It suggests an ever-present persistence, sometimes in certain contexts, sometimes in all contexts. It is used in common speech, but suggests something, conceptually, that is beyond the reach of commonality – or even mortality for that matter. Physics teaches us that 'infinite' is beyond the comprehensive powers of the human mind, but we humans use the word 'always' in ways that we understand almost perfectly – despite its suggesting something very near to the infinite.
Perhaps, however, there is a 'mortally imprecise' use behind such a word. For example, I could talk about how I 'always' prefer to keep things simple during my summer gatherings – no matter how 'complex' the food may happen to be.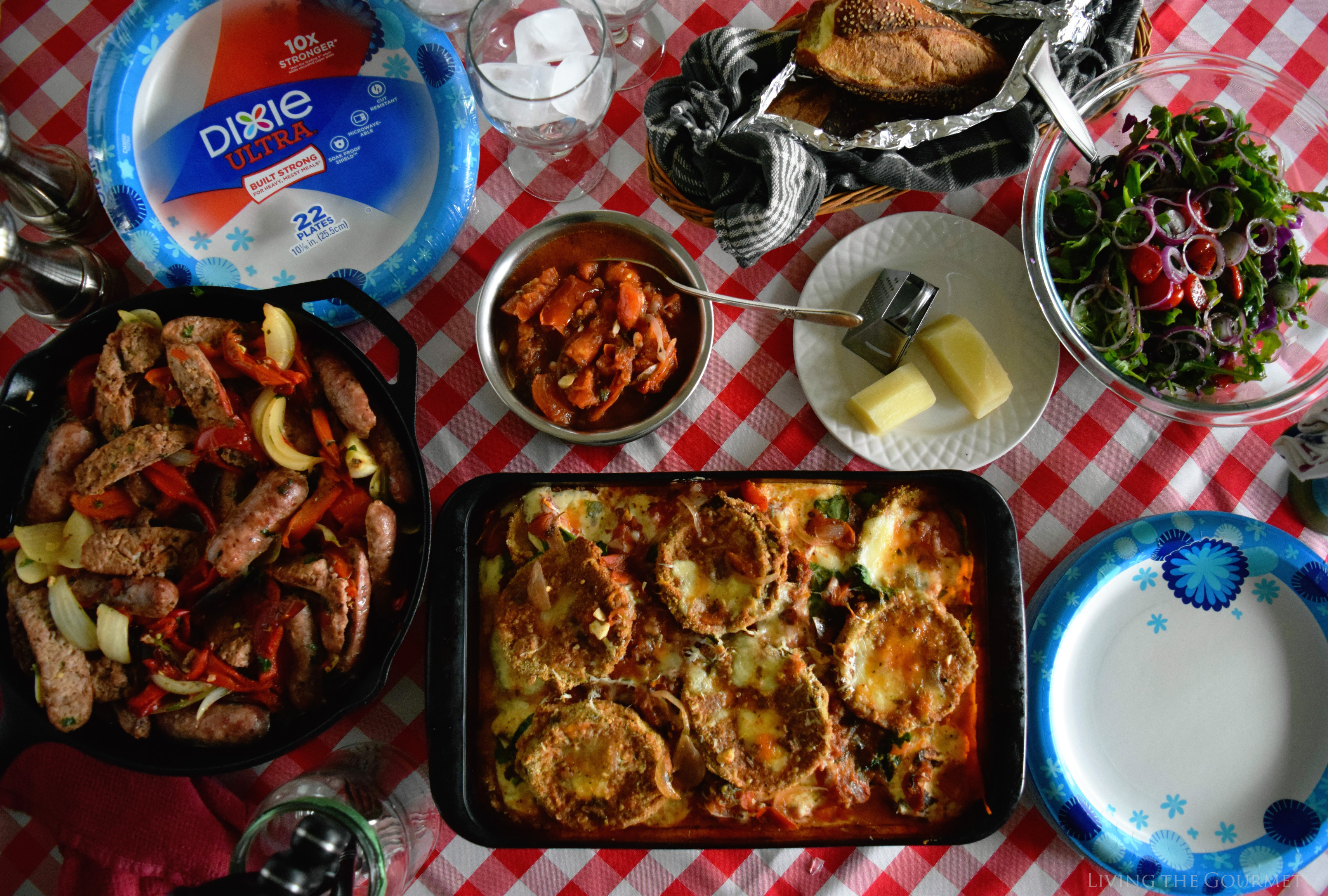 In fact, I like to think that this combination of a 'relaxed' or 'simple' setting set against 'deliciously big' meals 'always' helps set the perfect tone for the season – real relaxation plus real indulgence. A sort of 'no fuss' sort of indulgence.
For example, some of my fondest childhood memories involve big 'picnics' out in the backyard with crowds of friends and family, set against a backdrop of Italian music. Now, 'picnic' for us meant such items as sausages prepared with grilled peppers and onions, and eggplant parmigiana – today's recipes, of course.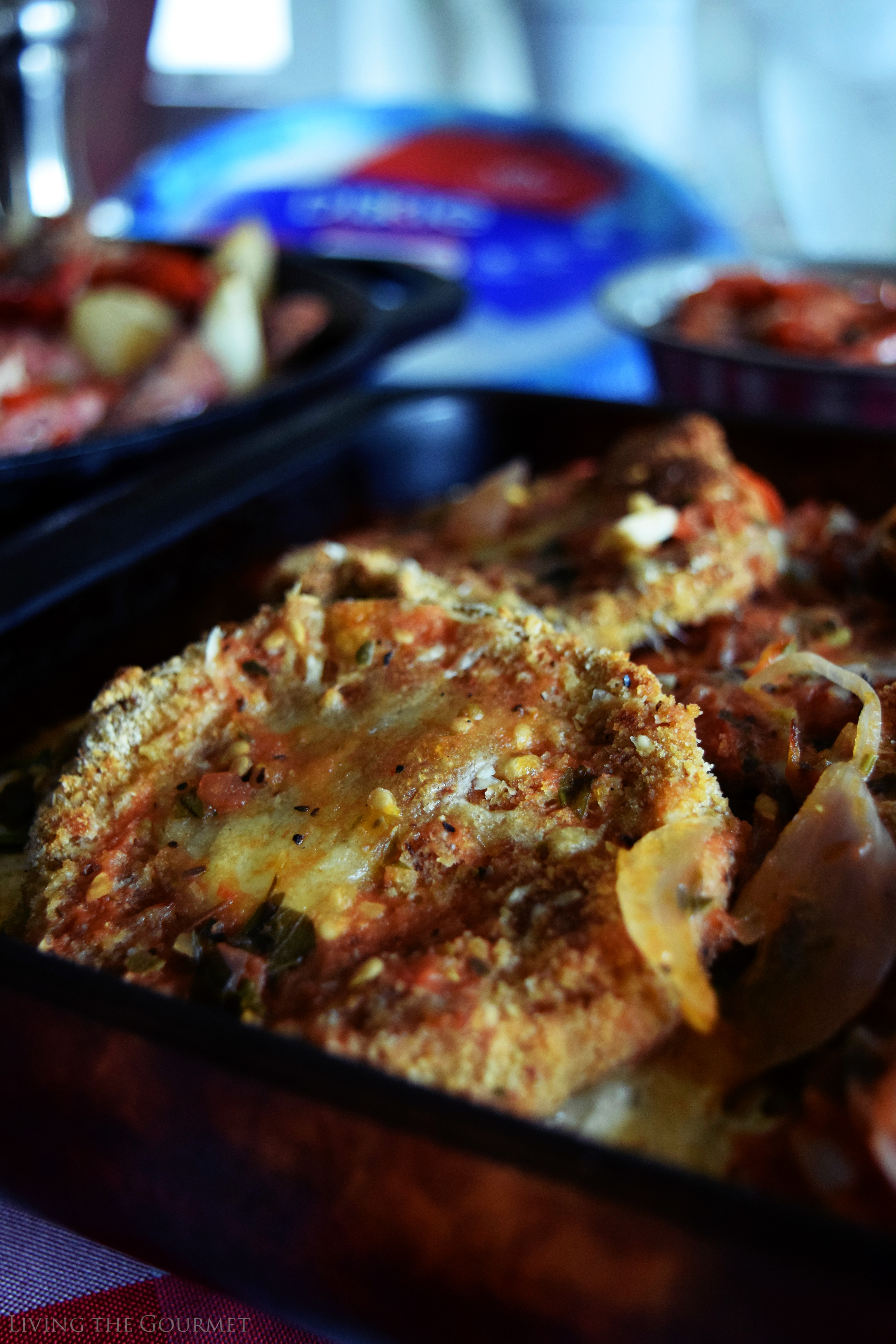 However, how do I keep a get together that involves such 'involved' recipes relaxed? Aside from setting it up outside on my deck, I swap out the regular dishes and swap in the Dixie Ultra®, a brand plates I know from years of experience won't bend or leak or crumble under the weight of my family's hardiest recipes. The Dixie Ultra® variety feature a reinforced rim that adds an extra layer of protection against folding or bending.
As anyone who's ever hosted a gathering of any size will tell you, the absolute worst part of the evening, by far, doesn't involve the preparation of the, the entertaining of the guests, or evening setting the décor. Instead, the worst part, of course, is what the guests leave behind – the dirty dishes, and that's precisely the part of the evening that Dixie Ultra® alleviates. I purchased these via Amazon Prime, and remember that if you purchase online, you'll save 15% off your purchase!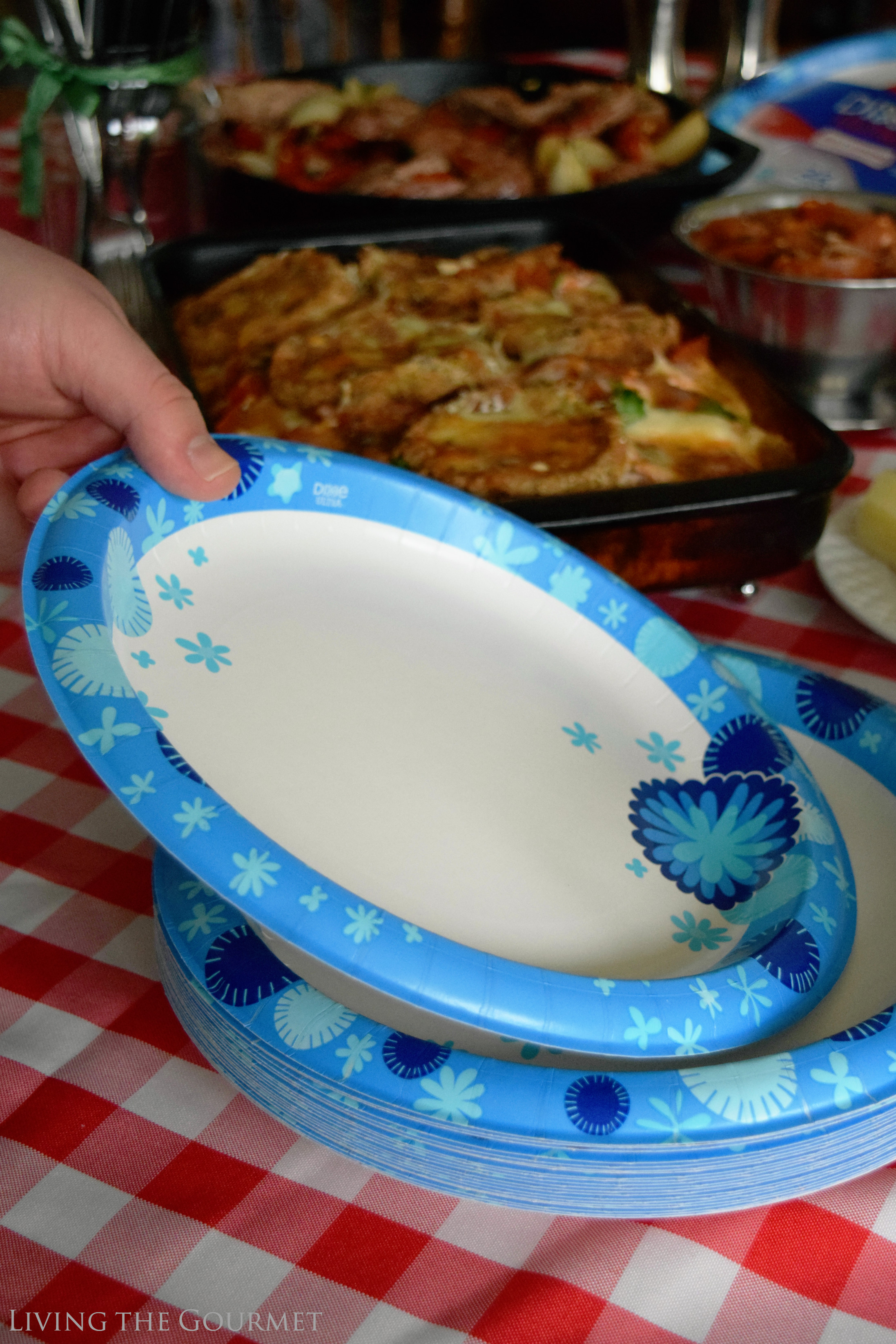 To start things off, we begin with the sauce, we prep a large cast iron frying pan with a bit of olive oil, and add in the ingredients outlined below – the onion, garlic, and parsley. Once that's nice and fragrant, we quarter a few tomatoes and add those in along with the seasonings listed below.
Let that simmer while you prepare the rest of the meal, or roughly forty-minutes to an hour. Yes, I'm timing you on the rest of this.
To begin, slice up the eggplants as shown below. I prefer the slices a little thicker, since once they cook they turn almost sponge like, absorbing the cheese and sauce quite nicely. Then bread the slices as shown below in the egg wash with the bread crumbs, setting them on a baking sheet. Once that's done, drizzle them with a bit of vegetable oil and bake them in the oven for about twenty or so minutes. You want them golden, but not dark. You are going to want to flip the eggplants once during this process, so figure about ten minutes on each side.
Then prep the ricotta as shown below, and coat the bottom of a baking pan with olive and set your first layer of eggplant slices as shown in the pictures below. Then top each slice of eggplant with the ricotta mixture, spinach, grated parmesan, shredded mozzarella, and a generous spoonful of the sauce. Repeating this layering process until the pan is full, and then top the final layer with mozzarella. Bake this for about twenty minutes.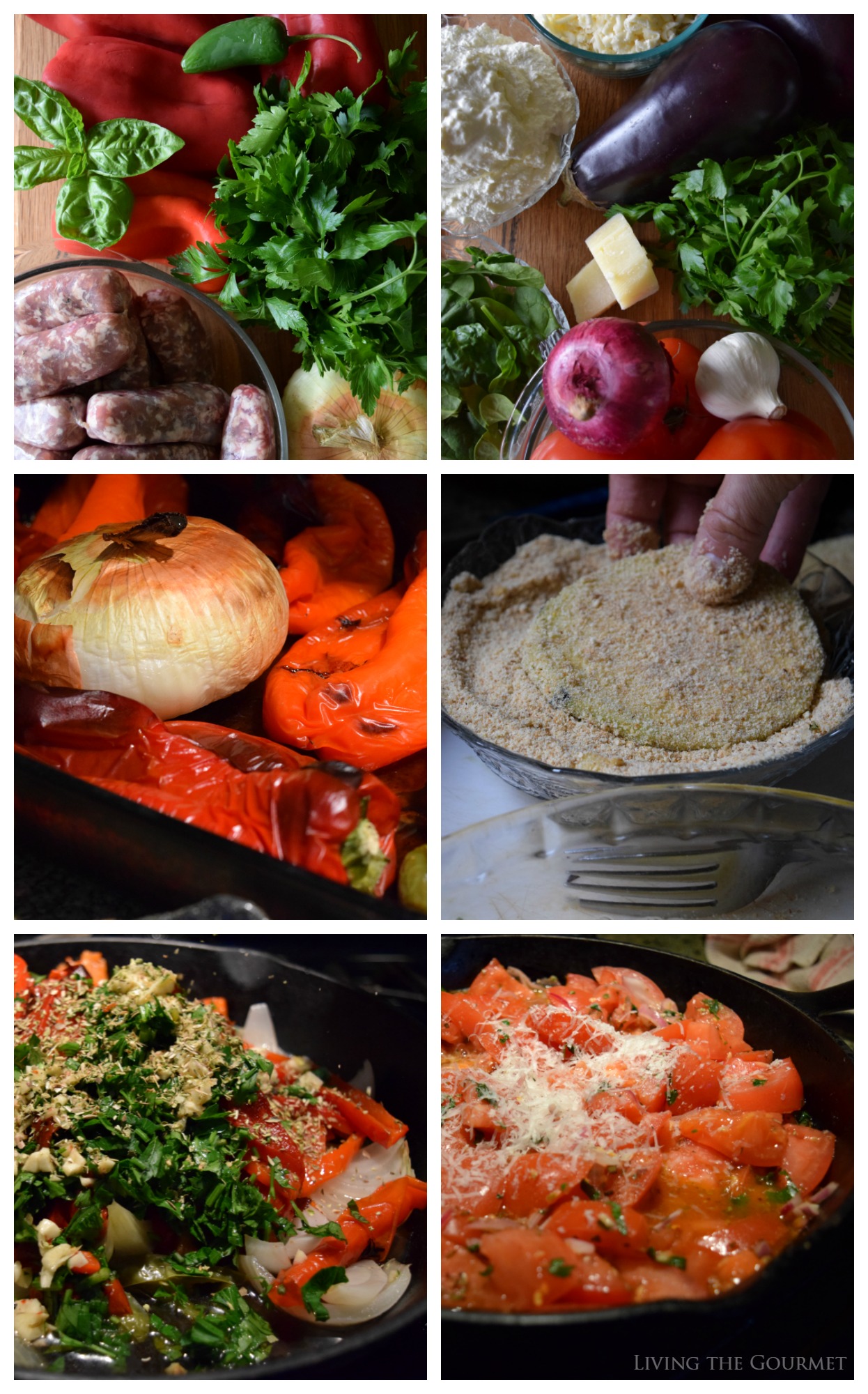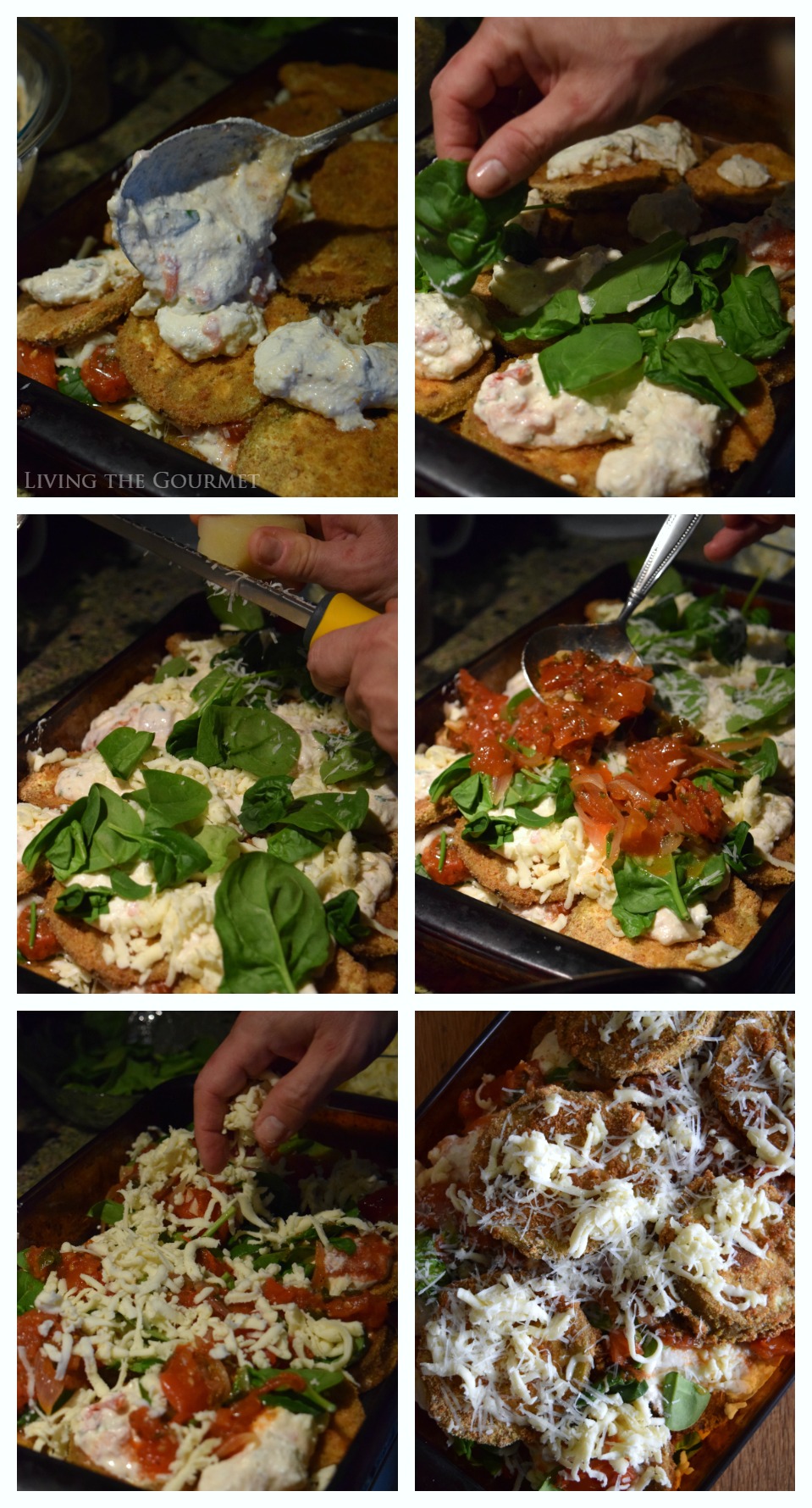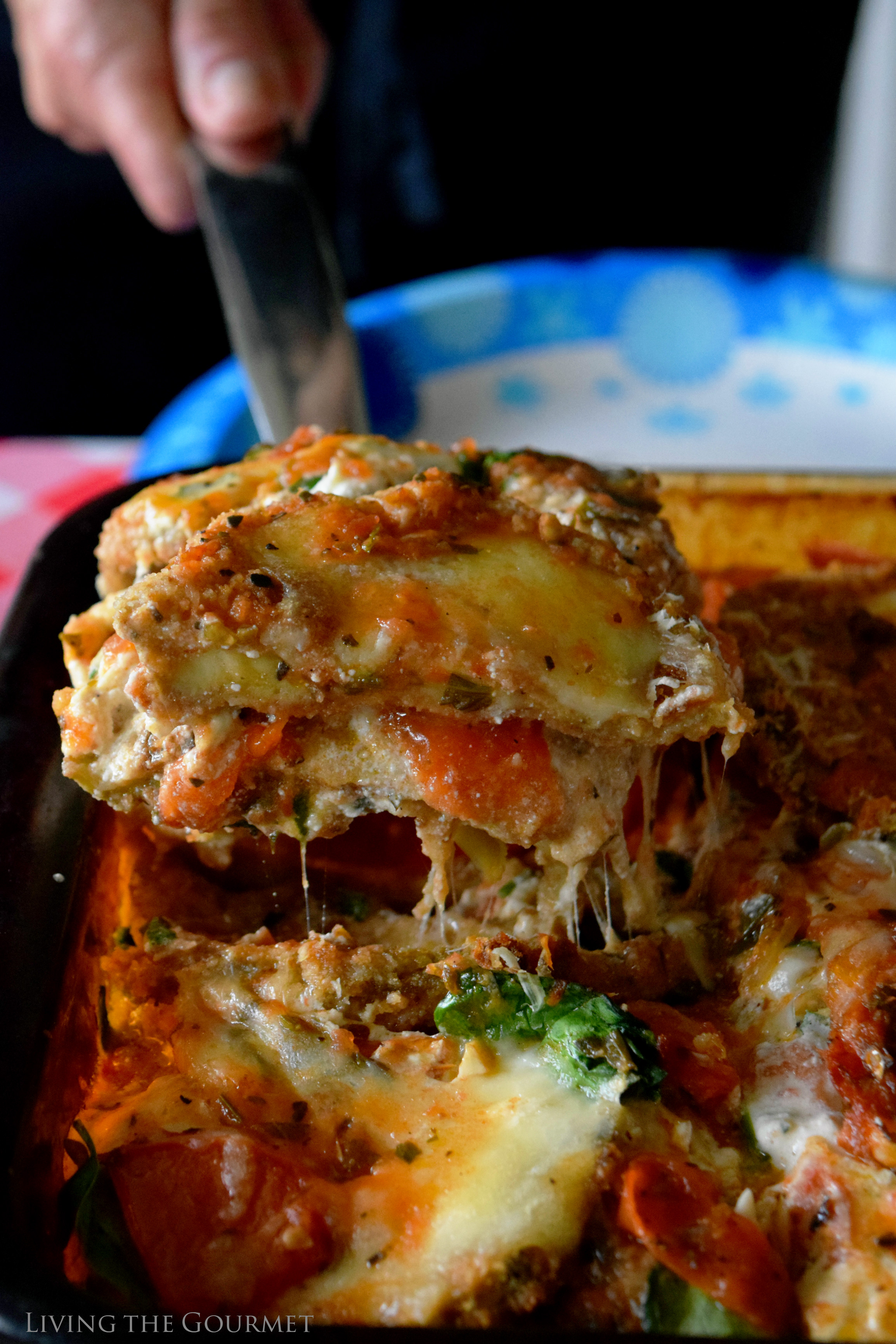 Eggplant Parmesan
Author:
Prep time:
Cook time:
Total time:
Ingredients
For the Fresh Tomato Sauce:
6-7 vine ripe tomatoes – quartered
1 red onion – sliced thin
4 – 5 cloves of garlic – chopped
½ cup of fresh Italian parsley – chopped
6 basil leaves – ripped
3 tbs. olive oil
½ tsp. sugar
¾ – 1 tsp. salt
½ tsp. black pepper
¼ tsp. red pepper flakes
¼ cup freshly grated parmesan cheese
For the Eggplant Parmesan:
2 eggplants – peeled and sliced ¼ inch thickness
2 cups of breadcrumbs
3 eggs plus a splash of water
Vegetable oil for drizzling
32 oz. ricotta cheese
16 oz. mozzarella – shredded
¼ cup of grated Parmesan cheese
¼ tsp. salt
¼ tsp. black pepper
2 cups of fresh baby spinach
¼ tsp. red pepper flakes
¼ cup fresh Italian parsley – chopped
4 – 5 fresh basil leaves – ripped
Parmesan cheese for grating
Olive oil – for drizzling
Instructions
For the Fresh Tomato Sauce:
Heat a large cast iron frying pan with the olive oil; add the sliced onion, garlic, basil and parsley and let this sauté until the onion softens and the garlic is fragrant.
Add the quartered tomatoes and the seasonings and simmer on a gentle heat uncovered for at least 45 minutes while preparing the rest of the meal.
For the Eggplant Parmesan:
Preheat Oven 350 degrees F.
Dip the eggplant slices first in the egg wash then in the bread crumbs and place on a baking sheet.
Drizzle each slice with a little vegetable oil and bake for approximately 20 minutes, or until a little golden color comes to the slices, turning once in the process.
Prepare the ricotta by adding the spices, chopped parsley, basil leaves, grated cheese and two tablespoons of the sauce to the ricotta and stirring with a fork.
Drizzle the bottom of a 9 x 13-inch baking pan with a little olive oil and place a layer of eggplant on the bottom.
Top each slice with the ricotta mixture followed by a spinach leaf, grating of parmesan cheese, the shredded mozzarella and finally spooning the sauce over each slice.
Repeat this process ending with the shredded mozzarella.
Bake for 20 – 25 minutes.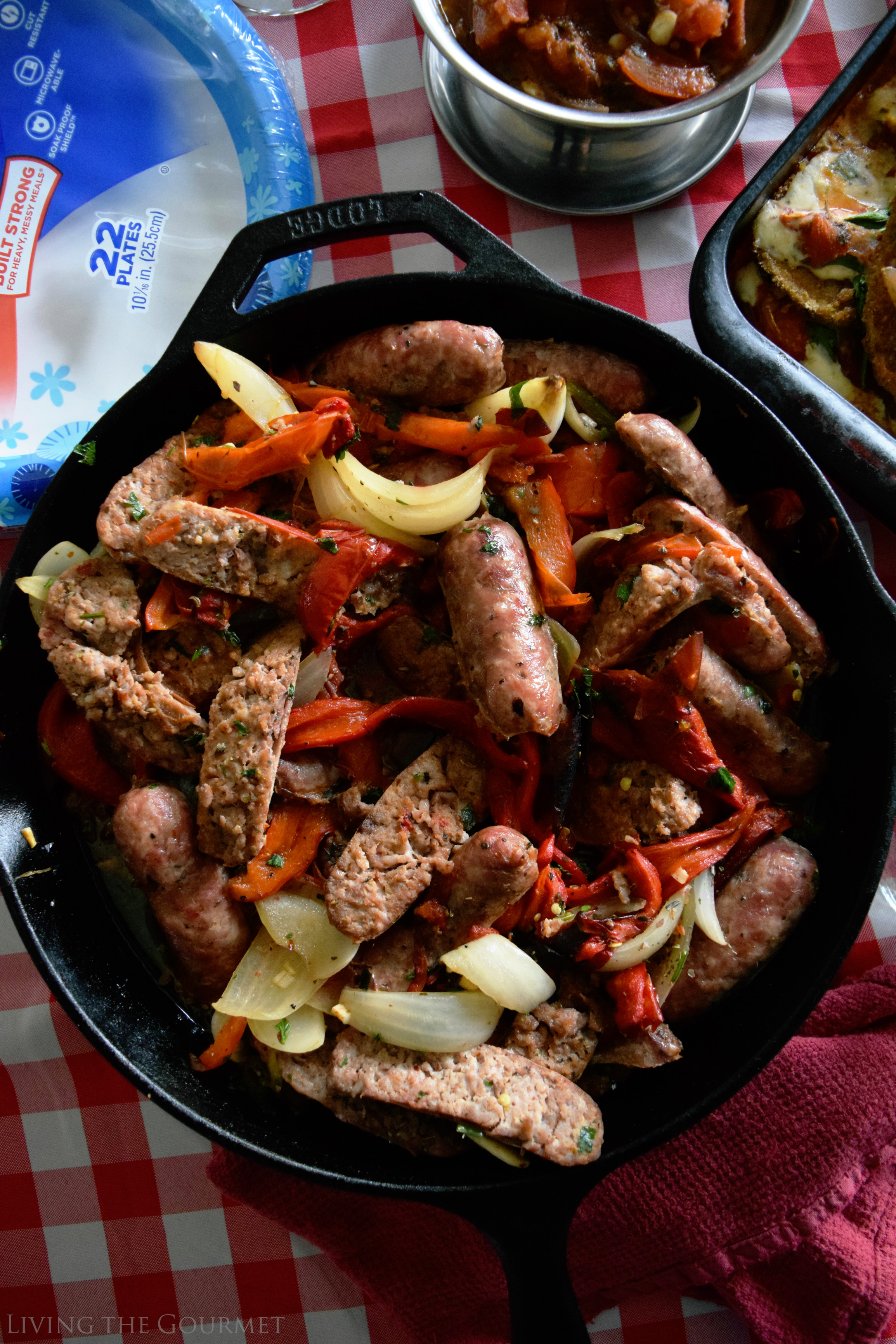 To make the peppers, we begin by prepping the peppers and onions as describing below, baking until the peppers become slightly charred. After that's done, while the peppers and onions cool cook your sausages in the oven for about thirty-five minutes.
Now, once the peppers and onions have cooled enough to handle, slice them lengthwise as shown and described below, and slice up the onion, along with some garlic, parsley, and basil.
Add these together rin a large cast iron frying paning with some olive oil, and toss them nicely, and let them saute with the seasonings listed below, then slice the sausages lengthwise, and add them in. Let that continue to simmer over a gentle heat for about fifteen minutes, and you're ready to serve.
Italian Sausage and Peppers
Author:
Prep time:
Cook time:
Total time:
Ingredients
1 jalapeno – pepper
4 – 5 red bell peppers
1 large sweet onion
4 – 5 cloves of garlic
4 – 5 basil leaves
½ cup of fresh Italian parsley – chopped
1 ½ tsp. dried basil
¼ tsp. anise seeds
¼ tsp. red pepper flakes
½ tsp. salt
½ tsp. black pepper
Olive oil
3 lbs. of sausage
Instructions
Preheat Oven 350 degrees F.
Wash and place the peppers in a baking pan whole along with the onion whole in the skin.
Bake until the peppers become slightly charred looking, then remove and let cool.
Place sausage in a baking pan and bake for approximately 35 – 40 minutes or until the internal temperature reaches 160 degrees F.
When the peppers and onion have cooled enough to handle, remove the end of the peppers and slice the peppers lengthwise. Remove the skin of the onion and slice the onion. Chop the garlic, parsley and basil.
Heat a large cast iron frying pan with 2 – 3 tablespoons of olive oil; add garlic, basil and the sliced vegetables, toss and let sauté on a gentle heat for a minute or two.
Add the seasonings and continue to sauté. Slice the sausage lengthwise; add to the pan and toss.
Keep on a gentle heat about 12 – 15 minutes.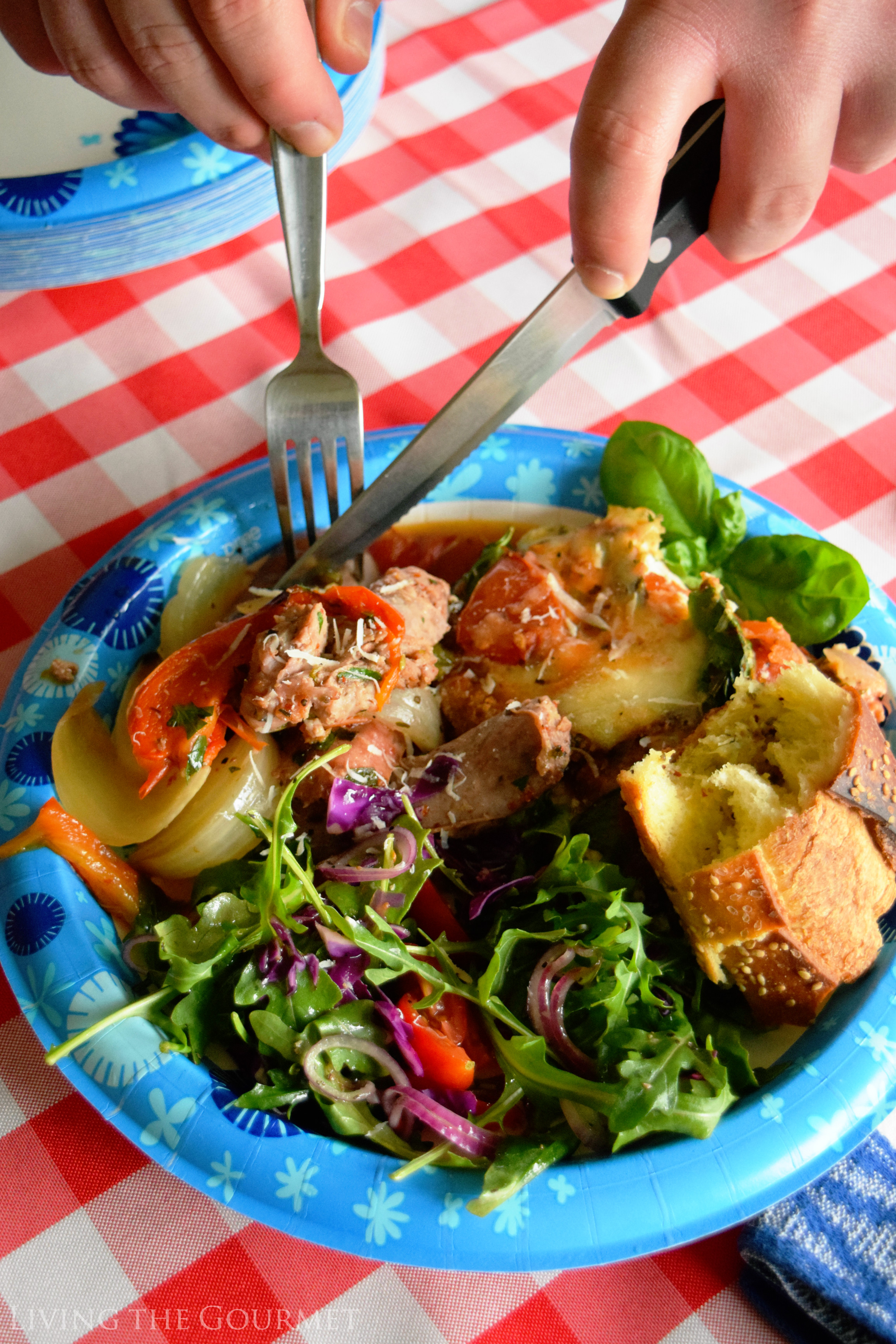 What are some of your favorite summer recipes? We would love to hear from you.
Enjoy with Love!
I was selected for this opportunity as a member of CLEVER and the content and opinions expressed here are all my own.
1