Today, we're preparing super-simple, back-to-basics oven fried chicken cutlets. Whether you're topping these with sauce and cheese, eating them as is, or layering them onto a hero with peppers and provolone, today's chicken cutlets are a great addition to anyone's recipe repertoire.
With that said, let's dive right in…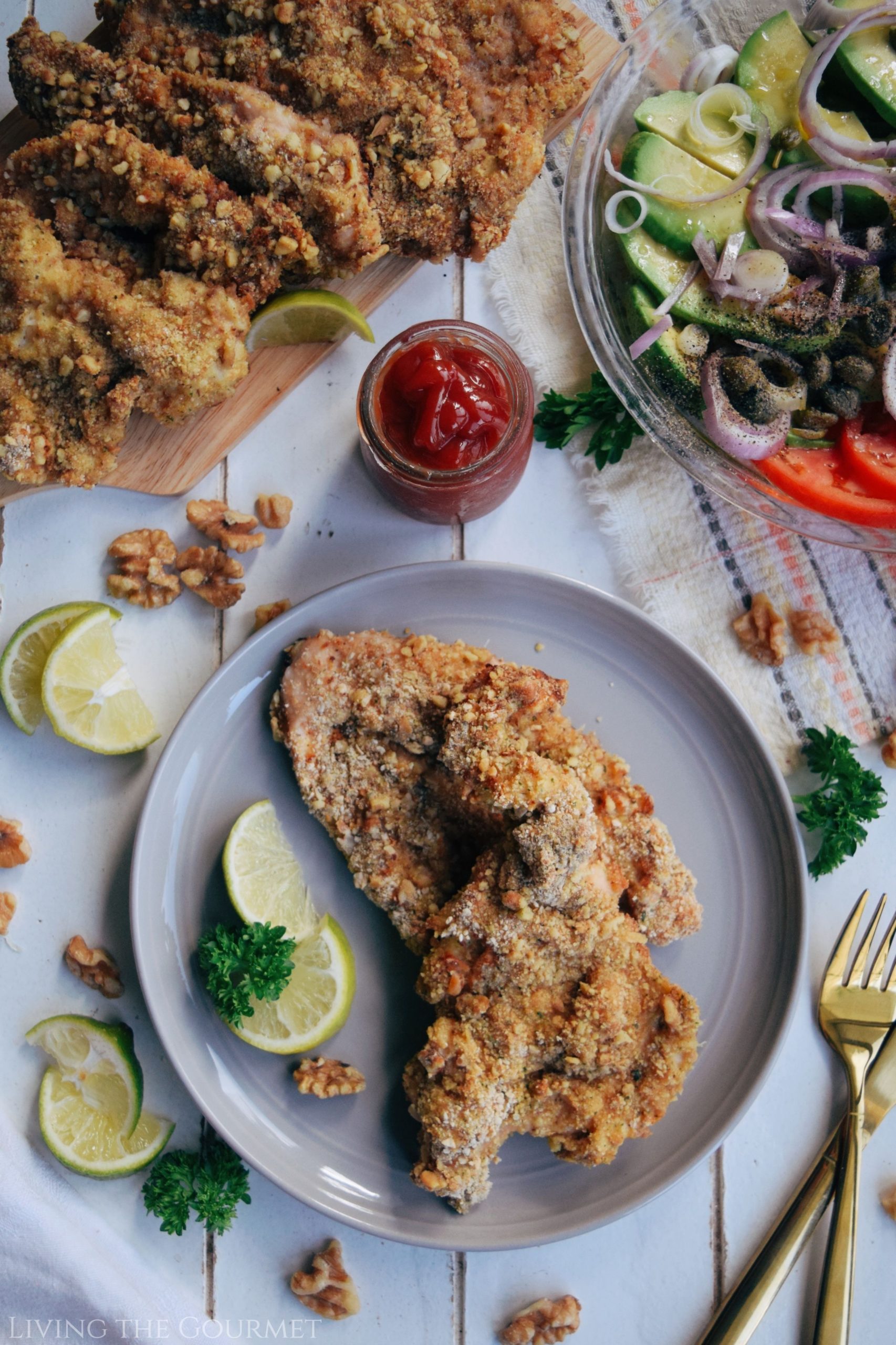 Ingredient Notes
There's not much to say here, since the ingredients in today's recipe are pretty basic and self-explanatory, but there two notes I wanted to mention.
1) Italian Style Breadcrumbs. These are probably the most common type of breadcrumbs on American store shelves after 'regular' breadcrumbs, but what are they 'really?' Basically, they're 'regular' breadcrumbs but with combination of dried basil, oregano, and parsley, with a copious amount of salt and black pepper – and that's pretty much it, though some brands may include red pepper as well. Oddly, Italian-style breadcrumbs are rarely toasted in olive oil, and even when they are, the olive oil is usually a cheap 'light' olive oil.
2) Walnuts – Is There a Substitute? Yes, but the substitute is usually quite a bit pricier – pecans. Pecans are regarded as more or les interchangeable with walnuts due to their vaguely similar flavor and soft texture, but they 'are' quite a bit pricier, and I can't 'really' think of an instance where I've had pecans on hand just lying around but not walnuts. With that said, if you don't have either pecans or walnuts on hand, just leave them out – the recipe will still work just fine.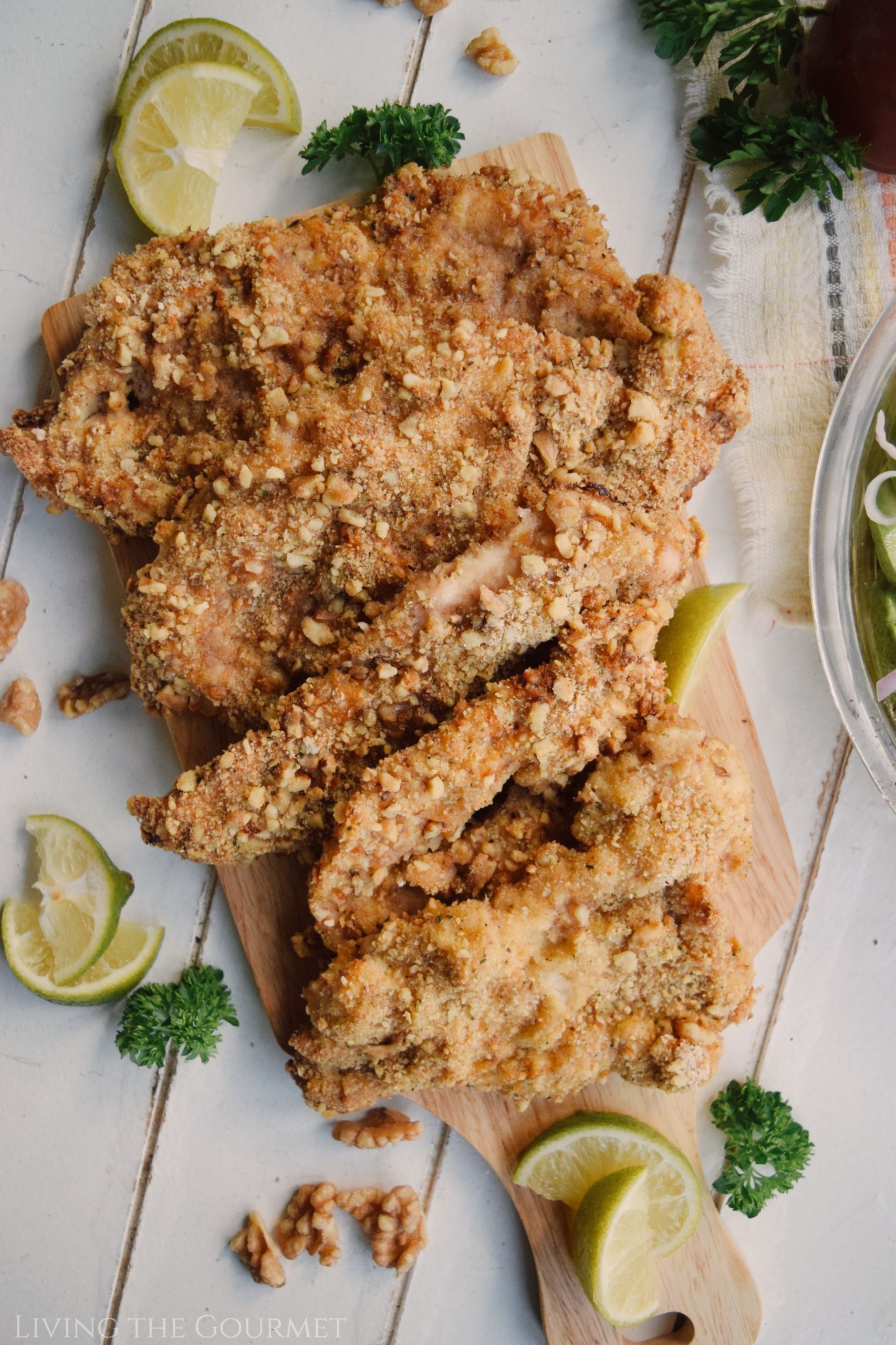 Thinking Beyond the Plate – What To Do With Oven Fried Chicken Cutlets
As I mentioned above, today's chicken cutlets are a great starting point for some real 'crowd favorite' recipes.
That said, here are a few my absolute favorite uses for chicken cutlets, and believe me when I say these recipes are blissfully easy to put together once you've got the 'fried chicken culet' part out of the way.
1) Sandwiches and Heroes. You don't need me to tell you that that over fried chicken cutlets layered thick on hardy rolls or heroes, layered with red sauce and cheese is an absolutely delicious combo. However, if you want my advice on 'how' to do that, follow this recipe here, subbing in the chicken cutlets in place of the eggplant. Conversely, you could skip the sauce in favor of 'fresh' ingredients like peppers, tomatoes, and fresh basil to create something along the lines of my Peperoncini Sub.
2) Stacked as Parmigiana. This 'pizza place staple' needs no introduction and no explanation. For my take on how to make parmigiana, see my recipe here. Once again, simply replace the breaded eggplant with today's chicken cutlets.
3) Pizzaiola. One of my favorite 'one pan one meal' recipe, pizzaiola is simple to put together, satisfying, and it's something the entire family will love. I prepared my pizzaiola with pork, but – you guessed it – simply replace the pork with today's chicken cutlets, and you're good to go.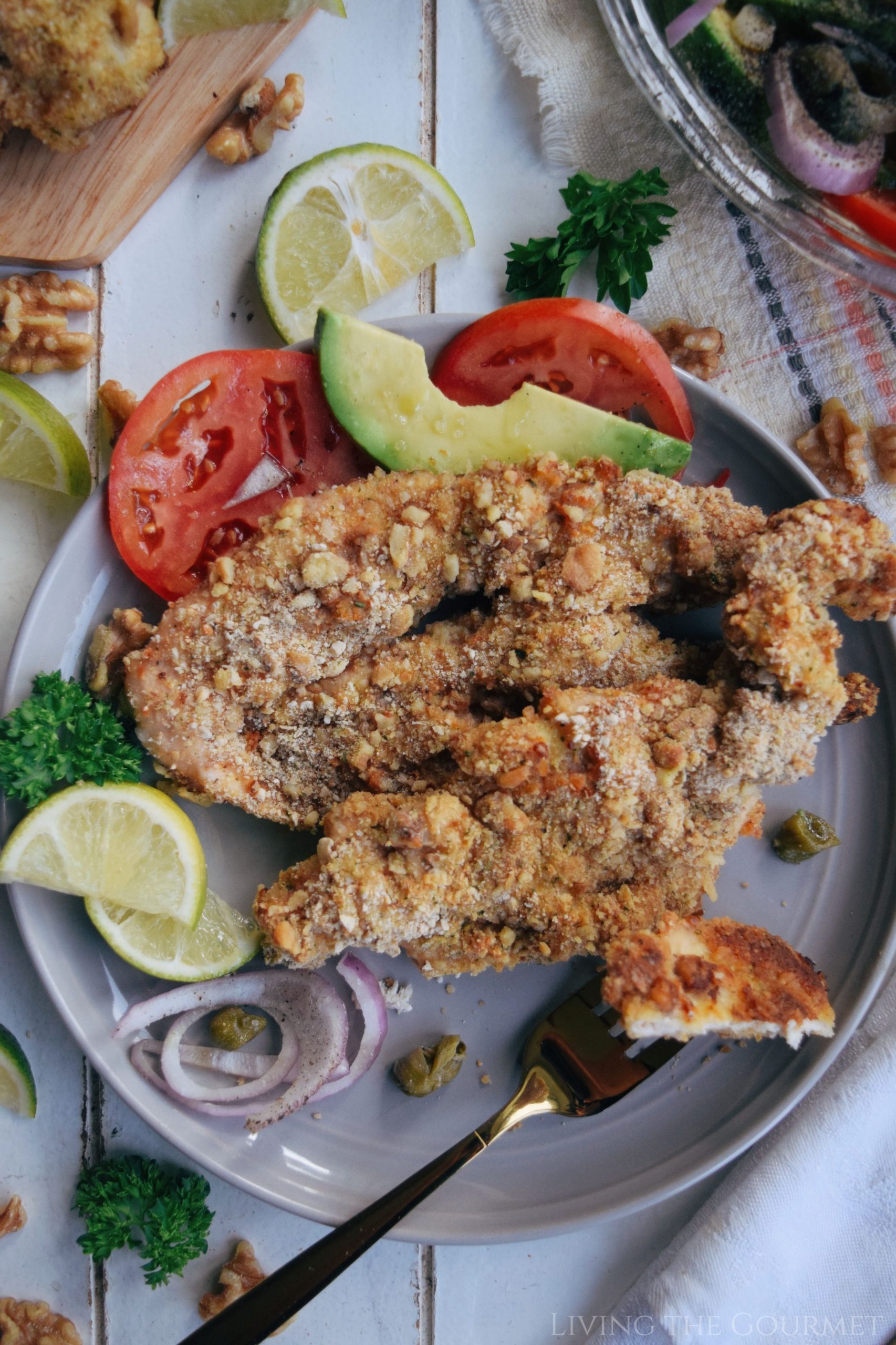 Selecting Quality Chicken – A Brief Primer
Aside from trusting the vendor you're buying your chicken from, there are a few key points to keep in mind when selecting quality chicken.
Here's what I do to ensure I'm getting the best chicken possible.
1) Cut It Yourself. The truth of the matter is that, like any other meat, the less it is handled the better, since the more a piece of meat has been handled, whether to be sliced into cutlets, ground it into chop meat, or what have you, the quicker it begins 'decaying.' Also, as you might imagine, meat that his been sliced or ground loses more juices it loses as it sits waiting to be bought. Thus, if you can, buy chicken breast, or better yet whole chicken, and slice your cutlets yourself.
2) The Color. Pinker is better. That is, the 'pink hue' beaming through the chicken's skin. As the chicken sits on the shelf, that pink hue will began to fade, which will result in a 'yellowing' texture, and then finally in a 'greying' coloration. Pink is good, yellow is turning, and grey is decay.
3) The Skin. Beyond coloration or hue, the skin contains other important clues as to the quality of the chicken. First and foremost, you want to make sure that the skin is free of blemishes, gashes, bruises, or discoloration. Spines and/or feather fragments, while certainly unpleasant as you'll have to pick them out of the chicken before cooking, actually have no bearing on the quality of the meat below – it simply indicates a less thorough 'cleaning.' Second, if selecting pieces, make sure that the skin doesn't appear 'loose' or 'torn,' as this indicates that the chicken has been poorly handled.
4) The Bone Test. If you're selecting a whole chicken, press on the breast-bone area. You want the breastbone to feel soft or pliable, which is indicative of fresher chicken.
5) Unfrozen. Chicken that's fresh should feel 'malleable' in the hand, as opposed to stiff or ridged.
6) Frozen. Frozen chicken should be absolutely rock solid, and free of any indication of frost or freezer burn.
Print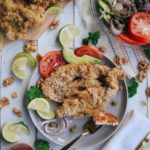 Walnut Crusted Oven Fried Chicken Cutlets
---
Author:

Total Time:

40 minutes

Yield:

4

-

6

1

x
1 ¼ cup

flour – seasoned with salt and fresh ground black pepper

1 ¼ cup

Italian styled breadcrumbs

¾ cup

walnuts – chopped

3

eggs – beaten with a splash of water

8

–

10

– thin sliced cutlets
Vegetable or olive oil for drizzling
---
Instructions
Set up a station with the flour seasoned with ¾ tsp. salt and ¾ tsp. black pepper, egg wash and the Italian style bread crumbs mixed with the chopped walnuts.
Dredge the cutlet in the flour followed by the egg wash and finally dredged in the breadcrumb walnut mixture.
Place the prepared cutlets on a baking sheet lined with parchment paper.
Drizzle each cutlet with the little bit of oil.
Preheat Oven 350 degrees F.
Bake for 20 – 25 minutes or until the or until the chicken reaches an internal temperature of 165°F.
Prep Time:

15 minutes

Cook Time:

25 minutes
Recipe Card powered by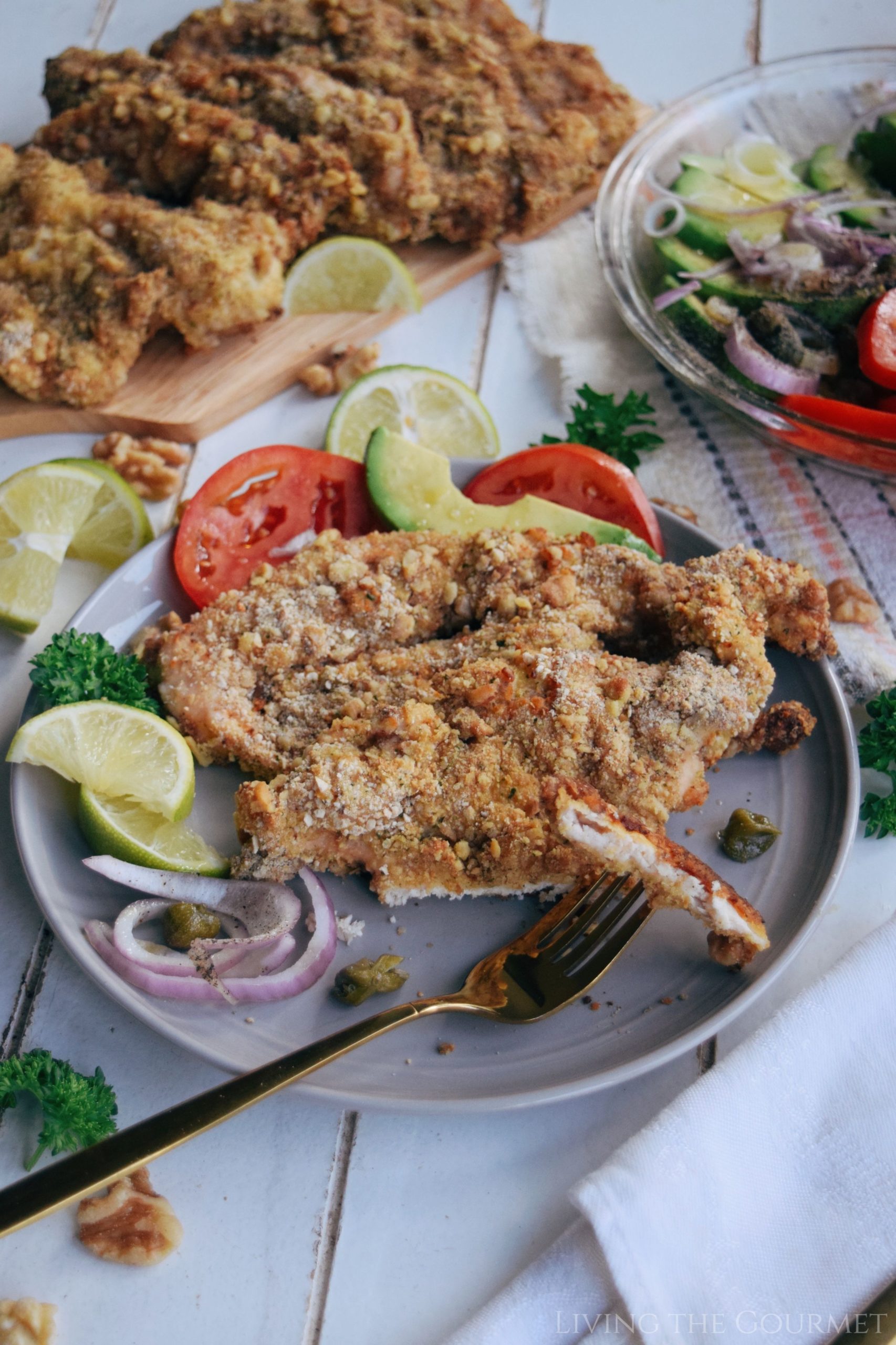 Did you make this recipe?
If so, let me know in the comments down below, or post a picture to Instagram, or to Pinterest, and I'll give you a shoutout on Instagram, or post your pin to one of my Pinterest boards!
1