These Italian Peperoncini Sub Sandwiches are a delicious way to enjoy the mildly piquant, fruity flavor of Mezzetta Peperoncini!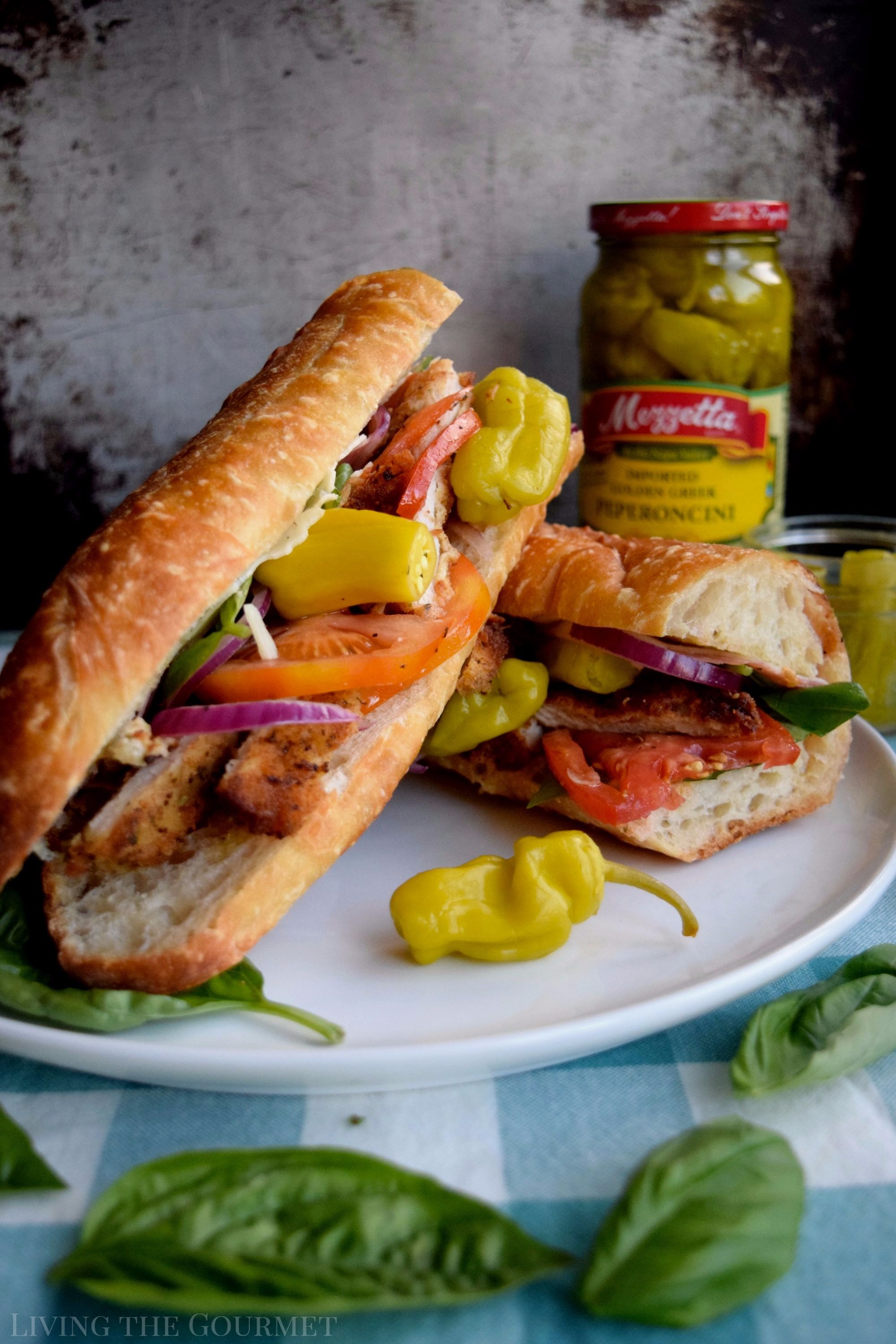 'Celebrations' and 'Feast Days' are meant as a sort 'investment,' the exchanging of time, effort, and resources for a brief interlude of indulgence and enjoyment.
The Iliad, for example, gives rather deep insight into this idea, with its repeated examples of feasting and debauched sacrificing for the gods, and long explanations of how costly such events were – along with detailed descriptions of the accompanying food.
Similarly, we often consider the 'truly delicious' and the 'gourmet' as being sealed behind walls of cost, effort, time, and expertise. This mode of thinking can seep into our everyday, whether it's something as simple as skipping breakfast, or resigning home cooked meals to set days of the week, we have all, at one point or another, forgone enjoyment for the aforementioned reasons.
What if, as opposed to forgoing those enjoyable moments that 'make us human,' as Emperor Nero once put it, we could instead make certain everyday meals positively crave-worthy? That's one topic I'm quite fond of delving into here on Living the Gourmet, and today, as you might have guessed, is no different.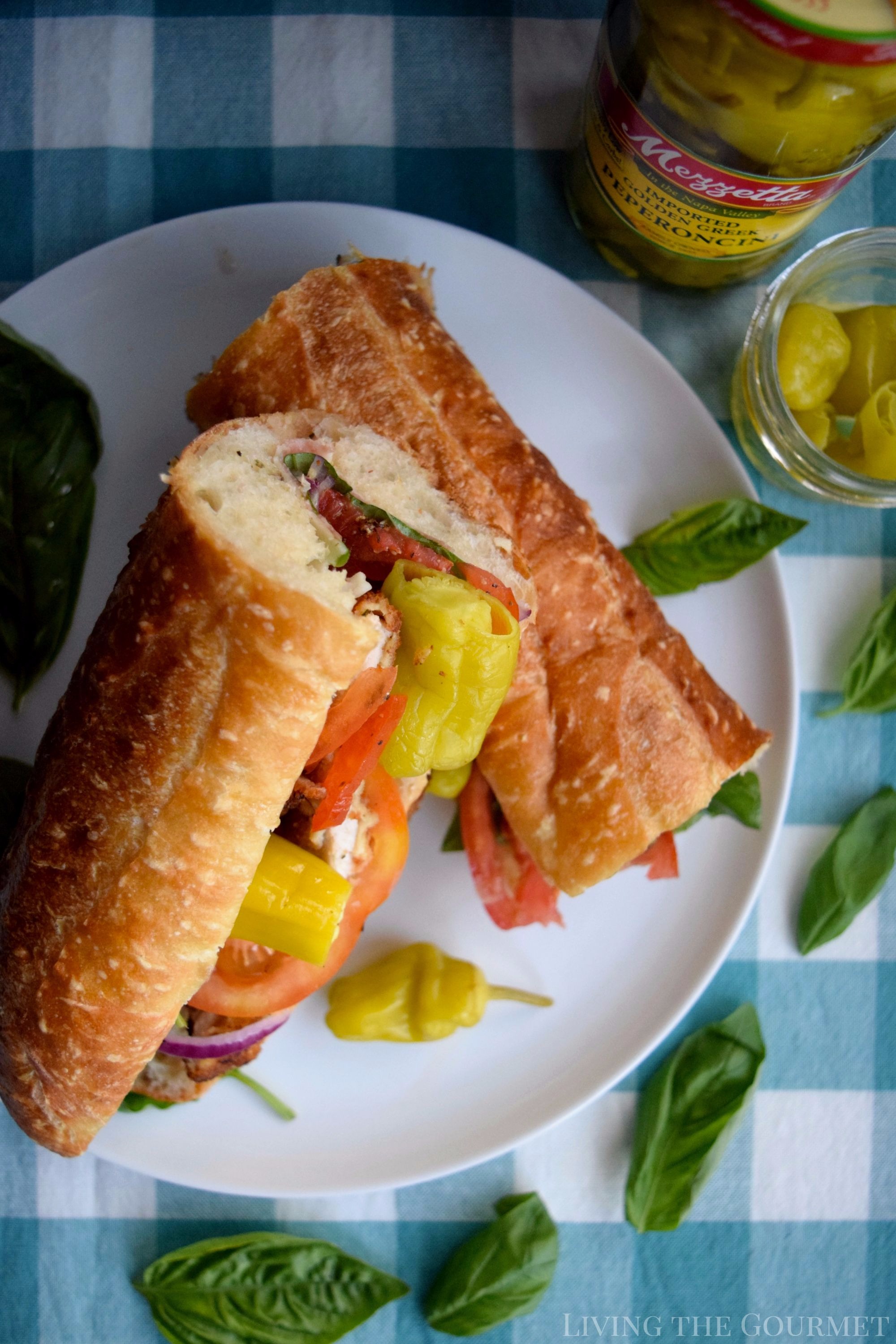 Let's take for example the everyday 'sandwich.' The most common image is a hastily prepared lunch item, which is usually eaten in the haste of a free moment carved from an overly busy schedule. Then, of course, there are the 'gourmet' sandwiches, often created as exalted parodies of their 'lesser' counterparts, piled high with all manner of fancy ingredients on artisanal bread.
Surely, however, there has to be an in between, right? Something that can make an 'everyday sandwich' crave-worthy. That, of course, is precisely where today's recipe comes in, Peperoncini Pork Sandwich, made using Mezzetta Peperoncini Peppers.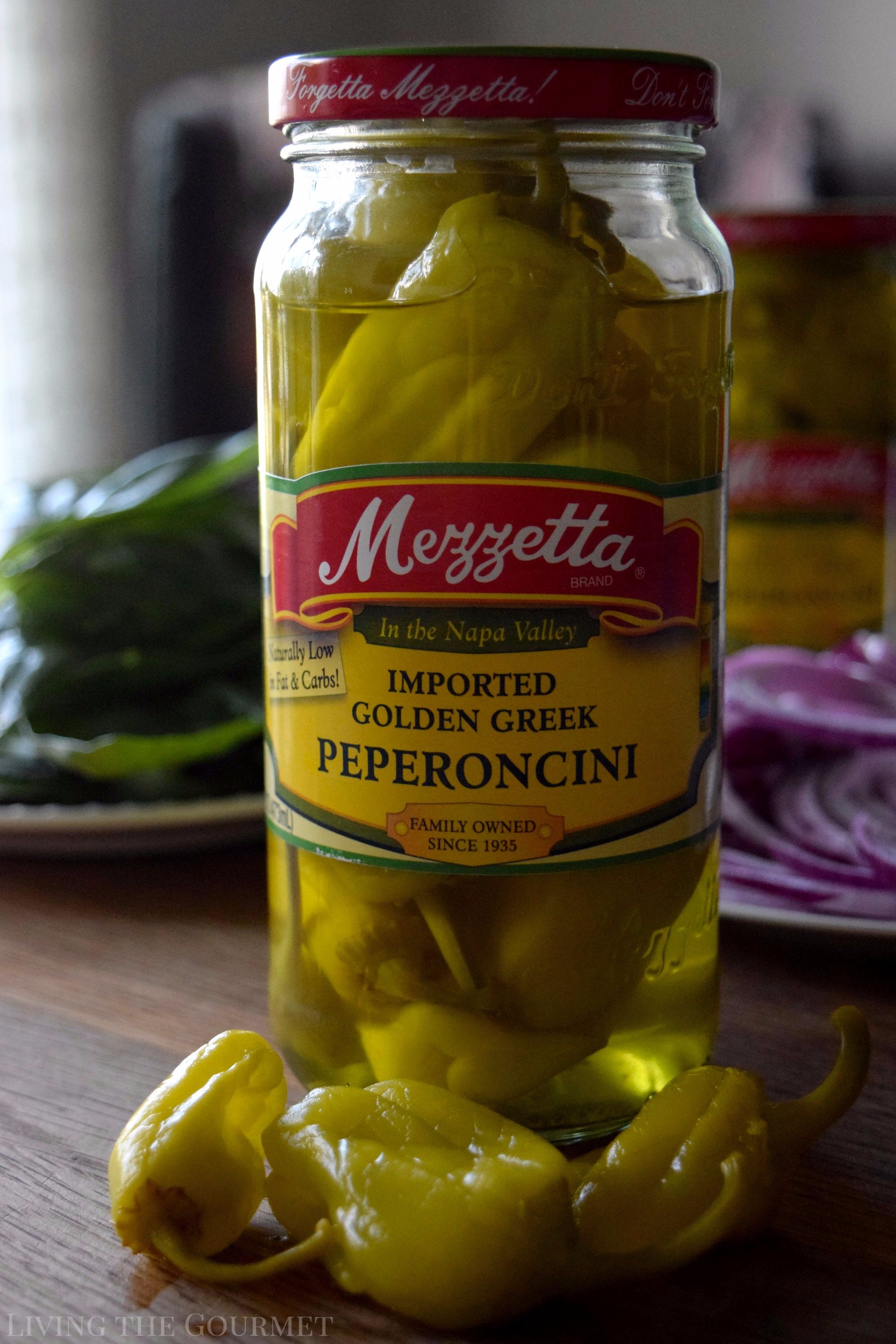 Now, I know what you're thinking, that Peperoncini Peppers are for antipastos, or outdoor luncheons, or as an accompaniment to party entrees. True, but where's the rule saying we can't use them in something a bit more 'everyday friendly' to get that delicious kick that only they can deliver?
Exactly.
Now, to start things off, we begin with thinly sliced pork loin, which we then prepare the pork as shown below in an alternating mix of flour seasoned with salt and black pepper, egg wash and finally Italian Bread Crumbs. Once that's done, fry them up as described below.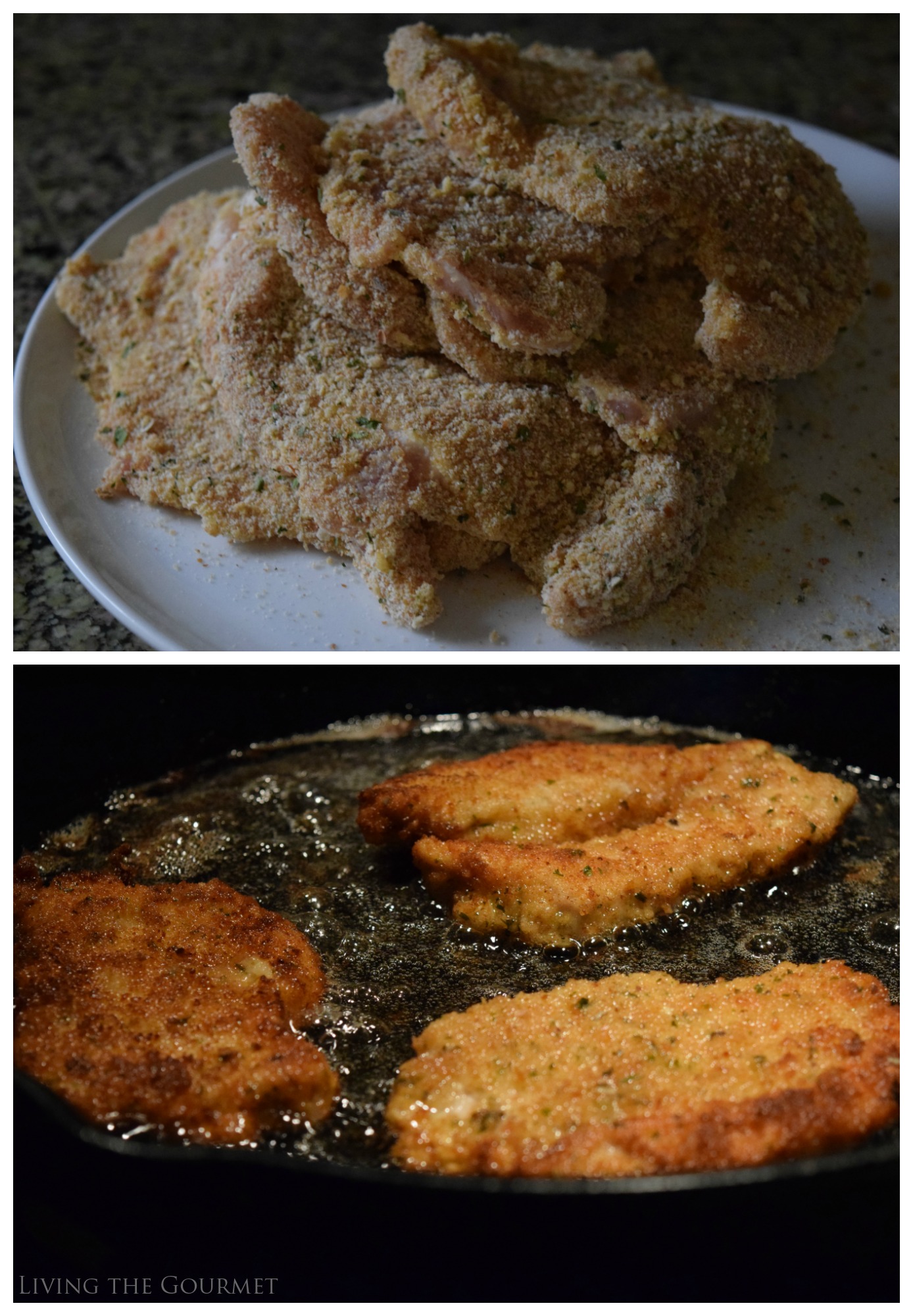 After that's done, it's time for the fun part – assembling the sandwich. We start off by – surprise! – slicing the Italian bread or rolls if you prefer, and drizzling both sides with the dressing outlined below, and building it high with provolone, salami, basil, tomatoes with garlic and olive oil, sliced red onion, sliced pork cutlet, and the Mezzetta Peperoncini Peppers.
And just like that, you've got a positively crave-worthy sandwich.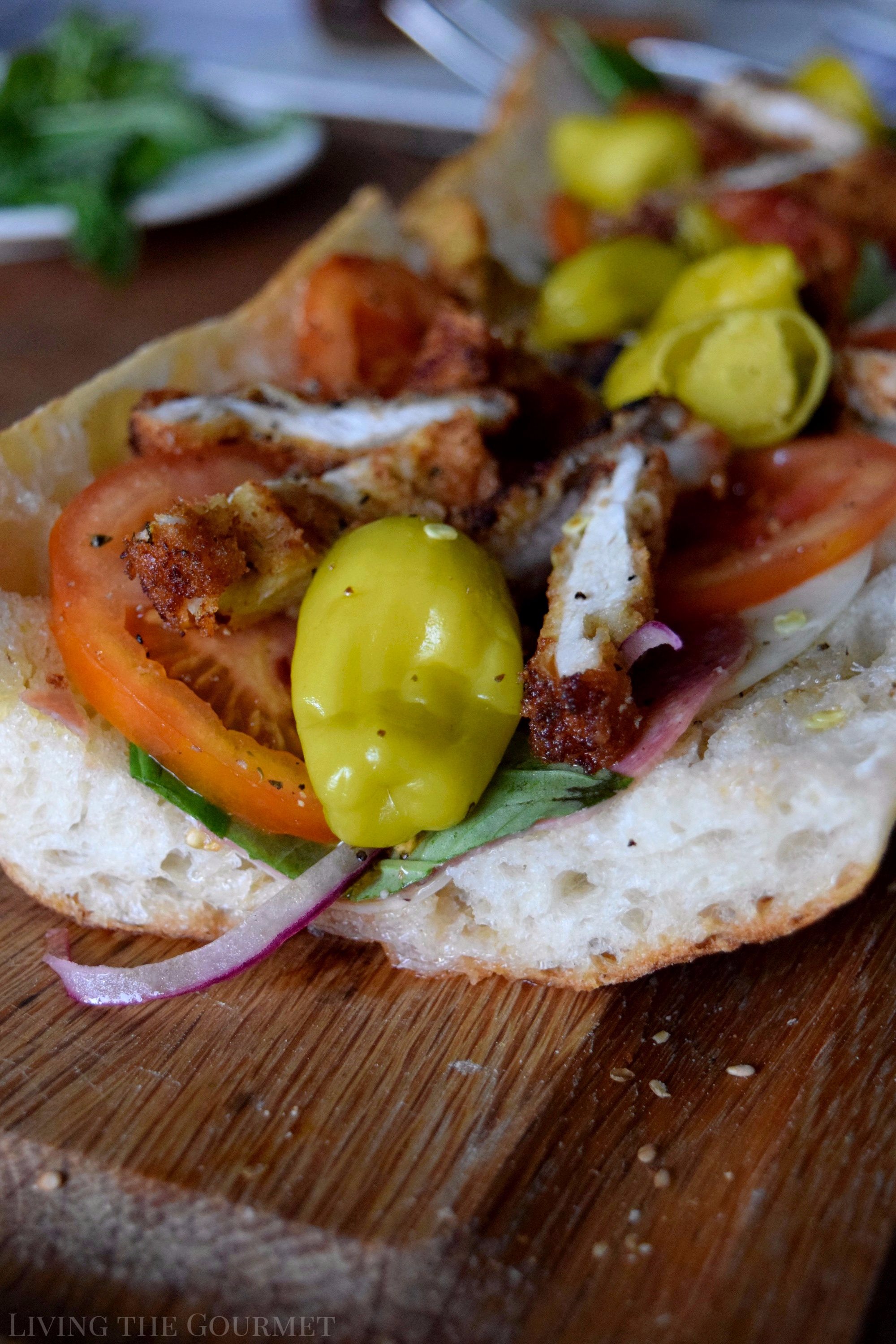 Print
Italian Peperoncini Sub Sandwiches
Author:
Prep Time:

15 minutes

Cook Time:

20 minutes

Total Time:

35 minutes

Yield:

6

1

x
Category:

Main Dish
For the Pork:
2

lbs. of boneless pork loin – sliced very thin

1 1/2

cups

of flour – plus dash of salt and black pepper

2

eggs beaten with a splash of milk

2

cups

of Italian style bread crumbs
Vegetable oil for frying
Italian Dressing for the Sandwich:
1/4

cup

of olive oil
Juice of

1

lemon

2

tbs. red wine vinegar

3

tbs. honey

1/2 tsp

. salt

1/2 tsp

. black pepper

1/2 tsp

. dried oregano
For the Sub Sandwiches:
Italian bread – sliced lengthwise
Pork cutlets – sliced
Slices of provolone
Slices of salami
Fresh basil leaves
Slices of fresh tomato drizzled with olive oil, crushed garlic clove and fresh basil leaves
Red onion – sliced thin
Mezzetta Peperoncini peppers
Dressing for sandwich – drizzled on both sides of bread
Instructions
For the Pork:
Set up a station with three shallow bowls; one with the flour, one with the egg wash and finally one with the breadcrumbs.
Dredge the pork first in the flour, then the egg wash and finally the breadcrumbs.
Heat a large cast iron frying pan with approximately ½ inch of vegetable oil and place the breaded pork loin in the pan. Do not overcrowd the pan!
When the pork becomes a beautiful golden color carefully turn over and finish cooking on the other side to a beautiful golden color. The cooking time will depend on the thickness of the pork.
Set these on a platter prepared with paper towels to absorb any excess oil.
Italian Dressing for the Sandwich:
Combine all of the ingredients for the dressing in a small bowl and stir.
Assembly:
Slice the bread lengthwise, drizzle each side with the dressing and proceed to building your sandwich as thick as you like!
Recipe Card powered by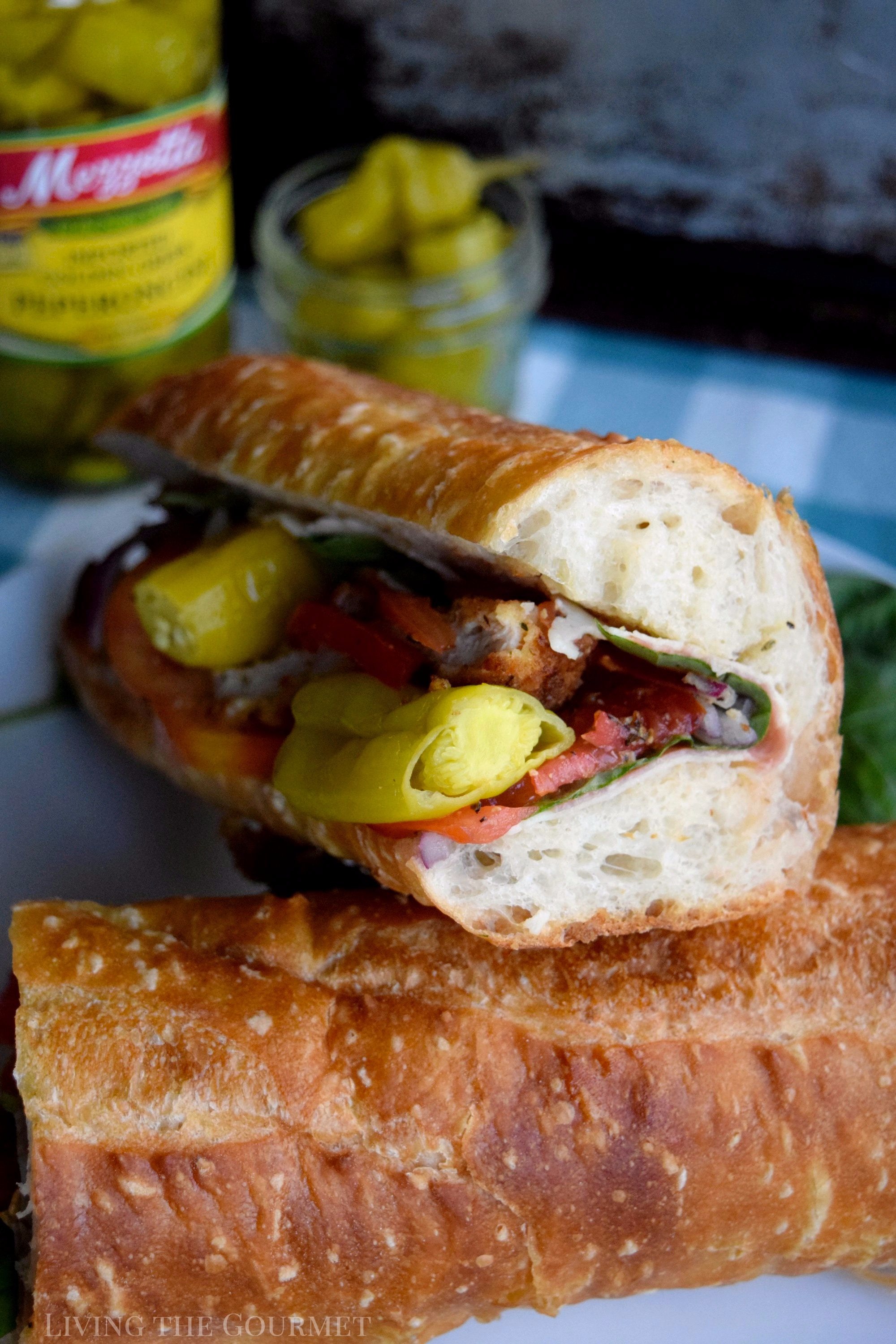 Also, don't forget to enter the Mezzetta Nation Sweepstakes with Chef'd for your chance to win 52 meal kits. As a bonus, all who enter receive a 10% Coupon.
Enjoy with Love,
Catherine
0