Not that long ago, I posted my signature recipe for Five Ingredient Flat Breads. Today, however, we're putting a few key twists on that recipe to prepare 'naan.'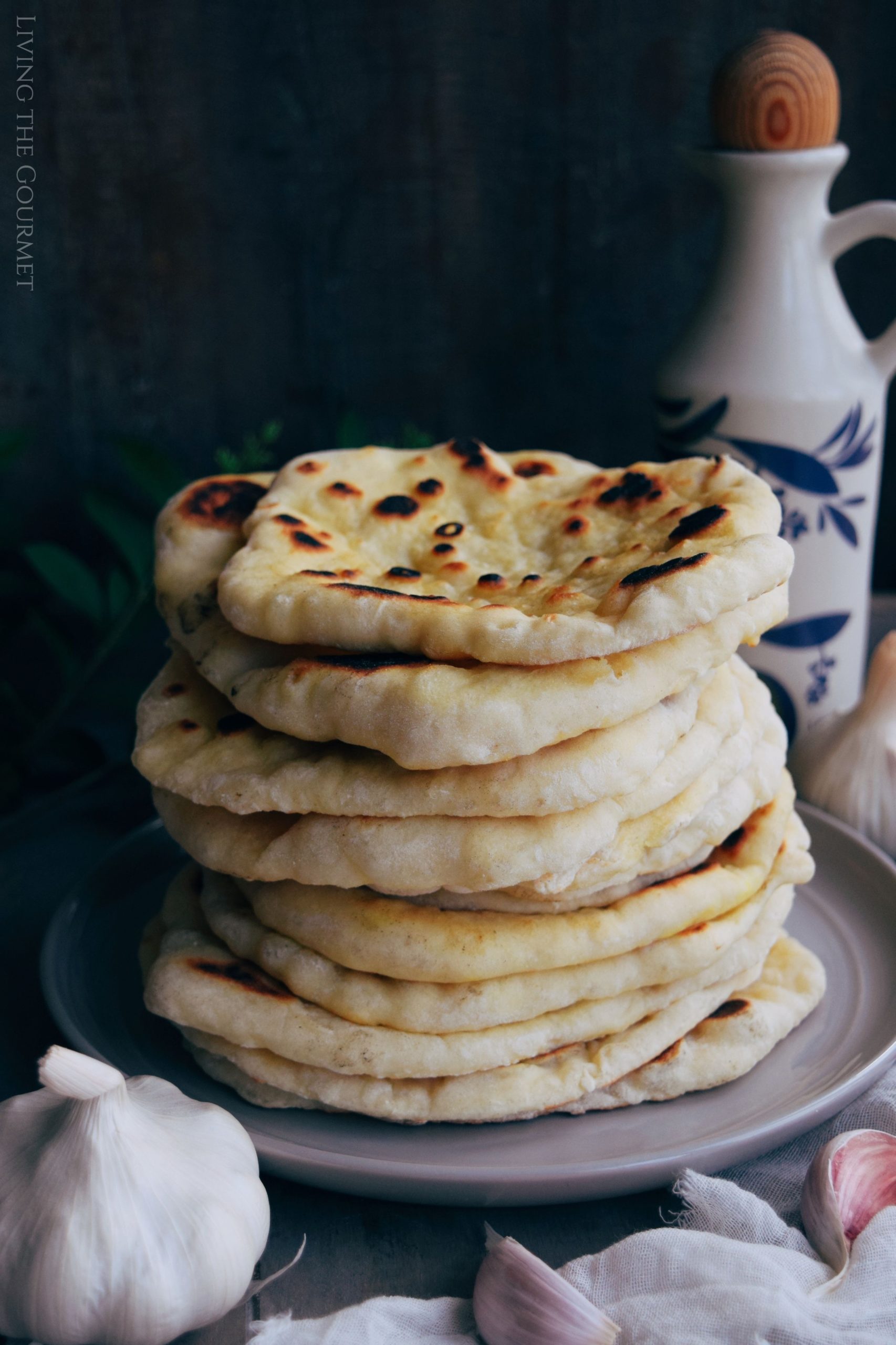 Now, how is naan different from tortillas? Is it 'really' any different from pitas? And is there really 'any' difference between pita, naan, and tortillas?
We'll cover all of those questions and more below. Now, without further delay, let's dive right in.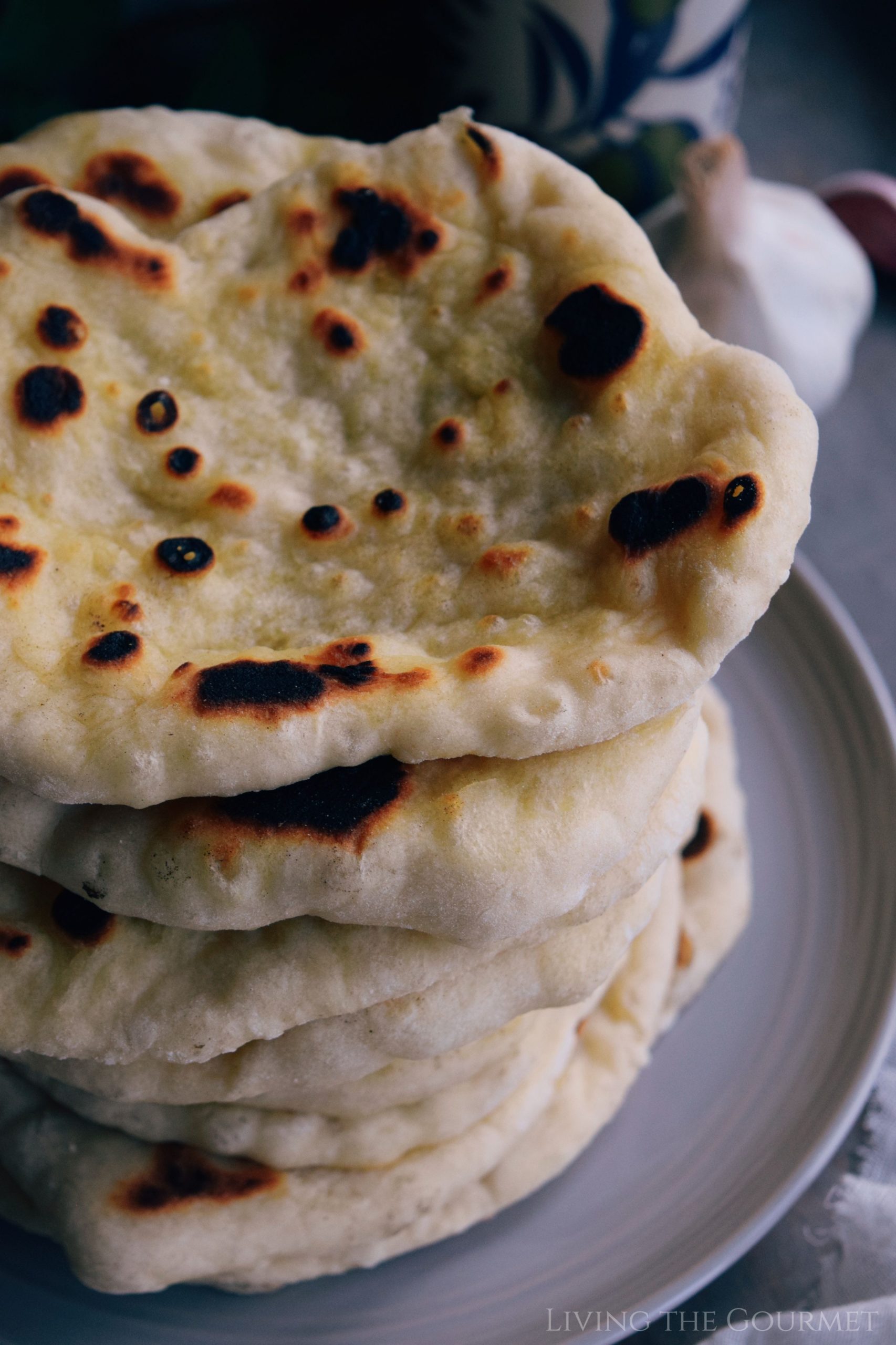 Why You'll Love this Naan Recipe
1) Super Moist and Fluffy. Of the defining traits of naan is just how fluffy and moist it is, and it's those qualities that allow to really 'absorb' the juices and flavors of the food that it's paired with. That said, a well-made naan should be super soft, airy in texture, and deliciously moist both to the touch and to the palate.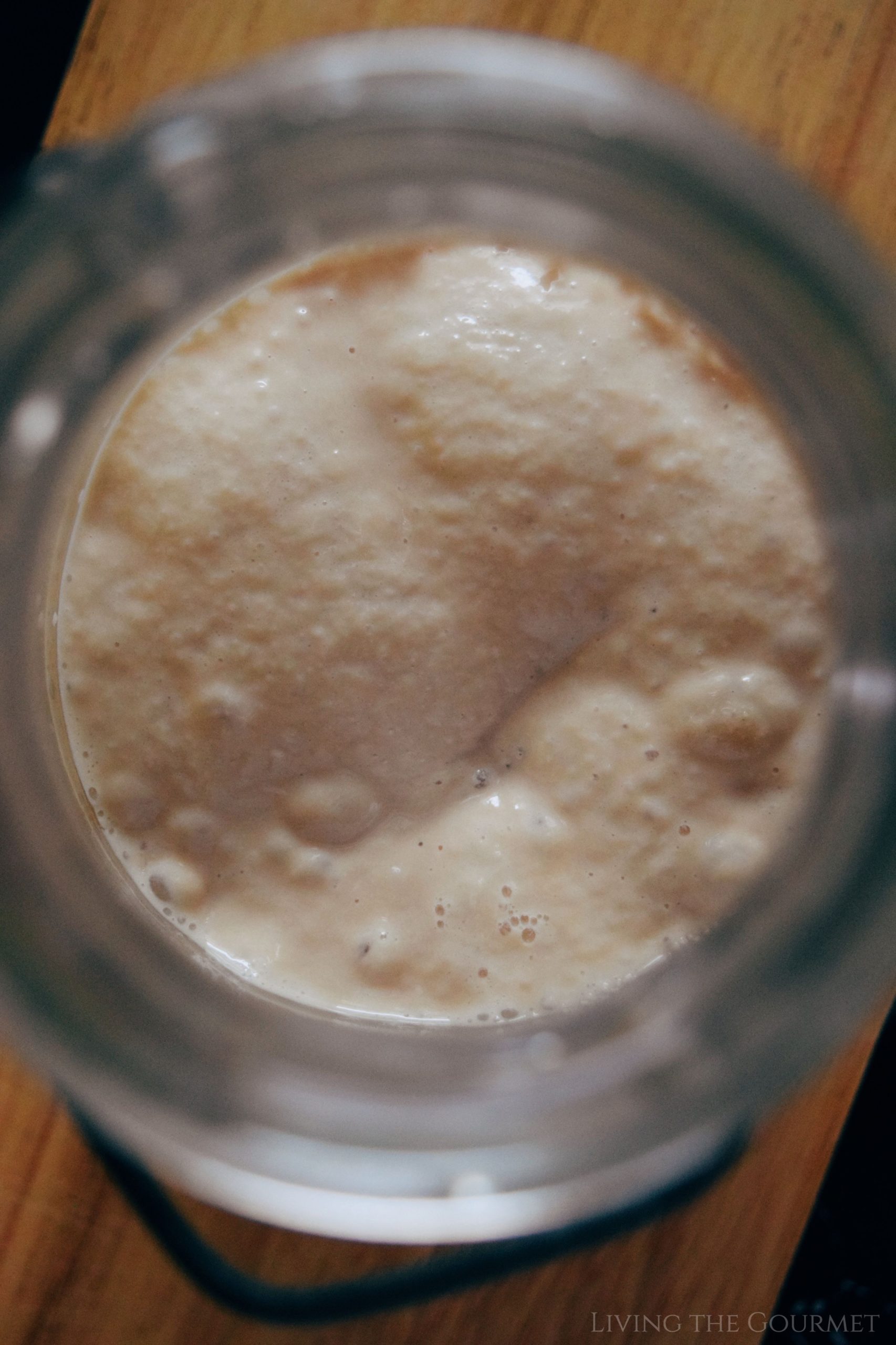 2) They Keep – Sort Of. I wrote in my flatbread post that one of the key traits of my tortilla recipe is just how long and how well they keep. Now, naan keeps too, but not 'quite' as well or as long. Also, while naan, like tortillas, 'can' be eaten cold, they just taste better after being heated up. However, as you might imagine, reheating something more than once or twice tends to dry it out, and naan is no exception, and since one of naan's best characteristics is its moist fluffiness…well, I think you can see where I'm going with this since reheating almost anything tends to dry it out. So, yes, they keep well, but don't make a batch of these thinking you can have them for more than a couple of days like you would with tortillas.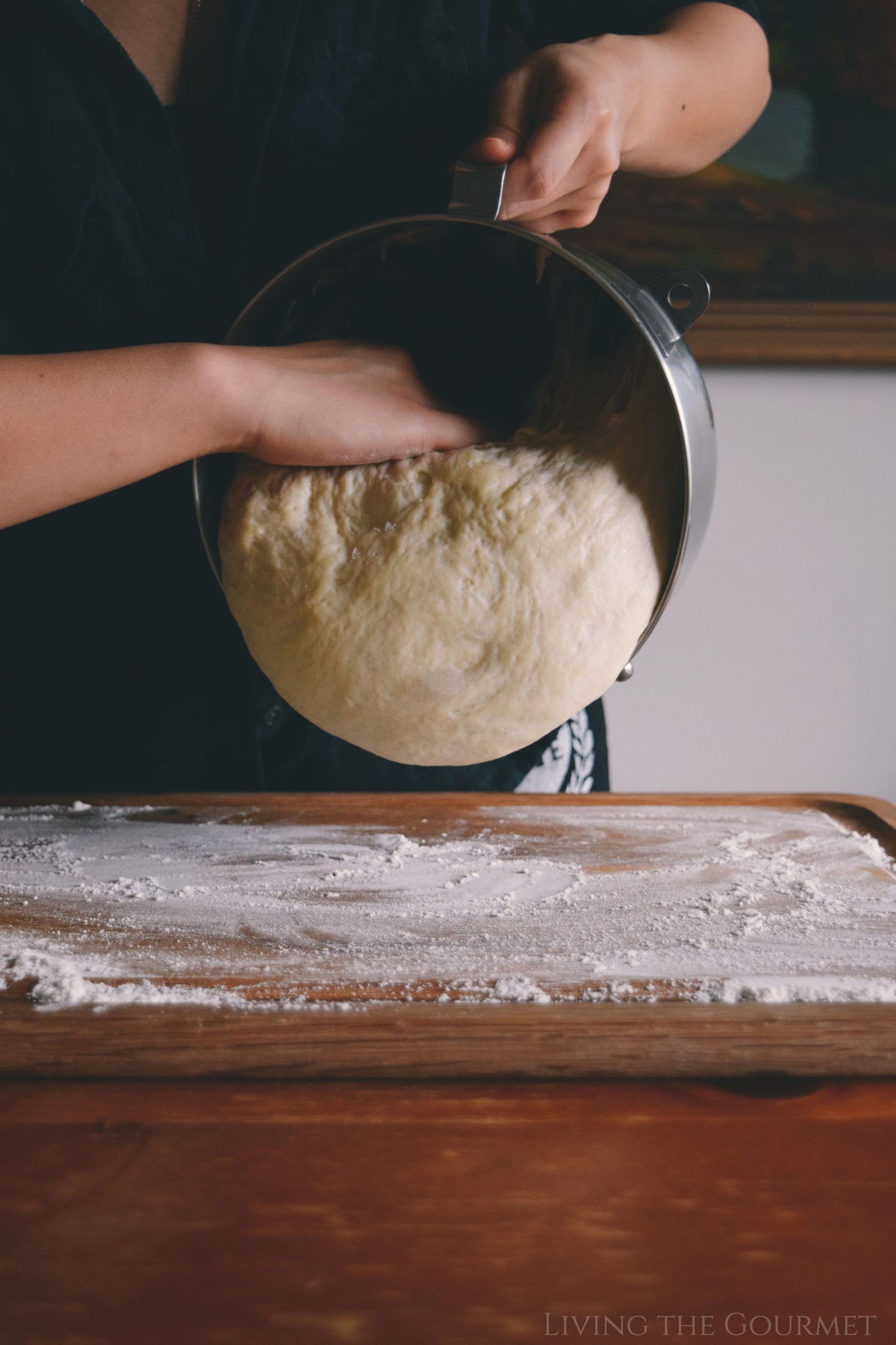 3) More Versatile Than You Might Think. I'll touch on this more below, but pretty much your use for 'any' flatbread recipe is limited solely by your imagination – and naan is no exception, but more on that below.
4) Just a few key ingredients. Naan requires just a few basic ingredients, ranging from yeast and eggs, to flour, water, and yogurt. While not quite the 'bare basics' recipe of something like my flour tortillas that I linked to above, there really are very few recipes simpler than today's naan – and that, to me, makes it a kitchen staple that everyone should have in their recipe repertoire.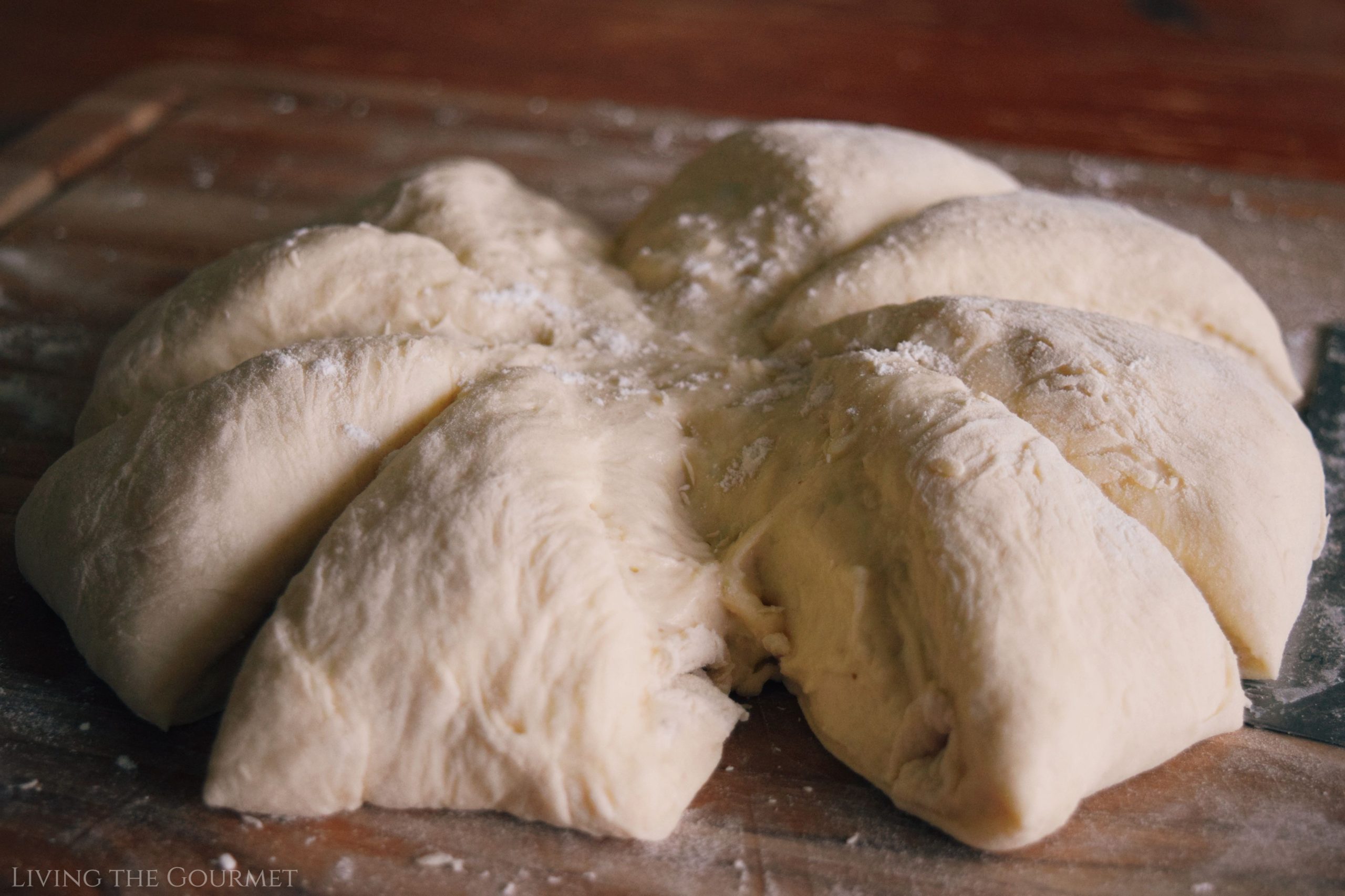 Flatbreads: Naan, Pitas, and Tortillas…less than a subtle differences
1) Tortillas. While tortillas are typically made with a corn base, flour is an increasingly common substitute – this is especially true in Northern Mexico where flour tortillas are the norm, as well as in El Salvador and Guatemala. That said, many flour tortillas are typically quite 'fluffier' or 'thicker' than what one might think of as a 'normal' tortilla. For example, Salvadorian 'chengas' or Guatemalan 'baleadas' are both a fair bit larger and thicker than the typical corn tortilla, being more akin to pitas than to tortillas.
2) Pitas. Take a flour tortilla recipe, add in yeast-leavening, and you've got a pita. That said, unlike flatbreads or flour tortillas, pitas are meant to be 'stuffed' rather than folded, being much thicker and airier than your typical yeast-less flour or corn tortilla.
3) Naan. While technically a flatbread, naan is prepared using yeast-risen dough. The addition of yogurt 'and' milk creates a thick, moist flatbread that isn't quite 'that' flat, and which is 'not' typically intended to act as a wrap, but rather as a 'bread' to a main meal, typically used for dipping, as a base for spreads, or as a sort of 'edible plate' onto which food is layered as a meal. Naan is also far more substantial than a tortilla, and quite a bit moister, a 'good' naan should be moist to the touch – but 'not' oily.
4) They are Interchangeable…except when they're not. To demonstrate what I mean, take a look at my Greek Tuna Salad Pockets. That's a recipe that would be just fine eaten on naan, rolled in a tortilla wrap, or folded into a flatbread, as opposed to being stuffed into a pita. However, while I doubt many would complain if you made a gyro by wrapping sliced lamb in a flatbread as opposed to stuffing it in a pita, a tortilla gyro…while that can certainly be tasty, it more or less ceases to be a gyro at that point, and naan is perhaps a bit too 'substantial' to properly fold 'gyro-style' without tearing. Furthermore, tortilla wraps are simply more pliable than their flatbread, naan, or pita counterparts. Thus, they 'can' be interchanged…except when they can't. In other words, use your own imagination and discretion.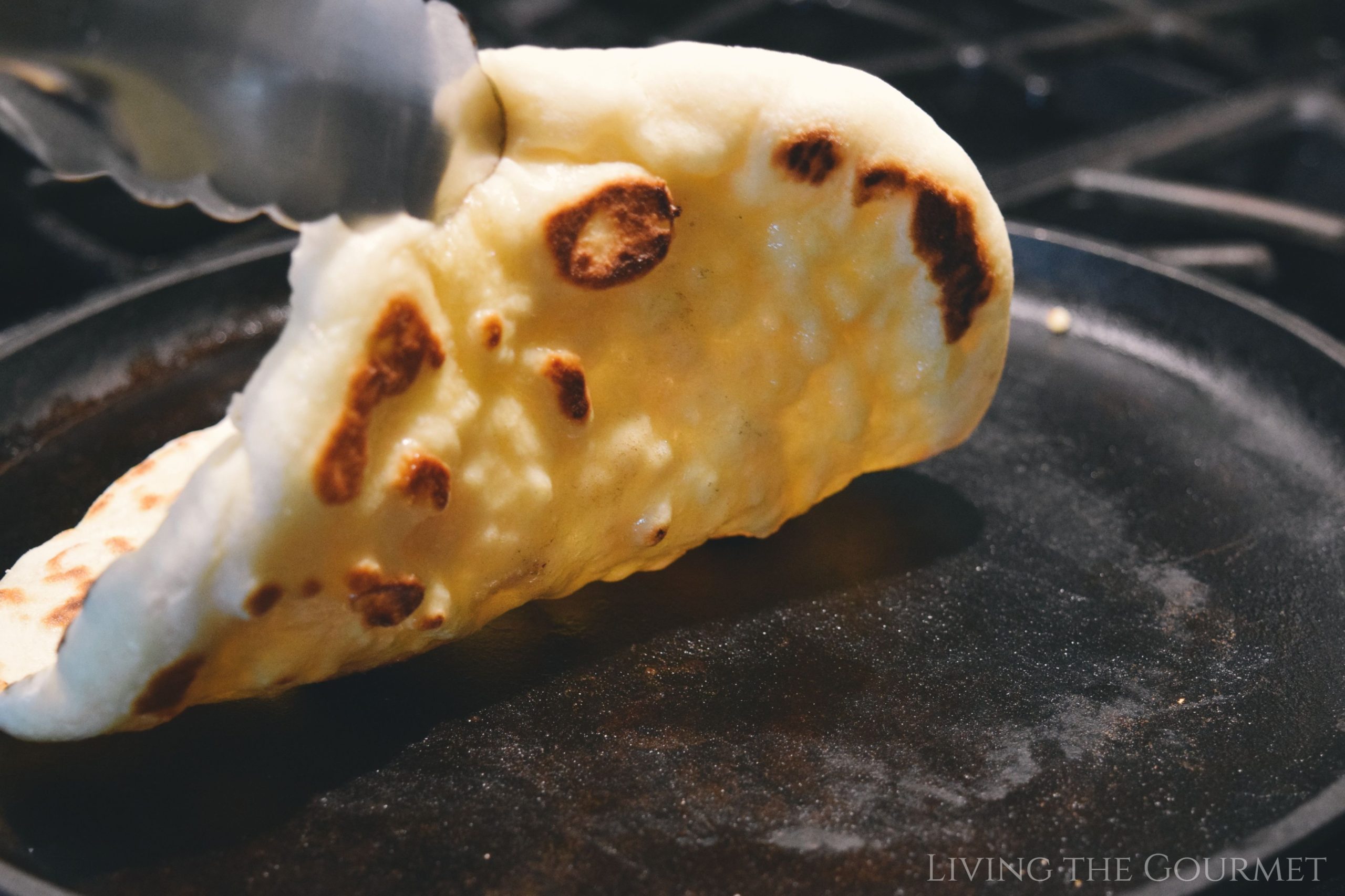 What to do with Naan
1) Paired with Chili. While I hate stating the obvious, it simply can't be overlooked how great naan pairs with chili. Now, while I love flatbreads or homemade tortillas with chili as much as the next person, a fluffy, moist naan bread pairs deliciously as well, and it would pair equally well with either a vegetarian chili, or with a nice meaty chili, such as my Chili Stuffed Peppers. In either case, the moist hardiness of the naan is an excellent complement to something like a chili.
2) Spreads. Similar to my flour tortillas, bean dips, fresh gremolata, red or green salsa, and the like, would all pair deliciously. Curry sauces, spicy red sauces, and Thai curries are basically what naan is 'made for.' Beyond that, something like an Artichoke Heart Dip featuring a coarsely processed combination of artichoke hearts, basil, and parsley, blended with olives, oil, red pepper, and fresh lemon juice, would be great spread on top of today's naan. You might also consider a fresh tomato salsa, or my super simple Cilantro and Cannellini bean dip.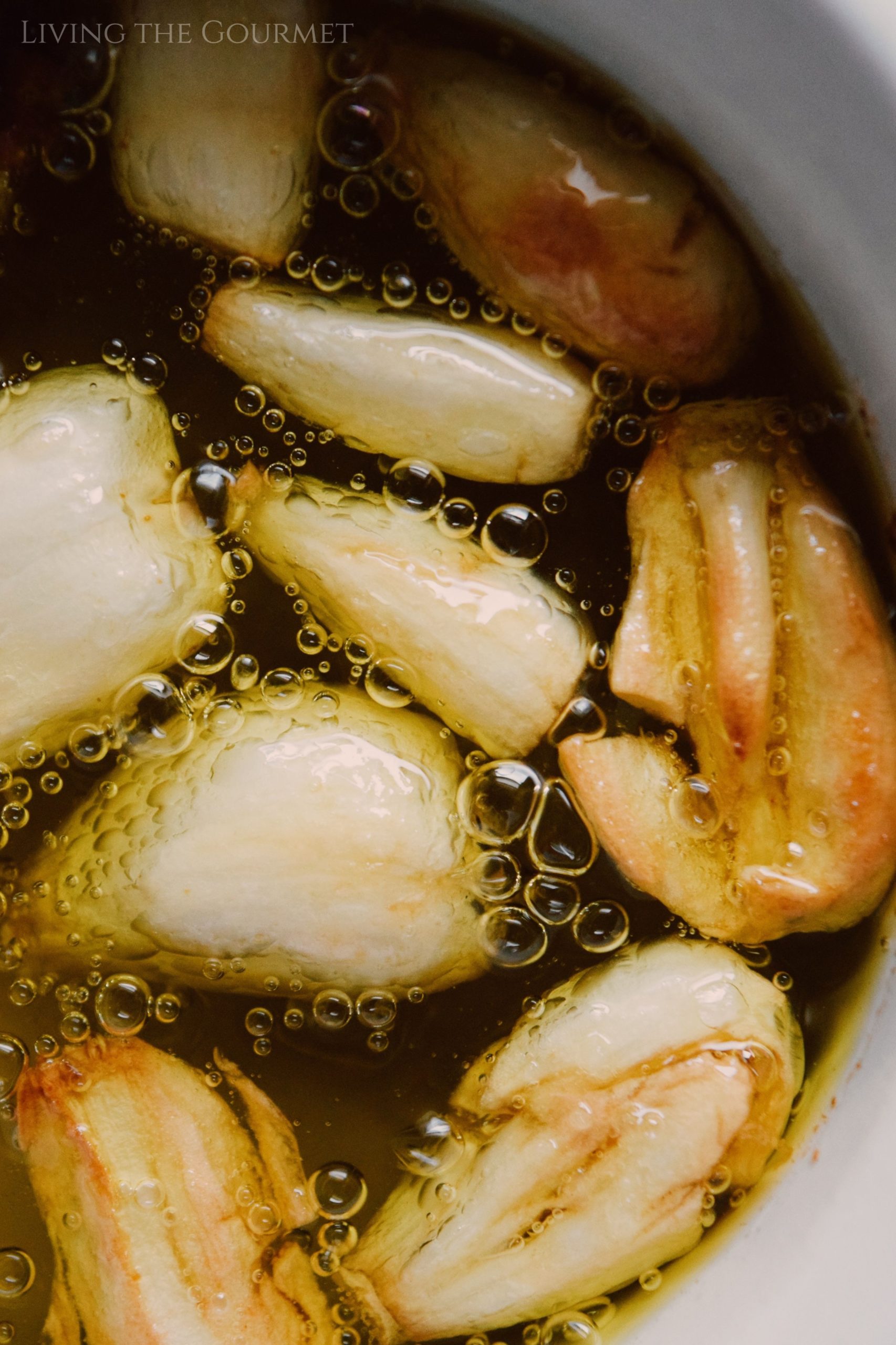 3) Infused Oil. When you come right down to it, some of the best forms of 'comfort food' are the foods that are fuss-free, think simple pasta dishes, toast and a few favored toppings, or these warm flat breads dipped in seasoned oil. Whenever I serve bread, I usually have reserved oil that's been infused with garlic and sometimes herbs. I grew up in a traditional Italian home where butter was seldom served at the dinner table and it is a tradition I keep to this day. With Naan, not only can you serve the bread in infused oil, but brushing it lightly will help give those bubbles the beautiful char you want from the griddle, along with an extra depth of flavor from the roasted garlic. The process is simple, gently heat good quality olive oil with a few cloves of garlic and a pinch of sea salt. Once the garlic is golden and the oil is bubbling, you'll know it's ready.
4) With Meaty Dishes. The obvious Chicken Tikka Masala is what most would think of when pairing naan, however you might also consider something like a hardy lamb dish. For instance, Lamb Shanks with Rice Pilaf would work excellently, where the moist naan can really soak up the lamb juices, or to swath the lamb in with the rice. Absolutely delicious. Conversely, you would also simply make a 'sandwich' of sorts, by wrapping or swathing nice chunks of Roasted Lamb in the naan, imagine a thoroughly herbed and perfectly roasted leg of lamb with plenty of garlic absorbing into the moist naan – oh my God, that's heaven.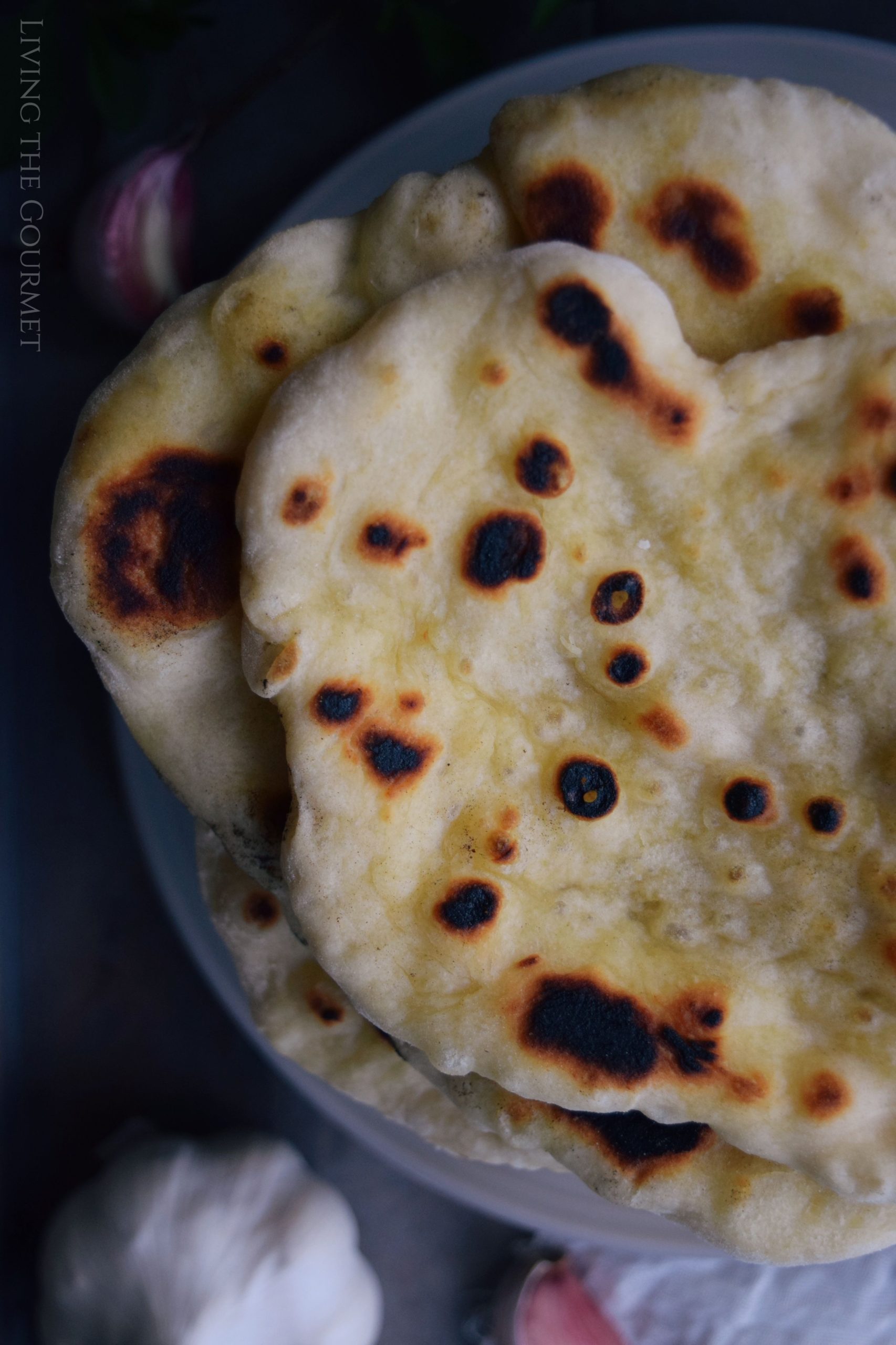 Living the Gourmet
Yields 16 naan
Homemade Naan
15 minPrep Time
20 minCook Time
35 minTotal Time
5 based on 6 review(s)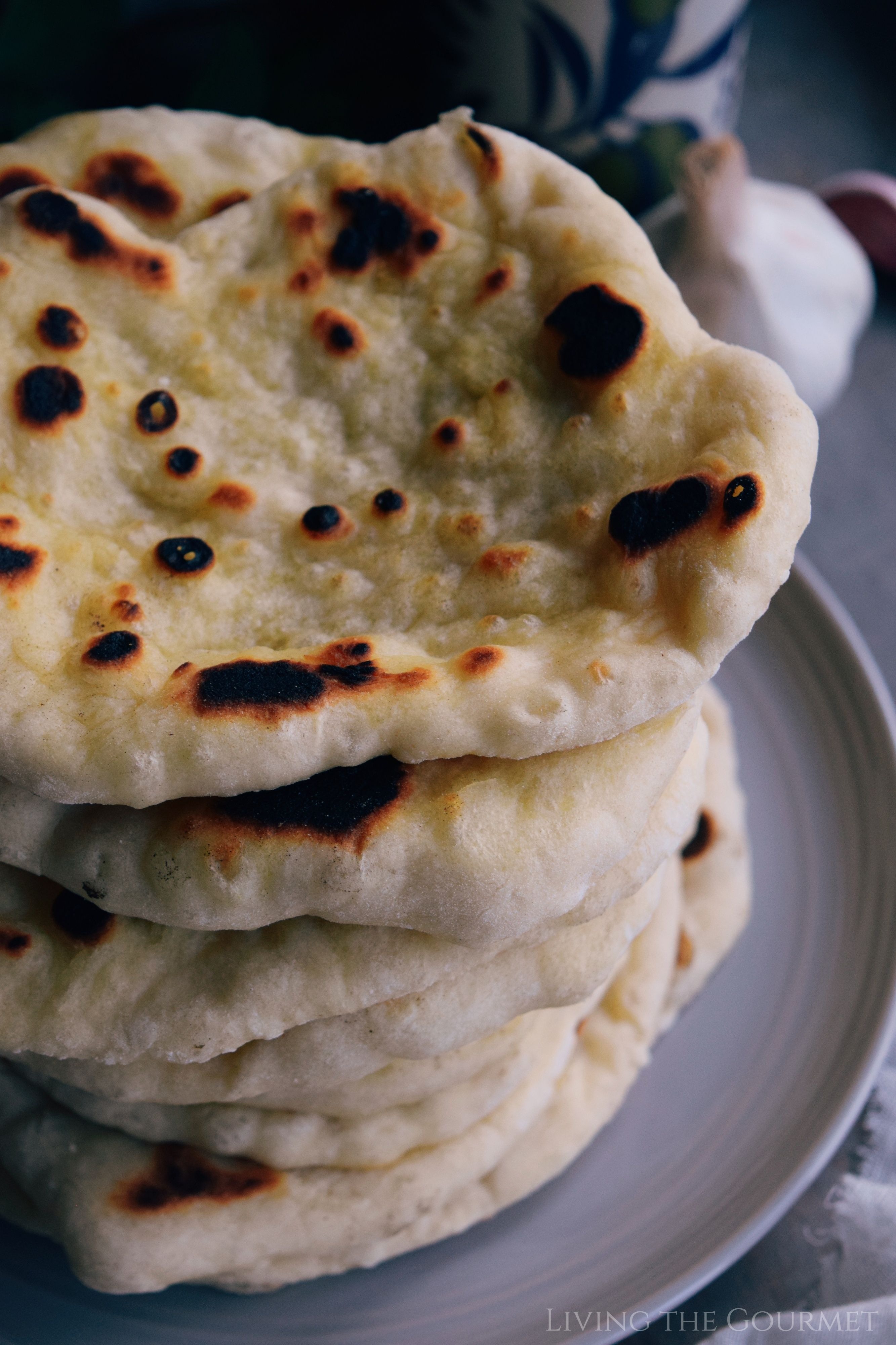 Ingredients
1 cup warm water
1 package instant yeast
1 tablespoon sugar
3½ cups AP flour
2 teaspoons salt
½ teaspoon baking powder
1 egg
¼ cup buttermilk

For the infused oil:

½ olive oil
5 cloves garlic
Flaky sea salt
Instructions
Begin by proofing your yeast by combing warm water, yeast and sugar. Let stand for 10 minutes until foamy.
In the bowl of your stand mixer with the dough hook attachment, combine flour, salt, baking powder, egg, buttermilk, and proofed yeast. Stir on low until a sticky dough forms. Cover and let rise for at least an hour.
In the meantime, prepare your infused oil but combining olive oil with crushed garlic and a generous sprinkle of sea salt. Heat over in a saucepan until the garlic is golden and bubbly. Alternatively, you can also use a toaster oven and heat the oil for about 12 minutes at 350 degrees F.
Once the dough has risen and doubled in size, turn out onto a well-floured surface. Knead gently and shape into a smooth ball. Divide the dough into quarters, then divide the quarters into halves. In total you should get about 16 pieces. Shape each into a ball and roll out until about ¼-inch thick. Brush the dough with the infused oil and carefully place on a heated cast iron pan over medium-high heat, oil side down. Brush the other side of the dough, and once it begins to bubble, flip and continue to cook for about 3 minutes, until the bubbles are deep golden. Continue this process for the remaining dough.
Serve warm with your favorite dishes and the remaining infused oil.
Notes
Prep Time does NOT include Inactive Prep Time
7.8.1.2
1442
https://livingthegourmet.com/2020/06/homemade-naan.html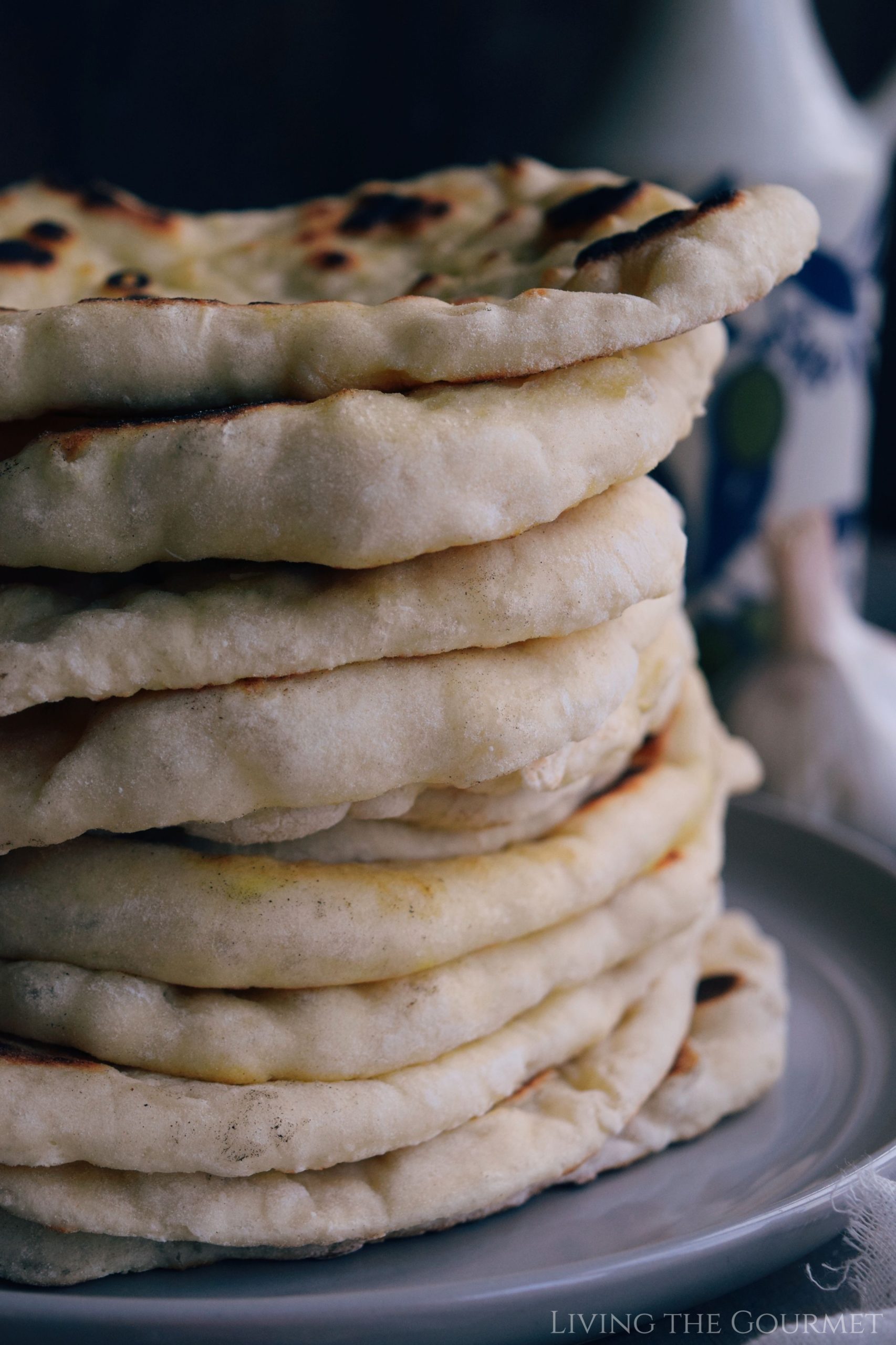 If You Enjoyed Today's Recipe…
Be sure to follow us on Instagram to stay up to date with all things Living the Gourmet, and for more great recipes, tips and tricks.
Did you make this recipe?
If so, let me know in the comments down below, or post a picture to Instagram, or to Pinterest, and I'll give you a shoutout on Instagram, or post your pin to one of my Pinterest boards!
0