This shop has been compensated by Collective Bias, Inc. and its advertiser. All opinions are mine alone. #BetterWithEggo #LeggoYourEggo #CollectiveBias
Hearty vegetarian chili is served alongside waffle crisps brushed in a simple herbed butter for a cozy winter meal the whole family will enjoy!
Hover over the image to place your order or to click through for more details about Kellogg's® Eggo Nutri-Grain Whole Grain Waffles
Like many of you, I started this year off with a handful of well-intentioned 'Resolutions' aimed at self-perfection, both personal and professional. No, I'm not about to embark upon a self-deprecating tangent on how I've already broken my waist-line orientated resolutions, or how I'm already planning to "get it right next year."
Instead, I'm talking about one of the ways I'm trying to keep things on track.
Now, let's be honest, the key obstacle to 'keeping things on track' is flavor – plain and simple. More often than not, eating a health-conscious diet simply 'tastes' like you're eating health-consciously, and today I want to take aim at that.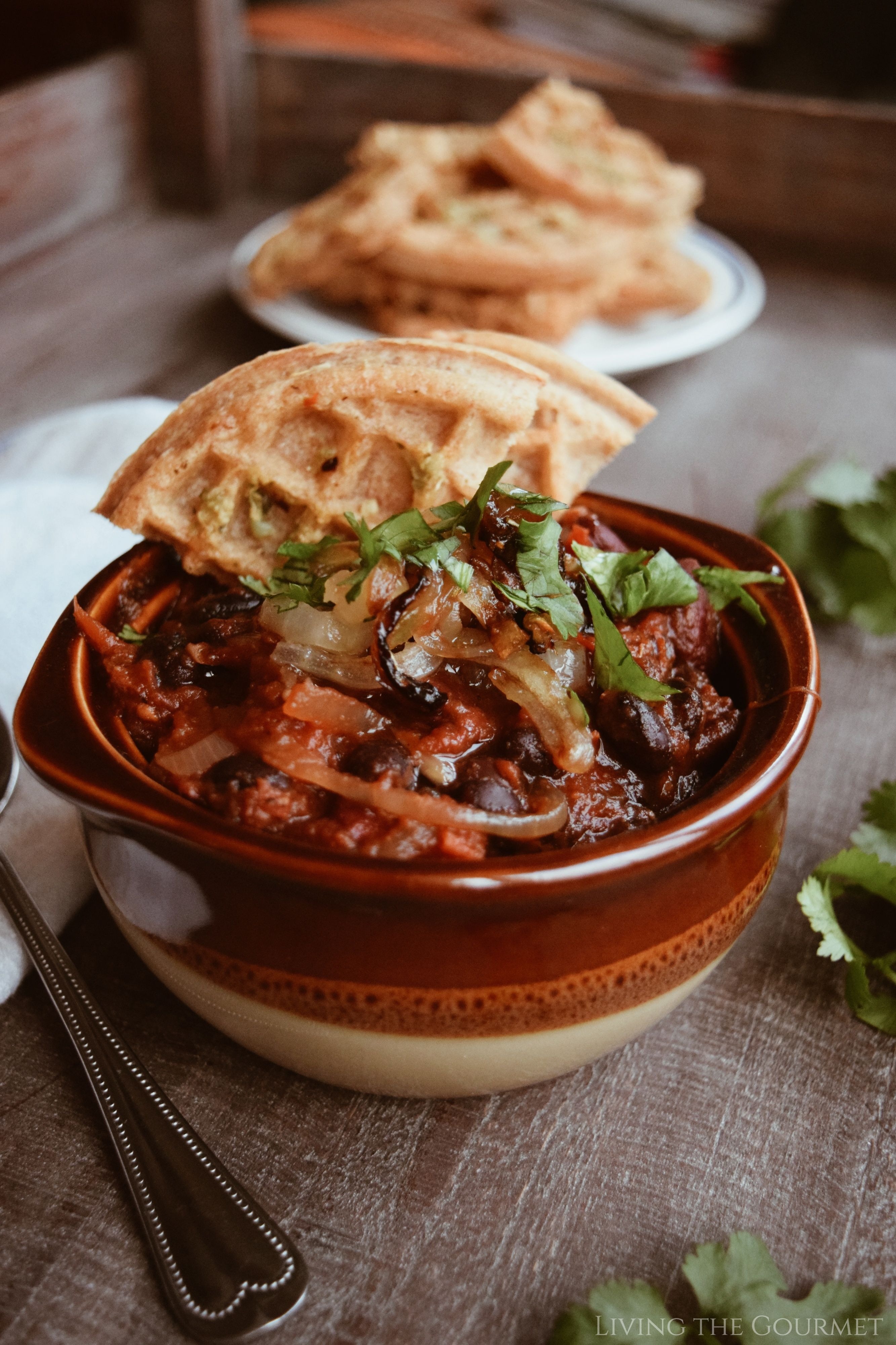 For starters, one of my absolute favorite 'indulgent' meals is a decent chili – all year round. Want something 'substantive' to pair with grilled fruit kebabs and a tall lemonade in the summer? Chili. Want something warming for a cold winter night over a bit of crusty bread or to fill fluffy pitas? Chili. Want something you can throw together relatively quickly as a filling and complete 'one pot' meal on a busy weeknight? Chili. Throwing a party? Chili topped with a mountain of cheese over tortilla chips is one of the surest crowd pleasers.
You see where this is going.
So, how do you keep all of that, but also make it a bit more health-conscious, or even just a 'little' less guilty?
Well, today's Vegetarian Chili is just as hardy as any meat variant, and packs all the flavor you would expect from your favorite chili. While I was shopping for the ingredients to today's recipe at my local Walmart, I happened across a great way to keep the health-conscious theme going – Kellogg's® Eggo Nutri-Grain Whole Grain 10 Ct waffles which can be found in the frozen foods section at Walmart. So, to mix things up a little, we're pairing today's chili with crisped Eggo Nutri-Grain Whole Grain Waffles, which we'll be using in place of tortilla chips. These waffles feature colors and flavors from natural sources only, are a good source of fiber, and feature eight grams of whole grains.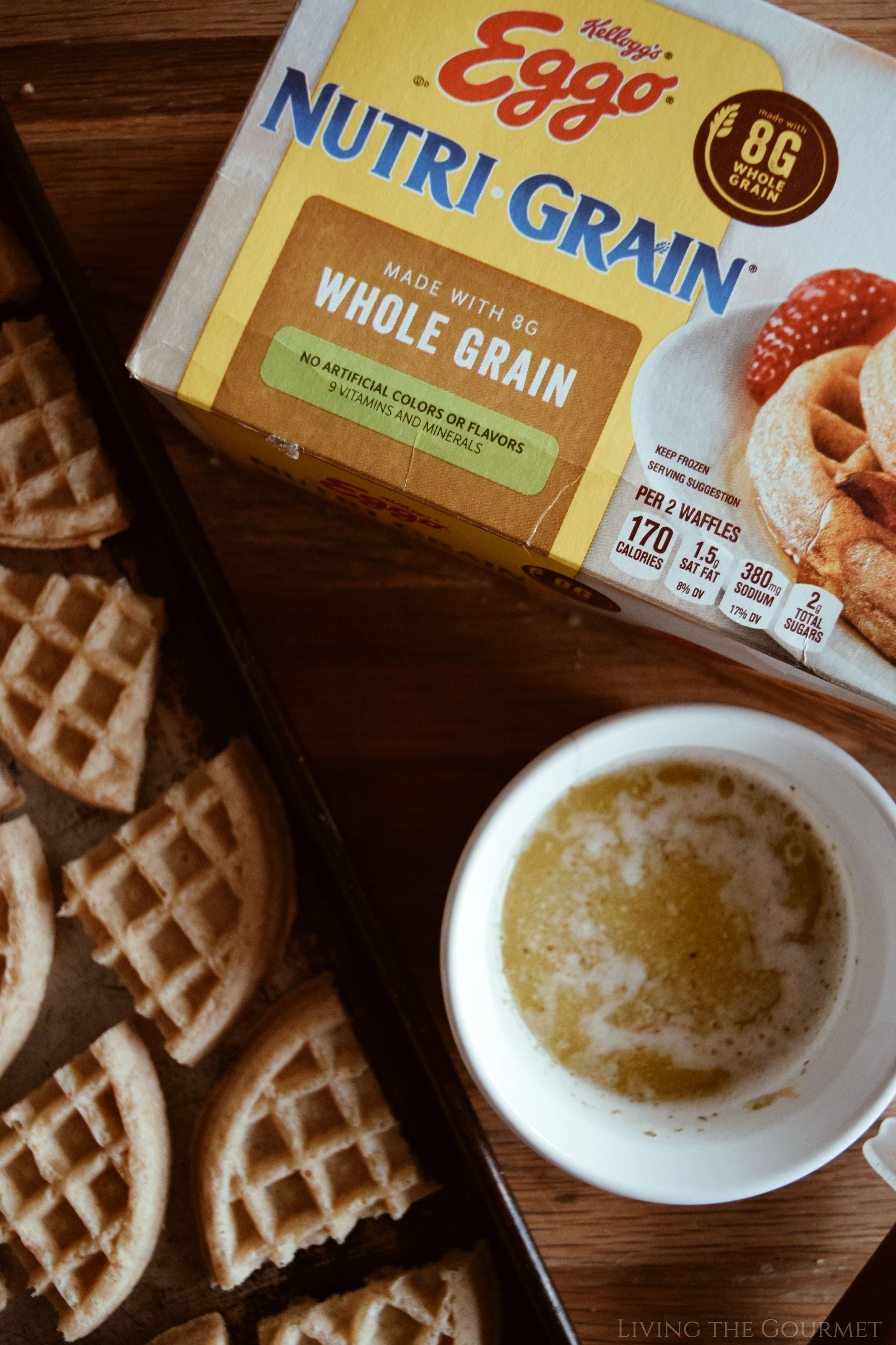 To start things off with the chili, we begin by heating a cast iron frying pan, in which we char some cherry tomatoes with a sprinkle of salt. As the tomatoes char, crush them down with a spoon. We then add in thinly sliced onion, diced jalapeno, a sliced red bell pepper, and crushed chopped garlic. Top this with a sprinkle of sugar, a bit of salt, some dried oregano, and a teaspoon or so of olive oil.
Allow the vegetables to become golden, as pictured, tossing during the process to prevent them from charring.
Next, add in drained black beans, drained red beans, and then toss the mixture before adding in crushed tomatoes, a bay leaf, and toss again. Finally, add in the seasonings listed below, and let the chili sit for about fifteen minutes over a gentle heat.
Lastly, add in the molasses, fresh lemon juice, and toss. Here, you'll want to taste for seasonings and adjust to your preference if desired.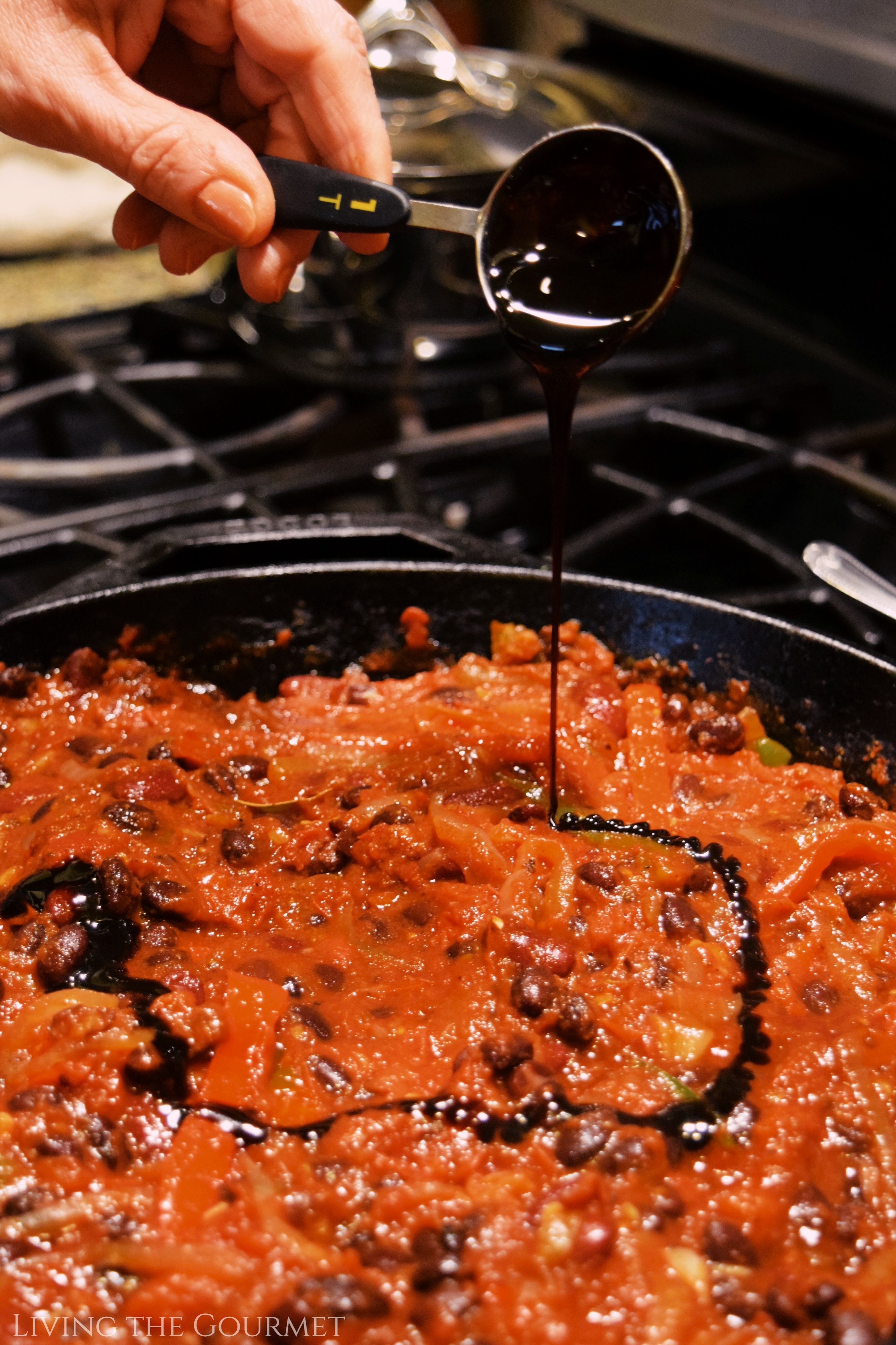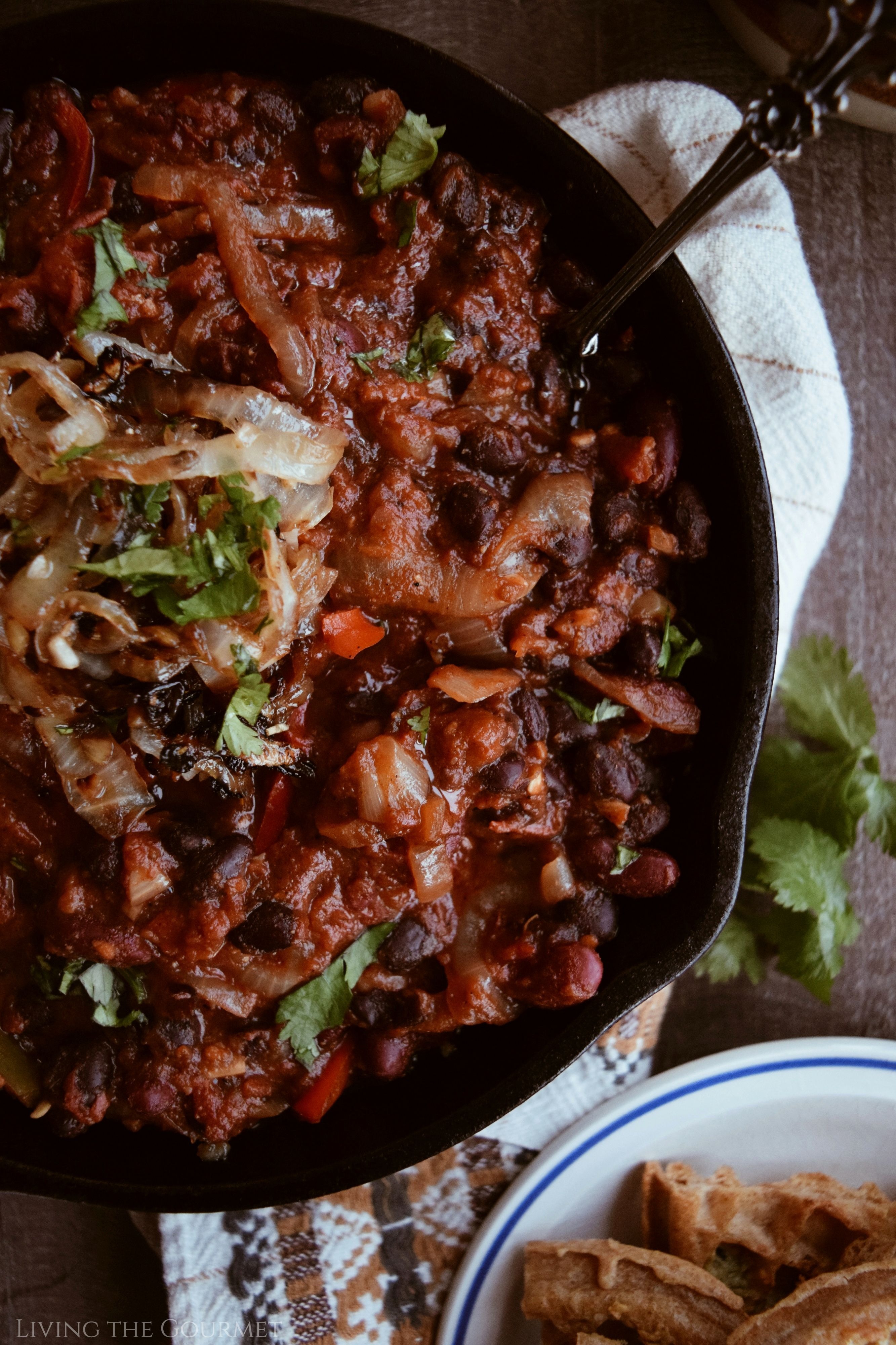 Now, onto the Herbed Waffle Crisps. Buttery, toasted waffle triangles are served alongside a hearty bowl of chili for the ultimate comfort meal. To start, quarter Eggo Nutri-Grain Whole Grain Waffles into triangles and layout on a baking sheet.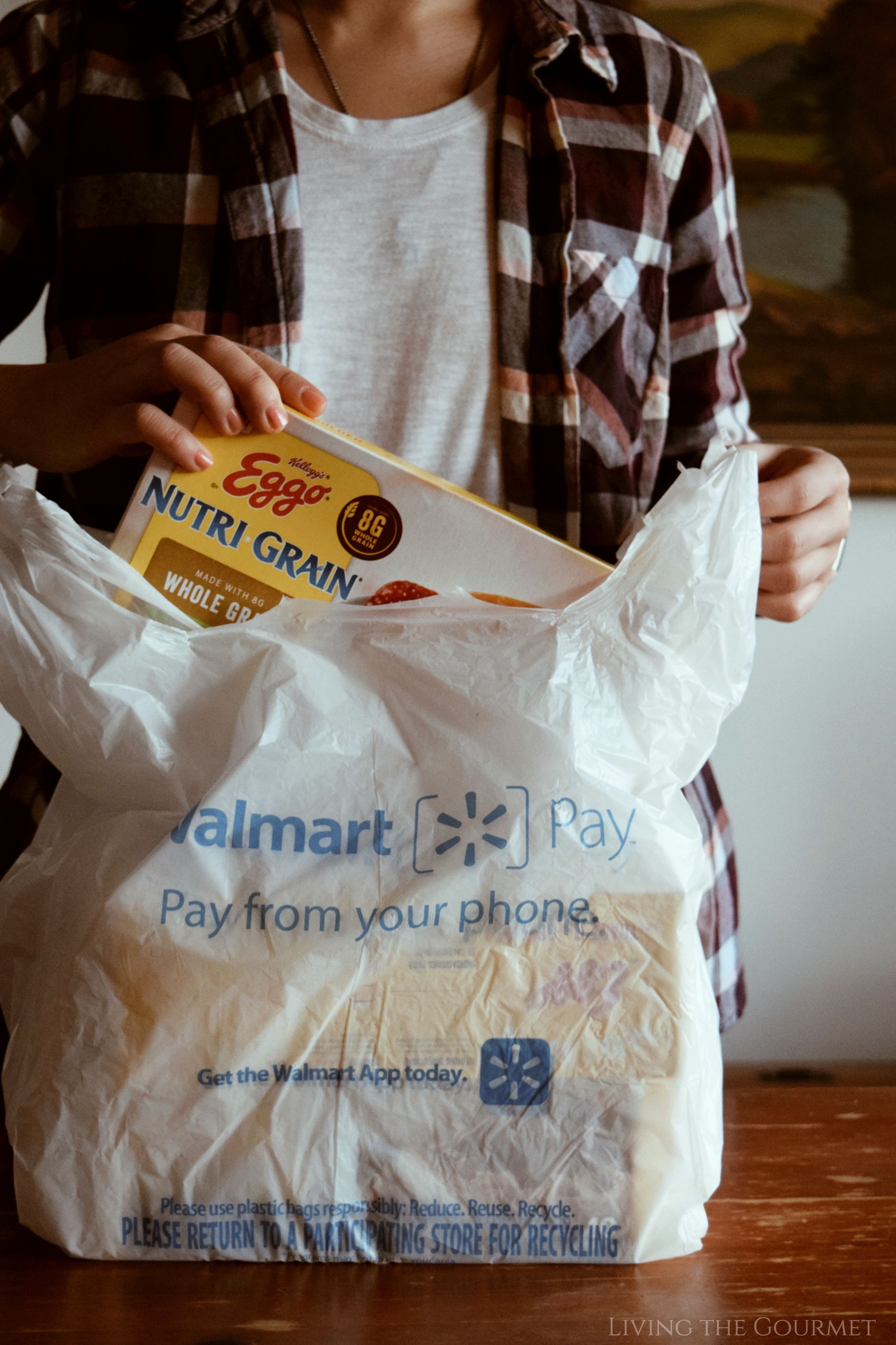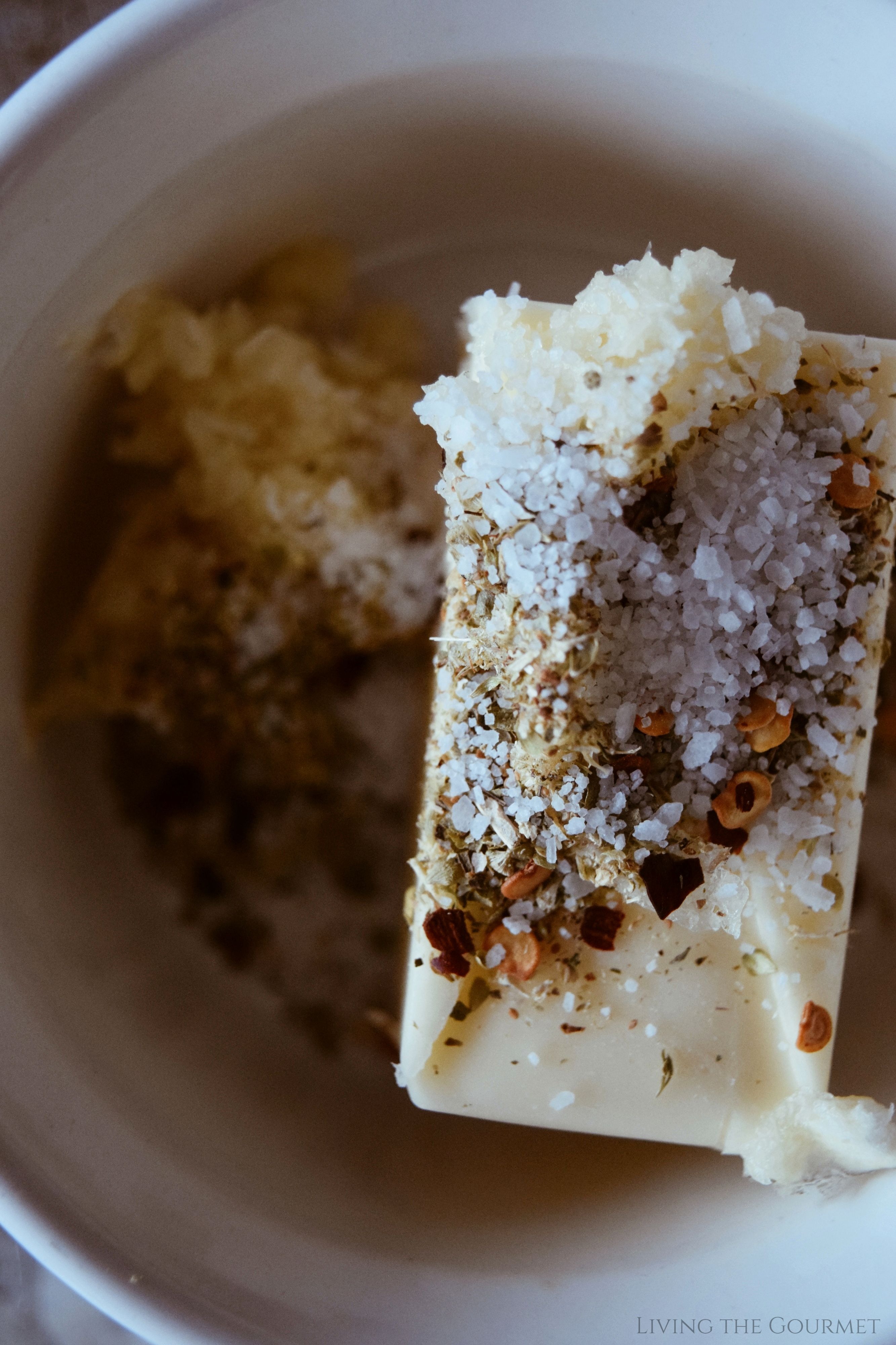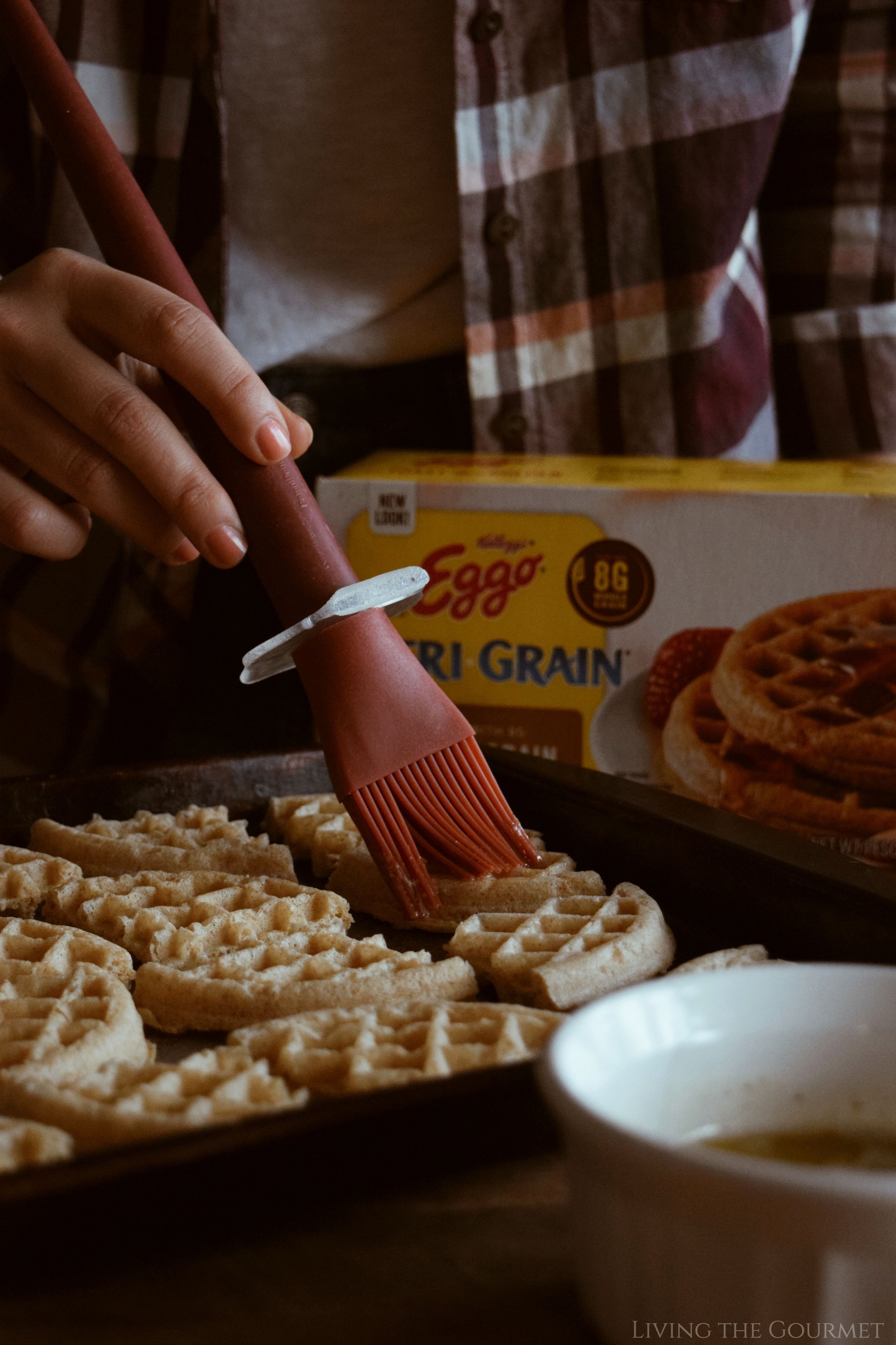 In a small heat-proof bowl, melt 4 tablespoons butter with a sprinkle of sea salt, freshly grated garlic, dried oregano, and red pepper. Brush the herbed butter all over the waffle slices and toast for about 8 minutes or until lightly golden.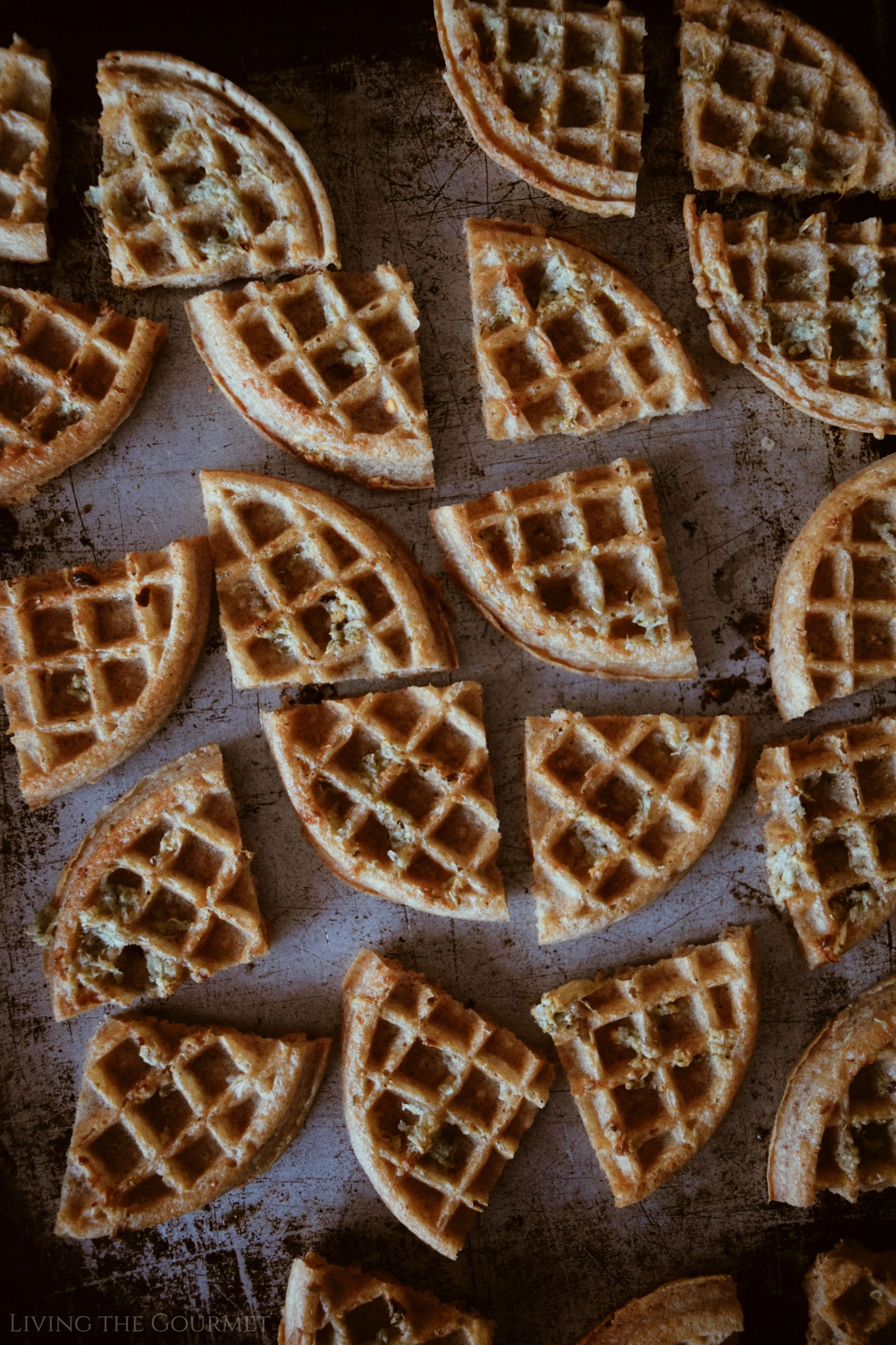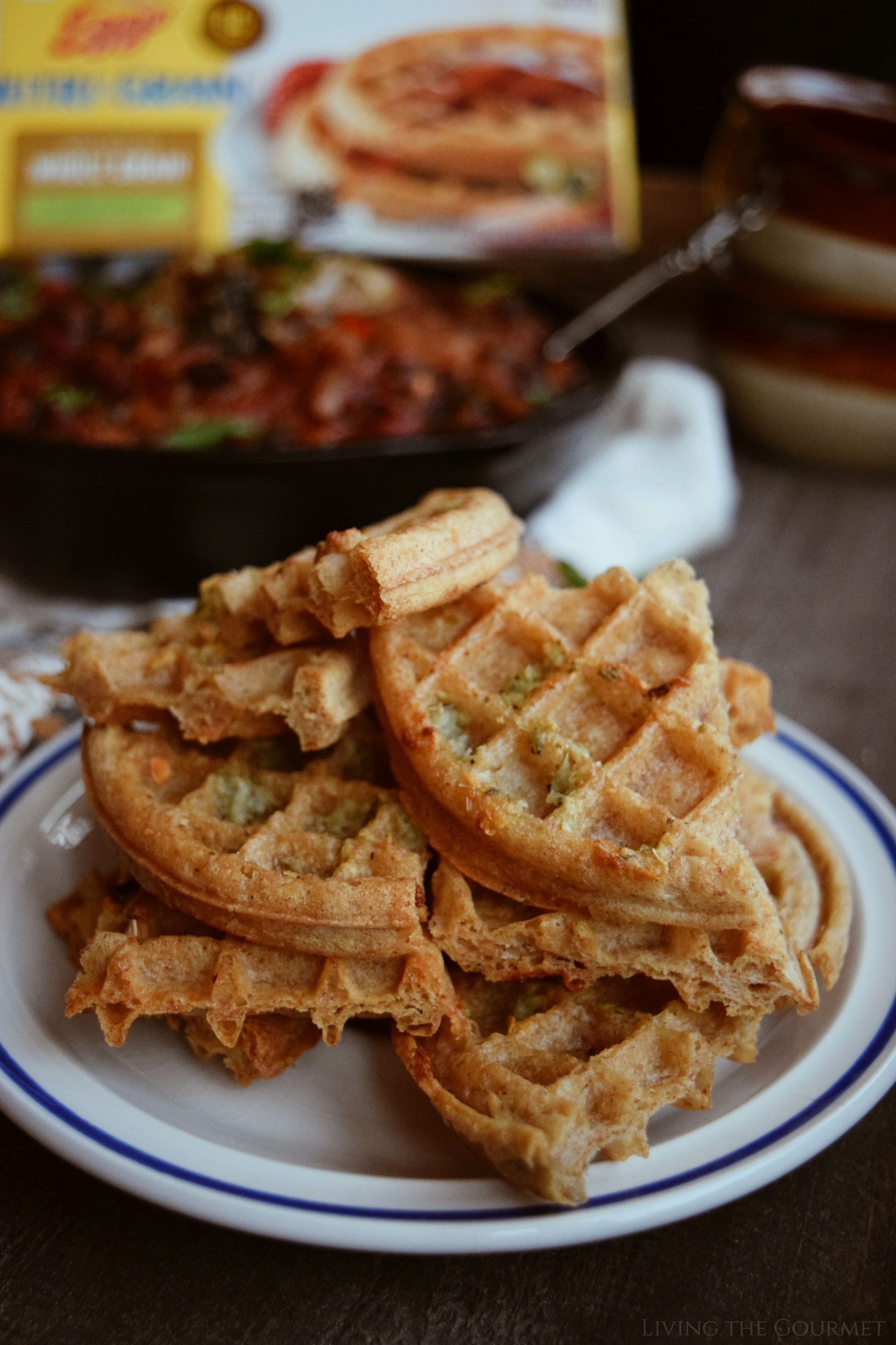 Living the Gourmet
Vegetarian Chili and Herbed Waffle Crisps
10 minPrep Time
30 minCook Time
40 minTotal Time
5 based on 19 review(s)
Ingredients
For the Vegetarian Chili:

29 oz. ca of black beans – drained
14 oz. can of red beans – drained
1 large Jalapeno – sliced thin with seeds
5 cloves of garlic – chopped fine
1 pint of cherry tomatoes
1 red bell pepper – sliced thin
1 large sweet onion – sliced thin
3 cups of canned crushed tomatoes
1 ½ tsp. salt
1 tbs. dried oregano
1 tbs. ground cumin
1 tsp. turmeric
1 tsp. chili powder
½ tsp. cayenne pepper
1 tsp. sugar
3 tbs. molasses
1 bay leaf
1 tsp. ground coriander
Juice of 1 lemon
Fresh Cilantro – for garnish
3 – 4 tbs. olive oil

For the Charred Sweet Onion Topping:

1 sweet onion – sliced the
1 tsp. sugar
½ tsp. salt
½ tsp. dried oregano
1 tbs. olive oil

For the Herbed Waffle Crisps:

5 Eggo Nutri-Grain Whole Grain Waffles
1/4 cup unsalted organic butter
2 cloves garlic, grated
1 teaspoon dried oregano
Pinch of sea salt
Pinch of red pepper flakes
Instructions
For the Vegetarian Chili:

Heat a large cast iron frying pan.
Place the cherry tomatoes in the dry pan whole and sprinkle with salt. Let the tomatoes begin to char a bit and the gently, squeeze them down with a masher.
Add the thin sliced onion to the pan, the Jalapeno, sliced red bell pepper and the garlic; sprinkle these vegetables with a tsp. of sugar, dash of salt and dried oregano and drizzle with a tablespoon or so of olive oil.
Let these vegetables get nice and golden, while gently tossing.
Add the drained black beans and the red beans, and toss.
Add the crushed tomatoes and the bay leaf and again toss.
Add the seasonings and loosely cover on a gentle heat for fifteen minutes or so.
Add the molasses and the lemon juice and toss, while on a gentle heat.
Taste for seasonings.
Garnish with fresh cilantro, a drizzle of olive oil and a charred sweet onion.

For the Charred Sweet Onion Topping:

Heat a medium sized cast iron frying pan with the olive oil. Add the sliced onion and sprinkle the sugar, salt and dried oregano over the onion.
Toss the onion until it becomes golden and very wilted.
Serve over the chili with the cilantro, a drizzle of olive oil and fresh ground black pepper.

For the Herbed Waffle Crisps:

Preheat oven to 350 degrees F.
Quarter waffles into triangles and lay out on a baking sheet. Set aside.
In a small heat-proof bowl, melt butter with garlic and herbs.
Brush the melted butter over the waffle triangles and bake for about 8 minutes just until lightly golden and toasted.
7.8.1.2
817
https://livingthegourmet.com/2019/01/vegetarian-chili-and-herbed-waffle-crisps.html
I served the chili alongside the waffles with some charred sweet onion on top, and voila! You've got a delicious way to stay on track with your New Year's resolution. Make sure to hover over the first image of this post to place your order or to click through for more details.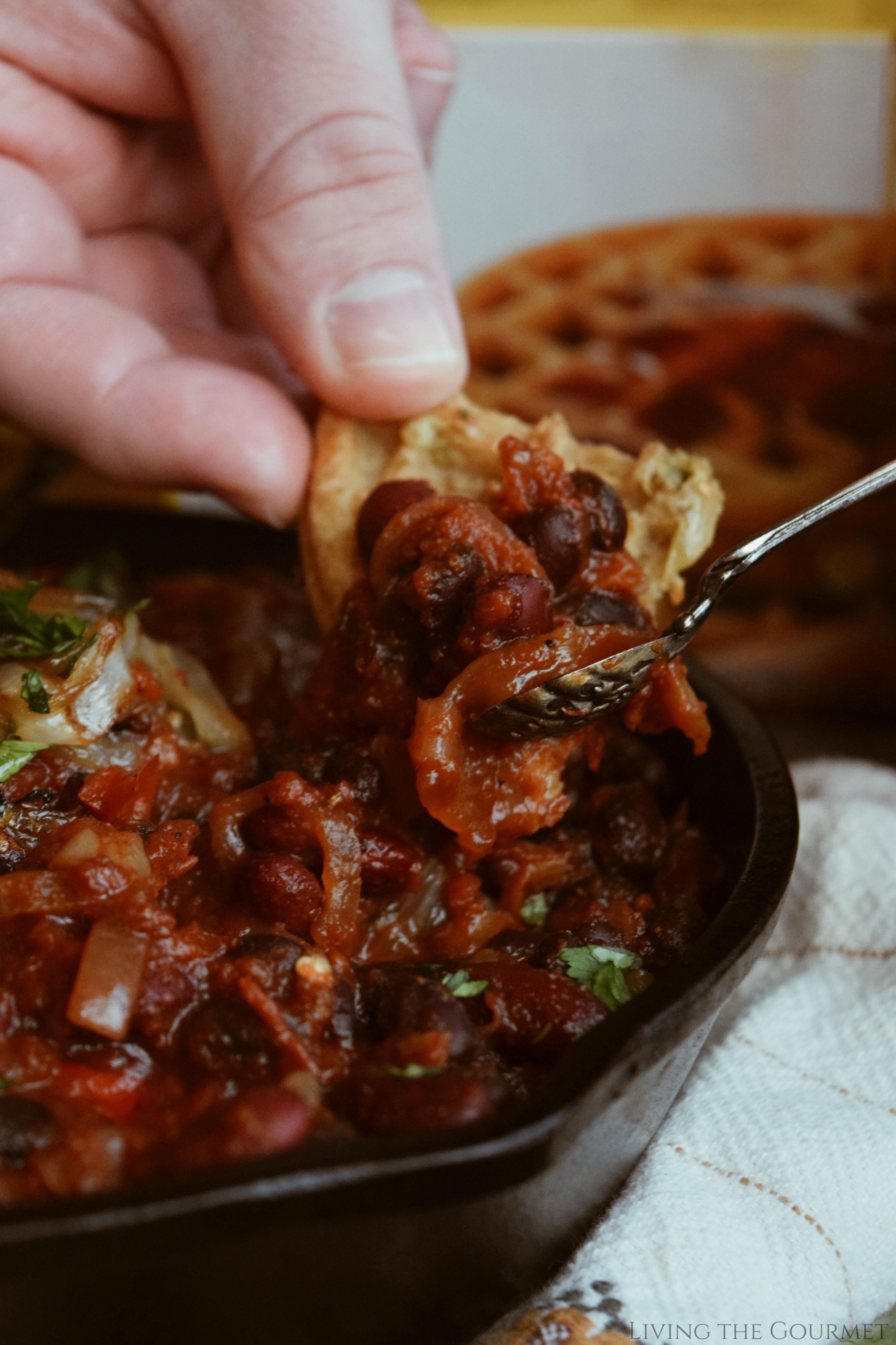 Enjoy with Love!
5