Dress up your Easter table with this elegant platter of baked Lamb Shanks served over a bed of Rice Pilaf!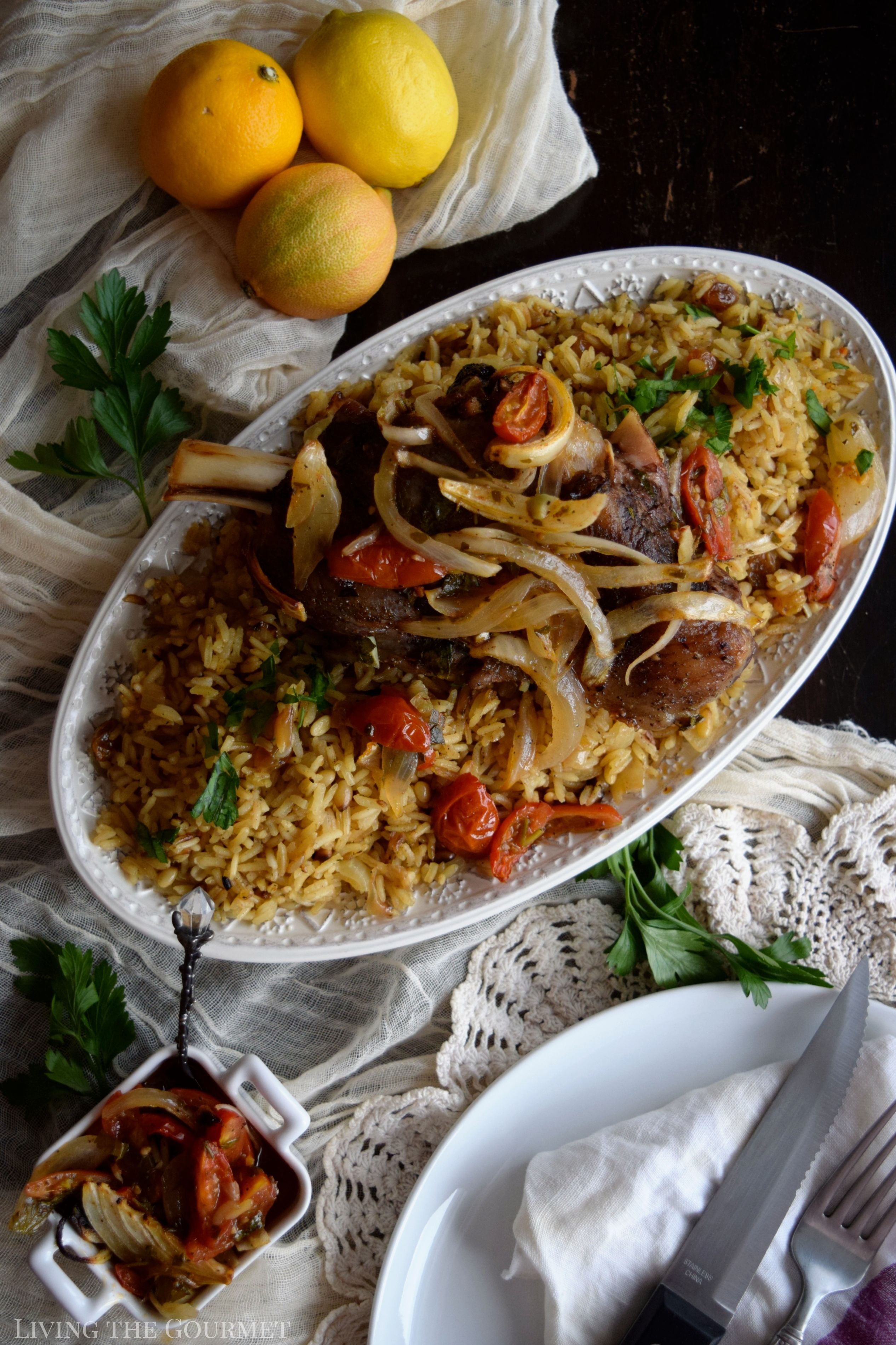 It's strange how the mind curates its own memories, how it decides what will fade into the ether as opposed to what will sit preserved on its neurological shelves like old picture books collecting dust. For example, I can't recall my first cup of coffee – despite drinking it every day, nor can I recall my very first glass of wine despite writing about it on a regular basis, nor the first pasta dish I prepared. My first lamb shank, however, a relatively unusually cut of meat that I rarely eat…now that I remember, and I remember it quite clearly.
Picture a rundown shopping strip set on a busy main road congested by the dense traffic of a suburban town rapidly outgrowing its 'suburban' designation. In all ways, even in my childhood memories, this particular shopping strip seemed like a stubborn vestige of a bygone era, hosting a novelty store specializing in vinyl records and pawned heavy metal memorabilia, which was set between a grimy 'pizzeria' and a similarly grimy Chinese takeout, and of course there was a vacant storefront that seemed cursed to never house a business for more than six months.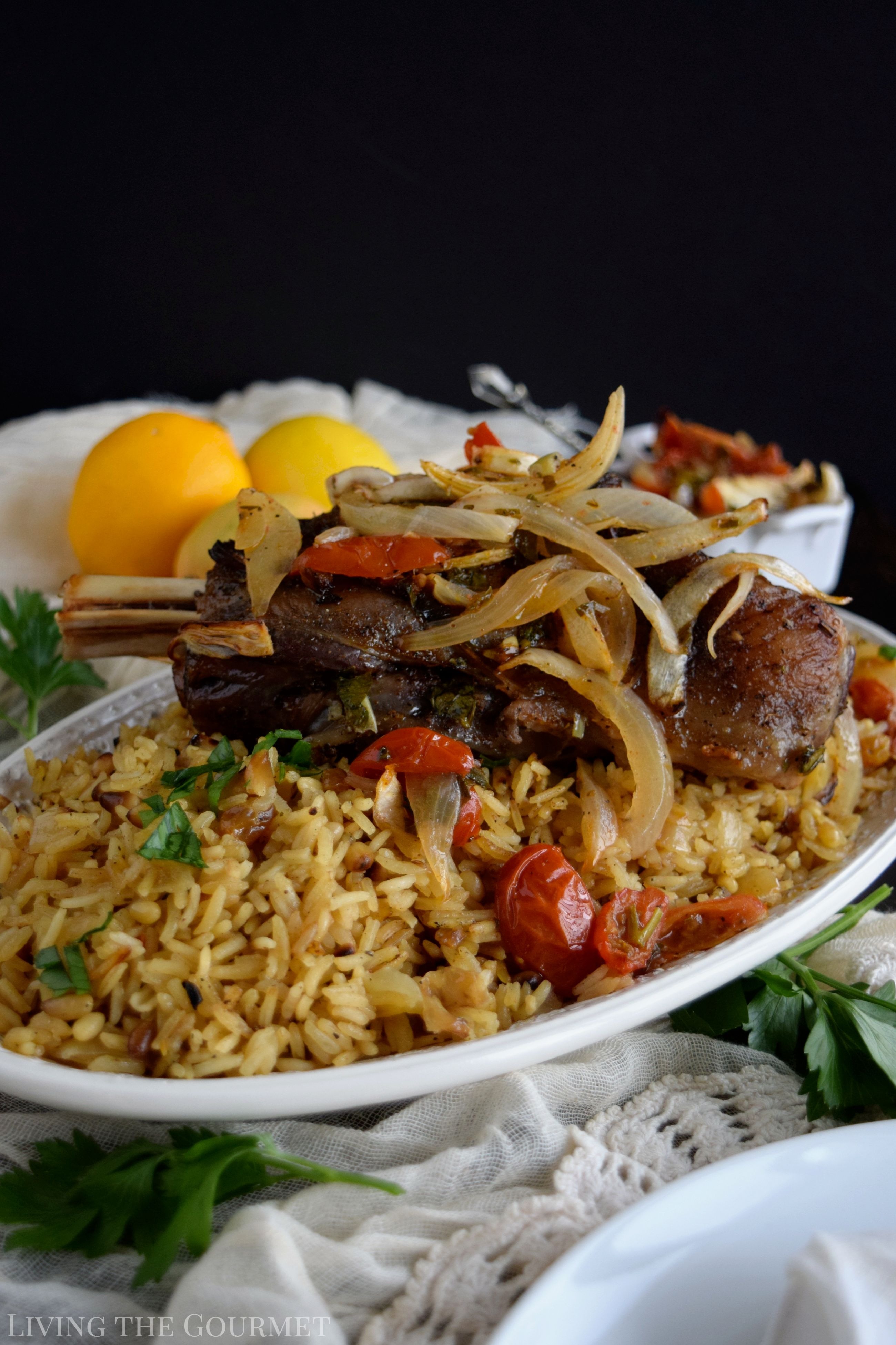 The 'unpolished gem' of this shopping strip, however, was a tiny Greek 'restaurant' about two shopping windows wide. Despite overlooking a pair of dumpsters and being built next to a thoroughly graffiti'd brick wall dividing the shopping strip from a cliché used car dealership, its atmospheric amber lighting, crisp white tablecloths, and floor length drapes strained to convey a modicum of elegance. Inside, the aroma of roasting lamb and spiced red sauce hung perpetually on the air, perforated by the odor of strong red wine and pungent lemon soup. It was in that tiny restaurant, at the age of about ten, that I ate my first lamb shank, the outer layer blackened to a delicate crisp, beneath which lay decadently tender layers of meat oozing well-seasoned juices. To my then young-eyes, I could have sworn that I had received a whole lamb's leg all to myself, served on a mountain of 'tiny pasta' drenched in a thin red sauce.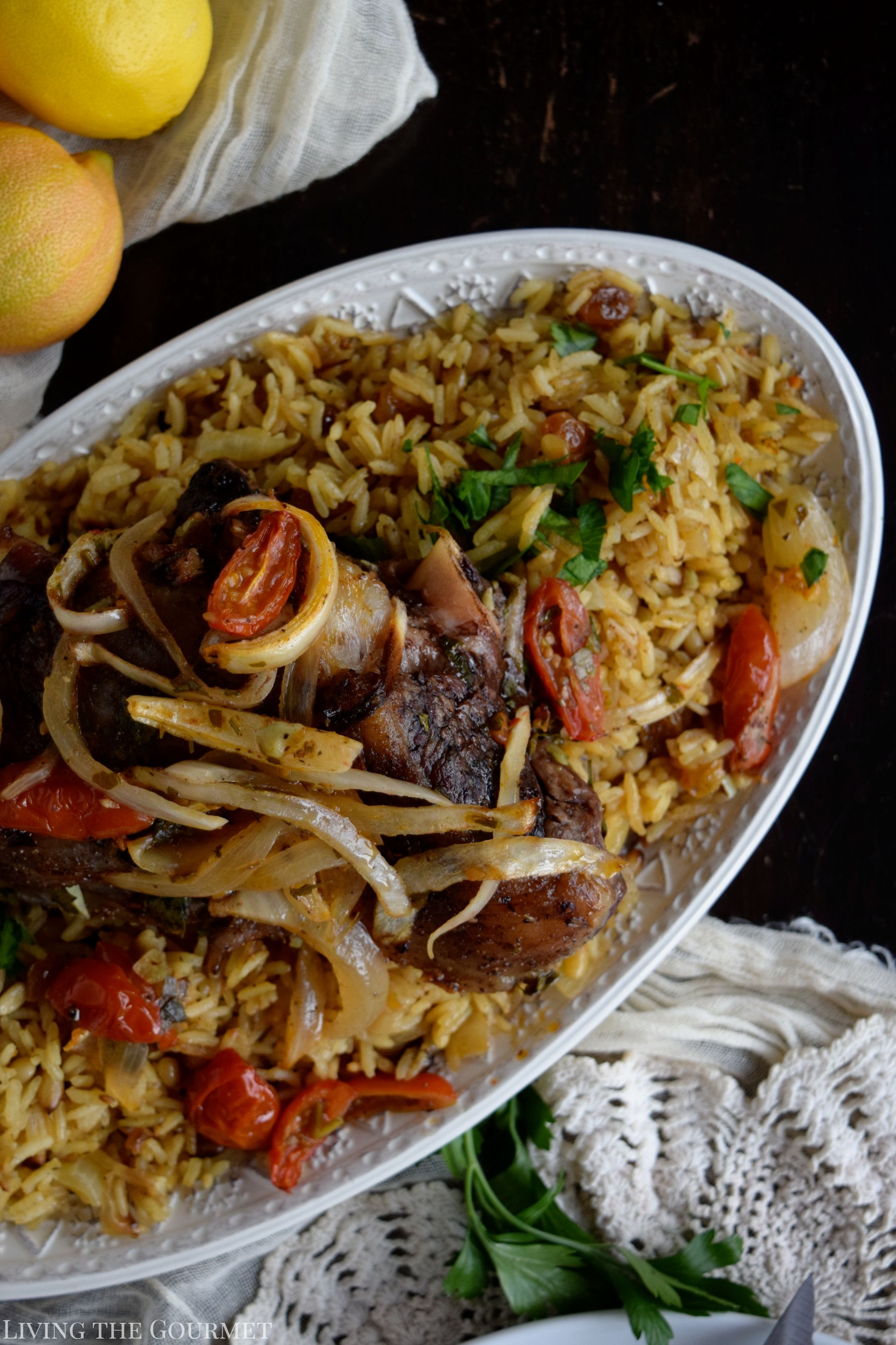 Today's recipe is a bit of a throwback to that 'hole in the wall gem' I experienced as a child, but with a few key tweaks. For starters, rather than a 'by the book' Greek red sauce over orzo, I decided to pair the shanks with a Jasmine rice pilaf and to coat the shanks in a spice rub before cooking.
To start things off, combine black pepper, cinnamon, dried oregano, and paprika, and then rub this thoroughly over the shanks, and then drizzle the thanks with olive oil, and bake for about thirty minutes. Meanwhile, prepare the sauce as described below, and then remove the shanks from the oven, distribute the sauce around the shanks, and cook them for another hour.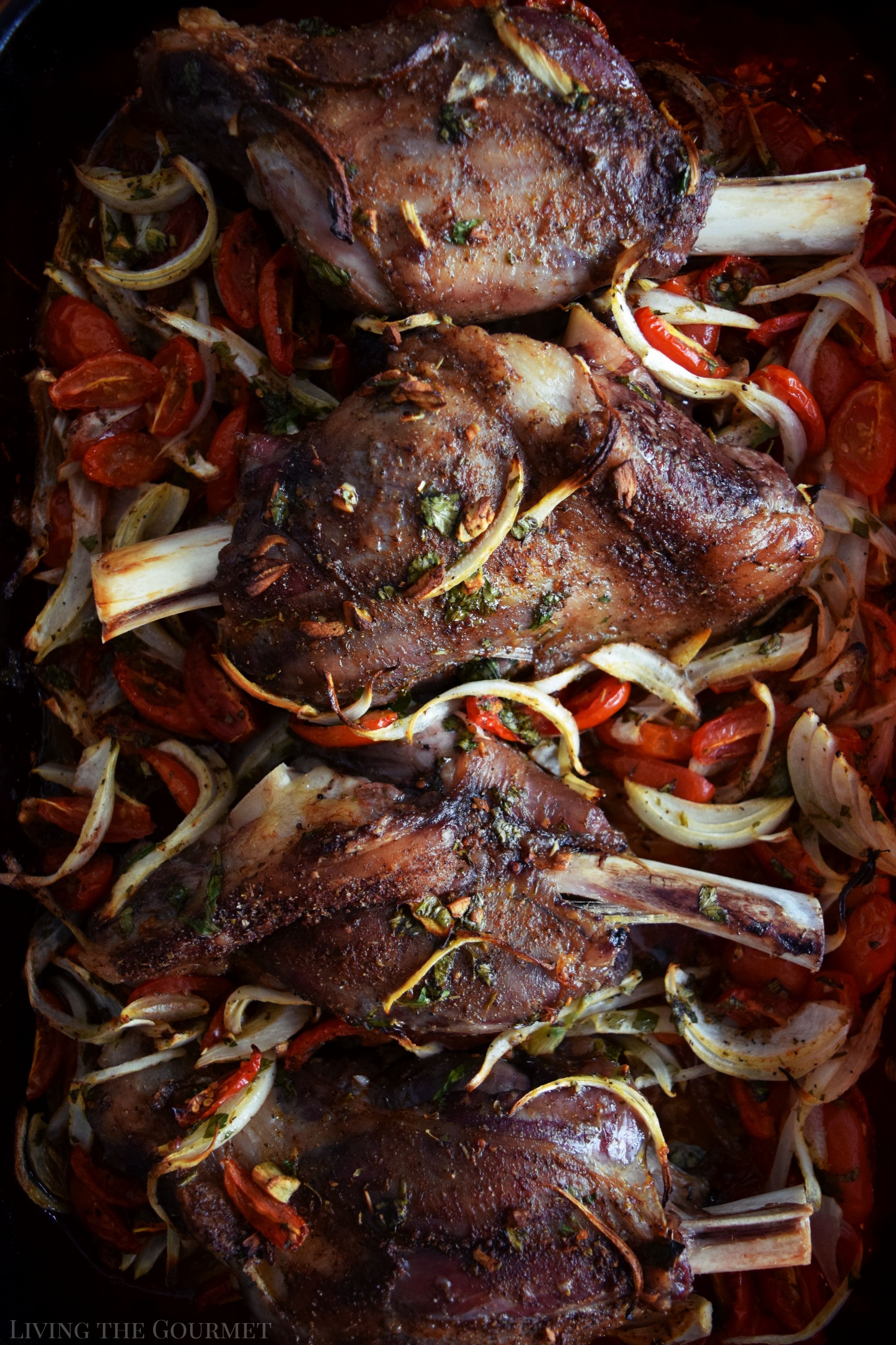 While the shanks continue cooking, it's time to start on the pilaf. To start, heat a large cast-iron frying pan with canola oil, and add in diced onion and cook that until it's golden. Once the onion is golden, add in the pine nuts, toss them until their golden, and then add in the rice and toss them together until they are thoroughly combined before adding in the chicken broth, chopped garlic, lemon juice, and the spices. Once that's done, cover and let the rice simmer until the broth has been absorbed and the rice is tender.
Once that's been achieved, serve the shanks set over the pilaf with a tab of butter and a few bits of parsley as garnish.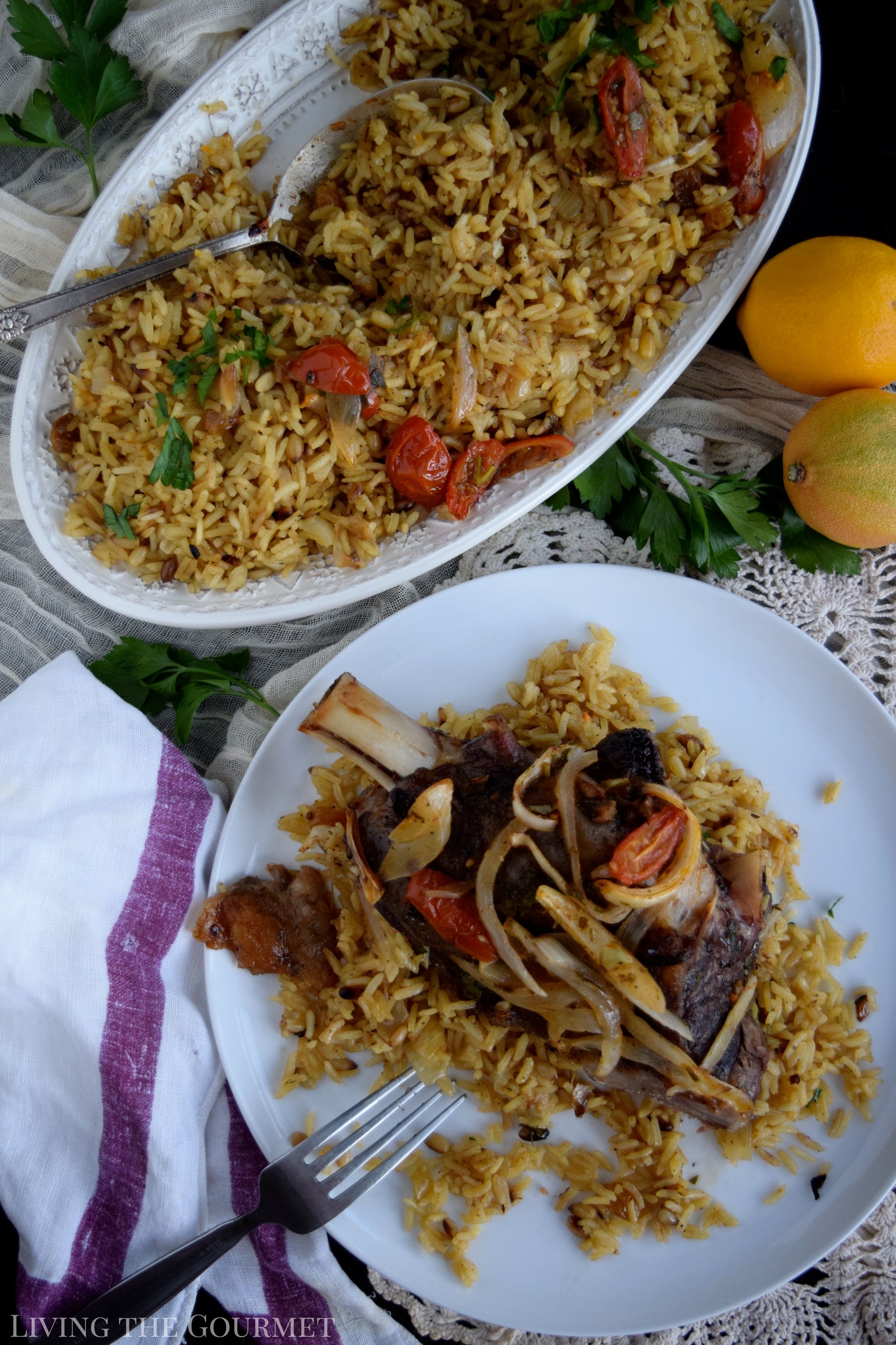 Living the Gourmet
Yields 4-6
Lamb Shanks with Rice Pilaf
15 minPrep Time
30 minCook Time
45 minTotal Time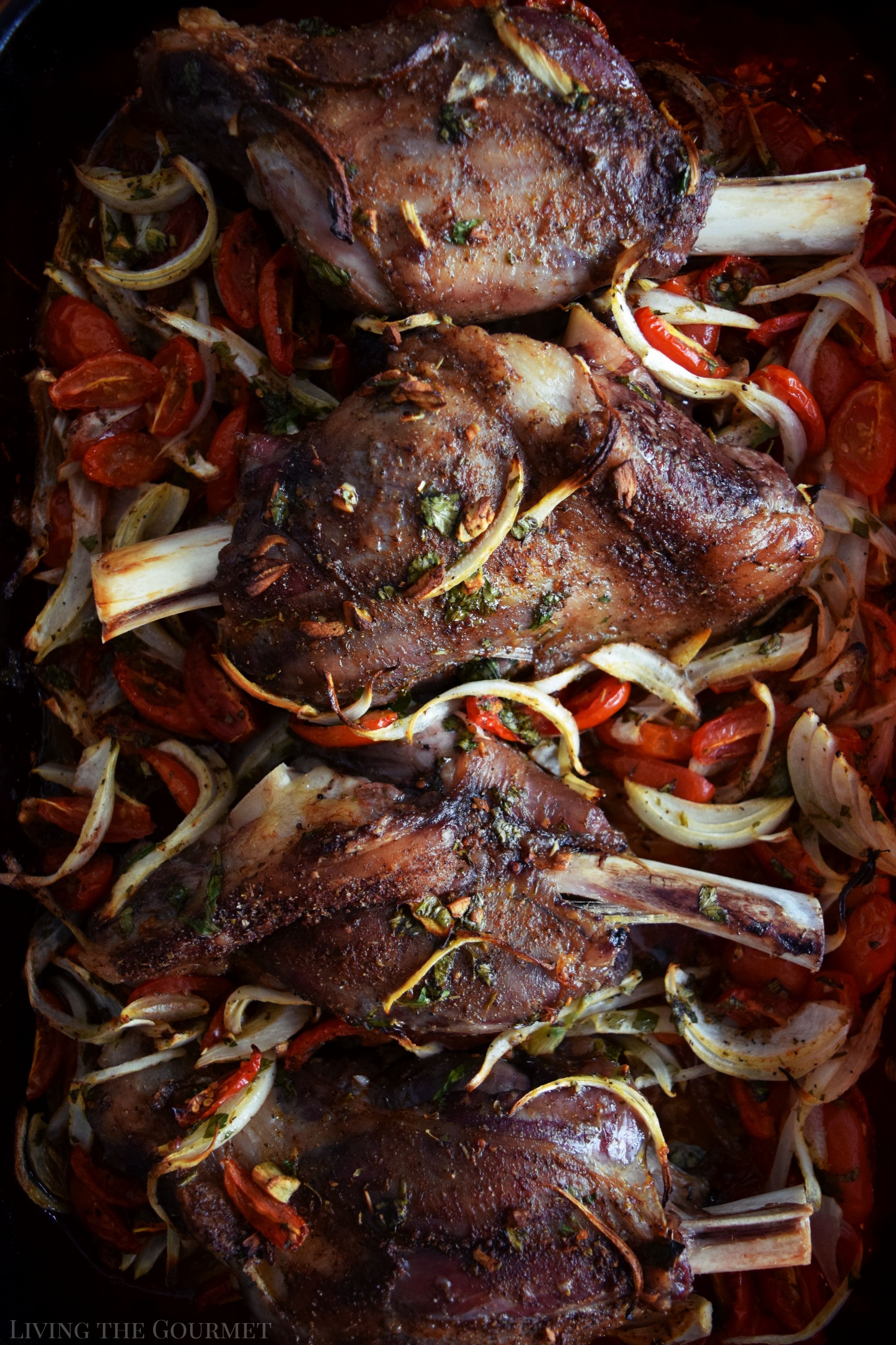 Ingredients
For the Lamb Shanks:

4 lamb shanks
1 tsp. salt
1 tsp. black pepper
¼ tsp. ground cinnamon
1 tsp. dried oregano
1 tsp. paprika
Olive oil
For the Sauce:
2 pints of grape tomatoes – quartered
3 cloves of garlic – chopped
1 onion – sliced
Juice of 1 lemon
¼ cup of Italian parsley – chopped
1 tsp. salt
1 tsp. black pepper
1 tsp. dried oregano
2 – 3 tbs. olive oil

For the Rice Pilaf:

2 cups Jasmine Rice
1 sweet onion – diced
½ cup pine nuts
3 cups chicken broth
¼ cup golden raisins
2 cloves garlic – chopped
¼ tsp. ground cinnamon
Juice of 1 lemon
½ tsp. salt
½ tsp. black pepper
¼ cup Italian parsley – chopped for garnish
2 tbs. canola oil
2 tbs. butter - optional
Instructions
For the Lamb Shanks:

Combine all of the ingredients for the sauce in a bowl and toss.
Preheat Oven 350 degrees F.
Combine the spices in a small bowl and rub the lamb shanks with this mixture.
Place the lamb shanks in a baking dish and drizzle with olive oil.
Bake for 30 minutes then remove from the oven.
Distribute the tomato and onion mixture around the lamb shanks and return to the oven and continue to bake for another hour.

For the Rice Pilaf:

Heat a large cast-iron frying pan with the canola oil. Add the diced onion and saute until the onion is golden.
Add the pine nuts and toss until golden. Add the rice and toss.
Add the chicken broth, chopped garlic, lemon juice and the spices.
Cover and simmer until all of the broth is absorbed and the rice is tender.
Serve tossed with butter and garnished with the chopped parsley.
7.8.1.2
739
https://livingthegourmet.com/2018/03/lamb-shanks-with-rice-pilaf.html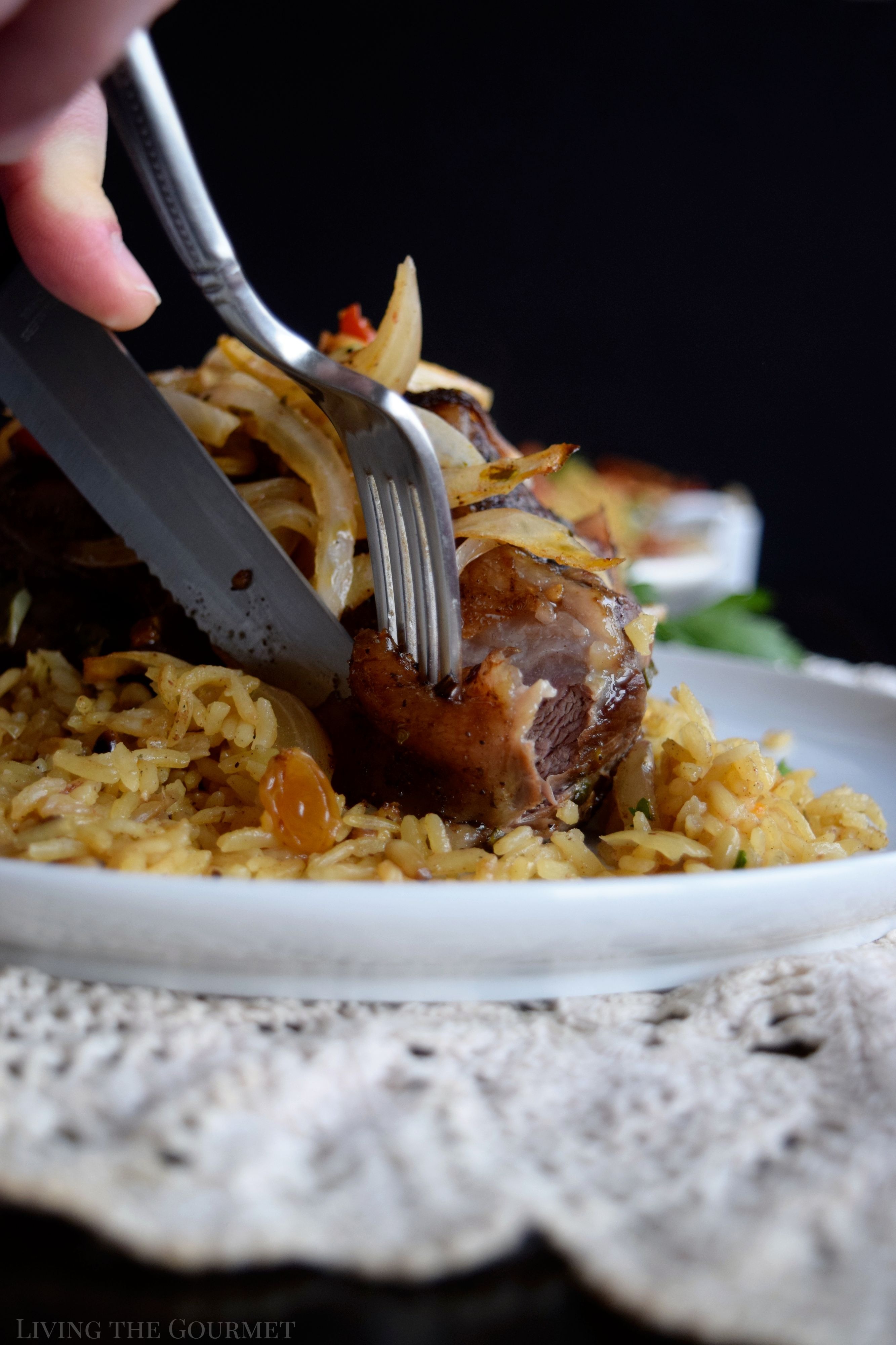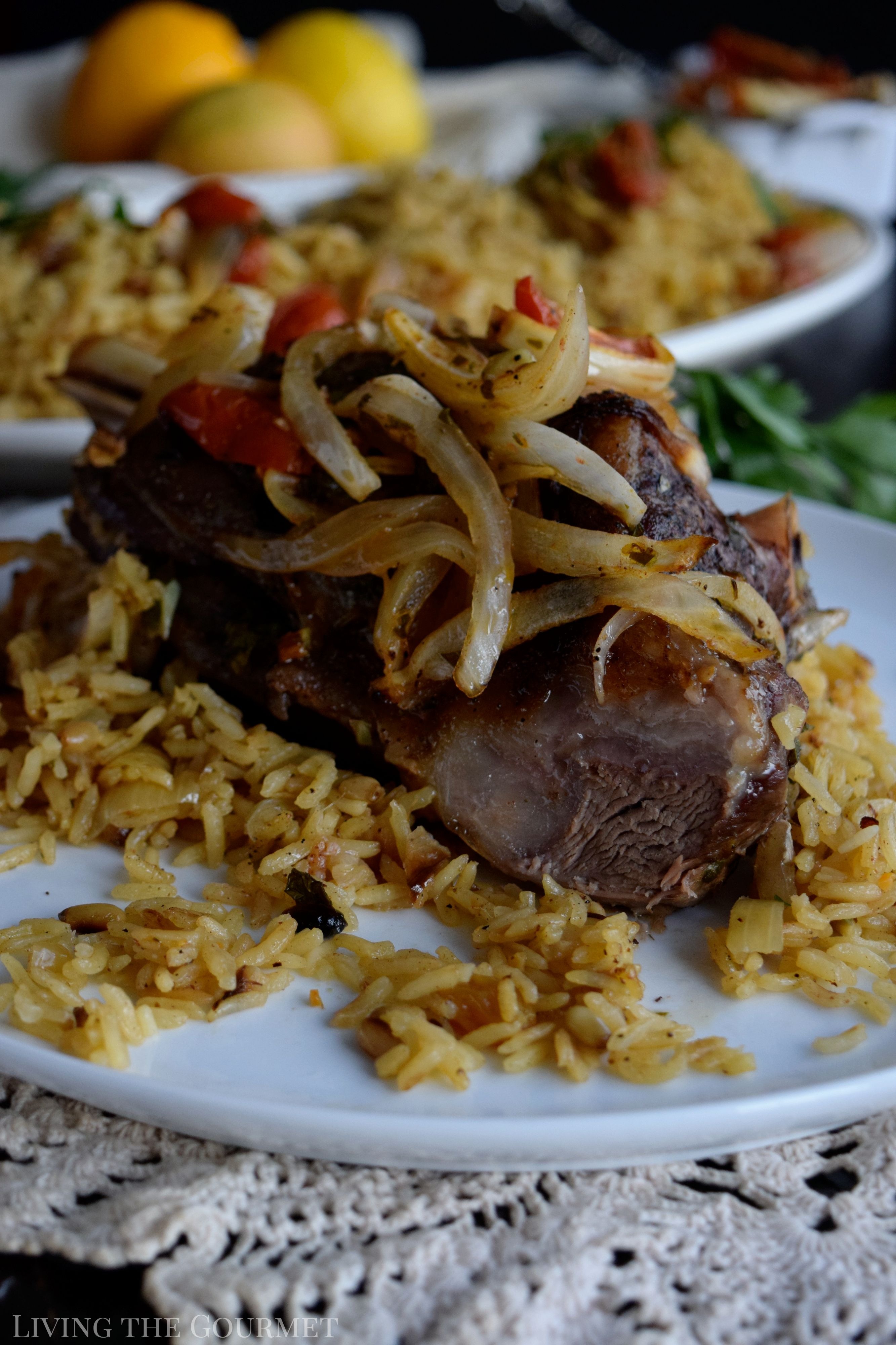 Enjoy with Love!
1