It's a busy weeknight and you want something satisfying, complex, and relatively easy to put together. However, you also wouldn't mind having some leftovers for the next day. That's where today's dinner omelet comes in, and I don't mean a typical 'three egg' diner-style omelet. I mean a 'full meal' style omelet that fills the entirety of a full-size cast iron pan.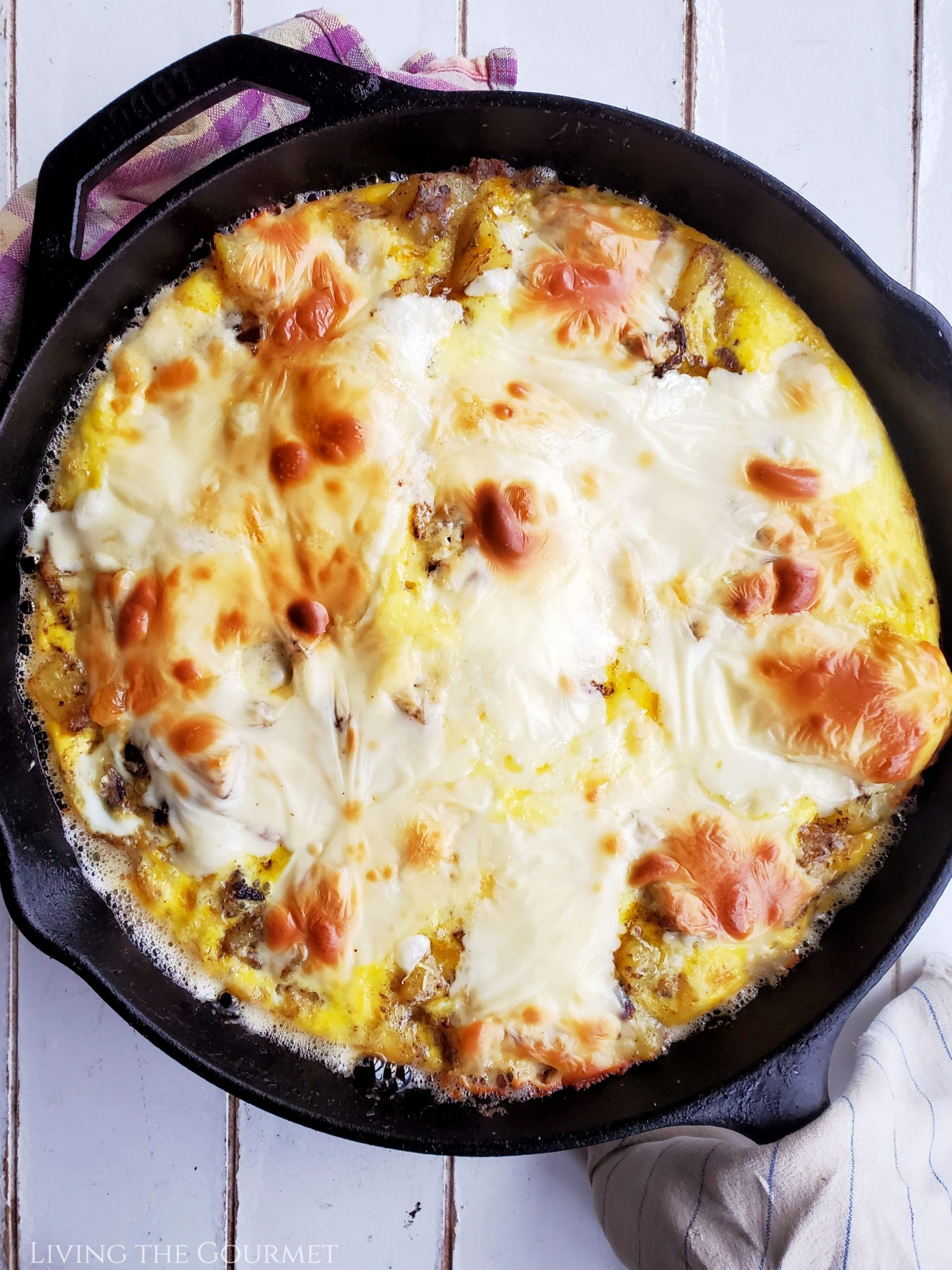 Why I Love Dinner Omelets, and Why You Should Too
1) Sandwiches. I probably shouldn't be starting with this point, but I am. Dinner omelets are at their best the next day, warm or cold, on rye toast with some butter, extra cheese, and maybe a dash or two of hot sauce as a sandwich. Oh. My. God. That's my favorite lunch in the world right now.
2) Leftovers. This cuts to the above point, but dinner omelets heat up shockingly well, either in a pan on the stove or in the oven on low heat.
3) Make Ahead. Once again, since these serve so well the next day or two or three, they are great 'make ahead' dinners, lunches, or breakfasts.
4) One Pan Meal. With a side of toast, or not, these really do make a great one-pan-one-meal dinner or lunch option.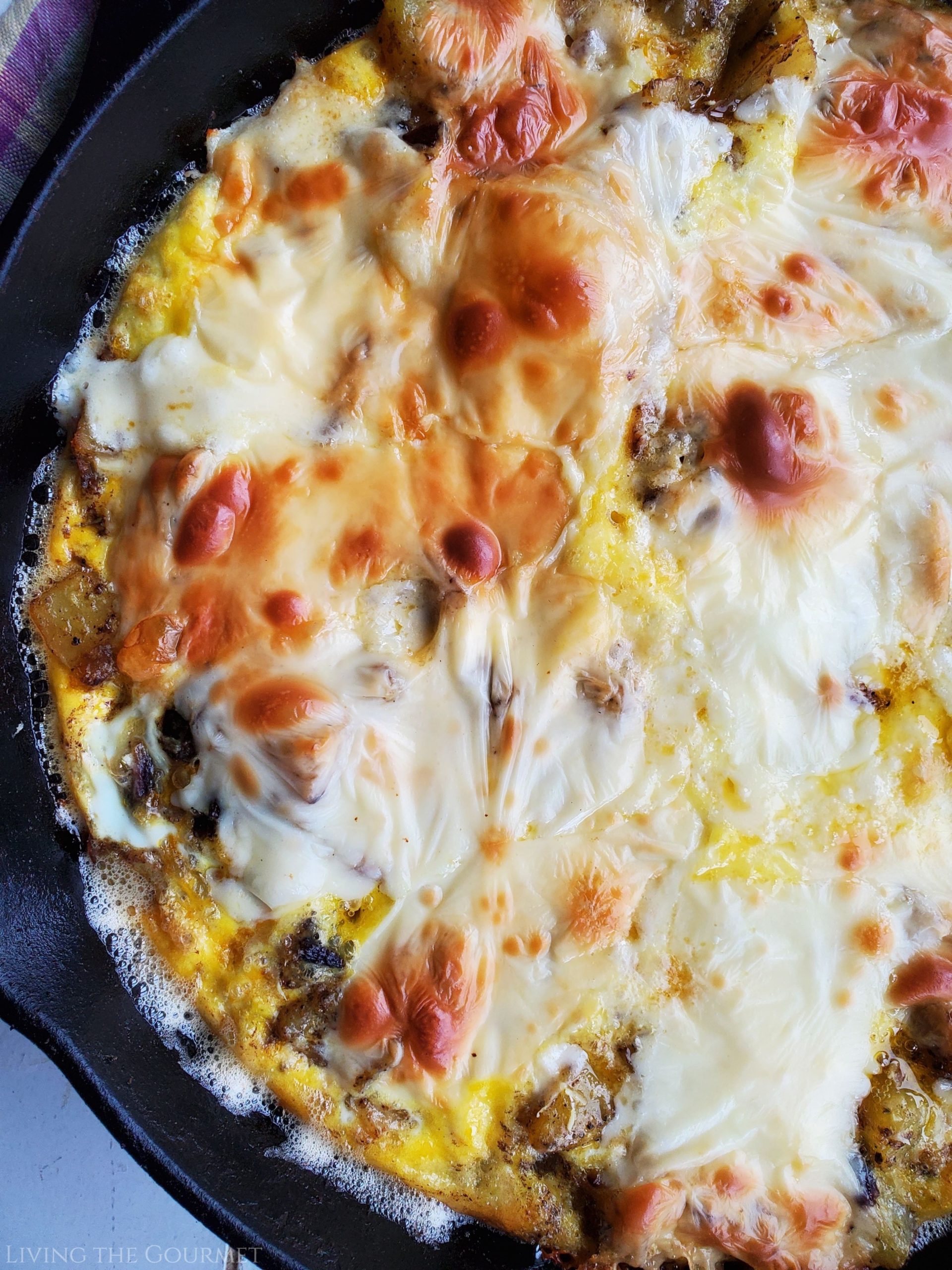 Ingredient Notes and Tips
1) Red Onion? White Onion? Yellow onion? Any Onion! Honestly, I'm using red onions because it's what I happen to have on hand. Yellow onions can be substituted on a one-to-one basis for red onion, and the same applies to white onions. You could even be creative and mix the onions. The truth is, red, white, and sweet onions are 'almost' always interchangeable, and that's certainly true in this recipe.
2) The Cheese. You want cheese that melts down nicely. Basic American, Swiss, Jarlsberg, or Mozzarella all work fine. Jarlsberg is slightly more 'flavor neutral' than the others, and melts a bit more 'firmly.' It does, however, have a pleasant, if faint, 'nutty' flavor.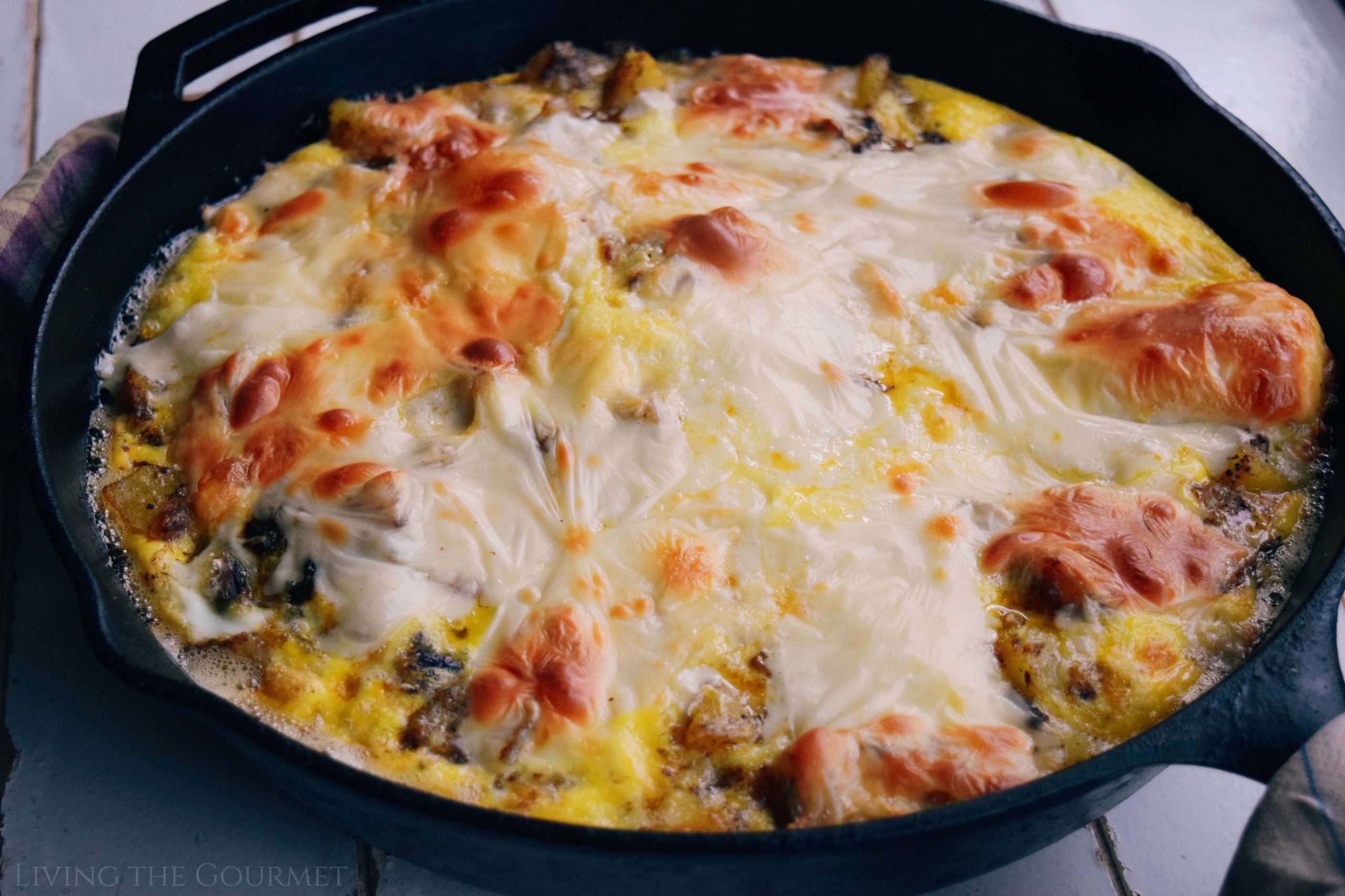 3) The Potatoes. First, peeling is optional, but I prefer my potatoes peeled when they're in an omelet, but this is purely a matter a preference. The skin 'will' add a slight bit of 'texture' to the omelet, and a slight bit of 'earthiness.' Now, what kind of potato do you want for this recipe? Any type of potato that holds its form well through cooking/roasting/boiling is what you want. These types of include small reds, New Potatoes are the go-to, due to how well they hold their shape through all forms of cooking. Waxy Potatoes, often confused for 'Yukon Golds,' are also ideal here – as would be Yukon Golds. White Potatoes would also work, but are less than ideal. Russets would simply fall apart or turn to mush.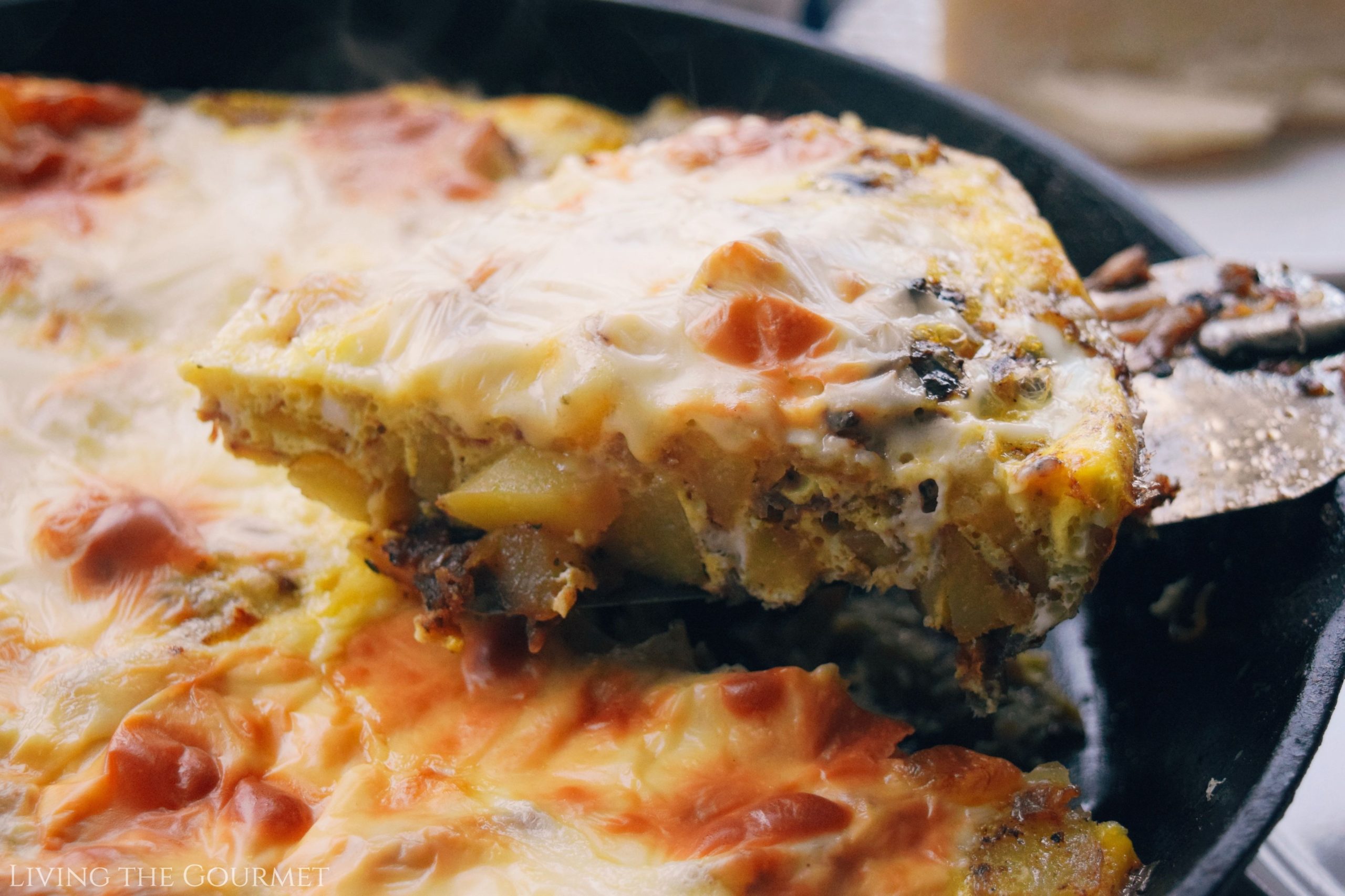 More Eggy Goodness
1) Deviled Eggs. A classic egg recipe from previous generations that never 'quite' went away. Homey and easy to make, and just a hint spicy, but mostly 'dilly' and 'relish-y.' Trays of these almost always find their way on the tables of my family gatherings, either prepared by my daughter or my sister-in-law…or both.
2) Soft Boiled. My favorite way to have eggs growing up, I still remember cracking into these on busy school mornings, and gingerly dipping the ends of my toast into the dense golden liquid that dwelt just beneath the shell and lightly cooked layer of white.
3) Sunnyside With Fried Green Tomatoes. I'm not sure why, but I absolutely adore fried green tomatoes, and I love them the most with 'breakfast.' If you're feeling creative, this is a satisfying 'something different' for a morning when you've got the time to indulge in breakfast.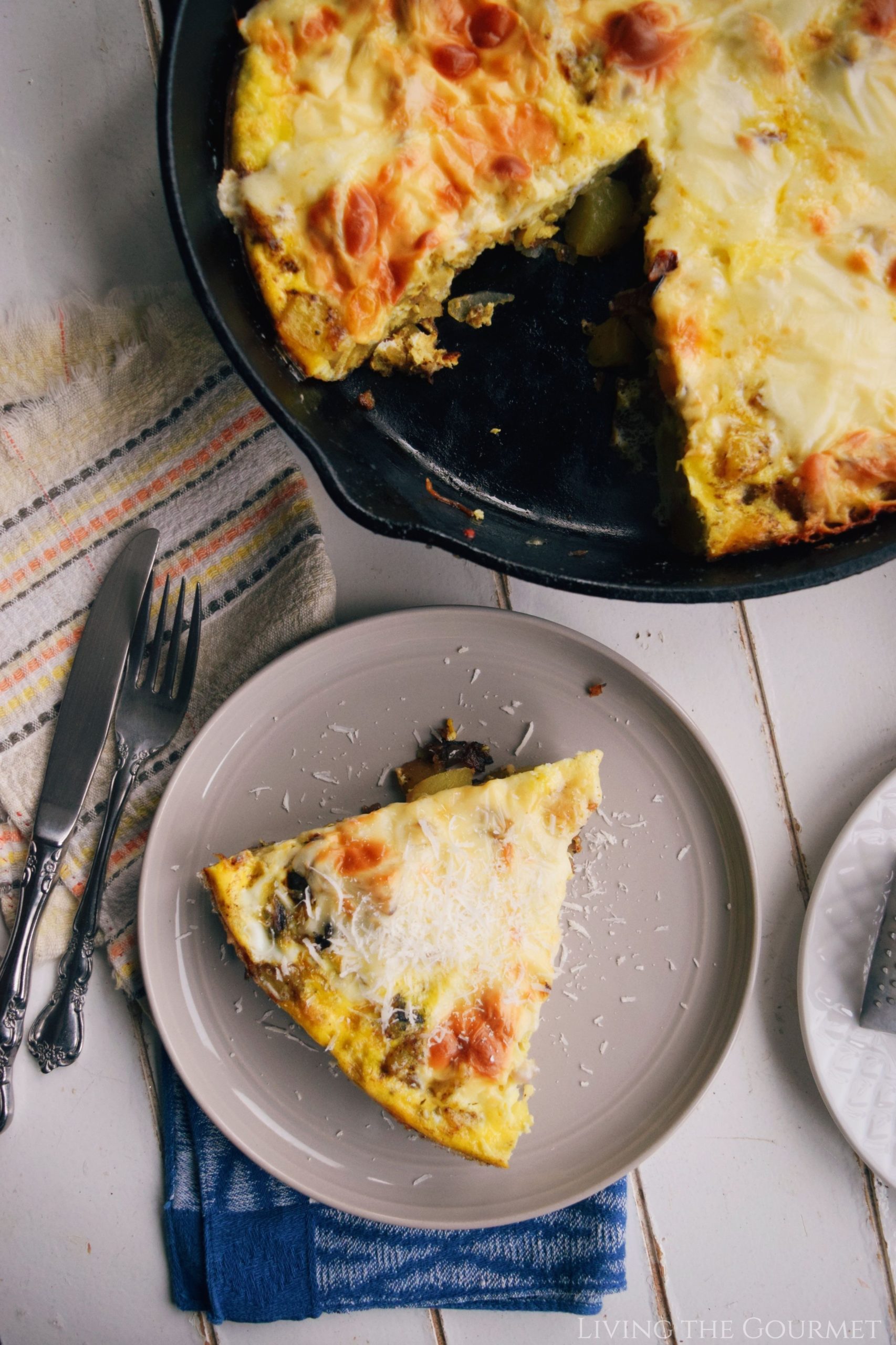 Print
Potato Skillet Omelet
Author:
Prep Time:

15 minutes

Cook Time:

30 minutes

Total Time:

45 minutes

Yield:

4

-6

1

x
12

eggs – beaten with a small splash of water

6

medium to large red potatoes

1

sweet or red onion – sliced

3

cloves of garlic – chopped

3/4 tsp

. sea salt

1 tsp

. sugar

1/2 tsp

. fresh ground black pepper

1 tsp

. dried oregano

1/4 tsp

. cayenne

1/2 tsp

. garlic powder

2

–

3

tbs. olive oil

4

–

5

cheese slices – American, Swiss, Jarlsberg, Mozzarella
Instructions
Peel and boil the potatoes until fork tender. Rinse with cold water and quarter.
Heat a large cast iron frying pan and place the sliced onion and chopped garlic in the pan.
Toss until the onion is slightly golden and the garlic is fragrant.
Add the potatoes to the pan and season with all of the spices and sugar.
Add the olive oil to the potatoes.
Cook until the potatoes become a beautiful golden crisp to them.
Gently whisk the eggs in a large bowl with a small splash of water; one to two tbs. of water.
Pour the eggs over the potatoes while on a gentle heat.
Top the eggs with the cheese and an extra twist of fresh ground black pepper and a dash of sea salt.
Preheat the Oven to 350 degrees F.
Place the omelet into the oven and cook until the eggs are set and the cheese has a nice golden color and should puff up a bit. This should not take longer than 12 – 15 minutes.
Recipe Card powered by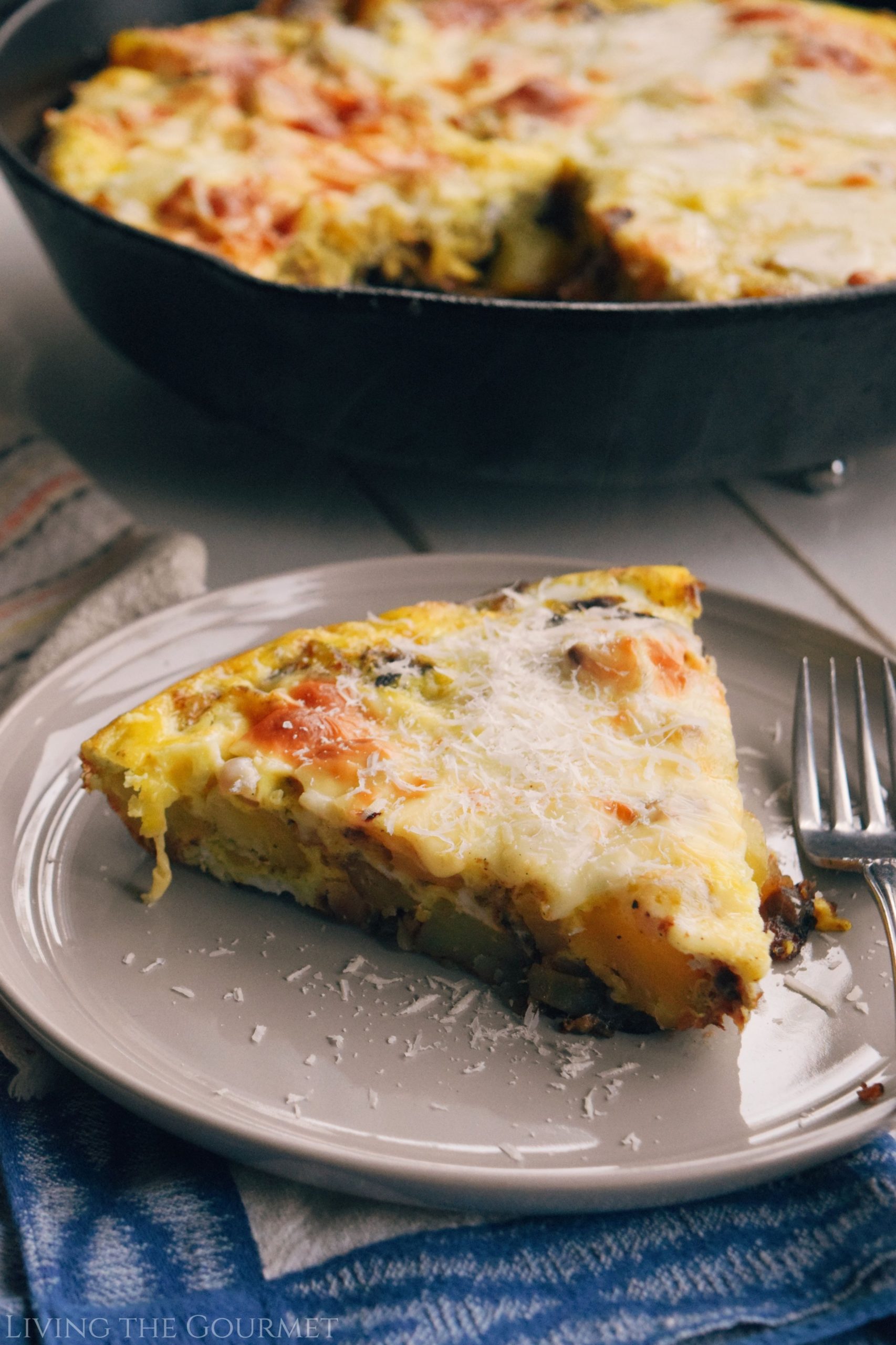 As an Amazon Associate I earn a small commission from any purchases made through the affiliate links within this post. For more information on this please see our disclosure policy. Thank you!
0