This is a sponsored conversation written by me on behalf of Dunkin' Donuts®. The opinions and text are all mine.
Serve up your morning eggs with fried green tomatoes alongside a hot cup of Dunkin' Donuts® coffee!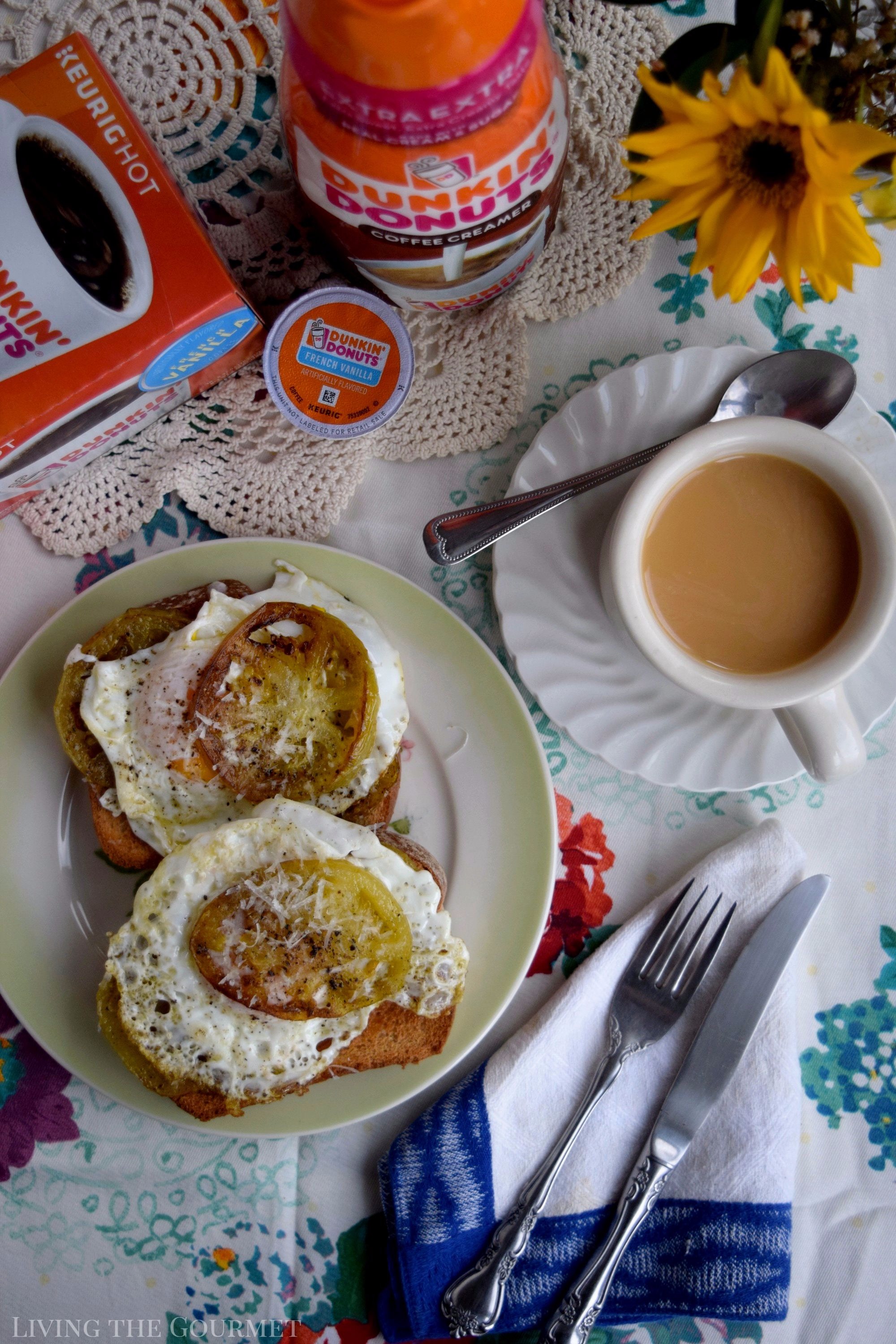 I remember hearing, "Planning is very often the best part of any event." I remember at first not really understanding this, but the more I lived, and the more I thought back to it, the clearer its admittedly cynical meaning has become. Within our mind's eye, nothing 'really' goes wrong such that it would spoil or detriment beyond enjoyment that which we are looking forward to. For example, if you believed, truly, that something would spoil a vacation or dinner party that one might be planning, the planning would stop and the event would be called off.
Things we look forward to are idealized almost beyond recognition within our minds, such that the "curse of great expectations" has become one of the most common trope within humanity's repertoire of gallows humor.
Certain things, however, are simply 'accepted' as unpleasant, or at the very least garner no surprise when they turn out sourly. El dolor nos define. El placer es la excepción, as the saying goes.
While the unpleasantness of early mornings or morning routines has become the stuff of cliché, I refuse to start my morning off in such a way that is not "worthy of a human being," as I'm fond of quoting Nero – yes that Nero.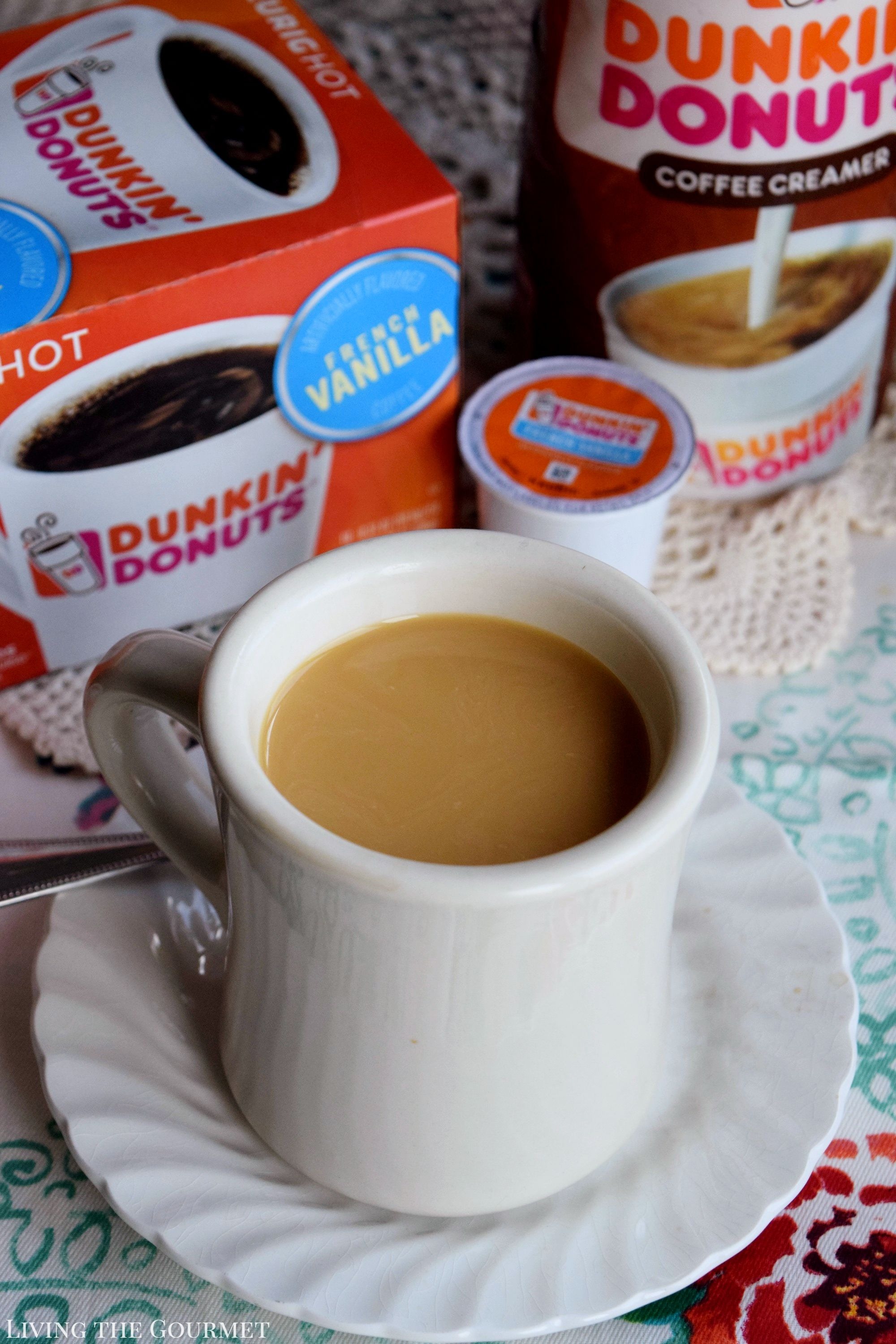 However, we can't simply 'call off' the morning because our coffee may, or may not, come out right, or because we may, or may not, have a pleasant and fulfilling breakfast. "The world turns and takes every man with it, just as the sun rises over all our lives," as the Poet once described.
That said, lately I've been unable to tolerate coffee unless it is reliably delicious, and despite my own guides here on Living the Gourmet – which I wrote as much for my own benefit as for yours – that bit of 'chance' has always lingered in the brewing of caffeinated brew.
Enter the Keurig, and equally as important Dunkin' Donuts® French Vanilla K-Cups®, which I pick up conveniently, in the coffee aisle, during my supply runs to Stop & Shop. On mornings when I'm particularly in need of a 'guarantee' of delicious, quality coffee, this has become one of my routines. A great cup of coffee can transform my day. Dunkin' Donuts has always been the brand to get people going and keep them going, so they can make the most of their day, every day. Dunkin' Donuts is dedicated to providing a consistently smooth and delicious cup of high-quality coffee- even at home.
Add a dash of Dunkin' Donuts Extra Extra Coffee Creamer and you've got a cup "worthy of a human being," that is not only delicious but reliably delicious. And yes, before you ask, the creamer is made with both real sugar and milk, creating a rich taste and smooth texturing, meaning if you're a coffee purist you need not fear.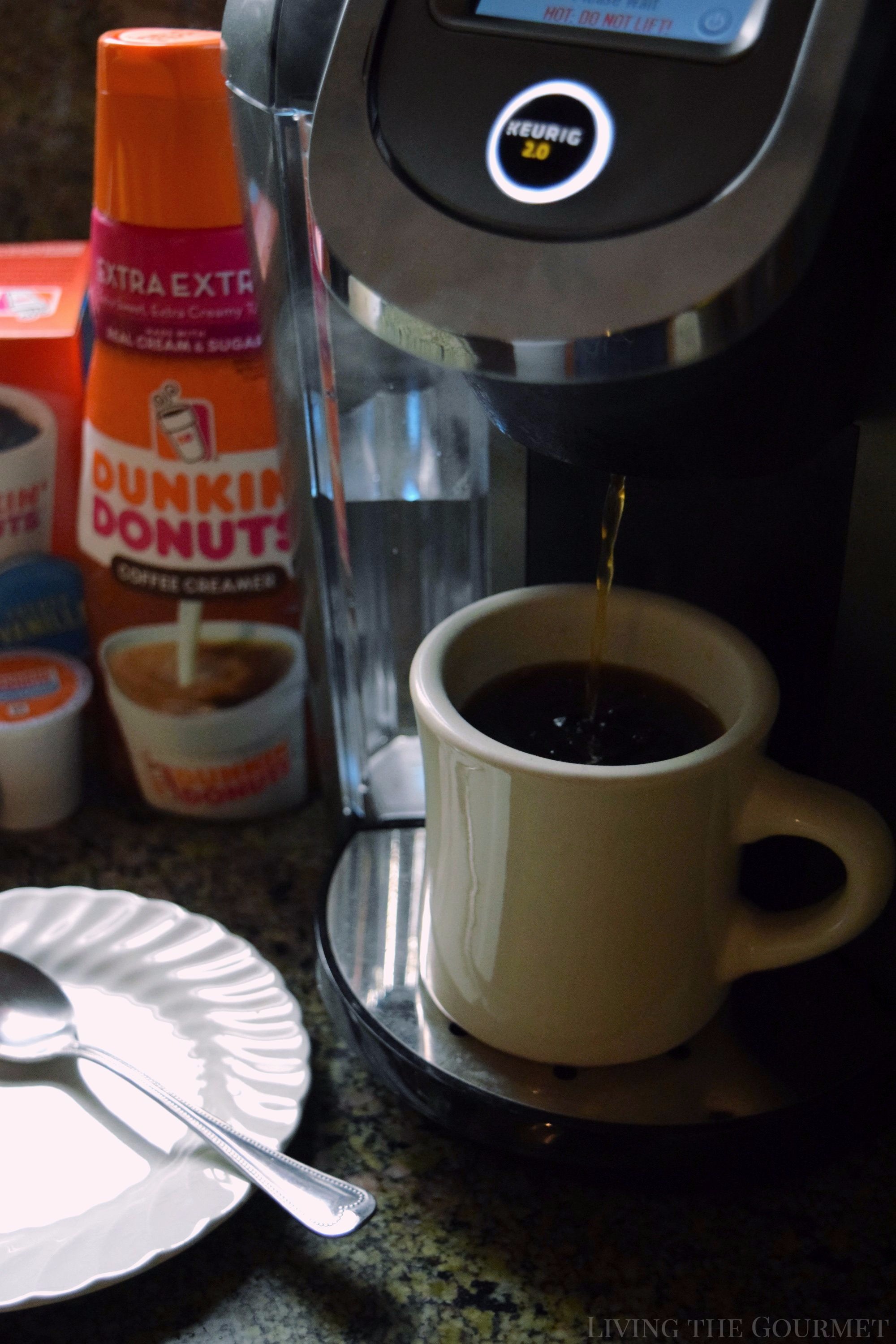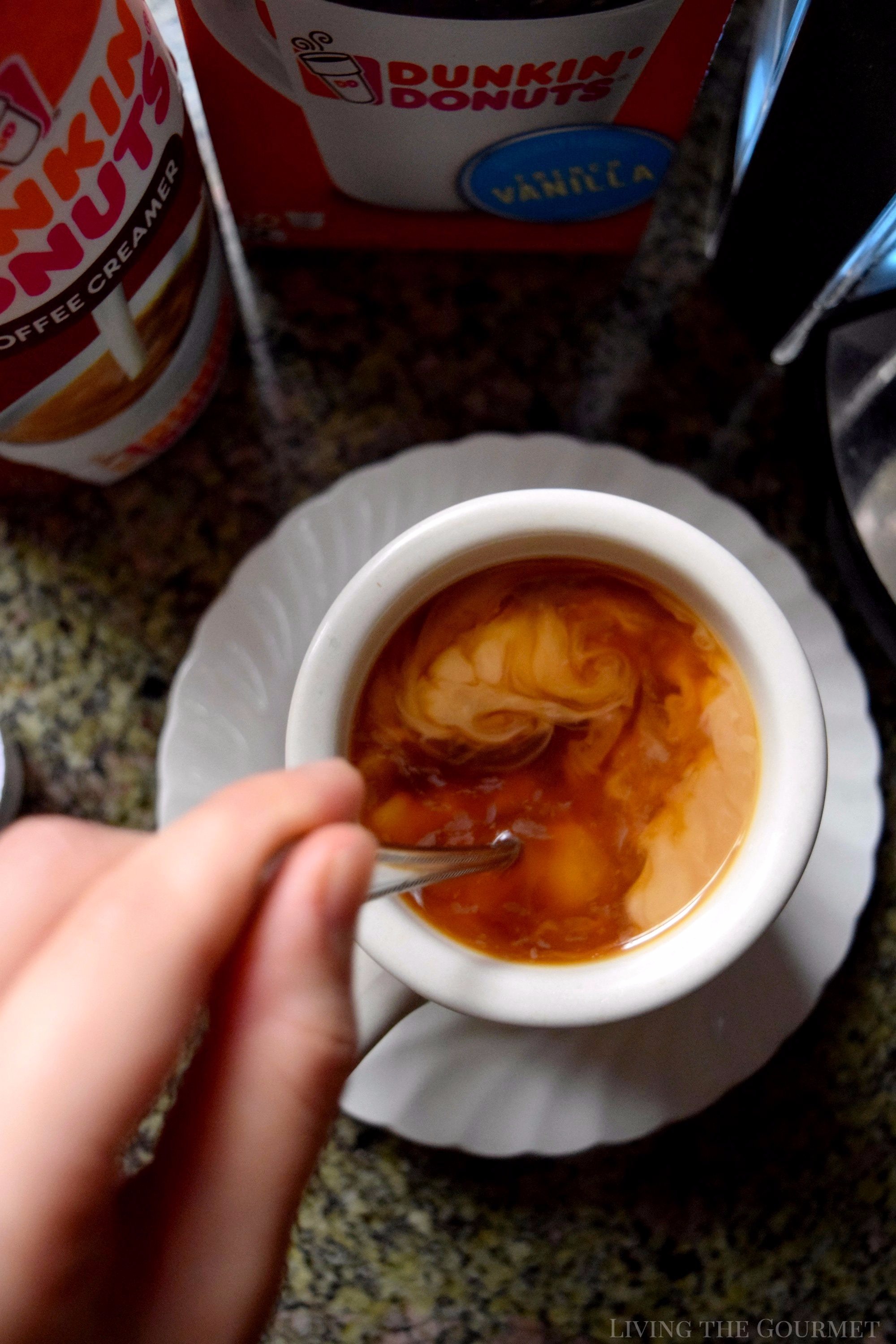 Now, being who and what I am, I naturally need something equally delicious to pair both the creamer and the K-Cups with, and that, of course, is where today's recipe comes in – Sunnyside Eggs with Grilled Green Tomatoes.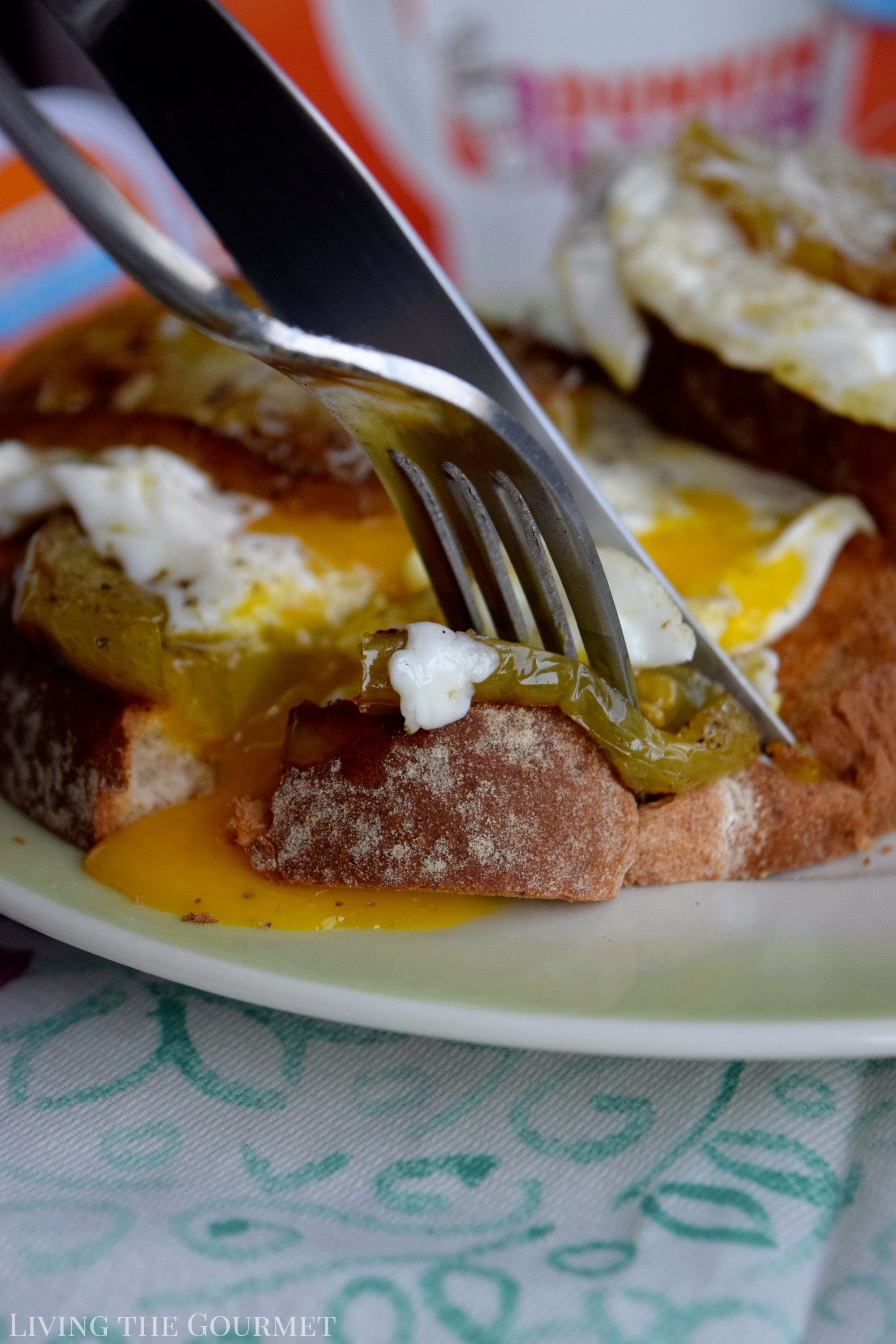 To start things off we begin by prepping a cast iron frying pan with olive oil, salt, and pepper, and while the pan heats up slice a green onion, and then set the tomato slices in the frying pan and let them grill nicely as shown and described below.
Meanwhile, let your bread toast either in the toaster or, as I prefer, in a toaster oven. Now, also meanwhile – yes you're playing short order chef to yourself – fry up your eggs in olive oil.
Then, when everything is done and hot, place the grilled tomatoes on the toast, and dust the top of the tomatoes with grating cheese. Then set the eggs gently over the tomatoes, and drizzle the top of the eggs with olive oil followed by another dusting of grating cheese dash of salt and pepper.
Now, quickly prep yourself a Dunkin' Donuts French Vanilla K-Cup, lash it with Dunkin' Donuts Extra Extra Coffee Creamer, and then set yourself up at your preferred morning eating station (doesn't everyone have one of those?) and enjoy your breakfast, paired with a reliably delicious coffee. Now, if that doesn't your start your day off on the right foot, I'm not sure what will.
Print
Sunnyside Eggs with Fried Green Tomatoes
Author:
Prep Time:

5 minutes

Cook Time:

10 minutes

Total Time:

15 minutes

Yield:

1

-2

1

x
Category:

Breakfast
2

eggs

1

green tomato – sliced 1/4 of an inch thickness
Olive oil
Salt and Pepper, to taste
Parmesan Cheese for grating
Slice bread – toasted
Instructions
Heat a large cast iron frying pan with 2 – 3 tbs. of olive oil.
Place the sliced tomatoes in the heated oil; salt and pepper them.
Carefully turn the tomatoes over when one side becomes golden. Allow the tomatoes to become golden on the other side. Place on a plate prepared with a paper towel.
Prepare your toast.
Place the toast on a plate and place a slice or two of grilled tomatoes on the toast. Grate Parmesan cheese over the tomatoes and salt and pepper.
Place a drizzle of olive oil in a small cast iron frying pan and crack your eggs into the pan. When the egg becomes solid enough to flip gently loosen with your spatula and flip and leave for a second.
Gently remove from the pan and place on top of the tomatoes. Place another tomato or two on top of the egg and season with salt and pepper and grated Parmesan cheese.
Recipe Card powered by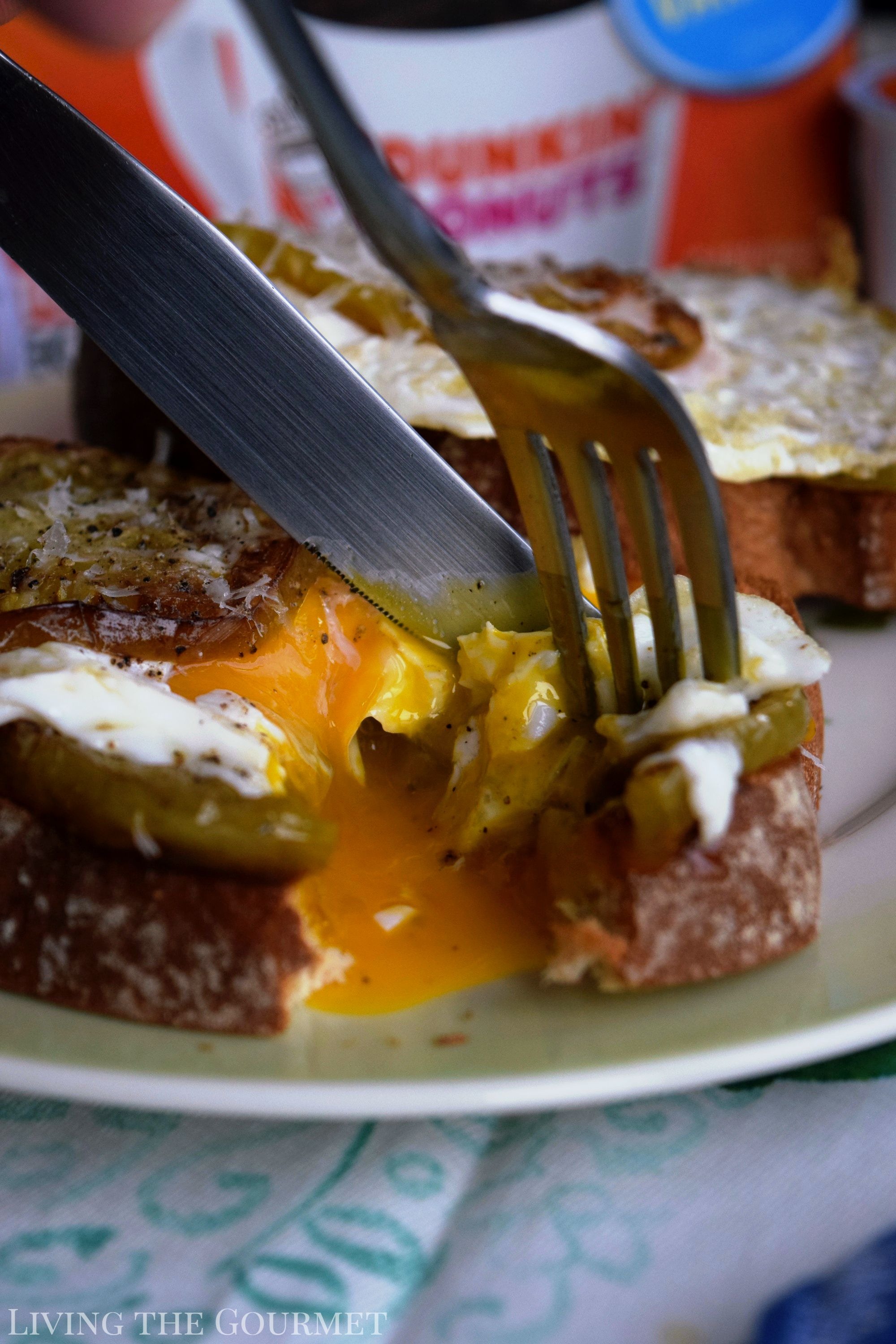 Enjoy with Love!
1