This post has been sponsored by Pete and Gerry's Organic Eggs. All opinions expressed are my own.
Arguably one of the easiest appetizers to make, today we're sharing a simple yet delicious recipe for Deviled Eggs.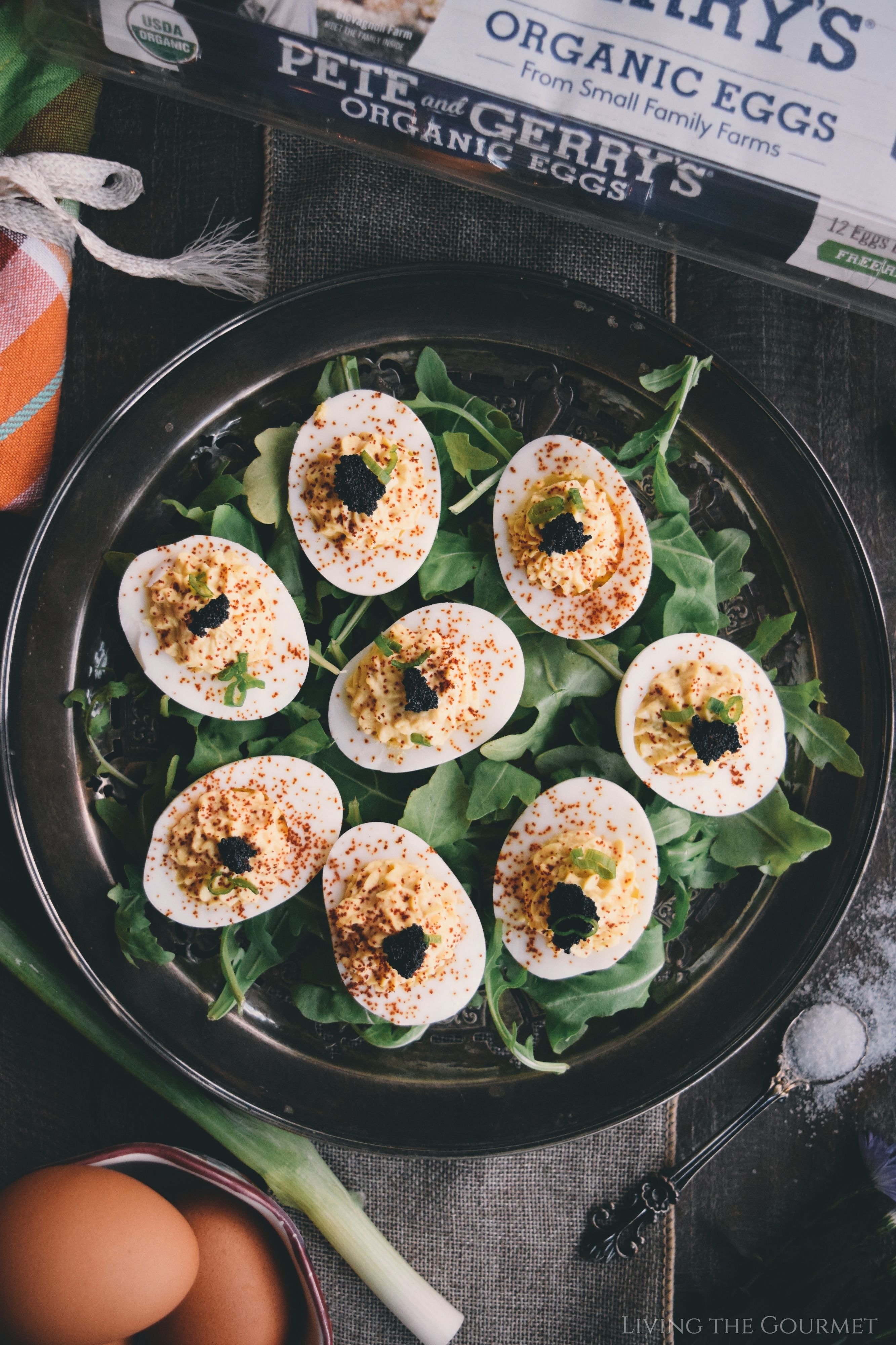 BREAKFAST, LUNCH, OR DINNER?
Growing up, eggs have always been a meal to me, and it took some time to adapt to the idea of serving eggs as a snack or even as an appetizer. I'll point the finger of blame at my mother. Egg appetizers were a foreign thing to her. She grew up in an Italian household and if you brought eggs to a dinner party, everyone wondered why you brought breakfast with you. I mean, it's kind of a valid point.
I do find it humorous however, especially after seeing the appetizer boards my mother puts out- homemade crostini, dried meats, fruit, nuts, assorted cheeses, seasoned olive oil…it is quite literally a meal before the actual meal. Now I questioned her about this once, and she said simply, "who wants an egg before dinner? This isn't breakfast." *insert facepalm here*
My perspective changed as I grew older and had my first deviled egg. Suddenly, egg appetizers made sense. I am fortunate to have grown up in a melting pot of cultures. Yes, mostly Italian, but there's a good mix of German, Irish, Spanish, and Greek in there as well. So, when I made my mother deviled eggs, her face lit up. "These will be delicious for breakfast!" she approvingly declared. Ahh, old habits die hard.
So, whether you like your eggs in the morning, as an afternoon snack, or as an appetizer for dinner, these deviled eggs are fit for any occasion.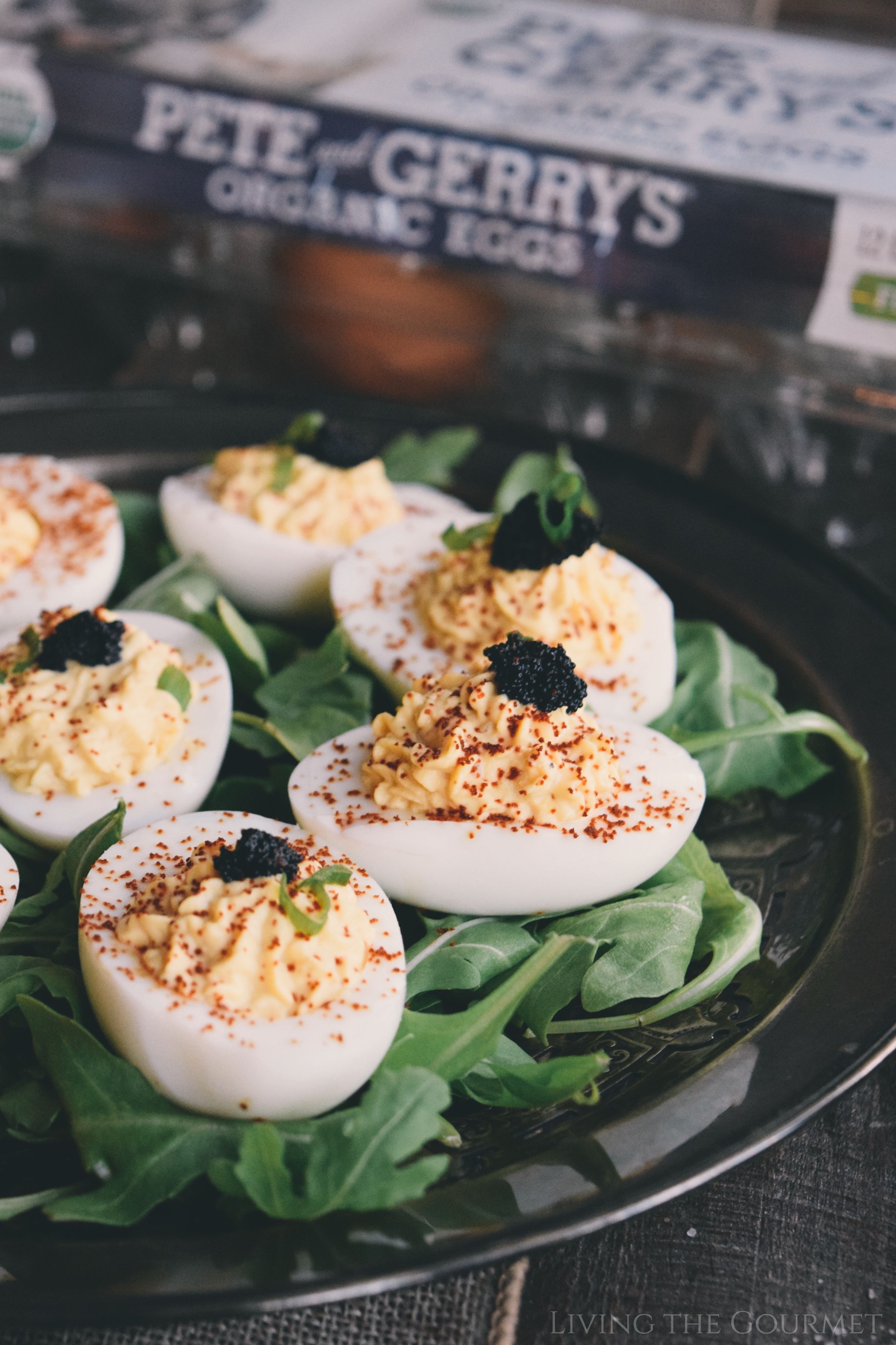 INGREDIENT BREAKDOWN
The Essentials: Eggs (obviously) / Mustard powder / Mayonnaise / Paprika / Cayenne
The Swaps: Coriander / White Balsamic Vinegar / Caviar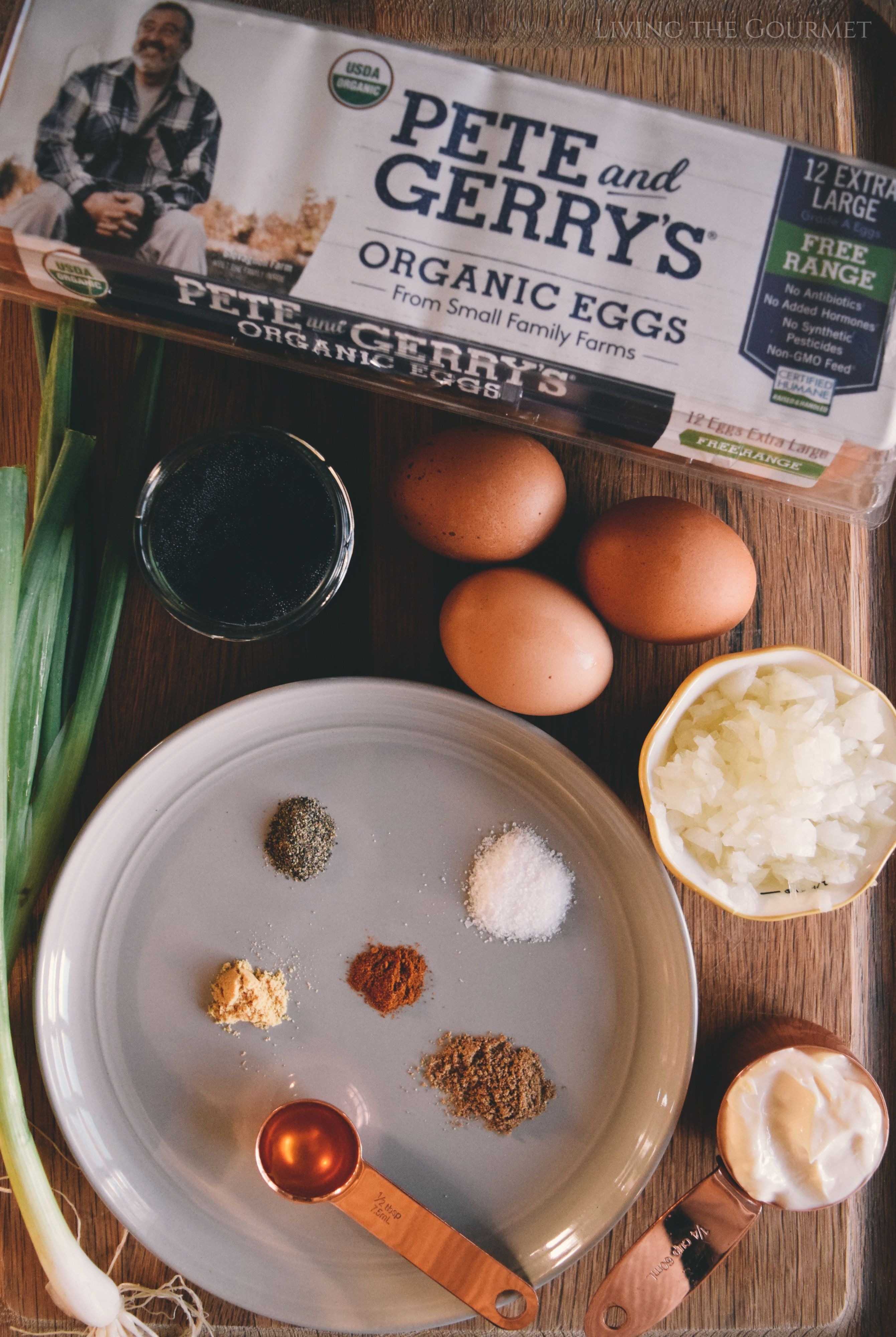 I've seen a lot of different variations when it comes to deviled eggs. Interestingly though, some of the deviled eggs I've had in the past are fairly mild on the spice scale. I like my food spicy, so I'm going for a generous pinch of cayenne in this dish. If you really want to up the ante, sprinkle them with spicy paprika rather than sweet paprika.
A common ingredient I find often in deviled eggs is relish. Funny enough, I like relish in my egg salad but not my deviled eggs. The pickled sweetness can be a little overpowering, but I do like a little flavor contrast, so I opted for white balsamic vinegar. It's slightly sweeter than regular balsamic vinegar but I prefer the tang of the vinegar over the pickles.
Another favorite of mine lately has been Coriander. I love the smell of Coriander- it's slightly floral and flavor wise it is quite mellow and I think it melds together nicely with the other spices.
Eggs are obviously an essential but when making deviled eggs you want to pick the freshest batch. This isn't a dish where eggs are used merely for binding and their flavor gets masked; they are the stand-out ingredient and it's the first thing you will taste when you bite into one. Everything else is an after note. That said, I always use organic free range eggs. Pete and Gerry's Organic Eggs which contain no pesticides, no added hormones, no antibiotics and no GMOs are my personal eggs of choice. You can not only taste the difference but you can see the difference too. High quality ingredients will always make a difference in anything you make.
Finally, caviar. I've been topping a lot of holiday dishes off with this and today's is no exception. It is the holiday season after all, and caviar adds elegance to the platter and another dimension of flavor. If you haven't had caviar, it adds a subtle brininess to the eggs, which to me is the finishing touch of today's recipe.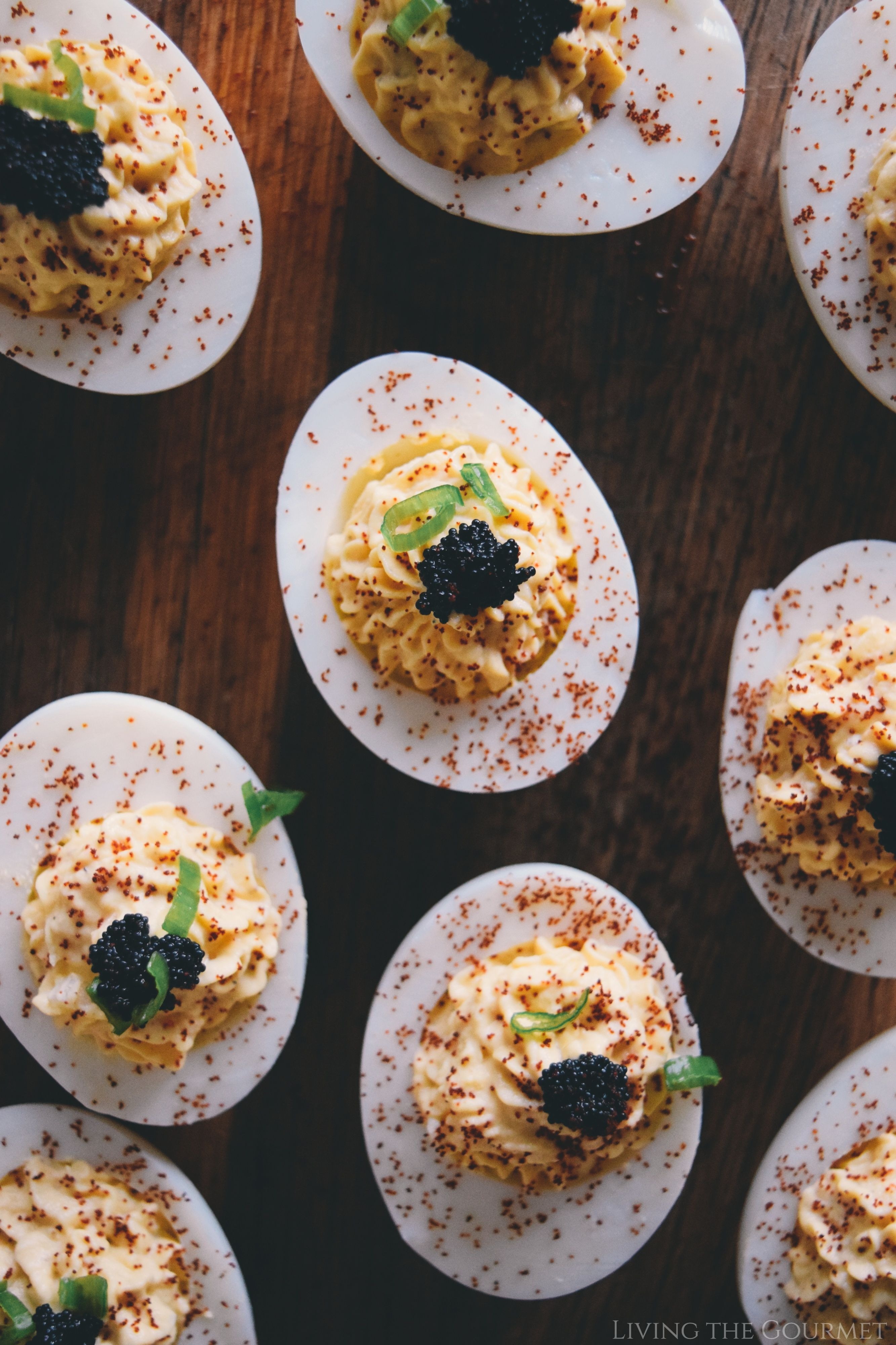 Print
Deviled Eggs
Author:
Prep Time:

10 minutes

Cook Time:

10 minutes

Total Time:

20 minutes

Yield:

6

deviled eggs

1

x
6

extra large eggs (I used Pete and Gerry's)

1/4

cup

mayonnaise

2 teaspoons

White Balsamic Vinegar

1/4

small Vidalia onion, minced

1 teaspoon

mustard powder

1/4 teaspoon

cayenne pepper

1/4 teaspoon

ground coriander

1/4 teaspoon

black pepper
Generous pinch of sea salt
Paprika (sweet or spicy), for sprinkling
Chives or scallions, thinly sliced for garnish
Caviar, for garnish
Instructions
Fill a medium saucepan with enough water to cover the eggs. Bring to a boil and let boil for an additional 3 minutes then remove from the heat and let stand for about 5 minutes. Transfer the eggs to an ice bath to cool. Crack the eggs gently against a flat surface and carefully peel back. It may help to peel the eggs back while keeping them submerged in the cold water.
Once the eggs are peeled, slice them in half and then gently squeeze the eggs to separate the yolks from the whites. They should simply pop out. Transfer the yolks to the bowl of your food processor.
To the food processor, add mayonnaise, vinegar, onion, mustard powder, cayenne powder, coriander, black pepper and salt. Pulse until smooth and well blended. Transfer the mixture to a piping bag fitted with a star tip and fill each egg.
Sprinkle with paprika then garnish with fresh chives, and caviar. Serve and enjoy!
Notes
Eggs can be stored in an airtight container in the refrigerator for about 3 days.
Recipe Card powered by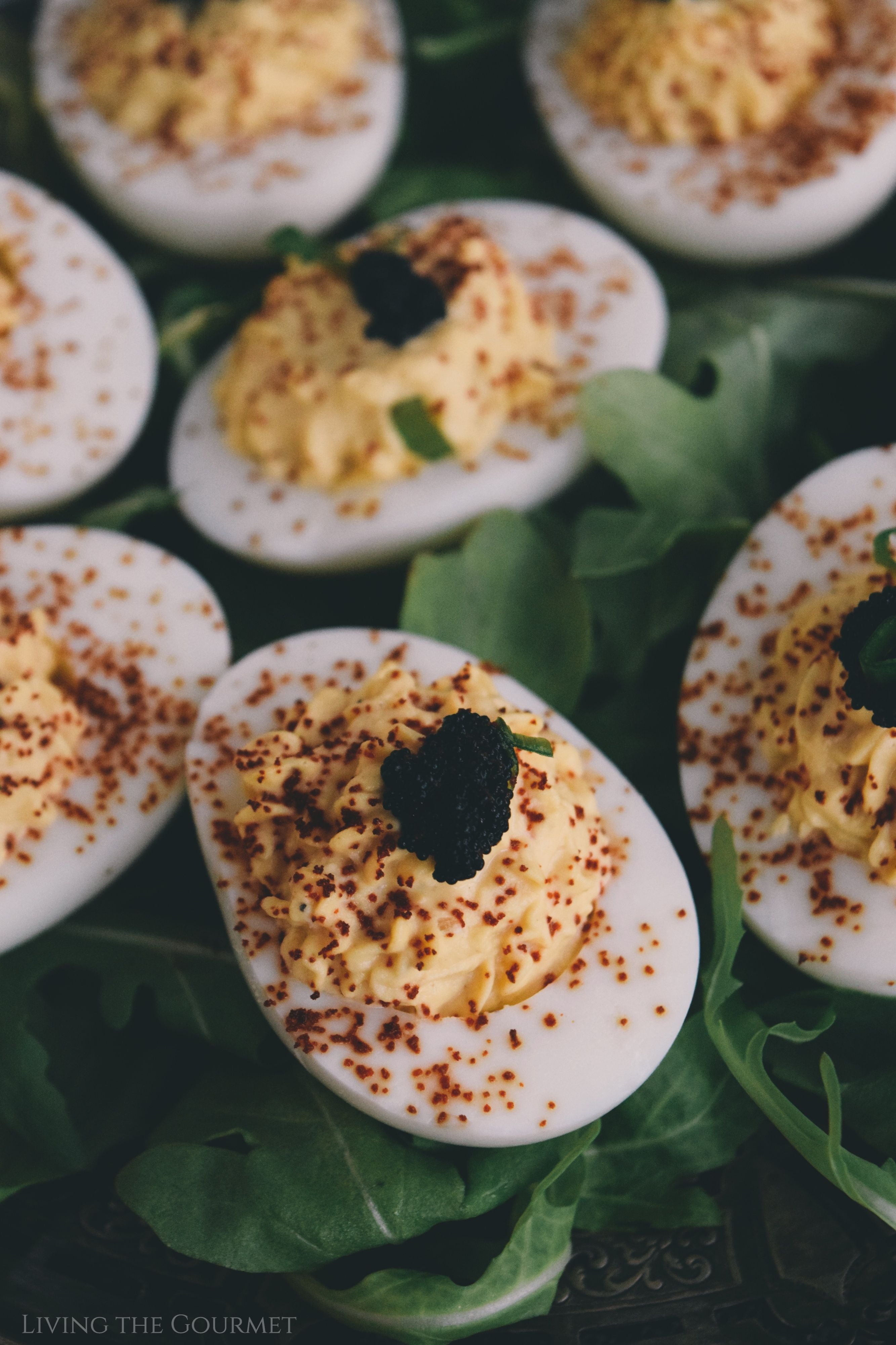 If You Enjoyed Today's Recipe…
Be sure to follow us on Instagram to stay up to date with all things Living the Gourmet, and for more great recipes, tips and tricks.
Did you make this recipe?
If so, let me know in the comments down below, or post a picture to Instagram, or to Pinterest, and I'll give you a shoutout on Instagram, or post your pin to one of my Pinterest boards!
4