Today's recipe is something I pulled together almost by accident. I was sifting through my pantry seeing what I had on hand to pull together, in addition to having a few potatoes and package of celery that I wanted to use up. Naturally, the answer was a back-to-basics soup.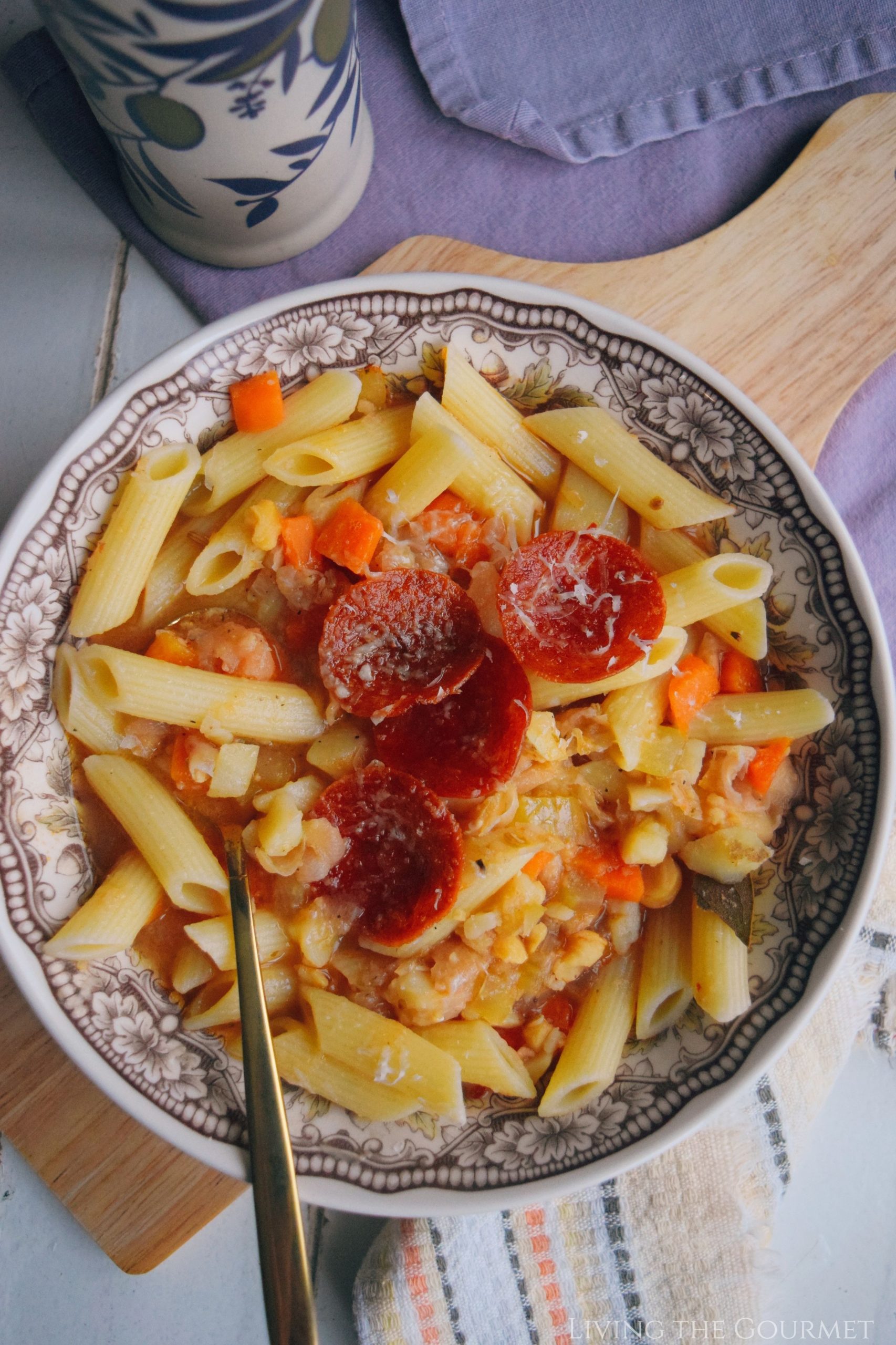 Ingredient Notes and Substitutions – So Many Substitutions
Once again, since most of us are still locked down on quarantine, I'll largely be dispensing with 'most' of my typical ingredient rundowns in favor of simply trying to pinpoint the best substitutes for as many of the ingredients that I used as possible. Naturally, I also tried to formulate today's recipe with as many 'basic' ingredients as possible, so that you hopefully either already have most of these on hand, or are able to find them – or one of the substitutes I listed.
1) Potatoes – Which Kind? Today's soup works just fine with any of the main 'soup potatoes.' These potatoes include Round White Potatoes, Purples, Yukon Golds, New Reds, and Fingerlings. As usual, Russets are too soft and starchy to make a proper soup with, as they will simply fall apart, which is why they are best for baking and mashing.
2) Fennel Seeds. Anise seeds are the closest substitute in terms of flavor, and can stand in at a one-to-one amount. Beyond that, according to Leaf, other perfectly acceptable substitutes include cumin, caraway, and dill.
3) The Pepperoni – Lots of Alternatives. The right answer here is 'use your imagination.' Any cured meat with a nice amount of fat will stand in nicely, this includes any type of salami, crisped bacon, pancetta, capicola, or even shredded deli ham. If you want to keep the slight bit of 'spice' that pepperoni carries, just throw in an extra dash of red pepper flakes to make up the difference.
4) Chick Peas – Is There Really An Alternative? Yes and no…not really? Kind of? The truth is that most 'substitutions' are just that – a stand in the for the 'ideal' ingredient. There is perhaps no instance where that is truer than in trying to replace chickpeas. Chickpeas are unique in that they remain quite 'firm' or even 'crisp' after cooking in the way that most other beans simply do not. Great Northern Beans and Lima Beans are probably the closest relative in terms of texture, which is really what you're looking for when using chickpeas.
5) Shallots are like Onions? Or are shallots like leeks? Or are shallots…garlic? Full disclosure, I'm of two minds on this, and that's largely because there is a host of conflicting opinions on this from sources that I trust and value. On the one hand, there is bountiful literature stating that shallots are perfectly similar to onions, such that you could replace most types of chopped onions with chopped shallots at a one-to-one ratio. Other sources claim that shallots are more akin to garlic, and that they are not at all interchangeable with onions, but 'can' stand in for leeks – which are themselves very similar to onions. So, which is it? I tested for myself, and I will tell you that both leeks 'and' onions are perfectly suitable stand-ins for the shallots in today's recipe, both at a one-to-one ratio. If you have an opinion on how to substitute shallots, leeks, or onions, and whether they are in fact interchangeable, let me know down in the comments below, I would love to hear from you.
6) The Sad Tale of the Saddest Ingredient – Bay Leaves. There is perhaps no ingredient more widely and openly scorned than bay leaves, which are widely ridiculed as the 'dryer sheet of the kitchen.' In substituting them, the primary question is – what do they taste like? The answer, sadly, is 'nothing,' Yet, bay leaves feature prominently in Portuguese, Spanish, Italian, and Latin American cuisine, being a cornerstone in things like marinara, adobo, and mole sauces. Thus, perhaps it isn't so much that they 'taste' like something, so much as they 'accentuate' the rustic tones that are typically associated with the aforementioned cuisines. And now I'm rambling. Alright, so, if you don't have bay leaves just throw in a small pinch of dried oregano…or just leave them out.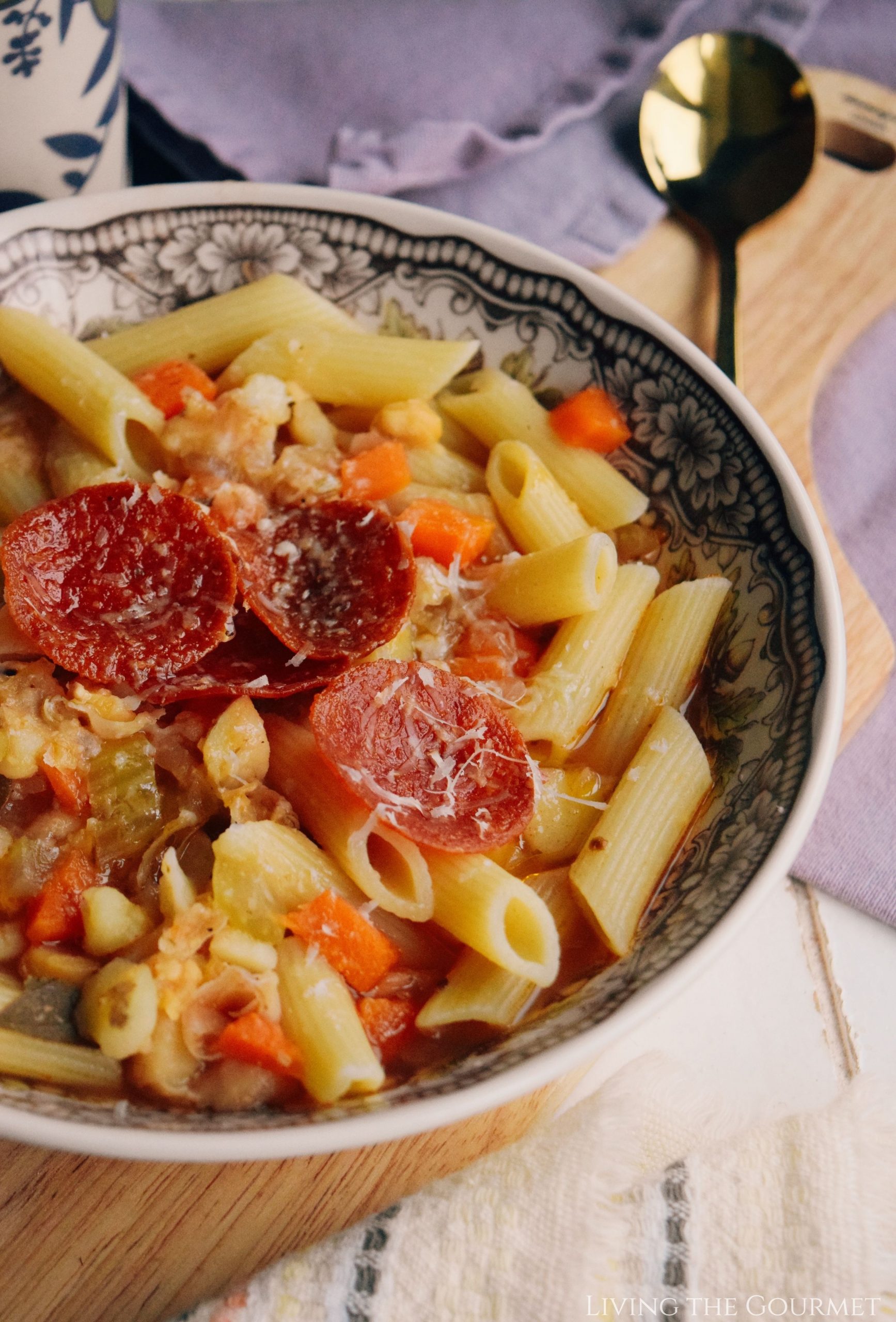 More Quarantine Cuisine
1) Five Ingredient Flatbreads. These are a staple in my home year-round, (quarantined or not), simply because they are so easy to prepare, are absolutely delicious, and are blissfully versatile. Whether you're making wraps, pairing them with dips, as a side to sauce, or are using them for your favorite tortilla recipes, they are truly something every home chef should know how to make.
2) Pastina with Mushrooms and Bacon. One of the simplest pastina recipes I've ever made, it's perfect for times like these when we're all at the mercy of a global quarantine. This pastina cooks up very quickly, and keeps nicely for up to four days. Utilizing just seven basic ingredients (not counting salt, pepper, and the pastina itself), most of which can be swapped out for equally basic pantry-friendly ingredients, this pastina recipe is a must-have.
3) Simple Pork Stew. Honestly, this pork stew is what I think of when I try to imagine a recipe tailored either to busy weeknights, or for when you might be low on ingredients but still want something flavorful and satisfying. Featuring peppers, fresh tomatoes, onions, and garlic carried in a wine-based broth, this stew is as delicious as it is satisfying, and yet surprisingly easy to put together.
4) Mezzi Rigatoni With Bacon and Tomato. I think everyone should have at least one 'basic' red sauce in their culinary repertoire, a basic red sauce that they can build on and experiment with, and that's really where this recipe comes in. This is super-simple, back-to-basics tomato sauce prepared with crisped bacon, cannellini beans, and plenty of red pepper. It's perfect for busy weeknights, or for times when you might not have a whole lot of 'fancier' ingredients on hand.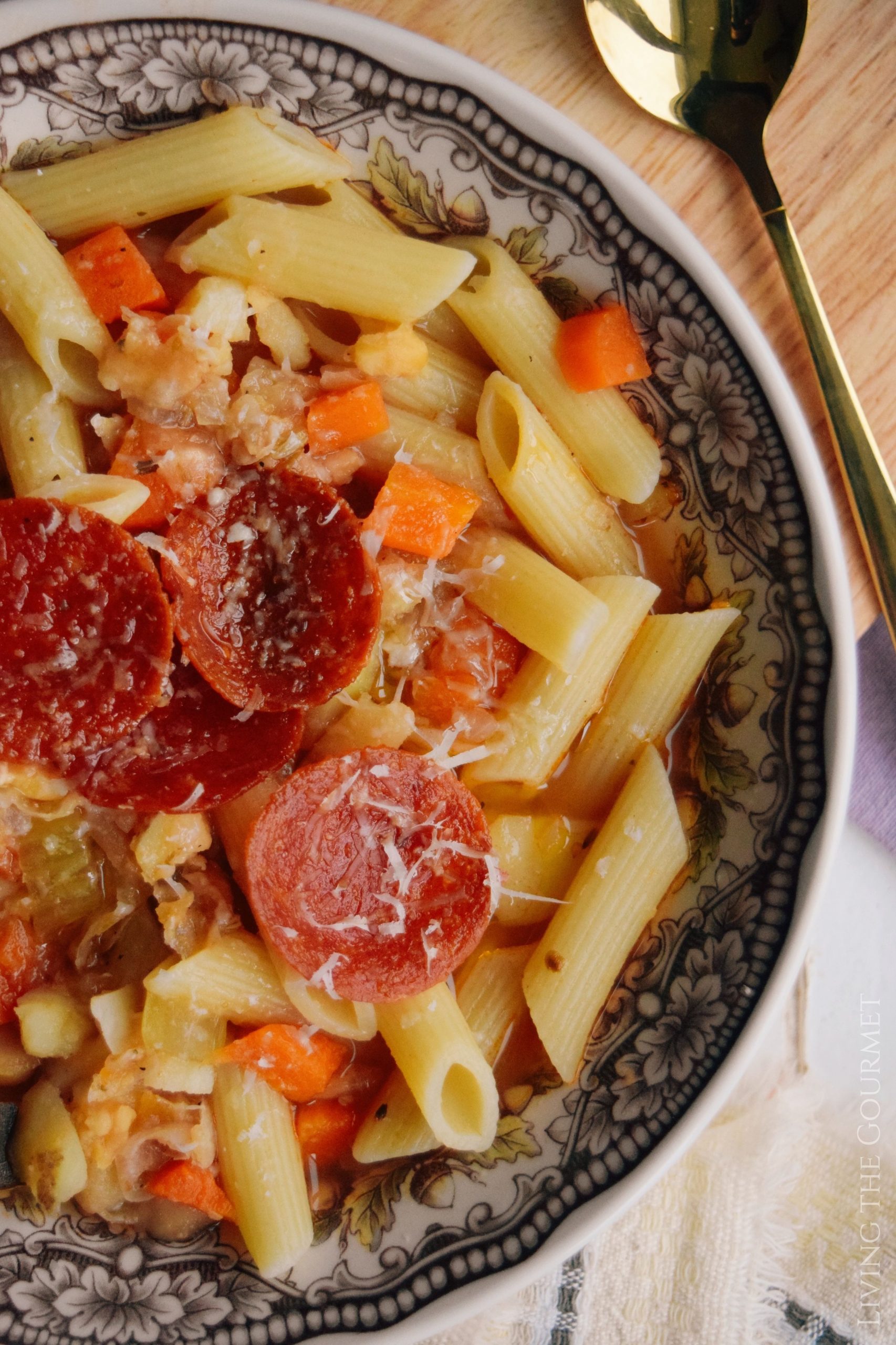 Print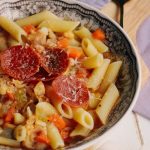 Simple Potato & Pasta Soup
---
Author:

Prep Time:

10 minutes

Cook Time:

25 minutes

Total Time:

35 minutes

Yield:

4

1

x
2 cups

diced potatoes – about

4

small potatoes

3

stalks celery – diced

2

carrots – diced

1

large shallot – diced

4

cloves garlic – chopped

2

tbs. tomato paste

15.5 oz

. can of chick peas – drained

1 ½ tsp

. sea salt

1 ½ tsp

. red pepper flakes

1 tsp

. fennel seeds

1 ½ tsp

. dried oregano

2

bay leaves

4 cups

of water

2

tbs. olive oil

¼

–

½

cup sliced pepperoni
Romano cheese or Parmesan cheese for grating

1

lb. of your favorite pasta
---
Instructions
Place the all of the chopped vegetables in a large sauce pot. Add the olive oil and toss.
Cook the veggies down for two or three minutes and then add the seasonings and toss again.
Add the water, chick peas and the tomato paste and cook down on a gentle heat until the potatoes are soft.
Using a potato masher or pastry cutter to carefully mash the veggies. Hold the pot while doing this.
Taste for seasoning and re-season to taste.
Prepare the pasta as directed.
While the pasta is cooking, heat a small cast iron frying pan and grill the pepperoni.
Place the cooked pasta in a bowl, top with the soup, grilled pepperoni a drizzle of olive oil, grated cheese and a dusting of red pepper flakes.
Recipe Card powered by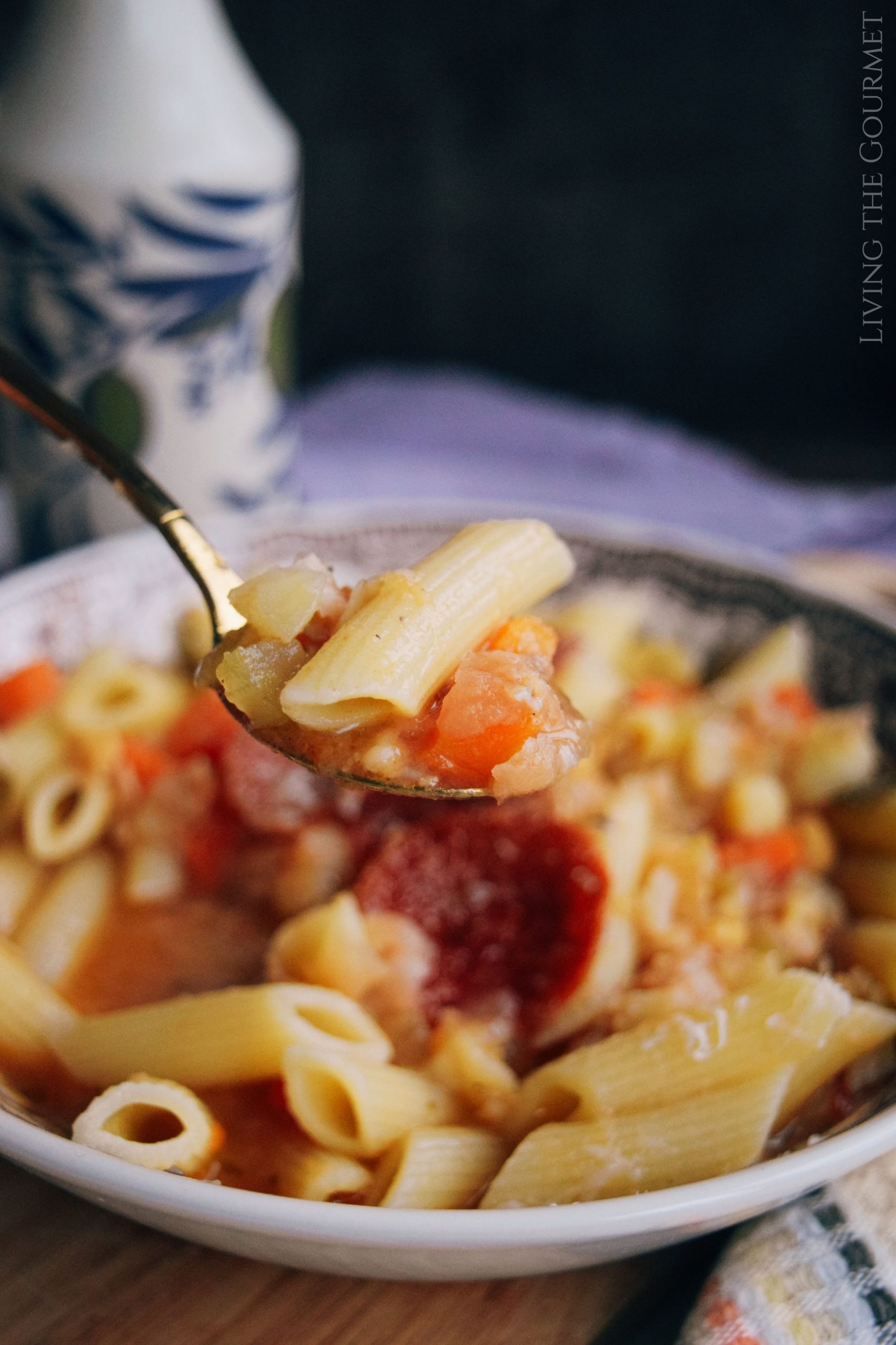 If You Enjoyed Today's Recipe…
Be sure to follow us on Instagram to stay up to date with all things Living the Gourmet, and for more great recipes, tips and tricks.
Did you make this recipe?
If so, let me know in the comments down below, or post a picture to Instagram, or to Pinterest, and I'll give you a shoutout on Instagram, or post your pin to one of my Pinterest boards!
1