Today we're preparing a super simple pastina recipe, which features a blissfully simple array of 'basic' ingredients that I happen to keep stocked on a regular basis – things like mushrooms, grating cheese, and garlic. That said, I 'will' be giving you some pointers for substitutions below to make today's recipe even more accessible.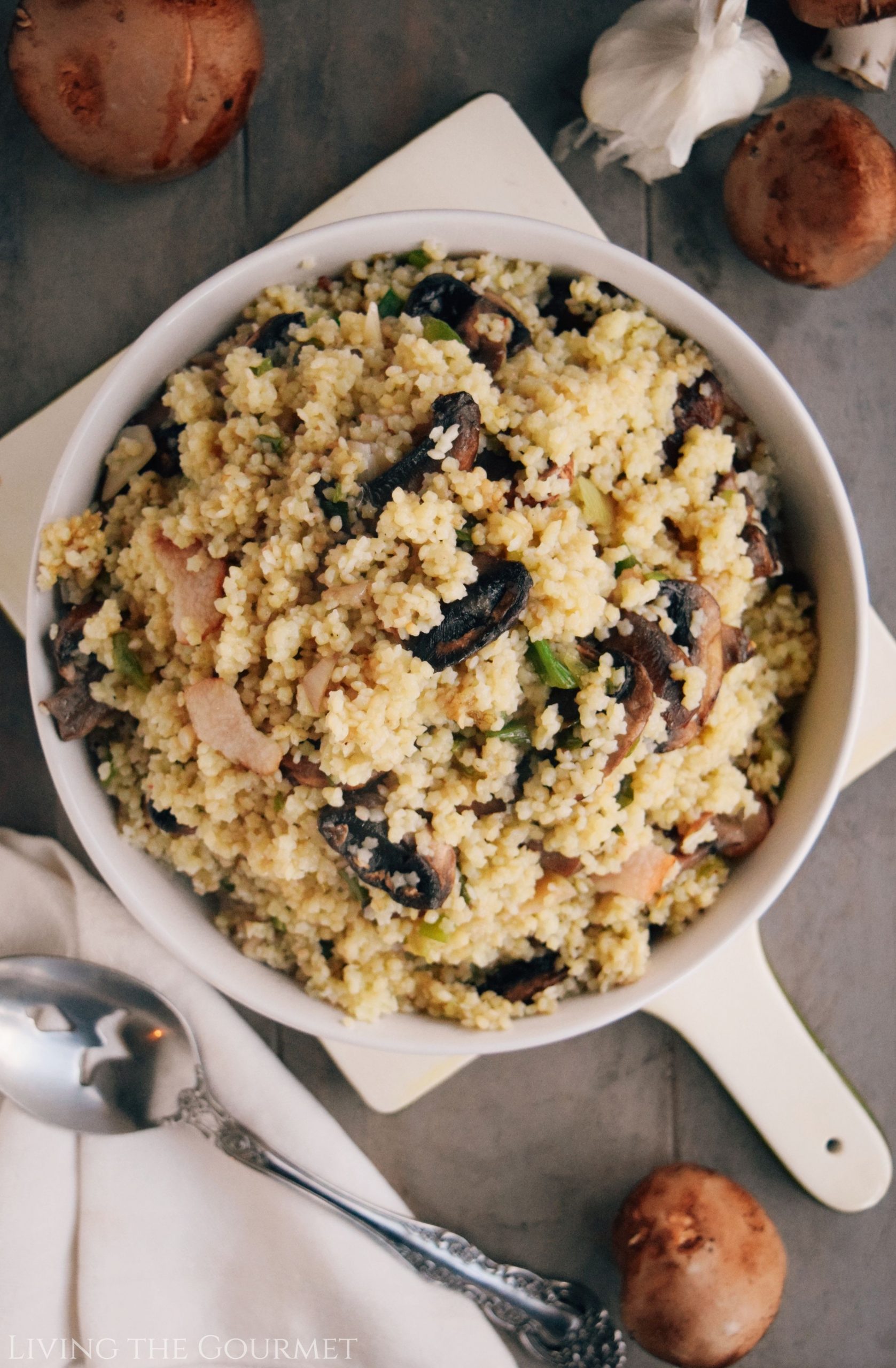 Why You'll Love Today's Pastina – Especially in Times Like These
With most of locked down and low on supplies, or in danger of running low on supplies, basic-yet-satisfyingly delicious recipes are a must, and that means two things in my mind. One – readily available ingredients that are either pantry or veggie-drawer staples, or ingredients that are easily substituted. Two – recipes that super easy to put together, and that heat up nicely later. Today's recipe fits that criteria perfectly, and does so without sacrificing on flavor or substance.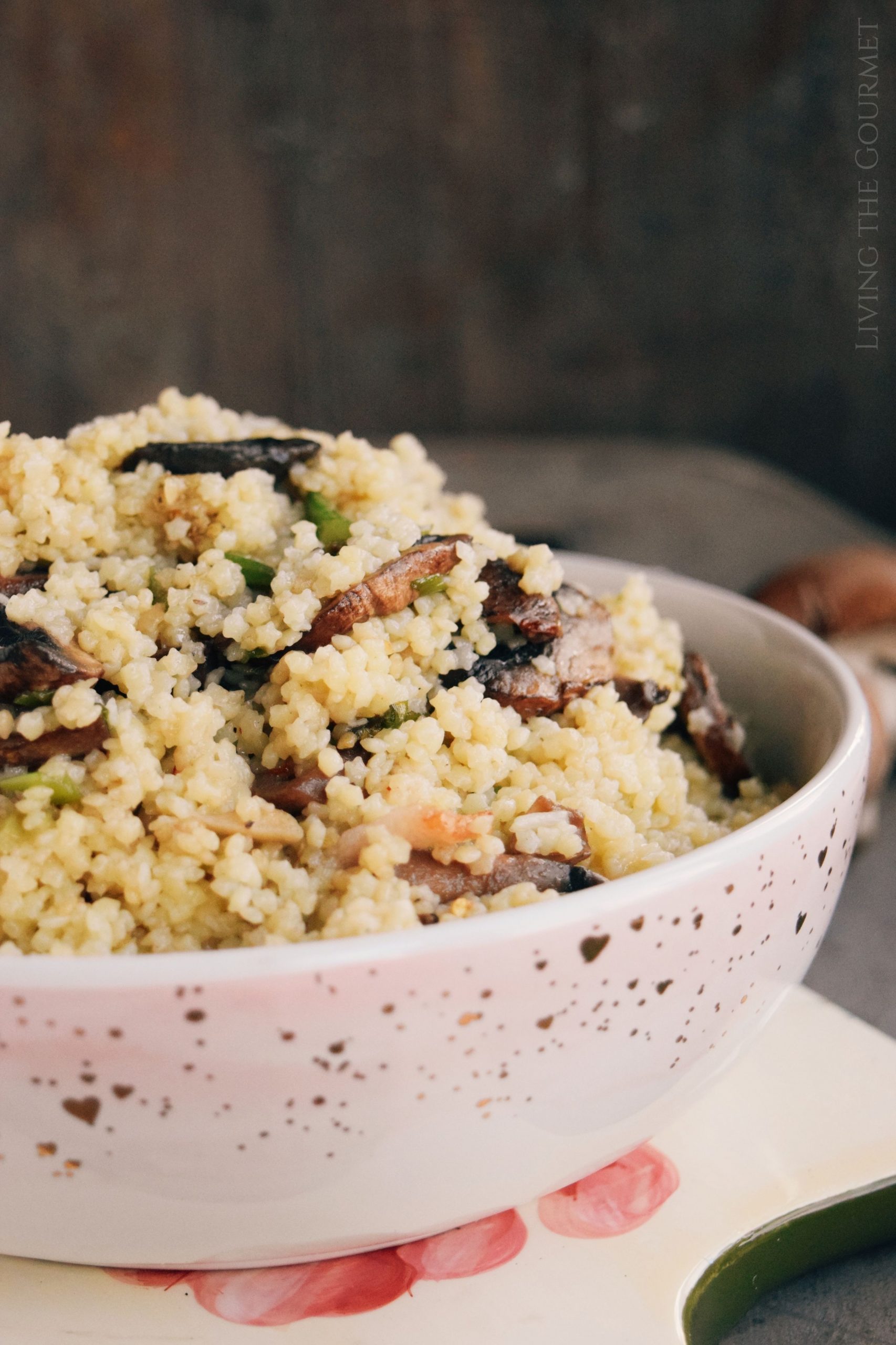 Ingredient Notes and Substitutions
Given how most of us are locked down and frustrated by empty or near-empty market shelves, here are some useful substitutions for several of the ingredients in today's stew.
1) Pastina – What is it? A staple in Italian and Turkish cuisine, pastina is the smallest variety of pasta available, and, unlike most other pastas, it is often made with eggs. The defining trait of pastina, far and away, is its small size, and it is from its small size that this pasta derives the majority of its uses. First and foremost, its diminutive size makes it a great 'filler' for a variety of soups (both thick and brothy alike), as well as for various salads – especially salads where a 'grainy' ingredient is desired. Basic 'cheese and butter' sauces are also a great use for pastina, where the texture resulting from its size will greatly enhance the 'creamy' nature of such sauces. Pastina also makes a great 'thickening noodle' for lighter sauces, such as in today's recipe, where a mere dusting of grating cheese and a bit of melted butter allows the pastina to 'meld together' and give the illusion of the sauce being much thicker than it actually is.
2) Substitutes for Scallions. There are several different substitutes for scallions. The best substitute for scallions are green onions, which you can substitute at a one-to-one ratio. The second-best substitute, in my opinion, are bulb onions. You'll want to use about a third the amount of bulb onion as you would scallion, since bulb onions are markedly stronger in flavor, and a fair bit 'sharper' in their acidity. Chives are also fairly common substitute, and are sometimes used interchangeably with scallions. Leeks are also a great substitute, which also substitute at a ratio of about one-to-one. However, chives are noticeably milder, and so you'll have to use slightly more of them to achieve the same effect. Finally, when all else fails, plain white onions will do just fine if you have none of the other substitutes on hand. For white onions, use roughly an equal amount of finely chopped white onions to scallions.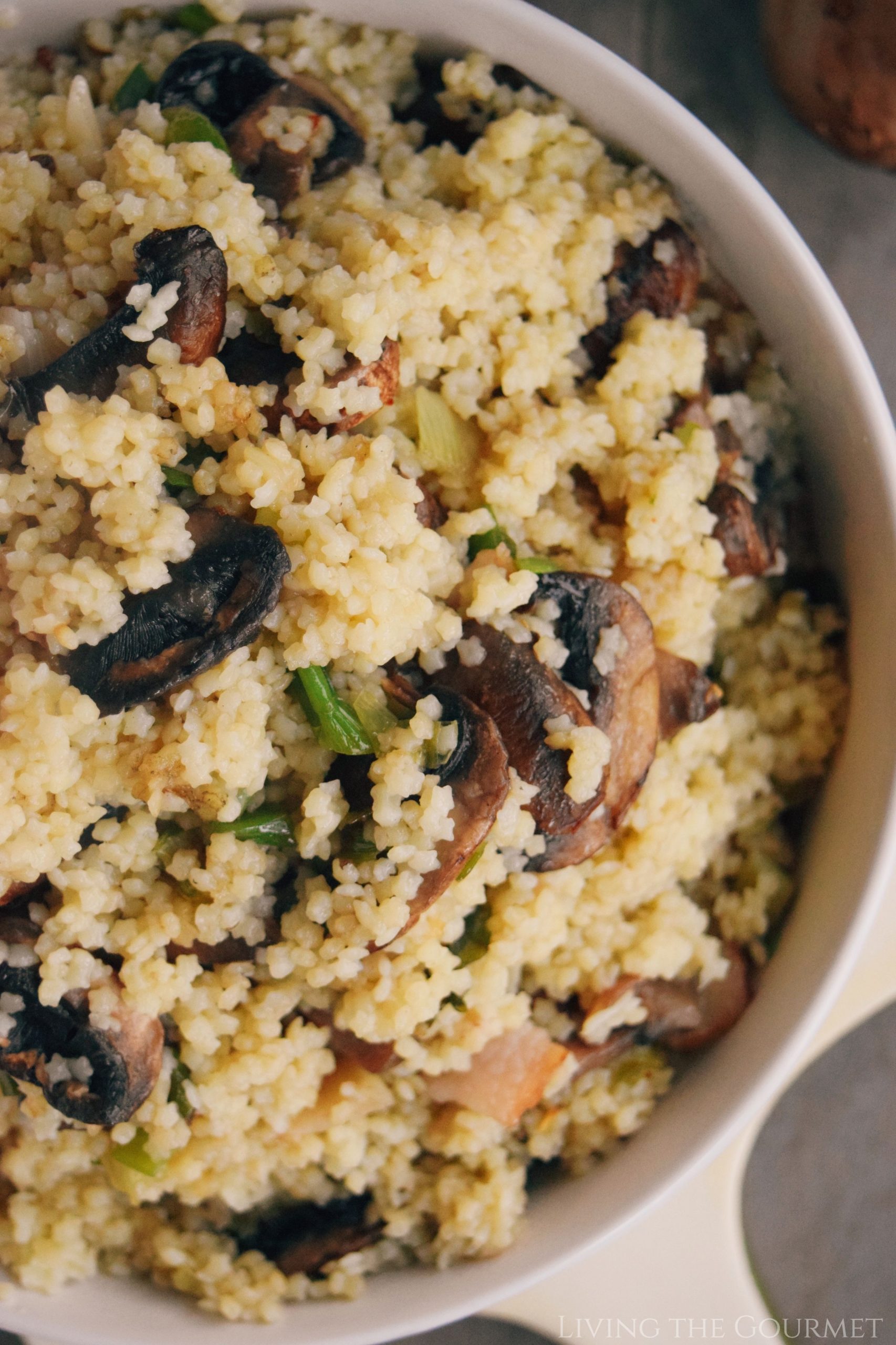 3) Substituting Garlic. Powdered garlic is the obvious go-to replacement, and this is simply because powdered and fresh garlic share most of the same desirable attributes. Generally speaking, the rule of thumb for garlic-to-garlic powder, as prescribed by Spiceography, https://www.spiceography.com/garlic-powder-vs-garlic/ is about one clove of garlic to one-eighth of a teaspoon of garlic powder. That said, this measurement is for 'intensity' of flavor, as opposed to 'actual' flavor. This is because powdered and fresh garlic, while very similar, actually have a number of conflicting attributes. First and foremost, powdered garlic tends to be milder in terms of acidity (although this can ratchet up quickly if you use more than the one-eighth rule), but powdered garlic also tends to have an earthiness to it that is simply absent in fresh garlic. Conversely, fresh garlic packs a powerful kick and sharpness – no such sharpness or kick exists in the powdered variety. Fresh garlic also has an 'herbal bitter-sweetness' to it when cooked, which is absent in powdered garlic in favor of more 'pleasant earthy notes.'
4) Subbing Out The Pastina Itself. I know! While the pastina is more or less the star ingredient, it's also wholly optional since the 'sauce' of today's recipe would work just fine over thinner 'string' and 'ribbon' pasta such as linguine, spaghetti, or angel hair. That said, using one of those types of pasta will result in a less dense, less thick final result, it nevertheless will retain the same flavor.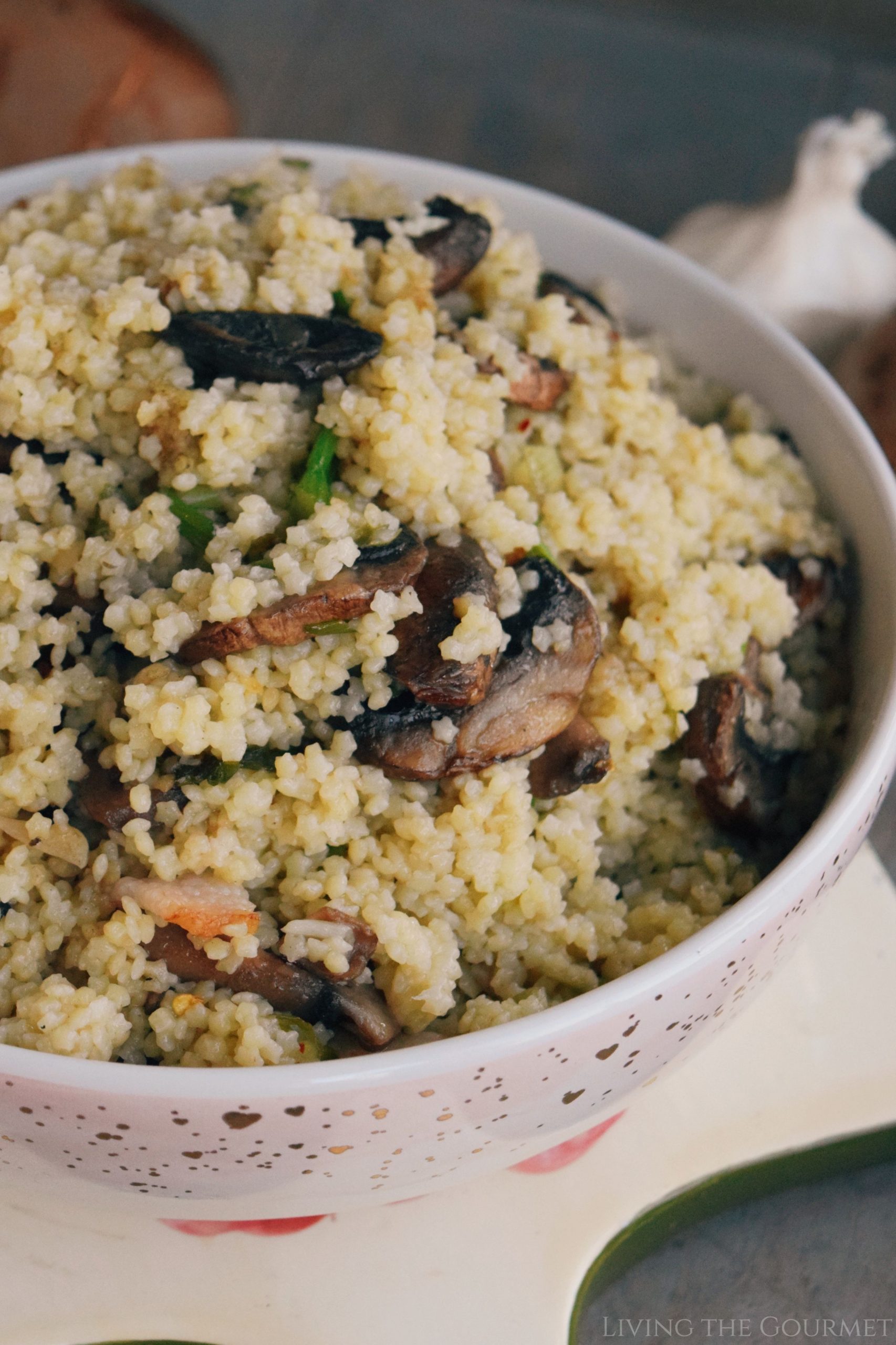 Craving More Pasta Recipes?
1) Spaghetti Carbonara. My take on the ever familiar classic Carbonara, equally at home serving as the main course of a Sunday dinner as it is warming your soul on a busy weeknight.
2) Pasta Bake. This was a big hit with my family. It combines baked pasta with layers of cheese, and a crisped crust. Seriously, this a recipe the entire family will enjoy, and can be made a few days ahead of time, and yes it reheats beautifully either in the oven or stove top.
3) Lasagna Rollups. A delightful pasta recipe the entire family will adore. This recipe features hardy lasagna noodles wrapped around a ricotta filling with a tomato and mushroom sauce, topped with melted Jarlsberg.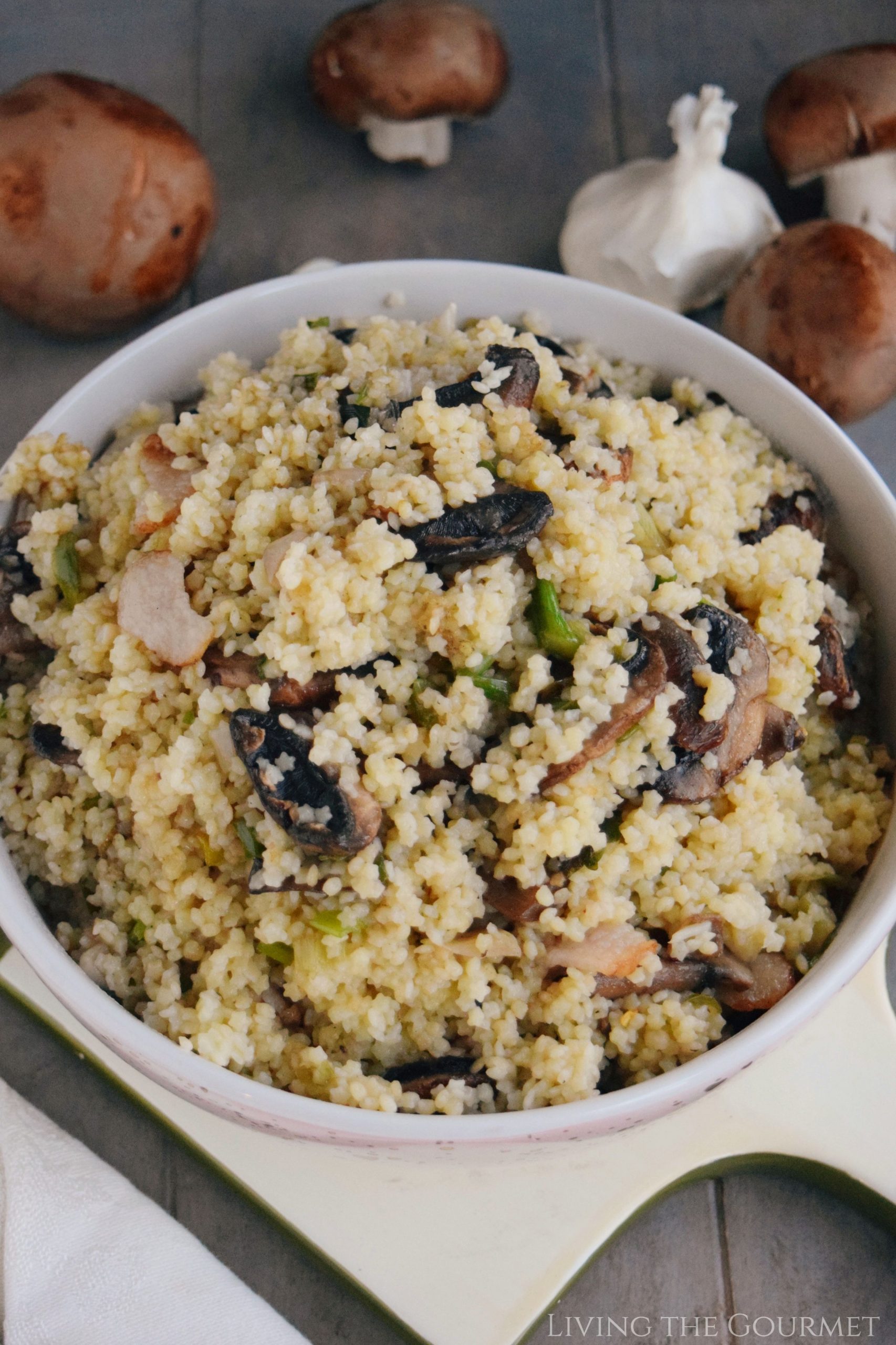 Print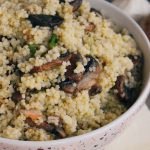 Pastina with Mushrooms & Bacon
---
Author:

Total Time:

30 minutes

Yield:

4

-6

1

x
1

lb

. of pastina - or your favorite pasta - prepared as directed

1

quart

of mushrooms - sliced

1

bunch of scallions - diced

3

cloves of garlic - chopped

2

-

3

slices of bacon

2

-

3

tbs. of butter

2

tbs. olive oil

1/4

cup

of grated Parmesan or Romano cheese - grated

1/2 tsp

. sea salt

1/4 tsp

. fresh ground black pepper

1/4 tsp

. red pepper flakes
---
Instructions
Heat a large cast iron frying pan with a tablespoon of butter and a tablespoon of olive oil.
Place the sliced mushrooms, scallions, bacon and garlic into the pan and saute until the garlic is fragrant, the bacon begins to cook and the scallions are wilted.
Cut the bacon with scissors into pieces and continue sauteing the mushrooms, bacon, garlic and scallions on low as the pasta cooks.
Prepare the pastina or your choice of pasta as directed; drain and immediately add to the pan with the mushrooms and toss.
Add the grated cheese, tablespoon of olive oil and seasonings.
Taste for any seasoning adjustment that might be needed.
Serve immediately & Enjoy!
Prep Time:

10 minutes

Cook Time:

20 minutes
Recipe Card powered by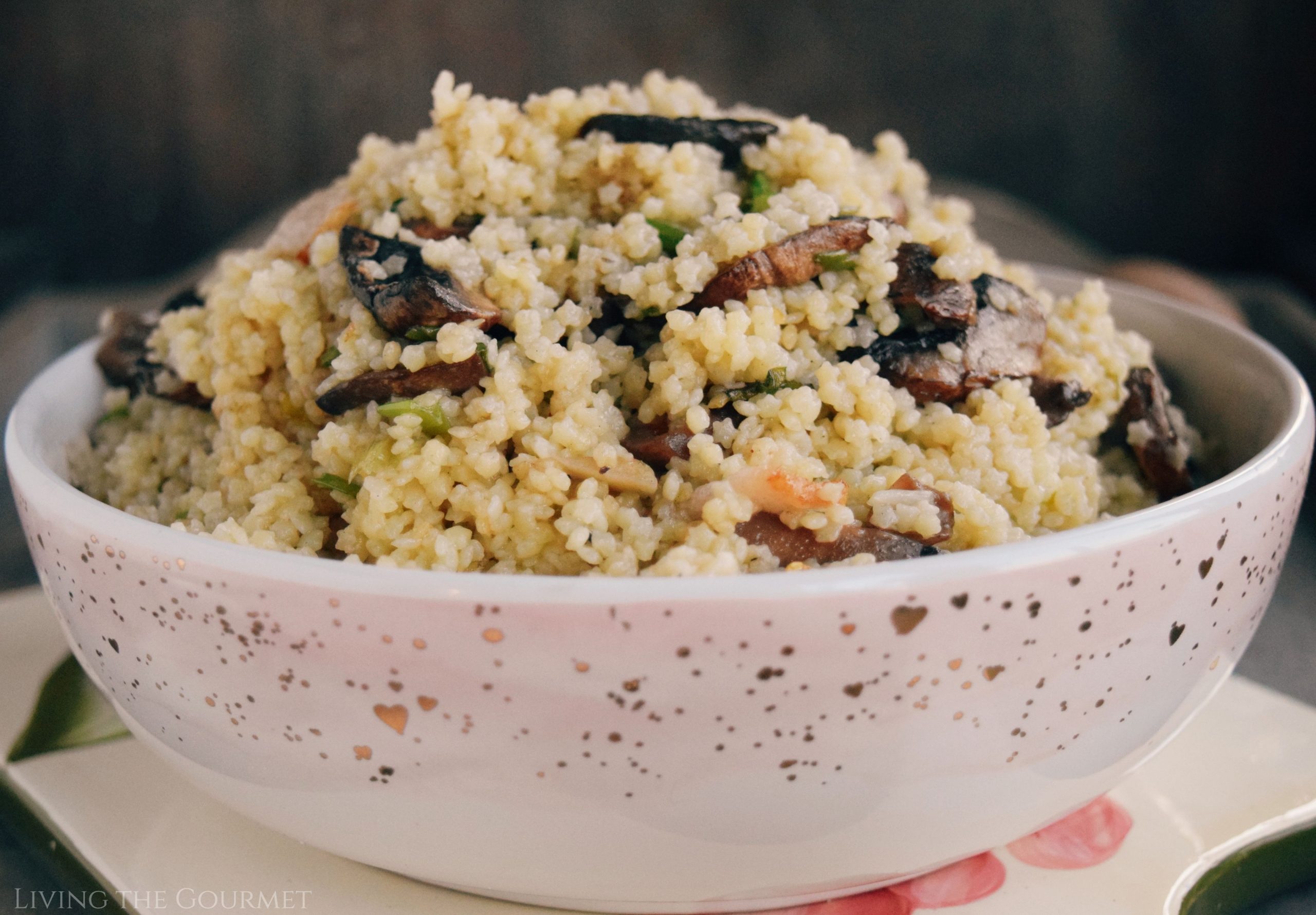 If You Enjoyed Today's Recipe…
Be sure to follow us on Instagram to stay up to date with all things Living the Gourmet, and for more great recipes, tips and tricks.
Did you make this recipe?
If so, let me know in the comments down below, or post a picture to Instagram, or to Pinterest, and I'll give you a shoutout on Instagram, or post your pin to one of my Pinterest boards!
2