Today, we're preparing an easy-on-the-pantry cabbage and bean soup, using a base of kidney and black beans, carrots and celery, along with a medley of 'basic' spices such as Jamaican curry and red pepper. The end result is a soup that's both hardy and flavorful, and yet surprisingly simple to put together.
We'll be preparing today's recipe with a little help from my new friends over at Citerrio, but more on them in just a moment.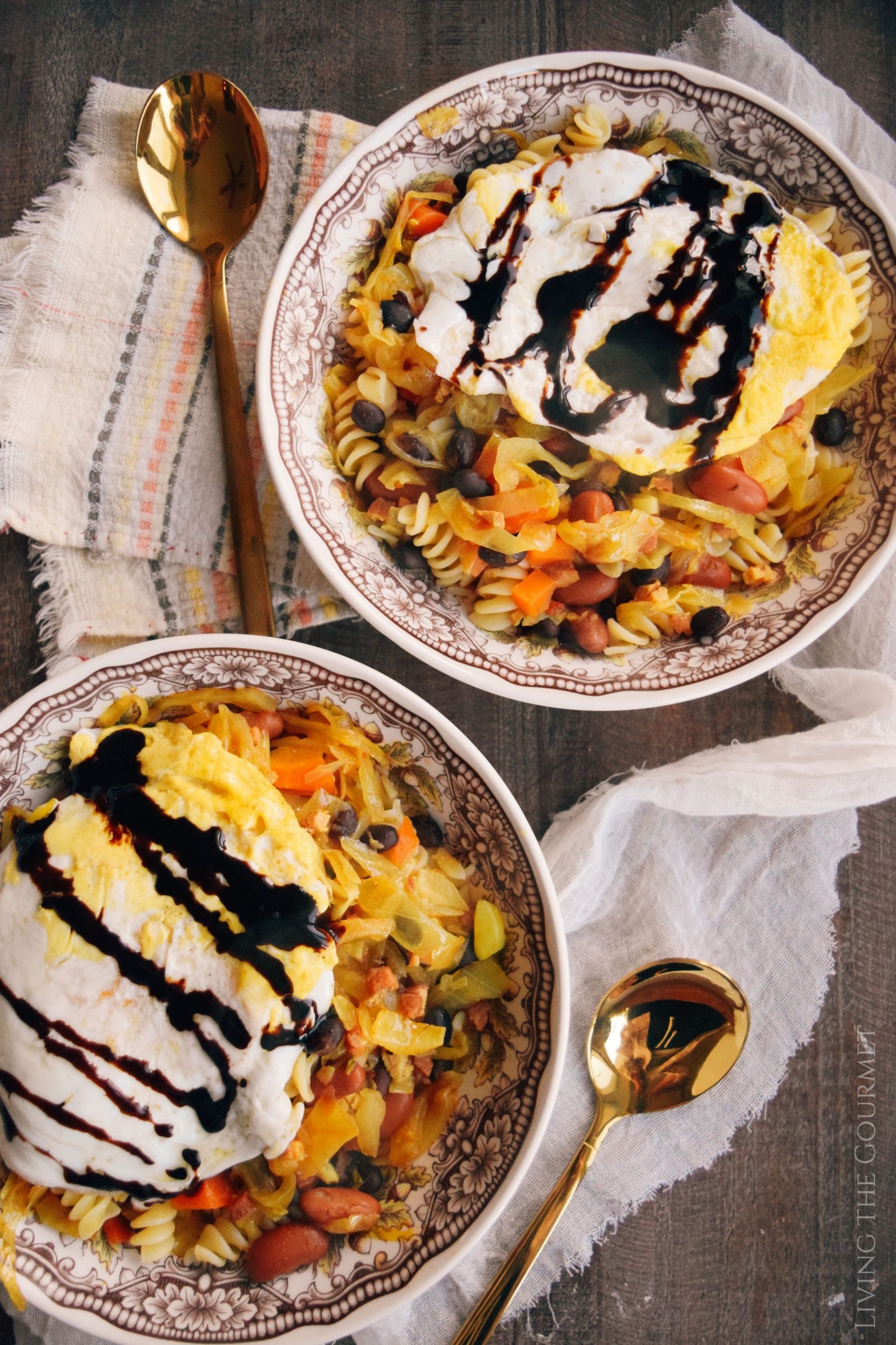 Ingredient Notes, Tips, and Substitutions
1) The Pancetta. Think of pancetta essentially as cured Italian bacon that trades in a 'smoky' flavor for spices and aromatics. Today, I'm using Citerrio Pancetta. Founded in 1878, Citerrio has been a trusted name in Italian cured meats for nearly two centuries, producing quality salami, capicola, mortadella, and, of course, pancetta. The pancetta from Citerrio is aged for up to three months, and is dry-rubbed with their select mix of spices, creating a flavorful and richly aromatic pancetta. For more info on Pancetta, see my post here, in which I covered pancetta in some detail.
2) Cayenne Pepper. The star ingredient in most 'standard' red hot sauces, Cayenne Pepper is a moderately hot chili pepper, clocking in at about 25,000 and 50,000 on the Scoville Scale. For reference, jalapenos clock in at 2,500 to 10,000. Dried Cayenne powder, however, is often dramatically 'cooler,' as chili seeds are at their hottest when their fresh, and rapidly bleed away heat after being cooked. What Cayenne powder lacks in heat, it makes up for with 'earthy warmness' and 'rustic spice,' which has the effect of concentrating the pepper's bouquet of aromatics and flavors, which are often veiled behind its heat when cooking with fresh cayenne peppers. For substitution, use about four drops of your favorite 'standard' red hot sauce per one-eighth teaspoon of cayenne pepper. You might also consider an equivalent amount of 'Hungarian' Paprika. Note: If substituting Hungarian Paprika, simply add that amount to the paprika listed in the ingredient list. Conversely, you could simply double the paprika listed in the ingredients – if you don't have Hungarian Paprika.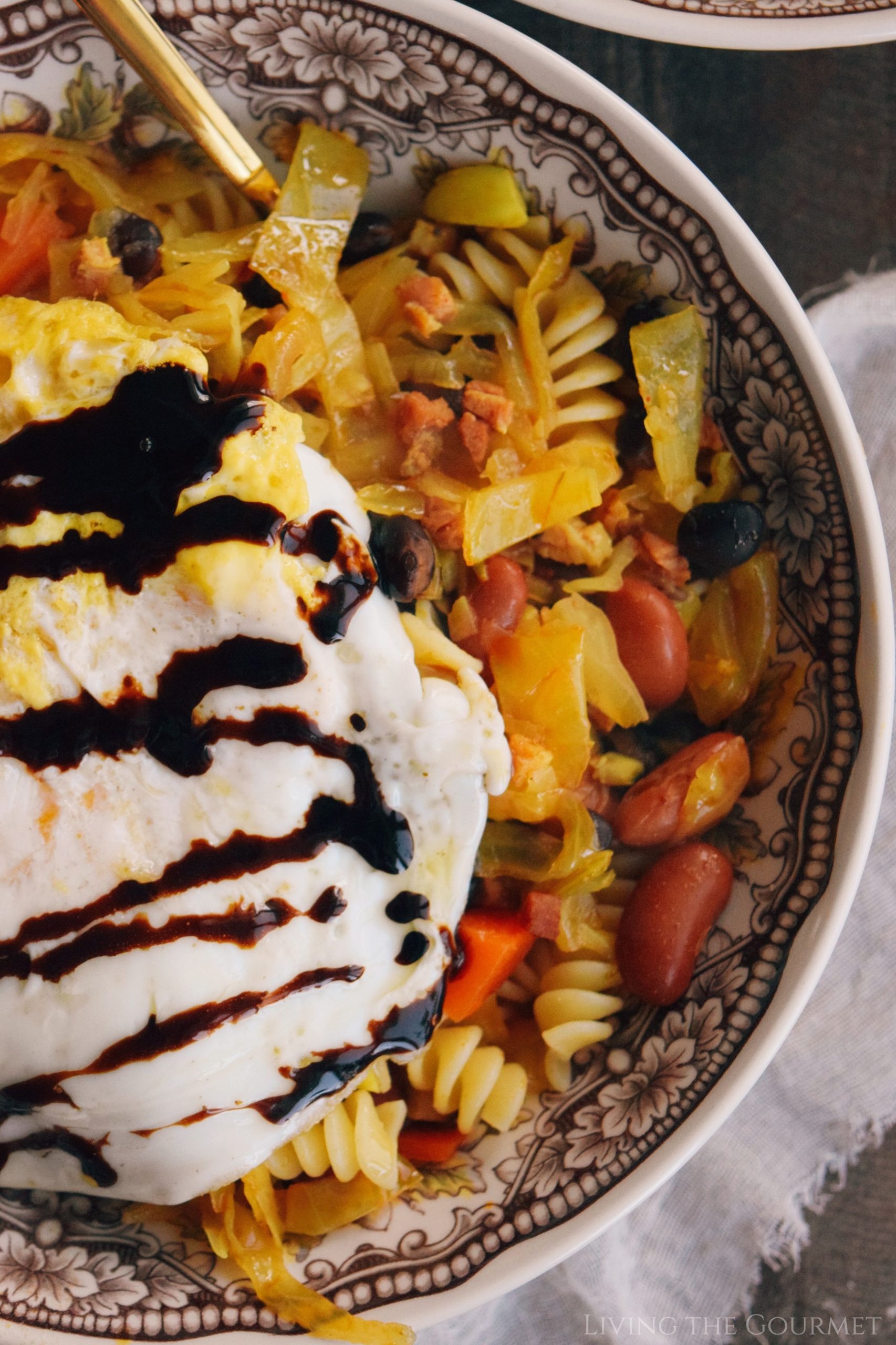 3) Balsamic Glaze – What is it? Do I need it? Essentially, a balsamic glaze is a syrup-like 'reduction' of Balsamic Vinegar. At its most basic, a balsamic glaze is simply balsamic vinegar that's been reduced to a syrup over heat, which has the effect of not only thickening the balsamic vinegar, but also of cutting down its acidity dramatically, allowing you to add 'balsamic flavor' to your recipes but without having to account for the vinegar's acidity. Sugar is often added to further thicken the reduction, and to cut down the acidity entirely, leaving just the 'balsamic flavor' but with the addition of 'syrupy sweetness.' Various herbs are also sometimes added in, but are typically strained out of the reduction. Personally, I'm using a store-bought glaze, but making your own at home couldn't be easier – see below for direction on how to make your own. Now, for today's recipe it
4) Cayenne, Paprika, Red Pepper Flakes, 'and' Curry – Just How Spicy 'Is' Today's Soup? Actually, not that spicy. Jamaican Curry features more 'earthy' and 'smoky' than actual heat. Paprika, by contrast, also errs on the 'earthy' or 'warm' side of the heat spectrum as opposed to being 'spicy' – although you certainly 'can' find spicy paprika out there, particularly Hungarian Paprika – which can be quite hot. Red Pepper and Cayenne 'do' crank up the heat levels of the soup somewhat, but the soup still isn't what I would consider 'spicy.' However, you can adjust the heat level up or down by simply modifying the amount of Cayenne and Red Pepper you use. If you're feeling particularly adventurous, add in a small amount of chili paste to 'really' crank up the heat, since Cayenne and Red Pepper can only carry you so far in that regard.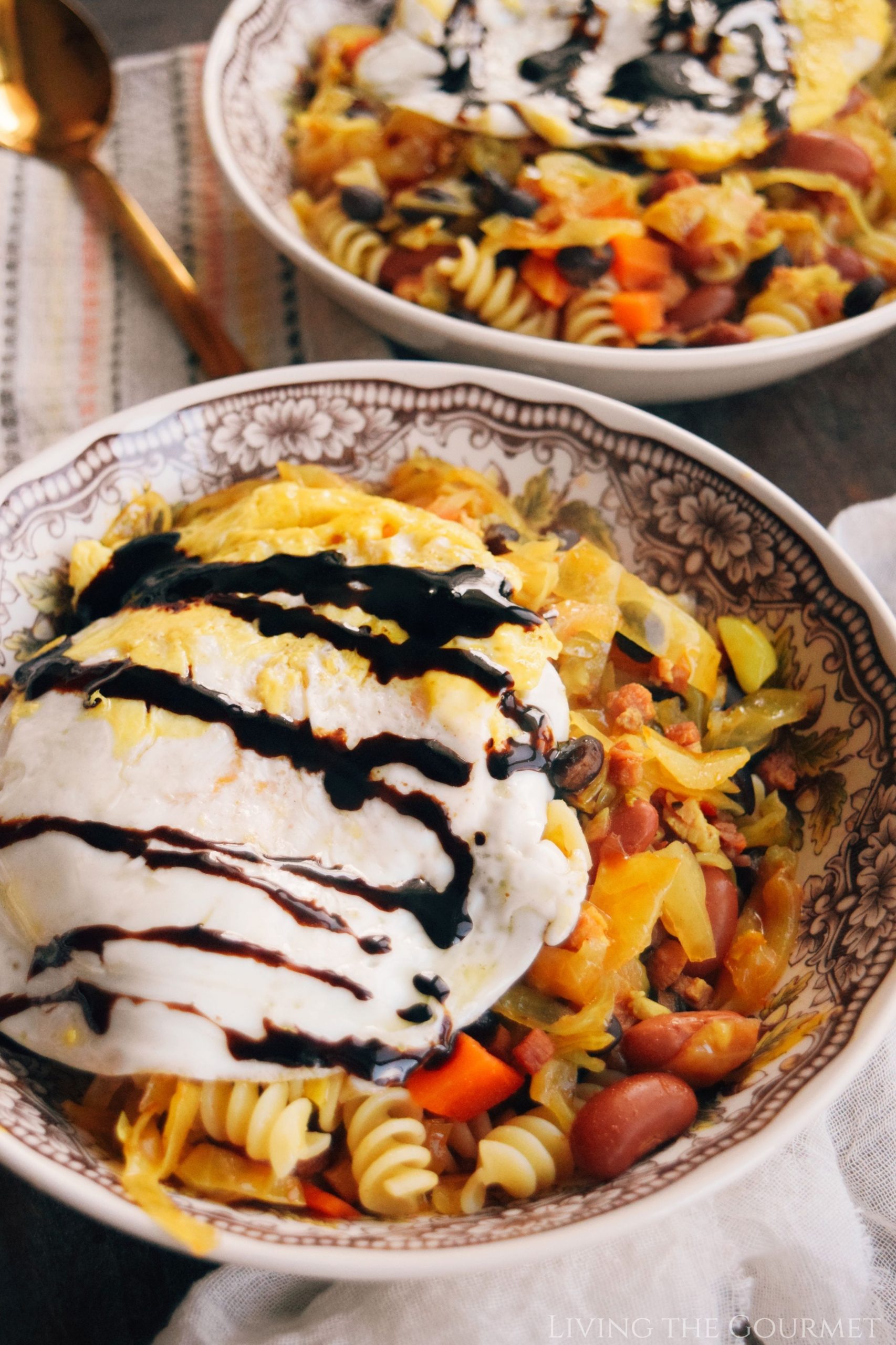 Making a Balsamic Glaze At Home
This is one of the easiest things to do, and what you get in return is absolutely delicious, and has a plethora of uses – from topping steaks, eggs, and pasta, to being absolutely to die for on ice cream. Truthfully, the possibilities for what you can do with a balsamic glaze are limited solely by your imagination.
To start, you'll need a small sauce pan (preferably cast iron). Simply pour your desired amount of balsamic vinegar into the pan, and let it heat over a medium flame. Bring the vinegar to a simmer (don't let it boil) and let it continue simmering until enough of the liquid has escaped as steam such that you have a thick, syrup-like liquid left in the pan. The liquid should have a consistency that's slightly 'thinner' than a honey, but viscous enough to thoroughly coat a spoon.
To make the glaze thicker, add in sugar prior to simmering. Use a ratio of about one-part sugar to three-parts balsamic vinegar. For example, if using one cup of balsamic vinegar you'll want to use a quarter of a cup of sugar. Either white sugar or brown sugar will work fine.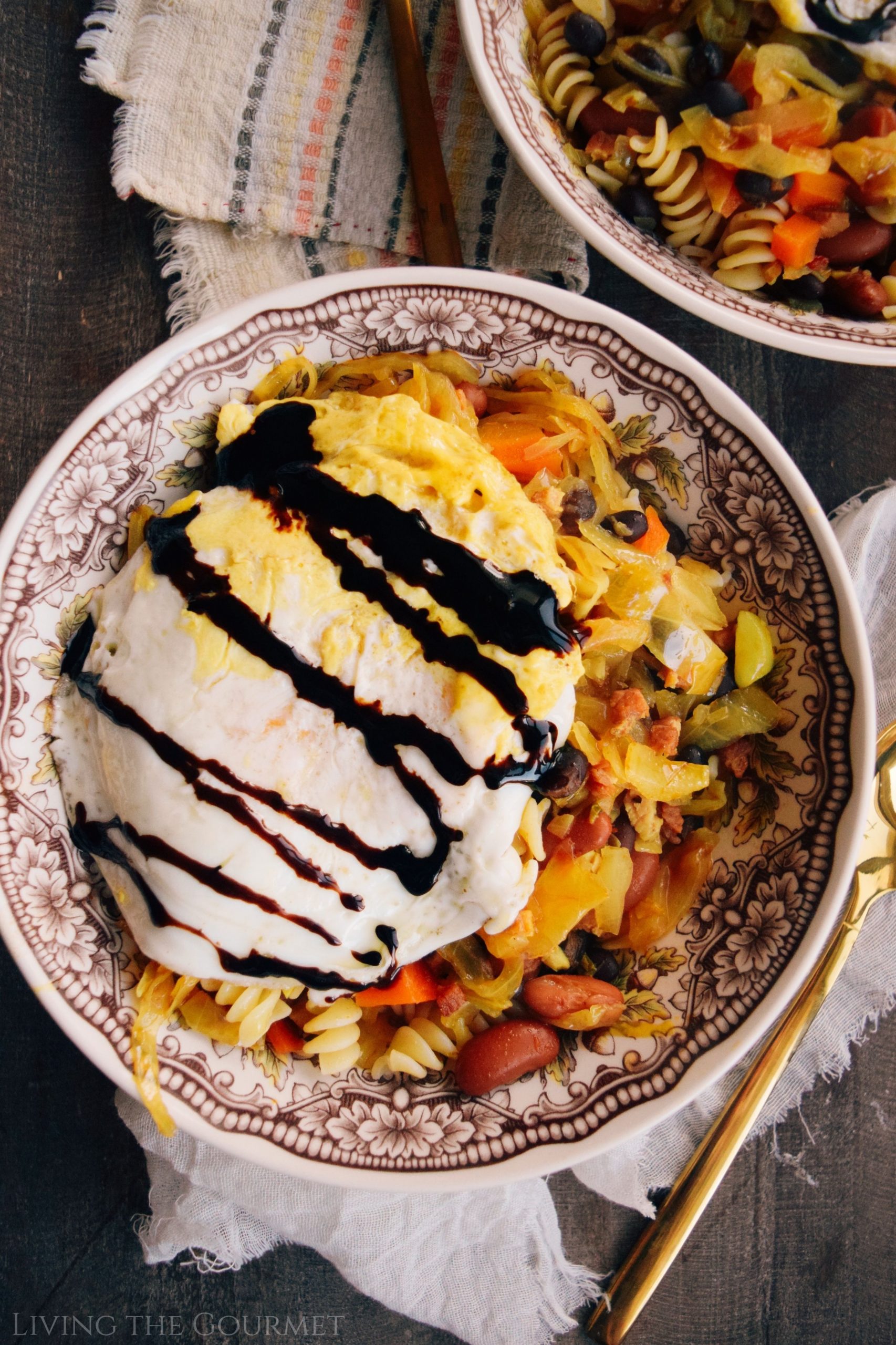 More Quarantine Cuisine
If you're looking for more 'quarantine friendly' recipes, that use basic ingredients, which are easily substituted, Living the Gourmet has got you covered. Below are some of my favorite 'quarantine-era' recipes, which I've formulated to be as easy on your pantry as possible.
1) Five Ingredient Flatbreads. These are a staple in my home year-round, (quarantined or not), simply because they are so easy to prepare, are absolutely delicious, and are blissfully versatile. Whether you're making wraps, pairing them with dips, as a side to sauce, or are using them for your favorite tortilla recipes, they are truly something every home chef should know how to make.
2) Pastina with Mushrooms and Bacon. One of the simplest pastina recipes I've ever made, it's perfect for times like these when we're all at the mercy of a global quarantine. This pastina cooks up very quickly, and keeps nicely for up to four days. Utilizing just seven basic ingredients (not counting salt, pepper, and the pastina itself), most of which can be swapped out for equally basic pantry-friendly ingredients, this pastina recipe is a must-have.
3) Gemelli with Peas and Pancetta. A rustic mix of anchovies, crisped pancetta, and garlic, with fresh tomatoes, set over a bed of gemelli pasta. This, to my mind, is what 'Old World' cuisine is about.
4) Mezzi Rigatoni With Bacon and Tomato. I think everyone should have at least one 'basic' red sauce in their culinary repertoire, a basic red sauce that they can build on and experiment with, and that's really where this recipe comes in. This is super-simple, back-to-basics tomato sauce prepared with crisped bacon, cannellini beans, and plenty of red pepper. It's perfect for busy weeknights, or for times when you might not have a whole lot of 'fancier' ingredients on hand.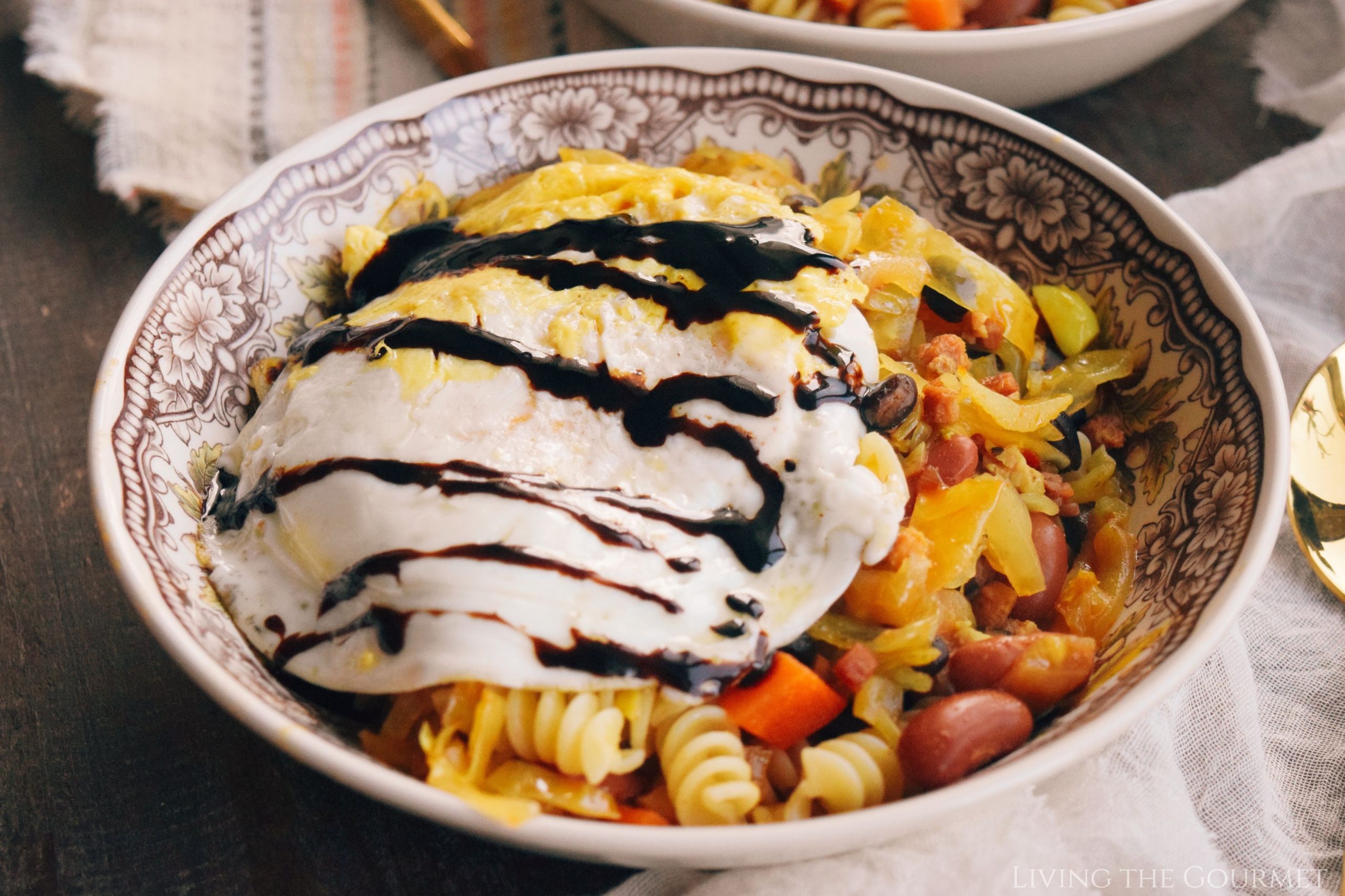 Print
Comforting Cabbage & Bean Soup
Author:
Prep Time:

10 minutes

Cook Time:

20 minutes

Total Time:

30 minutes

Yield:

4

-6

1

x
1/2

head of cabbage – sliced thin

1

onion – sliced thin

4

large cloves of garlic – chopped

2

large carrots – diced

3

stalks of celery – chopped

5.5 oz

. can of V-8 tomato juice

15.5 oz

. can of kidney beans – drained and rinsed

15.5 oz

. can of black beans – drained and rinsed

4

oz

. of Cittario Pancetta

4

cups

of water

2

–

3

tbs. olive oil

1 tsp

. red pepper flakes

1 1/2 tsp

. salt

1 1/2 tsp

. dried oregano

1 1/2 tsp

. paprika

1 1/2 tsp

. Jamaican Curry

1/2 tsp

. cayenne

1

lb

. of your favorite pasta

1

fried egg per bowl of soup
Drizzle of Balsamic Glaze
Instructions
Heat a large soup pot with 2 – 3 tbs. of olive oil.
Add the sliced cabbage, chopped garlic, sliced onion, diced carrots and celery and toss. This will cook down a bit.
Add the V-8 juice and toss.
Add the seasonings and again give another toss.
Cook over gentle simmer and add the drained beans and toss.
Add the water and cook over a gentle heat.
Heat a small cast iron frying pan and cook the pancetta until slightly crisp.
Add the cooked pancetta to the soup and stir.
Taste the soup for seasonings and salt. Adjust to your liking.
Simmer on a gentle heat while preparing the pasta.
When ready to serve hear a small cast iron frying pan and fry and egg in the pan, flip the egg to cook on both sides.
Place the pasta in a soup bowl, top the pasta with the soup and fried egg.
Drizzle the egg with the balsamic glaze, a drizzle of olive oil and extra red pepper flakes.
Recipe Card powered by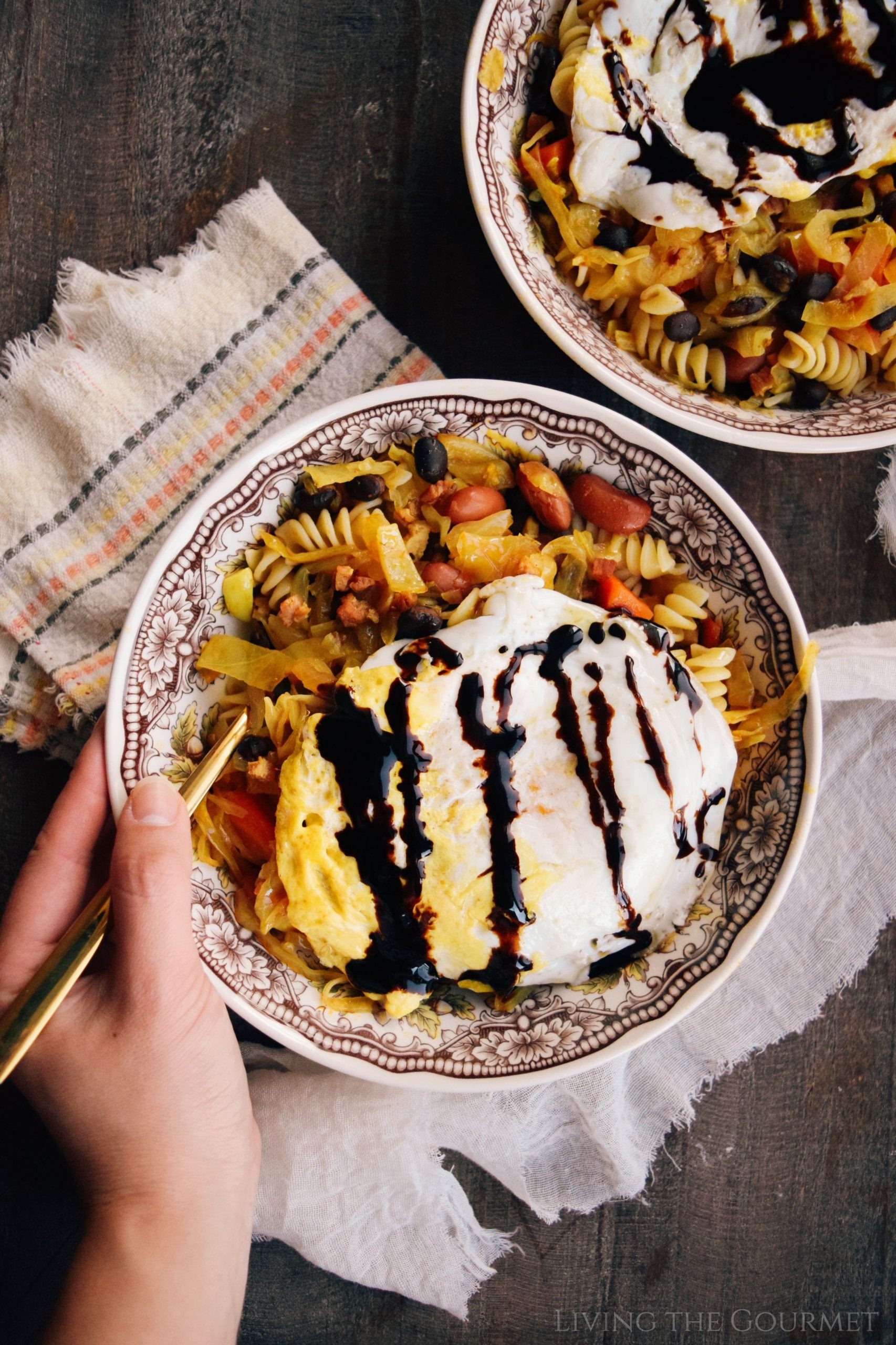 If You Enjoyed Today's Recipe…
Be sure to follow us on Instagram to stay up to date with all things Living the Gourmet, and for more great recipes, tips and tricks.
Did you make this recipe?
If so, let me know in the comments down below, or post a picture to Instagram, or to Pinterest, and I'll give you a shoutout on Instagram, or post your pin to one of my Pinterest boards!
3