This post has been sponsored by Citerrio. All opinions expressed are my own. #CitterioAmbassador
Today we're preparing a pasta topped with a light wine and tomato sauce prepared with pancetta, anchovies, and garlic. This is a super simple yet flavorfully complex pastas recipe, that's light yet satisfying for those nights when you're in the mood for just a touch of 'sophistication.'
We'll be preparing today's recipe with a little help from my new friends over at Citerrio, but more on them in just a moment.
Ingredient Notes and Tips
1) The Wine. I'm using white wine simply because that's what I had opened, but red wine would work just fine as well. Remember, we add wine to sauce not only to give it that nice 'wine flavor,' but also to add acidity to the sauce – but without the 'harshness' of adding vinegar. With that said, don't pour the half-cup of wine and think "That looks like too much." Remember that, as with all liquids, a portion of the wine will simply evaporate. Secondly, not only will a portion of the 'total' wine evaporate, but 'all' of its alcohol 'will' evaporate – entirely – as alcohol has a much a lower boiling point than water. Alcohol boils at 173 degrees Fahrenheit, well under than the 212 degree boiling point of water. This means that even before the sauce has reached a 'gentle simmer,' the alcohol will have entirely departed the sauce in the form of steam – which, by itself, will reduce the total amount of wine you've added by anywhere from eleven to sixteen percent, depending on the wine you've used. In other words, roughly one quarter to one third of the total amount of wine you use will simply vanish as steam during cook. On bright side, that means you can feel free to increase the amount of wine in today's recipe up to about a cup, depending on how much 'acidity' and 'wine flavor' you like in your sauce – it's purely preference.
2) Pancetta. Think of pancetta essentially as cured Italian bacon that trades in a 'smoky' flavor for spices and aromatics. However, I'll talk more about 'what' pancetta is and how it differs from regular bacon in some detail below. Right now, however I wanted to touch on the pancetta that I'm using in today's recipe – Citerrio. Founded in 1878, Citerrio has been a trusted name in Italian cured meats for nearly two centuries, producing quality salami, capicola, mortadella, and, of course, pancetta. The pancetta from Citerrio is aged for up to three months, and is dry-rubbed with their select mix of spices, creating a flavorful and richly aromatic pancetta.
3) Sugar in Sauce – The 'Why' Behind the 'Sweet.' Like salt, sugar is a 'blurring' or 'melding' agent. That simply means that sugar helps to 'bind' flavors together. In recipes like red sauces, chilis, or stews, where you have a medley of different flavors coming together, some of which actually contrast quite sharply, you need 'something' to help 'blur' or 'meld' those ingredients together. The primary item for doing this is salt, but sugar also has a very similar effect. However, unlike salt, sugar also 'mutes' or 'blunts' acidity – despite being somewhat acidic itself (chemically speaking). That said, unlike the 'saltiness' of salt, which can come through quite powerfully, the 'sweetness' added by sugar is much milder and harder to detect, especially when used in very small quantities. Thus, sugar serves two purposes inside of today's recipe, melding together flavors and blunting acidity, while itself being a nearly 'invisible' ingredient.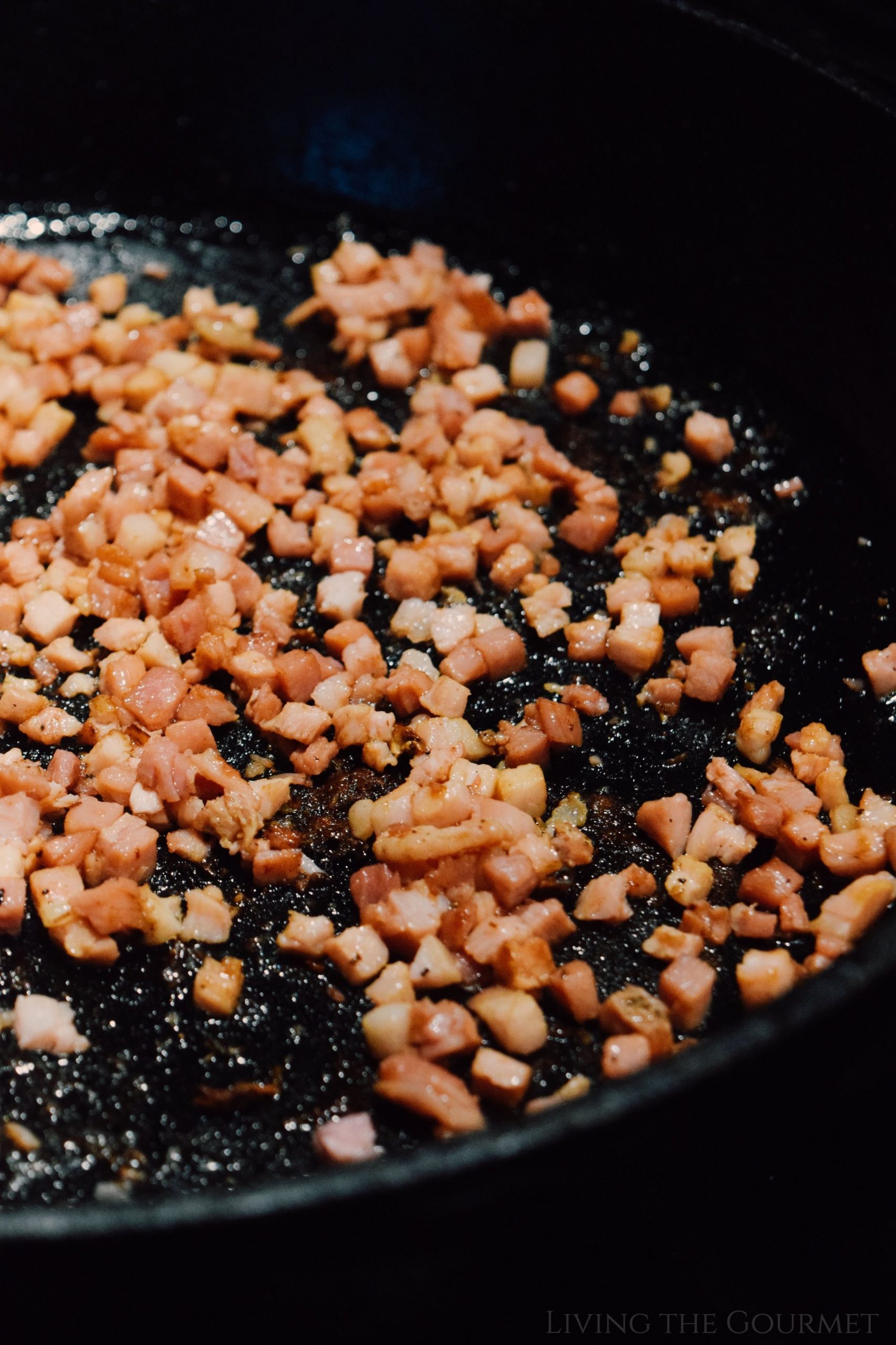 Three Shades of Pork Belly: Bacon, Pancetta, and Prosciutto
The phrase "Everything is better with bacon" entered the popular lexicon courtesy of the video game Halo Wars, but it's a sentiment that's likely been around for as long as humans have been curing and smoking pork bellies.
Some two and half decades ago, for example, the 'Elvis of Cooking,' Emeril Lagasse, forged a career based in part on his love of 'pork fat,' and his then-revolutionary liberal use thereof. These days, Instagram and the wider foodisphere have introduced us to the shockingly wide world of pork lard and its manifold applications – some of which are admittedly questionable. It seems everything has taken its turn in the fleeting limelight of viral-sensationalism, with the internet having gone wild for frying eggs, rice, toast, fish, steak, and French fries in pork fat, to then frying pork fat and bacon in pork fat…yes, you read those last two right. Pork fat fried bacon and pork fat fried pork fat. The recently-viral dish Tep Mo, for example, is simply pork fat that is allowed to fry in a pan in its own…fat.
Our current 'pork belly enlightenment' has come so very far that Food and Wine proudly proclaimed pork-based lard to be "The New Health Food" in a 2017 article, whose premise was only slightly tongue-in-cheek. I'll let you be the judge of the merits.
But what of the origin of all of this 'pork-lard-love?' For most of us, our love of pork belly largely begins and ends with the pork belly's cured incarnations.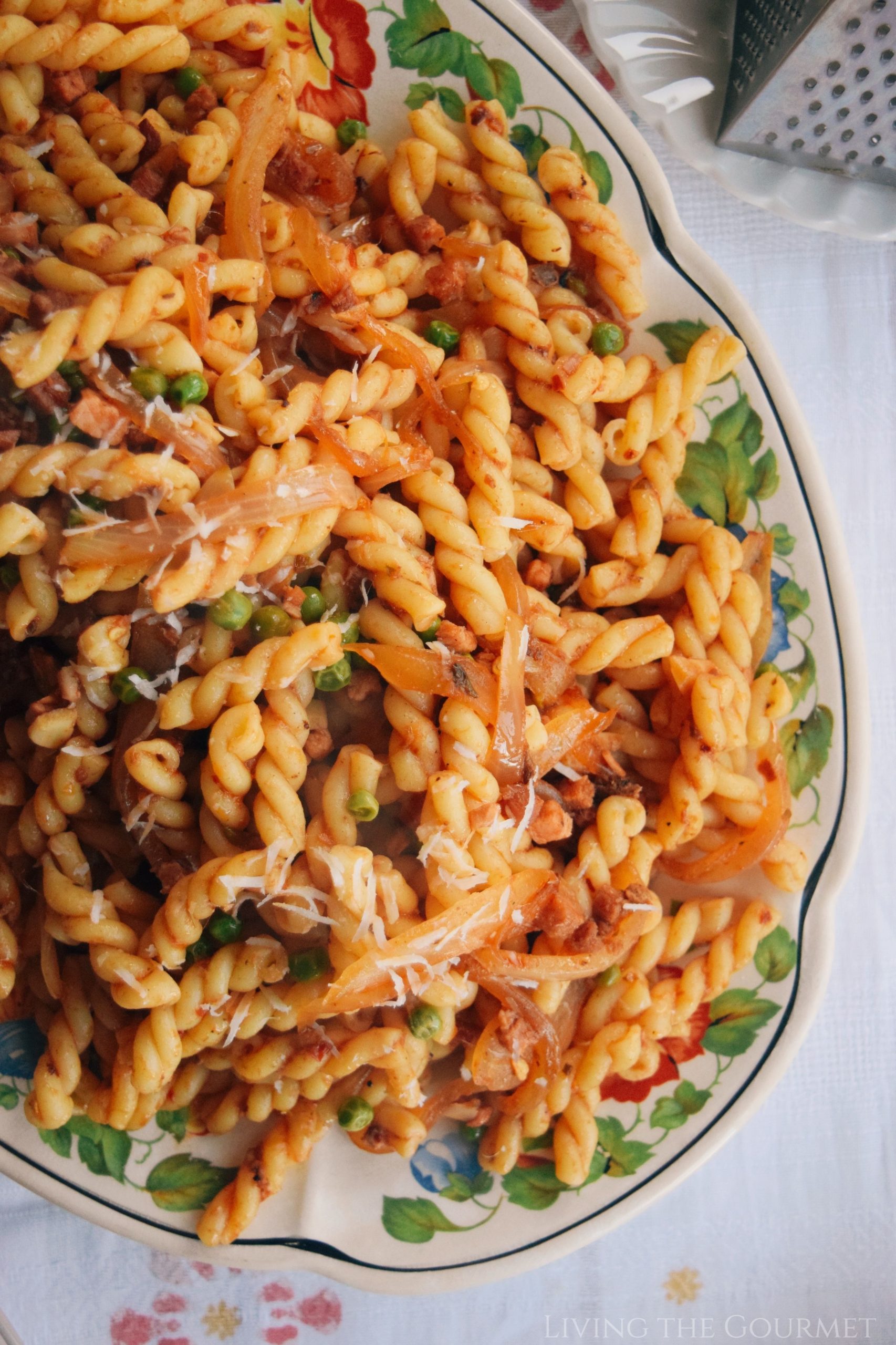 Bacon, pancetta, and prosciutto are the types of 'bacon' that we're all likely most familiar – and so-called 'American Bacon' is far and away the most popular of the three.
American Bacon is cured in salt and then cold-smoked. The curing process is straightforward enough, but it's the smoking process where things really come together for American bacon. The smoking process is typically done with aromatic wood, such as maple or apple, and this infuses the bacon with the 'smoky flavor' that people most often associate with American bacon – and often think is 'inherent' in the bacon itself. It's not. It's the smoke from the wood chips. The smoking process is done 'cold' meaning the bacon is neither heated nor cooked during the smoking process, leaving the bacon 'raw .' While aged American bacon 'is' available, these are specialty bacons, and virtually all bacon available in supermarkets are unaged.
Pancetta, on the other hand, is cured in salt and left unsmoked. Mild aromatics and spices are often applied to the pork during the curing process, and the composition of these blends vary widely between producers. Unlike bacon, which comes strictly in varying thicknesses of 'ribbon' slices, pancetta comes in several varieties of 'cut.' These include deli-style 'logs,' cubes of varying sizes, and 'ribbon' slices of varying thicknesses. Pancetta is aged for anywhere from several weeks to several months prior to being sold.
Thus, American bacon is cured, smoked, and unaged, while Pancetta is cured, unsmoked, and aged. American bacon is typically only flavored via smoke, while pancetta often features a variety of mild aromatics and spices.
Finally, we come to prosciutto, which despite often being thought of as being similar to either bacon or pancetta, is in fact an entirely different story. To start, the outside of the pork is thoroughly rubbed down with salt, and sometimes a variety of spices, and is then left air-dry for anywhere from several months to several years. This creates a rich flavored and delicately textured 'bacon.' After curing, prosciutto is, almost always, cut ribbon thin, and then eaten 'as is,' as opposed to being cooked, though there are specialty recipes that call for prosciutto.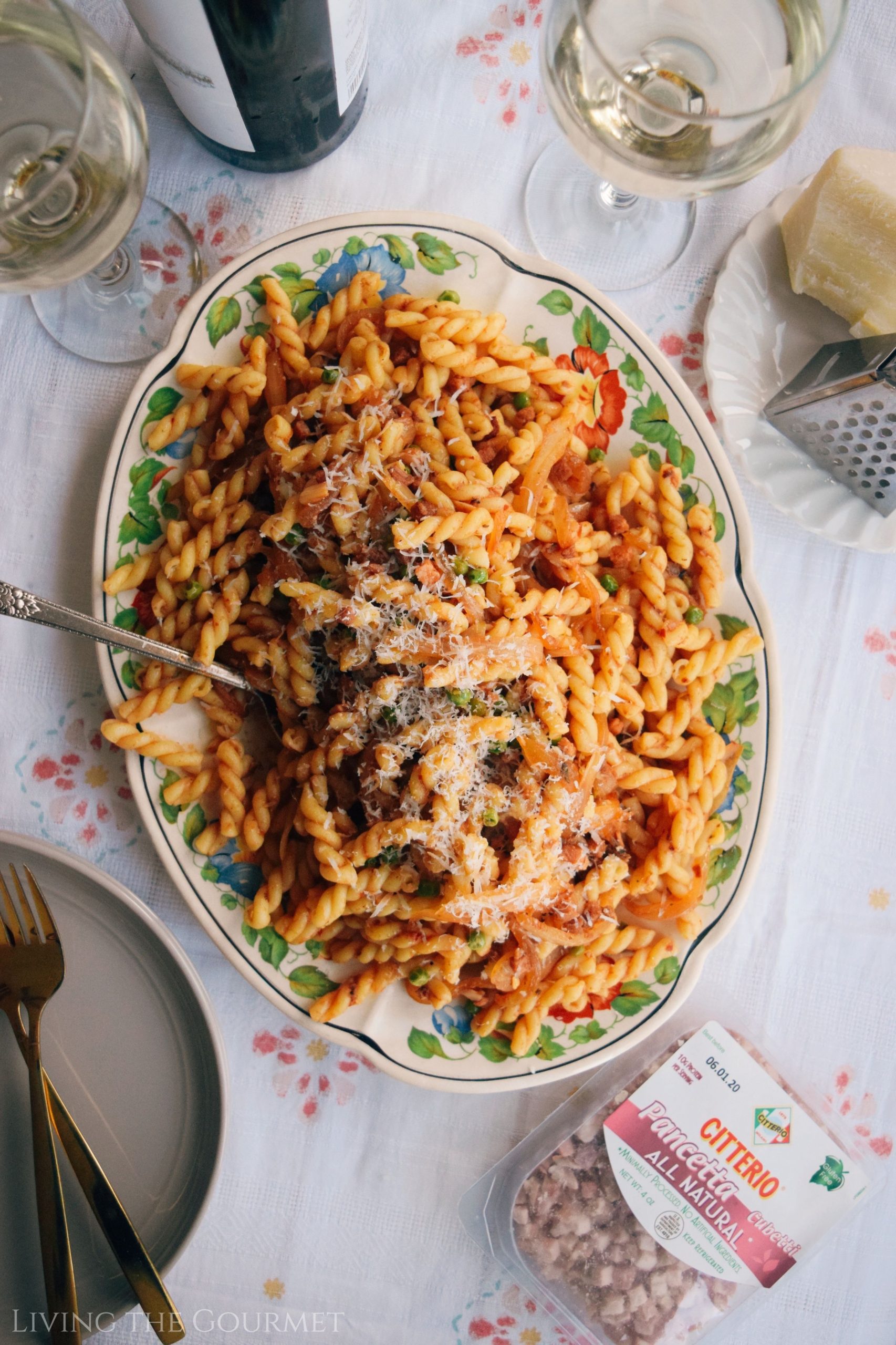 More Quarantine Cuisine
If you're looking for more 'qurantine friendly' recipes, that use basic ingredients, which are easily substituted, Living the Gourmet has got you covered. Below are some of my favorite 'quarantine-era' recipes, which I've formulated to be as easy on your pantry as possible.
1) Five Ingredient Flatbreads. These are a staple in my home year-round, (quarantined or not), simply because they are so easy to prepare, are absolutely delicious, and are blissfully versatile. Whether you're making wraps, pairing them with dips, as a side to sauce, or are using them for your favorite tortilla recipes, they are truly something every home chef should know how to make.
2) Pastina with Mushrooms and Bacon. One of the simplest pastina recipes I've ever made, it's perfect for times like these when we're all at the mercy of a global quarantine. This pastina cooks up very quickly, and keeps nicely for up to four days. Utilizing just seven basic ingredients (not counting salt, pepper, and the pastina itself), most of which can be swapped out for equally basic pantry-friendly ingredients, this pastina recipe is a must-have.
3) Simple Potato and Pasta Soup. A warming and simple soup comprised of garlic, shallots, and potatoes set over penne pasta, with thin sliced pan fried pepperoni. Simple to piece together, and featuring a medley of basic ingredients, this is soup is perfect for those of us currently on lockdown.
4) Mezzi Rigatoni With Bacon and Tomato. I think everyone should have at least one 'basic' red sauce in their culinary repertoire, a basic red sauce that they can build on and experiment with, and that's really where this recipe comes in. This is super-simple, back-to-basics tomato sauce prepared with crisped bacon, cannellini beans, and plenty of red pepper. It's perfect for busy weeknights, or for times when you might not have a whole lot of 'fancier' ingredients on hand. a basic tomato sauce that I prepared with crisped.
Living the Gourmet
Yields 4-6
Gemelli with Peas & Pancetta
12 minPrep Time
20 minCook Time
32 minTotal Time
4.8 based on 5 review(s)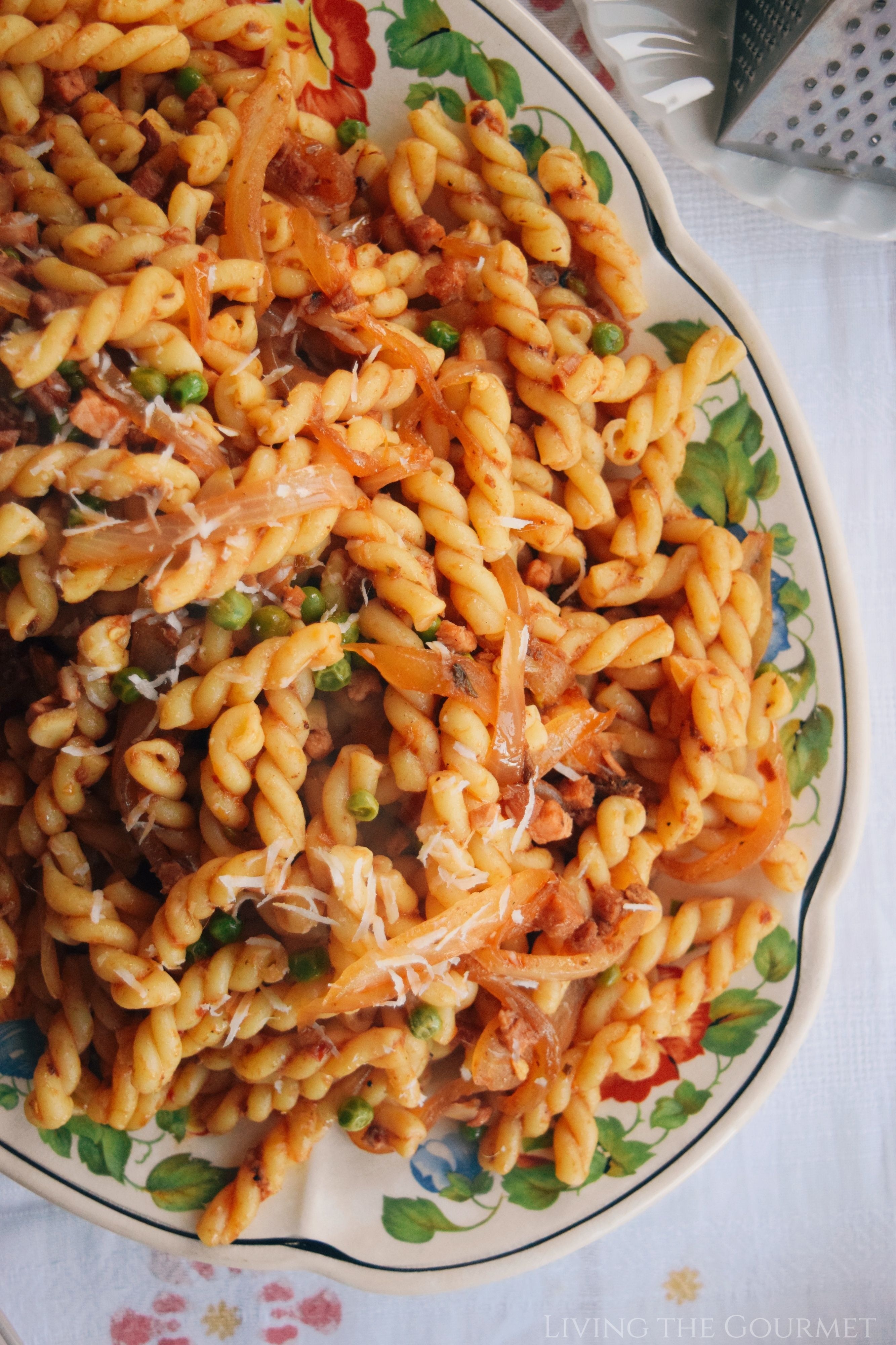 Ingredients
2 tbs. tomato paste
1 cup frozen peas
1 onion – sliced thin
4 cloves of garlic - chopped
2 oz. can of anchovies in olive oil
4 oz. Cittario pancetta
½ cup of wine
½ tsp. sugar
1 tsp. sea salt
1 tsp. dried oregano
½ tsp. red pepper flakes
2 tbs. olive oil
Romano or Parmesan for grating
1 lb. of your favorite pasta
Instructions
Heat a large cast iron frying pan with 2 tbs. olive oil.
Add the sliced onion and chopped garlic. Sprinkle with the sugar, salt, dried oregano and red pepper flakes. Sauté until the onions are slightly golden and the garlic is fragrant.
Add the pancetta and toss, letting the pancetta crisp slightly.
Add the tomato paste and toss; add the wine and again toss. Simmer on a gentle heat.
Add the peas and toss.
Add the anchovies with the oil to the pan and smash the anchovies down with a fork into the sauce.
Taste for seasonings. Re-season if desired.
Prepare the pasta as directed in well salted water.
Add 3 – 4 tablespoons of salted pasta water to the pan.
Drain the pasta and toss with the sauce.
Serve with a drizzle of olive oil, extra red pepper flakes and grated cheese.
7.8.1.2
1423
https://livingthegourmet.com/2020/04/gemelli-with-peas-pancetta.html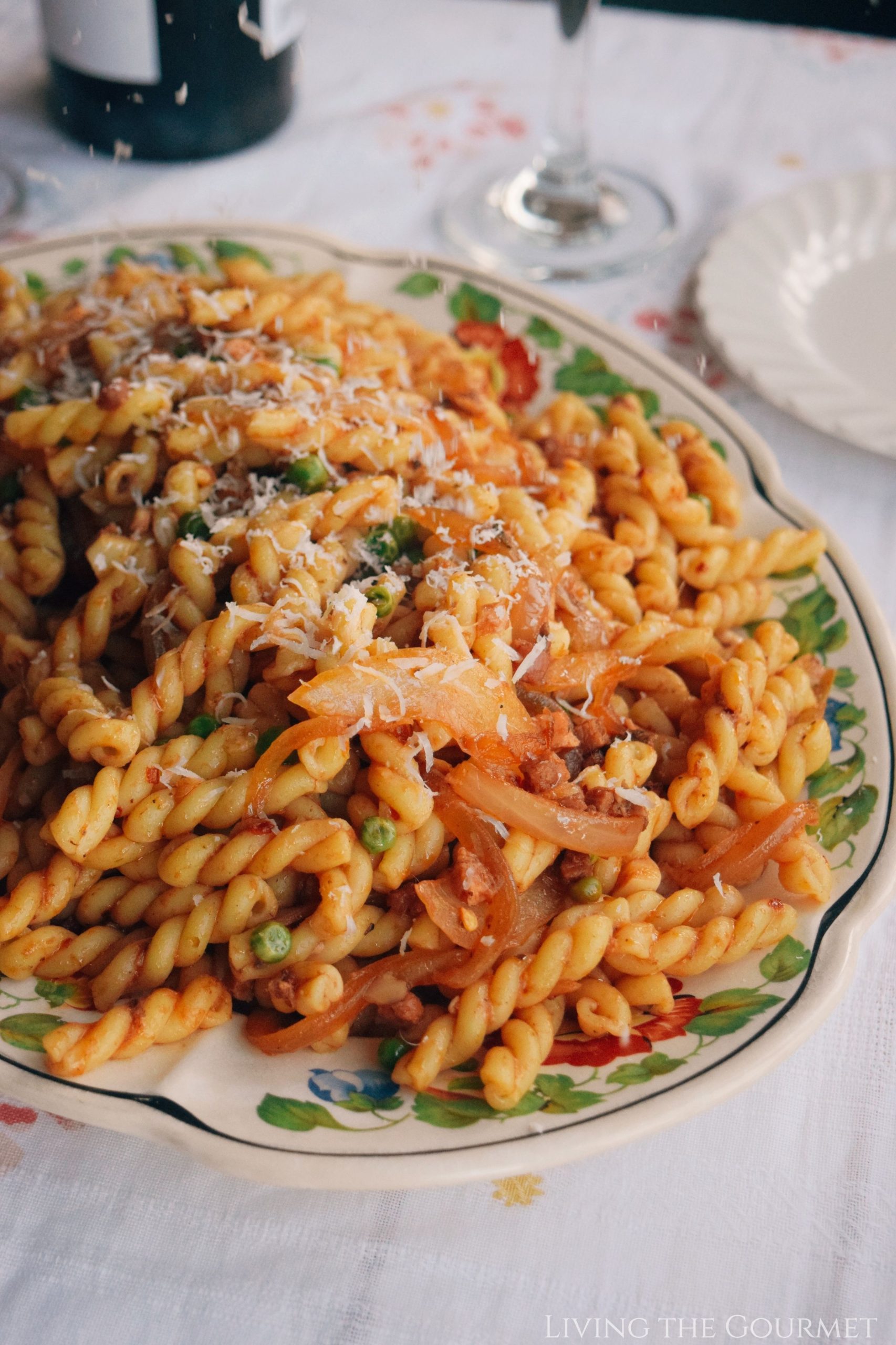 If You Enjoyed Today's Recipe…
Be sure to follow us on Instagram to stay up to date with all things Living the Gourmet, and for more great recipes, tips and tricks.
Did you make this recipe?
If so, let me know in the comments down below, or post a picture to Instagram, or to Pinterest, and I'll give you a shoutout on Instagram, or post your pin to one of my Pinterest boards!
1