I recently posted a teriyaki steak platter and I had a fair bit of steak left over. Thus, I was left with what might be called a 'very pleasant' problem, of what to do with a few handfuls of leftover marinated steak.
Naturally, that's where today's recipe comes in – Sirloin Strips with Sweet & Spicy Tomato Sauce over Pasta.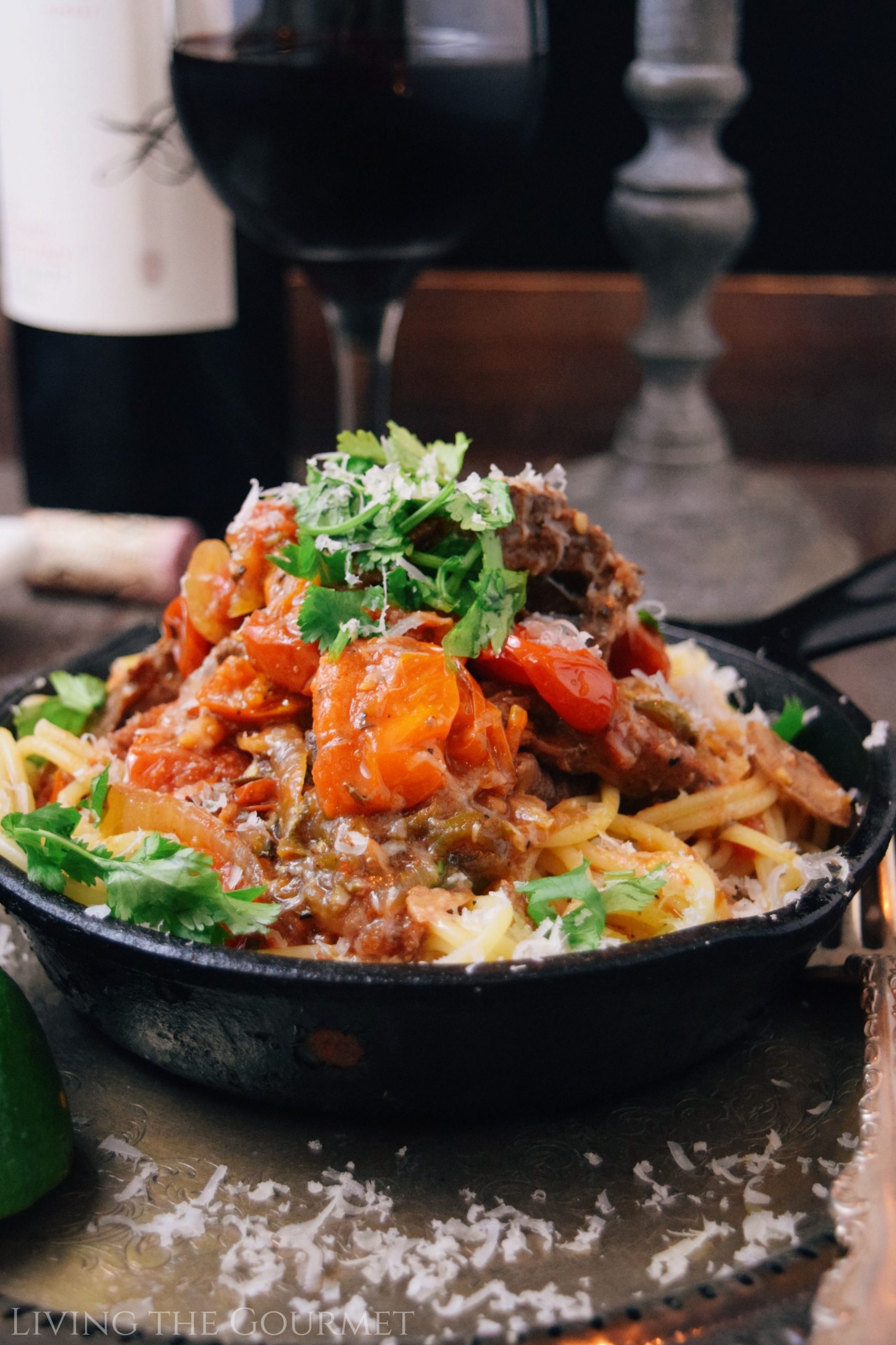 Why You'll Love Today's Leftover Recipe
1) Don't fret over the 'type' of leftover meat. For today's recipe I'm using sirloin steak, which I marinated in Teriyaki sauce with garlic, ginger, fresh lime juice, and fresh orange juice. However, plain grilled steak will work just fine, as will pepper and salt crusted steak, or even steak pan fried in butter and rosemary – the only difference will be a slight alteration in flavor, naturally.
2) Great for Busy Weeknights. A classic 'set it and forget recipe,' this is perfect for busy weeknights where you're in the mood for something more substantial and a bit 'fancier,' but are short on time.
3) A One Pan Meal (okay, one pan plus one pot). This recipe is a meal unto itself, but can pair excellently with a starter salad or warmed greens if you prefer.
4) It keeps nicely, and heats up beautifully. Like most sauces, today's recipe keeps beautifully for up three or four days, and during that time the sauce will essentially 'marinate itself,' enriching it flavors and further tenderizing its meat – as happens with many heavier red sauces. That said, it also heats up nicely, meaning you can prepare this at the start of the week, and have it throughout.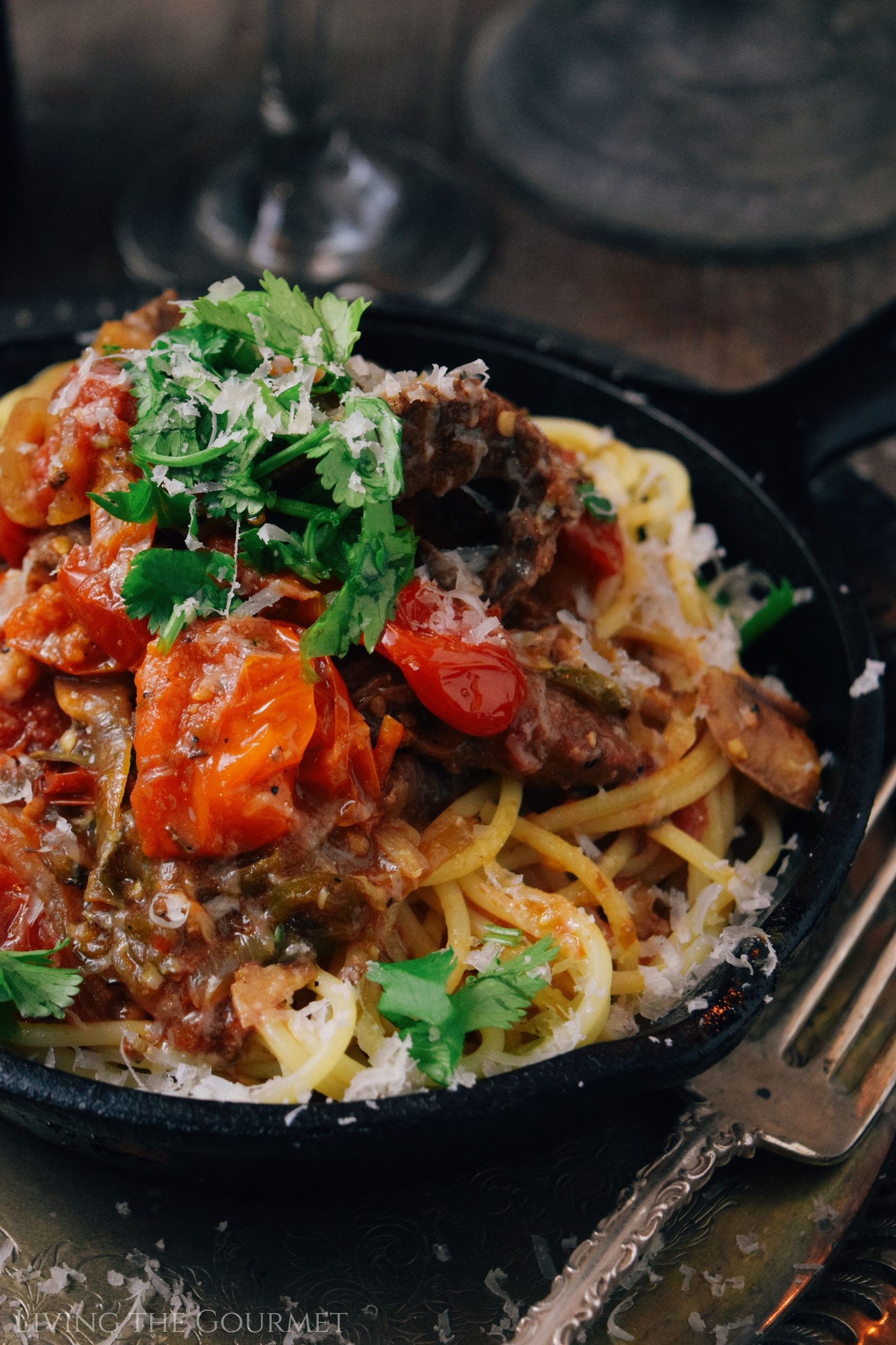 Making Today's Sauce Your Own
1) All the Meats. As stated to above, today's sauce works great with virtually any kind of meat. Have leftover meatloaf or pot roast? Leftover ribs (dry or wet rubbed)? Those all can be tossed into today's sauce. Sausages, meatballs (naturally), or even simple grilled steaks, are all candidates. After all, I'm combining a teriyaki marinated steak with what's basically a fresh tomato sweet marinara.
2) It Doesn't Need to be Leftover. Conversely, you can abandon the 'leftover' angle altogether and swap in something like my Sweet Greek Meatballs or some decent sausage in place of today's steak. If you're feeling adventurous, you could also braise short ribs, and then add them into the sauce to simmer over low heat for a truly carnivorous delight.
3) Veggies. In a meatless mood? Today's sauce works just fine without meat. Consider subbing in something like grilled peppers or grilled zucchini, or simply plate the sauce as-is, possibly with the addition of golden raisins to play on the honey in the ingredients.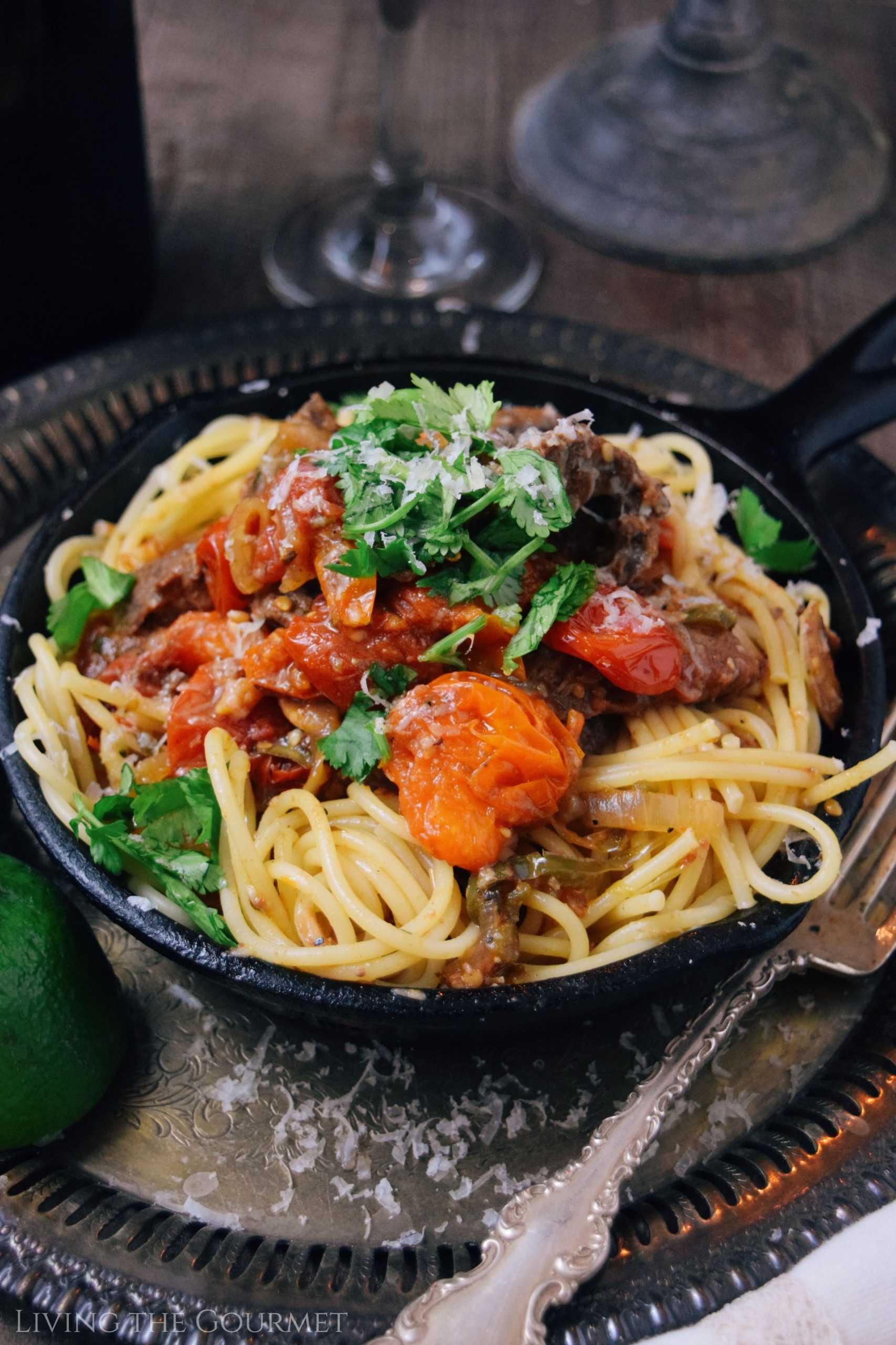 Craving More Sauce Recipes?
1) Short Rib Stew. A hardy combination of stewed veggies and braised short ribs set over thick rigatoni noodles. This is a classic cold weather stew, and one of my absolute favorite uses for short ribs.
2) Mushroom and Tomato Stew. One of my favorite stew recipes, this combines a medley of warming and rustic flavors, perfect for cold winter nights.
3) Cod Fish Stew. A hardy stew prepared using Pacific Cod fillets, this, to my mind, is the quintessential embodiment of a "North East Fish Stew."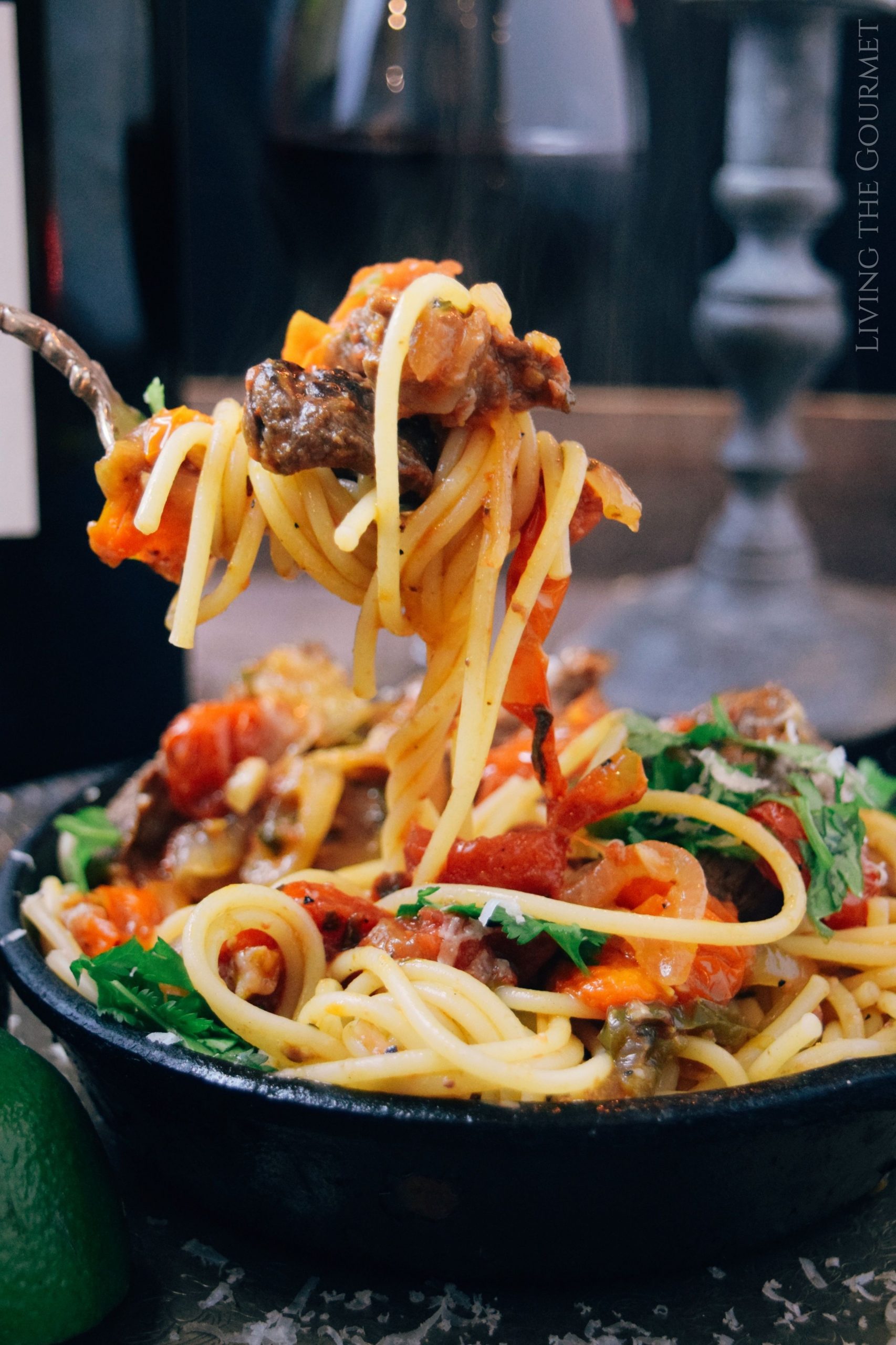 Living the Gourmet
Yields 4-6
Steak Sauce & Spaghetti
10 minPrep Time
20 minCook Time
30 minTotal Time
Ingredients
3 pints of grape tomatoes
1 large sweet onion – sliced thin
5 – 6 cloves of garlic – chopped
2 cups left over sirloin steak – sliced into strips
2 jalapenos – sliced with seeds
1 bunch of fresh cilantro – stems removed and roughly chopped (reserve ¼ of the cilantro for garnish)
2 bay leaves
1 tsp. ground cumin
1 ½ tsps. sea salt
1 tsp. fresh ground black pepper
½ tsp. red pepper flakes
1 ½ tsps. dried oregano
3 – 4 tbs. olive oil
1 lb. of your favorite pasta – (I used linguini)
Juice of 1 lime
2 tbs. of honey
Instructions
Heat a large cast iron frying pan with the olive oil.
Add the sliced onion and garlic to heated frying pan and let the onions get a beautiful golden color to them.
When the onions achieve a golden color and the garlic is fragrant, add the tomatoes and jalapenos to the pan.
When the tomatoes begin to soften and char a bit, gently, press the tomatoes to crush them. Do this gently, since they will splatter you!
Add the cilantro and seasonings and continue to cook on a medium-low heat for 5 – 10 minutes.
Add the sliced meat and loosely cover the pan and cook on a low heat for 12 – 15 minutes while you prepare the pasta as directed.
Combine the lime juice and the honey and stir.
Add the lime and honey mixture to the pan just before you are ready to serve the sauce and stir.
Add the pasta to the sauce and toss and garnish with the reserved cilantro, drizzle of olive oil and extra red pepper flakes.
7.8.1.2
1400
https://livingthegourmet.com/2020/01/sirloin-strips-with-sweet-spicy-tomato-sauce-over-pasta.html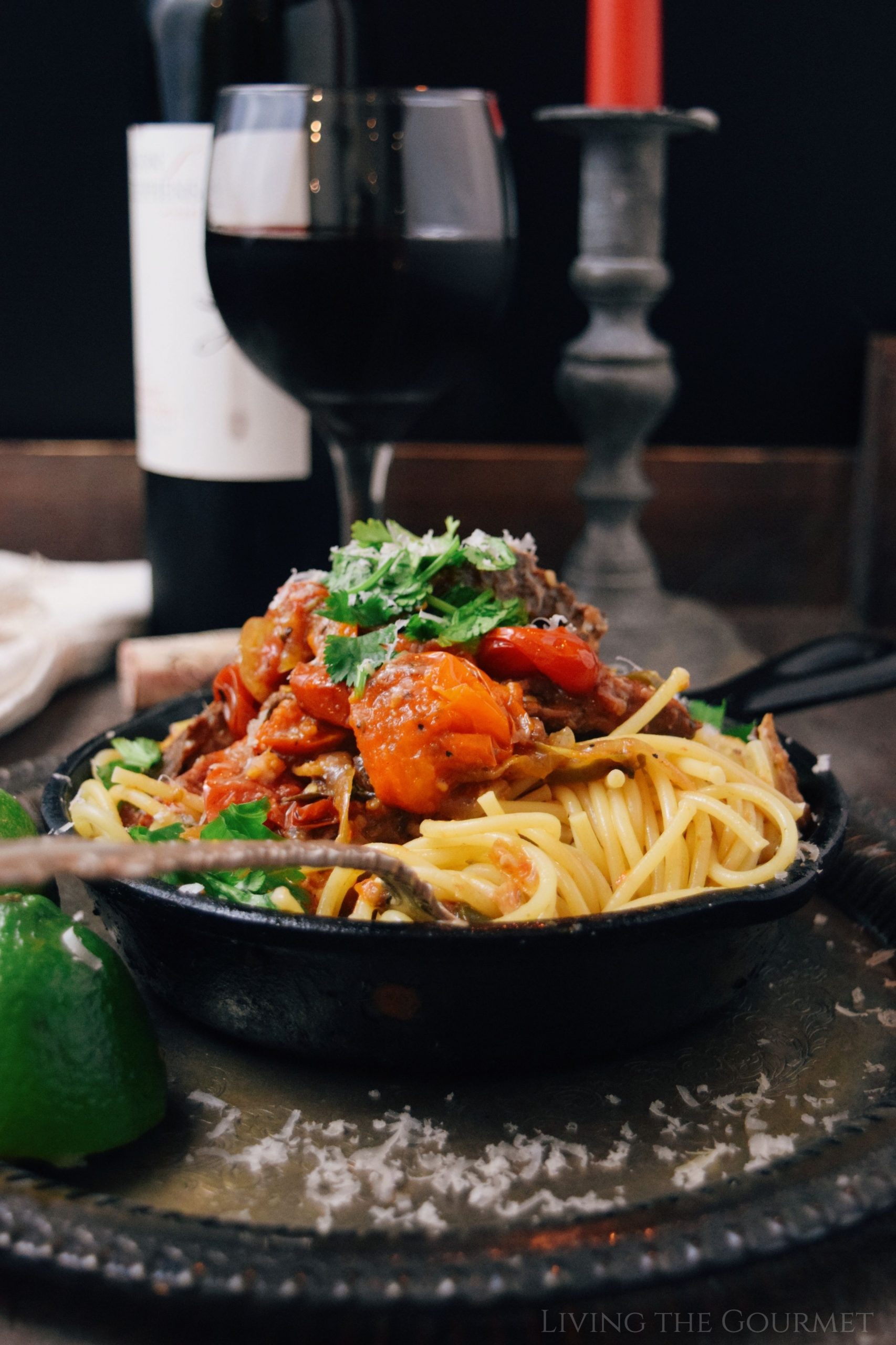 If You Enjoyed Today's Recipe…
Be sure to follow us on Instagram to stay up to date with all things Living the Gourmet, and for more great recipes, tips and tricks.
Did you make this recipe?
If so, let me know in the comments down below, or post a picture to Instagram, or to Pinterest, and I'll give you a shoutout on Instagram, or post your pin to one of my Pinterest boards!
1