Yes, I've gone a bit soup and stew crazy the last few weeks, but I just can't help myself – tis the season for warming meals and comfort after all, and that's what we're doing here today.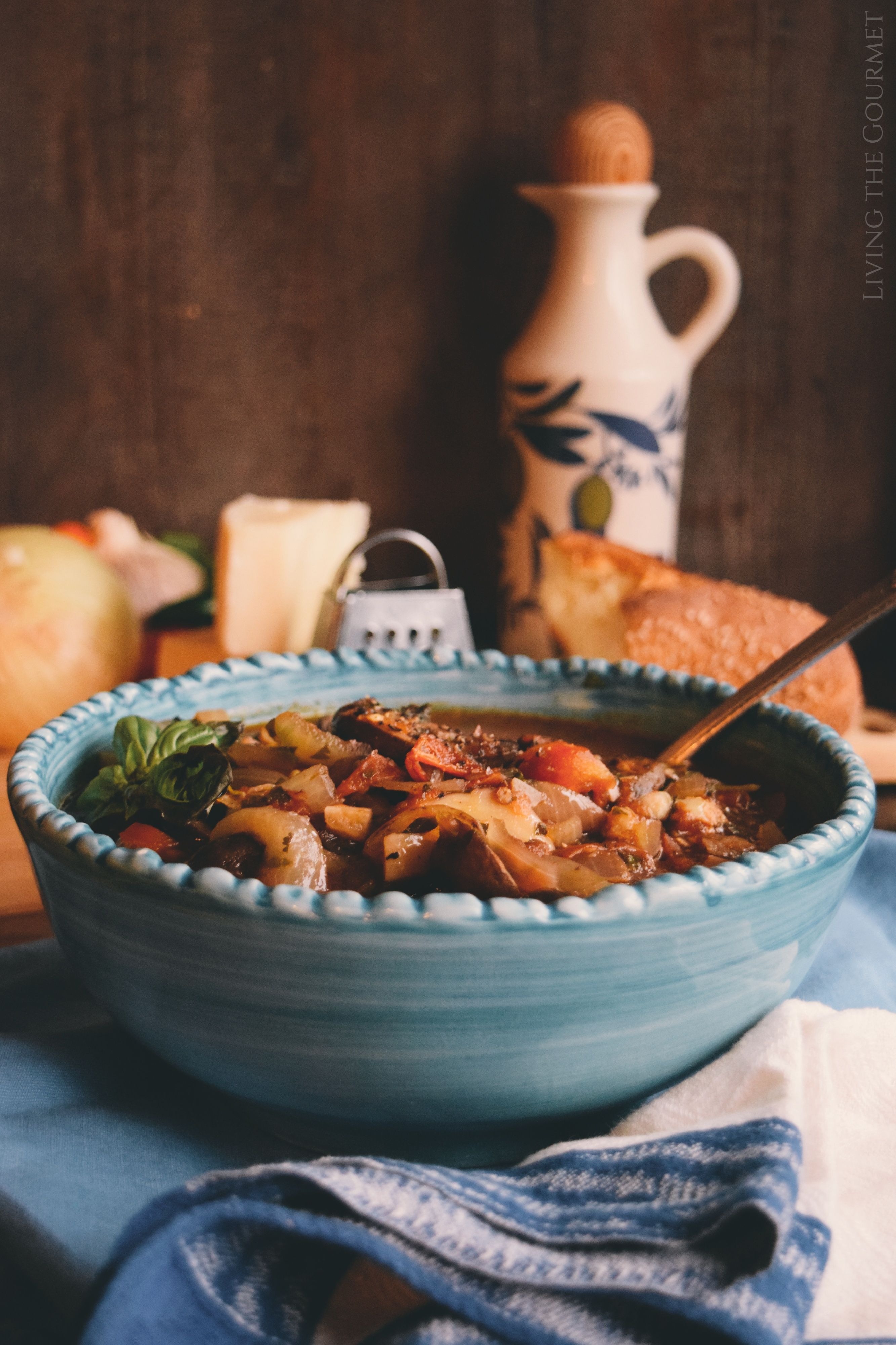 Soup Versus Stew – Yes, today's soup is a stew.
Yes, I've already called today's 'stew' a 'soup,' and I'm sure that by the end of this piece, I'll probably throw the two terms around interchangeably a few more times. However, let's answer one of the age questions of the English language – is there really a difference between soups and stews?
The answer is – yes.
Now, I admit, that I wanted to be sure, and so I did a bit of googling before typing out my answer. According The Kitchn, Taste of Home, and My Recipes, the differences comes down 'not' to the contents of the recipe, but rather to the amount of liquid and the method of cooking. A soup or stew can, in fact, be 'any' mix of ingredients cooked in 'a liquid,' but a soup features the ingredients wholly submerged beneath the liquid, and can be boiled. A stew, on the other hand, features its ingredients only partially submerged in a – comparatively – small amount of liquid, and is cooked via a gentle 'stewing,' think prolonged simmering – but never boiling.
Thus, today's soup is in fact a stew.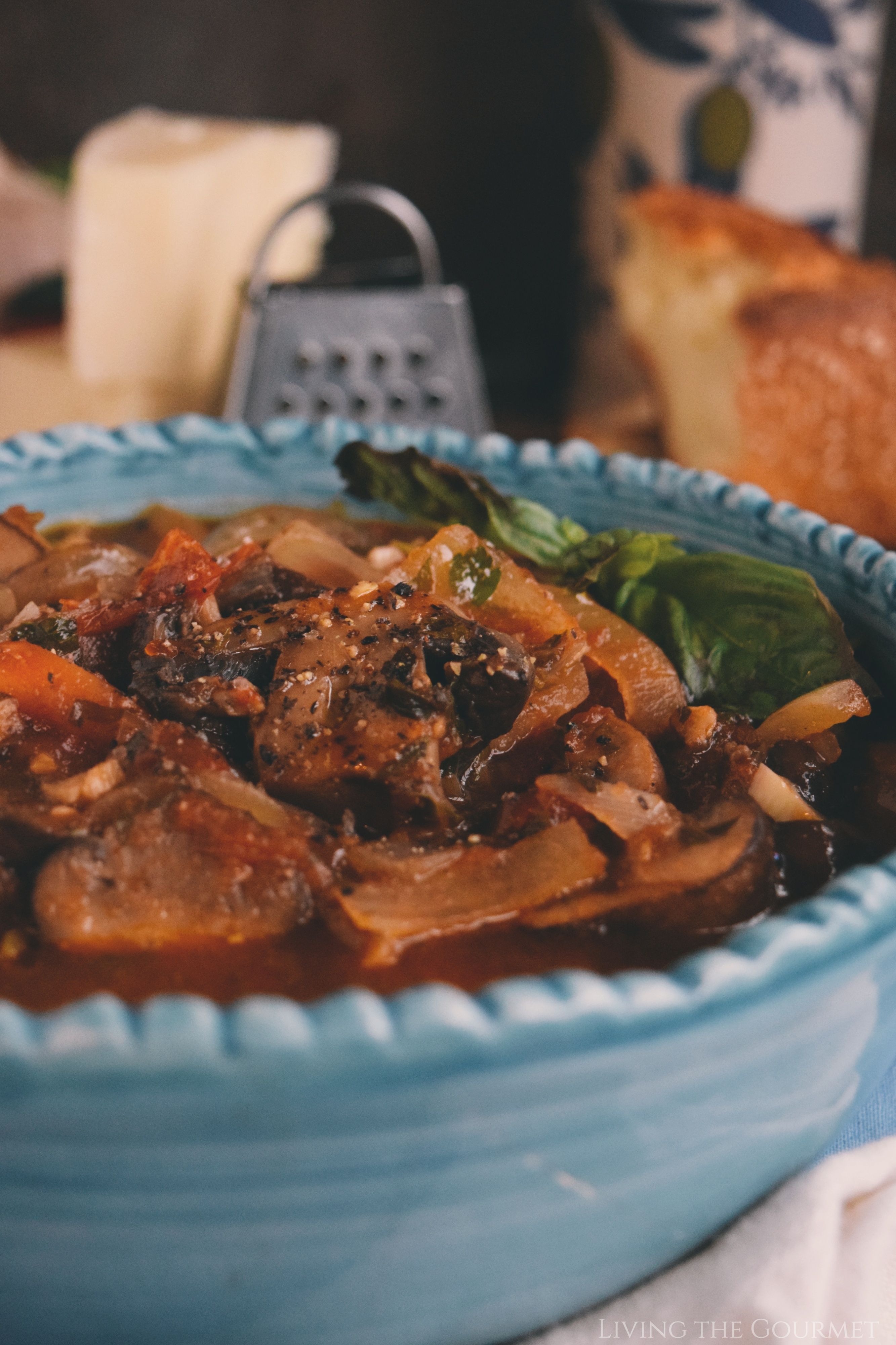 Ingredient Notes
1) Fennel Seeds…why though? Because their delicious and taste like licorice. Alright, you probably want a more in depth analysis than that, but honestly, that's more or less the whole story. Fennel seeds – surprise surprise – have a similar taste and aromatic profile to fennel, except much subtler, as well as being easier to cook with. In stews like the one we're preparing here today, the 'flavor' of the seeds are largely overpowered, taking a decidedly background role, but they nevertheless add an unmistakable aromatic 'sweetness' to the broth itself. As a side note, fennel seeds are very similar in their function to anise – though much subtler.
2) Serrano Peppers. Named after the mountains (sierras) of the Mexican states of Puebla and Hidalgo, these stubby little peppers range on the scovil heat scale from about 10,000 heat units on the low end, to an impressive 23,000 on the high end. By contrast, jalapenos max out at about 8,000 heat units. In short, we're adding them for heat – but not a 'blinding' or 'mindless' heat. On the contrary, these bring a warming, flavorful 'kick' to the stew. If you're sensitive to spicy foods, simply leave out the seeds, since that's where the lion's share of the heat is, while the 'flavor' resides largely in the flesh of the pepper.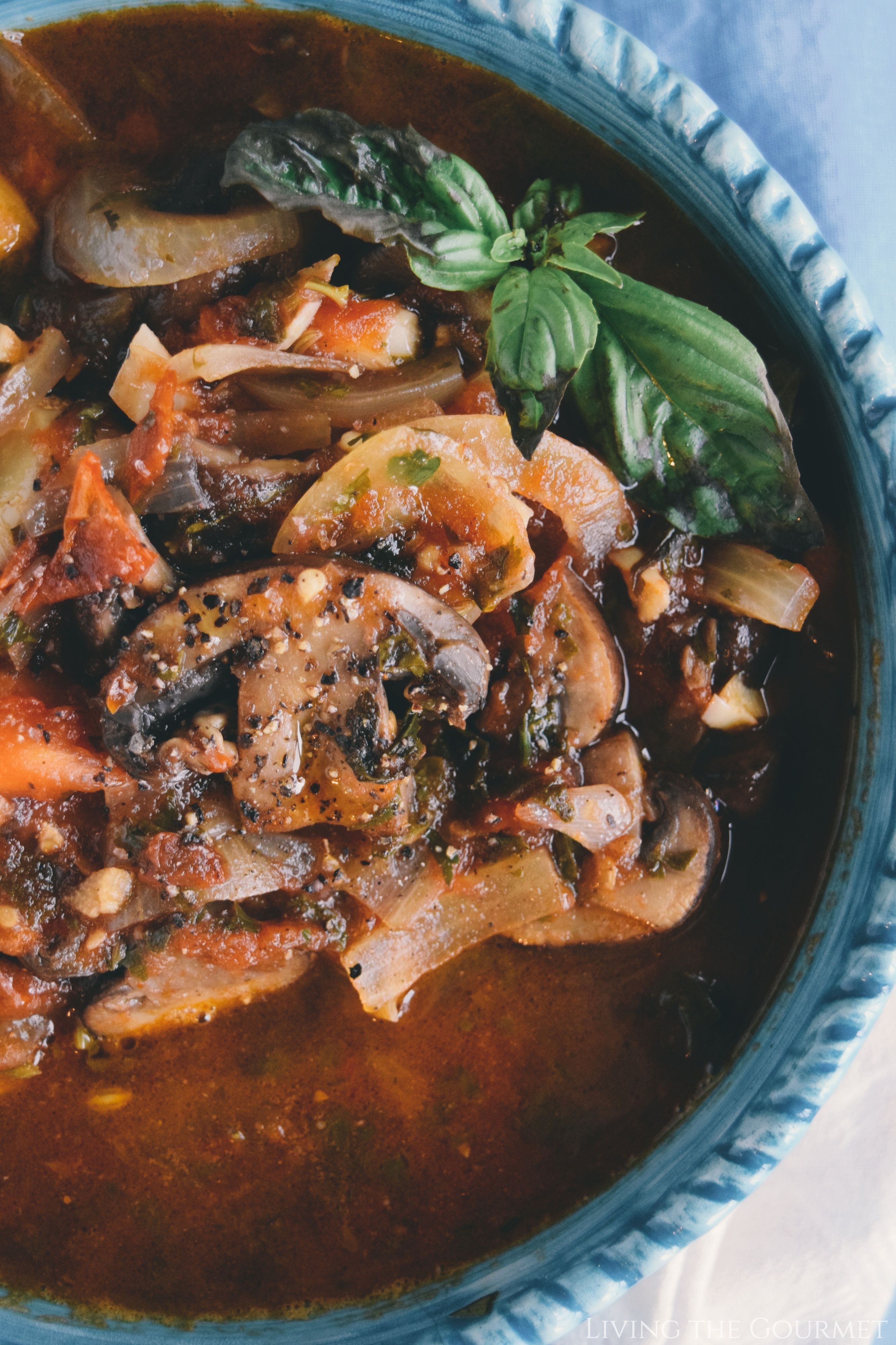 3) Cilantro and Parsley – A Contrarian Combination. One of the most enduring culinary myths is that parsley and cilantro are interchangeable – they are not. In fact, if there was an 'herb spectrum' they would be on opposite ends. Cilantro has what many describe as a 'heavy' and 'earthy' flavor profile, with decidedly 'herbal' aromatics. As such, cilantro is typically used in recipes that feature heavier more robust ingredients. Parsley is, in every respect, the polar opposite. Now, if that's the case, why would you ever combine the two? The answer is that today we have a medley of 'earthy' and 'rustic' flavors, such as dried oregano, serrano peppers, and a copious amount of garlic. However, stewing is a fairly 'gentle' form of cooking, and this cooking method is also being combined with things like honey, fresh tomatoes, and sweet onions, which are all conducive to a 'crisp' and 'fresh' background flavor, such as the addition of fresh Italian parsley. This creates a beautifully contrasting medley of flavors and aromatics.
4) Do the type of tomatoes matter? Yes…but not vitally so. As long as you're using fresh tomatoes you're in the clear, provided you use roughly the same quantity. Granted, beefstake tomatoes – along with Roma Tomatoes – are, in my opinion, one of the ideal tomatoes for stews and sauces courtesy of their juicy and meaty interior, but there's no need to fret if you have another type of tomato on hand and don't feel like making a trip to the market.
5) The Mushrooms. The mushrooms here are largely for a matter of preference and availability. Truth be told, I'm using Baby Bella Mushrooms for no particular reason other than that I had them on hand. However, if you want to get fancy you could use thinly sliced Portobello or Porcini. Standard White Button Mushrooms are also a go-to for things like soups, stews, and pasta dishes, and they're a go-to for a reason – their flavor holds up excellently when cooked 'and' they're readily available. Shitake are also an excellent soup mushroom, and its naturally smoky flavor would likely add a nice bit of flare to today's stew. So why not add nutritional value by using mushrooms in your next stew?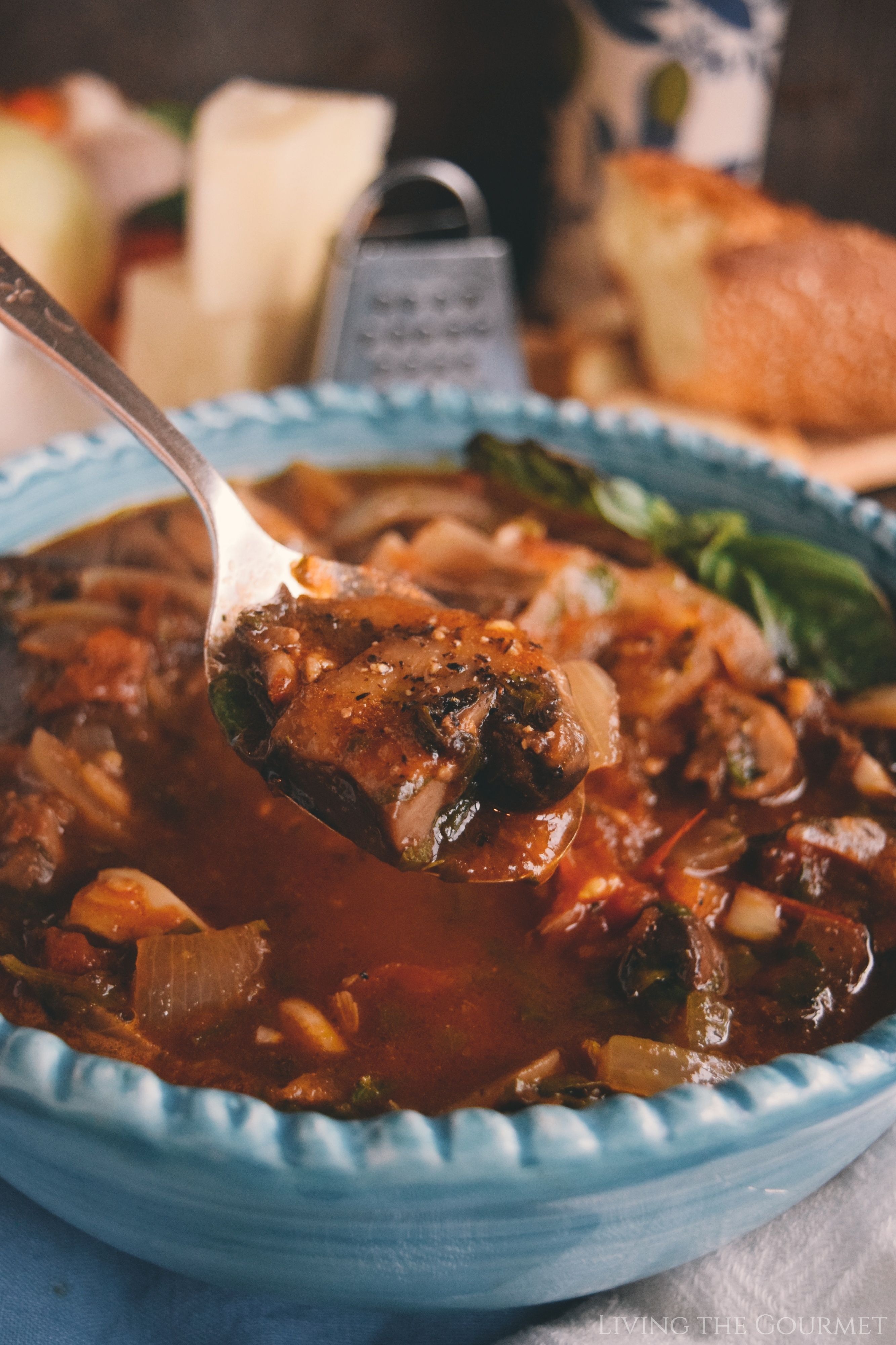 Prep Tips
1) Honey, Balsamic Vinegar, Grating Cheese – Not Just Garnish. It might seem like the act of drizzling some honey, vinegar, and cheese over the top of the soup is merely a 'finishing act' to make it presentable, but the truth is that this adds a fair bit of the 'final touch' for the stew's flavor, giving a bit of contrasting acidity from the vinegar, and just a hint more sweetness from the honey.
2) Cook 'then' Crush the Veggies. Yes, the order below in the recipe instructions are intentional. We're allowing the soup to cook almost completely before taking a pastry cutter or masher and then crushing the vegetables. This is simply for convenience, since we want hardy, uneven chunks, and once the vegetables are soft from cooking, the process becomes infinitely easier.
Print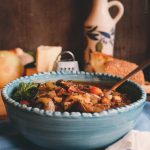 Mushroom & Tomato Stew
---
Author:

Total Time:

50 minutes

Yield:

4

1

x
2

quarts

of Baby Bella mushrooms - halved

4

beefsteak tomatoes - quartered

2

large sweet onions - rough chopped

5

-

6

large cloves of garlic - rough chopped

1

Serrano pepper - diced with seeds

1/2

cup

of fresh cilantro - chopped

1/2

cup

of fresh Italian parsley - chopped

2

bay leaves

1 1/2 tsp

. salt

1 tsp

. dried oregano

1/2 tsp

. red pepper flakes

1/2 tsp

. fresh ground black pepper

1/4 tsp

. fennel seeds

2

-

3

tbs. of olive oil and more for drizzling
Honey - for drizzling
Balsamic vinegar - for drizzling
Romano or Parmesan cheese
Serving suggestions with Rice or Noodles
---
Instructions
Heat a large cast iron frying pan. Place the halved mushrooms in the dry pan and drizzle with a tablespoon or two of olive oil. Grill the mushrooms until a slight char is achieved, then transfer to a sauce-pot.
Heat the same cast iron frying pan and place the tomatoes in the pan. Drizzle with olive oil and let the tomatoes soften. When this is achieved transfer to the sauce-pot with the mushrooms.
Again, heat the same cast iron frying pan and place the onions and garlic in the pan, drizzle with a tablespoon of olive oil and let the onions get a nice golden color. When this is achieved transfer the onions to the sauce-pot. Add of the seasonings.
Loosely cover the sauce-pot and cook over a gentle heat for 30 – 40 minutes.
Taste for seasonings.
Using a pastry cutter, carefully cut into the vegetables to slightly chop the veggies.
Serving suggestions; with or without rice or noodles and grated cheese
Serve with a drizzle or honey and a drizzle of balsamic vinegar.
Prep Time:

10 minutes

Cook Time:

40 minutes
Recipe Card powered by
Craving more seasonal soups? Check out some of the ones below.
1) Spinach and Meatball Soup. One of my new favorite ways to prepare soup. The meatballs give the broth a 'thick' texture and 'meaty' flavor, while the veggies and herbs keep the sound grounded. I really can't recommend this one enough.
2) Bean and Vegetable Soup. The quintessential 'vegetable soul,' perfect for weeknights when you want something hardy and warming, but don't have the time to start with a full entrée and all the trimmings.
3) Butternut Squash Soup. An autumn staple, featuring all of the season's most beloved colors and flavors. An absolute must for your seasonal recipe box.
4) Potato and Leek Soup. This soup is thick, hardy, and easy to make. From start to finish, it's a recipe focused squarely on those pleasantly chilled, blissfully dreary late November and early December days.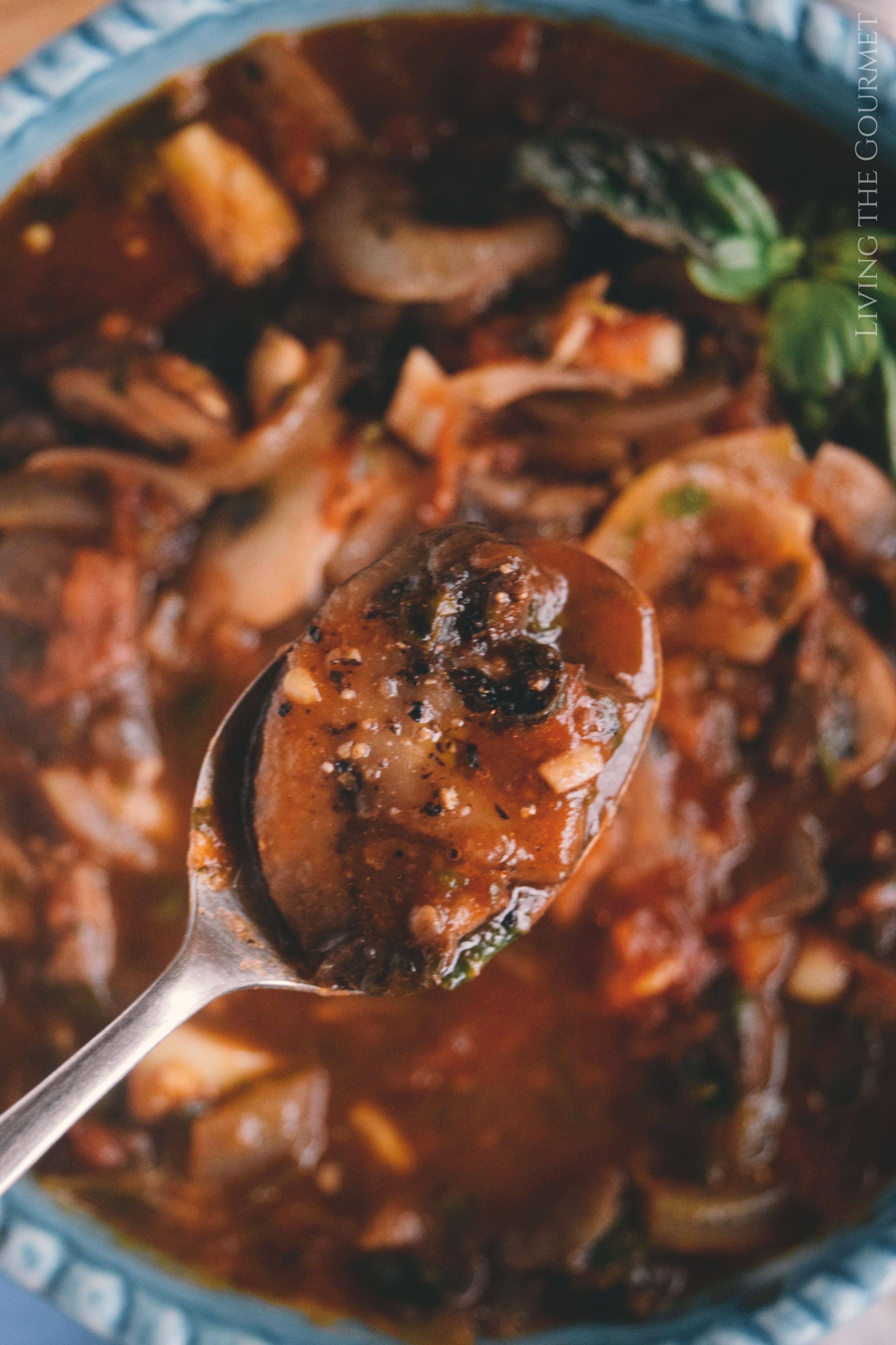 Be sure to follow us on Instagram to stay up to date with all things Living the Gourmet, and for more great recipes, tips and tricks. And if you gave this recipe a try, let me know in the comments down below, or post a picture to Instagram, or to Pinterest, and I'll give you a shoutout on Instagram, or post your pin to one of my Pinterest boards!
1