Today we're preparing what I consider to be a quintessential 'winter stew' – short rib stew. A classic and satisfying 'meat and vegetables' combination, featuring an herbed broth, today's stew warms and body and soul in equal measure, making it a must-have recipe for the winter months.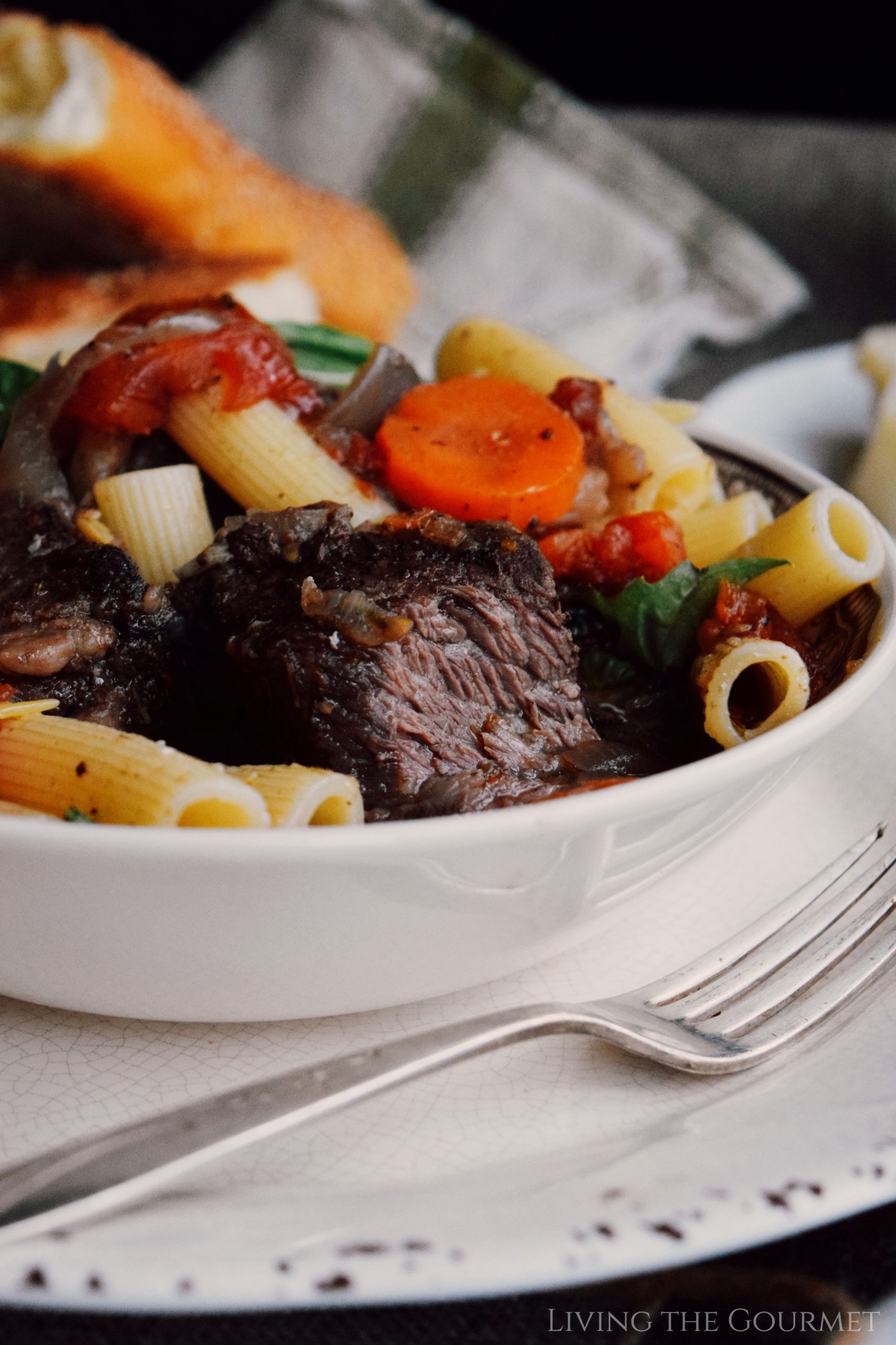 Short Ribs – The Reason You're here
1) What are they? Contrary to the name, short ribs are not cut from the 'rib' area of a cow. Instead, most short ribs are prepared from the plate or brisket of the cow, which is the underside area of the animal in the area of its forelegs, essentially the chest and front shoulders. This actually makes sense when you consider the 'texture' and 'appearance' of the meat found on short ribs, which is similar to that of a brisket of beef or stewed chuck. As such, short ribs tend to be higher in fat than their 'long' counterparts, and are most often prepared in stews, sauces, or braised on their own.
2) Selecting Quality Short Ribs. The key to selecting good short ribs comes to down remembering that they come from an area of the cow that's constantly 'working' – meaning this is a naturally 'tough' cut of meat. As such, you want short ribs that have a high ratio of fat, with dense and uniform marbling. In addition to providing tenderer meat, this will also ensure that the fat of the short ribs will reduce deliciously into the stew or sauce into which they've been added, flavoring the recipe.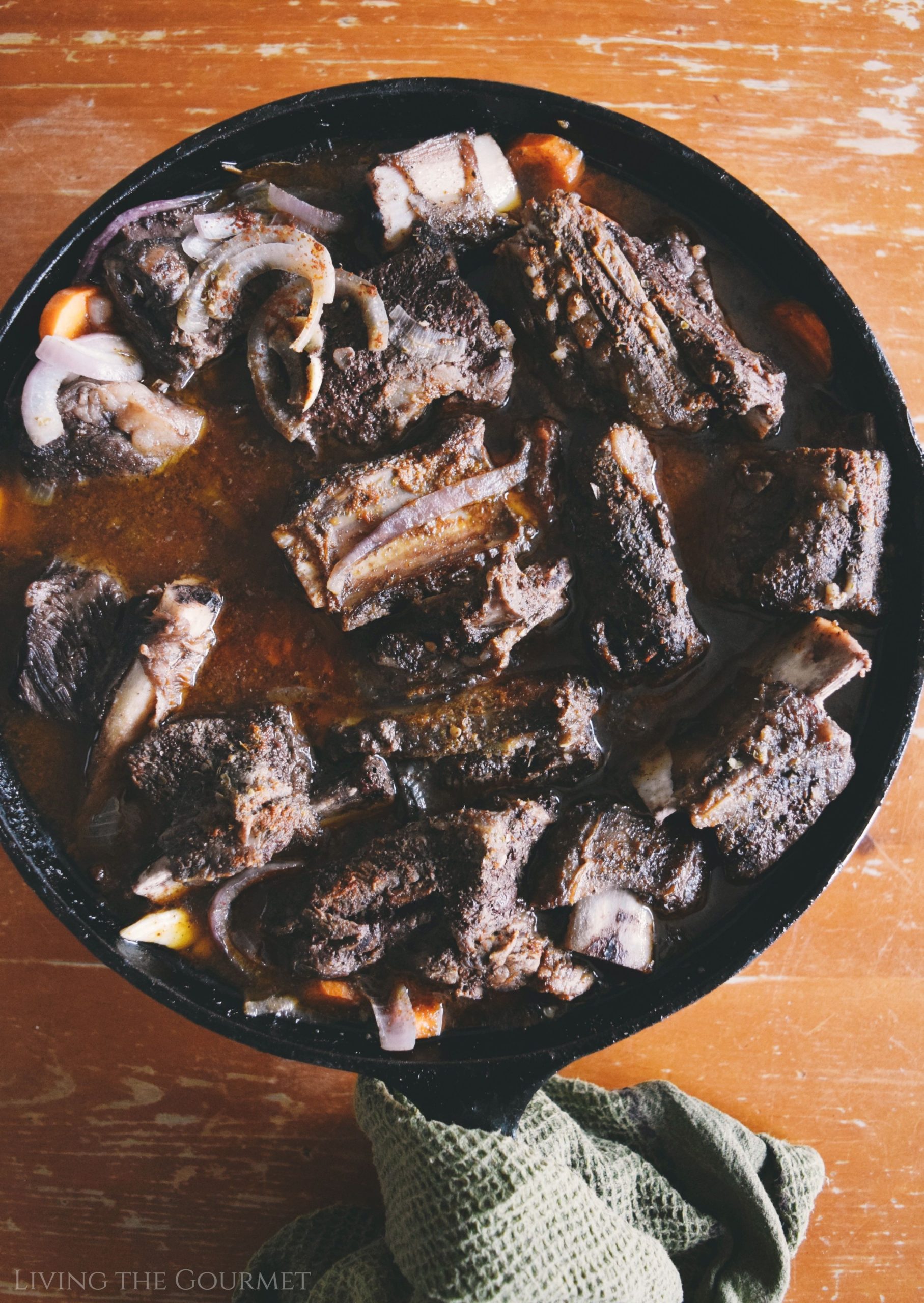 3) Just for stews and sauces? More or less. However, I'm not here to tell you that these 'cannot' be grilled or barbecued like back or long ribs, as they certainly can, and the end result 'can' be delicious. I will say that such preparation methods are 'less' than ideal, and that you'll very likely want to give them a nice braising before attempting to grill them. However, bear in mind that short ribs really only feature a thick 'nub' of meat, with the rest of their total mass being bone, sinew, and grizzle. Also, they're a fair bit fattier than their 'taller' cousins, and that's what makes them so great in soups, stews, and sauces, where the meat 'reduces' into the broth or sauce, as mentioned above. Also, they simply love long, protracted cooking times, giving their meat enough time to become 'fall off the bone' tender.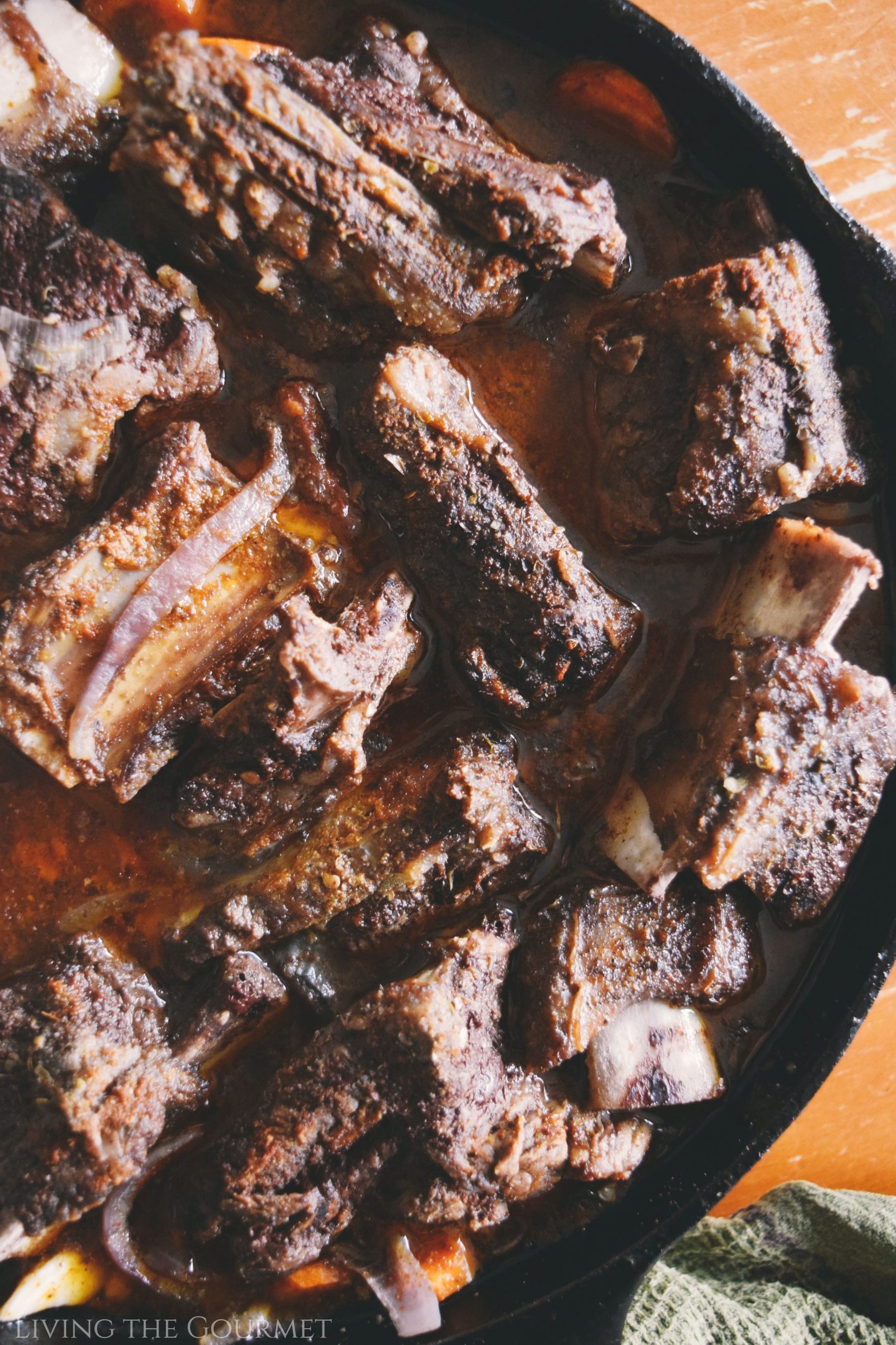 Secondary Ingredient Notes and Tips
1) Bay Leaves, and why they 'are' needed. Bay leaves are currently on the receiving end of a years' long negative trend, as it's been popular among veteran and amateur chefs alike to deride them for the sake of 'being different' or 'bucking tradition.' "What does a bay leaf taste like? Nothing," writes The Awl. Meanwhile, Life Hacker set out on a crusade of 'boiled rice with bay leaves' to prove a negative – that bay leaves do nothing. This isn't helped by the fact that even Serious Eats, in attempting to defend the herb, describes the leaves' flavors as ranging from menthol and eucalyptus to tea-like – hardly an appealing profile. The truth is much more straightforward – we learn from the experts. To that point, if you have ever tasted a savory recipe that's Portuguese, Italian, Mexican, Sicilian, Southern French, Argentinian, or Spanish in origin, chances are that you've probably enjoyed bay leaves. They add 'rustic' undertones to recipes like marinara, adobo, and mole sauces. They add (an incredibly subtle) yet warming 'flavor' to recipes where they make an appearance – and this is why we're using them today.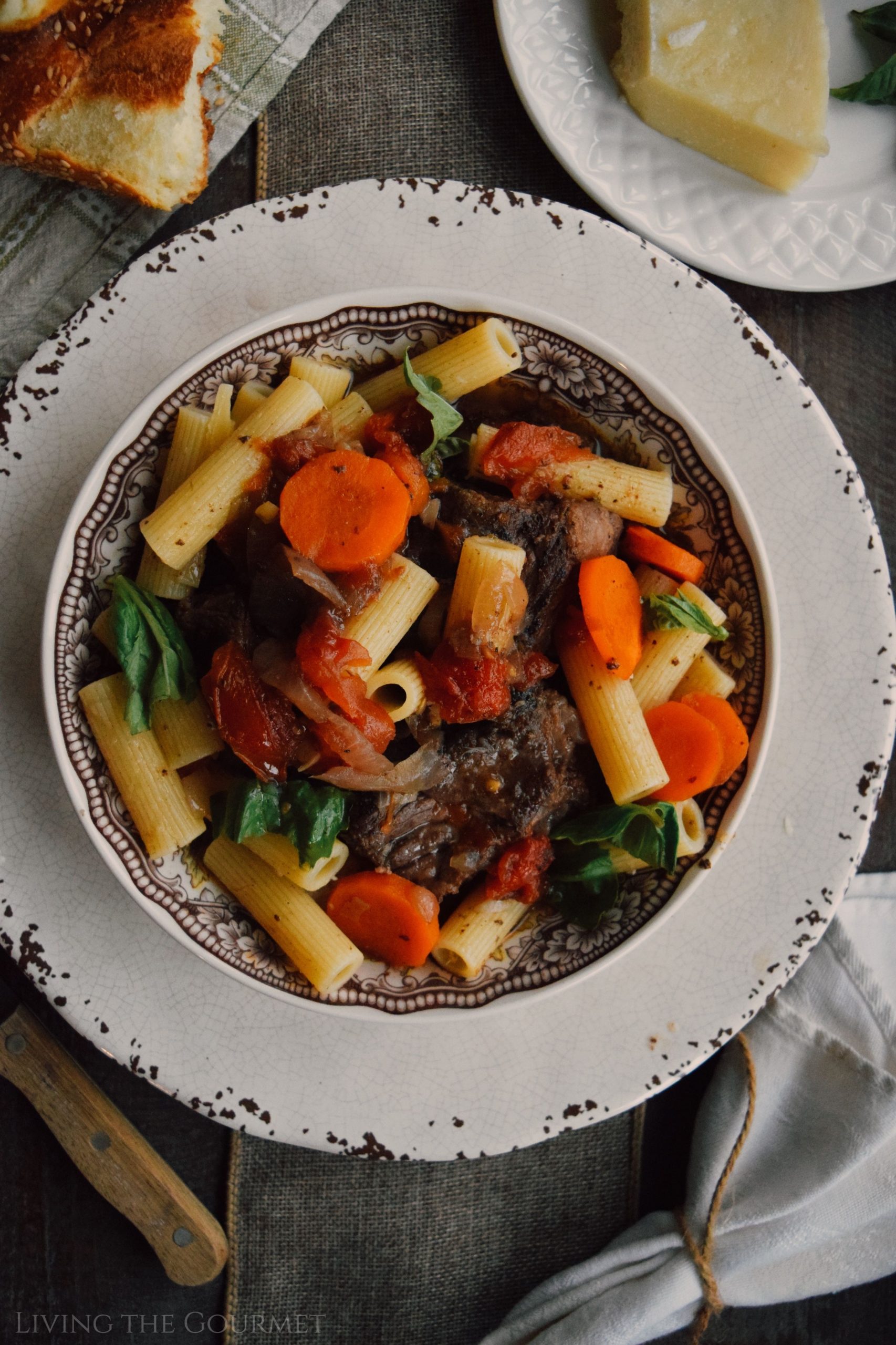 2) The Chili Pepper – Entirely Preference. I didn't specify which type of chili pepper, since this really comes down to preference and your tolerance for, or enjoyment of, heat. Milder chili peppers like jalapeno or poblano would work just fine. However, for a spicier stew with a bit more kick, consider a habenaro. Again, this is purely preference. However, if you're 'really' sensitive to spice, consider using a small bell pepper, or leaving the seeds out of a jalapeno.
3) The Pasta – More Than Preference, Less Than Vital. Let's be real, no one has ever 'ruined' a recipe by picking the 'wrong' pasta to pair with their sauce, soup, or stew. However, there are some general guidelines to helping you maximize your enjoyment. As a rule of thumb, tube shaped pasta generally pairs well with thick hearty sauces that can 'trap' or 'catch' within the tube, such as ziti, rigatoni, and penne. The larger the tube pasta, the heartier the sauce it pairs with. Stick or 'rod' shaped pasta, such as spaghetti, spaghettoni, and capellini, are generally best paired with olive oil and garlic or tomato based sauces, since these types of pasta serve best when they can be uniformly coated by the sauce, since the pasta cannot 'catch' or 'trap' heavier sauces in the way that something like rigatoni can. Ribbon pasta is generally ideal for creamier sauces. Think of the heavenly pairing of fettucine and alfredo sauce. So, for today's recipe, tube shaped it is.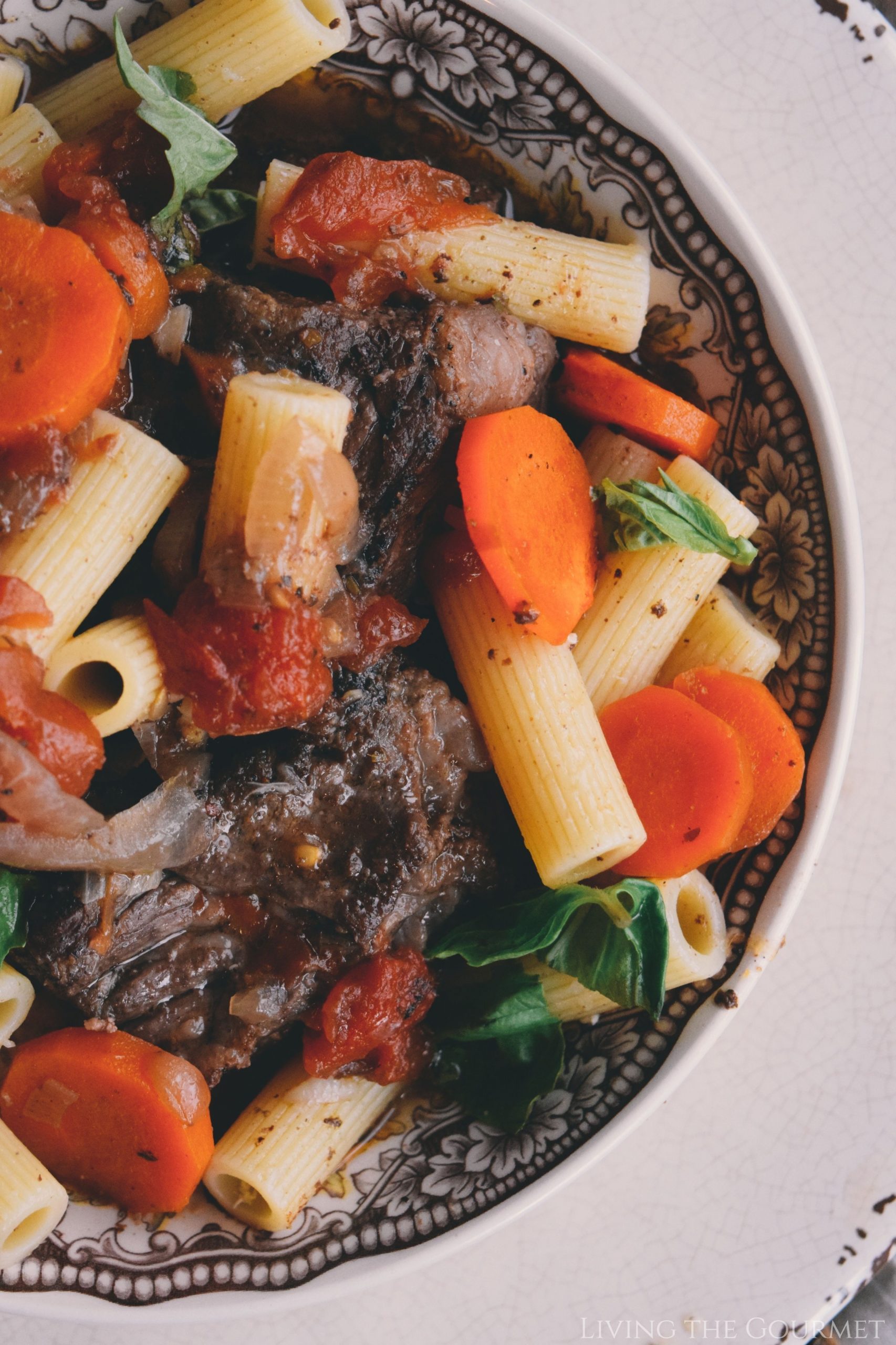 Other Great Seasonal Soups and Stews
1) Mushroom and Tomato Stew. One of my favorite stew recipes, this combines a meldey of warming and rustic flavors, perfect for cold winter nights.
2) Butternut Squash Soup. This soup is what I think of when I think of autumn, combining butternut squash with a medley of fall flavors like smoked bacon, shallots, and garlic.
3) Potato Leek Soup. This super simply potato soup is great for week nights, or as a starter to Sunday dinners, and couldn't possibly be more seasonal.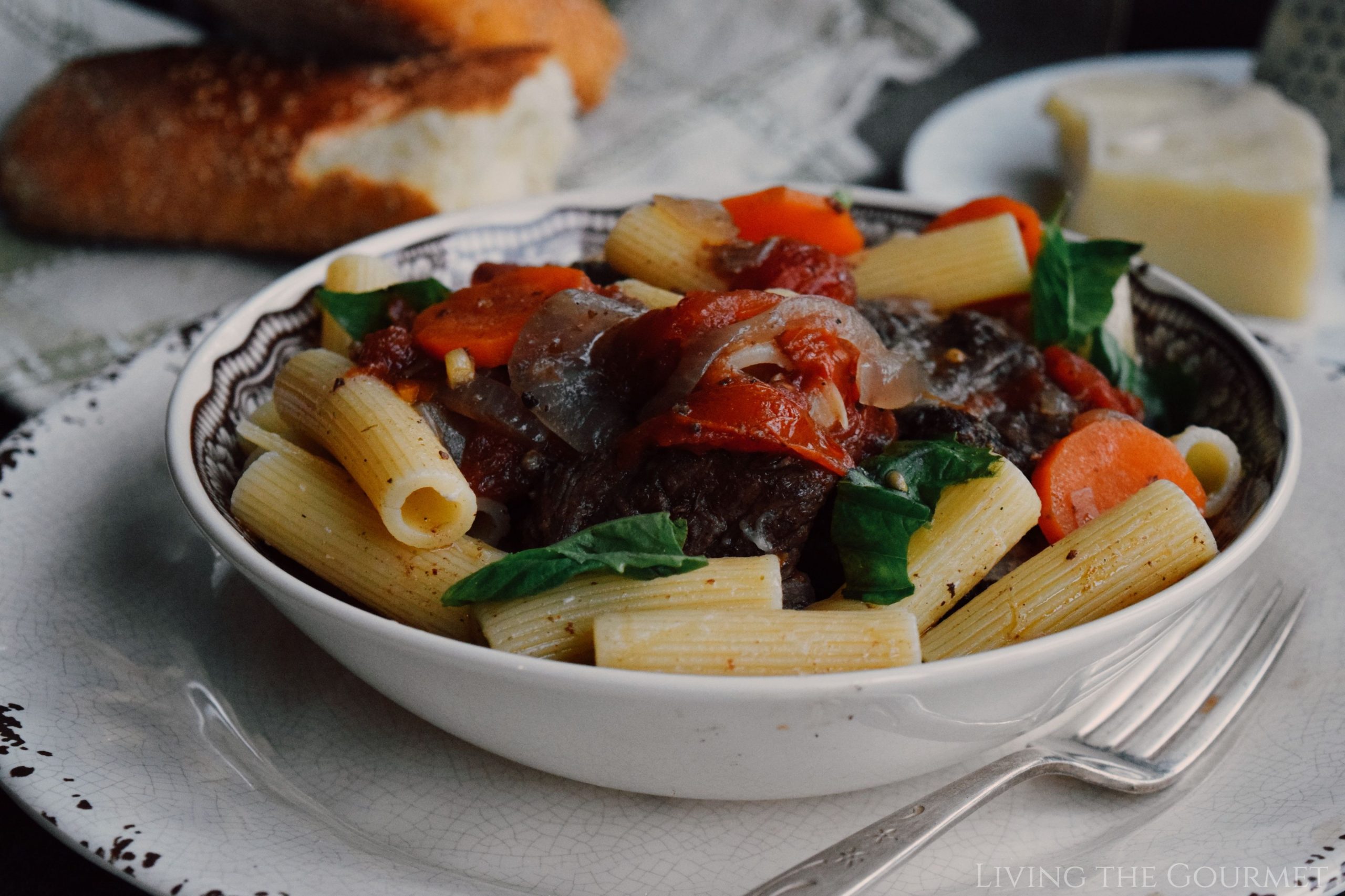 Living the Gourmet
Yields 4-6
Braised Rib Stew
15 minPrep Time
1 hr, 30 Cook Time
1 hr, 45 Total Time
5 based on 8 review(s)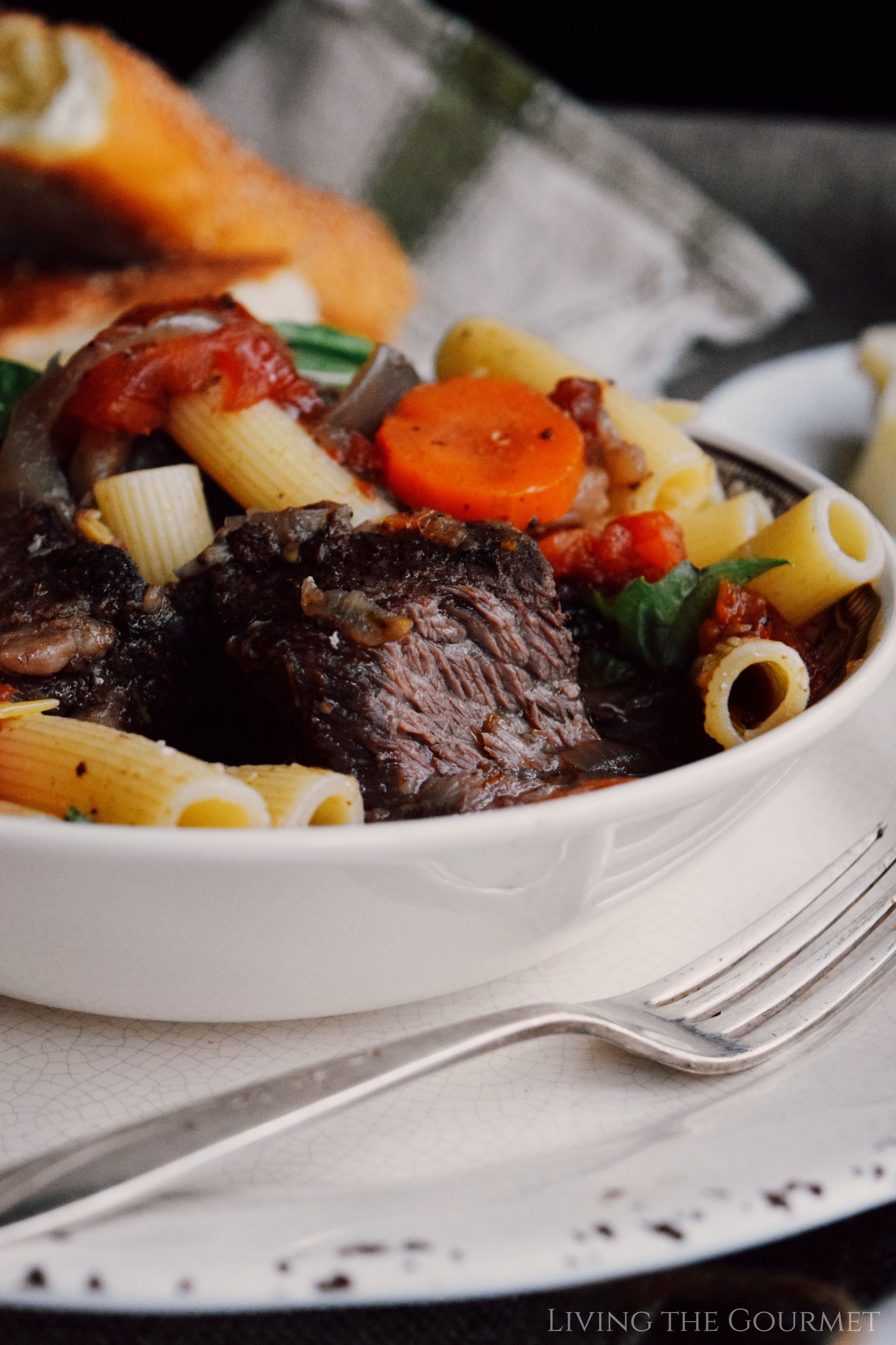 Ingredients
8 – 10 short ribs
1 large onion – sliced
2 bay leaves
4 – cloves of garlic – chopped
1 chili pepper – chopped with seeds
1 large tomato – diced
2 carrots – peeled and sliced
1 cup of water
10 – 12 fresh basil leaves – for garnishing soup with
1 tsp. salt
1 tsp. sweet paprika
1 tsp. dried oregano
Fresh ground black pepper
2 – 3 tbs. olive oil
1 lb. of your favorite pasta
Romano cheese for grating.
Instructions
Heat a large cast iron frying pan with 1 - 2 tbs. of olive oil.
Add half of the short ribs, season with the spices and saute until a nice char is achieved on the ribs.
Turning the ribs once to char all sides. Remove and set aside and finish charring the rest of the short ribs.
Heat a large cast iron frying pan with 2 tbs. of olive oil. Add the sliced onion, carrots, chopped garlic, chili pepper and tomato and cook down until the onion softens.
Add the charred short ribs on top of the veggies and add in the cup of water.
Re-season the pan and cover tightly. Simmer on a low heat for at least an hour and a half, until the meat is very tender. Taste for seasoning.
Prepare the pasta as directed.
Place the pasta in a soup bowl and top with a short rib and the soup.
Serve with a drizzle of olive oil, torn fresh basil and fresh grated cheese.
7.8.1.2
1388
https://livingthegourmet.com/2019/12/braised-rib-stew.html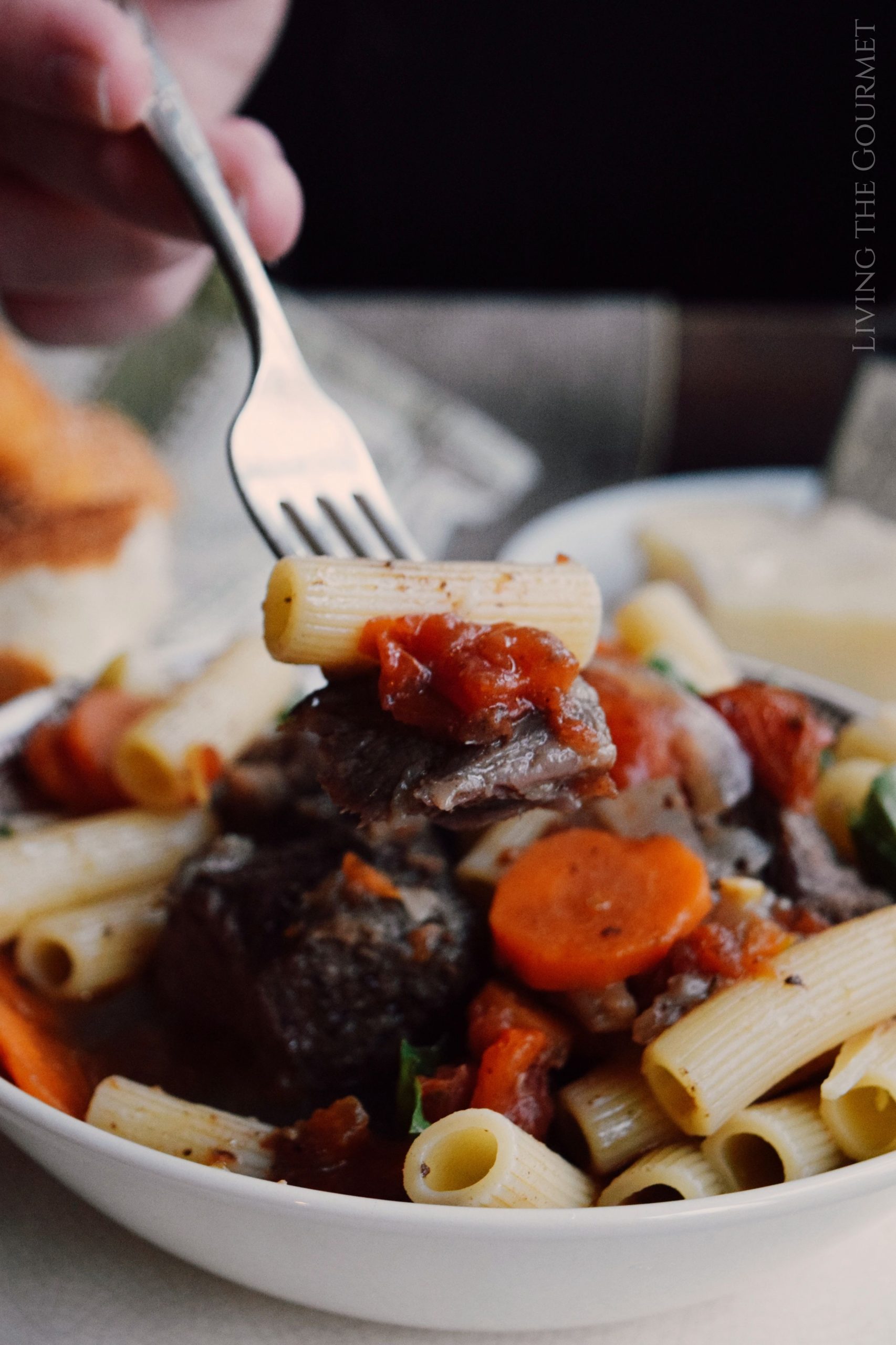 If You Enjoyed Today's Recipe…
Be sure to follow us on Instagram to stay up to date with all things Living the Gourmet, and for more great recipes, tips and tricks.
Did you make this recipe?
If so, let me know in the comments down below, or post a picture to Instagram, or to Pinterest, and I'll give you a shoutout on Instagram, or post your pin to one of my Pinterest boards!
Tis the Season
We're pleased to partner with ButchBox today to announce that now through December 26th all NEW subscribers receive 2 lbs of Ground Beef + 2 packs of Bacon for FREE in their first box!
ButcherBox is a meat subscription company that distributes high quality meat you can trust; 100% grass-fed and pasture raised beef, free-range organic chicken, heritage breed pork, and wild caught Alaskan salmon directly to your door. ButcherBox believes in better. Their mission is to create a world where everyone wins with meat that is better for you, your family, the animals, the farmers, the business, and our planet. All of their products are humanely raised and never given antibiotics or added hormones ever.
This post includes affiliate links, meaning, at no additional cost to you, I will earn a commission if you click through and make a purchase. Thank you for supporting the brands that support Living the Gourmet!
0