This shop has been compensated by Collective Bias, Inc. and its advertiser. All opinions are mine alone. #BakeItYourself #CollectiveBias #HomemadeBaking​ 
Combining cinnamon sweetness, dark chocolate, candied pecans, and a homemade dough that bakes up fluffy, moist, and tender, today's cinnamon rolls are an instant must-have recipe in your late-autumn and winter repertoire.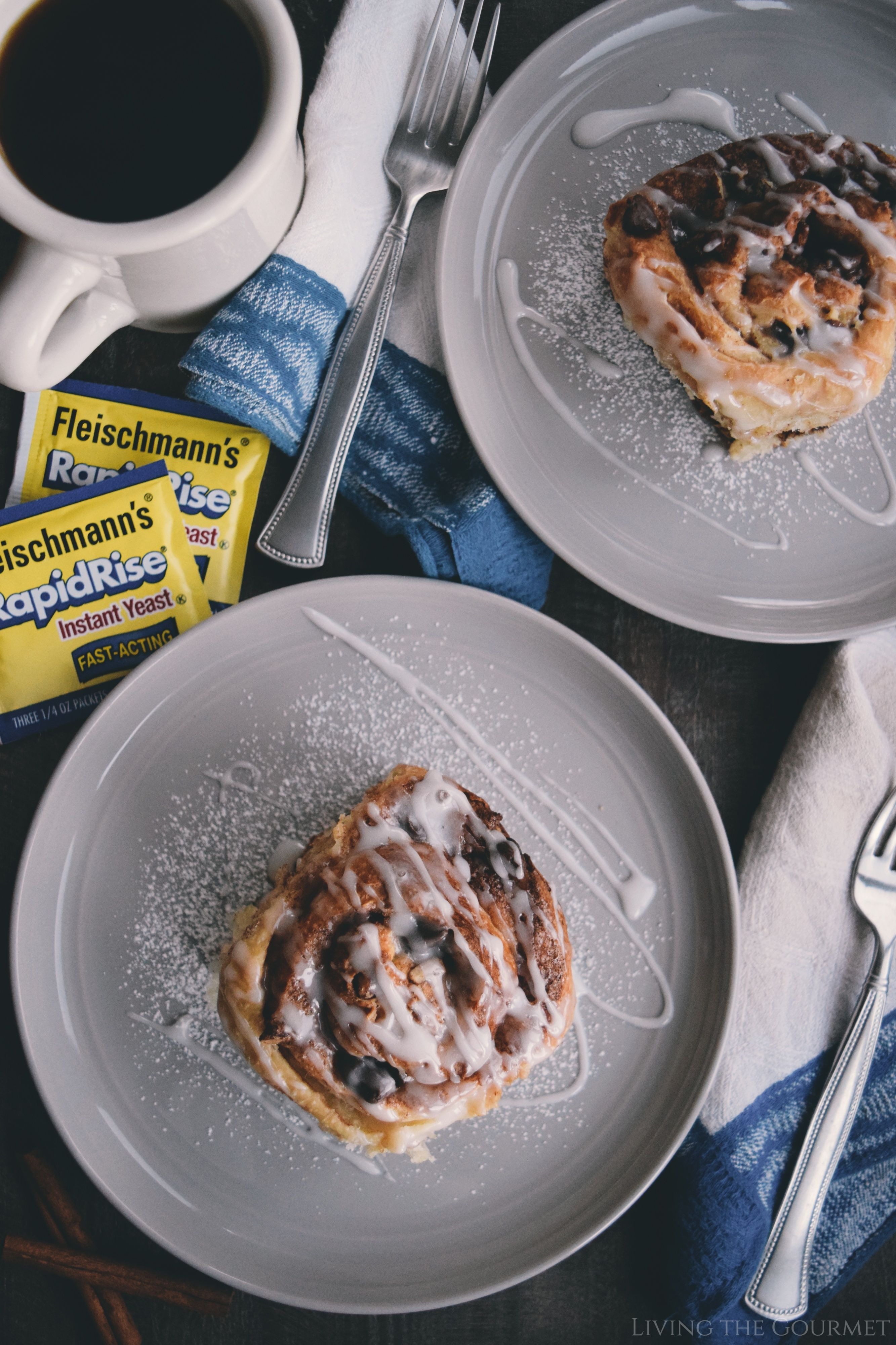 Today's cinnamon rolls, which we're putting together today's recipe with a little help from our friends over at Fleischmann's®, more on them in just a bit, are a treat the entire family will love, whether as a sweet bite for breakfast, or as a relaxed dessert. Now, without further delay, let's get to it.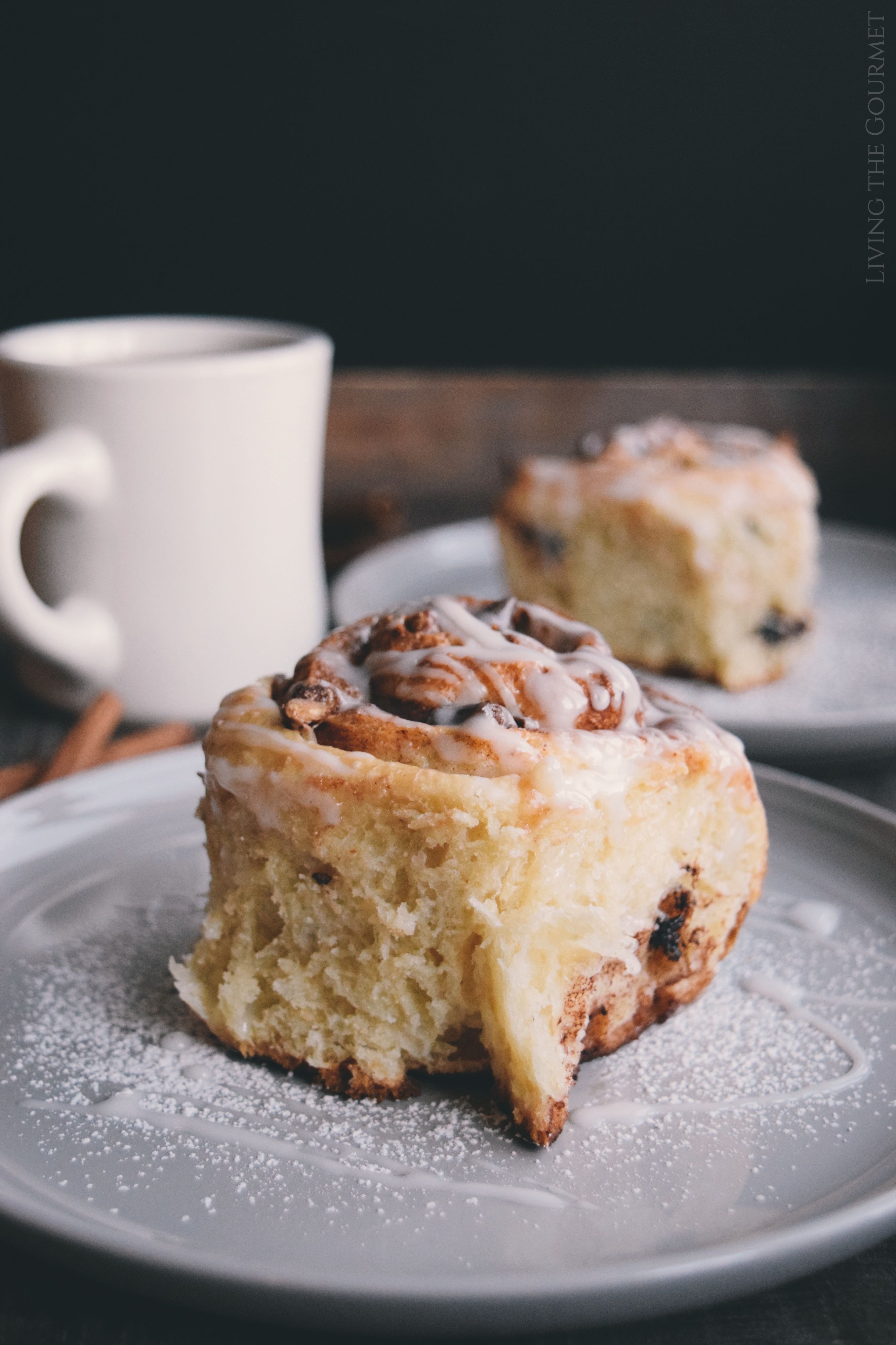 Why You'll Love These Cinnamon Rolls
1) Better than the Bakery. There really are very few things in life that are better than hot buns fresh from the oven. Moist, flaky, tender, and warm, with freshly prepared icing and warmed candied pecans – I can honestly say that these are better than bakery fresh.
2) Familiar Recipe with a Twist. We've all had cinnamon buns, but today we're putting a few subtle, but delicious, twists on the original recipe. The addition of candied pecans add pockets of 'crunch' to the otherwise wholly tender and flaky texture, along with an extra, but not overpowering, layer of flavor complexity. In addition, we've rolled the buns with dark chocolate, adding yet another layer of flavor.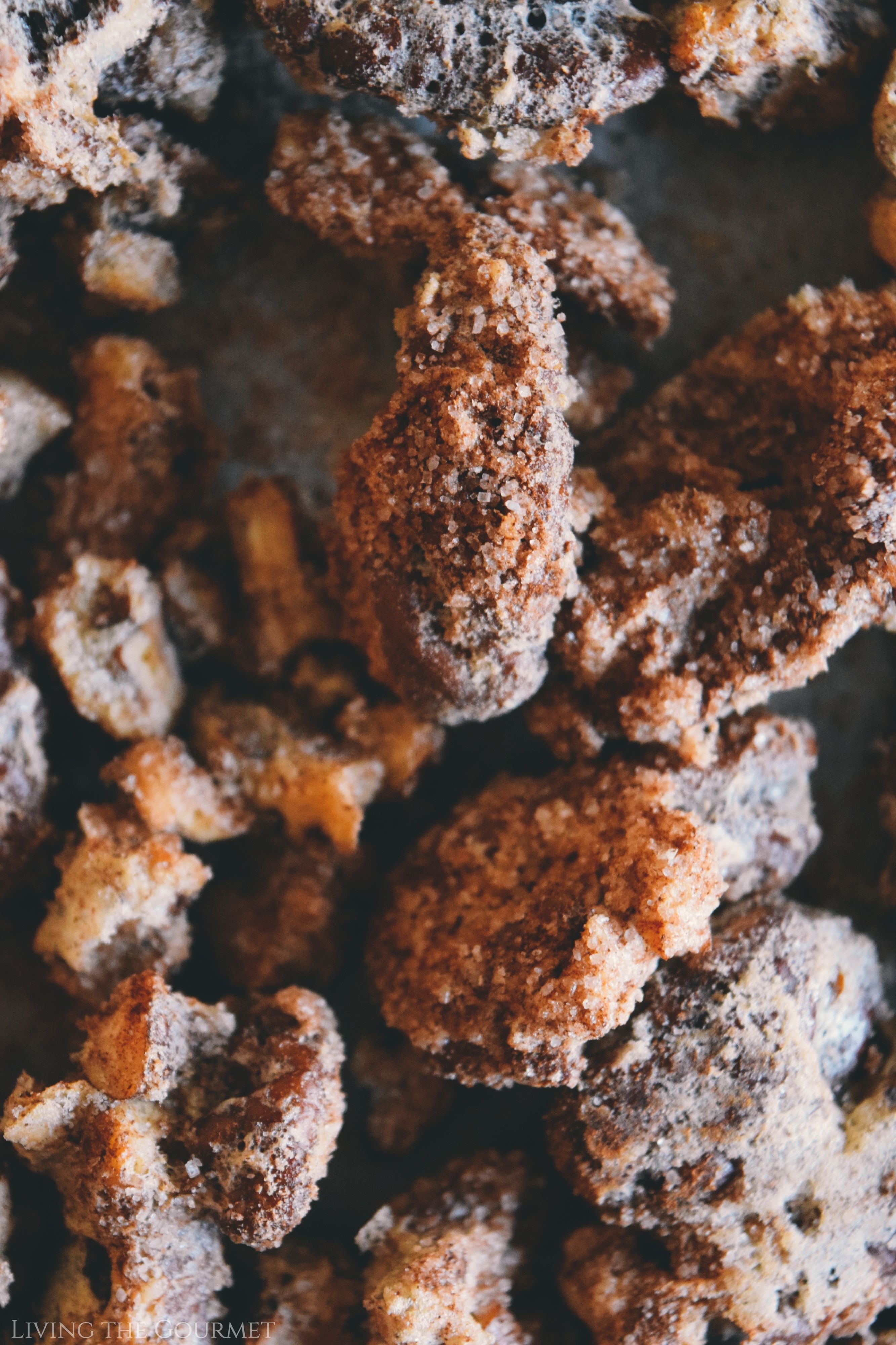 3) Seasonal. While cinnamon rolls are delicious year round, there's just something 'special' about them in the colder months, especially in the fall. Maybe it's the warm cinnamon sweetness, or just the 'fact' of a warm bun on a grey autumn day, but there's simply no denying that these are a quintessential seasonal item.
4) Perfect as a Sweet Breakfast Bite, or Dessert! Tis the season for all things sweet, and these buns are perfect both as a 'sweet bite' for breakfast, as well as 'laid back' dessert alongside a mug of black coffee.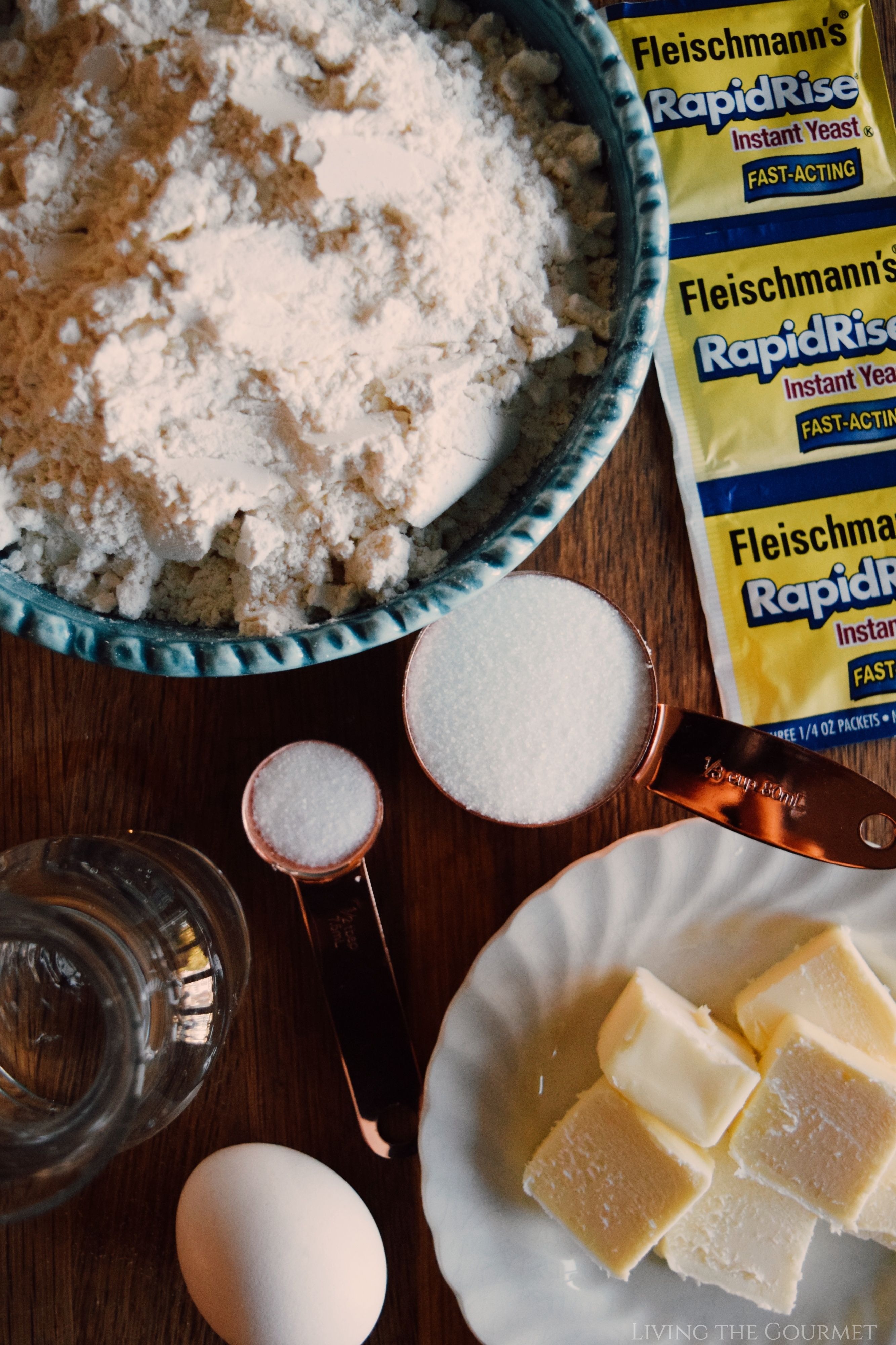 Ingredient Notes and Tips
1) Candied Pecans. These are a simple combination of roasted pecans combined with whipped egg whites and warmed cinnamon-sugar, and deliver a large part of the recipe's complexity in flavor and texture. Since we're already turning the oven on for the cinnamon buns, I simply prepared these in the oven. However, you can also prepare these stovetop if desired. To do so, simply combine the sugar and cinnamon in a shallow skillet with about two to three tablespoons of water, and stir over low heat until the sugar has completely dissolved. Once the mixture starts bubbling, add in the pecans and stir for several minutes. Be sure that all of the pecans are evenly and thoroughly coated. After that, set them out on parchment paper to cool completely. As a side note, candied pecans are also great on ice cream, salad, or simply as a quick snack on their own.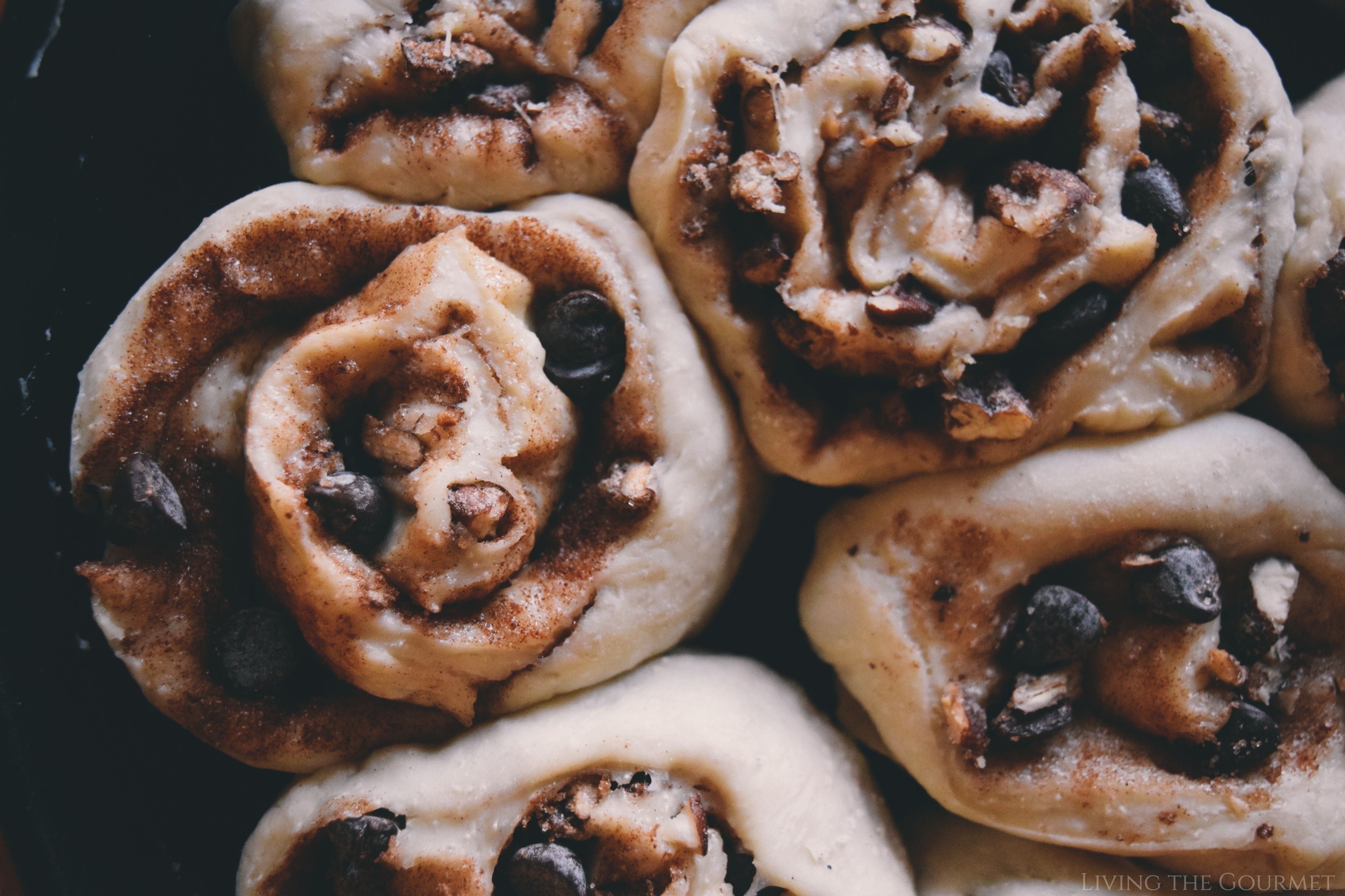 2) Fleischmann's® RapidRise® Yeast. Perhaps the most important ingredient in today's recipe is Fleischmann's® RapidRise® Yeast. To start, it makes today's recipe much simpler to prepare, since the dough only needs to rise for about ten minutes – as opposed to hours. However, there are a few points to keep in mind when baking with yeast – and they apply to today's Fleischmann's® RapidRise® Yeast as well. First and foremost, when yeast calls for lukewarm water, it means lukewarm. Hot water will kill the yeast, while overly cold water will stifle the yeast, since yeast feeds and reproduces best at around seventy to eighty degrees fahrenheit. Furthermore, you've probably read that salt counteracts yeast, but this is only true in large quantities. In fact, a total salt content of around one-half to one percent of the total dough, will actually help the yeast. If you prefer a saltier bread, you can up the salt share of the dough to a whopping two percent without any adverse effects to the yeast. With Fleischmann's® 150 years of experience, you can bake quality, yeast recipes you're proud to share. Homemade is always best.
Regardless, you're probably asking if preparing dough from scratch is even worth it. To answer that, let me begin by saying that I'm big fan of preparing doughs from scratch with yeast for the simple purpose of 'freshness.' There is no better version of 'oven warm' or 'oven fresh' bread and pastries than those that come straight from your own kitchen. Beyond that, no one can assure quality, natural ingredients the way 'you' can. In other words, if freshness and quality are the name of the game, then homemade is the way to go. For more information, head on over to the Fleischmann's® RapidRise® Yeast Website.
3) Karo® Light Corn Syrup. This is a great product to have on hand due to its versatility, from tasting great on pancakes on its own, to being a key ingredients in various pies such as pecan and pumpkin, and virtually any cookie recipe where it adds a soft and moist interior, and a chewy exterior. Today, however, we're using it as the base for the icing, which gives the icing an almost 'polished' looking shine, as well as ensuring that it remains smooth and soft.
More Seasonal Favorites
1) Chewy Peanut Butter Chocolate Chip Cookies. Yes, these are a year-round recipe, but honestly these not only make for great additions to any holiday dessert spread, but also great gifts.
2) Chocolate Espresso Roll. The Holiday season simply isn't complete without a homemade chocolate roll. Here's the recipe for my favorite version of this holiday staple.
3) Pumpkin Pie Spice. The flavor of the season. Making your own at home couldn't possibly be easier. Seriously though, it takes like three minutes, and then you always have it on hand.
4) Spiced Apple Hand Pies. This sweet and savory combination of baked apples, spice, and sweet crust is the embodiment of cold weather desserts.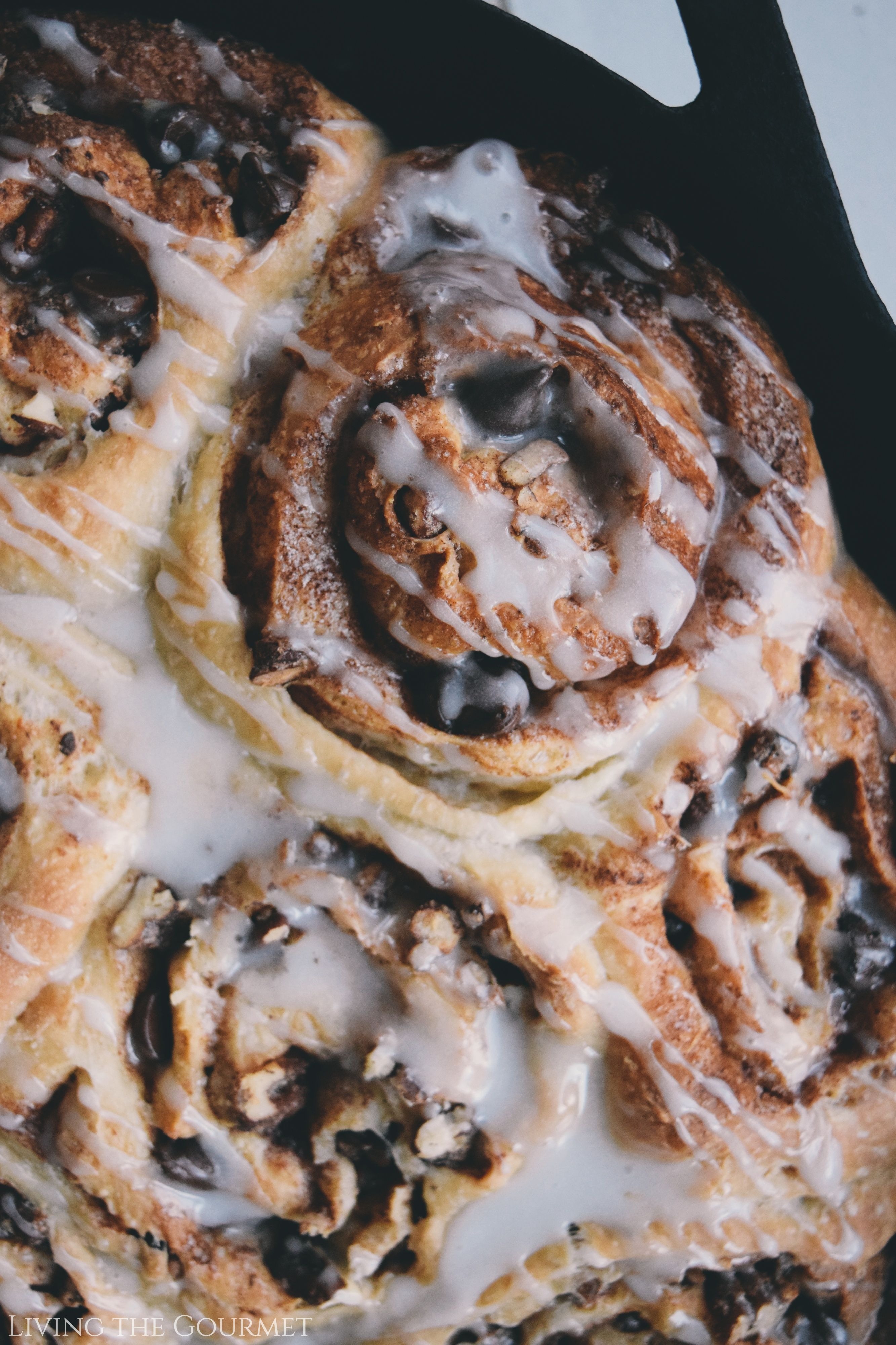 Living the Gourmet
Yields 12 cinnamon rolls
Candied Pecan & Dark Chocolate Cinnamon Rolls
15 minPrep Time
30 minCook Time
45 minTotal Time
5 based on 17 review(s)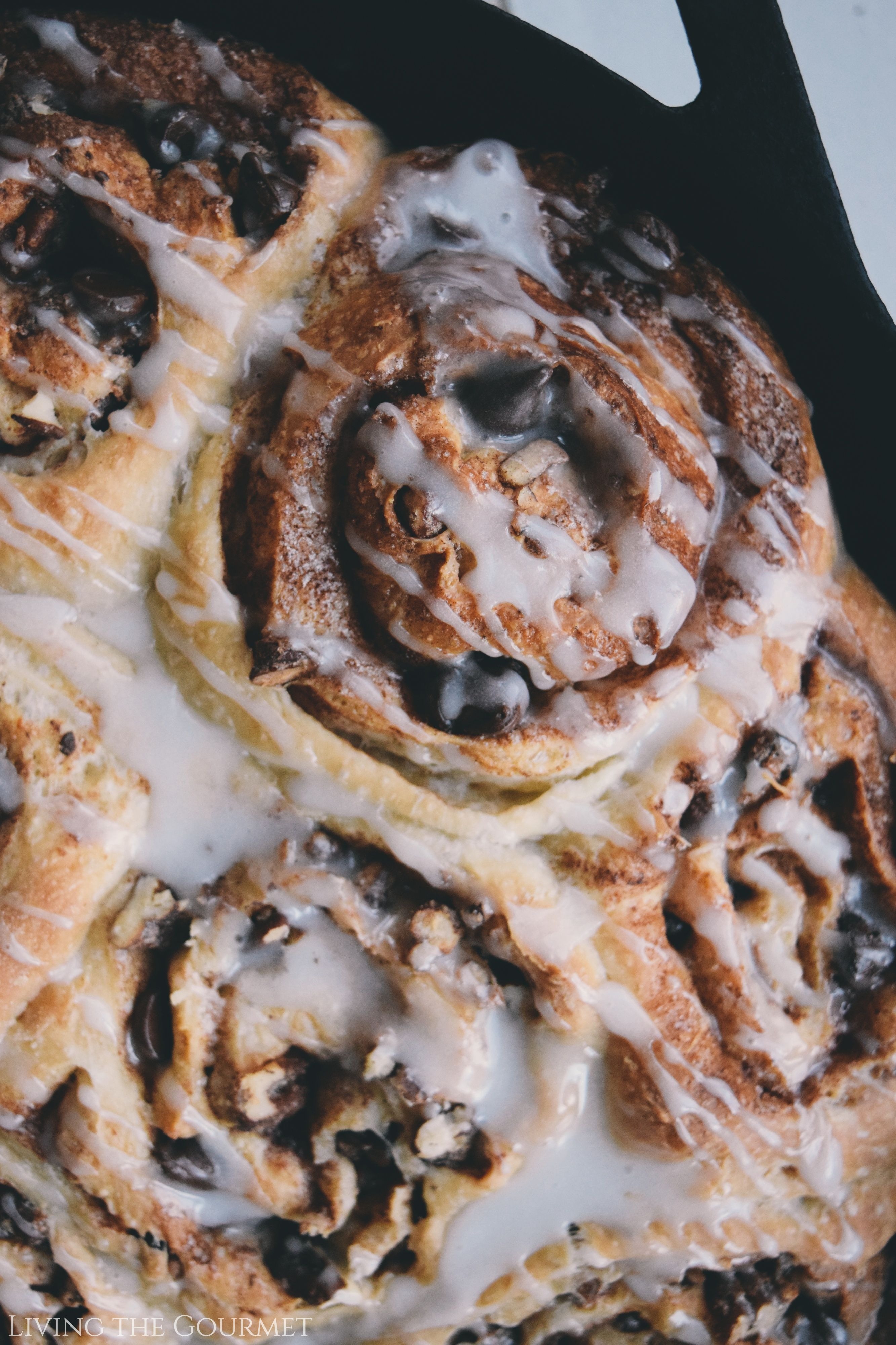 Ingredients
4-1/2 to 5 cups all-purpose flour
1/3 cup sugar
2 (4-1/2 tsp.) packets Fleischmann's® RapidRise Yeast
1 teaspoon salt
1-1/2 cups water
6 tablespoons butter or margarine
1 egg

FILLING:

1/3 cup sugar
2 teaspoons ground cinnamon
3 tablespoons butter OR margarine, very soft
1/2 cup dark chocolate chips
1/2 cup chopped candied pecans- homemade (recipe below) or store bought

CANDIED PECANS:

1 cup whole pecans
1 egg white
2 tablespoons sugar
1 teaspoon cinnamon

ICING DRIZZLE:

1-1/2 cup powdered sugar
2 to 3 tablespoons milk
2 tablespoons Karo Light Corn Syrup
Instructions
For the Candied Pecans:

Preheat oven to 350 degrees F. Line a baking sheet with parchment paper and set aside. In a small bowl combine 2 tablespoons sugar and 1 teaspoon cinnamon.
Beat egg white until soft peaks form. Toss the pecans in the beaten egg white then spread out evenly on the prepared baking sheet. Sprinkle with the cinnamon sugar, toss, and bake until golden, about 10 minutes.
Let cool before reserving half a cup for the cinnamon rolls.

For the Cinnamon Rolls:

Combine 2 cups flour, sugar, dry yeast and salt in a large mixer bowl and stir until blended. Place water and butter in a microwave-safe bowl. Microwave on HIGH in 15 second increments until very warm but not hot to the touch (120° to 130°F. Butter won't melt completely). Add to flour mixture with egg.
Beat 2 minutes at medium speed of electric mixer, scraping bowl occasionally. Add 1 cup flour; beat 2 minutes at high speed, scraping bowl occasionally. Stir in just enough remaining flour so that the dough will form into a ball.
Knead on lightly floured surface until smooth and elastic and dough springs back when lightly pressed with 2 fingers, about 6 to 8 minutes. Cover with a towel; let rest for 10 minutes.
For filling, combine sugar and cinnamon in a small bowl. Set aside.
Roll dough into a 15 x 10-inch rectangle using a rolling pin. Spread 3 tablespoons butter over dough stopping at least 1/2-inch from the edges on the long sides. Sprinkle with cinnamon sugar mixture, chocolate chips, and candied pecans. Beginning at long end of the rectangle, roll up tightly. Pinch seams to seal. Cut into 12 equal pieces. TIP: Use unflavored dental floss instead of a knife to cut rolls. To do, cut a piece of floss about 12 inches long. Slide floss under the roll; bring the ends up and cross over to cut each slice. Place, cut sides down, in greased 13 x 9 inch baking pan . Cover with towel; let rise in warm place until doubled in size, about 1 hour .
Bake in preheated 350ºF oven for 25 to 30 minutes or until rolls are golden brown. Cool on wire rack for at least 20 minutes.
Combine all icing ingredients (start with 2 tablespoons milk and add more if needed) in a large bowl and whisk until smooth. Drizzle over rolls.
Notes
Prep Time does NOT include Inactive Prep Time
7.8.1.2
1366
https://livingthegourmet.com/2019/12/candied-pecan-dark-chocolate-cinnamon-rolls.html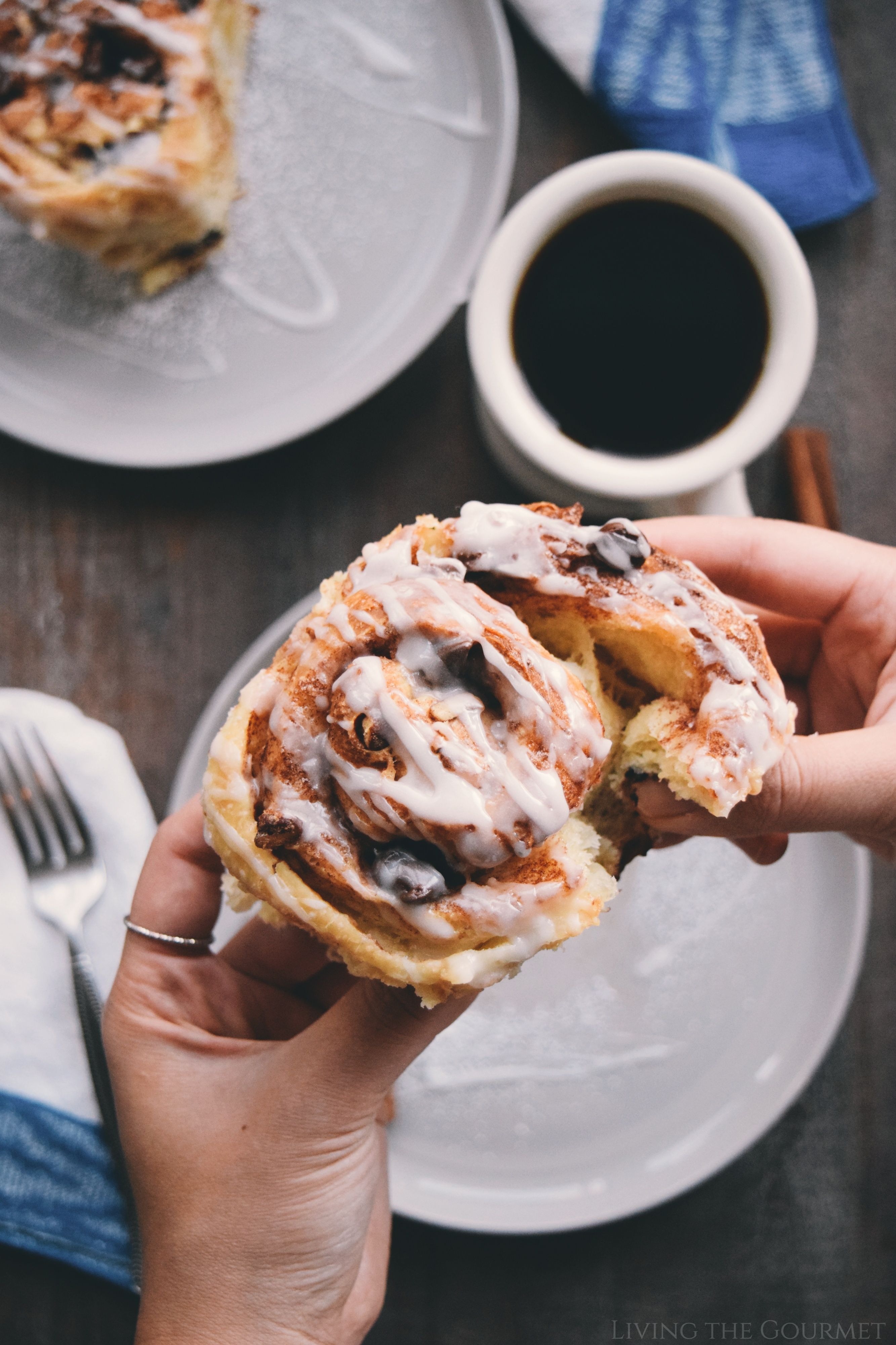 If You Enjoyed Today's Recipe…
Be sure to follow us on
Instagram
to stay up to date with all things Living the Gourmet, and for more great recipes, tips and tricks. And if you gave this recipe a try, let me know in the comments down below, or post a picture to
Instagram
, or to
Pinterest
, and I'll give you a shoutout on Instagram, or post your pin to one of my Pinterest boards!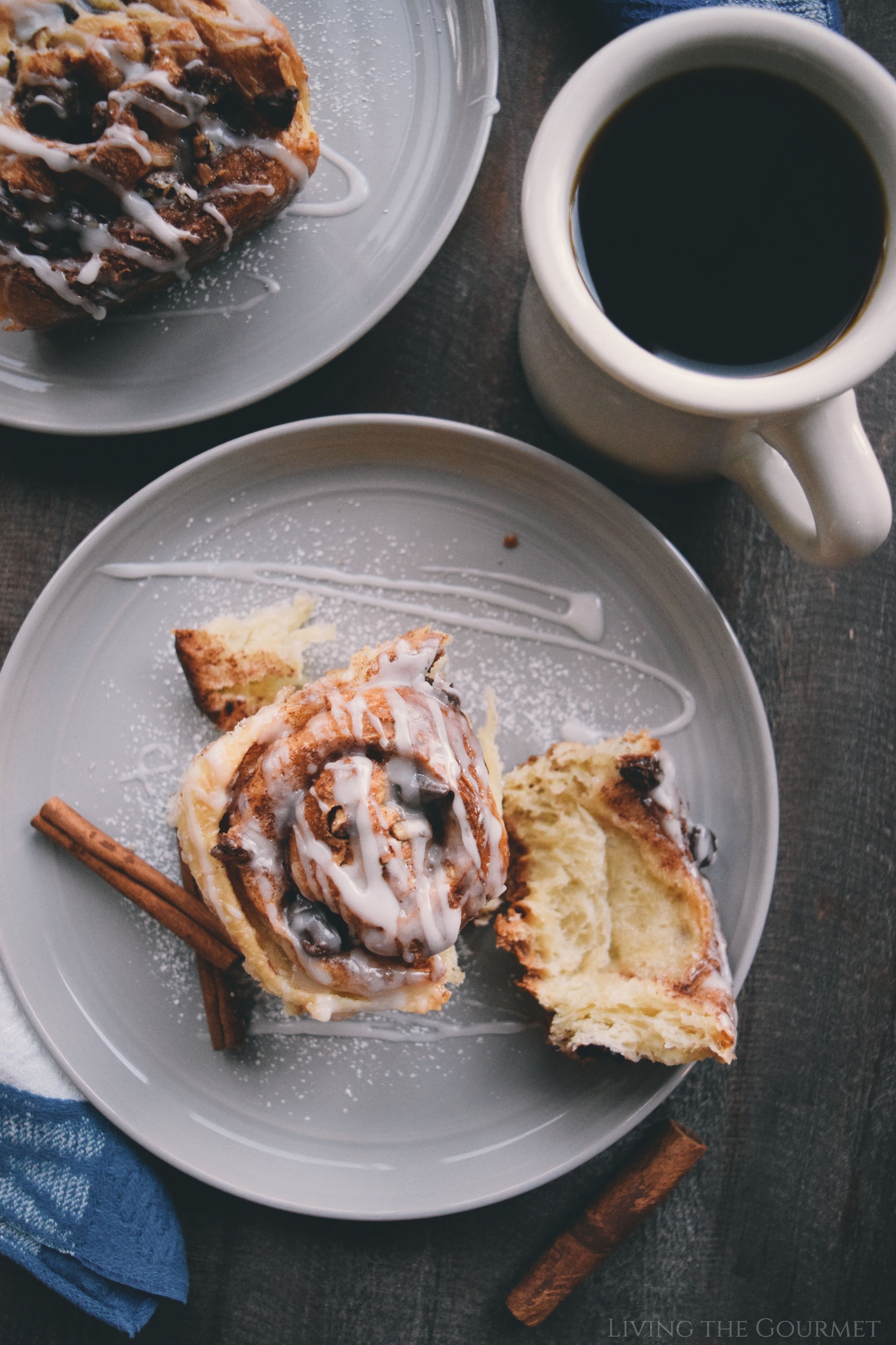 Follow our friends at Fleischmann's® on:
Enjoy with Love!
2