This post has been sponsored by Zavida Coffee Roasters. All opinions expressed are my own.
Today we're sharing how to brew the perfect cup of espresso and serving it alongside one of our favorite, easiest desserts- a Creamy Chocolate Roll.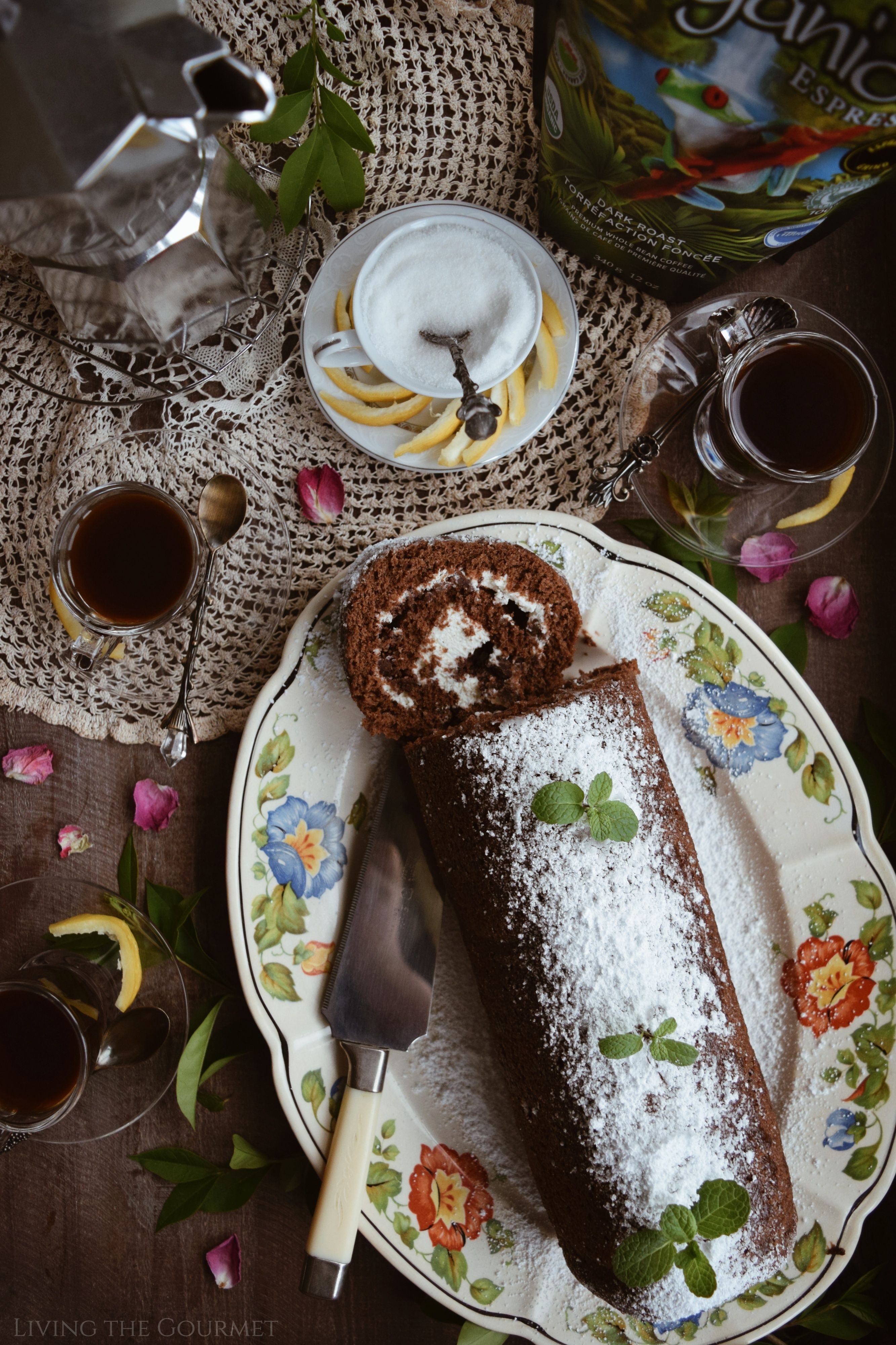 Coffee. Ubiquitous, beloved, and existing in more forms, flavors, and preparation methods than one can ever possibly hope to enjoy, coffee competes only with wine for the honor of being the single most complex item we humans ingest.
One of the first jobs I ever held was at a local diner. Owned and operated by a pair of Cypriot Greek immigrants, this was a "hardwood floors and Greek statuary" Long Island-style diner, with a very literal farm planted into the lot just behind it, from which they harvested a non-too-shabby portion of their seasonal produce. I grew up eating there, my kids grew up eating there, and we continue to eat there from time to time. However, the first on the job speech I received ran roughly "It's their first cup of coffee! It has to be good! People look forward to their first cup of coffee!"
To that point, when it comes to 'low end' coffee, we have the image of an early morning 'grab' from a local deli, diner, or franchise, or as an afternoon boost from cart vendors offering 'local specialties,' or even a late night pick-me-up for those on the skeleton-shift. In these instances, you don't really worry about the craft, the beans, or the technique, you're only 'really' worried about a 'decent enough' tasting brew in exchange for what are largely pocket-change prices.
As for middle tier coffee, we picture independent bistros and sit-down cafes crewed by baristas of admittedly varying levels of talent, and we can probably throw in coffee purchased from independent roasters. In these instances, you're hoping for a truly 'good' cup of coffee, as opposed to one that's merely 'satisfactory.' You're also probably starting to pay at least passing attention to craft, technique, and sustainability.
However, at the truly high end, there are precious few exceptions that don't involve you needing to 'bring it home' with technique and talent of your own. Why do I say this? Because a truly good cup of coffee is consumer-controlled at almost every stage. You want to know, for certain, where your beans are coming from, you want to know, with assurance, that they've been sustainably grown, and you want to be assured of expert precision in how the beans have been roasted. Beyond that, the 'perfect' cup of coffee is one that 'perfectly' suits your palate, and since your palate is unique, that 'precise formula' is something you'll need to develop through trial, error, and personalized technique, which can only be done at home.
For myself, a truly 'perfect' cup of coffee is one part ritual, one part quality coffee beans, and one part pairing.
Today, for the first part of that equation, we'll be preparing our coffee in a moka pot. Now, growing up, espresso was the type of coffee we would use to end off a big family dinner, or to put the finishing touch on a relaxed evening. For this we used the basic stovetop moka express maker, which you'll find in almost every Italian household – a whopping 90% of Italian households have at least one, according to a December 2018 article from Gastro Obscura, entitled "The Humble Brilliance of Italy's Moka Coffee Pot."
For the coffee itself, I use an espresso grind, which is a very fine grind of coffee, but not 'powder fine.' Note that if you use coffee that's too finely ground, you'll clog the interior components of the pot. However, if you use a 'standard grind,' as for a drip pot, you'll end off with a bland coffee that hasn't been sufficiently extracted.
With that said, to make today's coffee we'll be using Zavida Organic Espresso ground coffee.
As I mentioned earlier, while the quality of the bean and roast is paramount, I also enjoy being assured that the coffee I'm consuming is sustainably sourced and organic. Zavida Coffee Roasters have over 35 years of experience producing some of the finest gourmet coffees in the world, and are certified USDA Organic, as well as Canada Organic, and are a certified member of the Rainforest Alliance. Meaning that you're not only getting a delicious cup of coffee, but you can feel good about what you're drinking as well.
Now, if espresso isn't quite your cup of tea (pun intended), they offer over forty freshly roasted coffee varieties. On display today, we have their standard drip brew Breakfast Blend, which, as the name suggests, is the perfect way to start you morning, in addition to a 100% Columbian, which is simply a quality coffee for your everyday drip brewer. If you prefer to grind your own coffee, they have a variety of whole beans to choose from, including today's Premium French Roast, which is a quality Dark Roast coffee.
However, if you're less conventional when it comes to your coffee, they have a variety of flavored coffees and accessories to choose from, such as today's Apple Pie flavored coffee, and the MiniSyrup series of unsweetened flavor drops, such as today's Coconut Delight.
In other words, Zavida Coffee Roasters have something for every coffee lover.
Now, let's begin…
Now that we've got the Ritual and the Coffee out of the way, it's time for the final portion of my 'perfect coffee equation' – the Pairing. Alongside today's coffee, I'm serving a Chocolate Roll prepared with an Orange Zest and Vanilla Cream Cheese Filling with a chocolate pecan mixture. The orange and chocolate flavors from the roll will perfectly compliment the coffee, for a pairing that's simply second to none.
While this can serve excellently as the end note for a dinner party, it's also great for cake and coffee out on the deck. See the recipe below to prepare your own.
Print
Creamy Chocolate Roll
Author:
Prep Time:

15 minutes

Cook Time:

10 minutes

Total Time:

25 minutes

Yield:

1

roll cake

1

x
For the Chocolate Cake:
3/4

cup

all-purpose flour

1/4

cup

unsweetened cocoa

1 tsp

. baking powder

1

egg

1

cup

granulated sugar

1/3

cup

water

1 tsp

. vanilla

3

egg whites
Powdered sugar
Whipped Cream Cheese Filling:
8 oz

. block of cream cheese – softened

2

–

3

tbs. honey

1

tbs. orange zest

2

cups

heavy cream

1 tsp

. vanilla extract

1/4 tsp

. almond extract (optional)
Chocolate Pecan Mixture:
1/2

cup

chocolate chips

1/2

cup

pecans
Instructions
For the Chocolate Cake:
Preheat Oven 350 degrees F.
Lightly grease a rimmed 10 – by 15-inch baking pan and line if with wax paper; grease paper. In a bowl, mix flour, cocoa, baking powder, and salt.
In a large bowl using an electric mixer, beat egg at high speed until thick and creamy.
Gradually add granulated sugar; continue to beat, scraping bowl until mixture is creamy. Beat in water and vanilla. Slowly, add flour mixture.
In a small bowl of a mixer, using clean, dry beaters, beat egg whites until stiff peaks form. Gently, fold into batter. Pour into prepared pan; spread evenly.
Bake 10 – 12 minutes; or until cake springs back when lightly pressed.
Immediately, invert cake onto a clean dishtowel sprinkled with about 3 tablespoons of powdered sugar.
Gently, peel off the wax paper; immediately roll cake and towel into a cylinder, starting with a short side.
Let cool completely on a rack while preparing filling.
Whipped Cream Cheese Filling:
Beat the cream cheese and honey together, using an electric mixer, until smooth and creamy.
Using an electric mixer, whip the heavy cream until light and fluffy.
Add the orange zest, almond extract and the vanilla to the cream cheese mixture and mix.
Gradually add the whipped cream to the cream cheese mixture and mix with the electric mixer for a second or two.
Chocolate Pecan Mixture & Assembly:
Place the chocolate chips and the pecans in a food processor and process until almost a chocolate paste.
Unroll the cooled cake, don't worry if the cake cracks.
Spread about a ¼ inch of the whipped cream cheese over the cake, followed by the chocolate pecan mixture.
If there is left over cream cheese filling, it is a wonderful dip for fruit, such as strawberries.
Roll the cake, and wrap in plastic wrap and refrigerate for at least 2 hours or up to 24 hours.
Sift powdered sugar over cake before serving.
Recipe Card powered by
And that's a wrap. How do you define your perfect cup of coffee? Or what are some of your favorite ways to enjoy it? We would love to hear from you.
1