Today we're putting together a salad that you can make year round, and for virtually any occasion. Today's salad features warming earthy notes, courtesy of a combination of peppers, dried fruit and nuts, but also features a medley of 'fresh' and 'crisp' flavors, making this a perfect side to wintry entrees, or as at light lunch on its own.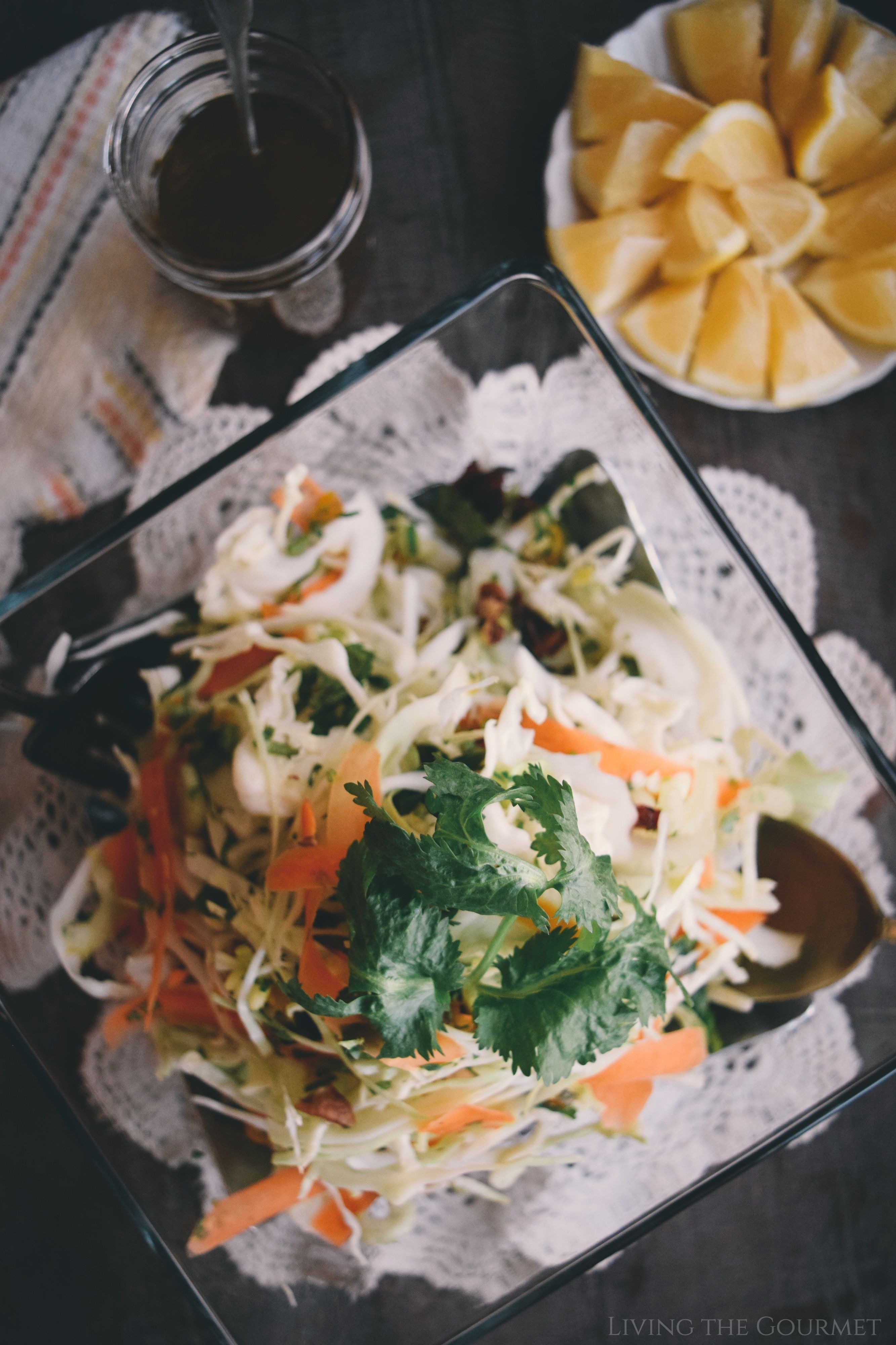 A Salad For All Seasons
1) Is it a Salad, a Slaw, Coleslaw, or a Cole Slaw? Yes. Coleslaw, Cole Slaw, and Slaw, are all derived from the Dutch word 'koolsla,' which is an umbrella phrase for a family of Dutch salads consisting primarily of shredded cabbage mixed either with some form of creamy dressing or a vinaigrette, or simply just mayonnaise.
2) Why It's Perfect For Cold Weather. Cold weather salads are typified by substantial textures (think of things like dried fruit and nuts), and 'warming' or 'earthy' and 'rustic' tones (such as spicy peppers and herbs), and this salad has a little of each.
3) Pairs great with entrees, or as a light lunches. Today's salad is at home alongside things like seared steaks, breaded pork chops, or as a starter to 'warm weather' main courses. However, it can also be enjoyed on its own as a light lunch.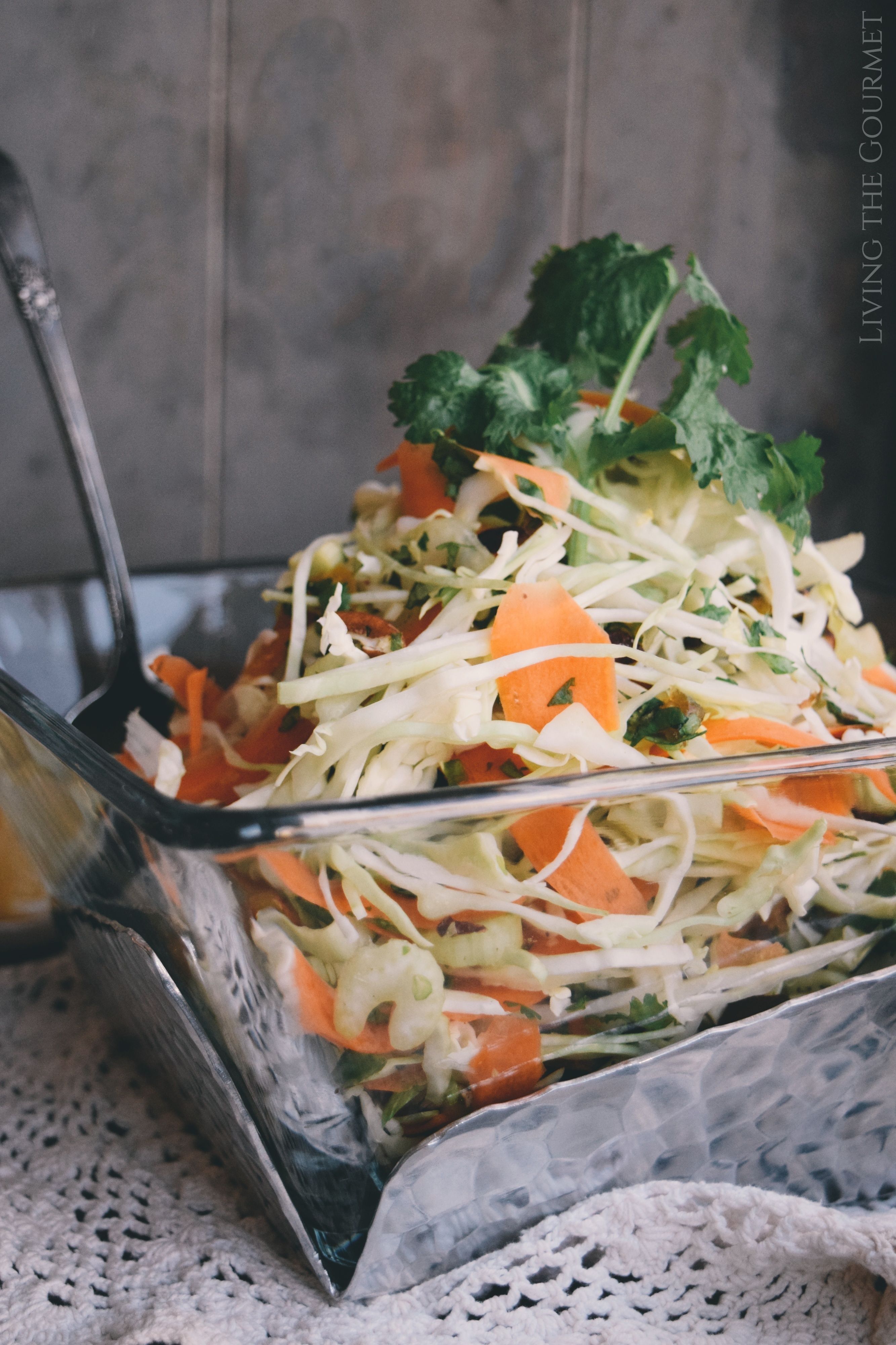 Ingredient Notes
1) Types of Apricots. Is there a difference? Yes, but none that are 'really' important when cooking. Of the dozen or so varieties of apricots that are widely available on supermarket shelves, the primary differences come down to size, skin texture, and coloration – color being defined as 'shades of orange and blotches of red.' In terms of taste and texture, they are almost indiscernible. That being said, when it comes to dried apricots you've likely only ever seen them available as "Californian" or "Turkish." Californian dried apricots tend to be larger, and so are often halved before being packed – although I've seen whole apricots labeled 'Californian.' By contrast, Turkish apricots are smaller and are almost always packed whole. With all that in mind, feel free to use whichever are available.
2) Apple Cider vs 'Other' Vinegars. Rice vinegar, malt vinegar, distilled white vinegar, white wine vinegar, red wine vinegar, Balsamic Vinegar, sherry vinegar, champagne vinegar (yes, that's a thing), truffle vinegar (also a thing), plum vinegar (no, I'm not making that up)…there is more information regarding vinegar than you might imagine, certainly more than my current word count allows me to cover. That said, all vinegar is essentially just fermented ethanol (except for Balsamic), and is used almost solely to acidity to a recipe (except for Balsamic, which has myriad uses), or as a preservative and/or base for picking (except for Balsamic). Shockingly – or not – the amount of variance between vinegars in terms of taste and texture is astoundingly negligible (again except for Balsamic). With that said, the reason we're using apple cider vinegar for today's salad is due to its very faint 'aged apple' taste, which melds nicely with the flavors of the dried fruit, and since it packs less of a punch than white wine or distilled white vinegar in terms of its acidity. Red wine vinegar varies wildly by brand and quality, but can generally be described as 'tangy', which is simply not what we're looking for today. If you're curious about the "Balsamic Exception" hinted at above, it's due to Balsamic Vinegar 'not' being made from fermented ethanol, but rather from grape must which is then left to age like wine. The very best balsamic vinegars are aged for years or even decades on end, since it becomes sweeter and thicker over time, with the pinnacle Balsamic Vinegars pouring almost like syrup…but I digress. Back to the salad!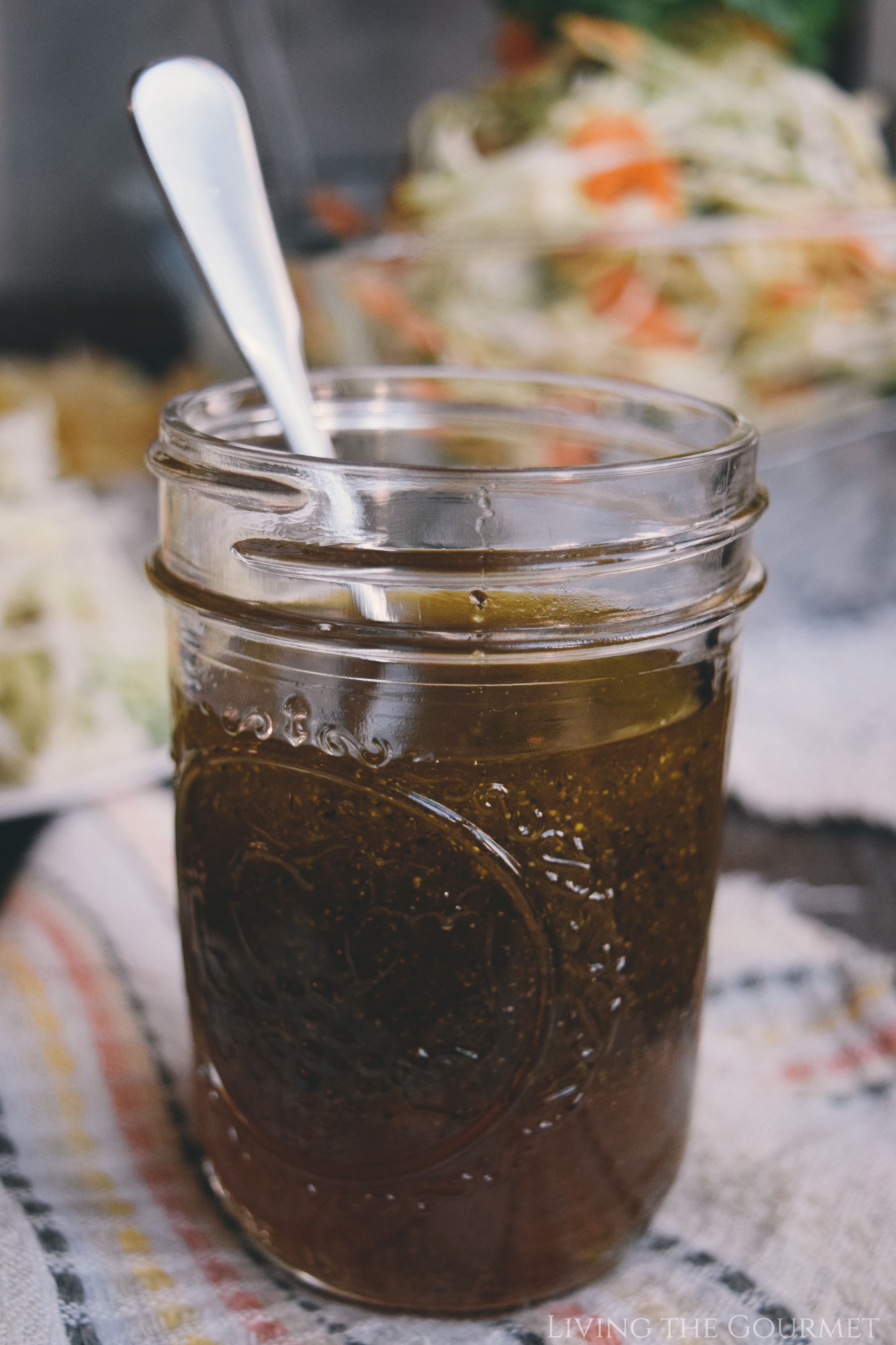 3) Dried Cranberries/Craisins. While largely interchangeable with raisins due to their similar taste and near identical texture, dried cranberries nevertheless possess a 'sharper' and 'tarter' flavor than raisins, especially if unsweetened, and have a noticeable 'kick' in their aftertaste. That said, I opted for dried cranberries over raisins purely for the sake 'grounding' the rest of the sweet notes in the salad.
4) Your Choice of Greens. We're using cabbage simply because it's the traditional green for coleslaw. However, today's ingredients would mix beautifully with romaine, arugula, or (gasp!) iceberg. However, if using one of those salad leaves, I would strongly suggest leaving the leaves whole to create a 'standard' salad rather than a coleslaw.
5) The Nuts. Mix It Up. Purely a matter of preference. While we're using pecans today, almonds would also work well, as would walnuts. We're really just looking for a bit of 'crunch' and earthy flavor here, so feel free experiment.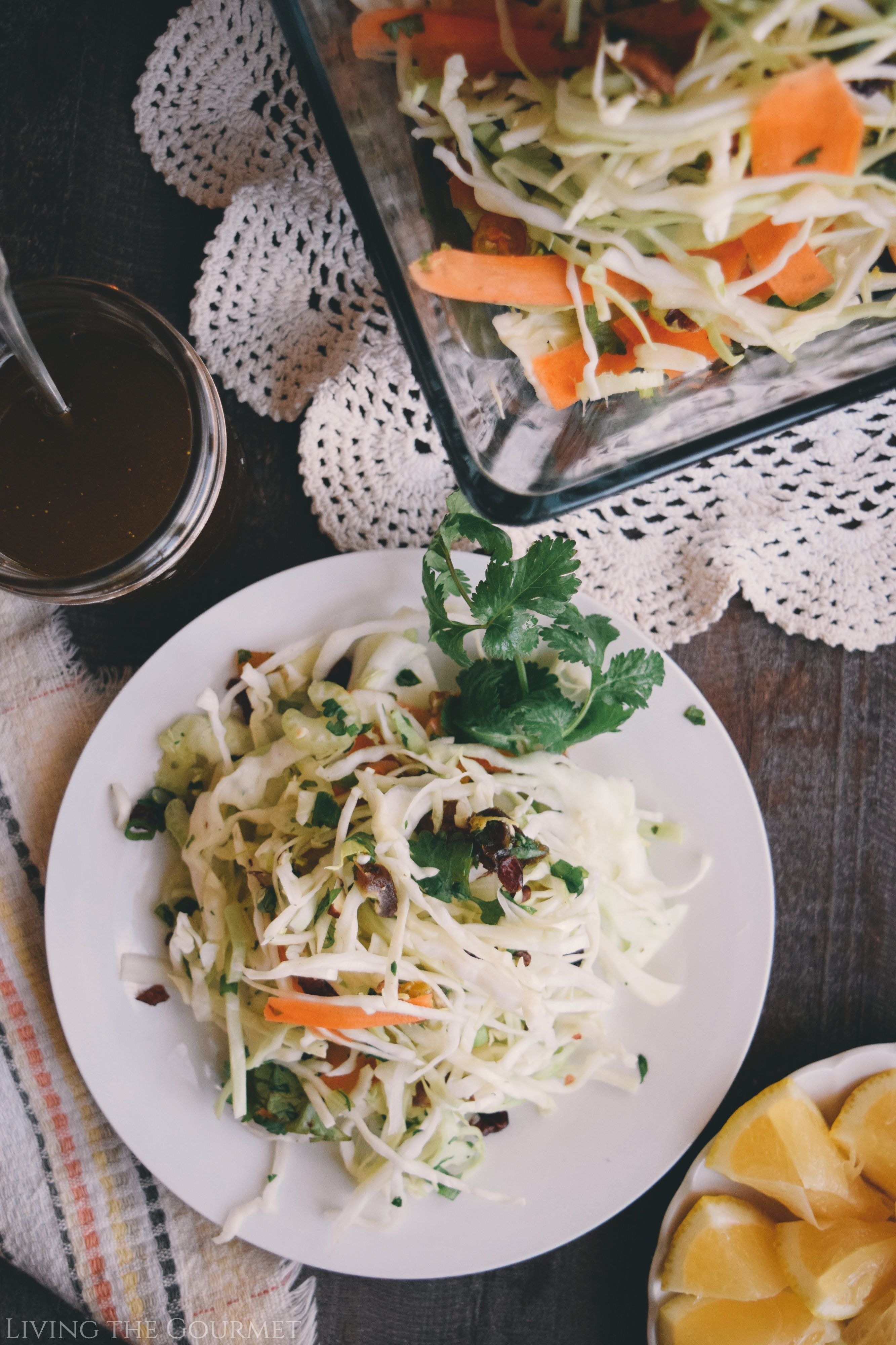 Some Salad Favorites
1) Steak Salad. A meal unto itself, this combination of thinly sliced crusted skirt steak, grilled bell peppers, and a creamy balsamic vinaigrette is a beautiful mix of rustic, year-round flavors and clashing textures.
2) Pickled Sweet Potato Salad. My absolute favorite way to eat sweet potatoes, this salad is sweet, crunchy, just tad acidic, and refreshing. As a plus, letting it sit a night or two in the fridge only enhances the flavors, meaning its perfect for making ahead.
3) Summer Eggplant Salad. Breaded eggplant, combined with fresh basil, fresh tomatoes, and grated roman, combine to create a delicious take on baked eggplant.
4) Asian Salad Rice Bowl. The salad for when you're feeling fancy and adventurous at the same time, or when you just 'really' want to impress your guests.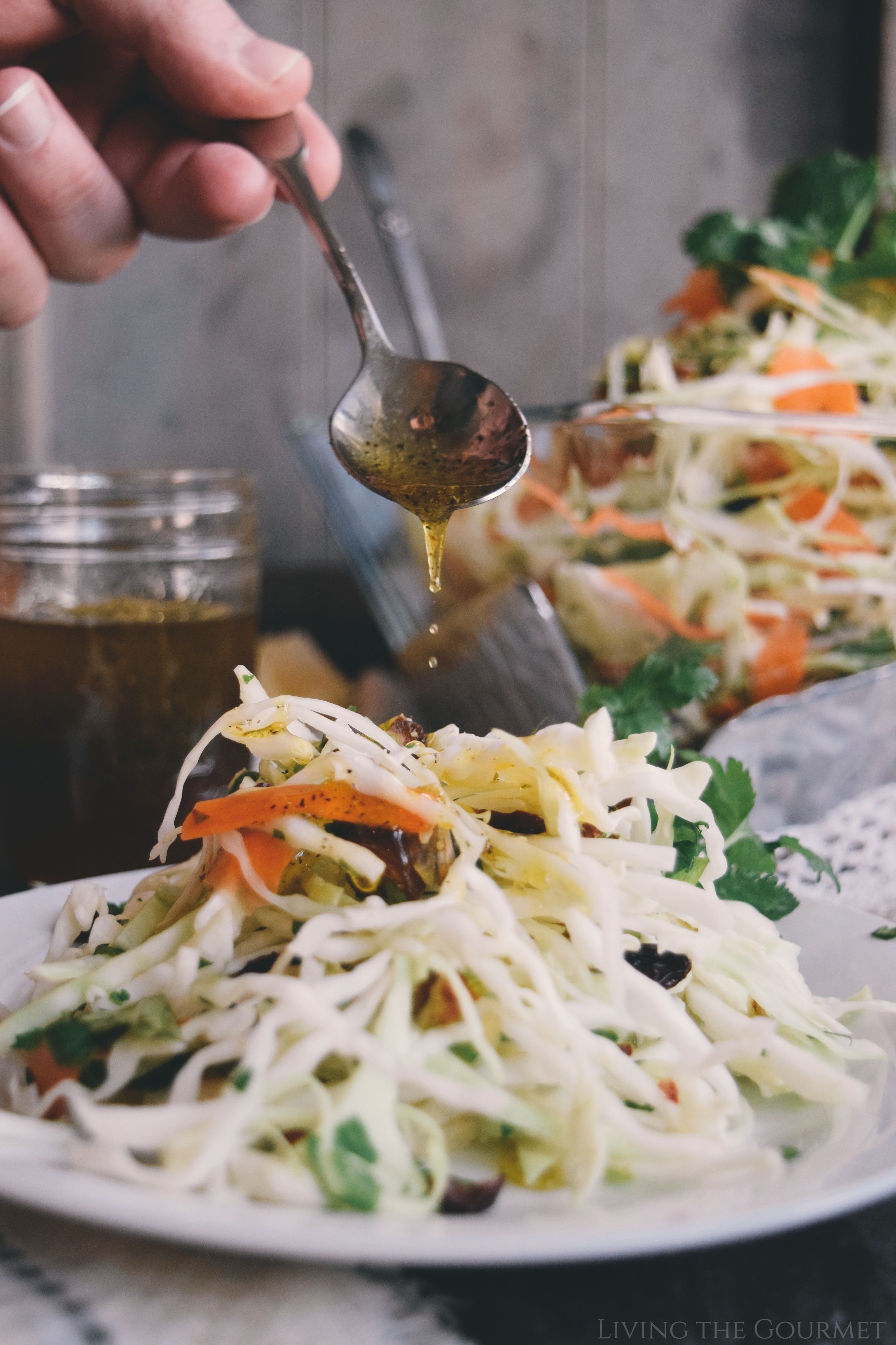 Print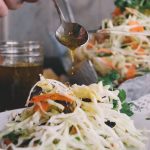 Winter Coleslaw
---
Author:

Total Time:

15 minutes

Yield:

4

-

6

1

x
1

head of green cabbage – outer leaves and core removed; sliced thin

1

medium sized red onion – sliced thin

1

jalapeño's – removed seeds and chop fine

1

bunch of fresh Italian parsley – stems removed – chopped

½ cup

of sweet pickles – chopped
Place all of the sliced and chopped vegetables in a bowl and toss.
For the Dressing:
1/2 cup

of sweet pickle juice
Juice of

1/2

lemon

1

tbs. of sugar

1 tsp

. salt

1 tsp

. black pepper

½ cup

of mayonnaise
---
Instructions
Combine all of the ingredients for the dressing and whisk.
Pour the dressing over the coleslaw and toss until completely incorporated.
Refrigerate until ready to serve.
Recipe Card powered by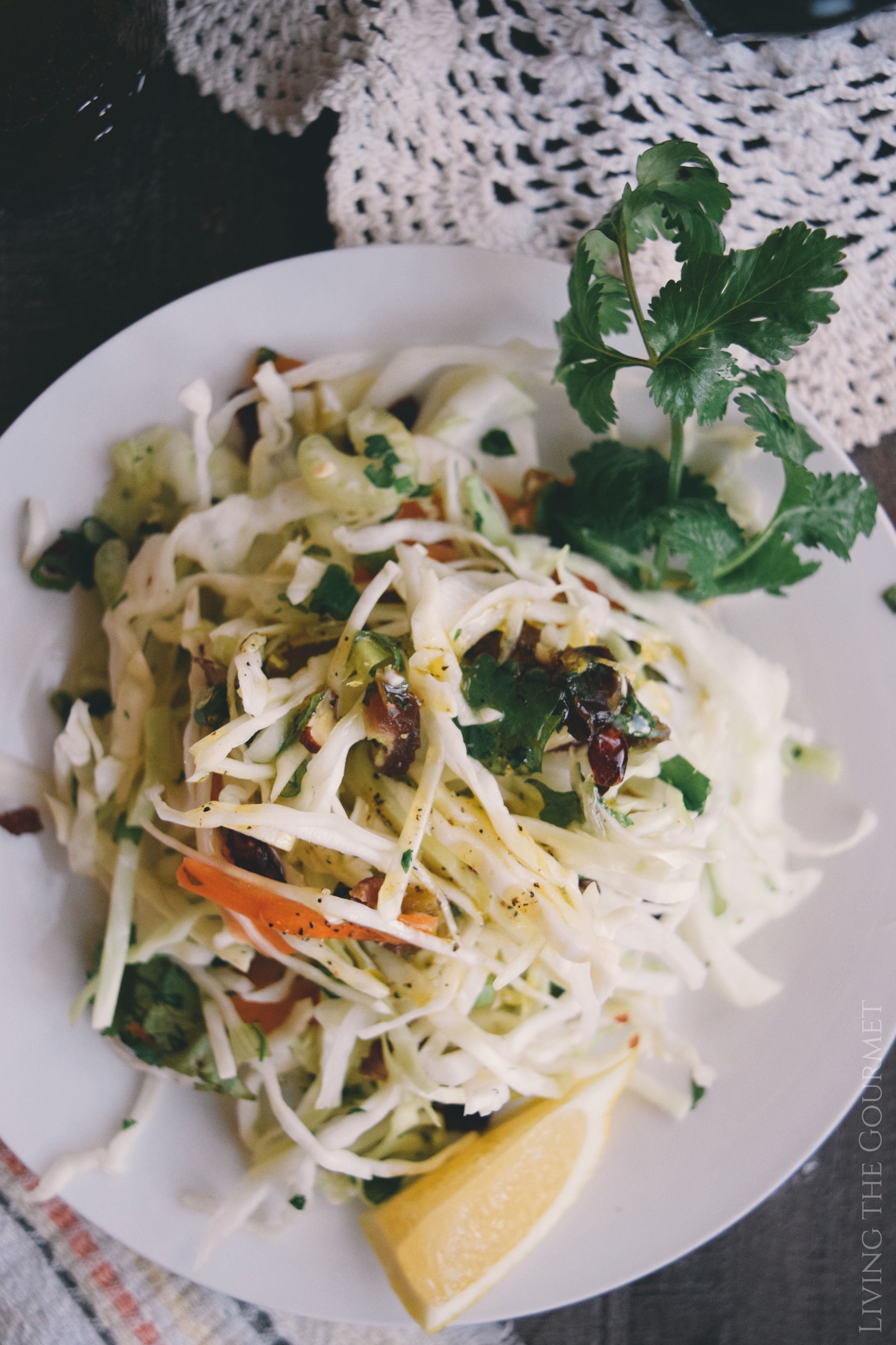 If You Enjoyed Today's Recipe…
Be sure to follow us on Instagram to stay up to date with all things Living the Gourmet, and for more great recipes, tips and tricks.
Did you make this recipe?
If so, let me know in the comments down below, or post a picture to Instagram, or to Pinterest, and I'll give you a shoutout on Instagram, or post your pin to one of my Pinterest boards!
0